There are a number of ways to make osmanthus sugar/ syrup, but this is literally the easiest recipe possible as it's by infusion and only takes you 2 minutes of active prep time!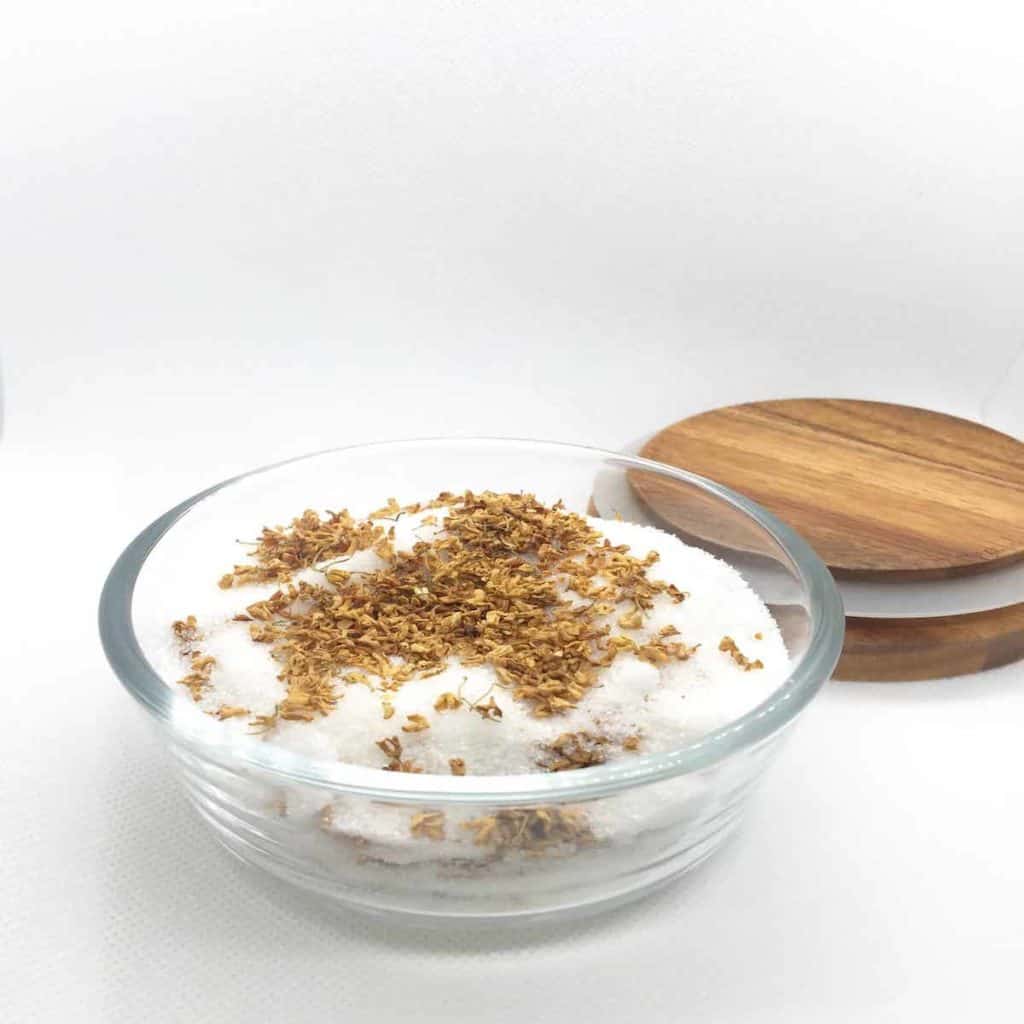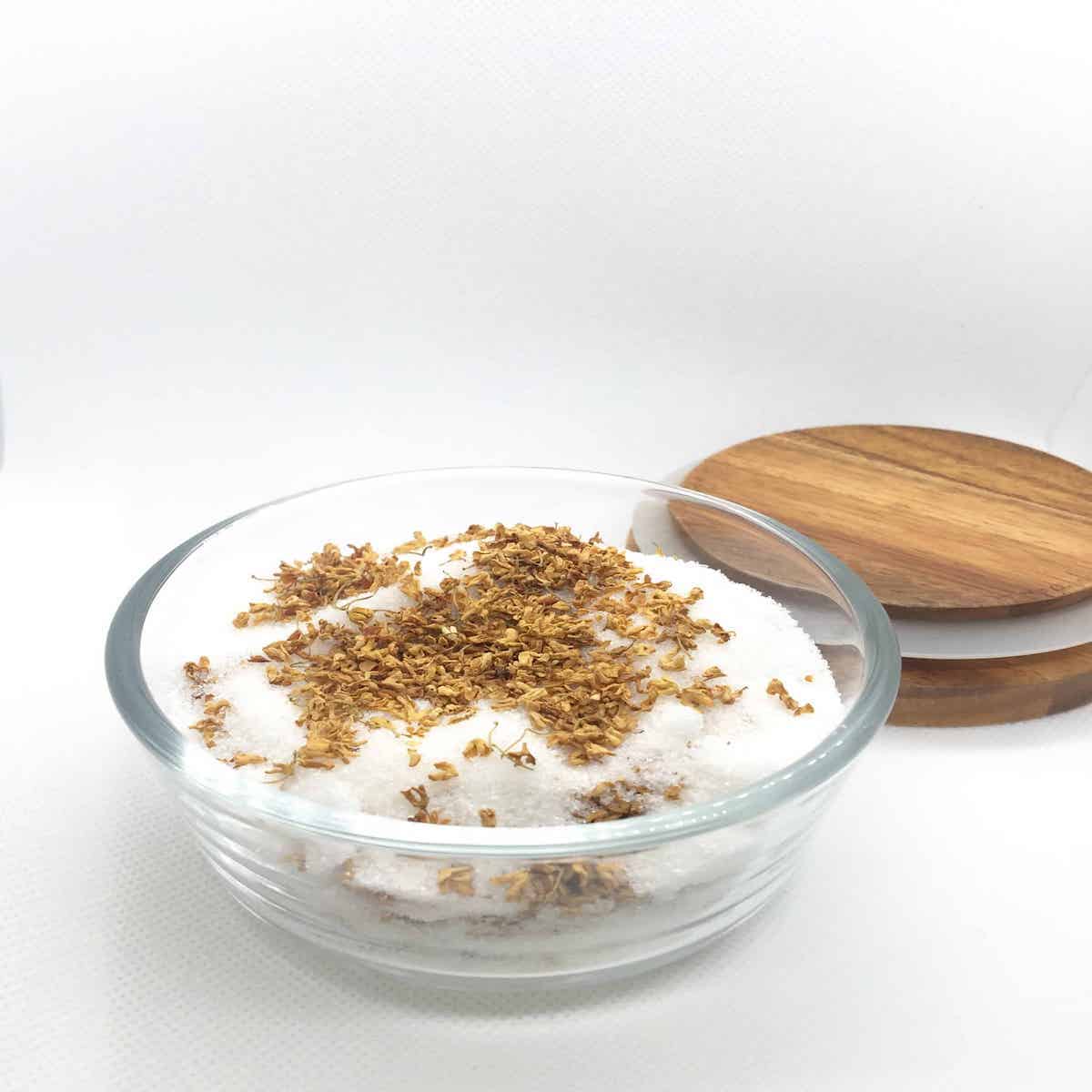 Jump to Recipe
Jump to:
What is Osmanthus?
In Chinese, Osmanthus is 桂花. It's a traditional and popular flavour in classic Chinese recipes, such as osmanthus flower tea konnyaku jelly (if you don't have konnyaku jelly you can substitute with other gelling agents, but I prefer the texture of konnyaku), osmanthus liquor, osmanthus tea, osmanthus cake and even some savoury dishes. I'll actually be sharing an osmanthus jam recipe using this osmanthus sugar syrup soon!
Other names for osmanthus include sweet osmanthus, osmanthus fragrans, sweet olive, tea olive and fragrant olive. (Note: Although Osmanthus is somewhat similar to elderflower in appearance and aroma, they're 2 different things! And, yes, osmanthus is related to the olive, hence the alternative names involving "olive"!) Originating in Asia, osmanthus can now be found even in American and European gardens. Whilst the uses in East Asia are mostly culinary (or medical- osmanthus is an ingredient used in Traditional Chinese Medicine), the flower is used in parts of North India to protect clothing from insects!
Why make this easiest infused osmanthus sugar syrup recipe?
Firstly, it's much less complicated to make than the other recipes out there. Many of them call for adding water to the osmanthus flowers and steaming or boiling- as you know, adding water to anything can increase the risk of mold forming, so if you're not comfortable with starting with a "wet" recipe, give this one a try first!
Secondly, it's super easy - you pretty much mix the osmanthus flower tea with white sugar, seal in an airtight container, then check back in after some time. (I recommend leaving for at least a week so that the flavour can develop appropriately.)

Thirdly, it's a very versatile method: you can substitute the golden flowers with a number of herbs and spices to get a wide variety of flavoured gourmet sugars, which make great gifts. For example, you could make cinnamon sugar (mix sugar with cinnamon powder, a cinnamon stick or both!), citrus sugar (add the citrus zest/ peel to sugar), vanilla sugar and so much more!
Lastly, it's cheap! Sugar is only a dollar or 2 a kilo, whilst if you buy ready-made osmanthus syrup, it's US$14.99 for 3.2 pounds (750g).
What can I do with it?
Infused sugars are, in general, super useful. You can use them to line the rim of a cocktail glass, or use them as a substitute for regular sugar in a 1:1 ratio in baking/ cooking. (Do pick recipes which complement the flavour of the infusion!)

My osmanthus sugar syrup can be used in:
to sweeten suanmeitang or Chinese plum tea
the osmanthus flower jelly I mentioned above
to sweeten osmanthus tea
osmanthus wine (Note: I've linked to a recipe for osmanthus wine, but have not made Chinese wine before or tried this recipe, so can't say how good it is!)
osmanthus tea - either pure or mixed with black/ green tea leaves. Traditionally, the Chinese drink their tea unsweetened, but tastes are changing and, if you prefer sweet tea, adding osmanthus sugar to osmanthus tea is a great way to amp up the osmanthus flavouer
glutinous dumplings, a traditional Chinese dessert
COCKTAILS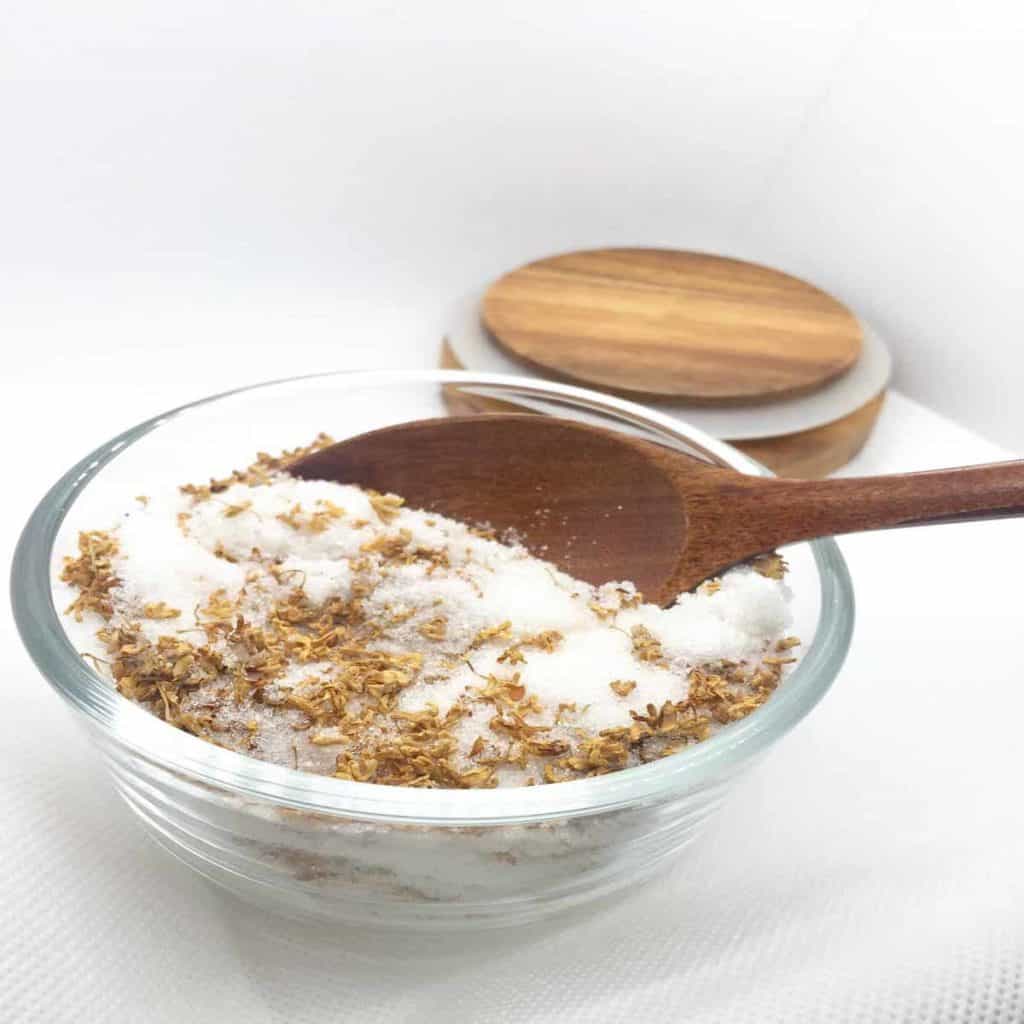 What kind of sugar?
Brown vs white sugar
If you're making a dry sugar (i.e. infusing the osmanthus into the sugar but not adding honey), please do not use brown sugar, as it is very moist and clumps easily!
If you prefer the taste of brown sugar, then make sure to add some honey to your sugar infusion. Do note that brown sugar (and some honeys) have a very strong taste, which may cover the delicate floral fragrance, so choose carefully.

Caster, granulated and icing
I typically make infused sugar with granulated white sugar. However, smaller sugar granules absorb flavour better/faster, so caster sugar should be a good replacement if you're out of granulated. Please don't use icing or powdered sugar instead!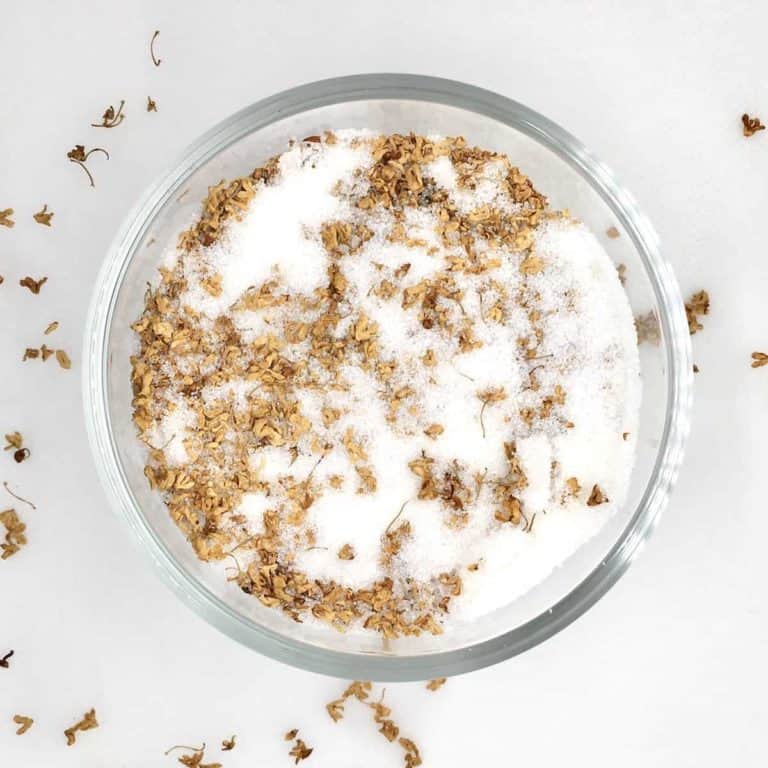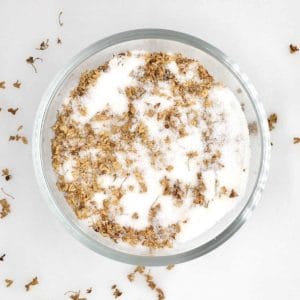 Easiest Infused Osmanthus Sugar Syrup Recipe
3 easy ways to make osmanthus sugar syrup
Equipment
Sieve (optional)

Food processor, or spice grinder (only if using Method 3)
Ingredients
1

T

Dried Osmanthus flower

The exact amount of osmanthus flowers and sugar required would depend on the size of your glass jar, so I'm providing the quantities here in ratio form, which is really just a guide. If you have more or a little less osmanthus, don't let that hold you back from making this!

3

T

Granulated sugar

Don't substitute with icing or brown sugar

Honey, to cover (optional, only if using Method 3)

Please make sure to choose a lightly flavoured honey that won't overpower the osmanthus
Instructions
As we're not washing the osmanthus flowers, make sure you get yours from a reputable source, so that they'll be cleaner. Check the flowers and remove and dirt or dust.

Method 1 (Infusion Method): To a cleaned, airtight, glass jar, add 3 tablespoons of white granulated sugar followed by 1 tablespoon of dried osmanthus flowers. Alternate till you've reached the top of the jar. Seal, shake well and leave for at least a week in a dark cupboard. This is the most basic osmanthus infused sugar (Method 1)

If you don't like the gritty texture of the osmanthus flowers in your sugar, sieve out the flowers before using the sugar! (Too much of a hassle, and not necessary, in my opinion.)

Method 1- the infusion method- needs a while for the flavour to enter the sugar (at least 7 days). If you need to use your sugar right now, blend the sugar and osmanthus in a food processor, using the pulse function. (Or spice grinder), before storing the blended sugar in an airtight glass jar. This is Method 2, the blended method.

Method 3: The last method is to make a osmanthus sugar syrup, instead of a dry osmanthus sugar. Simply add enough honey to cover to osmanthus and sugar mix (whether you've made it using Method 1 or 2), whilst ensuring that no moisture gets into the jar, then seal and store.

I would recommend using the osmamthus sugar (syrup) within 2 months for maximium fragrance.

Add to your osmanthus tea, osmanthus jelly, osmanthus bakes, cocktails and more.
Notes
If you're using the 2nd blended method, note that it can be difficult to identify the osmanthus flowers after blending, so label your glass jar before putting it away!
This osmanthus sugar makes a great gift, so if you're tired of giving out oranges for Chinese New Year, why not make some gourmet sugar for friends this CNY?