Chinese jujube tea with ginger, or red date tea (hong zao cha in Chinese/ daechu cha in Korean), is a traditional tea recipe that is popular in China, Korea & other parts of Asia as it is believed to be very good for your health and blood circulation. Other commonly added ingredients to this drink are cinnamon, honey, rose, dried longan or red ginseng.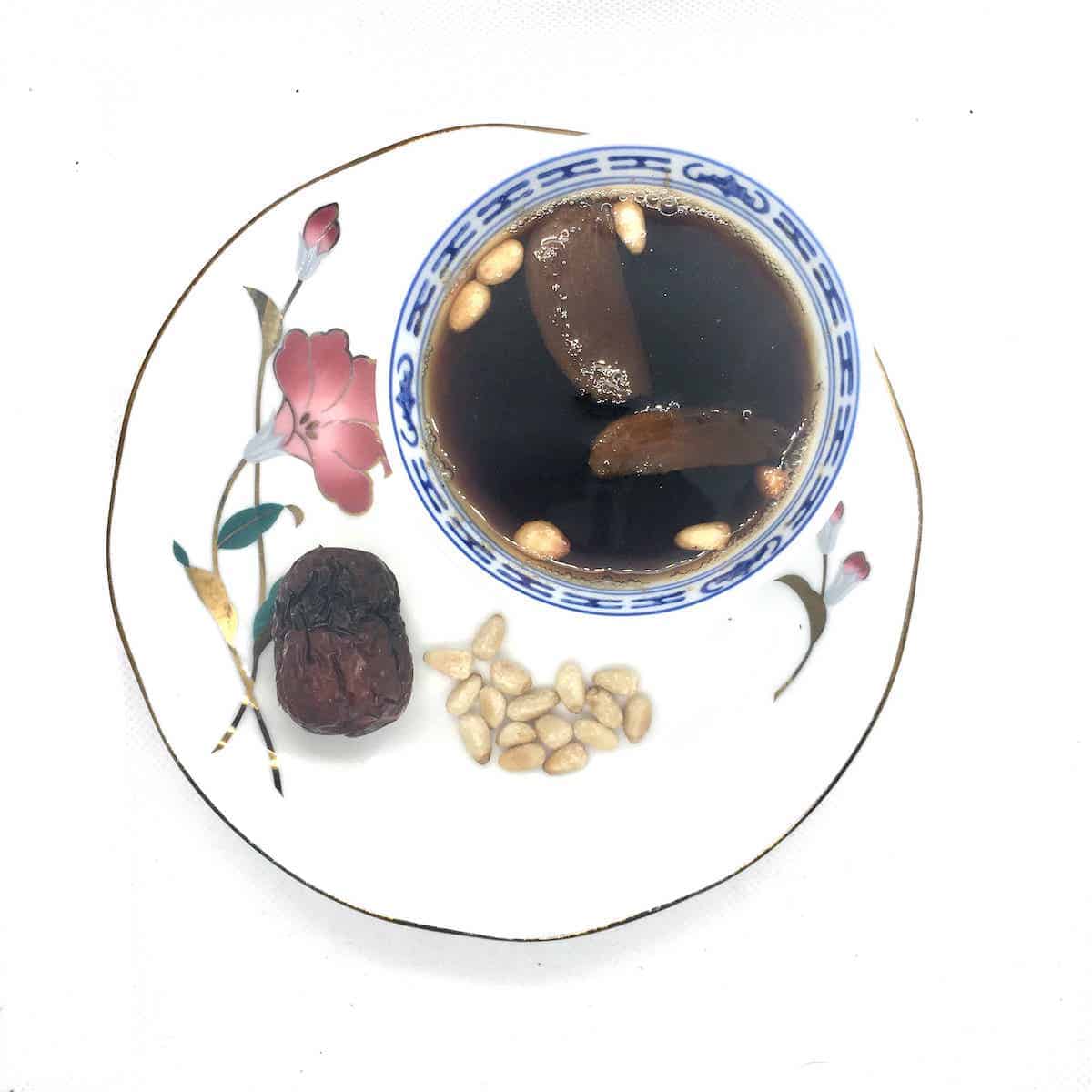 Jump to Recipe
What are jujubes?
Jump to:
Jujube dates belong to the Rhamnaceae buckthorn family and are also known as Ziziphus jujuba (scientific name), red date, Chinese red dates (hong zao) or jujube. They are a big part of Chinese cooking and can be eaten as fresh fruit or dried fruit.
They're used in many drinks and dishes, such as honey jujube tea, osmanthus tea, dried longan tea, goji berry tea and black silkie chicken soup. (Jujube tea is also known as Korean dae chu cha (대추차), red date tea (Chinese hong zao cha.)) For more Chinese dried jujube fruit recipes, click this link.
Other Korean teas that you may be interested in include Korean roasted Bori-cha and Korean maesil-cha.
Note: it is not related to the jojoba plant!
How to use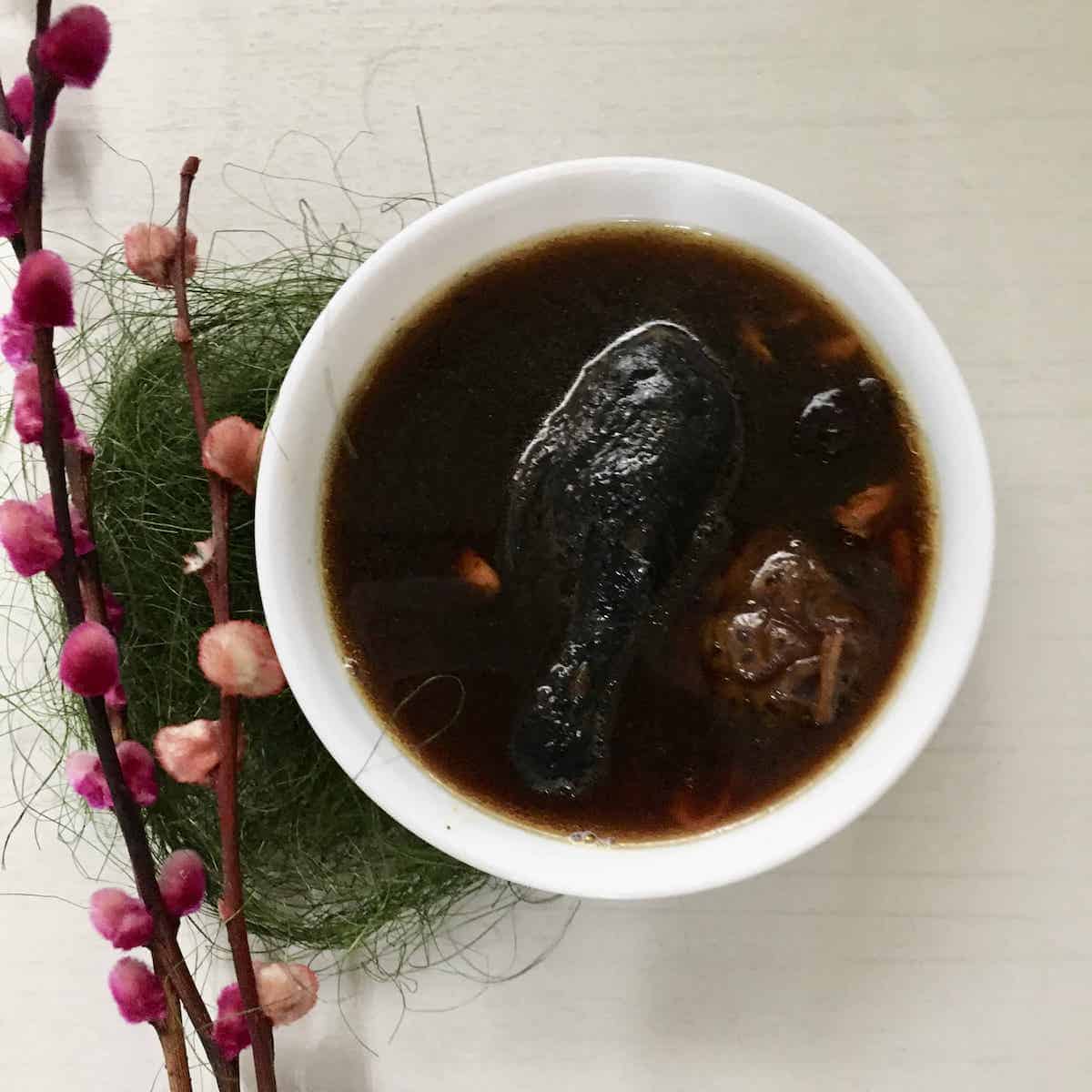 Besides making red dates tea (a super simple recipe), you can also use these red fruits in the following ways:
to sweeten soups such as this Chinese black chicken soup or Samgyetang (삼계탕, Korean ginseng chicken soup )
added to rice porridge (e.g. in abalone chicken jook)
in sweet dessert such as tong sui or yakshik (약식, Korean glutinous rice mixed with nuts and jujubes)
made into jams, pickles and compotes
brewed with other Asian teas such as osmanthus tea and longan ginger tea
or even munched on as snacks!
Health benefits
Jujubes, or red dates (hong zao in Chinese) have been extolled by Traditional Chinese Medicine to be healthy food and good for your immune system for centuries. Women are encouraged to drink it when on their period as it supposedly warms the body and thus helps with cramps. This drink is also a key component of the Chinese postpartum or confinement diet.
Recently, there has also been scientific studies done to support some of these traditional health benefits of jujubes, e.g. that jujube tea helps with insomnia (Click the respective links to see the scientific papers):
Jujubes contain a variety of bioactive components, such as polysaccharides, polyphenols, amino acids, nucleotides, fatty acids, dietary fiber, alkaloids, and other nutrients. These have physiological functions including anticancer, antioxidant, anti-inflammatory, anti-hyperlipidemic, anti-hyperglycemic, immunoregulatory, hypoglycemic, lipid-lowering, neuroprotective, neuroprotective, sedative, and antiviral functions.
Jujubes are also a good source of ascorbic acid, triterpenic acids, phenolic acids, amino acids, saponins, cerebrosides, flavonoids, and mineral constituents which can help to suppress different diseases, exerting the antiobesity, anti-cardiovascular disease, hepatoprotective, antidiabetic, anti-microbial, and gastrointestinal-protective effects.
Note: this is for information only and not meant as medical, nutrition or health advice. Please consult a medical professional.
Nutrition
For the nutritional profile of the fruit, click on this Science Direct link. (As it can vary widely from 200 to 1300+ calories depending on the brand of jujubes, I've not included the information in this post.)
Where to buy
You can get these dried dates at the Chinese grocery store or Asian markets. Alternatively, you can find the pre-made Korean jujube tea at Korean supermarkets. (Check the ingredient list as some may contain a ton of added sweetener and preservatives.)
Variations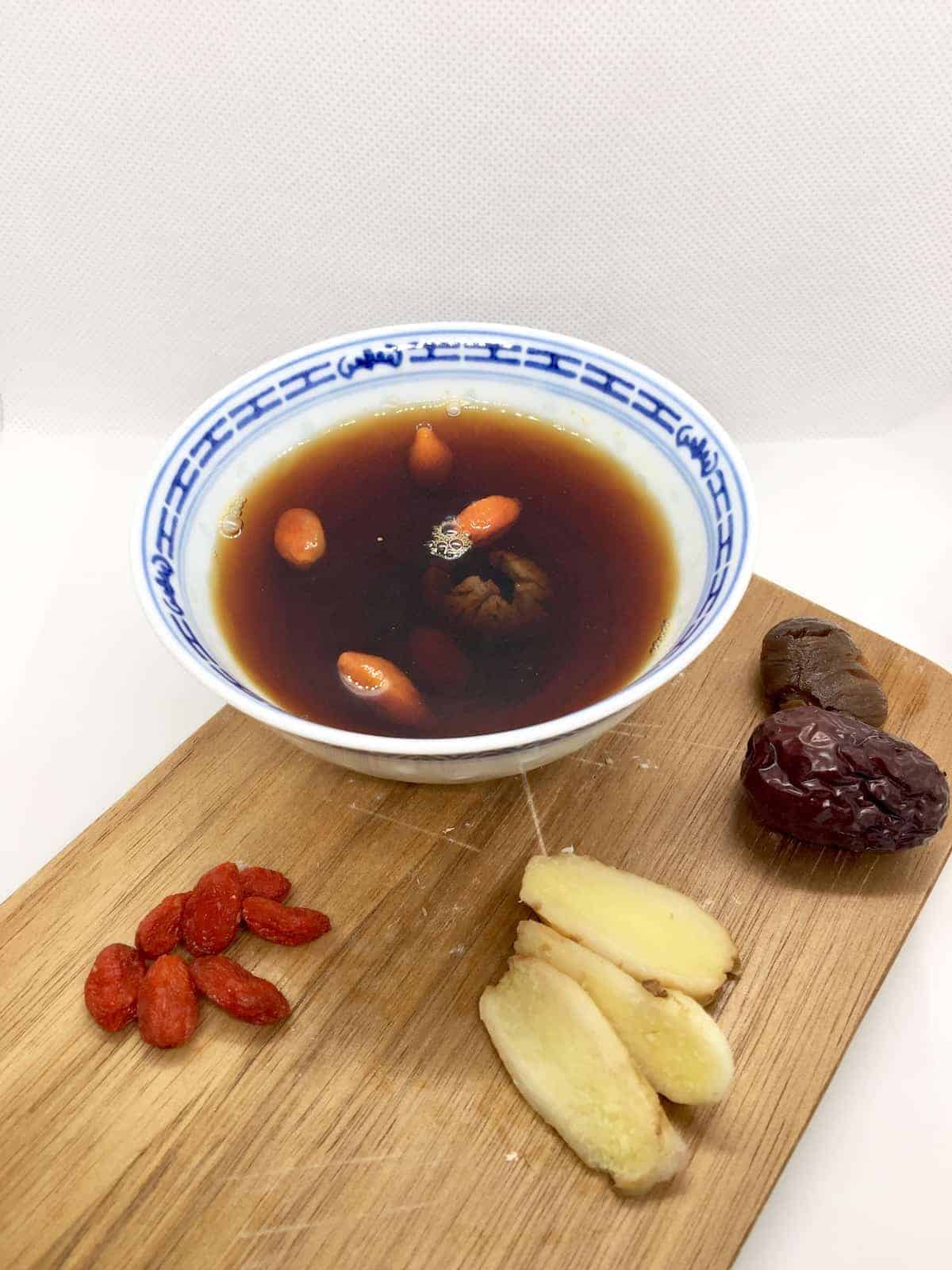 If you're not a fan of the ginger flavor, you can also simmer the Chinese dates with these other ingredients (or leave it plain):
cinnamon stick
other dried fruit (usually dried longans)
red ginseng
honey, rock sugar or brown sugar (but note that jujubes have a naturally sweet taste, which is amplified if you add the cinnamon bark, goji berries and/or longan)
How to serve
Dry fry some pine nuts and sprinkle them on the tea (they'll float on the surface.) The jujube tea can be drunk hot or cold.
In winter, it's so warm and comforting to drink jujube tea and snack on some hotteok (Korean pancakes.)
How to store
You can make a big batch of jujube ginger tea and keep the tea in an air-tight container for up to 3-5 days.
Alternatively, you can simmer the dried dates for a minimum of 8 hours till it forms a thick, syrupy paste, which can be refrigerated. (You can cook it in the slow cooker or pressure cooker.) Scoop out a few spoonfuls of the ginger jujube tea mix and dilute with hot water whe never you want to drink red date tea. This jujube syrup is more concentrated and will last for longer than the tea.
Tips
As pure jujube tea only has 2 main ingredients (water and red dates- everything else is optional), use the best jujubes that you can get.
When using red dates, we are told to remove the pit before cooking, if not they'll be very heaty (and you'll be more likely to develop sore throats, fever or acne, which no one wants!) I know some people don't though- if you choose not to core them, do use the kitchen scissor to make a deep cut or 2 in the fruit to help the flavour develop better.
Dry fry a few pine nut kernels and sprinkle on top of each glass of tea, which is how this drink is served in many places in Korea.
Although the jujube peel is tougher, you may want to eat it and the pulp after sieving it out- they contain a lot of nutrients!
When the red dates are boiling, you may find white powder or bubbles forming, which you can skim off or leave (they will eventually disappear.) It's nothing to worry about as it seems to be because of the saponin or sugar in the jujube.
Use a large pot so you can make a bigger batch of this herbal tea- you've already gone the stove on and it keeps for a few days in the fridge after all.
FAQ
Is jujube tea good for you?
Chinese people have long extolled the health benefits of jujubes or red dates, and scientific research has also shown findings that support these claims, citing the antiviral, anticancer, anti-obesity etc effects of th fruit. For a link to the research papers, as well as more information on the health benefits, please see the "Health Benefits" section.
Other non-caffeinated Asian tea recipes
These are some of my most popular Asian drink recipes: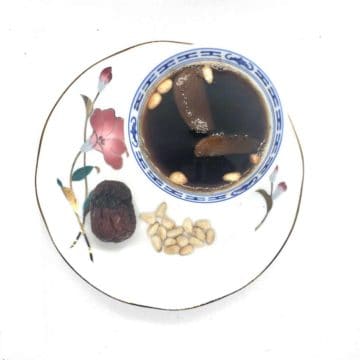 Chinese jujube tea with ginger (Red date tea)
A traditional Chinese and Korean drink which is sweet and nourishing.
Equipment
Large pot

I used my Le Creuset Dutch oven and it was almost overflowing- if your pot is smaller, just add as much water as you can without the tea spilling over then top up later if necessary.

sieve
Ingredients
4

Cups

jujubes, rinsed

Make a few slashes in each to release the flavour. Best if you want to remove the seed as it supposedly makes the tea very heaty but it's not 100% necessary.

18

Cup

Water

Few

slices

ginger

Omit if not a fan of ginger

1

cinnamon stick, optional

Brown sugar, rock sugar or honey, optional

For those with very sweet teeth

Goji berries, dried longans, red ginseng.

Other optional ingredients

Dry toasted pine nuts, optional

For sprinkling on the tea
Instructions
Add the jujubes and water to a pot and bring to the boil. (If using cinnamon and/or ginger, add them now too.)

Lower to a simmer and leave for a minimum of 1 hour or till the jujubes are soft and plump, stirring every now and then.

Sieve the skins and seeds out whilst pressing the pulp back into the jujube tea. Stir well and simmer for another 30 minutes-1 hour. (I usually cook for 2- 2.5 hours in total till the flesh is pretty much breaking apart.) Discard the seeds- the skins contain nutrients so I'll let you decide whether to eat them or not as they're quite fibrous.

Switch off the fire, remove the cinnamon and ginger (if using- they can be tossed) then taste. If not sweet enough for you, season to taste with brown sugar, rock sugar or honey.

Ladle into cups, and garnish with toasted pine nuts if you have them.
Notes
If you want to keep the tea for more than a week, simmer the jujubes for a minimum of 8 hours till a thick syrupy paste is formed - you may want to do this in a slow cooker for easier cooking. This syrup can be refrigerated for a few weeks then diluted with water when you want to drink red date tea.
For something more exotic, you may want to add rose and milk to the jujube tea, though maybe not with the ginger.
Before you go, you may also be interested in these Asian recipes: