Easy, lump-free matcha simple syrup, or green tea simple syrup, that can be used for cocktails, iced lattes and desserts.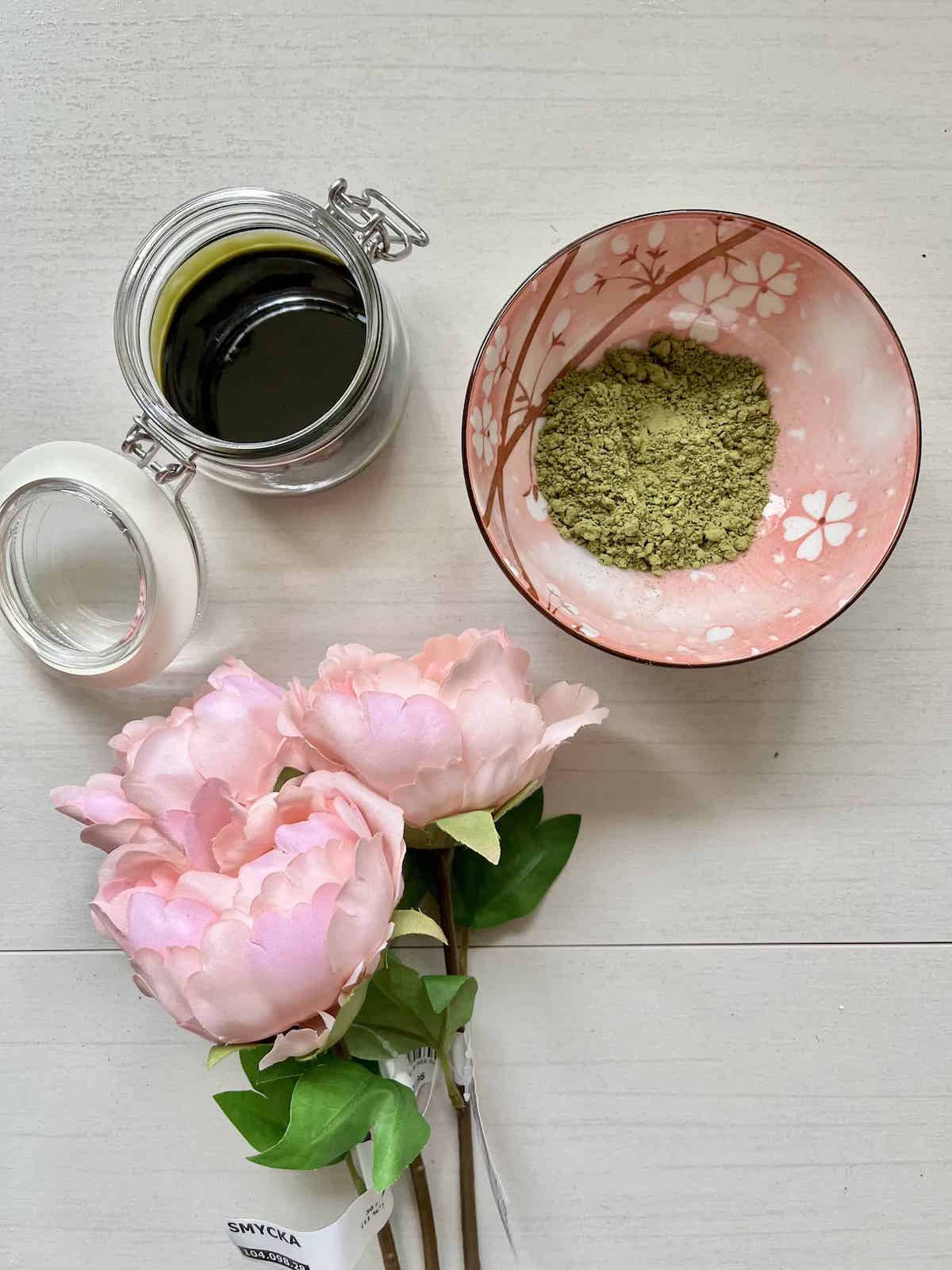 Jump to Recipe
Jump to:
What is matcha?
Matcha (抹茶 (Chinese/ Japanese) or 말차 (Korean)) is a type of minimally processed green tea, that is made by growing the Camellia Sinesis tea plant under the shade for 3-4 weeks. The shade stimulates the plant to produce more caffeine and theanine.
Matcha powder is precious, because the green tea leaves must be ground slowly to avoid heat being produced during the grinding process, to prevent the aroma and flavor of the tea from changing. Hence, making matcha is a very slow process: it can take an hour to grind just 30g of it!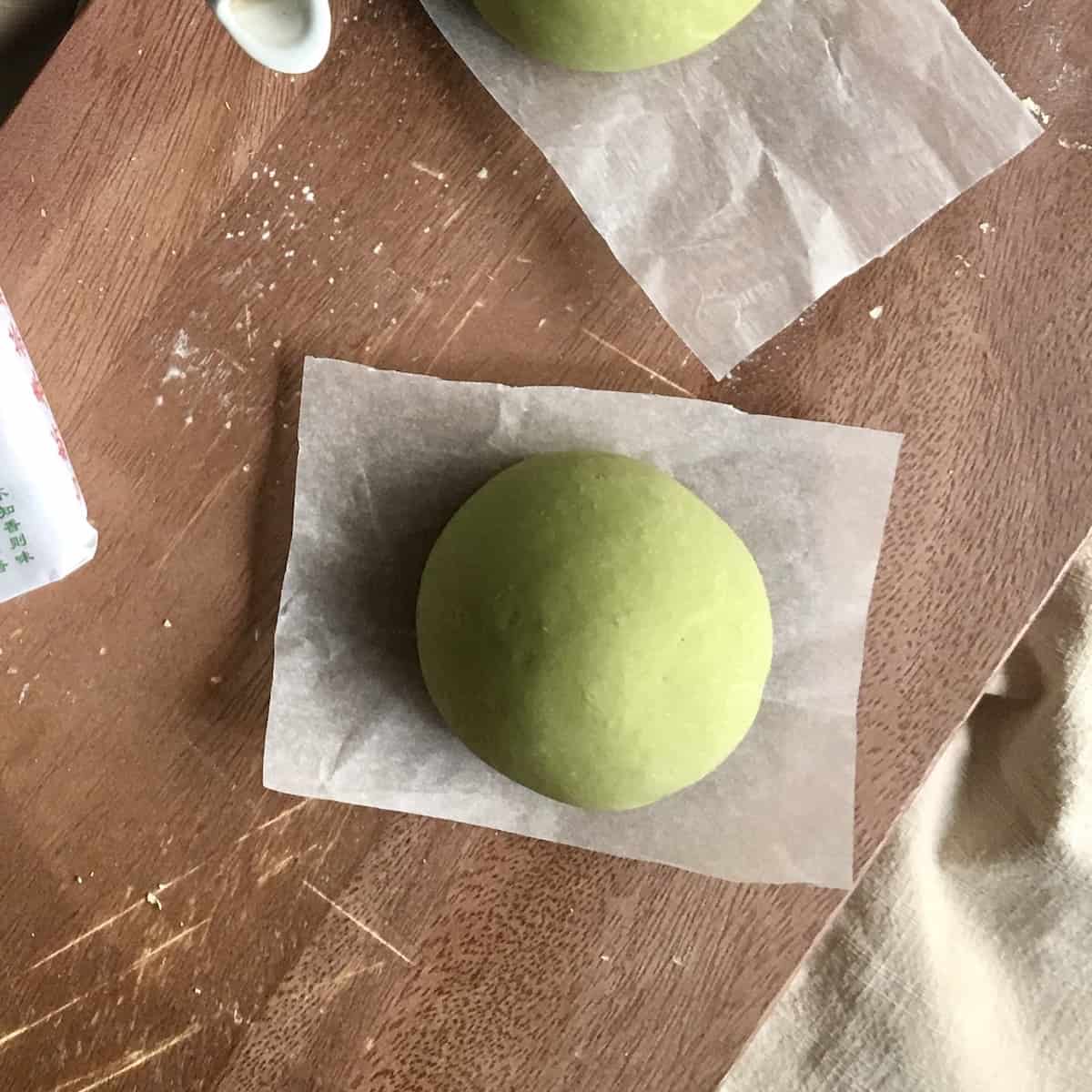 It is traditionally used to make tea, but can also be made into desserts and snacks such as these steamed matcha buns. For more matcha recipes, click here.
What is simple syrup?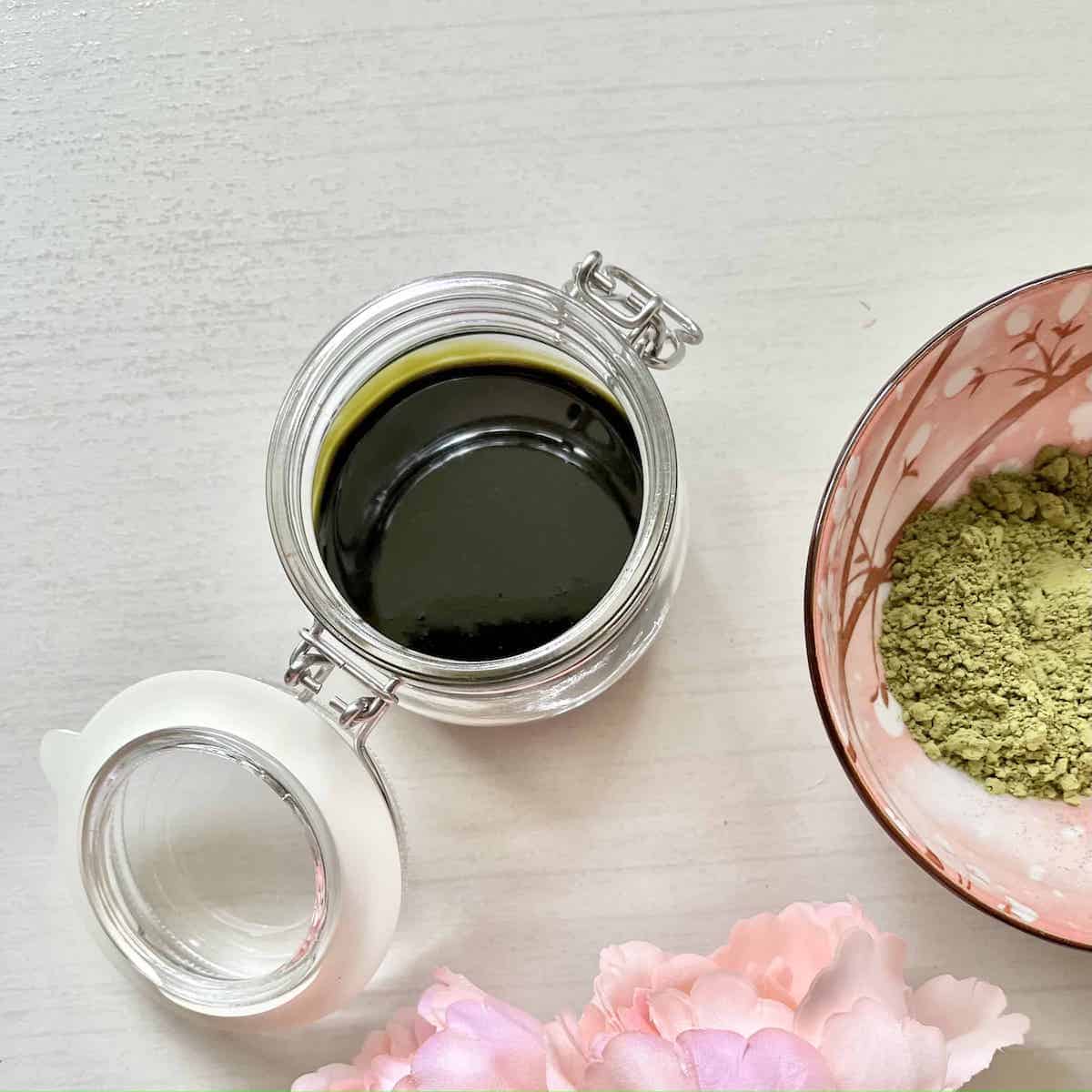 It is a syrup made from a sweetener (usually sugar but sometimes honey or maple syrup) and water in the ratio 1:1. If you use more sweetener than water, it becomes a rich simple syrup, and has a thicker consistency with more body.
You can add spices and herbs to this simple syrup to form flavoured simple syrups, such as this lemongrass simple syrup. Today, I'm sharing a green tea syrup recipe, or matcha simple syrup- in Japanese, it's called "matcha mitsu" (抹茶蜜.)
Note: There are also commercial brands of matcha green tea simple syrup, such as Monin, but it's so easy to make, there's no reason not to make your own!
If you're a fan of the slightly bitter flavor of matcha, check out these sweet and savoury matcha recipes, as well as these steamed matcha buns.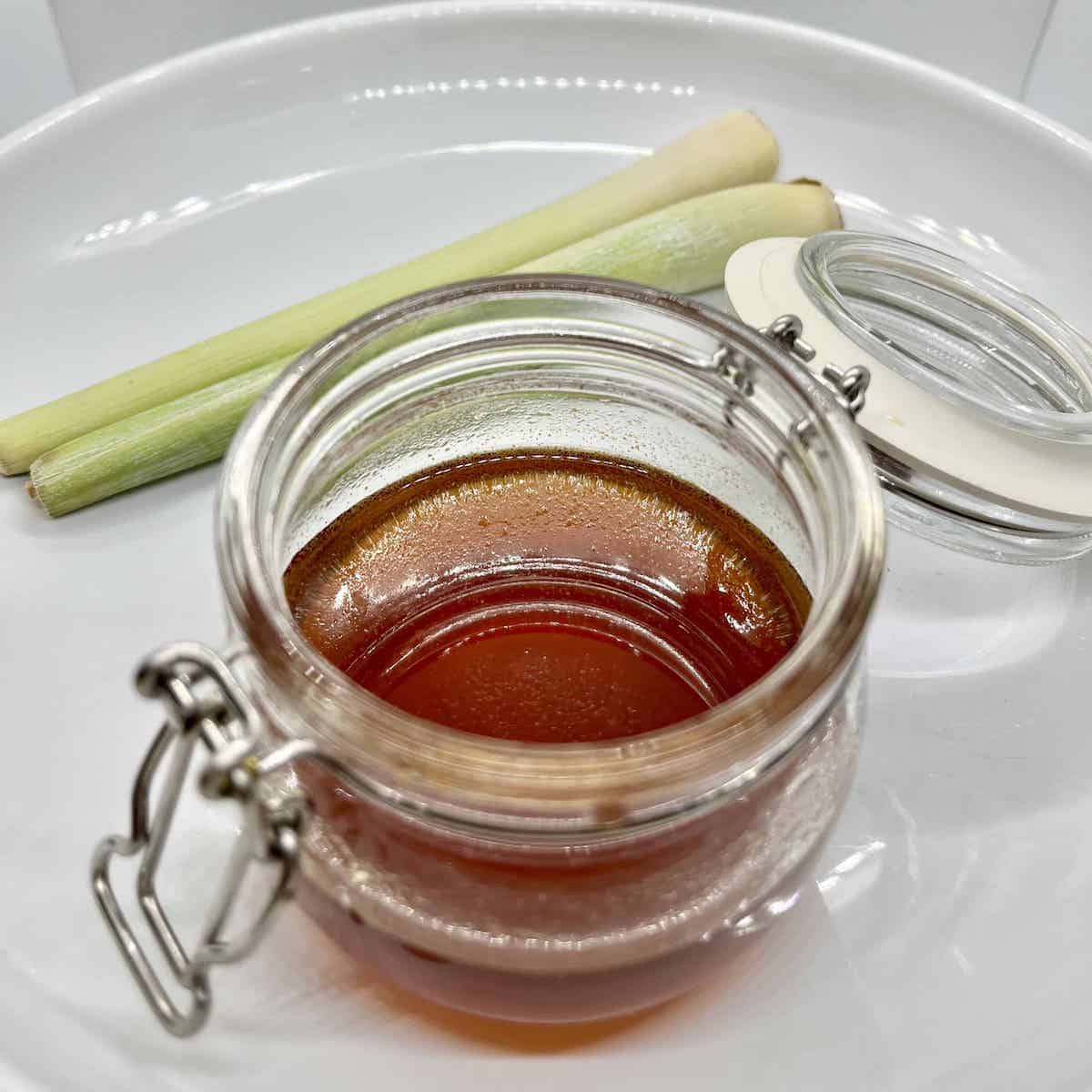 A jar of homemade lemongrass simple syrup, using palm sugar (Gula Melaka)
How to use
Simple syrups are traditionally used in cocktails - think matcha margarita for happy hour- but you can also use this matcha green tea syrup:
in baking (click here for matcha dessert recipes)
to make drinks such as iced chai matcha latte (Matcha goes particularly well with soy and almond milk. Some people also like to add vanilla to their matcha lattes.)
add to sparkling water or club soda, pop in some ice cubes, and you get a refreshing fizzy summer matcha soda
spooned over ice cream, waffles or pancakes. It is particularly delicious on shaved ice (Korean bingsu.)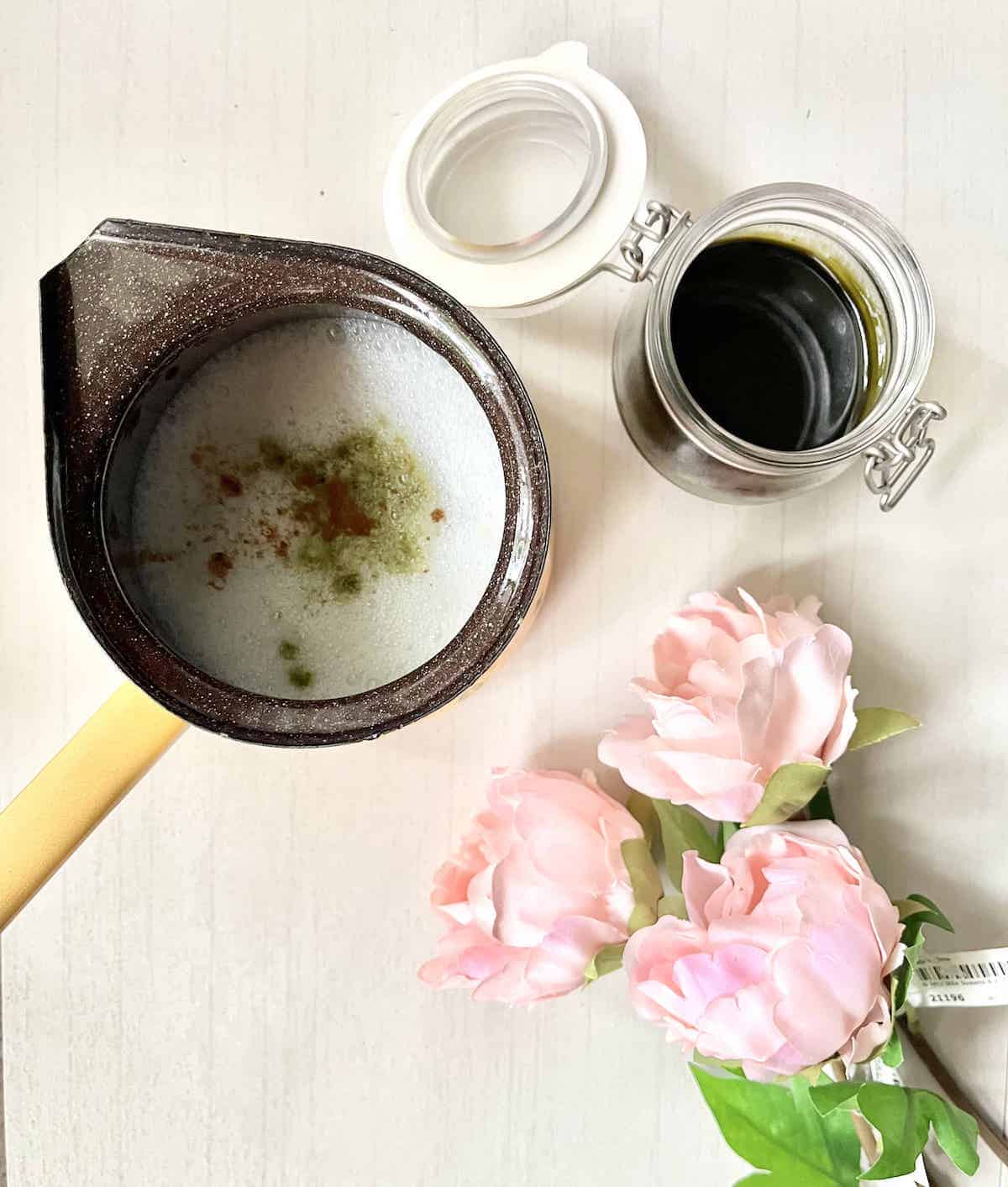 How to store
Store the matcha tea syrup in an airtight container in the fridge and use within 3 days. Some blogs suggest a shelf life of weeks, but do note that the taste will change with time, and the matcha will become quite sharp.
Variations
Matcha honey syrup: simply substitute the sugar in the recipe with honey
Matcha maple syrup: replace the sugar with maple syrup
Rich Matcha syrup: use twice the amount of sweetener vs water
Tips
Matcha green tea powder is notorious for clumping, which is why traditional bamboo whisks are used in the tea ceremony to get rid of lumps! To reduce this, mix the matcha powder and sugar then add the water.
Some Japanese people, when making very small amounts of matcha tea syrup, just add hot water to the sugar and matcha. I recommend heating the solution on the stove to aid the dissolving process, especially if you're making a bigger batch.
If you are planning to use this matcha simple syrup for baking and savoury recipes, add the smallest pinch of salt to it, as salt helps to enhance flavours.
To vary the flavour, add a vanilla bean or rose syrup when making this matcha syrup
FAQ
Is matcha good for you?
Matcha green tea has many health benefits, from a healthier heart to less risk of chronic diseases. For more information on matcha's benefits, click this link. However, green tea can contain a lot of lead, so do make sure that your brand of matcha has been tested for lead toxicity levels.
Other tea recipes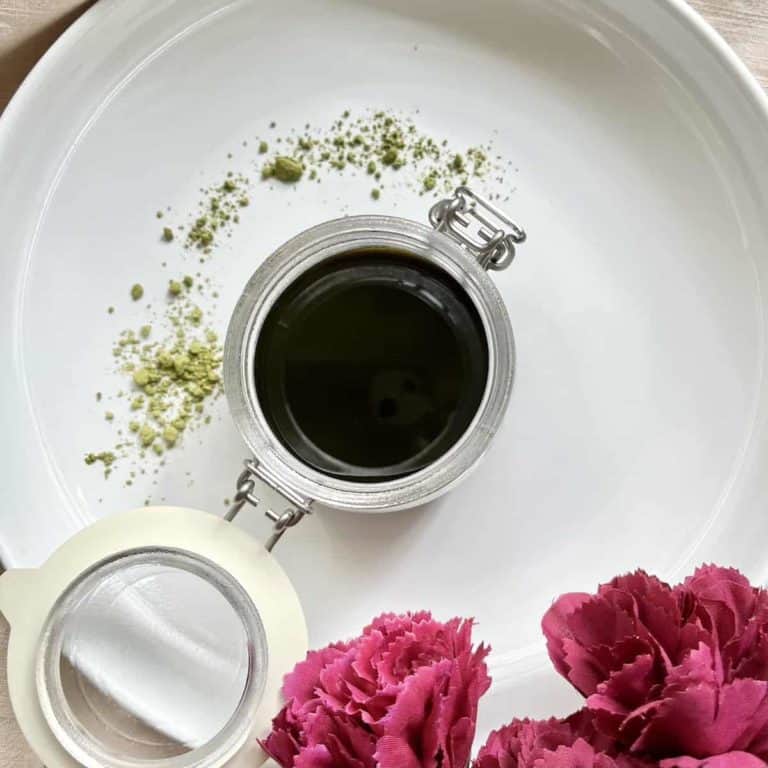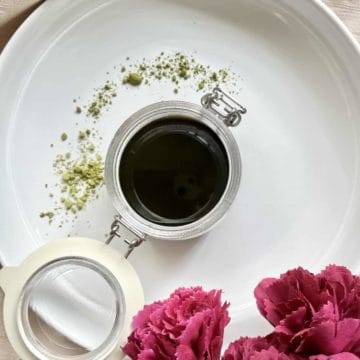 Easy matcha simple syrup recipe (green tea syrup)
An easy green tea simple syrup made from 3 ingredients. perfect for drizzling on pancakes, shaved ice, cocktails and matcha lattes.
Ingredients
¼

Cup

White granulated sugar

Substitute: other sweeteners such as brown sugar, honey, maple syrup etc

1

tablespoon

matcha powder

¼

Cup

Water
Instructions
Add the sugar and matcha powder to the pot. Whisk to make sure the 2 powders are well-mixed.

Add the water, and switch on the heat. Simmer for 5-10 minutes or till at the desired consistency, whisking every now and then to make sure the sugar doesn't burn at the bottom of the pot.

Once all the sugar and matcha are dissolved, and you're happy with the texture, switch off the fire and allow to coo. (Note: simple syrup has a watery consistency. For something thicker, double the sugar to make matcha rich syrup.)

Once cooled, store in an air-tight container in the fridge. Ideally, use within 3 days or the taste will start to change.
Notes
Note: if you use brown sugar to make this matcha green tea syrup, your syrup will be a brownish- green.