A detailed guide to fermenting your own delicious and healthy maesil-cheong or Korean green plum syrup, which can be used to make tea, cocktails, salad dressings, jellies and more!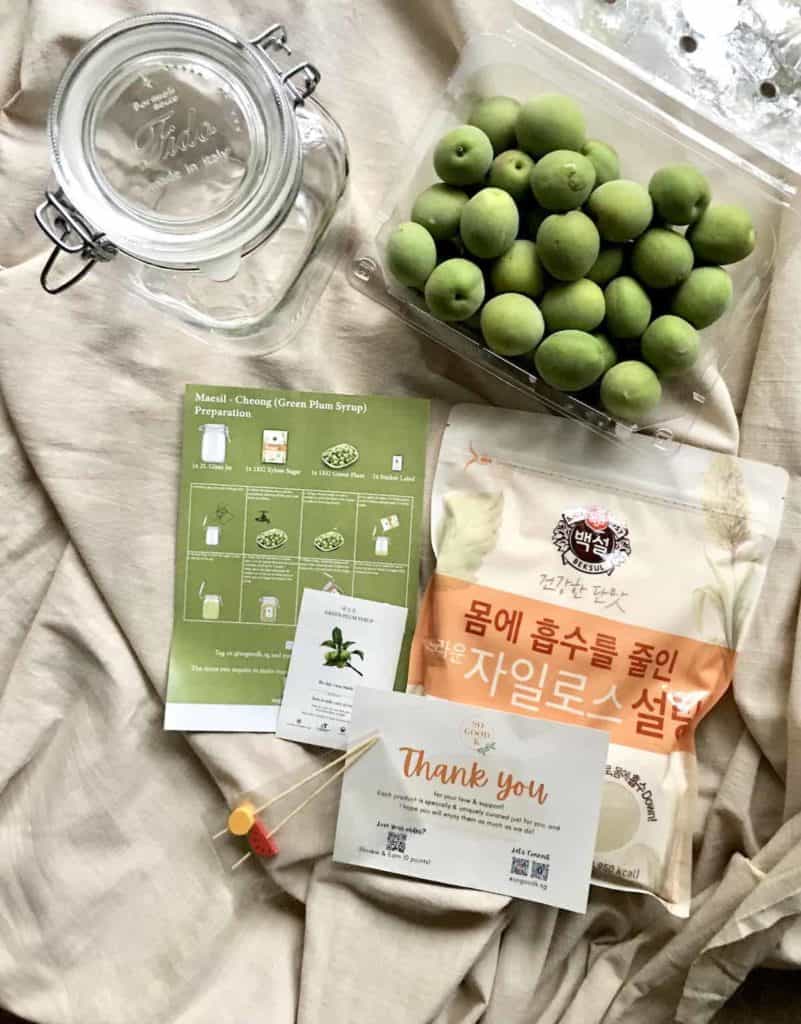 Jump to Recipe
Jump to:
In 2010, I fell in love with Korea after attending a friend's wedding there. Before this, my love affair had strictly been confined to England and Europe, having grown up on a steady diet of Enid Blyton novels, my father's boarding school stories and family holidays to the English countryside. (In fact, I visited England before I had even visited Malaysia, which is just a stone's throw away from Singapore!)
I first came across maesil-syrup when I had maesil-cha (plum tea) (click the link for a recipe) whilst backpacking across South Korea with a friend. It was a totally spontaneous trip- our itinerary was so unplanned, we stood at the train station randomly opening the guide book to decide where we would head to next (which is how we made our way from Gwangju to Daegu, where we ended up staying in a very dodgy motel- thanks Lonely Planet!). We had a terrific time buying Korean beauty products (and getting free samples for just entering stores!), eating pajeon (Korean pancakes) whilst seated on boards balanced across the rocks of a waterfall outside a Korean temple, and gorging on Maesil-cha- my friend ended up loving plum tea so much, she even brought a jar back to London!
Materials you need for fermenting maesil-cheong
I love making things from scratch- I make my own salted eggs, pandan juice and even homemade 5 spice powder- so when I saw this maesil-syrup kit on SogoodK for SG$80 (USD$60), I knew I had to get it! It came with:
1 kg of maesil green plums
1 kg of xylitol sugar (according to the kit, xylitol sugar is healthier than regular sugar as your body absorbs less of it? Also, according to my Dentist friends, it doesn't cause plaque, unlike regular sugar! If you don't have xylitol sugar, you can also use regular sugar.)
1 2-litre glass jar large enough to hold all that fruit and sugar
2 pretty toothpicks (for pricking the plums)
A label for the jar
Instructions and a thank you card
(If you're wondering why I'm writing a post on fermenting maesil-cheong when the kit comes with instructions, it's because I find the instructions included aren't quite as comprehensive as a first-time Asian plum extract maker/ fermenter such as myself would like- especially after I read some articles saying the seeds potentially have toxins, I want to be as careful as possible! In the end, it was much easier than I thought fermenting would be!)
You will need a wooden spoon to stir the syrup, which is not provided with the kit. (If you're living in the US, you can buy maesil from Maesilhood- note that maesil is a seasonal product and you'll only be able to order it between May and June. It's only June 17 now and already maesil/ume is out-of-stock on all the Korean and Japanese sites in Singapore (I wanted to make a 2nd batch of maesil syrup.)) Depending on when you order it, you might get Korean green plums or hong-mei Korean plums with a touch of red on them (those are available later in the season, and will give you a slightly sweeter plum extract.)
How much sugar and what type?
If you don't have 1 kg of maesil, just use the amount you have and an equal amount of sugar. (The Maesil:sugar ratio is 1:1.) The jar should then be twice the amount of the sugar/ maesil. i.e. if you use 500g of maesil, you will need 500 ml of sugar and a 1-litre glass jar.
I used xylitol as that's what came with the kit. It is much more expensive than regular sugar but after hearing from Dentist friends how much better it is for the teeth, I am considering permanently switching to xylitol sugar in the end. (Also, don't be deceived by the name- it's a natural product, not a chemical!) If you don't have and don't want to spend so much on xylitol sugar, regular granulated or honey also work. Alternatively, do as the Japanese do with their ume and use rock sugar (yellow/white are OK.)
What is maesil-cheong?
A fairly new ingredient in Korean cooking, dating back about a decade or so, maesil-cheong is now widely used in the Korean kitchen. It is a syrup of fermented green plums (maesil), which are also known as Ume in Japanese and meizi in Chinese. (The fruits themselves, even when yellow (ripe), are full of citric acid and too sour to be eaten raw.)
Why ferment Korean green plum syrup extract at home?
Firstly it's delicious!
Several Korean blogs also rave about its health benefits- my kit also says that maesil syrup is an "antimicrobial syrup" and that "in Korea, plums are traditionally utilised as an antidote, disinfectant and builds immunity to infectious diseases"- but since I don't have any scientific literature to reference, I shall refrain from extolling its health benefits. (The importance of consuming fermented foods (to our health) has made the headlines of many newspapers in recent years though, and I can't think why fermented plums would be any different?)
Lastly, it's really easy and a great confidence builder to get a newbie into home preservation and fermentation projects.
Random: Very confusingly, Wikipedia says that the 1:1 plum:sugar ratio is necessary to prevent fermentation but my kit says that "maesil-cheong...(is) buried in layers of sugar and left to ferment." Since my kit comes with the symbols of The Embassy of the Republic fo Korea, Korea Agro-Fisheries & Food Trade Corporation, Ministry of Foreign Affairs and Ministry of Agriculture Food and Rural Affairs, I shall believe it over Wikipedia!

How do you use maesil-cheong?
Maesil syrup is simultaneously sweet and sour, and works wonderfully in many drinks and dishes, such as:
When using it as a sugar replacer, go sparingly and taste as you go due to its sourness!
How to ferment Korean green plums?
Step 1 (Optional): soak them in baking soda for 15 minutes
This wasn't specified in the kit but I like to do so as soaking fruit in baking soda for 15 minutes in a 1% solution can remove some of the pesticides on them. After soaking for 15 minutes, rinse the maesil well then dry the fruit very carefully- any water in the ferment can lead to mold growing in your syrup (which you don't want). Remove any stems- water likes to collect in the crevasses there so don't forget to dry that part well.

Step 2: Whilst the maesil are soaking, sterilise the glass jar
The instructions say to sterilise the glass jar by pouring boiling water in it. I'm always paranoid about the glass shattering so I checked with the company and they said that to prevent that from happening, you should pour some warm water into the jar first so that it isn't shocked by the boiling water. Note, the glass jar gets VERY hot to touch when you pour the boiling water in, so you may need oven gloves to pick it up.
After sterilising, dry the glass jar completely.
Step 3: Prick a few holes in each
Prick a few holes in each dry maesil before adding it to the jar- this helps it release its juices. You want to add the maesil and sugar into the jar in batches- if you add everything at 1 go, it's hard to make sure all the plums are covered by the sugar evenly. I layered about ⅓ of the sugar and fruits, before repeating it twice more till all the sugar and fruits had been added to the jar.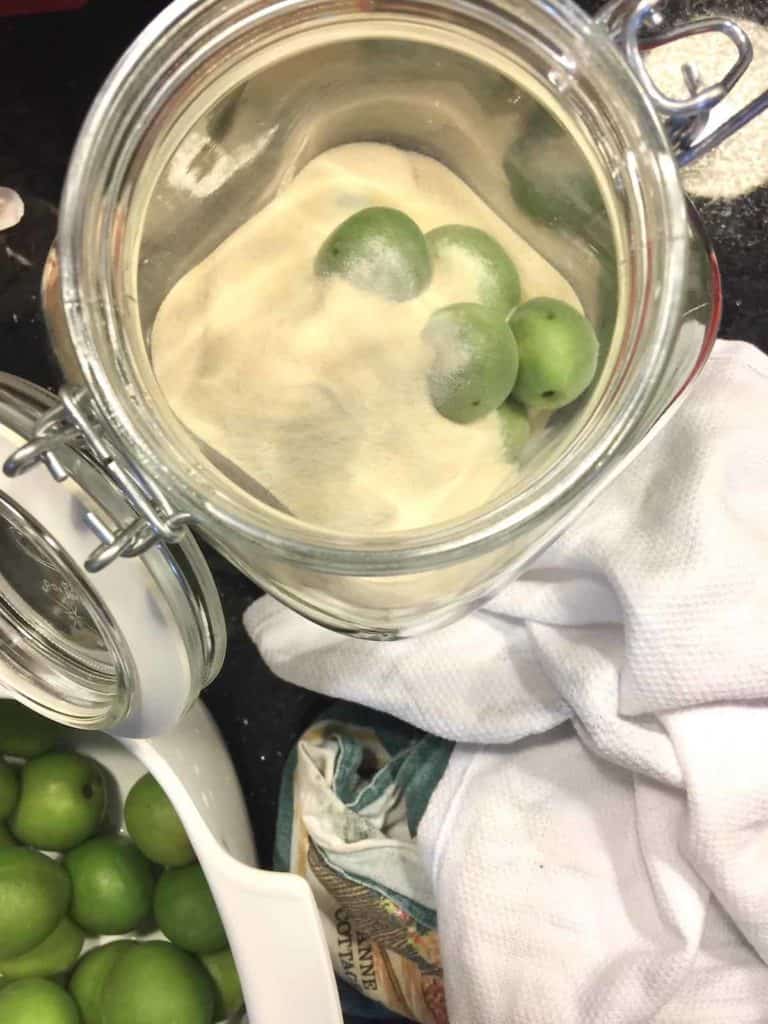 Note: For some reason, not all the sugar could fit in the jar so I just filled the sugar to the top of the jar. (Make sure the plums are covered.) In less than 24 hours, the plums had released so much juice that the jar was now almost ⅓ empty, so I added the unused xylitol sugar to the jar. (I was also left with 1 bruised fruit.)
Step 4: leave the plums and sugar in a dark place for at least 3 months to ferment
The sugar and fruit liquifies very quickly. By day 2, almost ⅓ of the jar had dissolved. (I'm taking photos every alternate day, and will share a progress report post at the end.) On day 7, open the jar and use a sterilised wooden spoon to stir everything together till the sugar is all dissolved. Seal the jar again and replace it in its dark hiding place. From now till the end of the 3 months, burp the jar (open it to release air) every now and then to make sure it doesn't explode.
At the end of the 3 months, your maesil syrup is ready to be used! Check back in in 3 months' time and I'll show you what I've made with mine.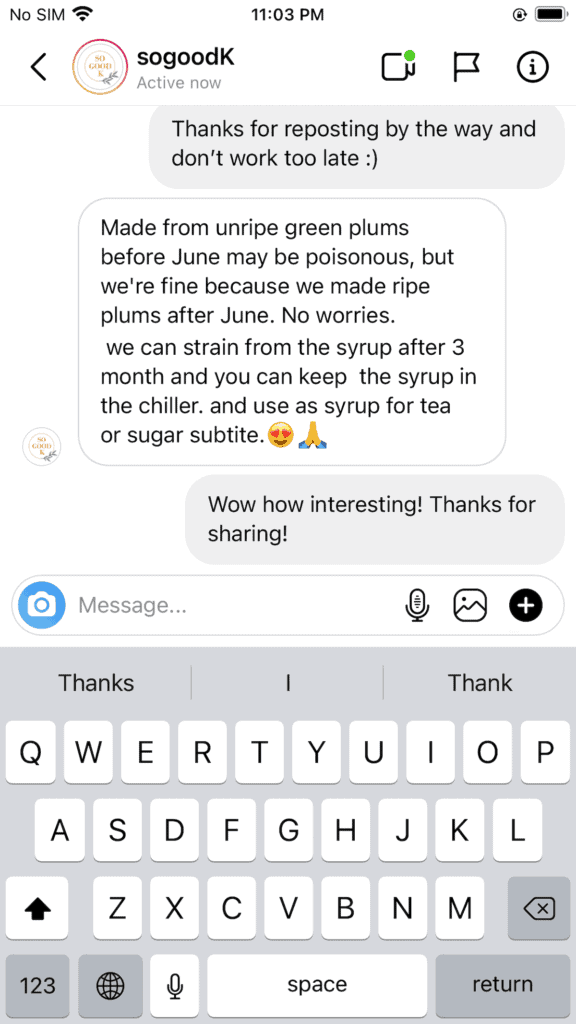 Note: according to some blogs, the green plums must be removed from the syrup after 3 months because the pits are poisonous. However, if you ferment the syrup for over 1 year, this solves the problem- so either strain the syrup at 3 months, or wait for 1 year. My kit doesn't mention anything about the poisonous pits- can anyone shed more light on this? is this an old wives tale or is there evidence backing up the claim?- but merely states that the plums can be fermented for 3 months to 3 years. I'd love to do a 3-year ferment to see how its flavour profile compares to the 3-month one! (Sadly maesil is currently out of stock.)
Update: I checked with my supplier and he says that the toxicity is related to the date: unripe green plums before June may be poisonous.
Step 5: After 3 months, strain and store the liquid plum syrup in the fridge
The leftover shrivelled plums aren't wasted! They can be used for other projects, as detailed below.
What do you do with the leftover Korean green plums after straining your maesil syrup? Plum wine, vinegar and pickles!
After fermenting maesil-cheong, you can use the remaining, wrinkly plums to make maesil-ju (plum liquor, similar to Ume-shu- no offence to any Koreans!) and then maesil-jangajji (maesil/ Korean green plums + gochujang). Alternatively, you can use the leftover fruits to make plum vinegar- do note you need a rice vinegar with sufficient acidity for this.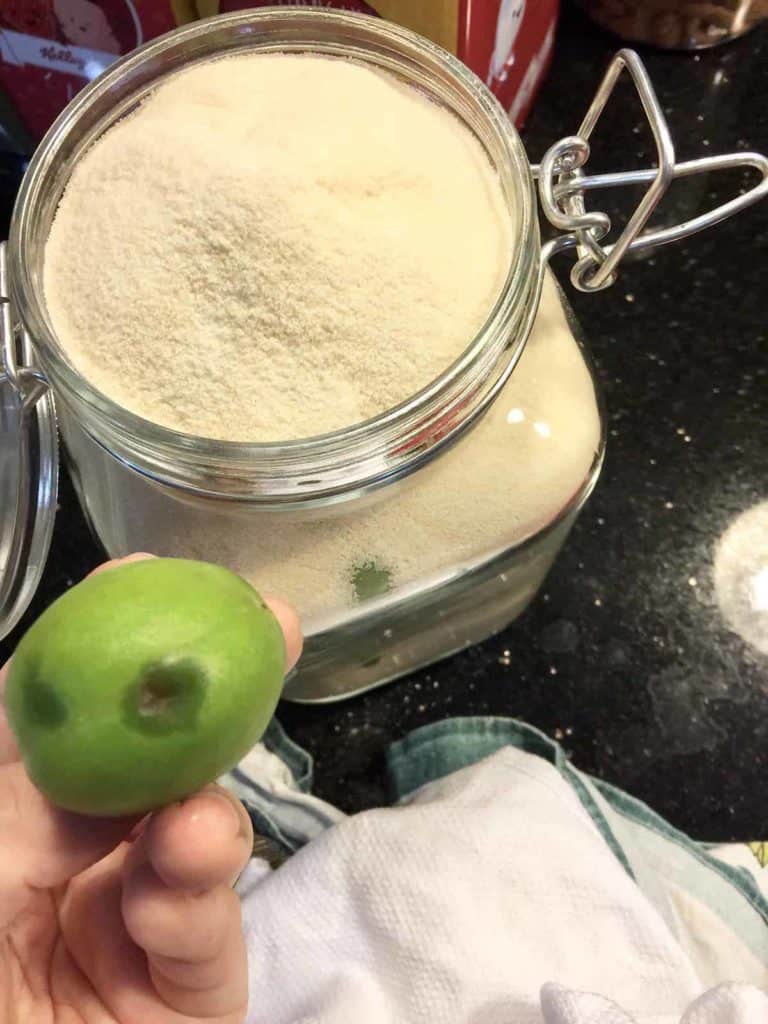 Can you use bruised fruit to make maesil-syrup?
I would assume yes, since we're pricking holes in the fruit anyway. However, as this is my first time fermenting Korean plum syrup, I contacted the seller of this maesil-making kit to be on the safe side. (And the answer was yes 🙂 )
Note: I didn't add my bruised plum in the end, as the jar was already filled to the brim. Also, if there are any spoilt, rotten or moldy plums, don't add those to the glass jar, as they will ruin the syrup! (There were none in my box- only 1 bruised plum.)

How do you know if something goes wrong?
There should be small air bubbles given out by the plums as the sugar liquifies - this indicates that the fermentation is ongoing. If you don't see any air bubbles after a few weeks, it's a sign that something may have gone wrong and you may want to toss it.
When I messaged SogoodK, they said that the plum syrup would only need to be stirred once (on Day 7) and would not need to be burped otherwise. However, most fermentation projects that I've seen do call for more frequent releasing of air. To be on the safe side- no one wants an exploding glass jar in the house, after all- burp the jar every now and then to release any built-up pressure.
In addition, there should not be any mold on the plums during the fermentation. (Sometimes the partially-liquified sugar can look like mold, so check carefully.)
Review of SogoodK
This post is not sponsored- I bought the maesil fermenting kit with my own money 🙂 You may want to skip this section if you don't live in Singapore as I'm not sure if SogoodK ships overseas? (I will ask.)
I was very, very pleased with SogoodK. When placing the order, I was informed of the specific date that my kit would arrive (2 weeks time). However, I received a call from them to inform me that they could send it to me earlier and to ask if this would work for me. (I checked and they said I could keep the maesil in the fridge for 2-3 days if I wasn't able to ferment it right away.) This was much appreciated as I'd previously ordered from other food companies who just delivered the products on whatever day they wanted! The products were all nicely packed and came in a translucent, reusable tote bag. Also, as you can see from the updates on my post, they replied super quickly every time I had a question!
If you live in Singapore and like fermenting, I totally recommend the maesil-syrup kit from SogoodK 🙂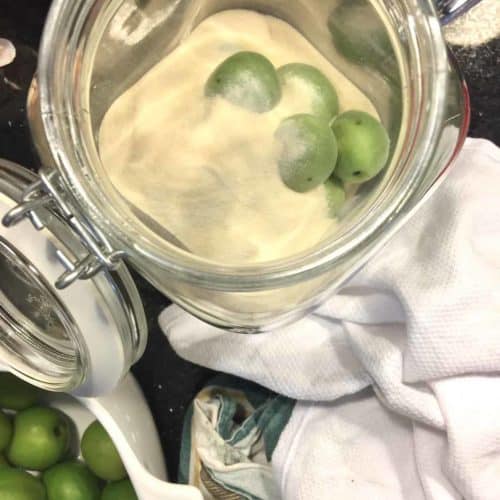 How to make maesil-cheong (Fermented Korean green plum syrup)
A super easy project, maesil (or ume) syrup is a great first project if you've never fermented anything before!
Equipment
1 2 litre Glass jar (Sterilised)

1 Toothpick

1 Wooden spoon
Ingredients
1

kg

maesil green plums

You can also use ume from the Japanese store- it's the same fruit. Discard any moldy or spoilt plums, but bruised ones can be used.

2

teaspoons

Baking soda

1

quart

Water

Plus extra for washing the fruit after soaking

1

kg

sugar

I used xylitol, but you can substitute with honey, granulated sugar or even rock sugar. (The Japanese like to use rock sugar when making Japanese plum tea syrup.)
Instructions
Soak the maesil in a baking soda and water solution for 15 minutes. You need a 1% solution (so 2 teaspoons of baking soda for 1 quart- 946 ml- of water.) Rinse and dry the maesil very well at the end of the 15 minutes.

Whilst the plums are soaking, sterilise your glass jar. First add some warm water to the jar to prepare it for the boiling water then pour the warm water out. Next, with the jar in the sink, carefully pour the boiling water into the jar then pour it out. You may need oven gloves for this as the jar will be very hot to the touch. Dry the jar thoroughly after sterilsing.

Prick 2-3 holes in each maesil, then add ⅓ of the sugar and ⅓ of the maesil into the jar, making sure the sugar and maesil are layered (instead of having 1 layer of maesil followed by 1 layer of sugar, or vice versa.) Repeat twice with the remaining ⅔ of maesil and sugar. You should end with a layer of sugar.

Seal and label the jar with today's date then store it in a dark and cool place. (I used the cupboard under my sink.)

After 7 days, use a sterilised wooden stir to mix things up, ensuring that the sugar has all dissolved. Re-seal and place back in its dark hide-out. From now till day 90, open the jar every now and then to release any gas build up. (Refer to the section above the recipe card for signs that your maesil ferment is going well.)

After 3 months (or up to 3 years if you are patient!), strain and store the syrup in a sterilised jar in the fridge. Use the leftover maesil for wine, vinegar or pickles (There's a paragraph above with more information about this- I will also be doing a separate post once my maesil syrup has fermented.)

To reward yourself for your long wait, use your homemade Korean plum syrup extract to make yourself a nice cuppa plum tea!
Notes
Optional: Some people like to keep their maesil syrup fermenting for over a year, but I'm impatient! Next year, I may do 2 jars, one to use after 3 months and one to keep for a year.
Next project: I'm making my own makgeolli, or Korean rice wine, so check in next week for details of that project!