Intimidated by fermenting your own Korean rice wine? Don't be! Here's a step-by-step guide, with photos, showing you how to make makgeolli at home with a kit- it honestly couldn't be simpler!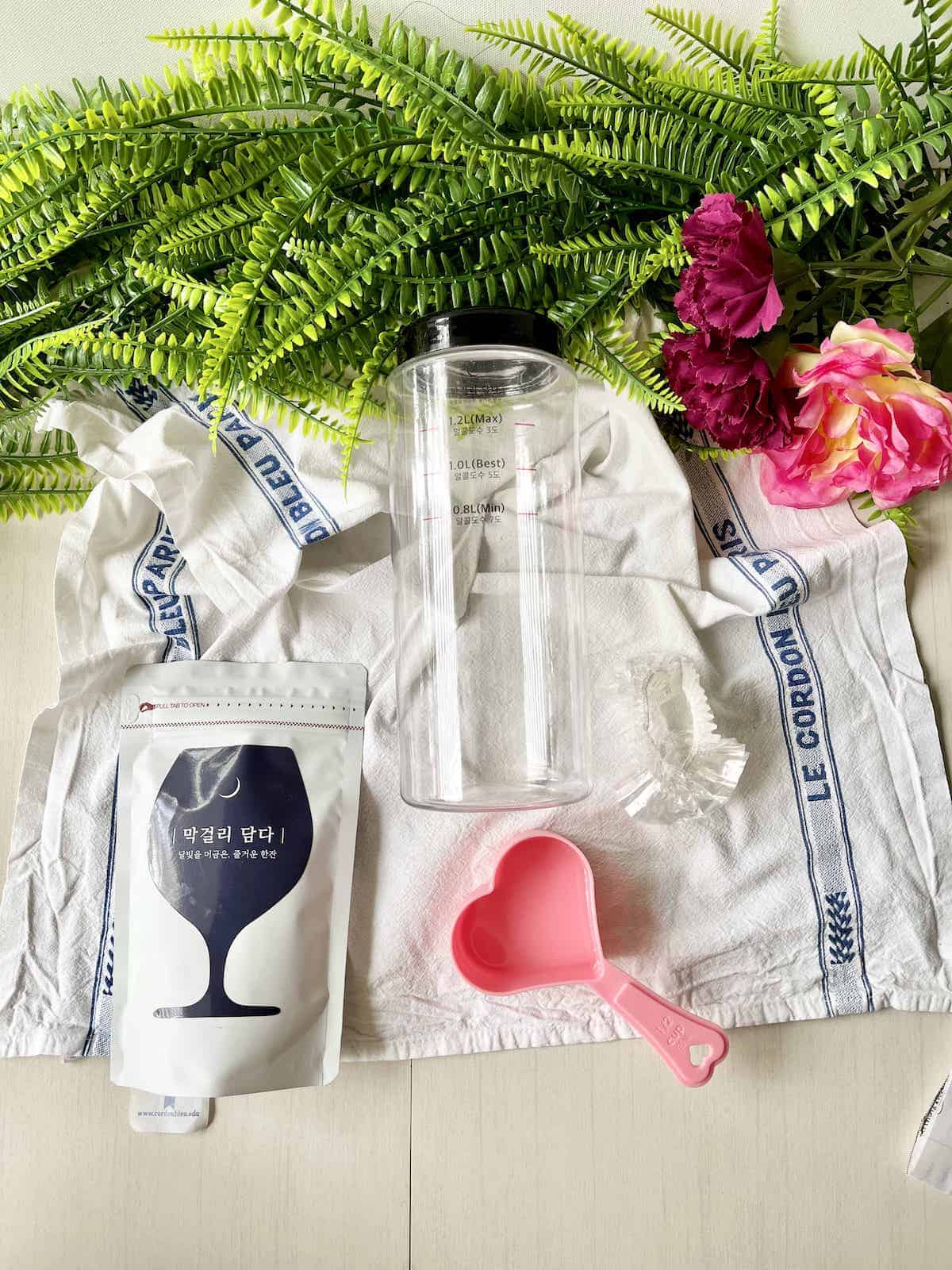 Jump to:
I have a love-hate relationship with fermenting and preserving food at home.
On one hand, I love, love, loooove the idea of doing it (and eating fermented foods!) but on the other, I never know if I'm doing it right/ whether the resulting food is edible... (Other than my homemade salt preserved eggs!)
The first time I actually had the courage to try one of my home ferments was when I made maesil-cheong (it can be used for Korean plum tea, Koream plum wine or in cooking. To be fair, I would have tried my homemade miso if I could have brought it back to Singapore to me. Alas, mid-ferment, I moved back from London to Singapore for good and there was no way to bring the half-done miso back!)
I tasted the maesil-cheong on the 8th day of the ferment, and it tasted soooo good that I was encouraged to do a few more home fermentation projects: making tangerine-cheong and now fermenting makgeolli at home with a kit!
Note: If you want a non-alcoholic Korean drink, try Korean boricha!
💭 Why DIY Makegolli?
A lot of shopbought makgeolli contain artificial sweeteners such as aspartame, whilst homemade obviously doesn't!
In addition, home made makgeolli contains live cultures which are good for your health. In comparison, other than Draft 'Saeng makgeolli (생막걸리), shop bought may not have any live cultures in them. (Unpasteurised makgeolli has a short shelf life, hence most commercial makgeolli is pasteurised.) Maangchi, a famous Korean food blogger in the US, actually sent her homemade makgeolli to a lab for testing and the report stated that the makgeolli contained vitamin B1, B2, B3, B5, and B6 as well as lactobacillus (at a count of 375,500 CFU/mL.) Not bad for a home made alcohol!
Making homemade makgeolli from scratch would take 7-10 days for fermentation. However, my kit only takes 24-36 hours! Perfect for impatient people like myself!
Serve with some Kimchi Fried Rice and banchan turn it into a Korean feast!
Note: according to the website I bought this kit from, if you use this Makgeolli Damda kit, your 1 litre of makgeolli will have 100x good bacteria (100 billion CFU) than 1 litre of yoghurt (1 billion CFU)! I'm almost convinced to make this on a weekly basis as a health drink now!
🍶 What is Makgeolli?
Makgeolli (막걸리) is a thick, raw, unfiltered, traditional Korean sparkling rice wine made from only 3 ingredients (rice, water and Nuruk/ yeast.)
In fact, it's the oldest alcoholic Korean beverage, dating to the Koryo Dynasty (918-1320)! Every home used to brew their own makgeolli but makgeolli declined in popularity due to competition from imported alcohol.
Note: There are also other theories behind its decline e.g. because of the rice alcohol ban in the 60s, makgeolli was made from wheat flour instead of rice for a period of time, resulting in an inferior tasting drink.)
It's traditionally homebrewed by farmers, and is even called "nongju" or farmer's drink. (This is actually 1 of the reasons it lost favor, as it was associated with poverty for many years.)
Makgeolli is cloudy/ milky, complex, fizzy, high in calories and sweet to taste. It goes very well with Korean food (anju) and has been making a comeback in recent years.
In fact, Michelin even published a post recommending what Korean dishes to pair with it!
I've toyed with the idea of making my own Makgeolli before, but never got round to it till I came across this Make-Makgeolli-at-Home kit which seems, well, pretty much idiot-proof.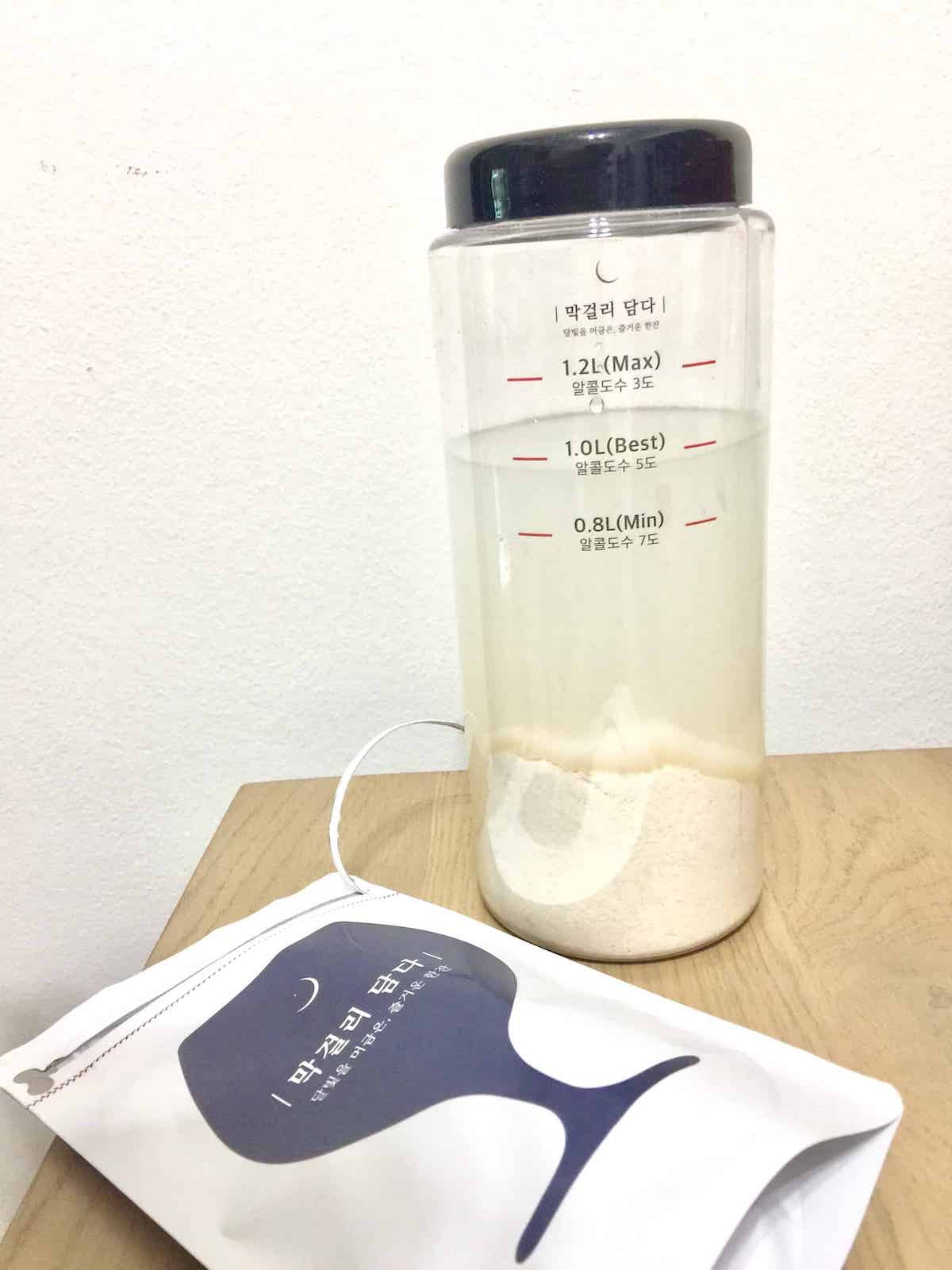 Makgeolli vs Soju
Soju (燒酒/소주) and makgeolli actually come from the same ingredients: rice, water and the fermentation starter nuruk (sort of like an earthy wheat cake.) Both taste a little sweet but soju has a higher alcohol content.
Fermentation can be from 1 week- 3 months, after which it is filtered, and the alcohol collected (wonju or "original alcohol"- it's very strong, about 21% alcohol)
This can be watered down to make makgeolli or takju (or "cloudy alcochol", if watered down some more.)
If you placed the wonju in the fridge (so the 1st, strong alcohol), it'll separate into a rice sediment and cheongju/ yakju (a golden clear alcohol.) The cheongju can be distilled into soju.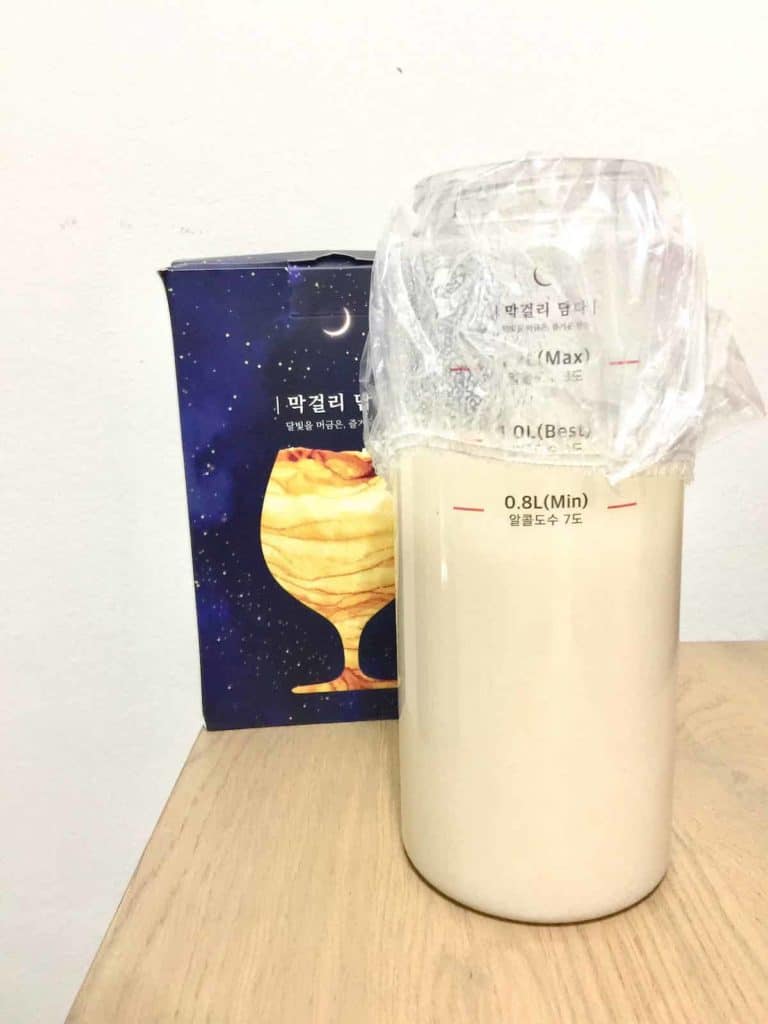 📋 What Does the Kit Include?
The Makgeolli Damda kit comes with:
a translucent plastic bottle
cling film (to cover the mouth of the bottle when fermenting the makgeolli- you need to poke a few holes in the cling film)
2 packets of makgeolli powder which is a mixture of

Korean rice (grown in Jangheung, Jeolla-do)
Yeast
Stevia (a natural sugar substitute)
Fructooligosaccharides (high lactic acid content)
I'm really curious how the manufacturer of the kit expedites the fermentation- it reminds me of how box mix hotteok ferments instantly whilst made-from-scratch hotteok needs an hour or so.
🥣 Step-by-Step Instructions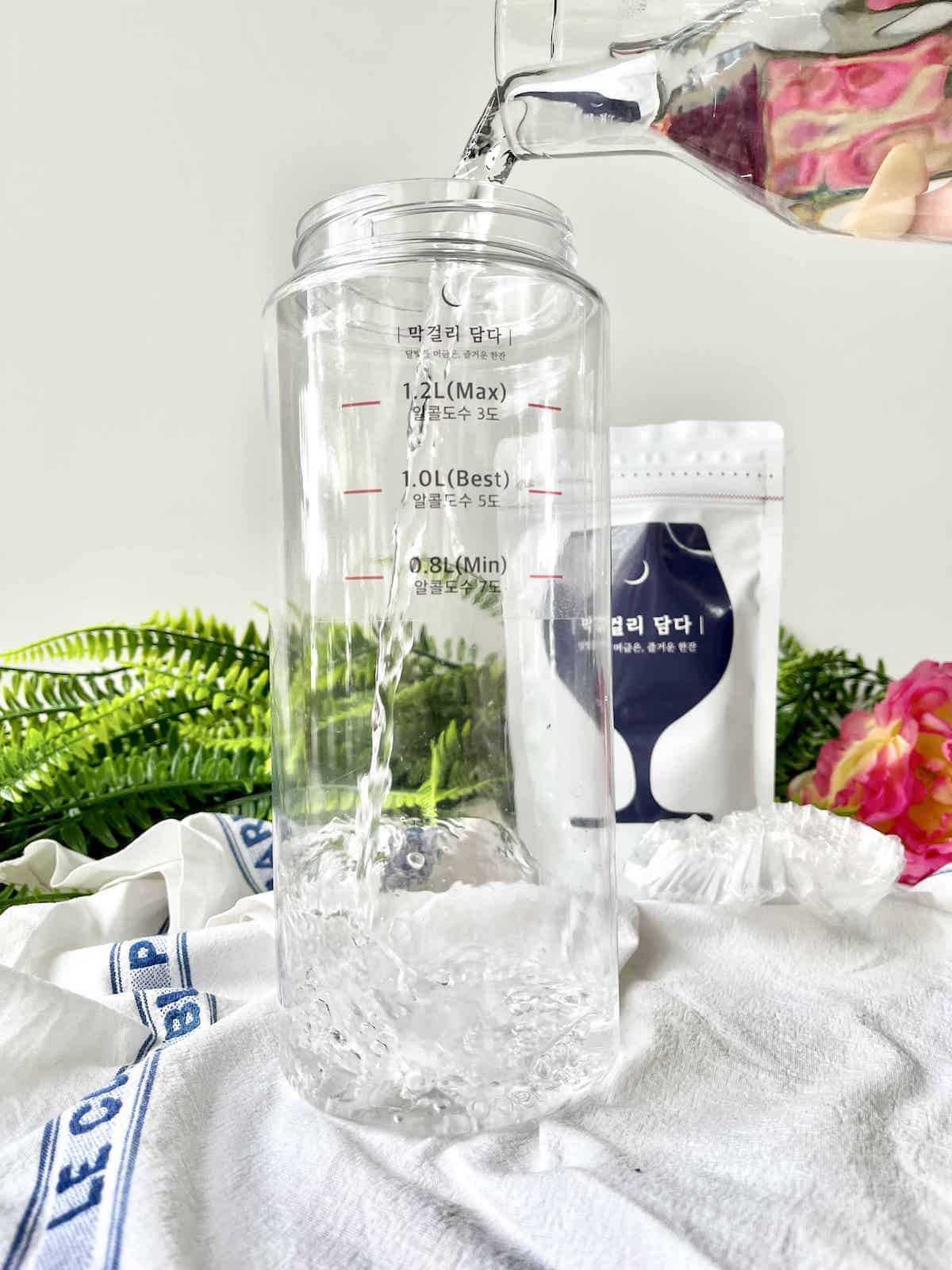 Pour the water into a clean bottle. (My kit is for 1 litre of water but yours may be different.)
Note: I used boiled tap water that had cooled down to room temperature.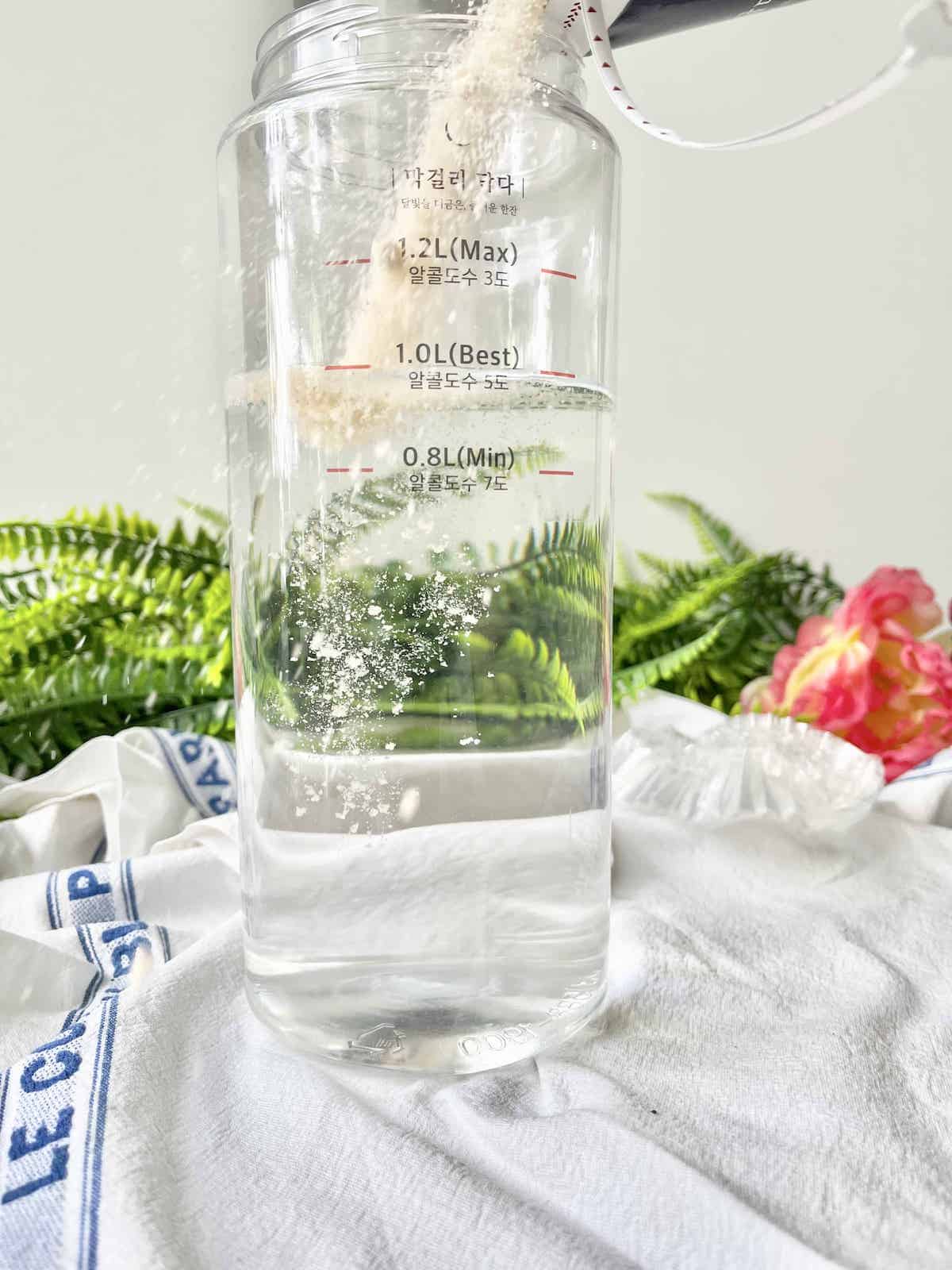 2. Add the Nuruk powder.
Note: The order of pouring is important as if you add the powder first, you won't be able to use the markings on the bottle to guide you to add 1 litre of water (You'll need to weigh the water out then, although the bottle has markings for 0.8 - 1.2 litres, so I'm guessing you don't have to be super precise.)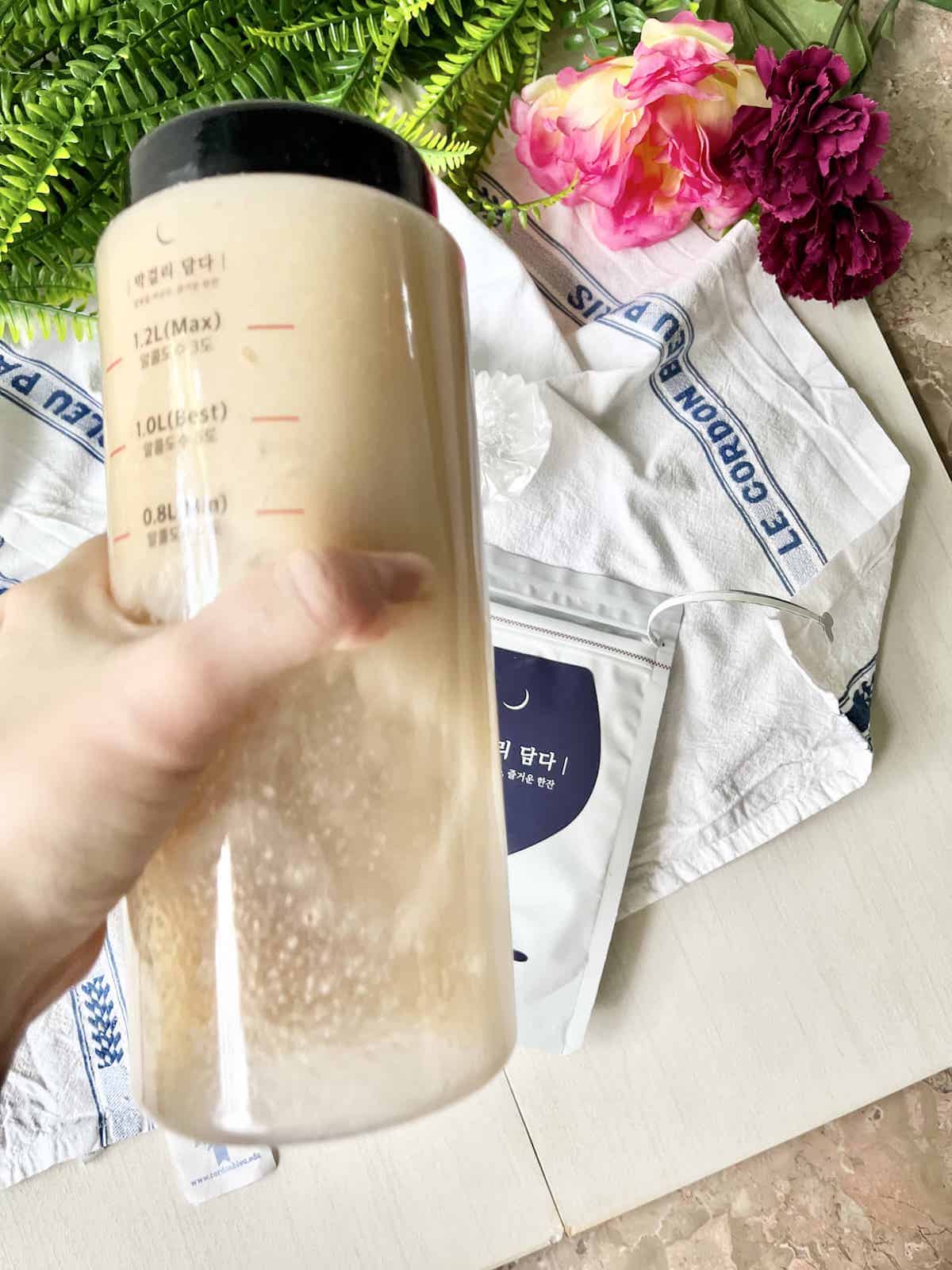 3. Close the bottle tightly so it doesn't spill then shake till well-mixed (5-6 times.)
Note: some clumps will remain but don't worry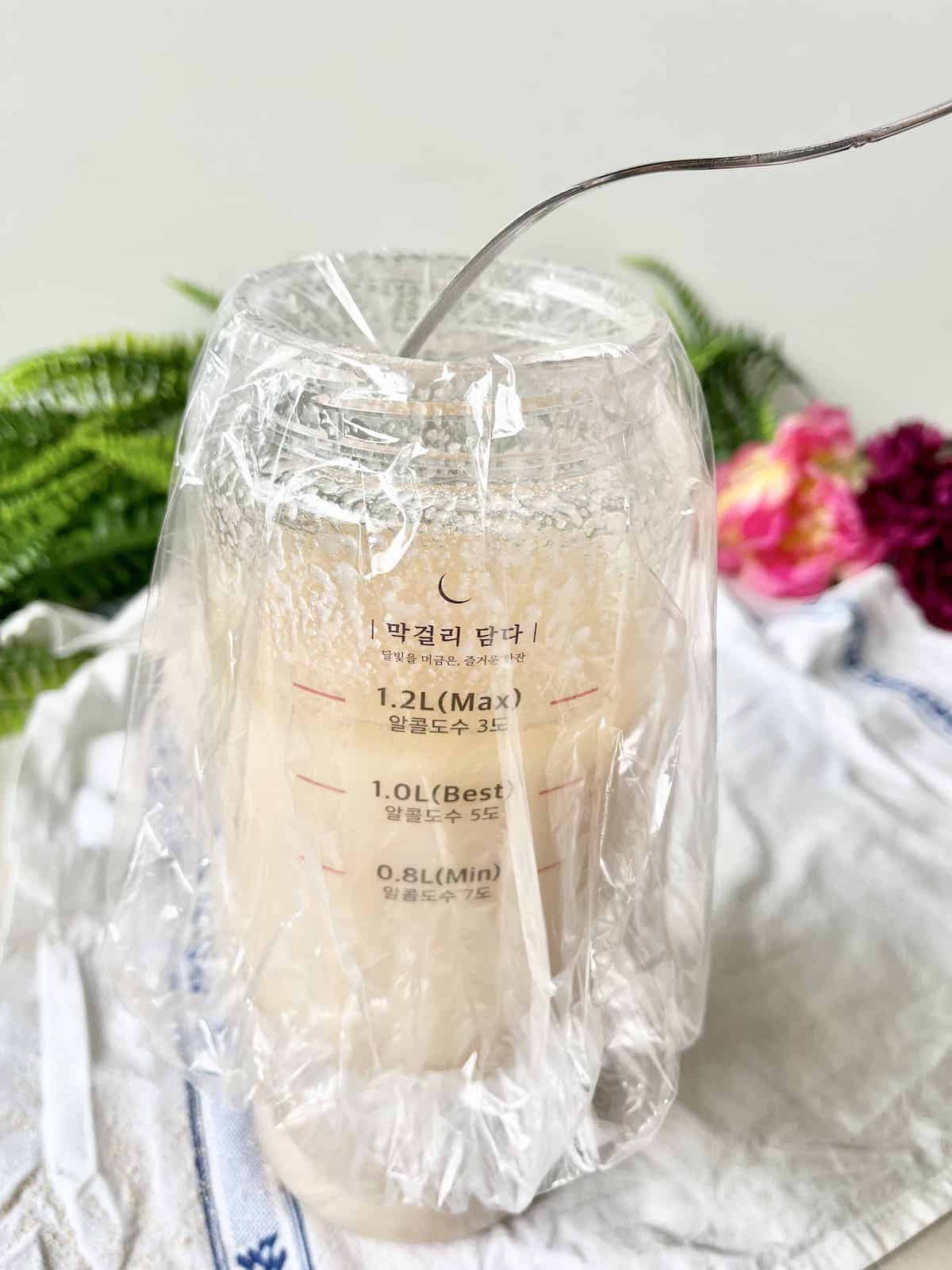 4. Open the bottle and cover with cling film or a shower cap (1 came with my kit) then pierce a few hols in the plastic.
Place the bottle in a dark place. Start checking from the 24hour mark onwards.
How do I tell if my starter didn't work?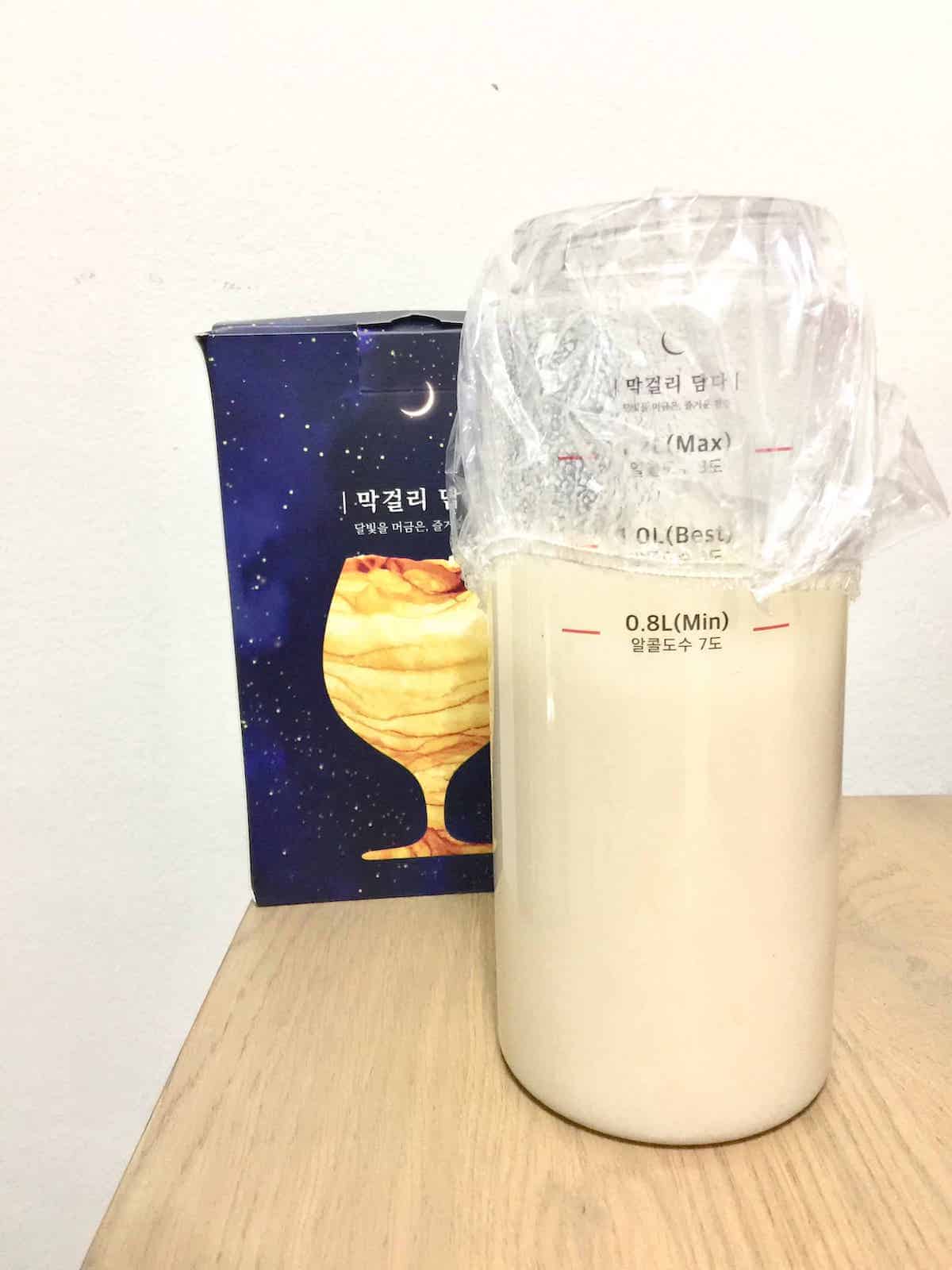 Successfully fermenting makgeolli at home
This is what you want to see. It's not obvious, but the makgeolli becomes bubbly and is white-ish after 24-36 hours.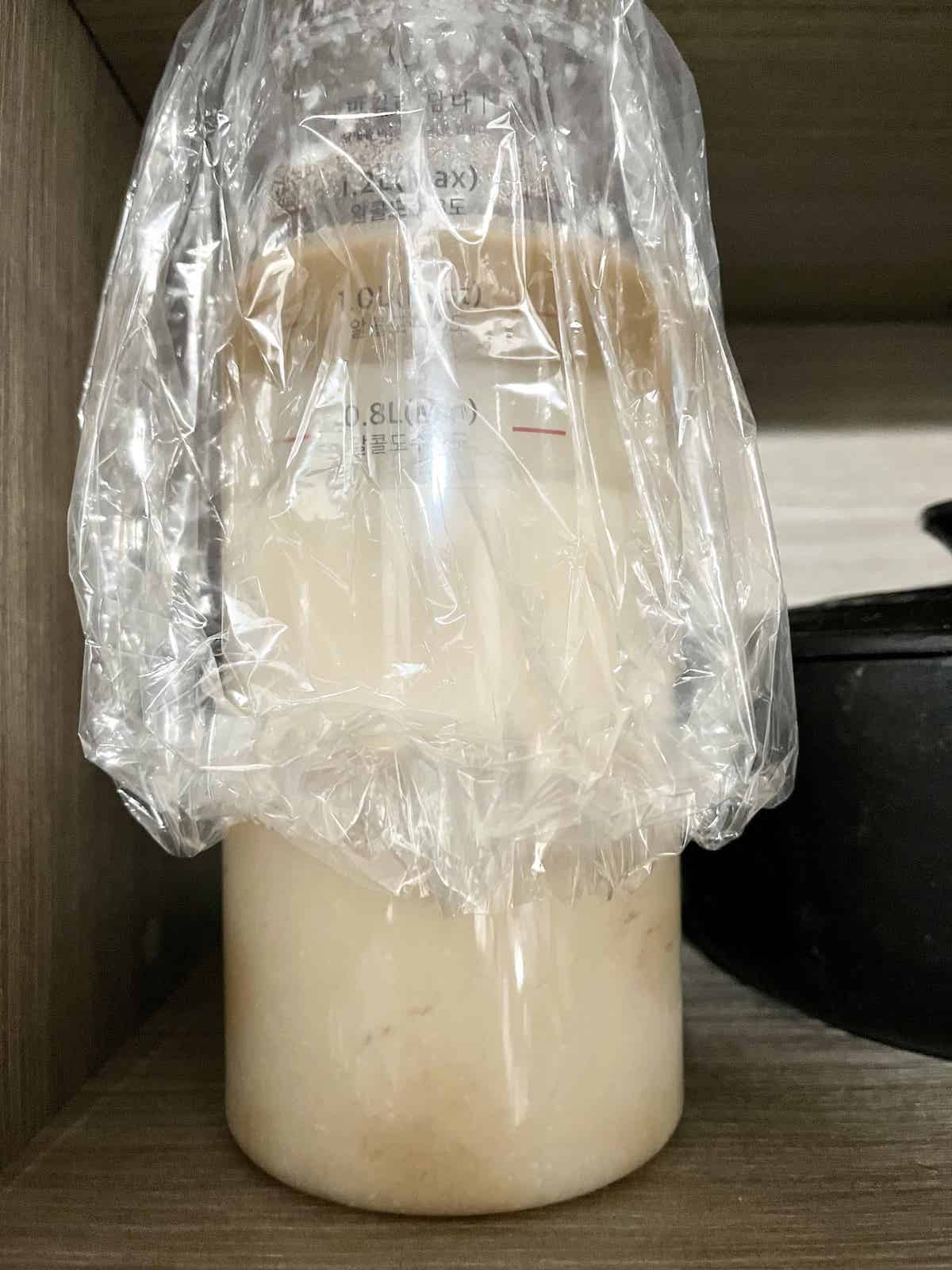 Failed attempt
I had an expired kit and was wondering if it would still work, so I tried it.
Well, it doesn't! It's very obvious that the ferment failed as it is a brown-ish color, the powder doesn't dissolve into the water AND there are zero bubbles.
🥡 Storage
Homemade makgeolli needs to be refrigerated and tastes best chilled. It will continue ageing in the fridge and improving in taste and fragrance (up to a point, of course!)
📋 Is it Cheaper to Make at Home with a Kit?
You use 1 packet per batch of makgeolli (which is 1 litre), so each kit can produce 2 litres of makgeolli. The kit costs $19.90 from blue basket (click on the link to purchase. Note this isn't sponsored. I bought the kit with my hard-earned money!)
On the other hand, a quick google search shows that a 750ml bottle of makgeolli costs $8.90 on Amazon/ Lazada which works out to $23.73 for 2 litres.
In other words, you actually save $3.83 (excluding the cost of the water :P) making makgeolli at home with a kit! And you have fun in the process, bargain!
I was originally expecting the homemade makgeolli to cost more (paying for the experience and all that!)
Note: If blue basket doesn't deliver to your country, I did a quick search on Amazon.com and it seems there are quite a few makgeolli making kits available! A common complaint is that the English instructions are sparse so luckily you have my post to help you 🙂
👩🏻‍🍳 Recipe FAQs
What's the difference between makgeolli and soju?
Firstly, makgeolli is unfiltered, whilst soju is distilled, and soju has a much higher alcohol content. For more info on these Korean alcohols, click through to my post!
What to serve with makgeolli?
Personally, I love hotteok (with everything) but it's not traditional! Koreans have special drinking foods/ snacks called Anju, such as pajeon, bossam and samgyeopsal (Korean pork belly). Remember that makgeolli is best served cold! (If drinking bottled makgeolli, give it a shake first to mix up the sediment.)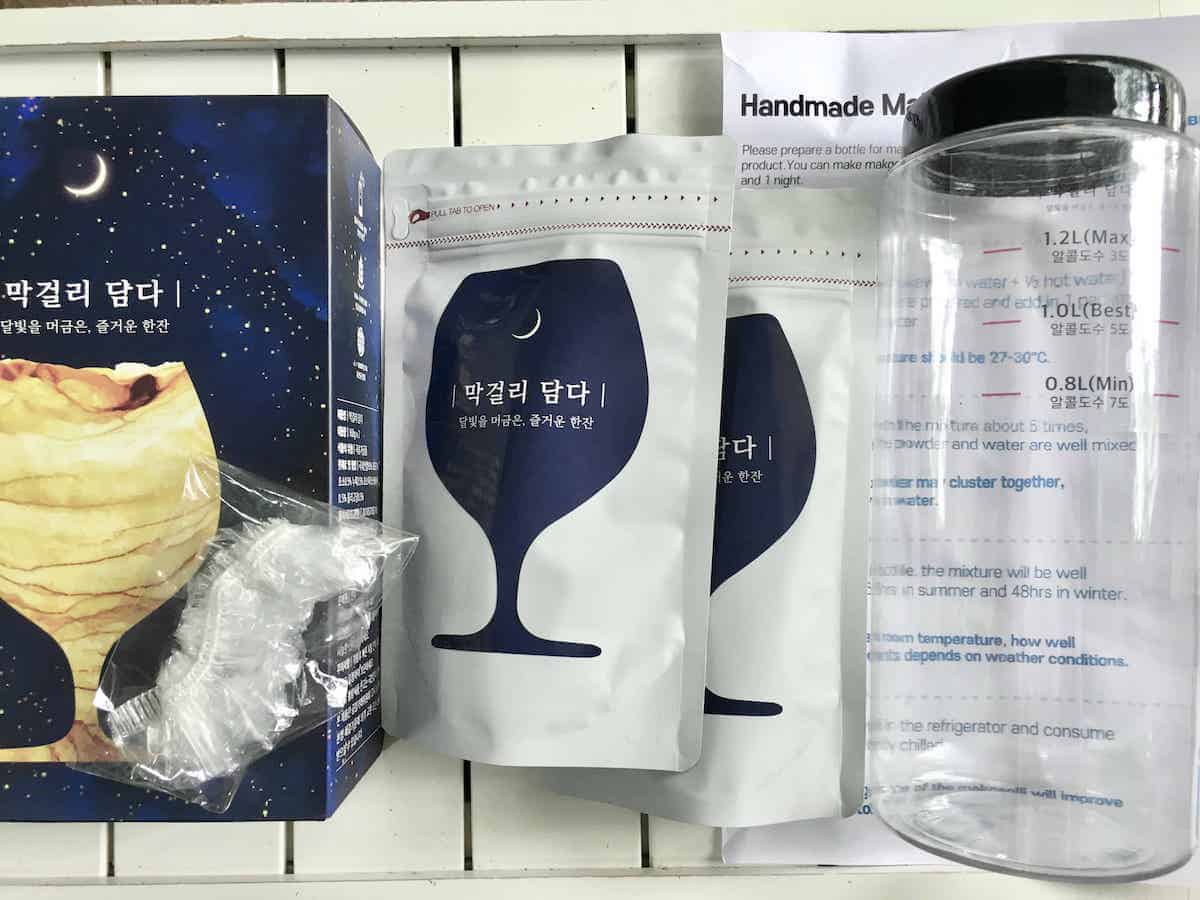 🥘 Other Korean Recipes
Enjoyed this homemade makgeolli guide? Please leave a 5-star 🌟🌟🌟🌟🌟rating in the recipe card below & if you REALLY found it useful, please consider supporting it by buying me a coffee! 🙂 (No obligation though!) Thank you and have a great day!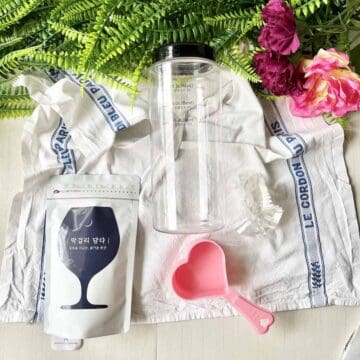 How to Make Makgeolli with a Kit
Intimidated by fermenting your own Korean rice wine? Don't be! Here's a step-by-step guide, with photos, showing you how to make makgeolli at home with a kit- it honestly couldn't be simpler!
Equipment
Everything is provided with the Damda kit but, if not, you'll need a bottle (with cap) and cling film/ shower cap
Ingredients
1

bottle

included in the pack

1

packet

makgeolli powder

included in the pack

1

litre

water

Cling film

included in the pack. If not, you can use a shower cap!
Instructions
Wash the bottle that comes with the makgeolli home kit and dry it well.

Pour 1 litre of water (27-30C or 80.6-86F) into the bottle first then add 1 packet of the makgeolli powder.

Note: I used boiled tap water that had cooled down to room temperature. Please refer to notes for more details on the type of water to use for fermenting makgeolli. Note the order of pouring is important as if you add the powder first, you won't be able to use the markings on the bottle to guide you to add 1 litre of water (you'll need to weigh the water out then, although the bottle has markings for 0.8 (min)- 1.2 (max) litres of water, so I'm guessing you don't have to be super duper precise.

Shake the bottle 5 times or so, till the powder and water are well-mixed. You may see clumping of the powder but it will dissolve naturally in the water.

Cover the bottle with the cling film included, poke a few holes in it then leave it in a dark and cool place.The kit says that the mixture will ferment in 36 hours (summer, room temperature of 27C or 80.6F)- 48 hours (winter)- since Singapore's room temeprature is much higher than 27C, I suggest checking the bottle from the 24hour mark onwards.

Note: If you're making makgeolli in winter, your bottle may like to be cuddled by surrounding it with a blanket to keep it warm and cosy:) 

Once the drink is fermented to your liking, keep it in the refrigerature. Tastes best when chilled. The makgeolli will become more fragrant in tastier in the fridge.

Note: The kit does not say how long the makgeolli can be kept for, but homemade makgeolli normally doesn't last that long, so consume within a few days' time.
Notes
What water to use
Note whilst the packet does not say what kind of water to use, traditionally people used spring water for fermentation. As most of us living in cities these days don't have access to a spring, I used boiled tap water instead. (Please make sure the tap water in your country is safe to drink if you are using tap water!) Your tap water may contain chlorine so you will need to boil it for 15 minutes to remove the chlorine, as the chlorine may interfere with fermentation.
Alternatively, you can use distilled water (don't use regular bottled water as it may contain fermentation-inhibiting chemicals too.) Since each box comes with 2 packets, I plan to do my first ferment with boiled tap water and the second with distilled water to compare the difference.
Note: Nutritional information is from Myfitnesspal.com
Nutrition
Serving:
1
g
Calories:
550
kcal
Carbohydrates:
140
g
If these DIY makgeolli instructions were helpful, maybe you'd like to sign up for my weekly Asian recipes newsletter?