Kimchi Bokkeumbap, or Korean fried rice with kimchi, is so easy and delicious, it's often whipped up as a hangover meal in a Korean household and can be made perfectly the first time. Plus, it's done in 15 minutes if you have leftover rice around!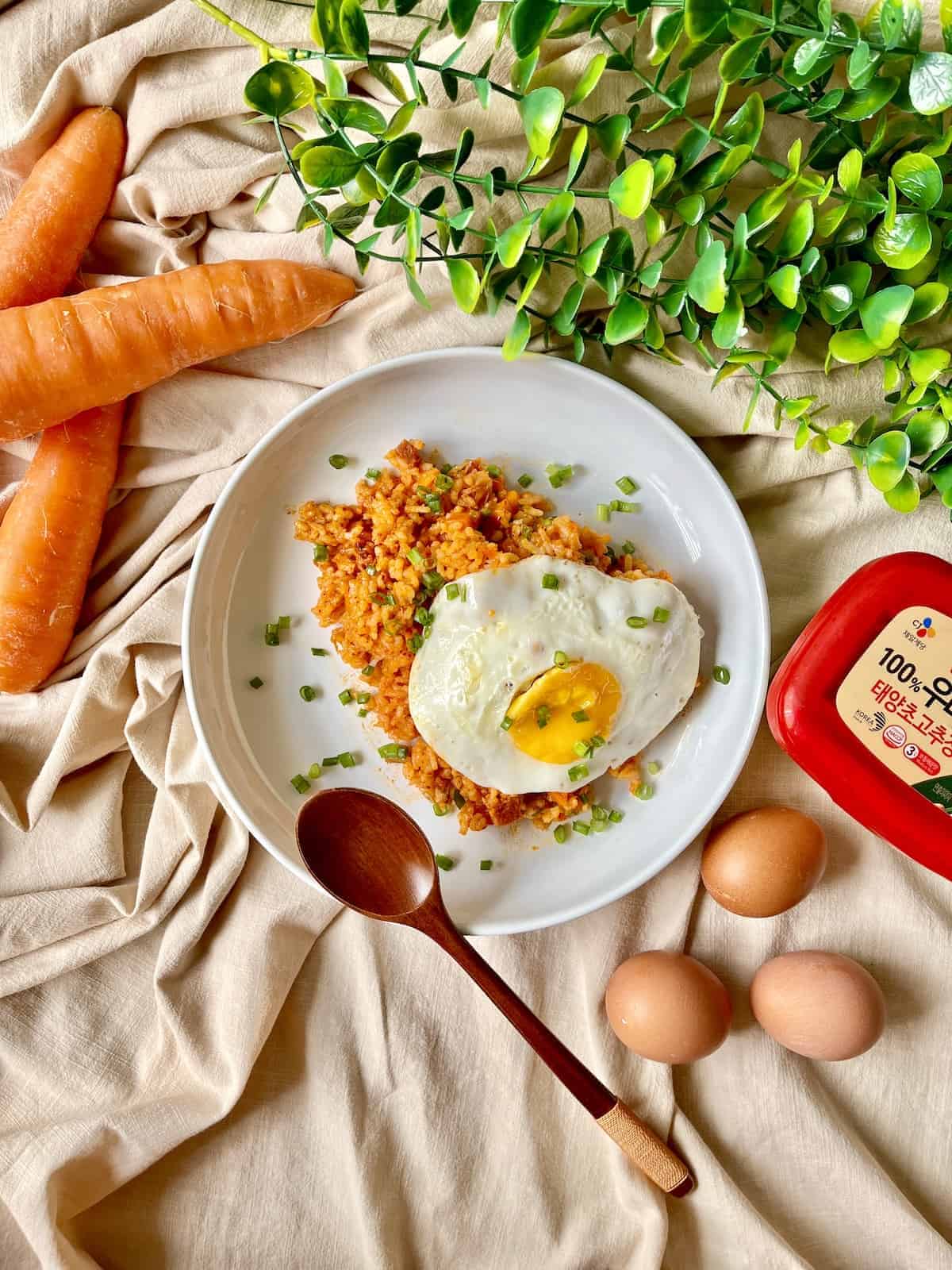 Jump to:
⭐ Why This Recipe is a Star
Kimchi Fried rice is a deliciously savory one-pan meal: if you like the tangy flavor of kimchi and Korean food, you will love this quick weeknight dinner recipe! Better and healthier than what you get at Korean restaurants!
Quick and easy: takes only 15 minutes assuming you have day-old rice on hand, which is the best rice to use for fried rice! (See below for what to do if you don't have that much rice on hand!)
Versatile: Not only can you play around with the ingredients- you can add shredded chicken (leftover gochujang roast is perfect!), Spam, shrimp, veg, cheese etc- it also goes well with many dishes such as these easy Korean sides and Korean spicy salmon.
Moreover, because the best fried rice is made with leftover rice, this is a sustainable and wallet-friendly recipe!
What is Kimchi Fried Rice?
Also known as Kimchi Bokkeum-bap, this is a popular Korean dish that is easy to cook as well as filling and flavorful. The key to the recipe is the kimchi, a spicy fermented Korean cabbage and the KIMCHI JUICE!
It's a simple dish but oh-so- satisfying! (Goes well with these fried rice sides, Korean barley tea or plum tea!)
Note: kimchi actually goes really well with cream, scrambled eggs and dairy, such as in this kimchi mayo recipe!
🥘 Ingredients
For this Korean fried rice, the essentials are:
leftover rice: I have a confession, I forgot to make rice the day before so I used freshly cooked rice for the process shots. As you can see, you still get a decent Kimchi Bokkeum-bap. However, the freshly cooked grains are wetter and softer, so the fried rice may become mushy (which we don't want!) Koreans usually cook with medium or short grain rice (Bap 밥) but in a pinch you can use long-grain jasmine or basmati too. In fact, my favorite kimchi rice is made with brown rice!
kimchi and, most importantly, the kimchi liquid: Aged Napa Cabbage kimchi works best if you can get it. As the taste of different types vary- especially if using homemade kimchi- you may need to adjust the level of sugar and salt level depending on the acidity of your fermented cabbage! (If plant-based, you can get vegan kimchi at the Korean grocery stores.)
gochujang paste: make sure you get the one in the tub and not the squeeze tube as the latter has usually been blended with other ingredients
butter: you can use olive oil instead but butter gives the fried rice a delicious flavor and also helps balance the sourness of the kimchi. You can even use homemade gochujang butter for more flavor!
onions and garlic: best to use fresh aromatics (instead of dried) as the pungent taste of garlic is a key flavor in Korean cuisine.
white sugar: even if you want to be healthy, I do not recommend omitting this as the old kimchi will need some sweetness.
Light soy sauce or fish sauce: You'll most likely need to add a little soy sauce to season the dish. If you don't have either condiment, salt will suffice.
Other optional ingredients that I recommend but are not strictly necessary:
minced carrots: adds some fibre to your meal and provides sweetness, so you don't need to add so much sugar! I'd be careful of ingredients with a high water content such as frozen peas and enoki mushrooms- you will need to cook off the water before adding them to the rice to avoid a soft, mushy dish.
green onions: There's a reason you always see spring onions in Korean food. It provides a burst of freshness that lifts the heavy flavors of gochujang and kimchi!
sesame oil: makes the rice more fragrant! Top with lightly toasted white sesame seeds for even more aroma.
Spam: goes so well with Korean food! Alternatives include bacon- actually, using bacon fat instead of butter for this recipe makes it even more delicious- and Chinese Bak Kwa Jerky. (This is 1 of the ways I use up extra pork jerky after the Lunar New Year!) I highly recommend crisping up the smoky bacon first!
📖 Variations & Substitutes
This Korean rice recipe is scrumptious on its own, but you can bulk it up by:
topping with a fried egg: leave the yolk runny and it'll ooze when cut and coat the rice grains beautifully!
with cheese: American cheese and kimchi are a match made in heaven!
🔪 Step-by-Step Instructions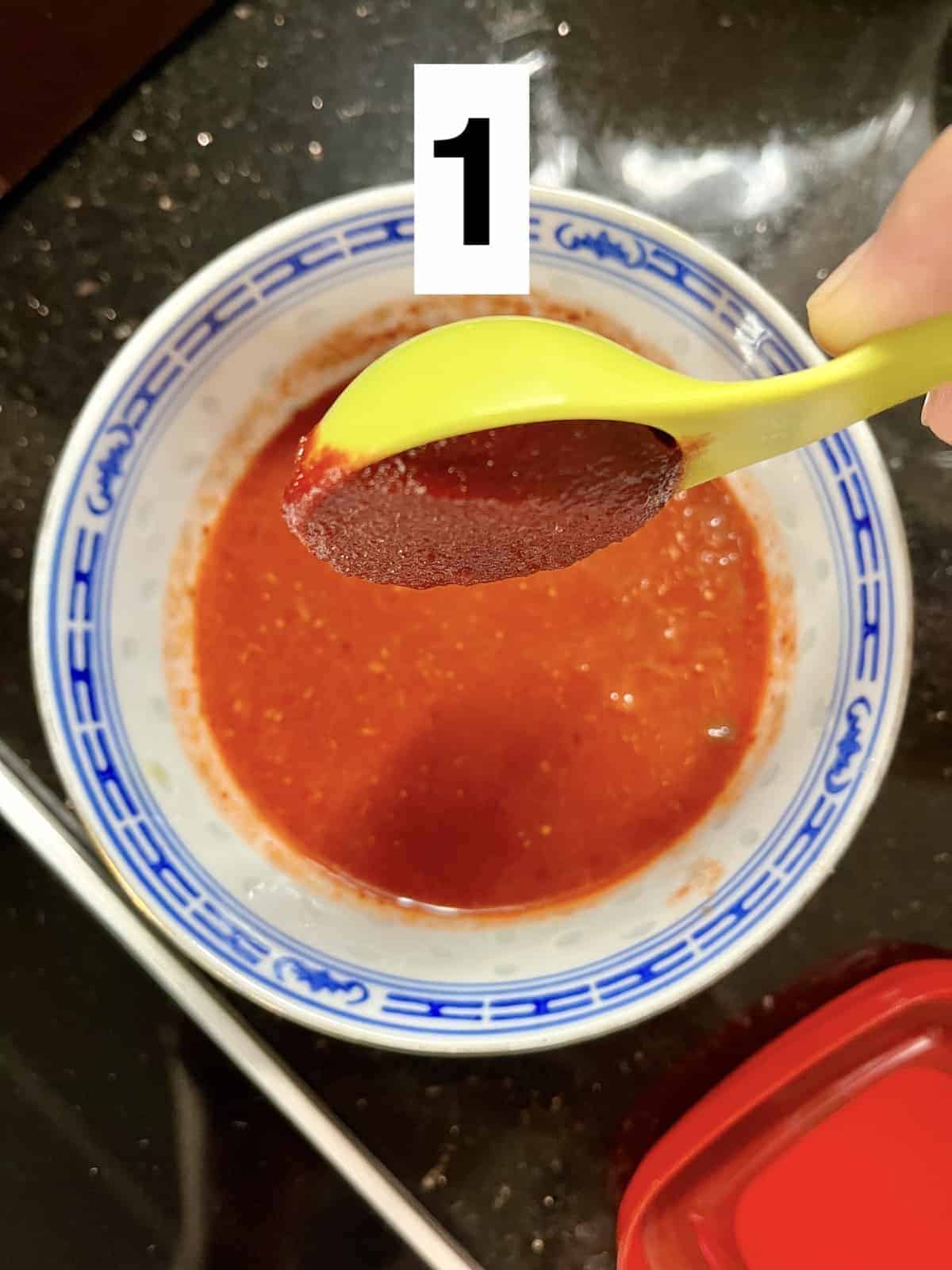 1a Squeeze the juice out of your kimchi, and plate the kimchi leaves separately.
1b. Stir the gochujang paste into the kimchi liquid and other sauce ingredients till a well-mixed liquid forms.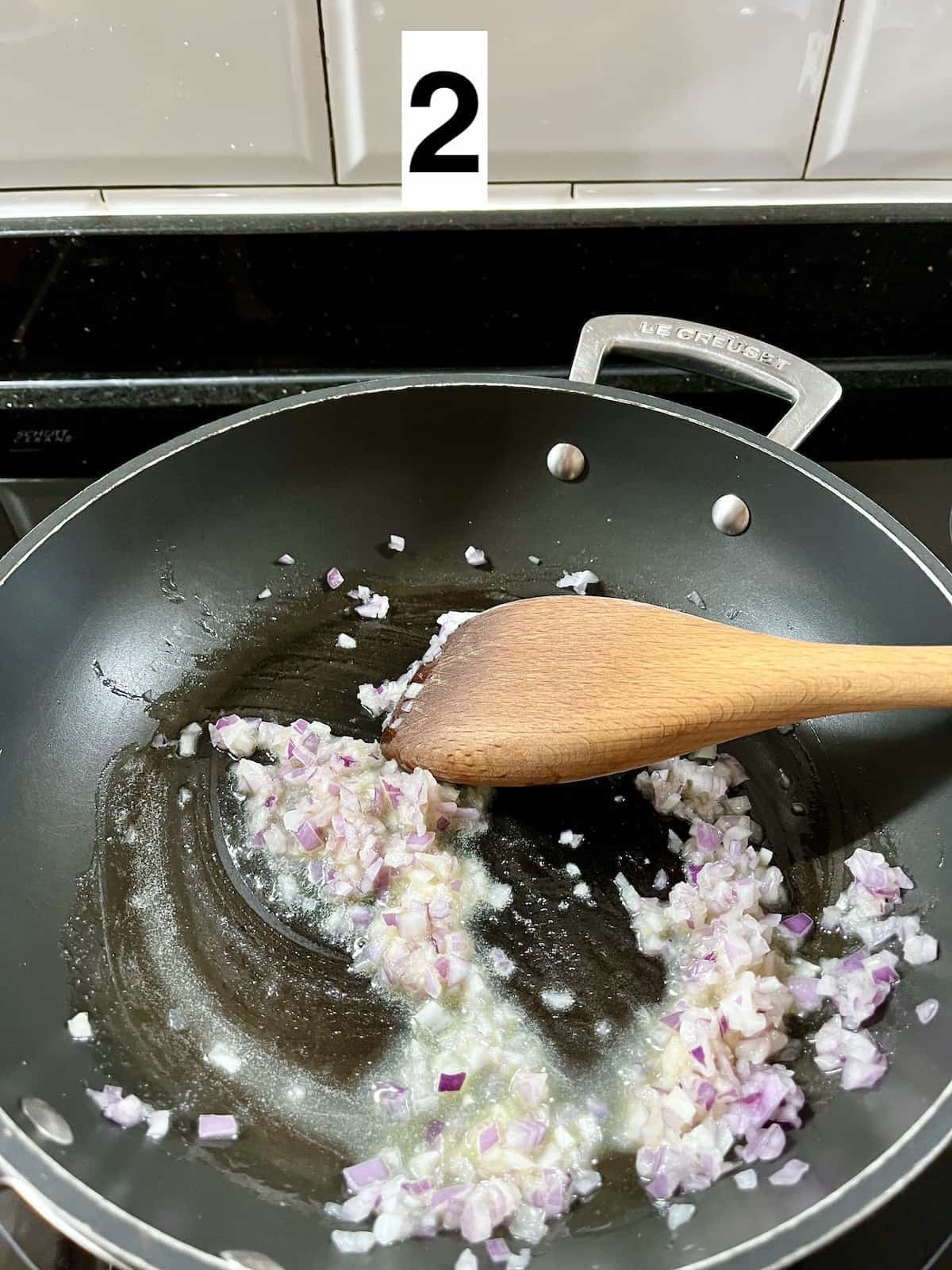 Optional: if you have time, you can crisp up the bacon or luncheon meat first. It'll render out some pork fat that'll add a depth of flavor to the dish!
2. Add the butter to a large skillet and, when melted, add the onions. Stir fry till fragrant nd soft then add the garlic and saute for 1-2 minutes.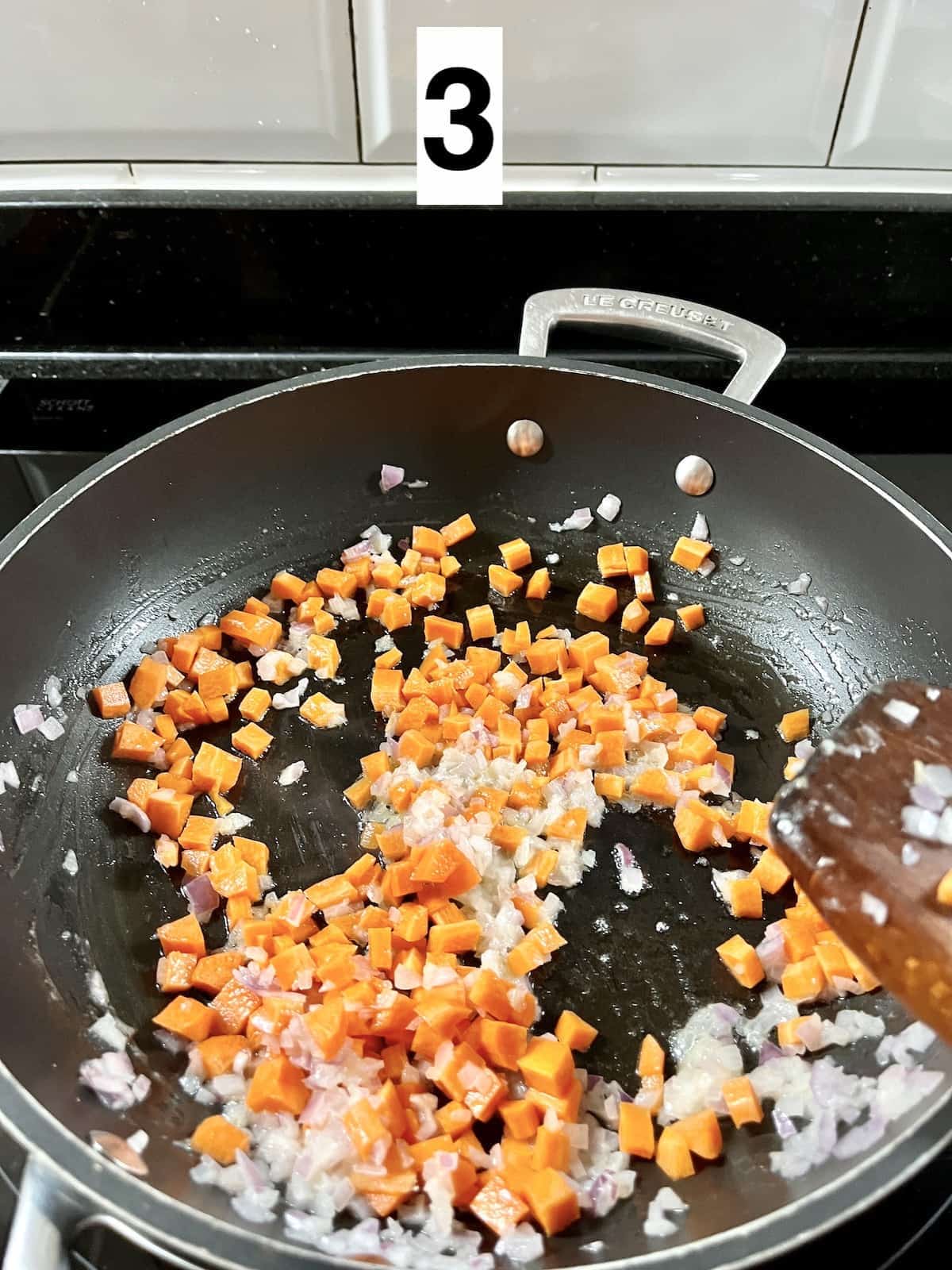 3. Once the garlic aroma is released, add the minced carrots and cook for a few minutes till soft.
Tip: If you have more time, you can cook the onions and carrots for longer, to release the sweetness like in a mirepoix, but it's optional.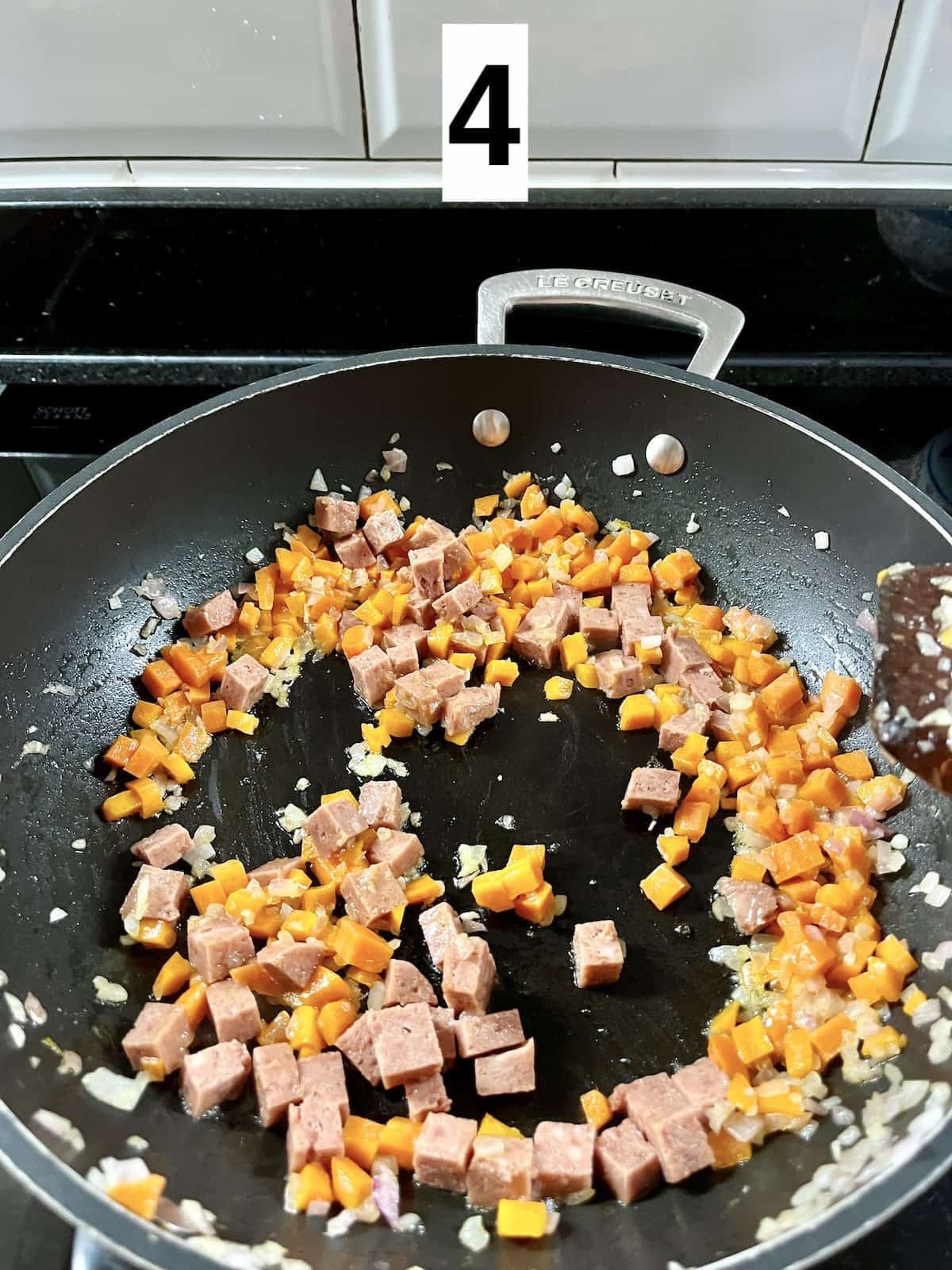 4. Add in the cubes of luncheon meat (or bacon or bak kwa.)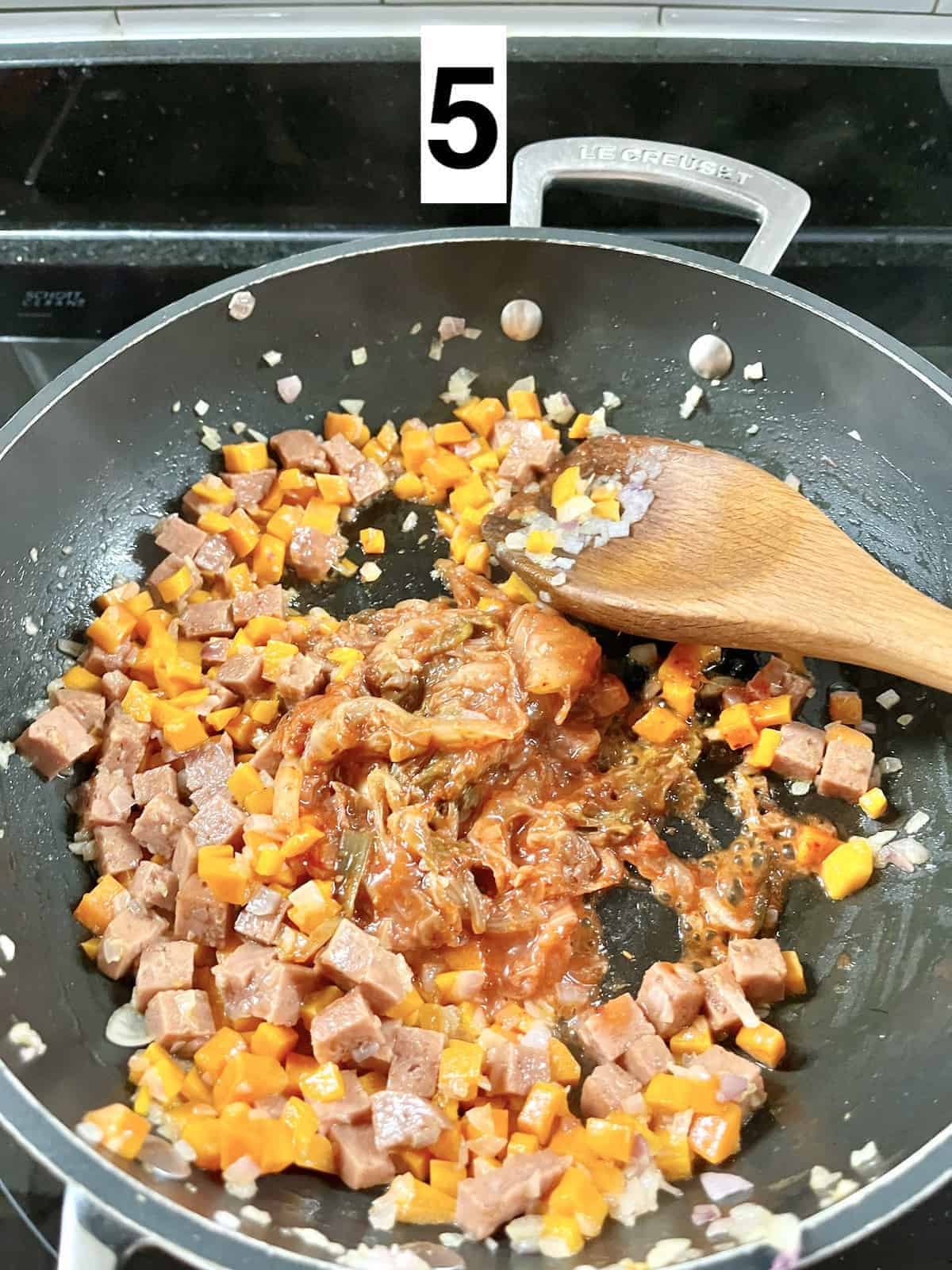 5. Now for the magic ingredient: add the kimchi and stir fry till mixed.
Tip: if you are out to impress, you can roast the kimchi over medium-high heat in a pan till it develops a bit of a char before adding it to the fried rice.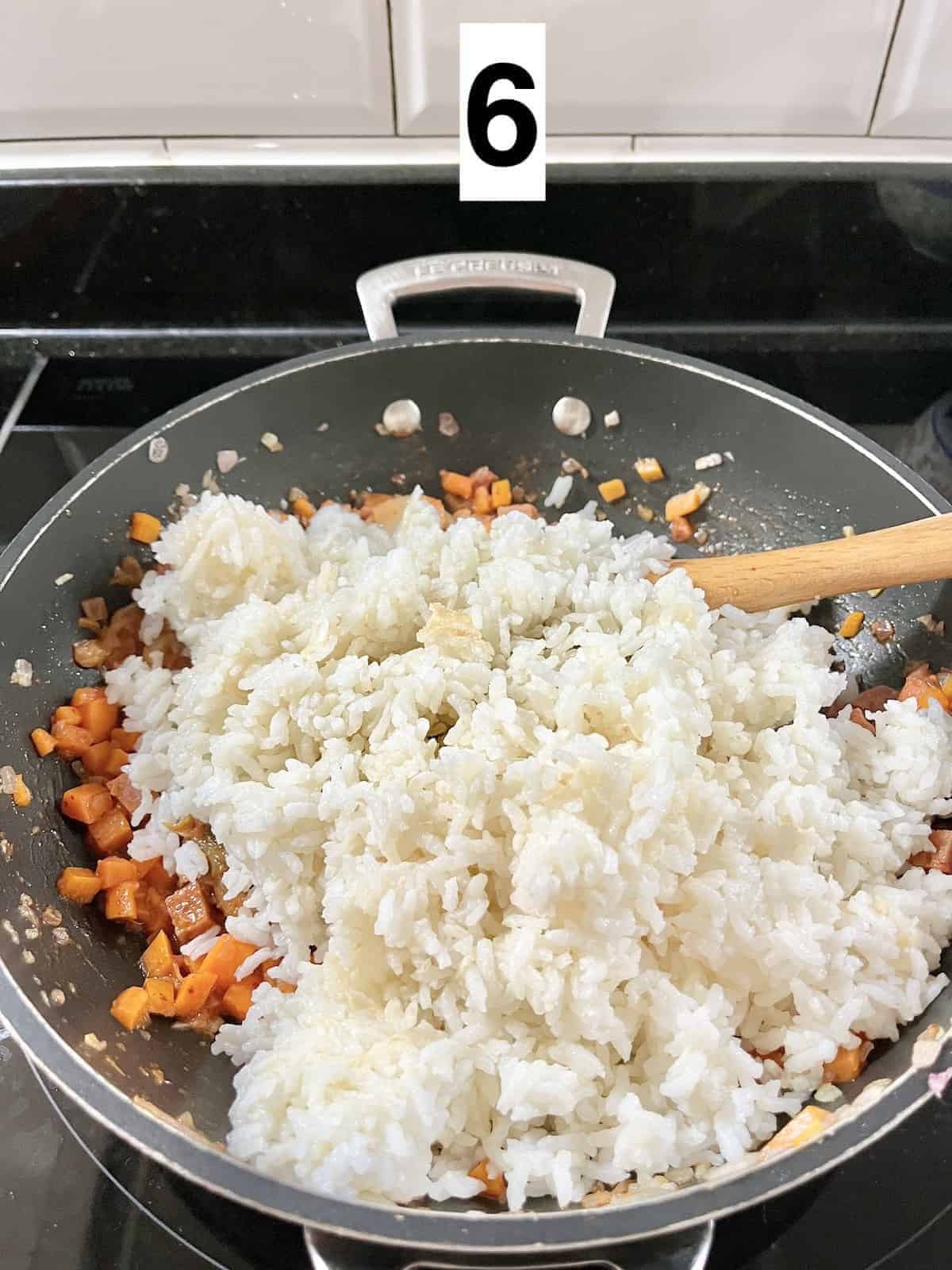 6. Time to add the white rice (Or brown rice, if using that.) Stir till the rice grains have turned a pale orange from the kimchi.
Tip: break up any clumps in the rice before adding it to the pan.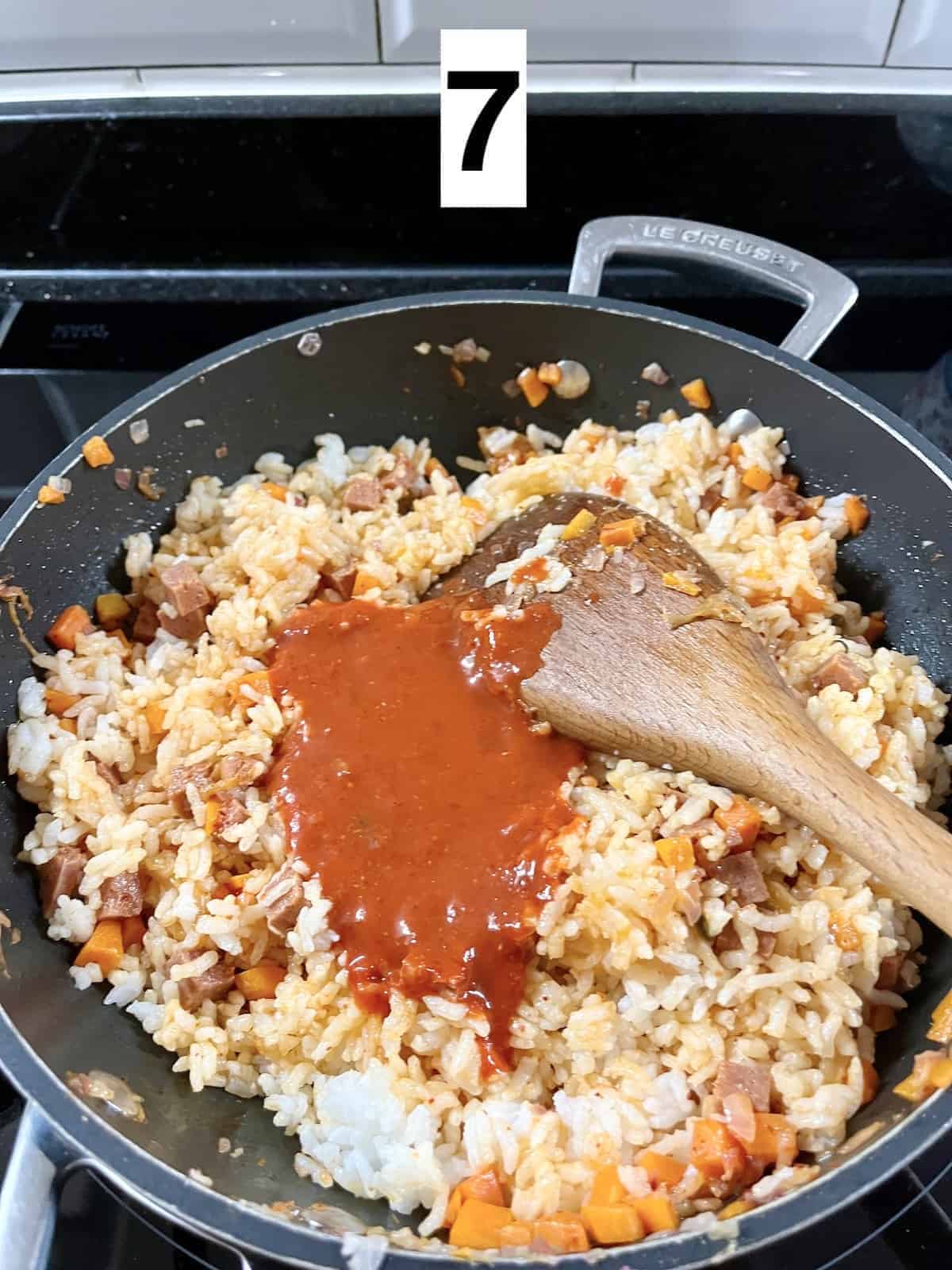 7a. Now add in the sauce you made in Step 1 and quickly stir everything together. The rice will turn from a pale orange to a brilliant shade.
7b. Taste then season with the sugar and light soy sauce or fish sauce.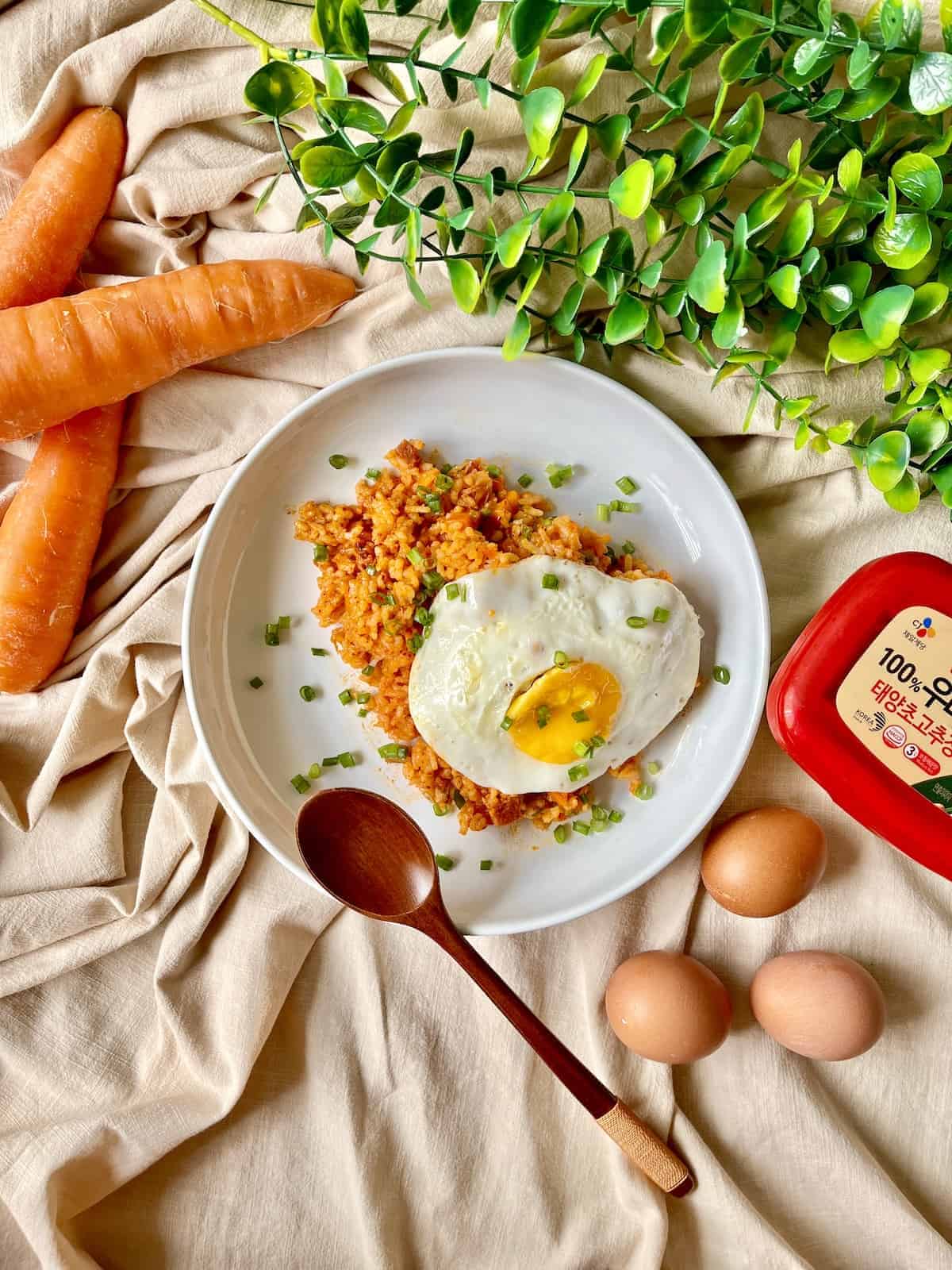 Optional: I highly recommend adding a cooked egg. Leave the centre of the yolk runny and it'll ooze over the rice when you cut into it!
Garnish with sliced spring onions and seaweed strips.
🥡 How to Store
As the dish is made with old rice, pay careful attention to food safety here. Rice spoils very easily and I recommend finishing everything up instead of storing it!
👩🏻‍🍳 Expert Tips
Tip #1: Use a large skillet so you have more room to stir-fry. If not, cook in batches so that every grain is evenly coated.
Tip #2: Use high heat: besides leftover rice, another key step to get firm, non-mushy rice is to cook over high temperatures (and keep stirring so nothing burns.) Having said that, you can stop the stir-frying action to allow the bottom of the rice to crisp up, somewhat similar to Dolsot-bibimbap.
Tip #3: If you make this dish regularly, you can mix up a larger batch of the Gochujang-kimchi sauce and refrigerate it for a week.
💭 Recipe FAQs
Can brown rice be used for kimchi fried rice?
Yes! 1 of my favorite versions of this dish uses brown rice actually. It'll be healthier as brown rice has a lower GI but note that it'll be a little chewier as brown rice is a little harder. Leftover rice is best but if you're cooking brown rice just for this dish, note that brown rice takes a lot longer to cook.
Can I make it without a wok?
Yes I always make mine in a regular saute pan! Just make sure the pan is wide enough for you to stir the ingredients well.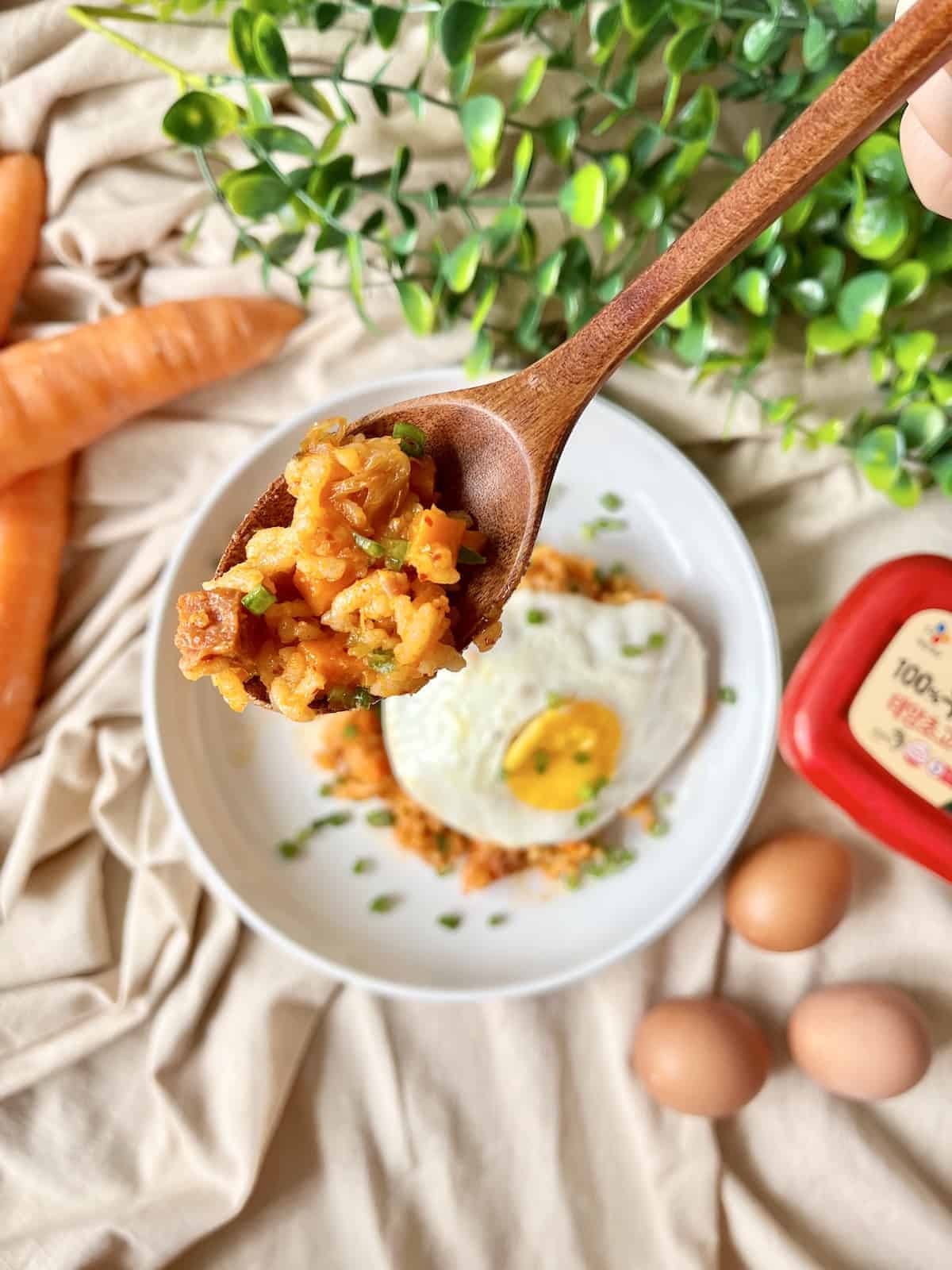 🥗 Other Korean Recipes
Enjoyed this easy Korean comfort food Recipe? Please leave a 5-star 🌟🌟🌟🌟🌟rating in the recipe card below! If you REALLY liked this Korean dish, please consider supporting it by buying me a coffee! 🙂 (No obligation though!) Thank you and have a great day!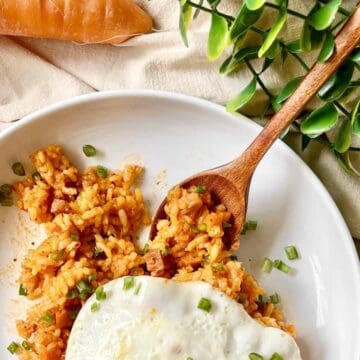 Kimchi Bokkeumbap (Fried Rice)
Kimchi Bokkeumbap, or Korean fried rice with kimchi, is so easy and delicious, it's often whipped up as a hangover meal in a Korean household and can be made perfectly the first time. Plus, it's done in 15 minutes if you have leftover rice around!
Equipment
Large skillet and heat-proof spatula
Ingredients
Sauce
⅓

Cup

kimchi

Use aged kimchi if possible. Squeeze out as much liquid as possible and add to the kimchi juice below

⅓

Cup

kimchi juice

1

Tablespoon

gochujang paste
Frying the rice
1

pat of

Butter

1

small onion

minced. Substitute: shallot

2

garlic cloves

peeled and minced

1

small carrot

minced (optional)

⅓

Can

Spam

cubed. Substitute: bacon or Chinese pork jerky.

3-4

Cups

day-old cooked white rice

(Or 1-1¼ Cups of uncooked rice. The amount will vary depending on the amount of ingredients you add. If you add more ingredients, add less rice or there won't be enough sauce) Leftover rice can clump so break up any lumps before adding to the pan.

½-1

teaspoon

light soy sauce or fish sauce

or to taste. Substitute: salt

1

teaspoon

sugar

or to taste, will depend on the taste of your kimchi
Instructions
Mix the ingredients for the sauce. Don't add the sugar or soy sauce here as we want to season to taste at the end of the stir frying process.

Over a medium fire, melt the butter then saute the onions. When soft and fragrant, add the garlic.

Note: if you have more time, caramelising the onions for longer makes the dish sweeter without additional sugar.

Add the carrots and stir till soft. As with the onions, cooking for longer adds flavor and sweetness.

Add the Spam followed by the kimchi. Stir till well-mixed.

Add the rice. Mix till a pale orange then add the sauce and mix.

Note: if you are confident with your stir-frying skills, I recommend increasing the fire to high here. You'll need to stir-fry quickly though.

Garnish, serve and enjoy!
Notes
Optional but recommended garnishes: sesame oil, lightly toasted white sesame seeds, sliced green onions and a fried egg Note: the nutritional information is an estimate automatically calculated using the WPRM recipe maker. I am not responsible for its veracity.
Nutrition
Calories:
1104
kcal
Carbohydrates:
167
g
Protein:
32
g
Fat:
33
g
Saturated Fat:
12
g
Polyunsaturated Fat:
3
g
Monounsaturated Fat:
16
g
Trans Fat:
0.03
g
Cholesterol:
83
mg
Sodium:
2209
mg
Potassium:
1191
mg
Fiber:
7
g
Sugar:
14
g
Vitamin A:
10322
IU
Vitamin C:
16
mg
Calcium:
133
mg
Iron:
4
mg
If this spicy fried rice recipe was helpful, maybe you'd like to sign up for my Asian food newsletter?