Every year, we buy a ton of Chinese New Year goodies- it would be super embarrassing to run out when people visit, so we usually end up with leftovers after the festive season. Here are 19 ideas for what to do with leftover bak kwa, or Chinese pork jerky!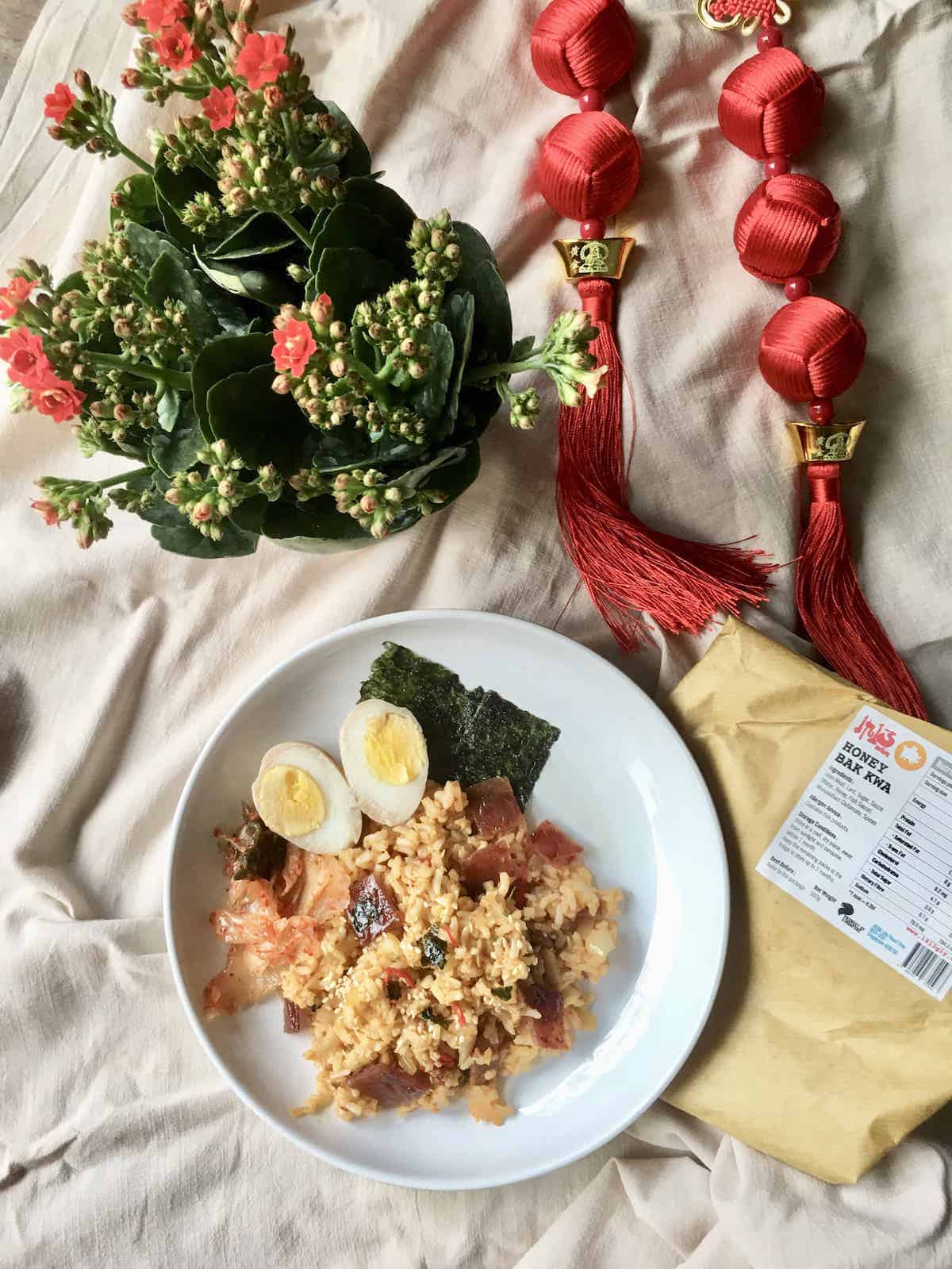 Jump to:
What is Bak Kwa?
The closest English translation I can think of for Bak Kwa, also known as Rou Gan, is Chinese pork jerky. (Click through for an easy recipe.)
Even then, the name doesn't do it justice as jerky is usually tough and dry, whilst bak kwa can be sinfully fatty. But the gist is that it is a dried, semi-preserved Chinese meat that was traditionally made from pork.
Although this snack came from China, it is most associated with Singapore these days (many Chinese tourists actually buy this as a souvenir when they visit the small red dot), and is SUPER popular during Chinese New Year. (You should hear people argue about which brand makes the best Bak Kwa!)
Hence, the extra high price in Jan or Feb and the LOOOOONG queues outside the bak kwa shops!
Fun fact: Bak kwa is so ubiquitous in Singapore that Bloomberg even released a bak kwa index to track its price!
Note: The oldest Singapore bak kwa shop is Kim Hock Guan but Bee Cheng Hiang seems to be the best known as it has a TON of outlets. Other popular brands are Lim Chee Guan, Kim Joo Guan and Peng Guan.
Types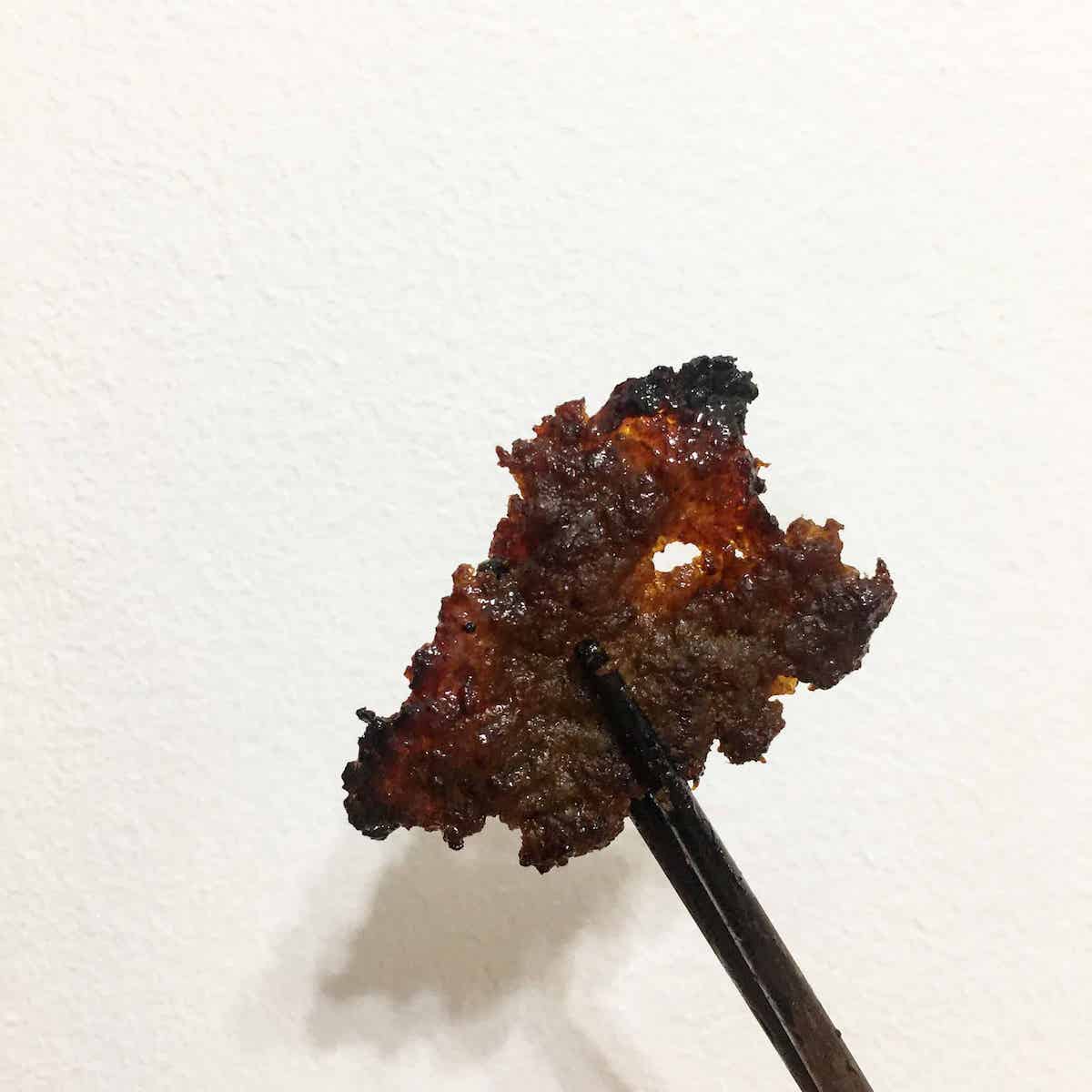 Traditional Bak Kwa is made from thin pork slices- often viewed as more premium- but there is also a minced pork version. (Homemade bak kwa uses minced pork as well as seasoning such as fish sauce, five-spice powder, sugar, dark soy sauce, light soy sauce, red yeast rice etc. The ingredients are mixed, covered with plastic wrap then rolled into a flat and thin sheet with a rolling pin.)
Nowadays, there are different versions such as beef bak kwa, chicken bak kwa (halal), spicy bak kwa etc, mala bak kwa etc. I even made vegan mushroom bak kwa a couple of times!)
Taste
Bak kwa is salty, sweet and full of umami.
Tip: As it's charcoal-grilled, too much can be heaty, so don't forget to wash it down with Chinese sour plum juice or barley tea. Pairing it with Agar Agar jelly also makes an extra refreshing Chinese New Year snack.
Trends
Bak kwa sellers have been making the snack more healthy in recent years, by adding less sugar etc.
Some have even taken to making vegan versions- above is 1 I made with king oyster mushrooms last year but I'll be honest, it's not as good as the shop-bought version which is why I've not shared the recipe on this blog! (For an easy soy and butter mushroom recipe, click the previous link or this one for Asian vegan recipes.)
Storage
Although bak kwa is "preserved", it is best to keep it in the freezer, and not at room temperature, if you don't plan to consume it so quickly.
Ideas for Leftovers
I hate wasting food which is why I have an entire section in this blog devoted to using kitchen scraps and leftovers, such as leftover Japanese sushi rice.
Unfortunately, there is always a lot of uneaten food over CNY, as there is a lot of visiting and it is considered bad hosting in Chinese culture to not have more food than your guests can eat.
If you've made, bought or been given so much bak kwa that you can't eat it plain anymore, here are some ideas to use it up.
Note: I have linked to some recipes which use bacon- just substitute leftover bak kwa for bacon- but note that bak kwa is sweeter than bacon so you may want to cut down the sugar in the recipes.
Mains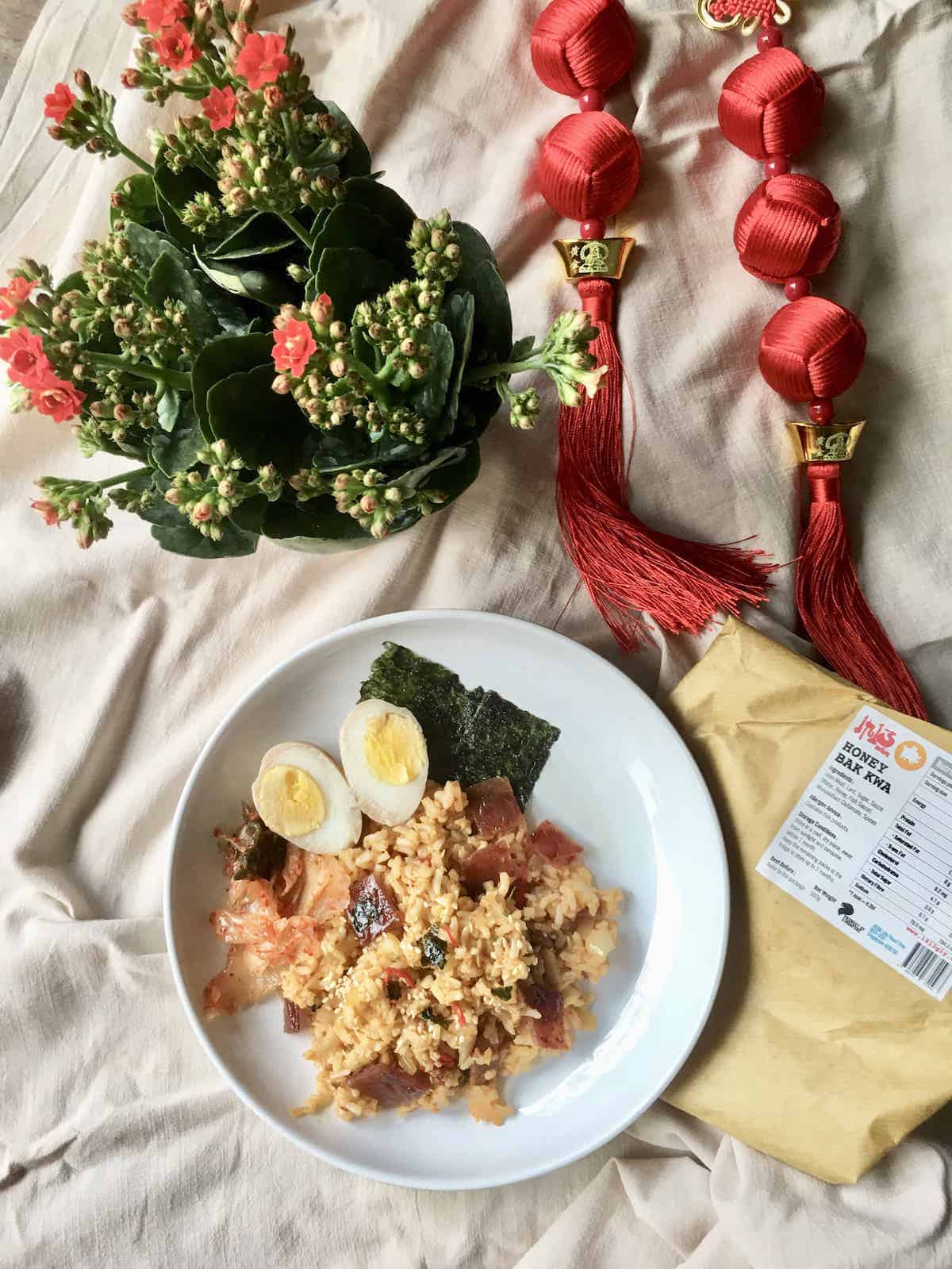 In Baking
Dice it and mix it into your scones or (American) biscuit batter then bake. (I actually have a great recipe to this, just need to take some photos!)
Do I hear someone saying bak kwa cookies? I love how this recipe has used coin-shaped bak kwa to make the cookies look like flowers! A favorite snack of mine!
Added to a quiche (Click the link for a quiche recipe with over 132 ratings and an average >4.9 star rating)
Use as a pizza topping: I would add them towards the end or after baking the pizza, if not they may burn
In Mac and cheese (this recipe has almost 50 reviews and an almost 5-star rating)
With Eggs
Instead of bacon and eggs, we have:
Bak kwa + cheese + spring onion omelette. Yum

Serve with toast (non-vegans can add butter and eggs to make a very filling meal!)- it's delicious in French toast!
Sprinkled on devilled eggs
Others
Mixed into potato salad
Use to make bak kwa jam, which can be spread on toast

Bak kwa butter- mix softened butter with diced up Chinese pork jerky

Mixed with grated cheese and breadcrumbs then stuffed into baked mushrooms.
On top of waffles and with maple syrup
To replace lup cheong (Chinese preserved sausage) in Chinese carrot cake!
I'll be updating this "what to do with leftover bak kwa" post from time to time as I have a TON of ideas that I want to test before sharing, so don't forget to check back in at a later date!
In the meantime, before you go, here are some Asian pork recipes that you may enjoy:
More Chinese pork recipes
If you use any of these leftover bak kwa ideas, do tag me on social media (@greedygirlgourmet) as I love to see readers' photos! Last year, someone in Australia made my leftover bak kwa recipe, so that was really nice to see!
P.S. If this recipe was helpful, maybe you'd like to sign up for my Asian recipes newsletter?