Butter + soy + mushrooms = umami bomb. Whenever I've cooked these Asian eryngii mushrooms, people ask for the recipe and they can never believe it only requires 3 ingredients and is on the table in under half an hour!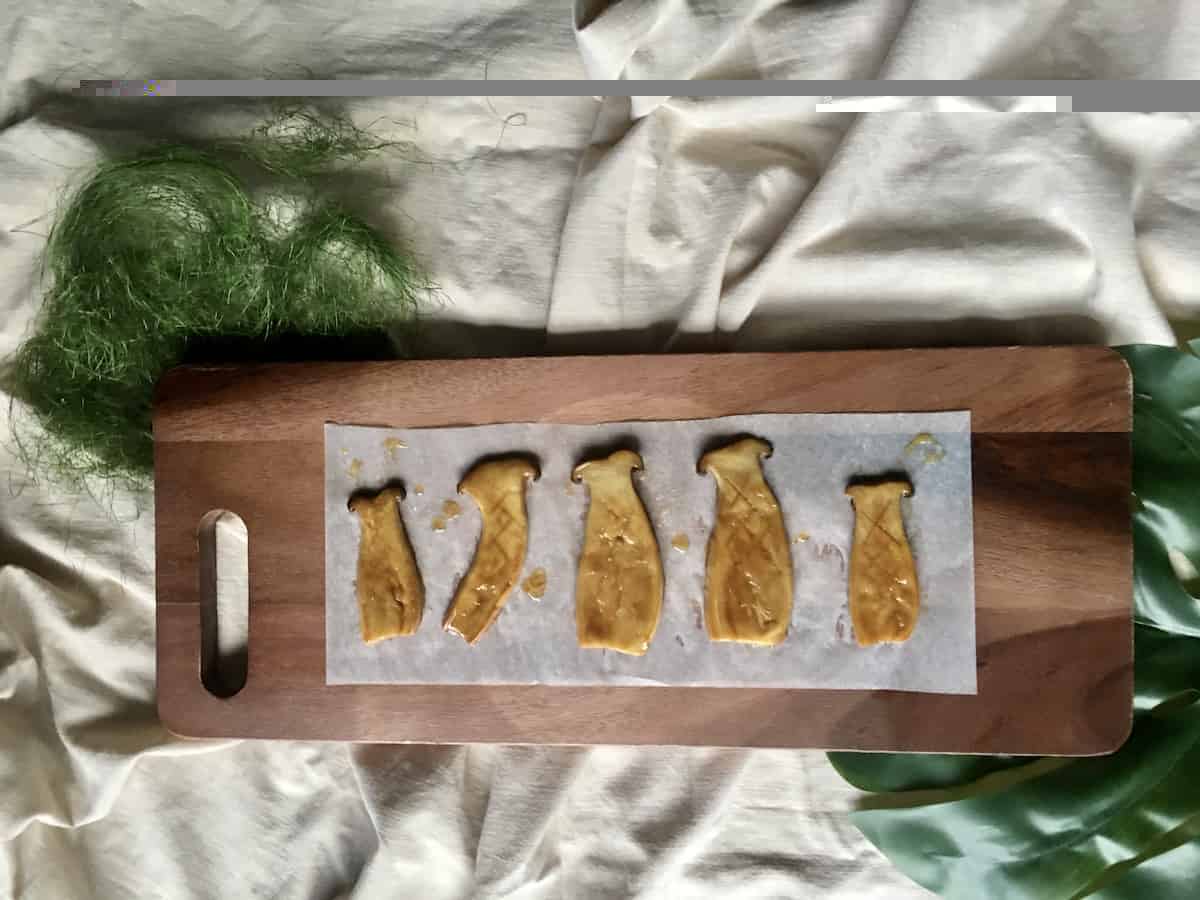 Jump to Recipe
Jump to:
What are they?
Eryngii mushrooms (pleurotus eryngii), also known as French horn mushrooms, trumpet Royale, king oyster mushrooms, king brown mushrooms, king trumpet mushrooms and 杏鲍菇, are an edible mushroom often used in Asian cuisines, especially in South Korea. (They're actually native to the Mediterranean regions of Europe, North Africa and Middle East though, so it's fun to see how far they've travelled.)
The largest species in the oyster mushroom genus, it has thick white stems often featured in vegan meals. Unlike other types of mushrooms , these thick stems are chewy but not tough, so we cook them instead of discarding them.
If you can't get fresh king oyster mushrooms in your usual supermarket, try the farmers' market or Asian grocery stores.
Why cook with them?
If you don't already eat this type of mushroom, here are some reasons why you should:
They're delicious and full of umami!
They have a very meaty texture, which makes them great meat substitutes if you're on a plant-based diet- so much that they're sometimes called vegan scallops or mushrooms steaks! To make them even more similar to scallops, cut them widthwise instead of lengthwise (such that the mushroom slices are round). The chewy texture is so similar to meat that I've even made a vegan jerky (bak kwa) out of them before for Chinese New Year- if you end up with too much, here are some recipes to use up leftover bak kwa.) For Asian vegan dish ideas, click here.
Uncooked, they have a long shelf life of about 1 week in the fridge.
How to prepare
Pick mushrooms with nice firm and unblemished stems. They absorb water, so just give them a quick rinse under running water before cooking. Do not soak or they'll go soggy and you won't be able to get that nice sear!
Note: the water content of the mushrooms also mean that the mushrooms sometimes sputter a bit in the oil when browning, so be warned!
For more Asian mushroom recipes, click here.
Ingredients
I love recipes which don't call for a whole shopping list of ingredients, which is why I have a whole section of recipes that call for only 5 ingredients. (Think Ottolenghi: I love the food, but I usually just go to the cafe instead of making it, because I never have the condiments the recipes call for!) Less can be more, and my favourite Chinese pork ribs recipe actually only needs 5 ingredients to make a scrumptious sauce!
This Asian mushroom side dish recipe is great because it's not only quick and easy to make, it also only requires 3 ingredients:
eryngii mushrooms
soy sauce

Since the recipe is so simple, do use the best quality soy you can find. When going generic, I use Lee Kum Kee but when going fancy, I use Nanyang or Kwong Woh Hing (my favourite), 2 traditionally brewed soya sauces made in Singapore. (These soya sauces are naturally fermented, for a period of up to 12 months, unlike other cheaper brands. To find out more about the soy sauce making process, please click this link.)

If you're using Lee Kum Kee, choose the premium first draw soy sauce instead of the regular.

butter

Make sure you use unsalted butter, if not you run the risk of having an overly salty dish of butter and soy eryngii mushrooms.

Optional: salt

Most likely you won't need salt due to soy's natural sodium content, but every brand of soy sauce is slightly different and everyone has different tastebuds, so try before serving and sprinkle salt if you feel the dish needs it. (I'd avoid adding black pepper as I think it detracts from the butter and soy sauce!)

Optional garnish: green onions
How to store
The cooked mushrooms should be kept in an air-tight container in the fridge for up to 2 days.
Tips
These mushrooms are also delicious in a stir fry, cooked on medium heat with sesame oil and soy sauce.
They're a fantastic addition to stews and braises as they'll add a savory flavor and absorb the sauce well.
Serve this with some Asian chicken wings, clear soup and white rice or noodles for a balanced meal
Other Soy Recipes
3-ingredients eryngii mushroom recipe:
A 25-minute, easy to make and delicious eryngii mushroom recipe. These have a nice meaty texture which make them great meat substitutes for vegan meals.
Ingredients
vegetable oil, to taste

I use olive oil

4

king oyster/ eryngii mushrooms

Rinse under running water but do not soak or they'll go soggy and not sear well. Slice lengthwise into 3-4 pieces. Each piece should be about 0.5cm thick. Score one side of the mushrooms with a crisscross pattern (this helps the mushrooms cook faster and more evenly, as well as allowing the sauce to permeate the mushrooms better.)

1

tablespoon

butter (unsalted)

1

tablespoon

soy sauce, or to taste as different brands have different salt levels

Salt (if necessary)

I don't use any as my soy is salty enough

Optional garnish: green onions
Instructions
Heat the oil in the pan on medium-high heat. (I use 7.0 on a Bosch induction cooker where the maximum is 9.0). When the oil is hot (but not smoking), place the mushrooms on the pan in a single layer. (Not all the mushrooms will fit on the pan so you will need to brown the mushrooms in batches. I used a 7.5 inch pan and had to sear my mushrooms in 2 lots. ) Leave for a few minutes to brown (don't move them around).

Once brown, flip the mushrooms over to sear the other side. Leave for a few minutes. Plate the mushrooms when both sides have been browned.

 Repeat till all the remaining mushrooms have  been browned on both sides. Be prepared for the oil to splatter a bit.

Using the same pan, add 1 tablespoon of butter and 1 tablespoon of soy sauce. Use your spatula to mix the butter and soy together, allowing the butter to melt and sizzle. Once the butter is sizzling, return all the mushrooms to the pan and mix to coat.

Taste and, if necessary, add some salt. I don't but every brand of soy sauce is and everyone's taste buds are different so season to your preference! 
Notes
Mushrooms have high water content, so be prepared for some sputtering in the pan.
Note: these mushrooms can be used to imitate abalone or scallop in vegan seafood dishes.
Do you have a favourite eryngii mushrooms recipe? I'd love to hear about it! Before you go, you may also be interested in these easy Asian recipes: