This no added sugar, agar agar jelly (kanten jelly) is an easy, healthy dessert full of fibre that only needs 2 ingredients. Naturally vegan and Gluten-free too!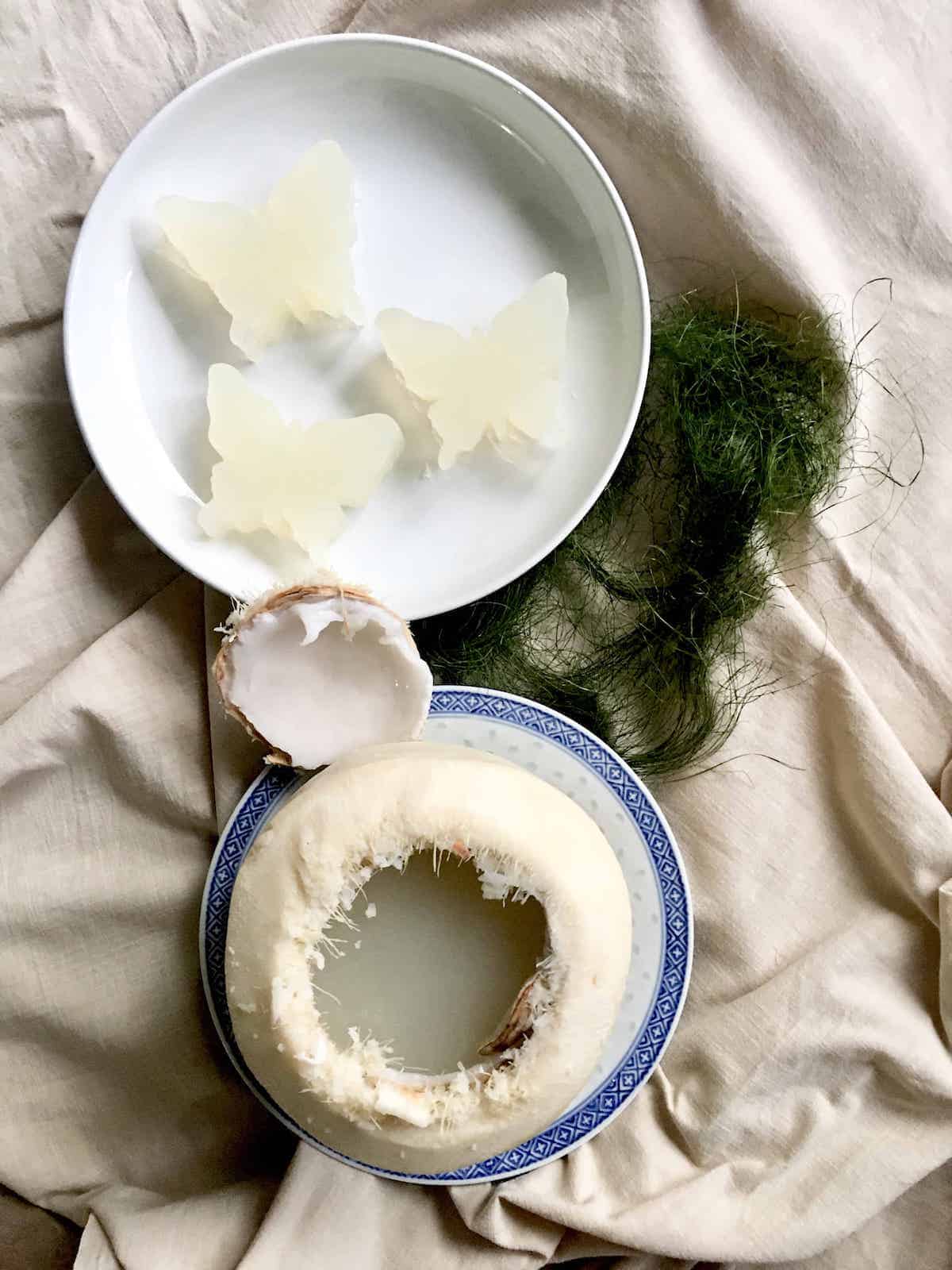 Jump to Recipe
Jump to:
This no added sugar agar agar jelly recipe is literally the world's easiest and super healthy dessert recipe: simply replace water with coconut water when making agar agar and, voila, you have a refreshing dessert/ snack that is full of fibre and perfect for a hot day! Coconut water is naturally sweet so you can get away without adding sugar- if you have a sweet tooth, you can add some fruits into the jelly to make the jellies naturally sweeter. (In fact, coconut water is so versatile that not only can it be used in desserts such as this easy bird's nest but you can also use it to make ginger chicken soup!) Alternatively, add some aloe vera to create a nice contrasting texture in the jellies. If you're looking for more no-sugar added desserts, try this Japanese jelly fruit salad.
Introduction to agar agar
Agar agar is a gelatin made from red algae so it is a great vegetarian and vegan substitute for regular jelly, which is made from animal-derived gelatine. It is believed that agar agar was discovered in Japan in 1658, where it is known as kanten. Other names for agar agar (which is the Malay word for it) include Ceylon Moss, Japanese isinglass, China grass (as it's known in India) and Jaffna moss.
Types of agar agar: powder, flakes and strands
The seaweed is usually boiled to form a gel, before it is pressed, dried and made into agar agar flakes. It is also available as a powder, in bars or in seaweed-like strands. Agar agar in powder form is the easiest to work with, dissolves most quickly in water, and is thus usually more expensive in this form. (Note the water: agar agar ratio actually varies depending on the form of agar agar you are working with!) You can actually make your own agar agar powder by blending/ grinding the agar agar flakes or strands (cut them up first.)
Water: agar agar (kanten) ratio
For firm jellies, to set 1 litre of pH-neutral liquid, it usually requires:
8-10g of agar agar powder (Note: most agar agar packets will specify their powder:liquid ratios so do check before getting to work.
2 sticks (about 16g) of agar agar/kanten in stick form
48 threads of agar agar/ kanten (about 16g)
You can also experiment with the jelly texture by increasing the quantity of water, adding up to 20% more water for softer, wobblier jellies. Personally, I like firmer jellies!
Keep in mind that if you are using an acidic liquid such as orange juice, you will need more agar agar powder (approximately 13g of agar agar powder to 1 litre of juice.)
Other uses: culinary and otherwise
Some vegetarians and vegans like to use agar agar as a thickener. It's also used in puddings, mousse, cheesecake and even ice-cream! I've even seen recipes which use agar agar to make jam, however, my Father who is a professional baker says that such jams won't last as long as those made with pectin. (Mind you he makes biscuits not jams so the shelf life he is looking at is in years!)
As agar agar is about 80% dietary fibre, some people use it as part of their weight loss diet, and to help suppress their appetite. (After agar agar is eaten, it absorbs water and triples in size, making people feel fuller.)
Agar agar also has non-culinary uses for e.g. it is sometimes found in children's modelling clay.

Note: this information is just FYI and not meant as nutritional or dietary advice- please consult someone qualified!
What gelling agent to use: agar agar vs konnyaku vs gelatin?
You can make this recipe with any of the 3 gelling agents listed above. (Note: the ratio of water: gelling agent varies depending on the gelling agent used.) However, do keep in mind that the textures of the 3 are very different. Jelly (formed by animal-derived gelatine), especially, is soft and wobbly whilst agar agar and konnyaku are firmer, which I find much more pleasing.
If you are not familiar with konnyaku jelly, do check out my posts on yuzu konnyaku jelly, lychee konnyaku jellies and osmanthus konnyaku jelly (gui hua gao) in which I shared more on konnyaku jelly. There is a choking hazard with konnyaku jelly, which is why some countries have stopped selling it, so if you're making this for the young or old, you may wanna give konnyaku a miss.
Whilst regular gelatin can dissolve in warm water to form jelly- which is why it melts in your mouth- agar agar needs to be boiled before it sets. On the plus side, agar agar sets more quickly than gelatine and is also more stable at higher temperatures compared to gelatine, which is why agar agar is more common than gelatine-based jelly in tropical countries. (Jelly would melt under the hot sun!)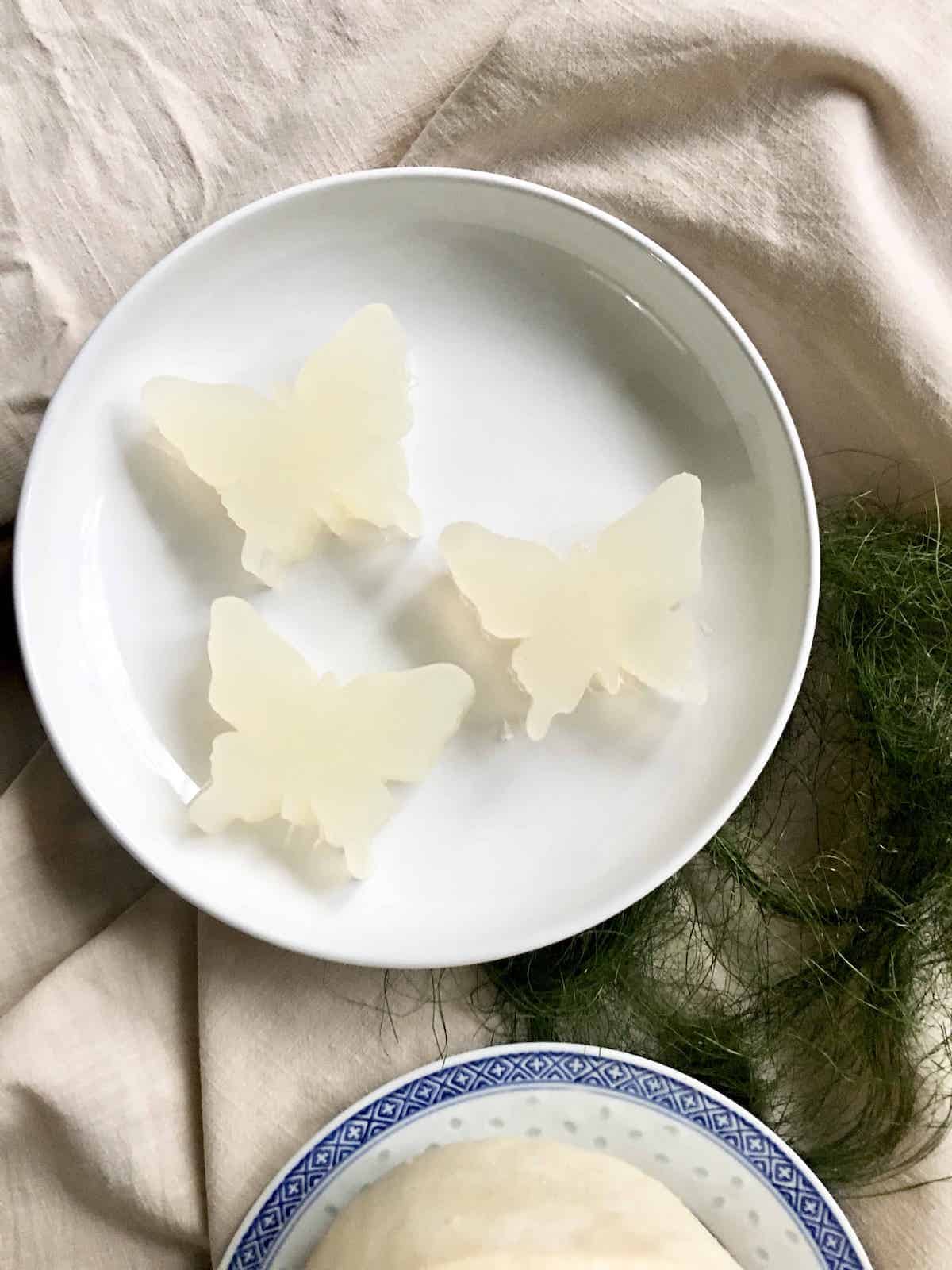 How to present your agar agar jelly
The easiest way to shape agar agar is to pour it into a deep dish, leave to set then cut into squares. If you have cookie moulds, you can also use them to cut the agar agar into pretty shapes, such as the butterflies shown above.
When I have guests, I like going the extra mile and pouring the no added sugar agar agar jelly into fruit husks to set and then serving. You can use coconut husks, passionfruit skins, mangosteen shells, orange skins etc and scatter some citrus zest or place edible flowers on top of the jellies for visual effect! If you're using coconuts- choose young ones and don't pour the jelly all the way to the top, or it'll be way to much for 1 person!
If you have a very sweet tooth but want to be healthier, cut this jelly into small cubes and mix it with small pieces of fruit to make a filling, tasty but low calorie(-ish) dessert. Alternatively, pour a little of this gula melaka coconut caramel syrup on top! (Instead of making- and eating- an entire batch of sweetened jellies, by adding the gula melaka caramel only whenever you need a sugar rush, you'll hopefully be eating less sugar!)
Another trick for pretty agar agar is to make it like a layered cake, so you alternate layers of different colours or opacity, to create a rainbow like effect- I'll post a recipe showing how to do this soon!
Other Jelly recipes
2-ingredient no sugar coconut water agar agar jelly
Ingredients
9-10

g

agar agar powder

1

litre

coconut water

This can be either fresh or from the bottle. For this recipe, I used bottled coconut water to make the agar agar jelly before setting it in a real coconut husk.

Optional: cut-up fruits

If you want to make the jelly sweeter without adding sugar, add some fruits into the agar agar before it sets.
Instructions
Pour the coconut water into the pot, add the agar agar powder then stir to dissolve. Bring the solution to the boil, stirring continuously.

Stil till all the powder has dissolved, let it boil for 5 minutes, then switch off the fire. If you are adding fruits, stir them into the agar agar now before it has set, making sure to stir such that the fruits are well-distributed. Note that the heat will make the fruits soften and affect their texture a little.

Pour the jelly into the designated containers/ molds to set. (It sets at room tempeature but tastes nice cold, especially when the weather is hot out!) If you're entertaining, it's a nice touch to pour the jelly into coconut husks. (Leave the coconut flesh in the coconut for a nice contrast in texture.) Do make sure to choose smaller coconuts and not to pour all the way to the brim, or it will be too big of a portion for 1 person!
Notes
Never add agar agar directly to warm/ hot water as the powder will immediately form indissoluble clumps.
Stay tuned for more agar agar recipes!