Agar agar can be used to make anything from jam & jelly to pate and cheese! Whilst easy to find in Asia and health shops, it is not stocked in all the major supermarkets in the west. If you can't get your hands on some, here are 8 of the best agar agar substitutes.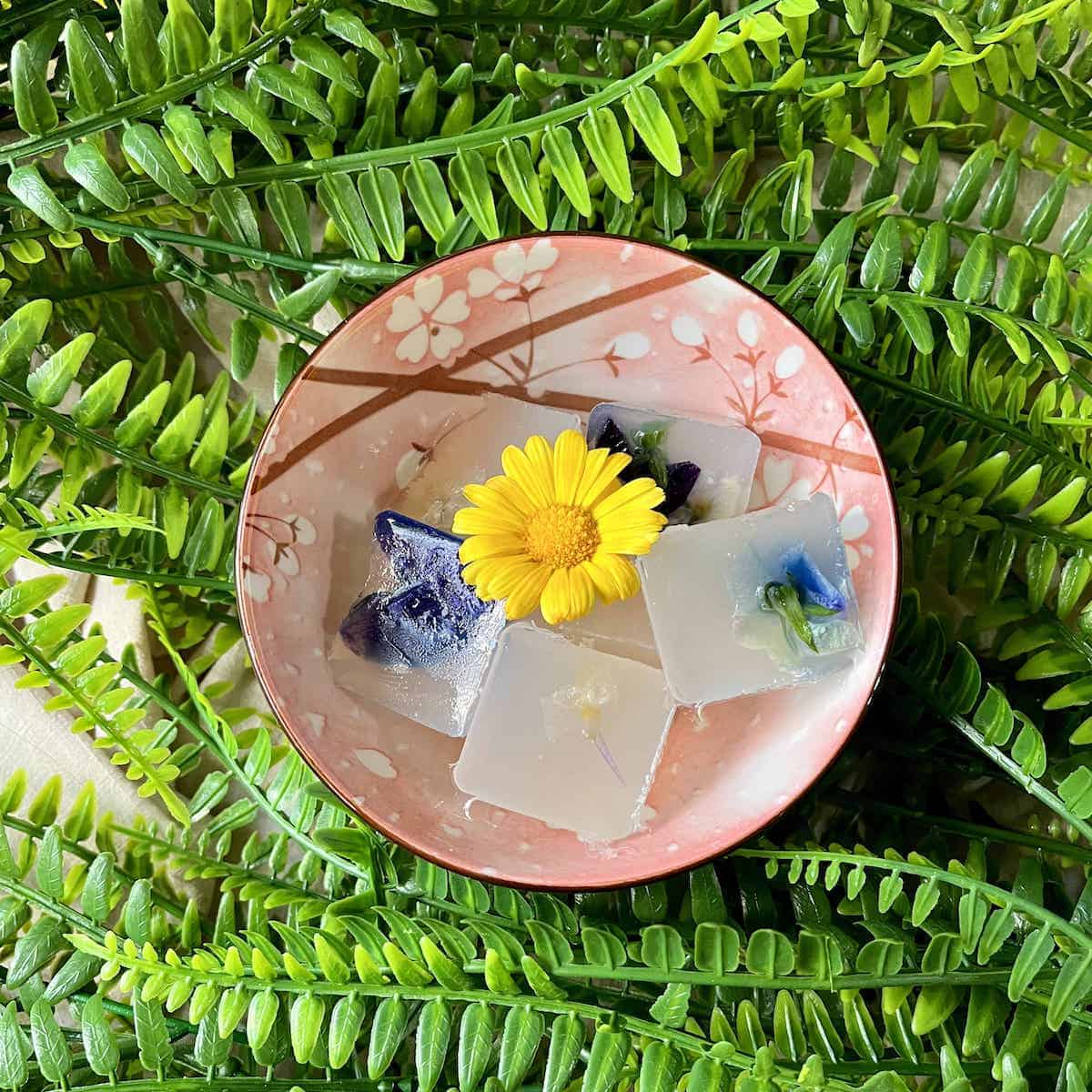 Jump to:
What is Agar Agar?
Agar agar, also known as Kanten, Japanese Isinglass or China Grass, is a vegetarian gelatine made from red algae sea weed. It comes in the form of agar agar flakes, strands and powder, the last being my favourite as it's the easiest to use.
In South East Asia, agar agar has traditionally been used to make jellies and is something we grew up eating. It gives dim sum coconut jelly, for example, its characteristic pudding like consistency and wobbly texture.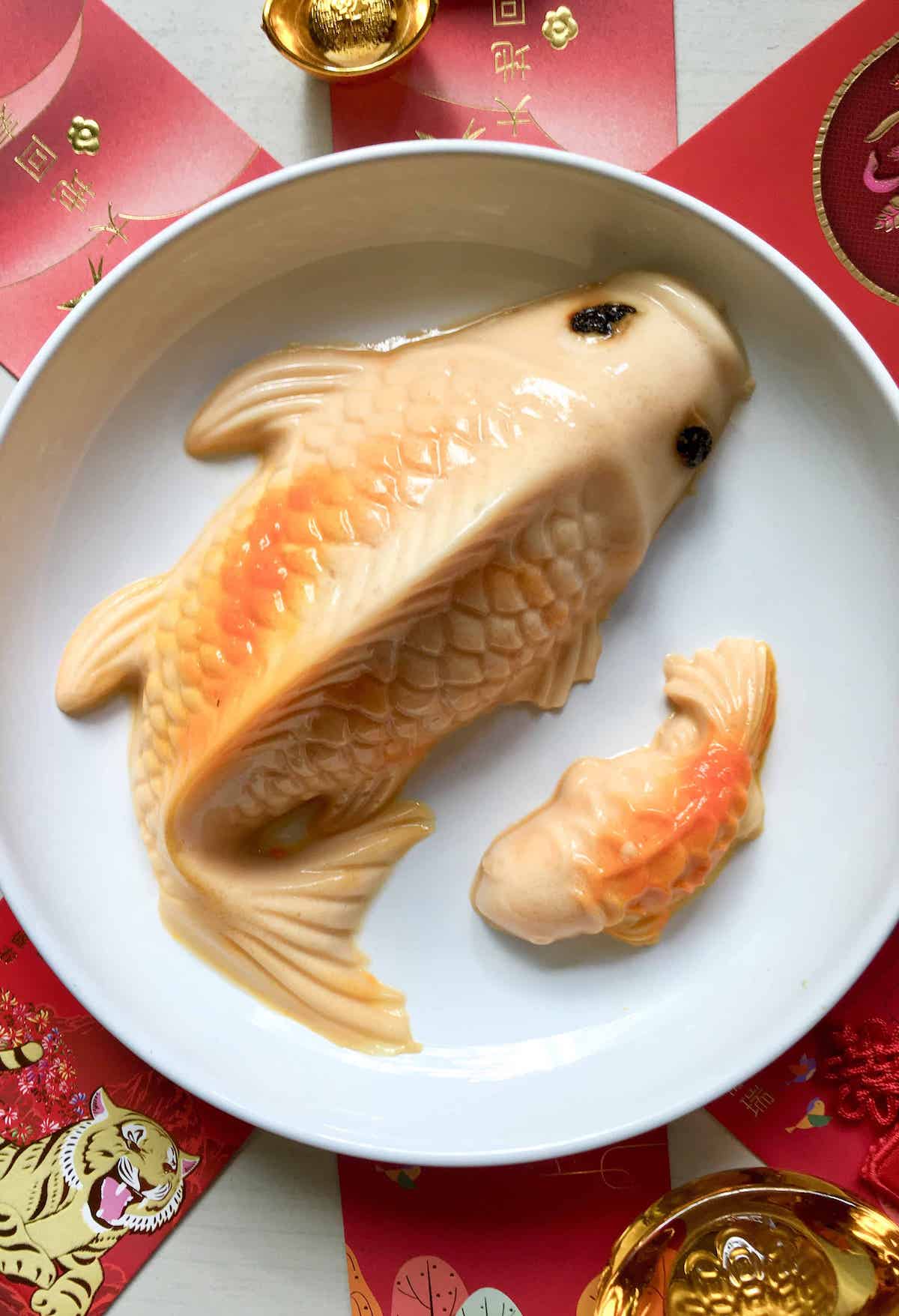 Compared to jell-o made from gelatin, agar agar jelly has the benefit of being stable at room temperature (i.e. does not require refrigeration.) It is also used in small amounts as a thickening agent in some jams.
Unfortunately, it is not quite as ubiquitous in the West though recently it has become more commonplace, especially in vegan cooking where it is used as a vegan gelatin substitute. Some people use it to make vegan cheese and jelly.
I've written quite extensively about agar agar in my no-sugar vegan jelly post, so I won't repeat myself here, but do click on the link if you want to find out more.
Where to Buy
You can get agar agar in regular grocery stores in Asia. Outside of Asia, you may have to try the local Asian markets or a specialty store (such as health food stores.) It's also easy to find online.
When I lived in London, UK, I would pop over to the Chinese supermarkets in Chinatown to stock up on it.
Culinary Uses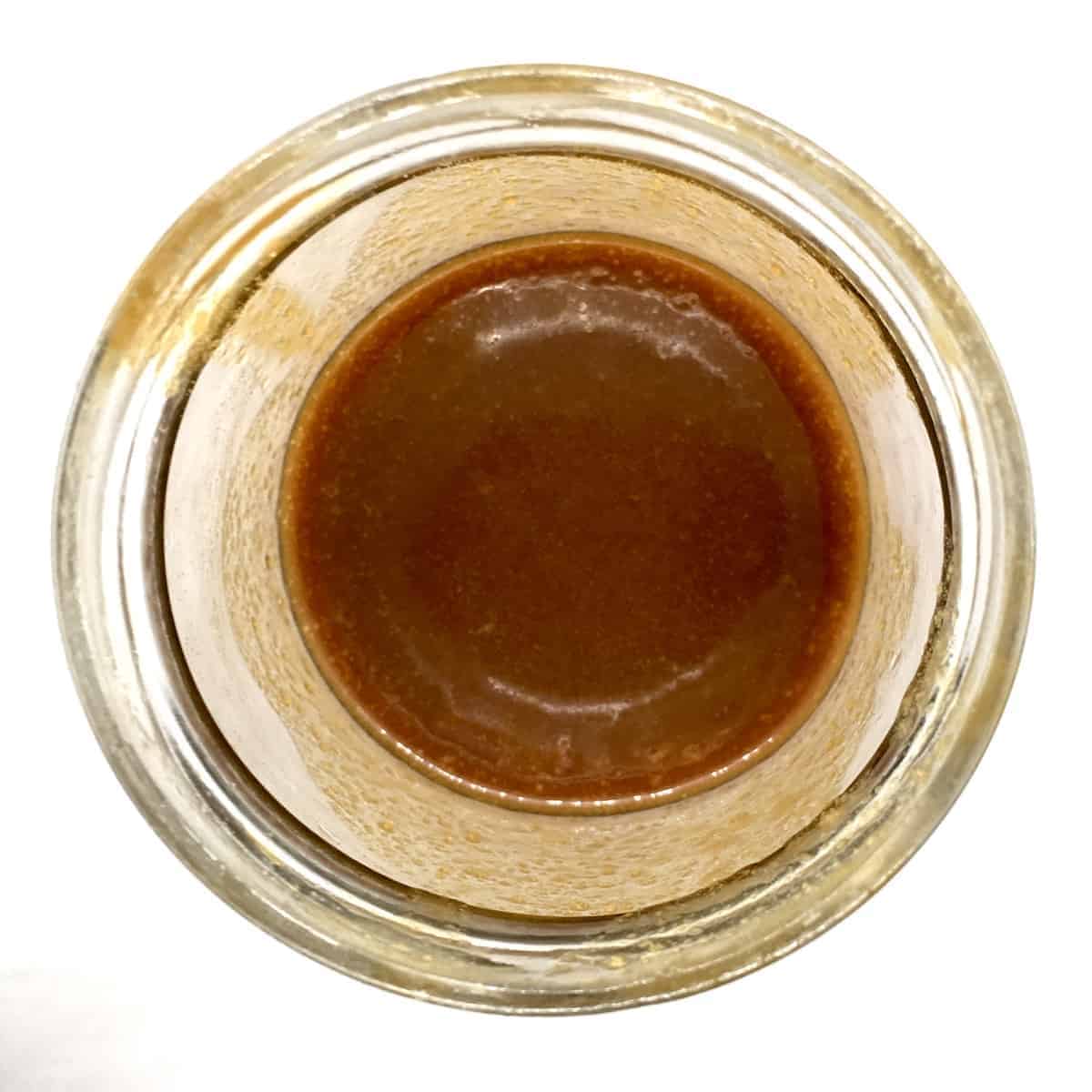 To determine what makes a good substitute for agar agar, we first need to know what people use it for in the kitchen!
Fun fact: Agar agar is actually used to make kid's clay!
Agar agar has a whole range of culinary applications, such as:
jellies (including savory ones like aspic)
thickening foods such as jam or sauces/ gravy
vegan whipped cream
desserts such as Panna Cotta, cheesecake, ice cream, mousse and puddings
savory recipes e.g. vegan cheese and pate (Pate made from meat gets its gelatinous texture from the meat, so when making a vegan version, a vegan gelling agent such as agar agar is necessary to replicate the original mouthfeel.)
weight loss foods (as it is rich in fibre and thus fills you up whilst keeping the calorie count low)
When not to use
1. With acids
Agar agar does not gel well in acidic liquids so If you're working with citrus fruit (e.g. orange juice), you may want to use 1 of the agar agar substitutes below.
2. When you want a clear jelly
Moreover, if you want a completely clear jelly, agar agar may not be the best option, as it produces a cloudy jelly.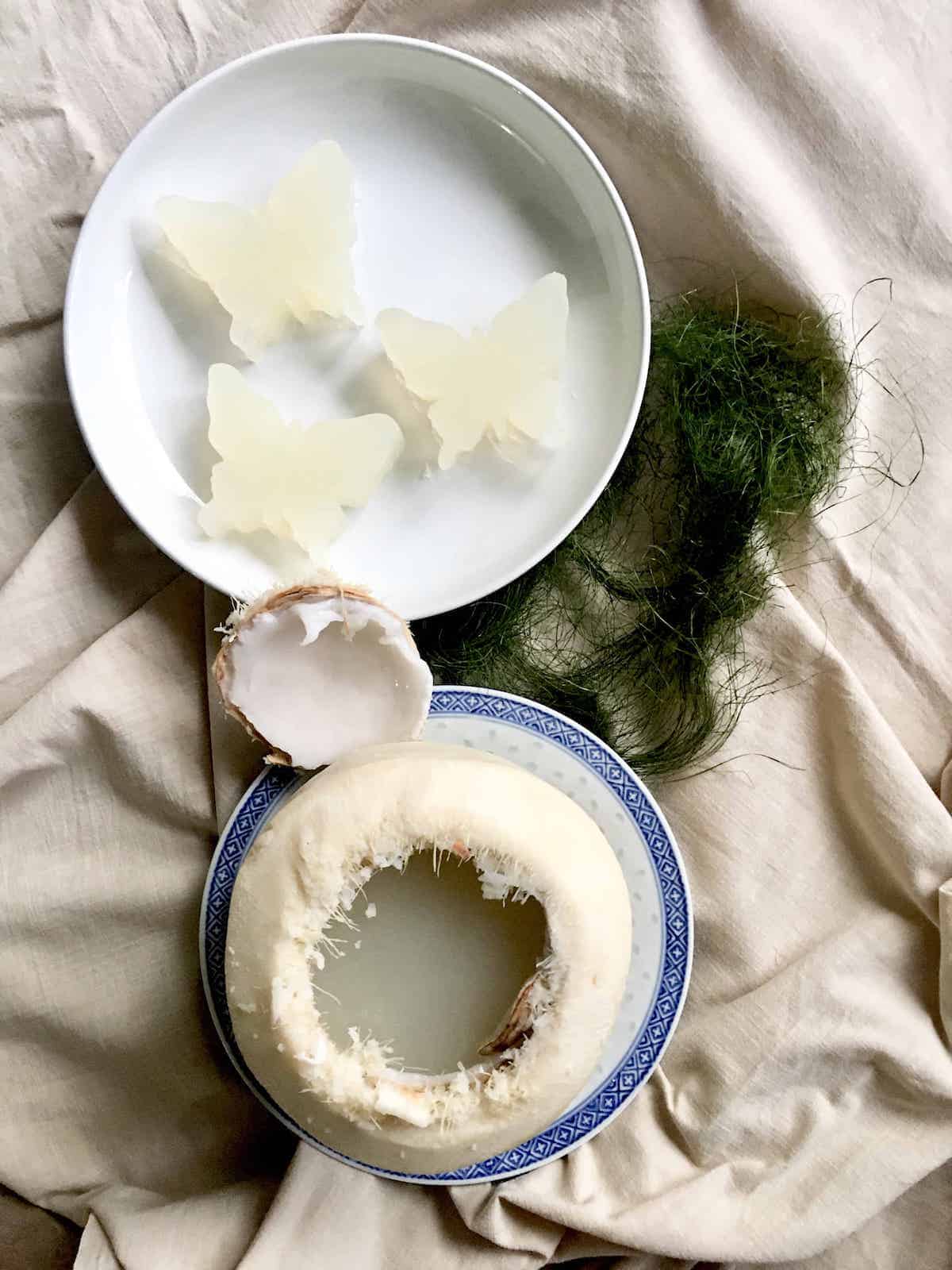 Both photos below show osmanthus jelly. However, the one on the left is made with agar agar and you can see that, though translucent, it's not see-through. The one on the right is made from konnyaku jelly, and has a nice golden shimmer.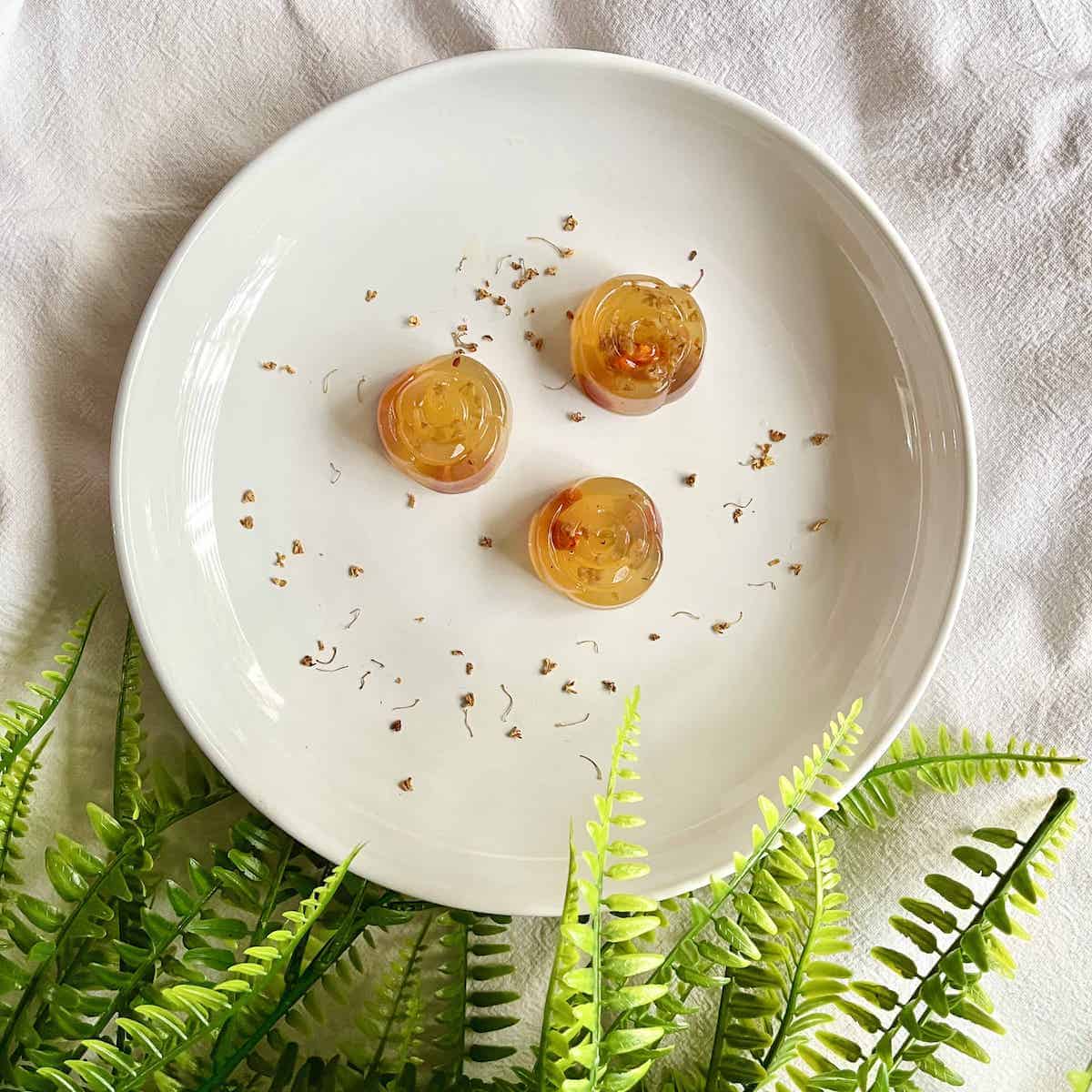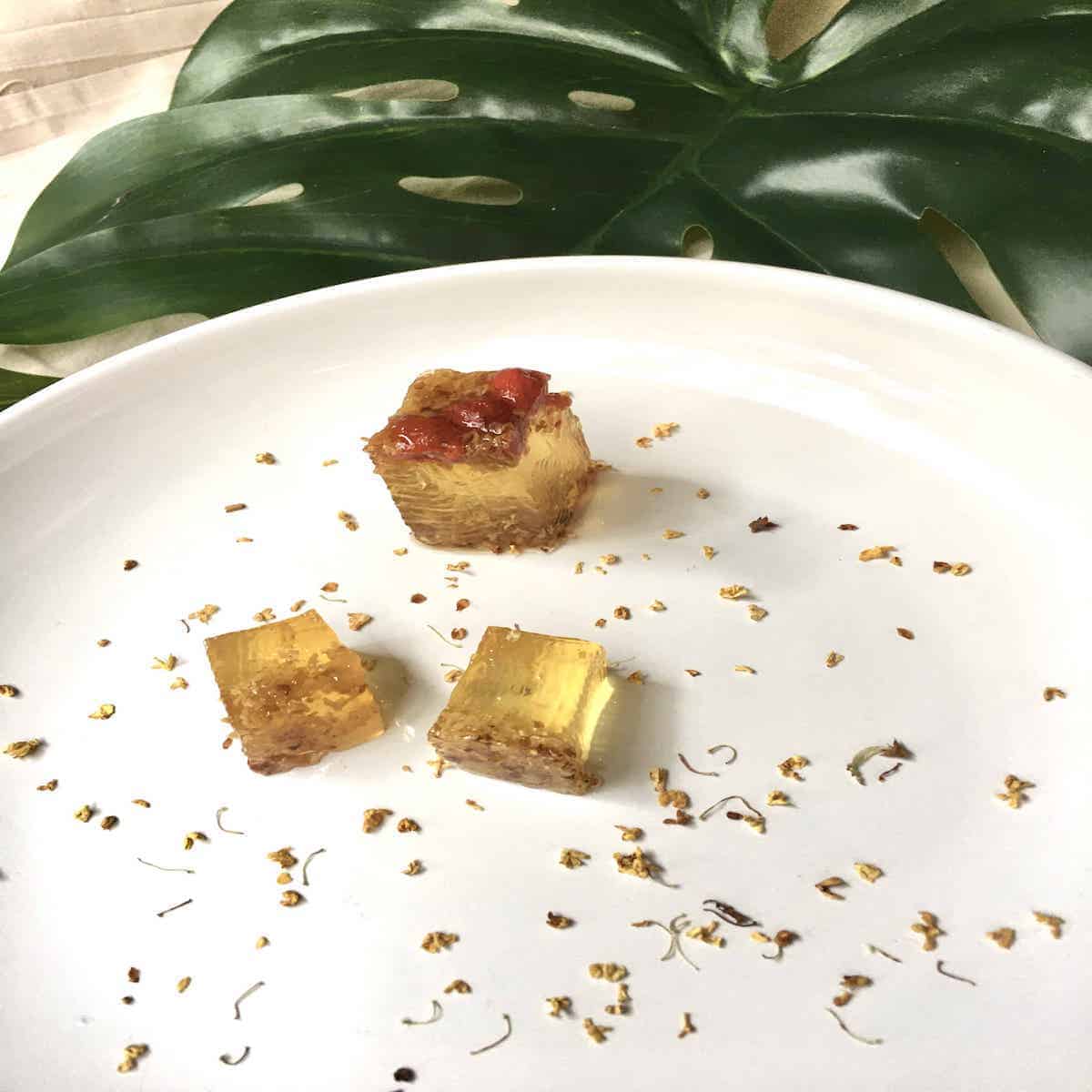 Vegan Substitutes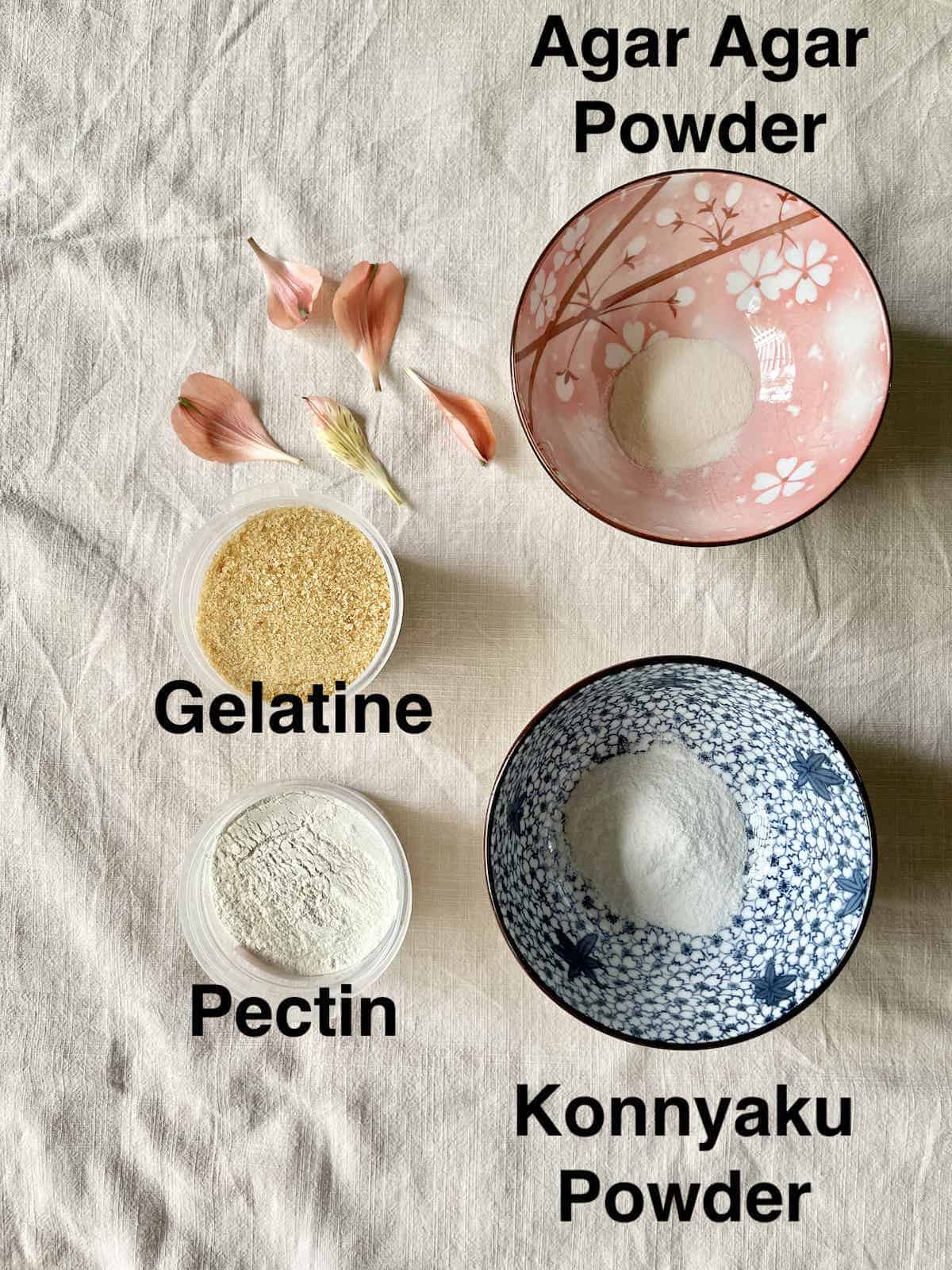 Vegan and vegetarian agar agar substitutes include:
Konnyaku or konjac

This is another common gelling agent in Asian cuisine.
The jelly texture here is even bouncier and firmer than that of agar agar and I've quite a few konnyaku recipes on Greedygirlgourmet where I introduce this Japanese ingredient, so click the link if you want to find out more.
Important: Do note that konnyaku is not 1 of the best substitutes for agar agar when you are serving the very young or old, as it presents a choking risk (and has thus been banned in some countries.)

Pectin

Available in liquid or powder form, pectin is what helps jams hold together and makes a good vegetarian substitute for agar agar when you need a thickener. Fibre-rich pectin is typically used to in jams and jellies.
Some fruits naturally have a lot of pectin, such as cranberries and quince, so you don't have to add an external agent to help these jams set. However, it is necessary to add it to other fruit spreads such as peach and strawberry.
To understand more about the different types of pectin in the market, as well as the chemistry behind its gelling properties, click here.
Pectin is a good alternative to agar agar when making sweet desserts, such as jellies. However, it may not work as well in savoury foods. It cooks quickly and doesn't thicken when reheated, so you need to work carefully (or prepare lots of extra ingredients in case you mess up the 1st time.)

Xanthan Gum Powder

Made from fermenting a specific type of bacteria and sugar (doesn't sound too appetising, does it?), xanthan gum can be found in salad dressing AND wallpaper!
Approved by the US FDA in the 1960s, it's now a popular food additive used for its thickening, emulsifying and stabilising properties.
However, there's been some concern over its safety as the powder has been linked to respiratory problems.

Carrageenan (Irish moss)

This is another seaweed extract- the red seaweed is native to the British Isles and has been used for hundreds of years.
Today it's used in commercial foods as a thickener or gelling agent, especially in vegan and vegetarian recipes.
However, some people are calling for Irish moss to be banned as some scientists have claimed that it is inflammatory and bad for the digestive system, linking it to IBS and even colon cancer. This is refuted by other scientists so.... I'll leave it to you to make up your own minds!

Guar Gum

Also known as guaran, it is made from guar beans and can thicken as well as stabilise food.
Usually sold as a white powder, it also has the benefit of being cheaper than agar agar. Its water-thickening ability is 8x that of cornstarch, for example!

As it is gluten-free, it is often used as a substitute for wheat flour (as is arrowroot powder below.)
Somewhat disturbingly, like xanthan gum, it also has industrial uses- 1 of which is in the explosives industry!

Cornstarch

Cornstarch is a good replacement for agar agar when it comes to making vegan sauces and soups.
Use 2x as much cornstarch as agar agar flakes or an equal amount if you're replacing agar powder.

Potato Starch

Kosher, vegan and gluten-free, this is made by crushing potatoes and not to be confused with potato flour.
Although very similar to corn starch, potato starch has the extra advantage of not tasting starchy if not fully cooked out- anyone who has tried velveting Chinese food unsuccessfully will remember how lumpy and starchy corn flour can get! (It also makes for a clearer and silkier sauce.)

Tapioca Starch

Also known as tapioca flour, this is made by crushing the pulp of the cassava root but should not be confused with cassava flour.
It is sometimes used to replace corn flour, as in this vegan curry puff recipe.

Arrowroot Powder

Made from the arrowroot plant, this white and flavourless power is similar to corn starch.
It has 2x the thickening ability of regular flour, and is traditionally used to make sauces, pie fillings and soups more dense, making it a great paleo, gluten-free and vegan replacement for agar agar.
P.S. It's also great for coating foods before deep-frying, such as french fries- have them with this scrumptious sambal mayo sauce!
Non-vegan substitutes
Gelatine
Gelatine is a good agar agar substitute, if there are no dietary restrictions- both are odourless, colourless and have setting properties.
However, traditional gelatin is animal-based and thus not vegan. (Think about how your bone broths have a jelly-like layer on them after cooling- that's thanks to the gelatine in the cartilage and bones.)
Another difference is in the texture of the final product: jellies made with gelatine are wobbly whilst those made with agar agar have a firmer texture, which I prefer.
Moreover, gelatine liquifies when heated (and thus melts in your mouth) whilst agar agar is stable at higher temperatures.
Unfortunately, gelatine, though more widely available than agar agar outside of Asia, is not as nutritious.
A teaspoon of agar powder goes much further than regular gelatin though: you will need to substitute in approximately a 2:1 to 3:1 gelatine-to-agar-agar ratio.
What is your favorite agar agar substitute? Let me know in the comments if I've missed something good out!