Creepy Halloween Recipes for a scary trick-or-treat party! Along with extra tips at the end to guarantee your kids will have so much fun on the spookiest night of the year. Not everyone wants to gorge on sweets, so I've included some creepy savory recipes for grown-ups too!
Jump to:
P.S. If your Halloween night is more about fun snacks than scary food, try these easy recipes which require no baking!
Easy Halloween Appetizers
Charcuterie Board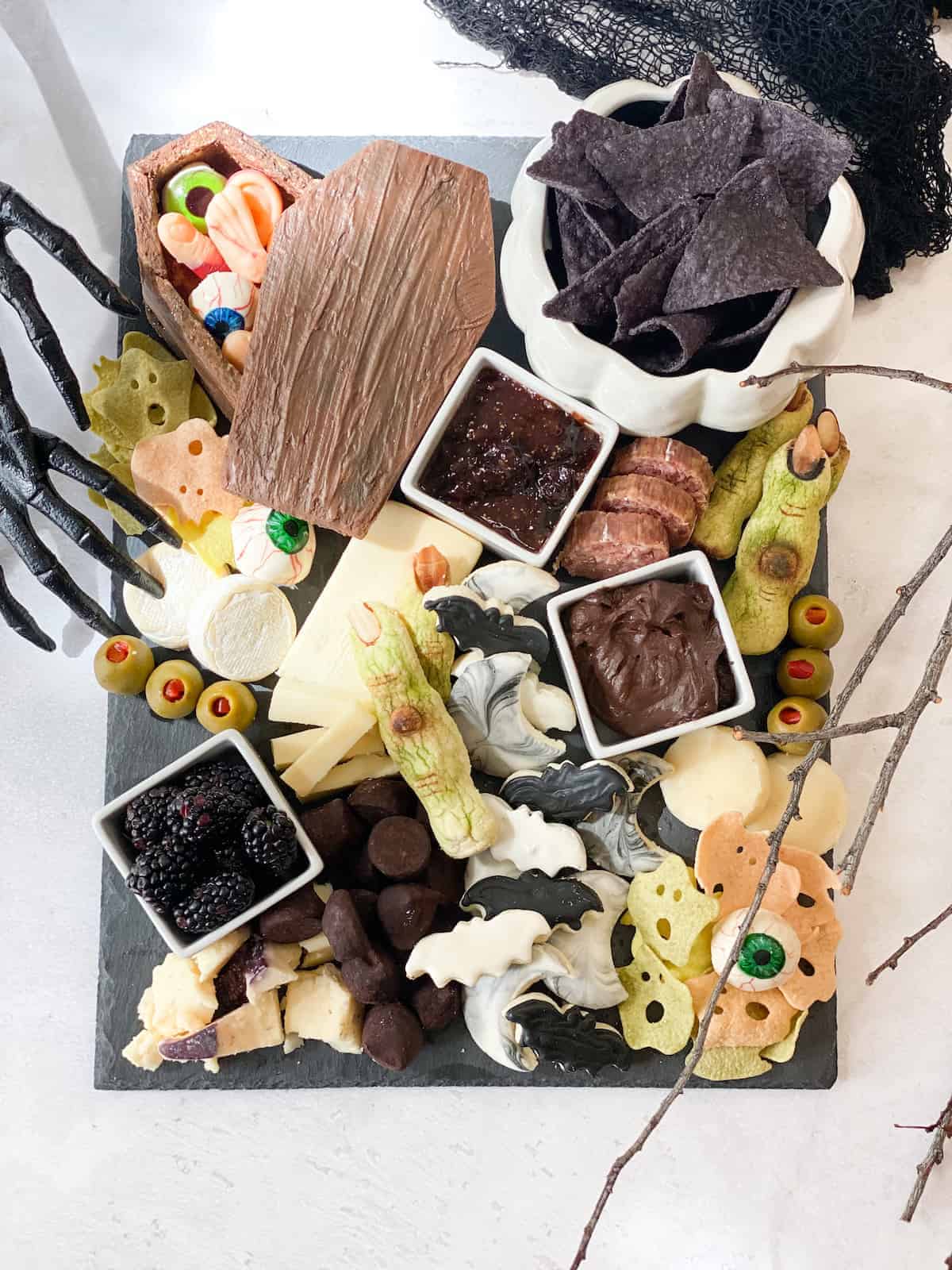 If you're not a fan of sausages, you can make witch finger cookies using your basic cookie dough and some green food coloring, as shown in the board above!
Don't they look perfect for the spooky season?
Hotdog Fingers
You'll never see hot dogs the same way after this Halloween sausage fingers recipe!
Simply use a knife to create lines on sausages, boil the sausages, plate with oozing red ketchup (or raspberry jam.) Voila, you get creepy witch's fingers for Halloween!
If you want more tips and tricks, click though to the recipe!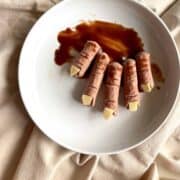 Bleeding Eyeballs
These sweet lychees can be served as an appetiser or a dessert!
Bloody Lychee Eyeballs
These Bloody Lychee Eyeballs are so quick to make- 5 minutes!- and only require 3 simple ingredients. Make them for an extra creepy Halloween party! (Vegan too.)
Click here for Halloween bleeding eyeballs.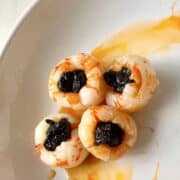 Bloody Dip
Mains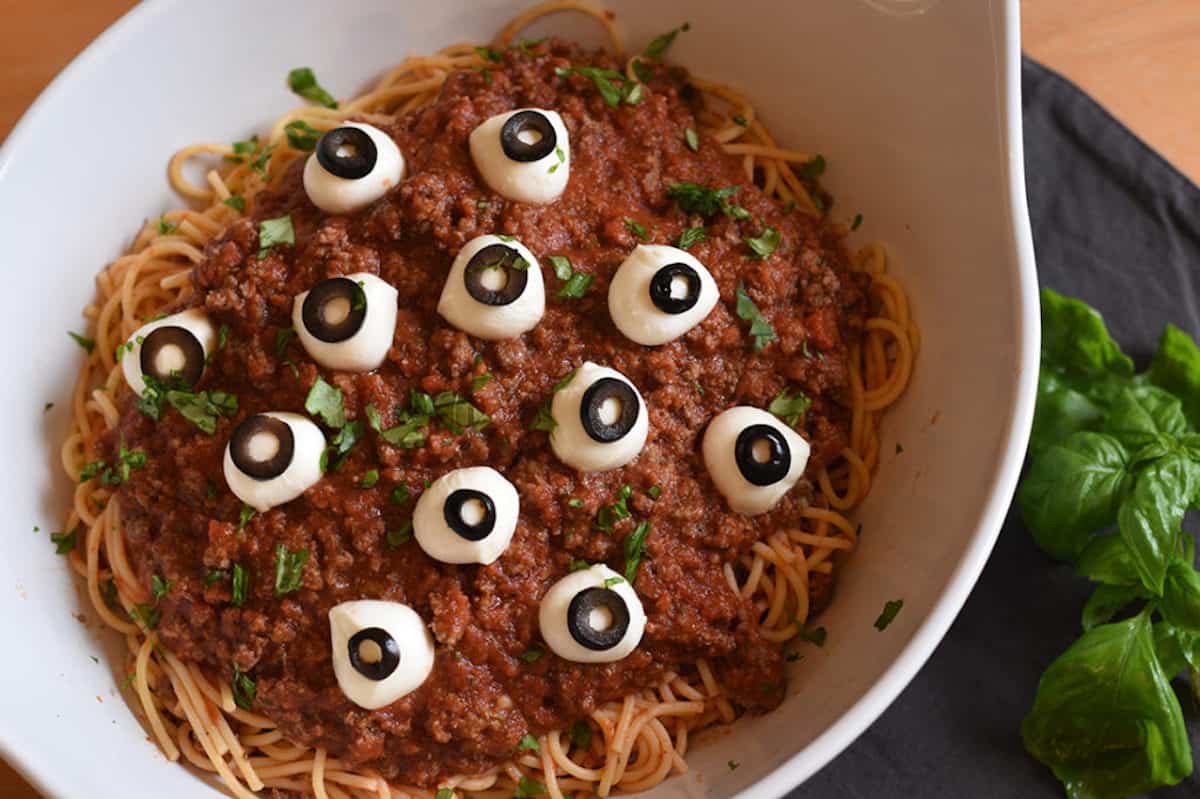 Noodles with black olives eyes are the perfect scary Halloween food for the whole family. If you don't have pasta, you can use chow mein noodles.
Tip: To scale the creepy factor up a notch, use red cabbage juice or squid ink to turn your noodles purple or black!
Halloween Spaghetti with Creepy Eyeballs
Scary spaghetti with eyeballs is a fun, tasty halloween dish and this Clan Kitchen recipe doesn't need special ingredients and only takes 20 minutes to prep. Looks so Halloween-esque but uses regular pasta ingredients!
Click here for the quick and easy Halloween recipe.
Sweets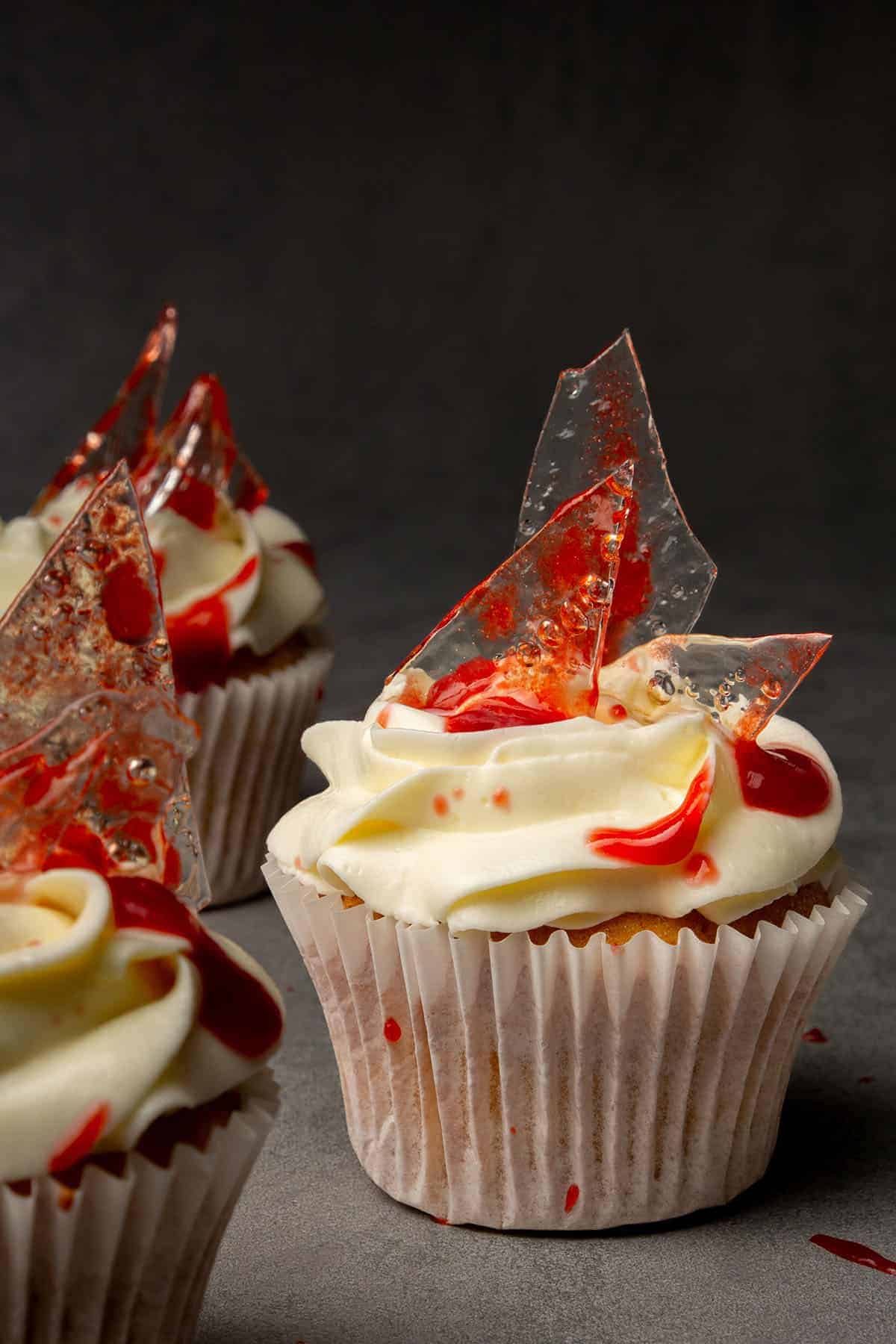 Cupcakes
Bleeding Halloween Cupcakes
These dripping-blood Halloween cupcakes by Spatula Desserts are the ultimate scary and fun Halloween party dessert! Moist, fluffy, and delicious! Combining a strawberry cheesecake flavor and strawberry sauce, it looks scary but tastes heavenly.
Click here for the cut glass cupcake recipe!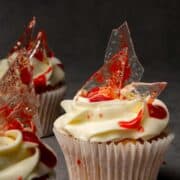 Note: For more Halloween baked goods, click here.
No Bake
Who would have thought that Oreo cookies could make such spooky snacks?
Best of all, that creepy oozing brain is totally natural and not from artificial red food coloring!
Halloween Brain Cookies
These Halloween Oreo Brain Cookies by Veggie Desserts are easy to make and will be a hit with both kids and adults. (Who doesn't love Oreas?) All you need are 7 simple ingredients and a little creativity for this fun holiday snack!
Click here for the fun Halloween brain treat!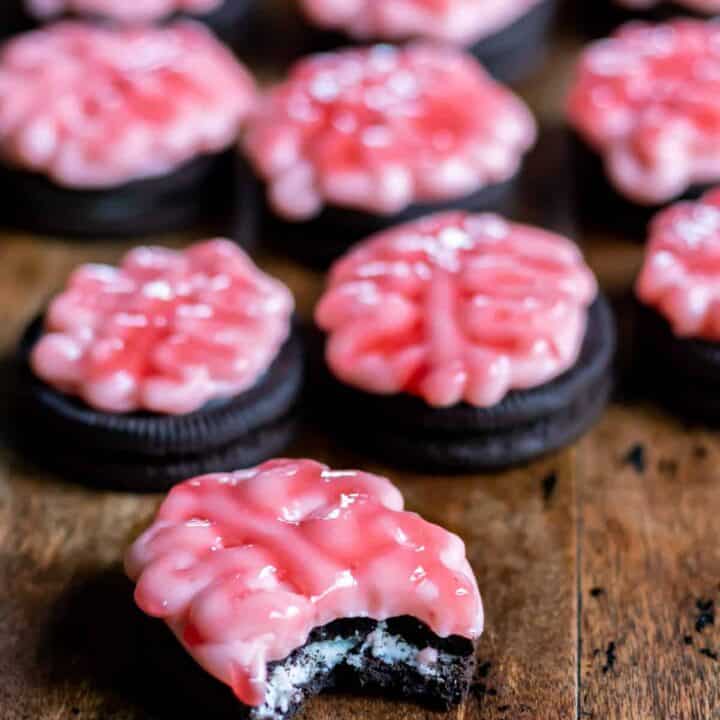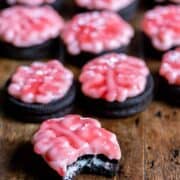 Note: for more easy Halloween party food which require no baking, click here.
Jellies
Jellies are so easy to color and shape, they're amazing for creating scary sweet treats!
Add a bit or red food coloring and you can create a blood clot.
Or use a worm mold, some funky colors and you can make worm-shaped snacks- much better than using gummy worms as you can control the amount of sugar you add!
Lychee Eyeballs
Lychees make perfect eyeballs for Halloween. Pop in a bluberry- or black olive if you want a savory twist- smear on some raspberry jam to mimic fake blood, and you're almost done!
To make these party snacks for grown-ups, I use the lychee eyeballs in this lychee champagne jelly recipe.
Note: you can also add the lychee eyeball jellies to sparkling wine or lychee tea for a Halloween cocktail/ mocktail! (Leftover lychees can be used up in these recipes.)
GF Ghouls and Brains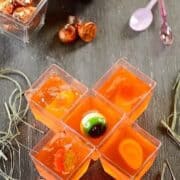 Note: if you're vegan, you can substitute with agar agar or konnyaku jelly. Click through for more information before substituting. (For example, konnyaku is a choking hazard so not recommended for kids' parties!
Eerie Chocolate Bark
Melt some dark chocolate - you can do this easily by microwaving on low. Pour the melted chocolate onto parchment paper to cool.
Next, melt some white chocolate, and use a tooth pick to use the chocolate sauce to draw cobwebs on the dark chocolate.
Add a plastic spider and you're all set for your Halloween dessert.
Tip: The best thing about this recipe is it can be customised for kids or adults! Use high-quality, high-cocoa chocolate for adults who don't like it too sweet, or milk chocolate for kids!
Note: I don't recommend melting chocolate chip as it contains stabilisers.
Drinks
Amaze everyone at your next Halloween party with this easiest Halloween drink!
A great way to create green cocktails is to use pandan extract or pandan paste.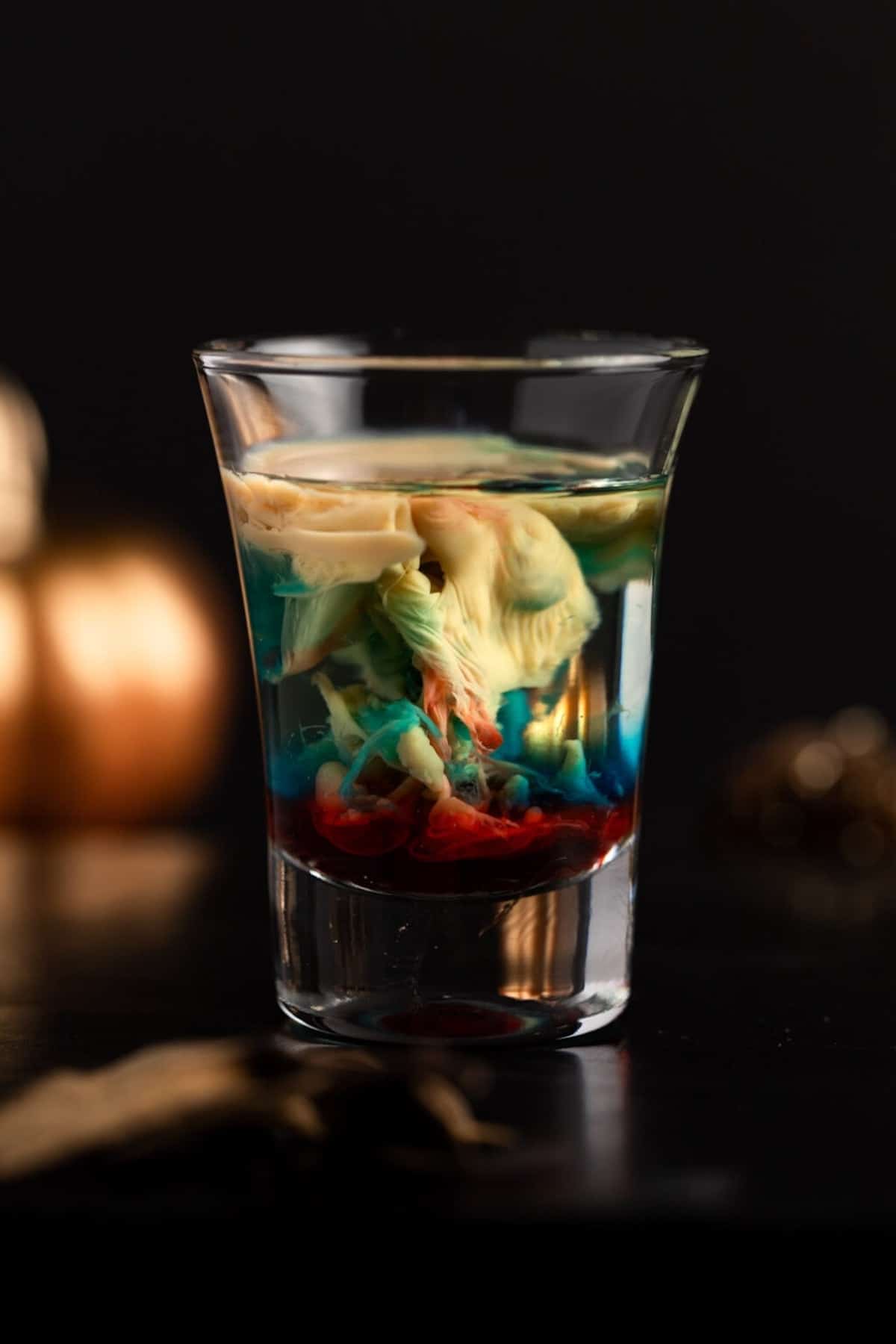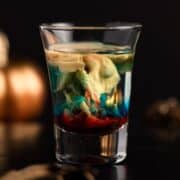 Non-Scary Ideas
If you need some fun Halloween ideas for the faint-heart, try these cute ideas!
This cute Halloween bread recipe would go really well with my spicy Asian tuna dip, 3-ingredient olive dip or cream cheese dip!
Halloween Spider Bread
If you're looking for a fun Halloween appetizer, check out this cute Halloween Spider Bread. It's easier to make than you might think, and both kids and adults will enjoy tearing this Flawless Food dish up and dipping the delicious bread into the hole in its back, filled with your chosen dip! Doesn't that sound fun?
Click here for the savory bread recipe.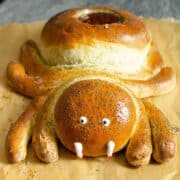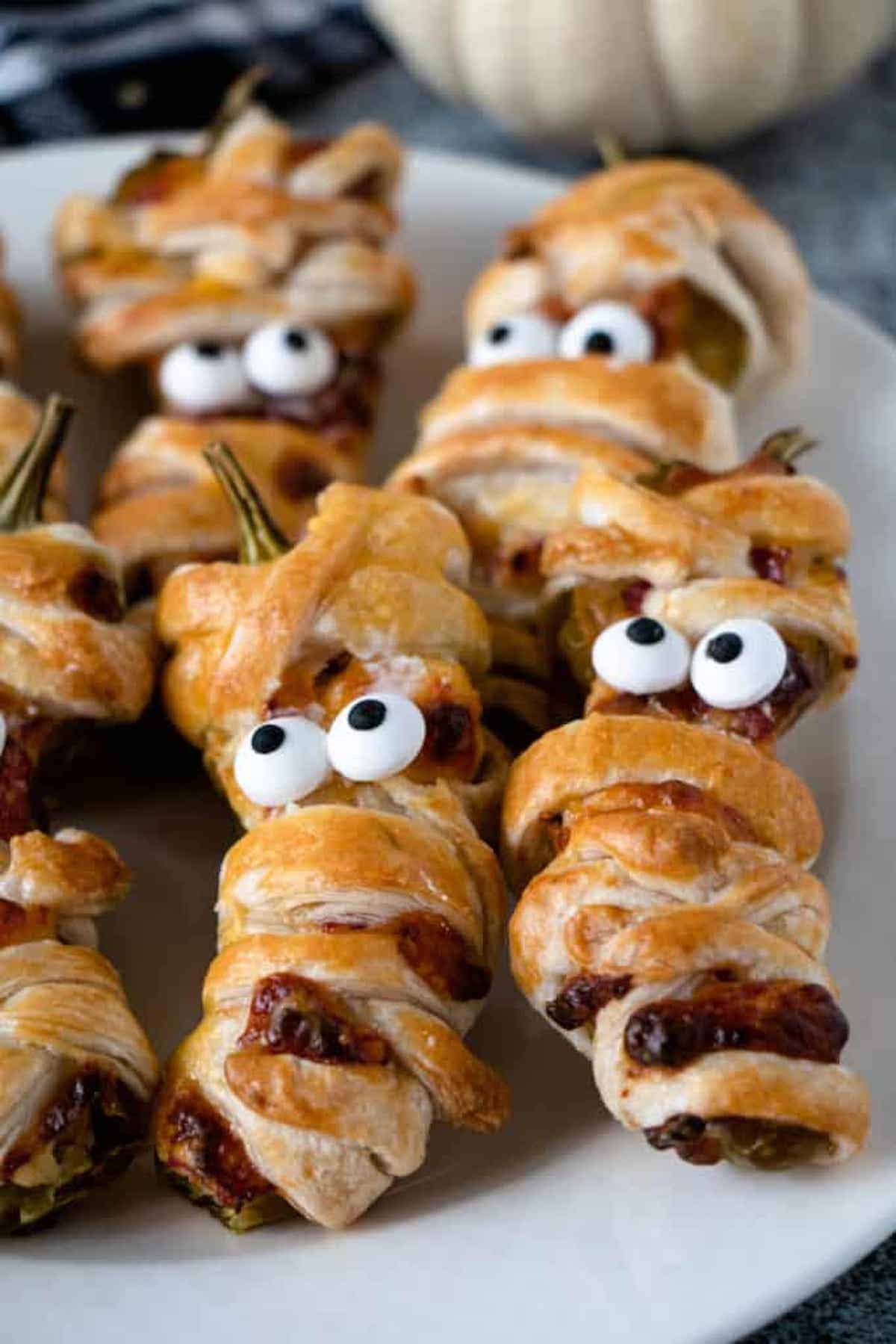 Mummy Snack for Halloween
This Halloween Jalapeno Mummy poppers recipe by Food N Service takes regular stuffed jalapeno poppers and transforms them into a fun and spooky holiday-themed snack. It's the perfect appetizer for Halloween parties and other celebrations! Best of all, it can be made days in advance!
Click here for the Jalapeno Mummy recipe.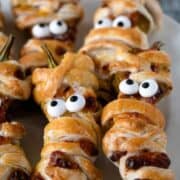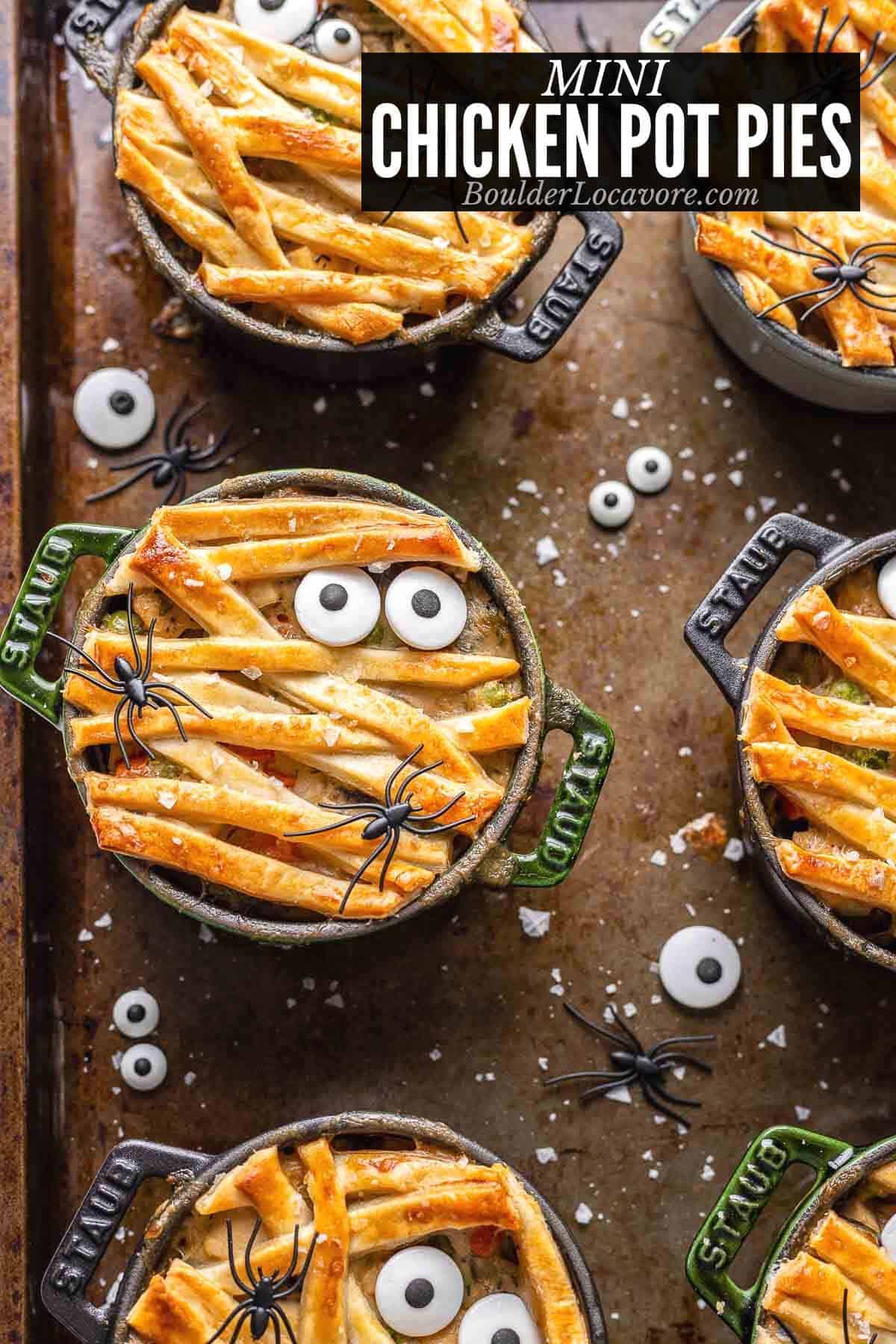 FAQs for the best Halloween party ever
Here's some more info you'll need to know if you want to wow your party guests!
What's the bestselling Halloween candy?
According to Kroger, the topselling candy for Halloween 2022 was Reese's Peanut Butter Cups, followed by Snickers and Kit Kat! A YouGov poll of 8-14 year old children revealed that almost 76% liked Reese's Peanut Butter Cups best, followed by M&Ms then Milky Ways! So now you know what are the best 2022 Halloween treats to give out! (Whatever you do, don't give out black licorice- unless you don't want anyone to come back next year!)
What are some of your favorite creepy Halloween food ideas?