Singapore is famous for its street food and crispy lardons made from rendering pork fat are the secret ingredient in most traditional Singapore Chinese hawker dishes, such as bak chor mee and Hokkien mee (noodles).
Jump to Recipe
Jump to:
The key to making really, really good traditional Singaporean and Chinese street food, such as spring onion pancakes, is to use homemade pork lard- the rendered lard gives hawker food an incredible flavour that regular vegetable oil just can't replicate!
Although you can buy ready made pork lard in some supermarkets, I prefer to use homemade pork lard and lardons in my cooking/ baking because the store bought animal fat contains lots of nasty additives (I get enough of those through my bad snacking habits!) and can sometimes have a funny taste.
In addition, the crispy lardons you get after rendering your own lard make delicious snacks or toppings for salads, noodles or even a plain bowl of rice!
Note: you can make bacon grease at home in the same way you make lard. Bacon fat has a salty, smoky flavour compared to lard's neutral one, and gives food even more umami!
However, if you can't get lard where you are or don't eat pork, here are some of the best lard substitutes.
Why use it
The taste!
If you're wondering why you can't recreate the taste of Singaporean hawker food at home, one reason could be that you're not cooking with pork lard. It's just not the same when you use vegetable oil! One of The Best Plates of Noodles I've ever had was just plain noodles charred over a very hot gas fire using pork lard. (It's the Teochew Restaurant in Bedok (Chin Lee), opposite FengShan market, if you live in Singapore and want to try these noodles!)
Pork lard has a high smoke point
i.e. it won't burn when you cook or deep fry over high temperatures (burnt food => cancer FYI)
It also has a high melting point, making for super flaky pastries (such as traditional chinese peanut cookies) and homemade pie crusts (flakier than if you use butter!)
You end up with crackling lardons (crispy pork lard). Enough said!
It helps you to use up kitchen scraps! If you buy pork belly to cook with, but find it too fatty and trim some of the excess fat away, don't throw those bits out! Keep them for rendering but don't combine it with pure pork lard as the pieces from the pork belly fat may contain meat which will reduce the shelf life of your homemade lard.
Note: I've read some blogs that claim pork lard has fatty acids and health benefits- I'm not a nutritionist so I really can't say!! In Singapore, the government actually encourages hawkers not to use pork lard as they say vegetable oil is healthier (and pork lard is quite calorific, unfortunately) so..... any nutritionists out there that can comment?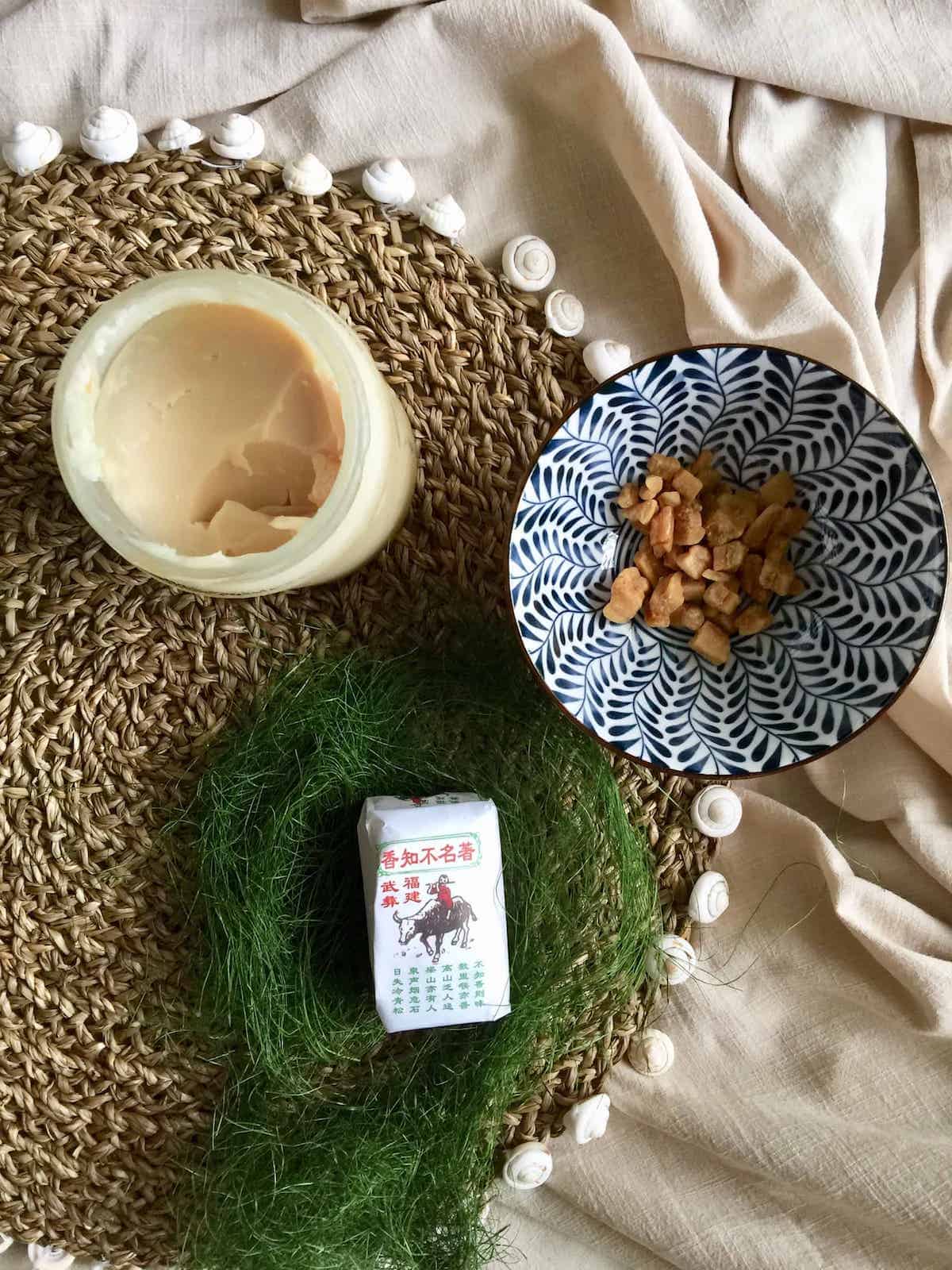 How to render
There are several different ways to render pork lard (and in the process make the crispy lardons):
over the stove
in the oven
in the slow cooker
You could maybe do it in an Instant Pot too but I don't have 1 so can't test my idea out!
Wet vs Dry
In addition, you can either do:
dry rendering (heating just the pork fat and, if desired, some aromatics such as ginger and garlic in the pot)- results in a darker coloured lard with a lower smoke point
wet rendering (adding water to the pork fat- and aromatics if desired- and boiling together in the pot) - this will give you a whiter lard with a higher smoke point
Since I left my slow cooker in London, and using the oven in Singapore apparently costs S$44 an hour (!!), I usually make my homemade pork lard and lardons over the stove.
What kind of fat?
You can use different types of pork fat to make lard:
Although I do trim out the excess fat when I cook with pork belly (and keep it for rendering), I don't recommend buying pork belly specifically for rendering as it's hard to completely separate the meat and fat and the leftover bits of meat in the lard will reduce its shelf life. I just do this because I don't like to waste food! If you're the same, here are some ideas on what to do with leftover food.
Tips
The lard keeps for a good while, so why not make a large amount each time and save on your gas bills. (It can be frozen.)
Ensure the fat is all cut into equal sized, small fat pieces

If the fat is cut into different sized pieces, they will cook at different rates and you will end up with both undercooked and burnt lardons!
Cutting the fat into small pieces means that you get bite-sized lardons; large pieces of fat will leave you with lardons that are too big
If your lard does not come cut, you may want to pop it in the freezer for 10-15 minutes before cutting. This helps to harden the pork fat and make it easier to cut.

Use low heat: rendering is a slow process

Using high heat gives the lard a stronger porky taste
I would recommend a temperature of about 225-250 F (107 C- 121C) if you're using the oven

If there are bubbles around the fat, continue rendering (the bubbles indicate that there is still moisture in the fat)
Remove the scratchings with a metal slotted spoon - they should have turned golden brown- and leave them on a paper towel to absorb any excess oil. Strain the liquid lard into glass jars after rendering: impurities in the lard will result in mold! (On its own, lard will eventually go rancid after a long period of time but will not turn moldy.)
Let the lard completely cool before you close the jar- it turns white and solid after cooling!
If the pork scratchings are not as crispy as you want at the end of the rendering - though they should be- just dry fry them in a pan for a bit (on medium heat) and they'll get nice and crispy. Alternatively, bake them in the oven or air fryer for a few minutes at 350 F (178 C).
How to store
Pork oil can last for a long time- I know of people who say they keep their lard for up to a year but I like to use mine up MUCH more quickly that that! Traditionally people left the rendered fat out at room temperature but I would recommend putting it in the chiller since we have access to the technology now! (Make sure it's stored in an air-tight container!)
Before using your lard, always check that it is not rancid (as indicated by the presence of a bad smell!) or moldy (properly rendered pork lard won't go moldy- mold means that there was moisture left in the pork fat.)
Pork scratchings, on the other hand, are best consumed within a few days to keep them crispy.
How to use
It makes a super flaky pie crust
For melt-in-the-mouth pineapple tarts (this is the traditional Indonesian way to make these Chinese New Year goodies.)
For cooking in place of your regular olive oil or canola oil- use it to fry rice or noodles
What to do with the the crispy cracklings
Snack on them, they're super addictive! (Other Asian Snack recipes can be found through this link or this one for Asian nut recipes)
Sprinkle them on fried noodles such as bihun goreng or Hokkien mee
Use as toppings for dishes which you want to add crunch to, such as soups and porridge
Toss with salad- pork scratchings are basically a better replacement in any dish that calls for croutons
Other Asian pork recipes
Homemade pork lard and crispy lardons recipe (Singapore hawker secret)
They're the secret to making Singapore's famous street food- the Chinese dishes at least- at home.
Equipment
Dutch oven/ pot

Metal strainer

Glass jar

Kitchen towel (for scratchings)
Ingredients
Pork Fat

Aromatics such as ginger and scallions

Optional

Water (enough to cover fat in the pot)

Optional
Instructions
Cut the pork fat into equal sized, small pieces. For easier cutting, put the fat in the freezer for 10-15 minutes to firm it up.

Place the pork fat and aromatics, if using, into a pot over low heat (2-3 on an induction stove) and then reduce to 1-2 once the oil has started oozing out of the fat. (If you want to use wet rendering, add enough water to cover the fat but not more than that or you'll be slaving over the stove for hours.)

The fat will take 1-2 hours to completely render. Make sure that there are no more bubbles around the fat before switching off the fire.

Place the pork scratchings on a kitchen towel to absorb the excess oil. If not as crunchy as you like, pop them into a dry pan, air fryer or oven for a few minutes (350F/ 177C)

Filter the pork lard into a heat resistant glass jar- this is particularly important if you've added aromatics to your lard- allow it to completely cool before covering and refrigerating. Keep it for up to 6 months in the fridge and do not use if rancid (smells bad) or moldy)
Before you go, here are some other Asian Recipes you may be interested in: