Bacon fat, also known as bacon grease, is extremely useful in the kitchen: you can bake with it, cook with it, or even use it to make a spread for bread. If you don't have any on-hand, here are the best bacon fat substitutes around.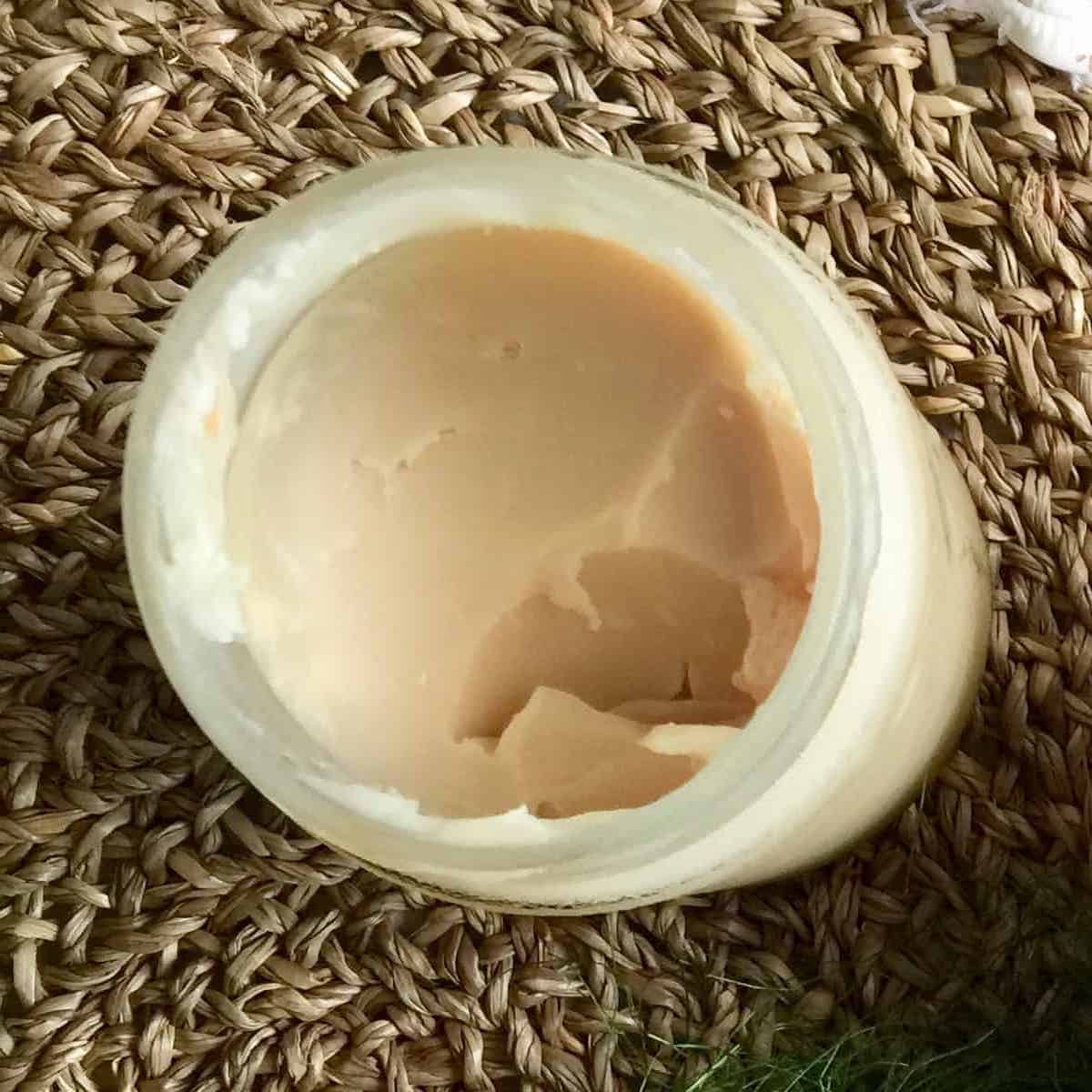 Jump to:
What is bacon fat?
Bacon fat, also known as bacon drippings or bacon grease, is simply the fat that of bacon. It renders out when the bacon is slow-cooked, and adds a ton of smoky, salty flavors and umami to your food- this liquid fat can even be used in in sweet bakes!
Fat is a flavour carrier, and bacon grease helps you to feel satiated (full) as well as adds a pleasing smoky flavor to dishes. For these reasons, bacon drippings are especially popular in the Southern states of North America.
Health benefits
In addition, despite the bad name we've given fat recently, a little bit of fat is actually good for us: it helps our bodies absorb vitamins such as A, D and E, as well as provides brain-boosting omega-3 and omega-6 fatty acids.
Moreover, bacon fat is different from, say margarine, as it doesn't have trans fat (bad fat) and also has more monounsaturated fats (good fat) than regular butter. Having said that, don't forget that everything in moderation is a good motto! (Too much of a good thing isn't good.)
How to make & store
You can buy bacon grease in grocery stores, but the best is home made. Simply gently cook your bacon over low to medium heat, and the fat will slowly render into a delicious liquid that can be used for cooking and baking. (It is semi-solid at room temperature.)
Obviously, if you only cook a few strips of bacon, there may not be enough bacon fat to save- you can then sauté mushrooms or toast bread in the same pan to mop up the last of that liquid gold. When you fry more bacon, you can save the extra rendered bacon fat for future use.
Allow it to cool, then strain it and store it in an air-tight jar in the fridge for 2-3 months or freezer. (Bacon fat used to be kept in a cool dark place at room temperature, but chilling prolongs the shelf life.) If you don't strain, the bacon bits left inside will make the bacon fat go bad more quickly.
How to use
Some ways to use bacon fat or its substitutes include:
To make mayonnaise
To make salad dressing- it will give a bland vegetable salad extra oomph!
In baking cookies - use it to replace half of the butter in your favorite cookie recipe next time!
To saute vegetables, such as these soy and butter eyrngii mushrooms (Substitute half the butter with bacon fat)
To grill collard greens
It's often used in cornbread
Use it to scramble eggs- they'll taste incredible!
To make stovetop popcorn
Tips
Straining the bacon fat with a coffee filter gives you cleaner bacon grease than a mesh strainer does.
If you don't have a ton of it, and want it to go a longer way (for e.g. when deep frying), simply use part bacon grease and part vegetable oil!
Don't use bacon fat when you need to cook at very high temperatures as it will burn.
Always smell before you use it to make sure it's not gone rancid.
Never dispose of bacon grease- or other types of fat- down the sink or you'll end up with a big plumbing bill one day.
Asian pork recipes
Since you're reading about bacon, I presume you quite like pork! Here are some Asian recipes which use pork that you may be interested in:
Why substitute
If you don't have any bacon on hand, or can't eat pork due to religious or lifestyle choices, here is a list of the best bacon fat substitutes. The following replacements will lack the smoky aftertaste of bacon grease, so to make up for this, you can use smoked salt or add a pinch of liquid smoke when cooking.
Animal Fat Substitutes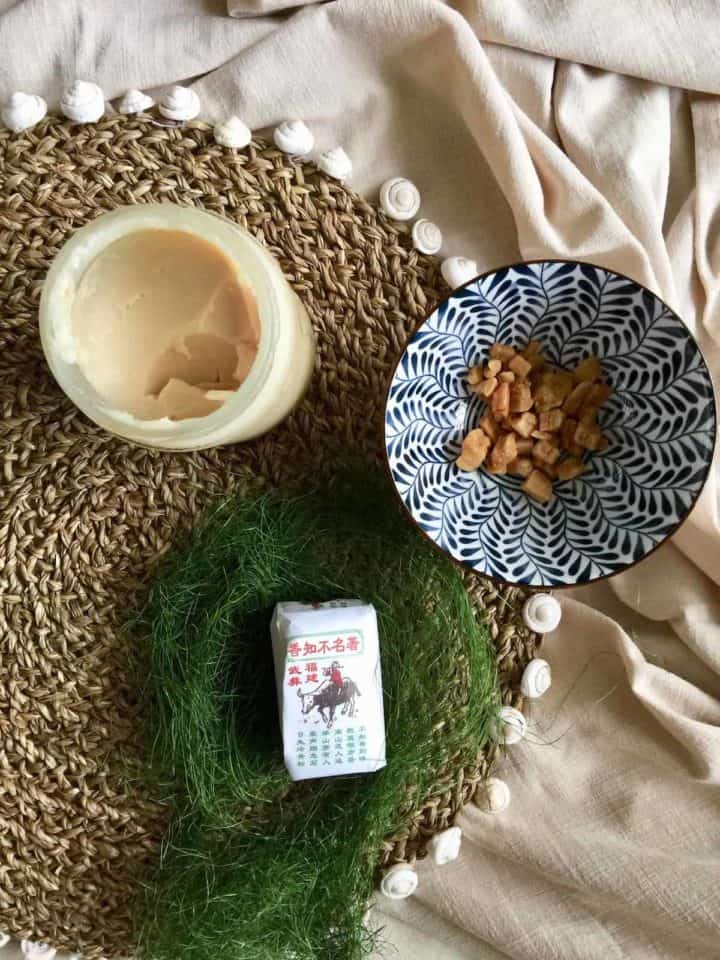 Pork Lard

Bacon fat is related to lard- after all, they're both pork fat- making it the perfect substitute. It is very easy to render lard at home and to get crispy crackling the process- click the link for some tips- although it is a time-consuming process. (You can get ready-to-use lard in the grocery stores, but homemade is always best- if not, try 1 of these substitutes for lard.) 
The only thing is that regular pork lard has a neutral flavour and won't have that salty, smoky taste that bacon grease has, but you can always add a pinch of smoked salt or liquid smoke to remedy that.

Chicken Skin Grease (Schmaltz)

You can render chicken oil from chicken skin, similar to how you render bacon grease or pork lard. (You also get the benefit of crispy chicken skin at the end- yum!) Like bacon fat, schmaltz adds a delicious flavour to food, such as in this Singapore chicken congee, and is a good replacement for the former.
Note: Here is a great idea on how to turn roast chicken drippings into a spread for bread.

Beef Fat (Beef Tallow)

Like pork lard, beef fat will require time before it can be made ready to use in cooking and baking. My Mother works in the edible oils industry, and she told me that beef tallow is the secret behind MacDonald's French fries flavour when I was young. (I believe they have since switched to vegetable oil though due to concerns about saturated fat. You can read more about the legendary beef tallow fries here.)

Duck Fat

I'm sure you can sense the theme- if you can't get hold of bacon fat, fat rendered from other animals make good alternatives. If you don't believe that duck fat is tasty, just think of French duck confit!

Goose oil

As above- think of the richness of foie gras!

Ghee

An Indian clarified butter, ghee adds incredible flavour to food, like bacon drippings do. It has the advantage of having a very high smoke point, making it perfect for deep frying. Unfortunately, ghee is 62% saturated fat, making it not the healthiest option around.
Note: ghee is prepared differently from regular clarified butter, and taste nuttier.

Butter
I find ghee a better replacement for bacon fat than butter, because ghee has a higher smoke point. If you can't get ghee, you can use butter instead which, besides adding flavour to food, also adds a little sweetness. If you'll be cooking at high temperatures, don't forget to clarify the butter first.
Note: just as butter can replace bacon fat, bacon fat (or pork lard) can also be used in place of butter in some home bakes, for an extra tender crumb.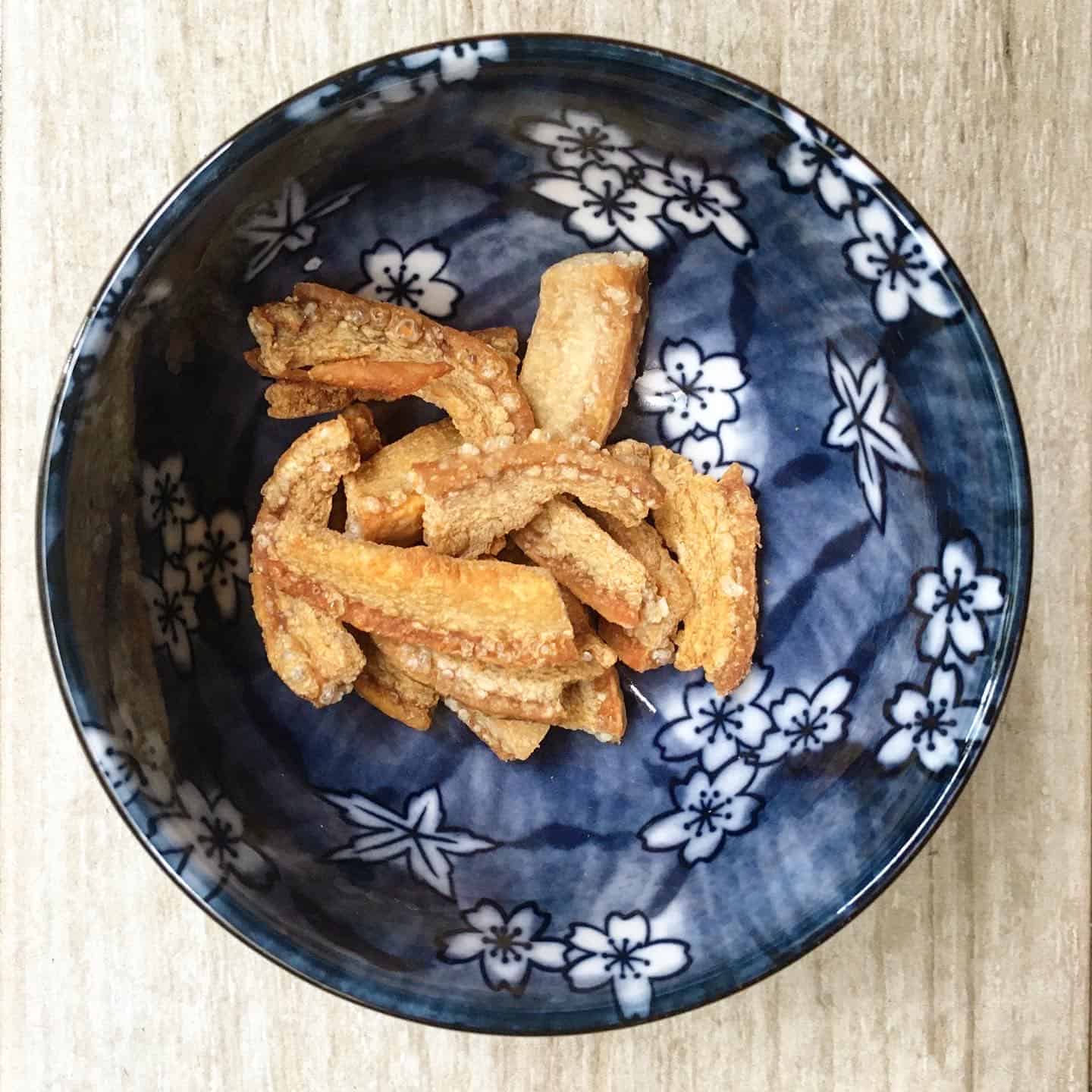 Vegan Substitutes
If you're on a plant-based diet, these are some animal-free bacon fat alternatives. You may also be interested in this list of 100 Asian vegan recipes and these vegetarian/ meat-free dishes.
Magic Vegan Bacon grease

A Canadian product made from coconut oil, soy protein, maple syrup, pepper, onion, garlic, torula yeast, smoke flavoring and sea salt,

Avocado oil

Avocado oil is a dense fat, like bacon grease but it is not quite as tasty- adding a pinch of onion powder, garlic powder, smoked sea salt and nutritional yeast would help remedy that.

Vegetable Shortening

Unfortunately, cooking with shortening instead of bacon fat will give the food less flavour, so you may want to add a touch of umami when cooking by adding the same ingredients as you did with avocado oil (or mushroom powder.)

Peanut oil

This is a popular cooking oil in Asian cuisine. In the past, Chinese peanut cookies were made with pork lard but many people these days have switched to peanut oil for ease of use and health reasons. Similarly, you can use peanut oil in place of bacon grease when cooking, but note that it may add a nutty aroma to the dish.
Peanut oil is a great substitute for bacon fat if you're cooking Asian food.

Sesame oil

This is one of the best vegan alternatives to bacon grease if making Chinese dishes.
Not amazing replacements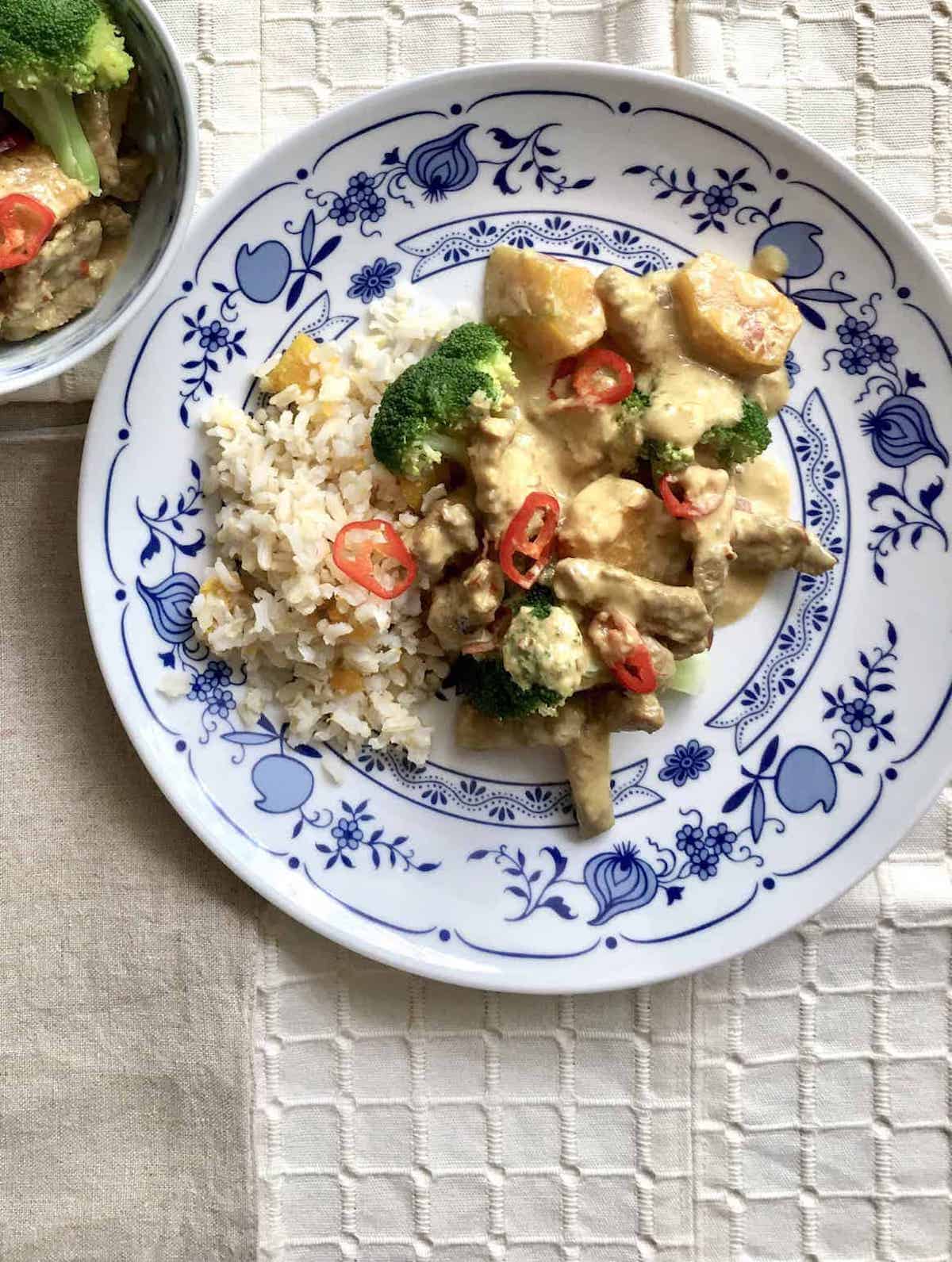 Coconut oil

Although coconut oil is high in fat as bacon grease is, the coconut flavour can be very overpowering, so it should be used selectively. For example, it would be great for cooking curries, such as pork Assam curry and turkey berry curry, but might not suit other recipes.

Olive oil

Olive oil, or any of the following vegetable oils, can be used to substitute bacon fat if you're vegan, but don't forget to add the nutritional yeast, smoked sea salt, onion and garlic powder to create umami.
However, as olive and the following oils are quite light compared to bacon grease, I've included them in the "less ideal" substitute category.

Sunflower Oil
Canola Oil
Corn Oil
What's your go to substitute to use in place of bacon fat? I'd love to hear about it if it's not on this list!