Having vegan guests over, or simply deciding to eat more plant-based foods and less meat, can be challenging so here are 22 vegan Asian recipes to make your festive gathering easier!
Jump to:
I'm not vegan. I'm probably going to get a lot of hate mail after saying this, but rather than being strictly vegan, I believe in reducing my consumption of animal products, as well as buying meat that is sustainably and ethically raised. Even Jonathan Safran Foer who wrote a book championing veganism has confessed to eating a little animal produce in the evenings. (Note I'm not saying don't be vegan, I'm saying I find it challenging to be 100% vegan.) Of course, some foods may simply not be suitable for ethical mass production- without intensive farming (which often treats cows quite inhumanely), can cows produce enough milk to meet the world's demand?
Nonetheless, I find it hard to cook meat free, which is why I often browse vegan recipes for inspiration. I totally believe that it is possible to cook vegan food that's as tasty as non-vegan food, but it's a skill I haven't quite achieved, so I've collated this list of vegan Asian recipes to inspire myself, and hopefully you. If these 22 recipes aren't enough, I've got 23 more vegan Chinese New Year dishes here! (Piece of random info: I once spoke to a farmer who said that the best meat to eat, if you are concerned about animal welfare, is lamb as it's not possible to intensively farm sheep. Does anyone know more about this?)
Note: all these recipes contain natural ingredients. I try not to feature recipes that call for "meat substitutes" as I prefer my food as unprocessed as possible. So the recipe might ask you to use tofu in place of meat, but it won't ask for fake/vegan meat (which could have been made from tofu).
What are some good plant-based substitutes to replace meat?
Tofu, tempeh, aubergines, mushrooms and young jackfruit are some ideal meat substitutes. To reduce our consumption of beef, I actually make tempeh, mushroom and jackfruit rendang instead of the usual beef rendang- we have it almost every week! Mushrooms help provide the umami element, for example, whilst the texture of young jackfruit is quite similar to that of pulled pork. Tofu and aubergine, on the other hand, absorb flavour and sauces deliciously.
Vegan Asian recipes that feature tofu
Even non-vegan Asians love tofu so...
Vegan Banh Mi
Vegan Adobo
Vegan sweet & sour tofu
Vegan dumplings
Vegan black pepper tofu
Vegan General Tsos chicken
Vegan jajangmyeon
If you're gonna catch up on Squid Game, Hometown Cha Cha Cha or Crash Landing on You, why not make some jajangmyeon to go with it? My personal favourite Korean dish is soondubu jjiggage, not jajangmyeon, though!
Vegan Lemongrass Tofu
Vegan Sesame Toast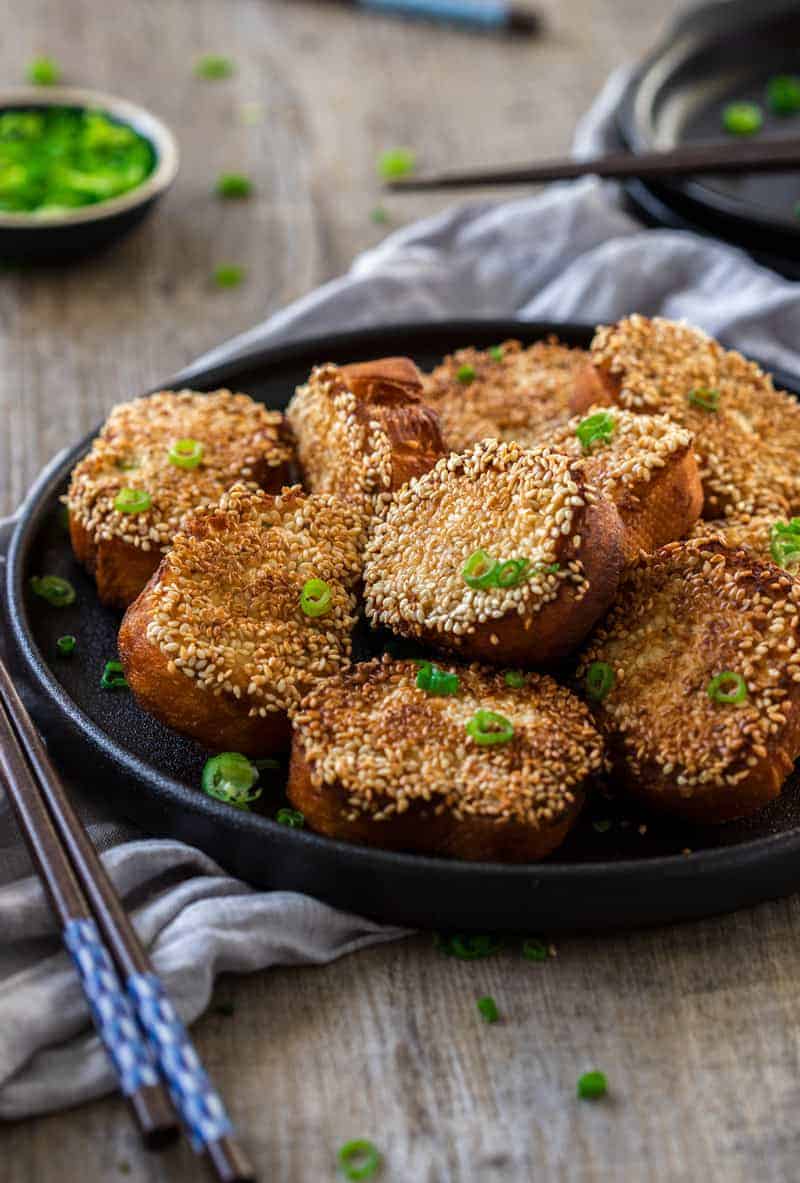 Vegan Hoisin tofu
Note: hoisin sauce is naturally vegan as it doesn't actually contain seafood despite its name! (Hoisin is cantonese for seafood) It's actually made from soybeans and spices.
And some that don't!
I don't mind tofu, but I know some people are allergic, so here's a special section for tofu-free vegan Asian recipes.
Vegan jackfruit curry
Jackfruits are a particularly sustainable meat substitute as the fruit is massive. We used to have a tree by our pool, and whenever it fruited, we would have to beg people to take some jackfruit off our hands as we couldn't finish everything.
Vegan Black Eye Peas Curry
Vegan curry puff (karipap)
Carbs for vegans
If you're tired of rice, why not make these vegan baos instead? They're great for dipping into curry and soak up all the flavours instantly. Not a fan of pandan or matcha? Leave them out, or just substitute with something else that you like! Best of all, these mantou bao recipes are 1-rise, unlike the traditional version, making them much quicker to make!
Vegan fried rice
Vegan desserts
Dessert doesn't always need to have butter and sugar to taste good!
The name of this traditional Chinese dessert 桂花糕· literally translates into Osmanthus cake in English, but it's not really the same as a Western cake!
If you're going all the way in being healthy, and not only cutting out animal products but also sugar, try this no sugar added agar agar jelly. Agar agar is packed with fibre, and helps keep you full, so it's a great diet food (assuming no sugar is added of course) and you won't have to worry about gaining the pounds.
There's an egg shown in the photo, for non-vegans who want to egg wash their cookies, but the basic recipe is vegan (The 2 cookies on the top are not egg washed. Alternatively, you can use a vegan egg wash if you like the dark sheen on the cookies.)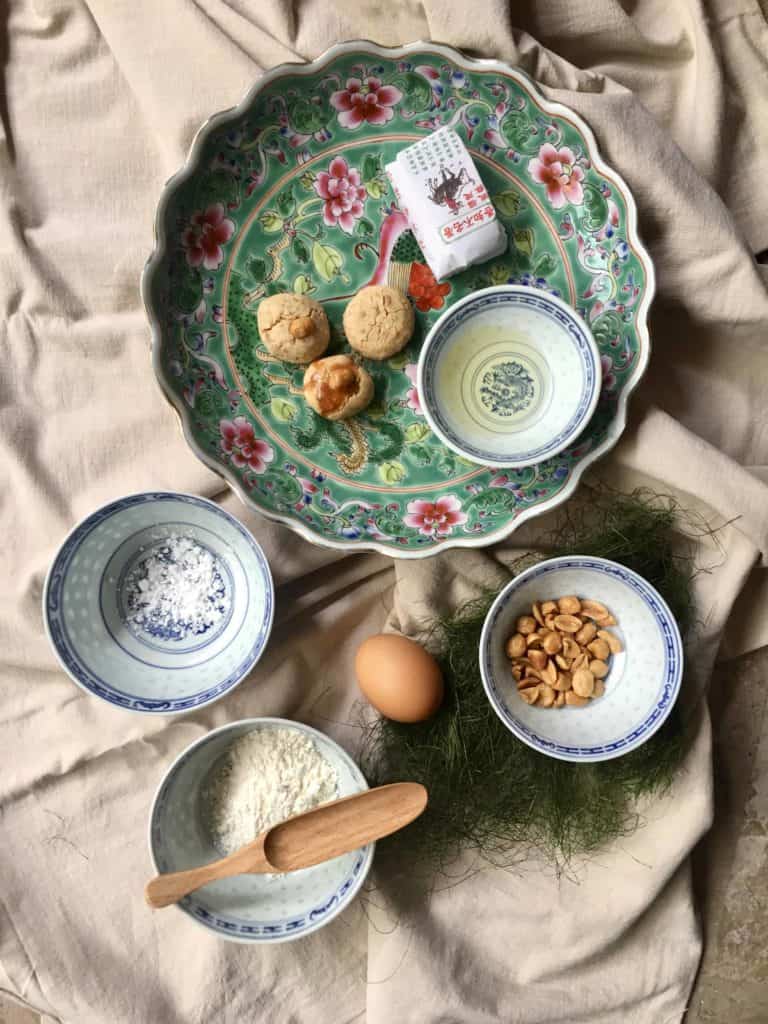 Do you have a favourite to add to this list of vegan Asian recipes? For more vegan desserts, check out my vegan Christmas food gifts round-up!