An easy guide explaining how to make perfect healthy stovetop popcorn every time- a nutritious, delicious snack which requires no fancy equipment and is lots of fun to cook!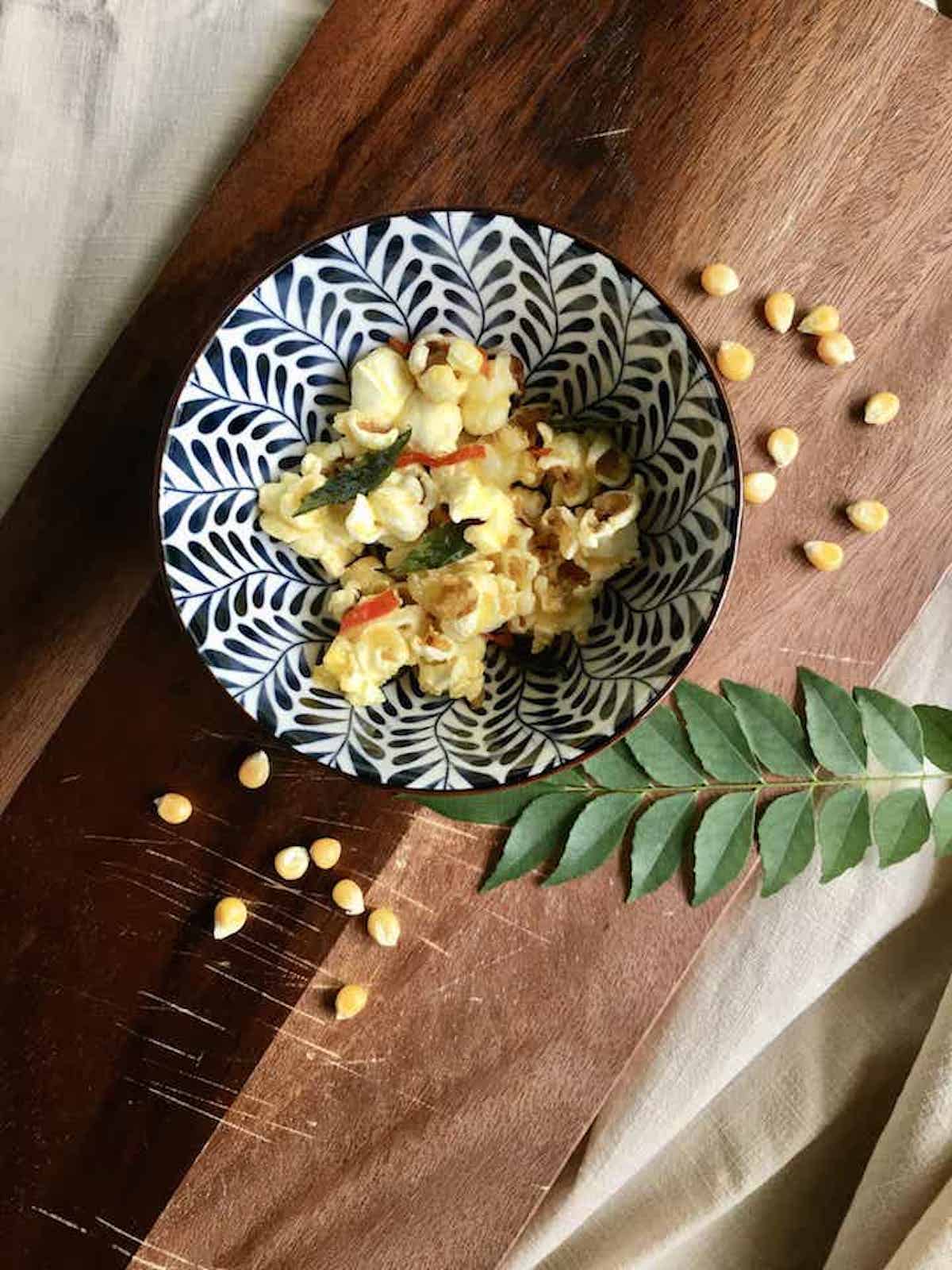 Jump to Recipe
Jump to:
What's your favourite way to season popcorn?
There are few things in life more mesmerising than watching your corn kernels pop with a vengeance and fly all around the pot (ideally covered by a glass lid so that you don't get hit in the eye by one of the more energetic yellow kernels!). However, if you've never done it before, you may need some tips on how to make perfect stovetop popcorn every time. After which, you can make a gazillion different flavoured snacks such as this 3-ingredients spicy homemade popcorn!
Is it healthy?
Air popped popcorn is a low-calorie, high-fibre whole grain: whole grains have been associated with a lower risk of diabetes, heart diseases and even some cancers. This fun treat also has a lot of polyphenols and helps you to feel satiated more quickly.
Sounds like a large bowl of popcorn is a perfect healthy snack, especially for movie nights, no? (As long as you don't drown it in a ton of melted butter and salt!) In this post, I'll show you how to make perfect homemade stovetop popcorn as well as provide some healthy (in moderation) seasoning ideas.
Note: stovetop popcorn is better than microwave popcorn as the latter has been linked to health problems and chemicals in the past.
Ingredients
The basic ingredients are:
corn kernels
oil (or butter)
salt (you can pop popcorn without this, but they'd be rather bland)
However, the beauty of popcorn is that you can customise the taste to your liking. Below are some ideas for various popcorn flavours
Seasoning
Healthy popcorn seasonings include tossing in:
sea salt (make sure it's finely milled or it won't coat your popcorn well- there is special popcorn salt in stores, but you can really just grind your cooking salt with a spice grinder)
salt, onion powder and garlic powder
salt, black pepper and chilli powder
salt, garlic powder and cayenne powder
salt and shichimi powder
salt and nutritional yeast
brown sugar, cinnamon and maybe some crushed nut powder
popping your kernels in a seasoned oil (e.g. chilli oil, garlic oil or coconut oil popcorn) so that the flavours infuse into the popcorn during the popping process
Note: if you're craving something a little more buttery, make sure you use ghee or clarified butter- the water has been removed from these 2 products so no steam will be produced and your stovetop popcorn won't go soggy. I won't go into more detail on caramel topppings as this is meant to be a healthy popcorn post!
4 different methods
There is more than 1 way to pop a cup of popcorn kernels. You can do it in the microwave, an air popper or even the old-fashioned way: using the plain old stove. Since not everyone has a microwave or air popper - I have neither- but probably has a stove, especially since (s)he is reading a recipe blog, I'll be focusing on stovetop popcorn here.
Even using the stove, you can choose between using a regular pot/pan or using a Whirley Pop! If you're curious about how these 4 methods compare, according to Serious Eats, the methods ranked from best to worst- in terms of the taste of the resulting popcorn- is:
Whirley Pop popped popcorn
Stove popped in a large pot with lots of oil (I disagree with the lots of oil- more on this below)
Air popper popped
Microwave popped
The science behind popping
I'm not going to make this post a long scientific treatise on corn but understanding the science behind why popcorn pops will help you to make easy stovetop popcorn every time. Basically, corn pops because of its interior moisture content (14-20% moisture by weight) and tough outer skin: upon heating, the moisture turns to steam, gradually breaking the hard outer shell (i.e. the kernel pops) after which the interior starches quickly cool into the light and fluffy stovetop popcorn that we know.
Do not wash/ soak
If you are confused by this statement, Asians love to wash everything before cooking (even meat). However, if you wash your corn kernels, you will affect its moisture levels and thus its ability to pop. (I know, because I used to make this rookie mistake.) Granted, as corn kernels lose moisture over time, very, very old corn kernels may have too little moisture to pop and may thus need to be soaked before popping but you should always test them before adding any water.
I've used corn kernels that were 4 months out-of-date and they still popped without extra water- in fact, when I washed them pre-popping, fewer kernels popped! So, always try popping a few corn kernels before you soak!
What type of oil?
Avoid using olive oil or butter to pop your corn as their smoking points are on the lower sides. You want something with a high smoke point such as canola oil, corn, avocado oil, grapeseed, peanut, sunflower, safflower, vegetable oil or even ghee.
Alternatively, you could use ½ butter and ½ any of the previously mentioned oils.
How much oil?
There seems to be some controversy over the amount of oil to use. According to the Reader's Digest, too much oil makes the corn not pop. However, both New York Times and Serious Eats advocated for using so much oil that such that your kernels are practically floating, promising the bestpopcorn that would be crunchier & all-round better.
I tried the ½ cup of corn kernels to ⅓ cup of oil (fresh peanut oil) they recommended: the resulting popcorn was slightly crispier- I wouldn't call it crunchy as that's a term reserved for caramel popcorn but it was a little firmer than my usual (which is popped in only a few tablespoons of oil).
On the other hand, the amount of oil spatters was no joke and there was a significant amount of oil left at the bottom of the pan after the corn had popped. I'm a fan of fried food- but the excess oil reminded me of days-old pork crackling and made the popcorn taste less fresh. In the end, my testers and I both concluded that we preferred the taste of the popcorn popped in less oil.
How hot?
Popcorn burns easily, so start with medium heat (if you use a gas cooker) or medium-high heat (if you have an induction stove- I use 7-8 on a Bosch induction before turning it down slightly once the kernels start popping.) It will take a few minutes for the oil to get hot enough for the corn to pop, so you will need a little patience!
The best temperature to pop corn is 190C (380F)- fun fact from Harold McGee, who wrote On Food and Cooking- and uneven heating results in either burnt unpopped kernels (heating too slowly) or semi-popped and hard stovetop popcorn (heating too quickly).
No food thermometer?
The best way to test for the temperature is to pop 2-3 test kernels into the hot oil: once they've popped, you know the oil is ready- remove the popped kernels then add the rest of the corn to the pot.
Cover the pot to prevent yourself from getting splashed by oil, but leave the lid a little ajar to allow the steam to escape, and give the pot a gentle shake every now and then. (If you find some oil still makes it out of the semi-closed lid, cover the gap with a tea towel. Note there is a risk of the tea towel catching fire if you are using a gas stove!)
What can I do with unpopped kernels?
Almost every batch of popcorn will have a couple of unpopped kernels inside. I was curious to see if these could be popped separately, so I repeated the cooking process and, lo and behold, all of them popped! Not quite as nicely- they didn't open as fully- as the 1st round, but still made perfectly serviceable popcorn.
Tips
Use a deep, good pot: I've popped corn in a pan before but it's easier if you have a deep pot, as the corn will be less likely to whizz around and hit you in the face when you open the lid! I like to use my Le Creuset Dutch Oven topped with the Le Creuset Toughened Glass Lid so that I can watch the corn kernels fly!
Don't use too much oil: 1 tablespoon is more than enough to pop ¼ Cup of kernels- more and the corn will become soggy
Not shaking the pot enough: you need to keep shaking the pot to make sure all the kernels come into contact with the hot oil- make sure you have a hand pressing the lid down, as you don't want it to come off, and have all the hot kernels hit you in the face!
Don't be afraid to switch off the fire even if not all the kernels have popped: it's highly unlikely that every single kernel will pop and if you wait for them to do so, a lot of the popcorn will burn (this snack burns easily). Instead, let your ears be your guide: whilst continuously shaking the pot (with a hand holding the lid slightly ajar and firmly down so that you don't get hit in the face by the hot flying kernels), listen to the popping sounds. When they start slowing down to 2-3 seconds of silence between each pop, it's time to remove the pot from the heat.
Don't season the popcorn in the pan: always pour the popcorn into a bowl before seasoning, if not the spices will stick to the hot oil in the pan and not the corn!
Don't make popcorn too far in advance: popcorn always taste best freshly made!
Storage
Homemade stovetop popcorn is best eaten rightaway after cooking so that it remains nice and crisp. I have, however, been known to cook a big batch and store the rest for a few days in an air-tight container. Just make sure the popcorn is completely cooled, if not it will produce steam and become soggy.
Note: this works best for popcorn which doesn't have a buttery/liquid sauce as those would soften the popcorn.
More popcorn recipes
Several less healthy popcorn ideas include:
FAQ
Do I need oil or butter to pop corn?
Strictly speaking no, but the oil or butter is a carrier for flavour so if you skip it, you may not like the taste as much!
Healthy stovetop popcorn for beginnners
A fool-proof recipe to make healthy, perfect stovetop popcorn every time.
Equipment
Heavy pot with deep bottom and lid

heat proof spatula

Food thermometer (optional) You can add a few kernels to the hot oil to test the temperature instead- if they pop, the oil is good to go

Spice grinder if your salt isn't finely milled, give it a whizz in the grinder
Ingredients
2

T

Oil

Use ones with high smoking points, not olive

½

Cup

Corn kernels

Don't wash them!! I've used out of date ones with no problem

Finely milled salt, to taste

You don't need to waste money on special popcorn salt, just break yours down in the spice grinder
Instructions
Turn on the heat to medium-high (I use 7 on an induction cooker). Add the oil and let it heat up- it will take a few minutes. Either use a thermometer to check that the oil is 190C (380F) or toss a few kernels in to check that they pop. (If they burn the oil is obviously too hot- Popcorn burns easily FYI) (I have no food thermometer so I use the latter method)

Once the oil is hot enough, turn off the heat and remove the popped corn.

Put the rest of the kernels in and CLOSE THE POT, placing it back on the stove (so you don't get hit in the face by a flying kernel or oil). Turn the heat back to medium. Leave the lid a little ajar so the steam can escape, if not you get soggy popcorn. I like to have the hole in the lid further away from me to minimise the risk of getting spattered by oil. Give the pot a gentle shake to make sure the kernels are nicely distributed.

You'll hear the kernels start popping, which is great fun- shake the pot slightly again to make sure all the kernels are getting heated up evenly. Keep the heat on till the popping slows to 1 pop every 2-3 seconds.

Uncover, pour out the popcorn into a heat-proof bowl, sprinkle with salt and seasoning (see post above for seasoning ideas) to taste and give it a stir with the spatula to make sure all the kernels are coated. (Don't season in the hot pot or you'll season the pot not the popcorn)

Best eaten right away but I've kept it for several days in an air-tight container.
Notes
You can also sprinkle the stovetop popcorn with black pepper, shichimi powder - see the post above for more ideas
Note: I say this is for 6 but that is a generous estimate- I could probably finish every time myself in 1 sitting!
P.S. I sometimes even use homemade stovetop popcorn to top my pao fan when I don't have puffed rice! Or in my chocolate rocky road. What are some of the non-traditional ways you use your popcorn?
Before you go, you may also enjoy these snack recipes: