All you need to make this super easy spicy popcorn are 3 ingredients: chilli oil, salt and corn kernels!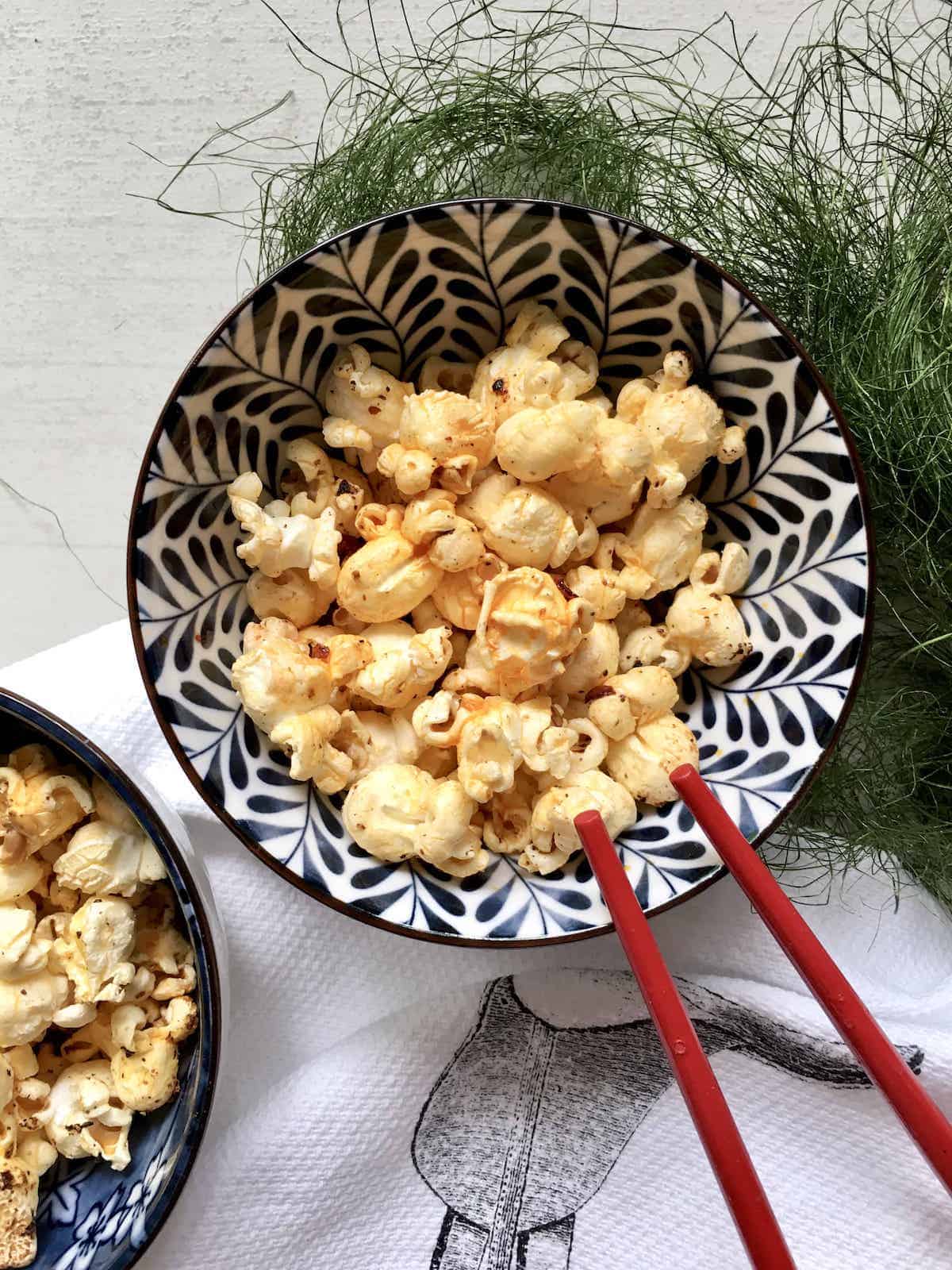 Jump to:
Every time I reach the end of my LaoGanMa or Lee Kum Kee Chiu Chow chilli oil bottle, I end up with a ton of oil but no more chilli crisp.
It's too wasteful to throw the flavourful oil away, so I like to think of different ways to use it up, and 1 of my favourite ways is this delicious, easy, spicy popcorn recipe! (You can also use the leftover oil to make Taiwanese green onion pancakes.)
Note: to make a vegetarian or vegan spicy popcorn, use Lee Kum Kee Chiu Chow Chilli oil - regarding LaoGanMa chilli crisp, some sites say it's vegan and others not, so better to be on the safe side! For more Asian popcorn recipes, try this soy sauce and butter popcorn or these Asian fall popcorn recipes.
Ingredients
You only need 3 ingredients to make this delicious recipe:
Laoganma chilli oil or Lee Kum Kee chilli oil

You want just the oil and none of the chilli bits as those will burn before the popcorn pops. Don't throw the chilli crisp away though, as they can be added to the popped corn later!
Substitute: any chilli-infused oil with a high smoking point. Try not to use chilli oils made from olive oils as they burn easily. You can even make your own by tempering dried chillies in a neutral vegetable oil. (Add a pinch of chicken seasoning powder and some other spices for more umami!)
Tip: if you have some bacon grease, you can add a bit to the chilli oil and it'll amplify the umami flavours of this popcorn even more!

Salt

Finely milled salt sticks the best to popcorn- which is why there are speciality popcorn salts- but you really don't have to waste your money on them. Just give your salt a whizz in a spice grinder, and it'll be good for sprinkling on popcorn!

Corn kernels
Tips
If you're a novice to homemade popcorn, check out my guide to make the best stovetop popcorn.
To really amp up the LaoGanMa flavour, throw some roasted peanuts into the popcorn bucket.
A pinch of sugar- added after the corn has popped- makes a mouthwatering sweet and spicy popcorn.
How to store
Popcorn tastes best eaten immediately after it is made but if you really can't finish the lot, let it cool down completely then keep in an airtight container at room temperature. If it's plain salted popcorn, I keep it for 3-5 days but since this is flavoured oil, I would finish it ASAP - to be honest, I've always managed to finish this in 1 sitting so storage has never been an issue!
Other popcorn recipes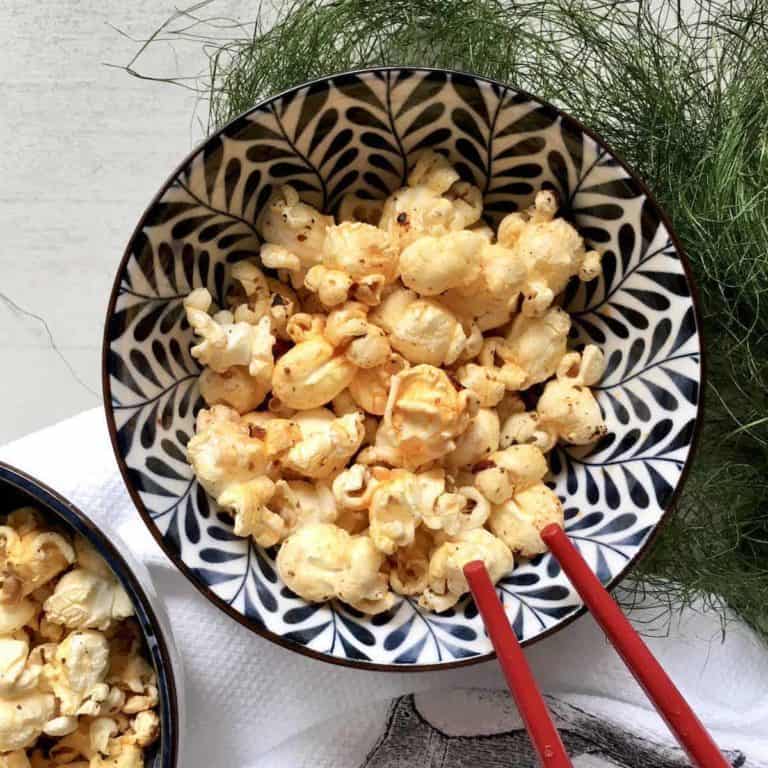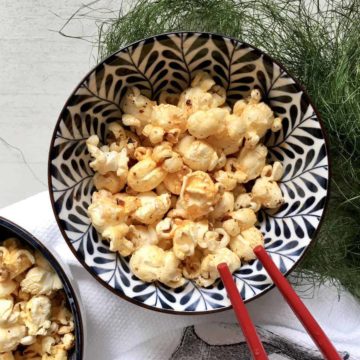 Easy Spicy Popcorn Recipe (3-ingredients)
A great way to use up the leftover oil in your jar of LaoGanMa or Lee Kum Kee chilli crisp, this easy spicy popcorn is also super tasty and addictive!
Equipment
Deep pot with clear glass lid

I use a Le Creuset pasta pot

Sieve (optional)
Ingredients
¼

C

corn kernels

1

Tablespoon

LaoGanMa or Lee Kum Kee chilli oil- liquid oil only without the chilli crisp bits (as they will burn in the pot)

To make sure it's purely oil, you can pour it through a sieve (and save the chilli crisp to toss with the popped corn), but I usually skip this step. Substitute: you can use any chilli-infused oil (but avoid olive oil infusions as the smoke point is low) See notes on how to make your own chilli oil

¼

teaspoon

finely milled salt, or to taste

Give your salt a blitz in the spice grinder
Instructions
Scoop out 1 Tablespoon of chilli oil, minus the chilli crisp bits as those will burn easily. To get a cleaner oil, you can sieve out the chilli crisps and keep it in a bowl to toss the popcorn with later. If you don't have enough to make 1 Tablespoon, supplement with neutral vegetable oil or even clarified butter/ ghee.

Place a deep pot on the stove and turn on the heat to medium-high (I use 7 on a Bosch induction cooker with a maximum of 9.) Add the oil and let it heat up- it will take a few minutes. Either use a thermometer to check that the oil is 190C (380F) or toss 2-3 kernels in to check that they pop. (If they burn the oil is obviously too hot.)

If they pop, the oil is hot enough- switch off the heat and remove the popped corn.

Pour the rest of the kernels in and CLOSE THE POT, placing it back on the stove (so you don't get hit in the face by a flying kernel or oil). Turn the heat back to medium, and shake the pot continuously. Leave the lid a little ajar so the steam can escape, if not you get soggy popcorn. I like to have the hole in the lid further away from me to minimise the risk of getting spattered by oil. Keep moving the pot gently to make sure the kernels are well-didstributed and coated with oil.

You'll hear the kernels start popping- if you use a clear lid, you can see them whizz around too, which is great fun. With a hand on the lid, keep shaking the pot gently. Once the popping slows to 1 pop every 2-3 seconds, remove the pot from the fire and open the cover.

Pour the popcorn into a heat-proof bowl, sprinkle with the salt and stir with the spatula to make sure all the popcorn is salted evenly. (Don't season in the hot pot or you'll season the hot pot and not the popcorn) Add any chilli crisp that you may have sieved out before back to the popcorn, stirring well.

Optional: I find the taste as is addictive enough but if you like the flavour even stronger, stir another tablespoon (or to taste) of chilli oil and crisp into the popcorn.

Other flavour suggestions: You can even also play around with the taste by adding some garlic powder, onion powder, sugar etc to the popcorn. (I find a teeny bit of sugar makes it even more delicious!)

Best eaten right away but I've kept it overnight in an air-tight container.
Notes
To make your own chilli oil, heat oil over low-medium heat, and add any spices such as garlic, sichuan peppercorns, cumin, fennel, star anise, cinnamon, cloves (or even chicken stock powder) etc, to the oil. Stir and allow to infuse for 5-10minutes till you see small bubbles forming, ensuring the oil doesn't smoke.
Once the bubbles form, carefully pour the oil over sliced dried chillies in a heat-proof container (You can also use dried chilli flakes, but it's easier to remove the sliced dried chillies then the flakes later). Once the oil has cooled, it can be used to pop the corn! (I will link to a detailed recipe post soon)
Other Asian movie night snacks you may be interested in include: