The best gochugaru substitutes, from regular chili powder and flakes to Korean gochujang paste, including some substitutes I do not recommend and why!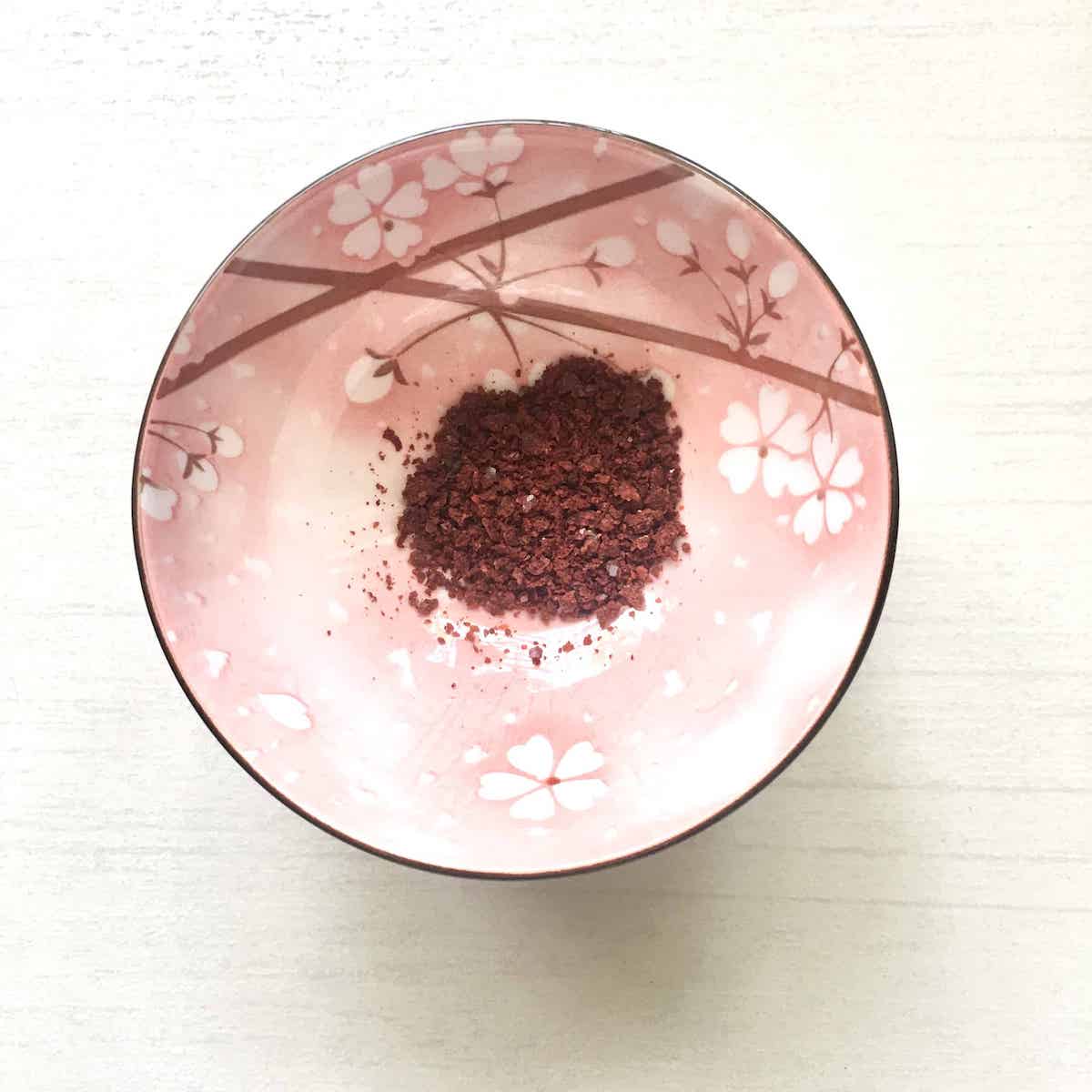 Jump to:
What is Gochugaru?
Gochugaru (고추가루), or Korean chili powder, Korean chili flakes and Korean red pepper flakes, is 1 of the key ingredients in Korean cuisine to add heat and depth of flavor. It is used in everything from making kimchi, Korean pancake dip and gochujang to cooking jjigae (Korean stews and soups.)
I've even used it in non-Korean dishes, such as to spice up my Scrambled Eggs, Chinese Braised Wings recipe and this spicy Gochujang butter, and highly recommend stocking up on it if you like spicy food.
Fun fact: did you know that you can make your own gochujang substitute from gochugaru?
Types
There are 2 types: a fine powder version and a coarse flaky version.
The 1st is recommended for making gochujang, water kimchi and other dishes in which you need a smoother feel. The latter has more applications and is used to make most Korean banchan, jjigae as well as the regular kimchi.
Appearance
Gochu= chili pepper and garu= powder so it's basically Korean chili pepper powder. I.e. the Korean equivalent of red pepper flakes!
It has a bright red color and is traditionally made from crushed sun-dried peppers (the seeds are removed first.) There are 2 types of chilies used:  taeyang-cho (traditional) and Cheongyang chili pepper (청양고추, spicier.)
Flavor
It has a spicy flavor, a little smoky and a little sweet- it complements fish sauce and gochujang well!
Expert Tip: As every batch of gochu pepper has a different level of spice, every batch of gochugaru powder will have different levels of heat. Thus, use the amount recommended in the recipes as a guide instead of a prescription and season to your taste.
Where to Find
These days, it's quite easy to find and you don't always need to go specially to the Asian market though that is your best bet. (oOr online.) (It's still not as mainstream as gochunjang.)
For example, McCormicks even has their own version and you can find it at some Whole Foods outlets though not Trader Joe's at the time of writing (TJ does carry gochujang though!)
Tip: you can make your own if you can find Korean red chilies. Simply dry them, remove the stems and seeds (the more you leave in, the spicier it'll be) and then process into your desired size.
However, if you can't get it, here are several of the best gochugaru substitutes that you can use instead.
Health Benefits
Note: This information is FYI only. Before making changes to your diet, please consult a qualified health and medical professional.
Rich in vitamins, particularly Vitamin A and E. 2 teaspoons are enough to cover 14% of your recommended daily intake of Vitamin E!
Rich in 3 bioactive compounds- carotenoids, capsaicinoids, and flavonoids- which are all of good antioxidants.
Abundant in Capsaicin which may help boost your metabolism and weight loss efforts (if any!)
🥡 Storage
Keep in a cool, dark place. Toss if you see mold!
If you want to preserve it for longer, keep it in the fridge or freezer, where it may harden slightly.
👩 Expert Tips
Tip #1: It goes very well with fish sauce!
🍜 Recipes which Use Gochugaru
McCormicks suggests sprinkling it on pizza, spaghetti sauce, or soup.
📋 Substitutes
Gochujang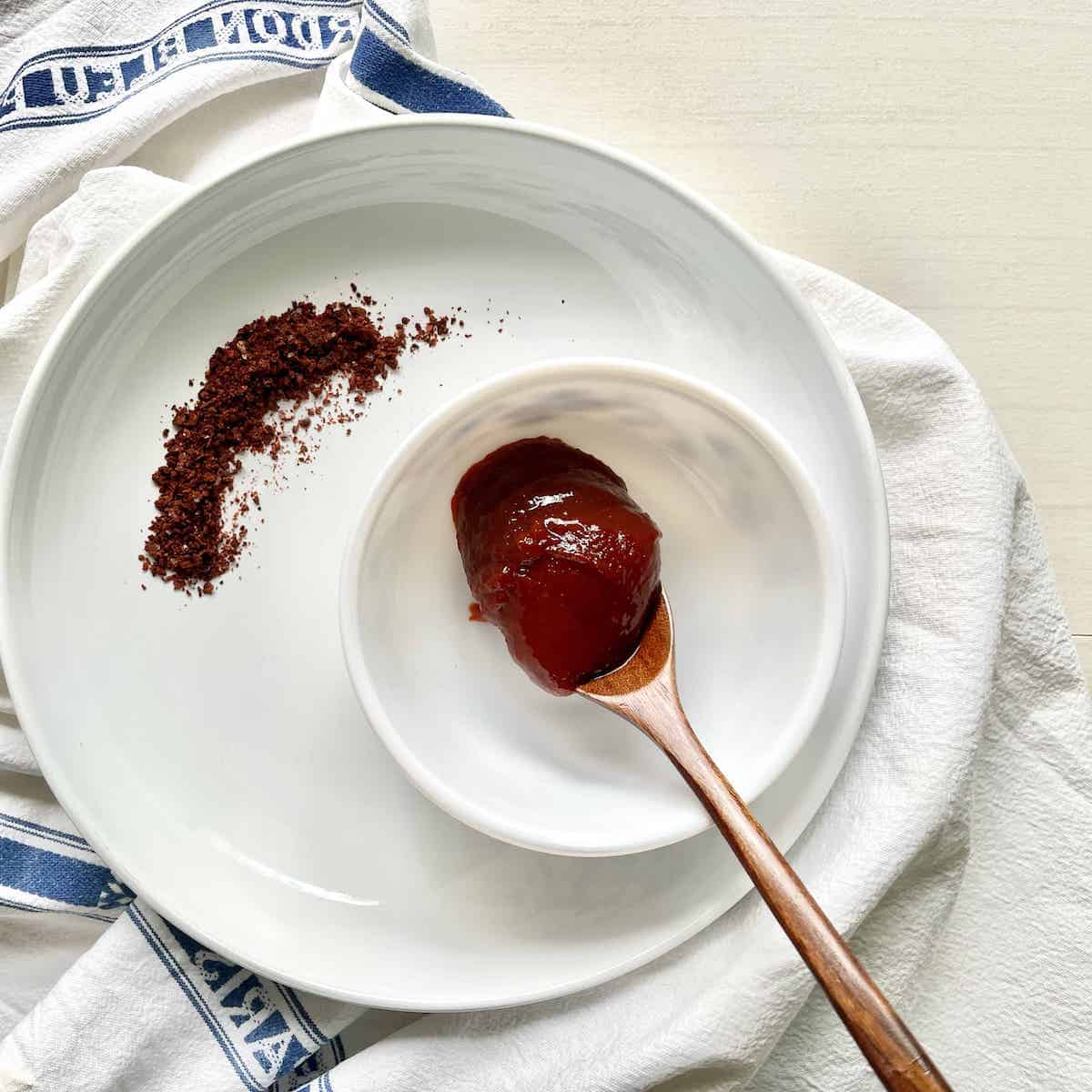 Gochugaru has a unique flavor which can be difficult to replicate. However, it is used in gochujang (along with glutinous rice and other ingredients), so obviously the 2 have a somewhat similar flavor!
Note that gochujang comes as a thick paste (or sauce), whilst gochugaru is in the form of flakes. The former also contains salt, so you'll need to adjust the seasoning if substituting.
Crushed Red Pepper Flakes
Along with regular chili powder, these are 1 of the best substitutes for gochugaru, as they have a similar texture (to gochugaru flakes), have a more "neutral" spicy flavor (that won't interfere with your dish's taste) and are readily available at most grocery stores, making them a convenient alternative.
However, keep in mind that crushed red pepper flakes are often much hotter, so you may need to use less.
Tip: For replacing fine gochugaru powder, process into a fine powder in your food processor or spice grinder before using.
Jalapeno Peppers
If you're looking for something with a similar number of Scoville heat units, try Jalapeños. They will lack the fruitiness and smokiness of the Korean spice though but are thankfully very easy to find!
Chile de Arbol
This is a dried chili pepper characteristic of Mexican cooking. It is thin, long and bright red. Used for its bold, smoky flavor and medium to high level of heat, it is actually 1 of the substitutes that tastes a bit more similar to gochugaru.
However, though both peppers have a similar level of heat, chile de arbol is smokier with a slightly nutty aftertaste that gochugaru does not have. Thus, the cooked dish may not taste exactly like traditional Korean food. (This is a good substitute when cooking a fusion dish though!)
On the downside, it's a little harder to find than paprika or regular chili flakes!
Tip: it is usually ground more finely so start with less and work your way up if necessary. (E.g. use ½ teaspoon if the recipe calls for 1, taste, and season accordingly.)
Paprika
Paprika is a spice with a vibrant red color made from dried and ground ripe fruit pods of milder Capsicum annum varieties. It thus has a milder heat level and is closely related to red pepper (also from the Capsicum annum species.)
It's a good Korean pepper alternative when you want to create that brilliant red hue. As Hungarian paprika is usually less spicy than gochugaru, you may need to add spice using other condiments, such as cayenne pepper or red chilies.
Moreover, paprika has a distinct flavor, so I would not recommend it if you want to cook authentic Korean recipes!
Tip: there's sweet paprika (most common), smoked paprika and hot paprika (think Hungarian goulash) so make sure you get the right 1!
Aleppo Pepper
This popular Middle Eastern spice is made from dried, crushed chili peppers. Its fruity, slightly smoky taste and moderate heat makes it a good substitute for gochugaru.
Aleppo pepper is lower in heat than gochugaru, so you may need to use more of it when substituting.
Cayenne Pepper
Cayenne pepper flakes and powder are made from dried, ground cayenne chili peppers. Known for its spicy, pungent flavor, it's often used to add heat to dishes, particularly in Mexican and Indian food.
Although it is about as spicy as Korean hot pepper flakes, like paprika, it has its own different flavor profile, namely a fruity and earthy one. It lacks gochugaru's smoky and sweet taste.
Thus, when substituting, you will need to add other ingredients to adjust the flavor e.g. a little sugar can help. Moreover, cayenne pepper is more finely processed than the typical gochugaru so substitute with an equal volume or it'll be much too spicy!
Chipotle Powder
Made from dried, smoked jalapeno peppers, chipotle peppers have a more intense smoky flavor. On the bright side, it has the same level of spice and is easy to find, making it a great substitute.
As it's much smokier than Korean chili, mix it with regular red chili flakes in equal amounts when substituting.
Red Chili Peppers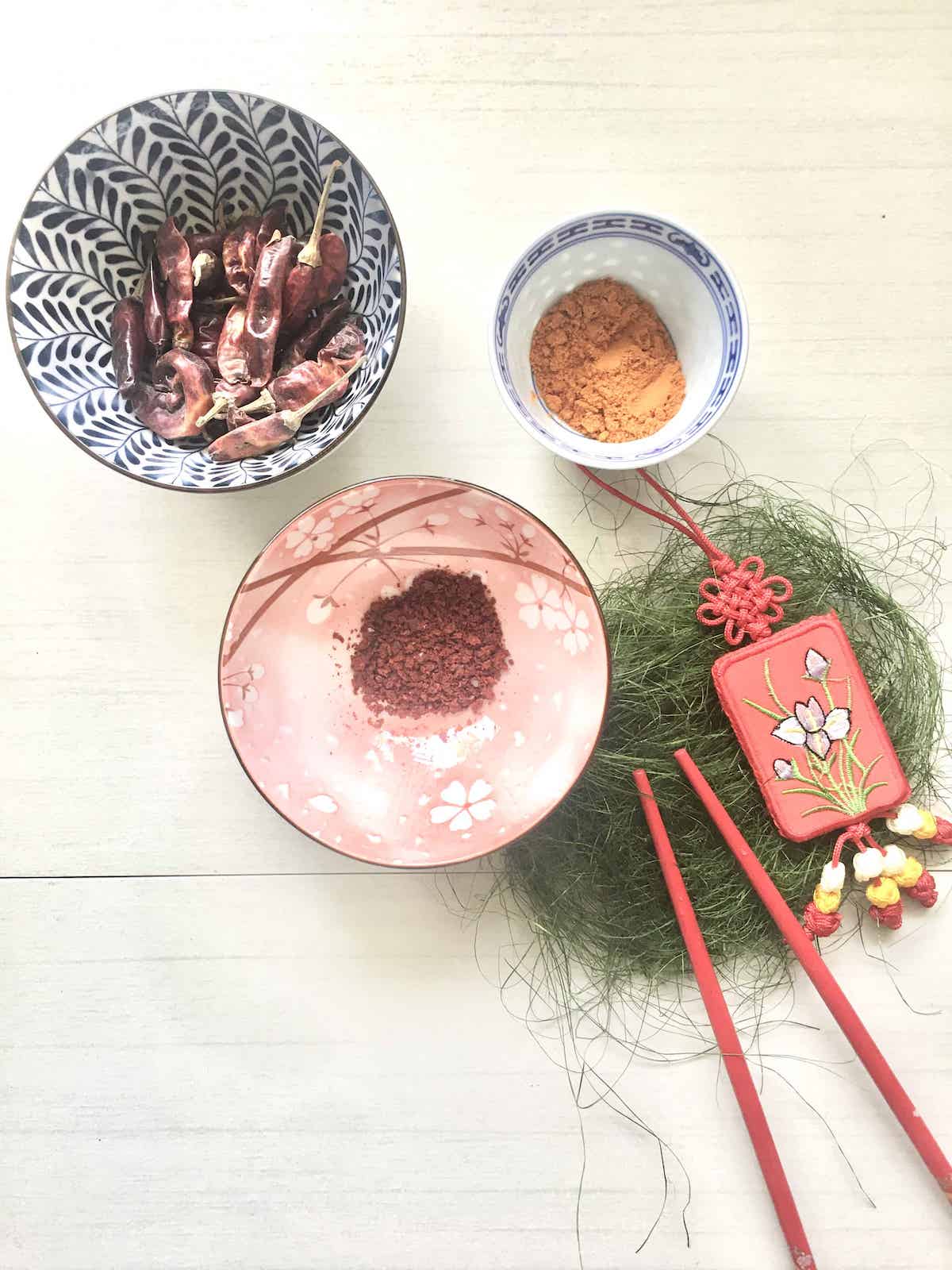 I use gochugaru as a replacement for red chili peppers, so obviously the opposite works too! However, these come as whole chilies so you'll need to process them to get the same texture as Korean chili flakes!
Not Recommended
Chile Pasilla
These are dried chili peppers often used in Mexican food. It is so dark it is sometimes called Chile Negro and thus, as the color of the dish is so important when eating, I do not recommend it as a replacement. (Moreover, it's not easy to find!)
Having said that, in terms of flavor, both are quite fruity so if the color doesn't matter to you, go ahead!
Sambal Oelek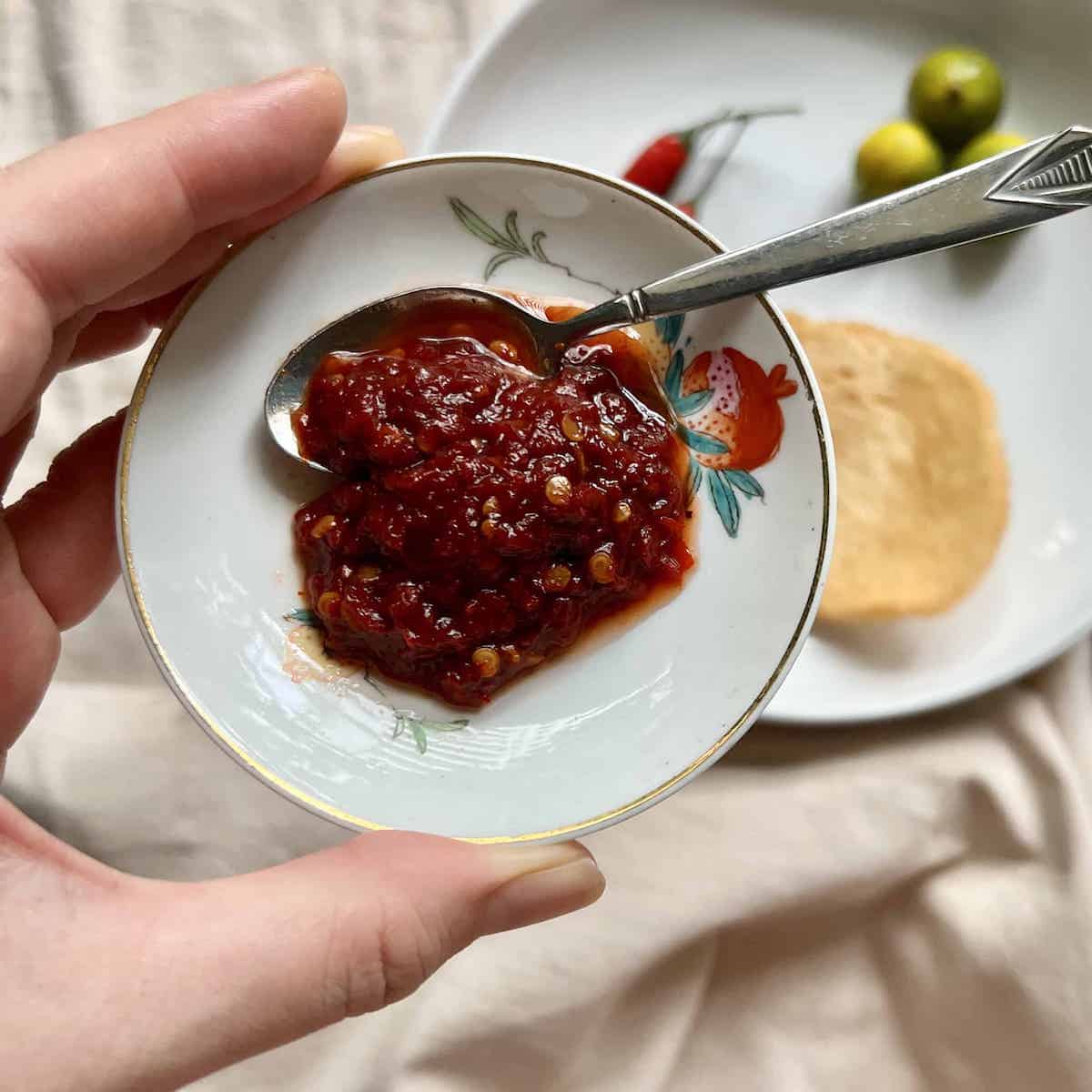 Sambal oelek is a spicy chili paste that is popular in Indonesian and Malaysian cuisine. For example, it's used for spicy South East Asian canned tuna curry and Sambal Aioli.
Made from pound red chilies, vinegar, and salt, it has a bright, tangy, mildly spicy flavor. Some sites recommend it as an alternative to Korean chilies, but I personally find that the acidity is too overwhelming to make it a good replacement.
If you've found this list of Korean chilli powder substitutes useful, would you like to sign up for my Asian recipes' newsletter?