The easy cold cucumber salad Chinese recipe is delicious and full of spicy flavor but only requires 4-ingredients and 5 minutes to make. A perfect summer recipe- it's not only super refreshing, you don't have to slave in a hot kitchen to make it!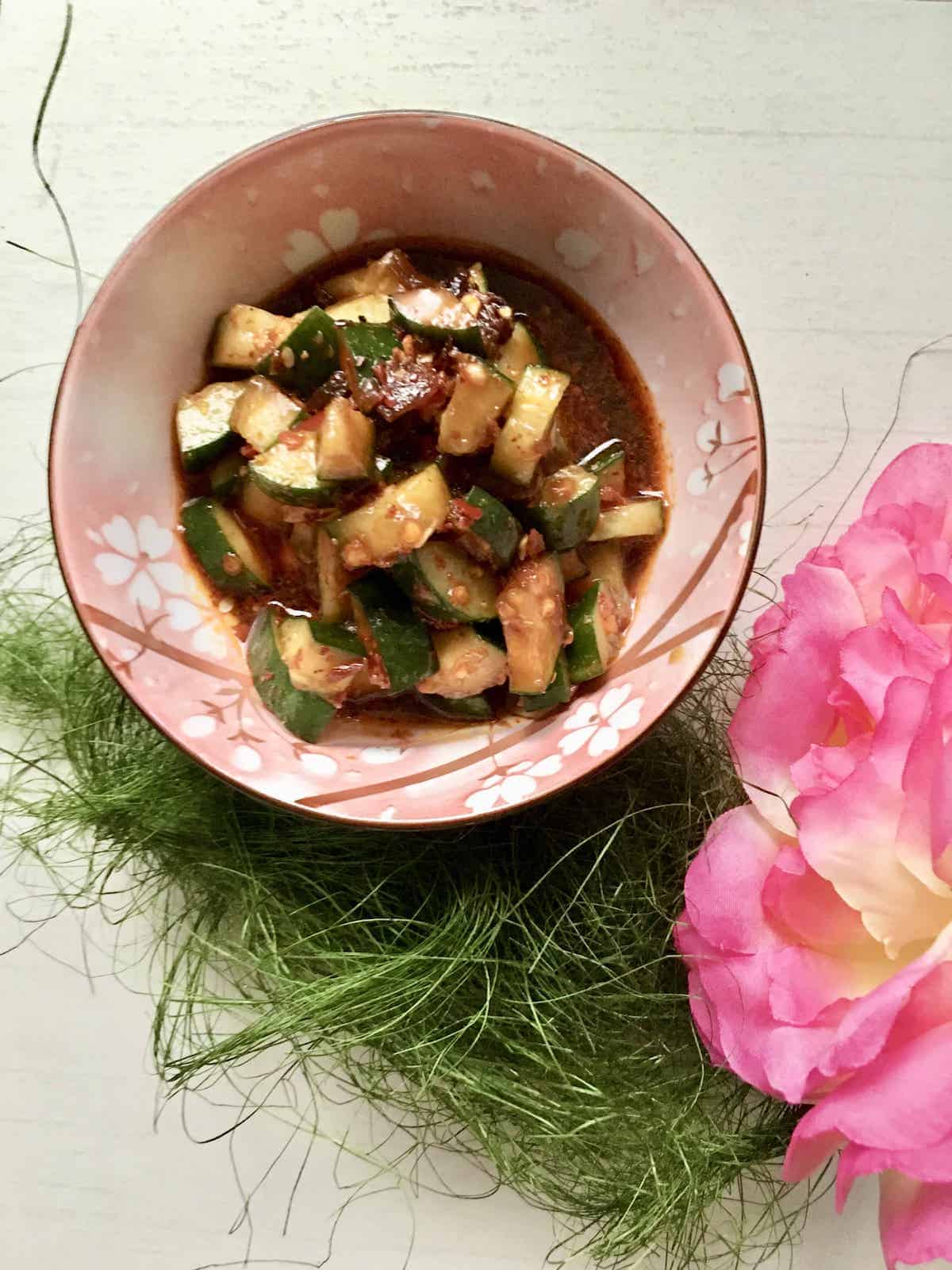 Jump to Recipe
Jump to:
Last year, I was working on a Chinese Smashed Cucumber Recipe for my "How to cook the ultimate..." section. I tried quite a few famous versions, but haven't made anything I really liked, so I put the project on the backburner. In the process, I inadvertently made this delicious and super easy, 4-ingredient cold cucumber salad Chinese recipe, which is so easy to make, I've been making it ever since so I thought I would share it with you.
Why make this
This spicy smashed cucumber salad recipe is a great make ahead dish, making it the perfect side dish for a party- in fact, it tastes even better when eaten the next day as the sauce has really had time to soak into the cucumbers. The texture also improves overnight!
It only takes a couple of minutes to make- just about the time you need to cut the cucumbers, actually.
This Chinese side dish recipe is not only delicious, it's also very refreshing on a hot day. Serve it with chicken noodle soup, potstickers or a whole plethora of other dishes!
It only requires 4 easy-to-get ingredients.
Ingredients & Substitutes
You will only need 4 ingredients for this easy Chinese cold cucumber salad:
Cucumbers

The kind of cucumbers you use in this Chinese cucumber salad recipe is important. You want thinner skin cucumbers which don't have a ton of seeds so go with Persian cucumbers, Japanese cucumbers or English cucumbers.
Some recipes ask you to salt the cucumbers first to remove excess liquid but the point of this recipe is that it should be as easy as possible, so instead of salting, we use smashed cucumbers to break them down and help them better absorb the sauce. (Smashing the cucumbers is a classic chinese technique for making cold cucumber salad.)
I recommend using a rolling pin and not a meat mallet to hit the cucumbers to avoid cross contamination. You could also use the flat side of your knife to bash the cucumbers.
In Chinese, smacked cucumbers are called "pai huang gua."

Lao Gan Ma chilli oil

Substitute: Lee Kum Kee Chiu Chow Chilli Oil or homemade chili oil. (You can make your own chili oil by pouring sizzling oil- very carefully- onto chili powder or chili flakes, mixed with other spices.)

This recipe works with other types of chilli oil too- you may need to add a pinch of salt and sugar if using homemade chilli sauce, depending on how much seasoning you added in the first place.
Chilli oil is a must- have if you like spicy food as you can use it for so many dishes, such as with noodles or to make spicy popcorn.

Chinese Black Vinegar (Chinkiang vinegar also known as Zhenjiang vinegar)

Substitute: balsamic vinegar (only if you really, really must)
A famous cucumber salad is the din tai fung cucumber salad, but that differs from this recipe as it uses rice vinegar which tastes very different from chinkiang.

Light soy sauce
Optional: pinch of sugar

I find the salad OK without the sugar but those with sweeter teeth may appreciate it

Optional garnish: sesame oil, lightly toasted sesame seeds, coriander leaves or spring onions
Variations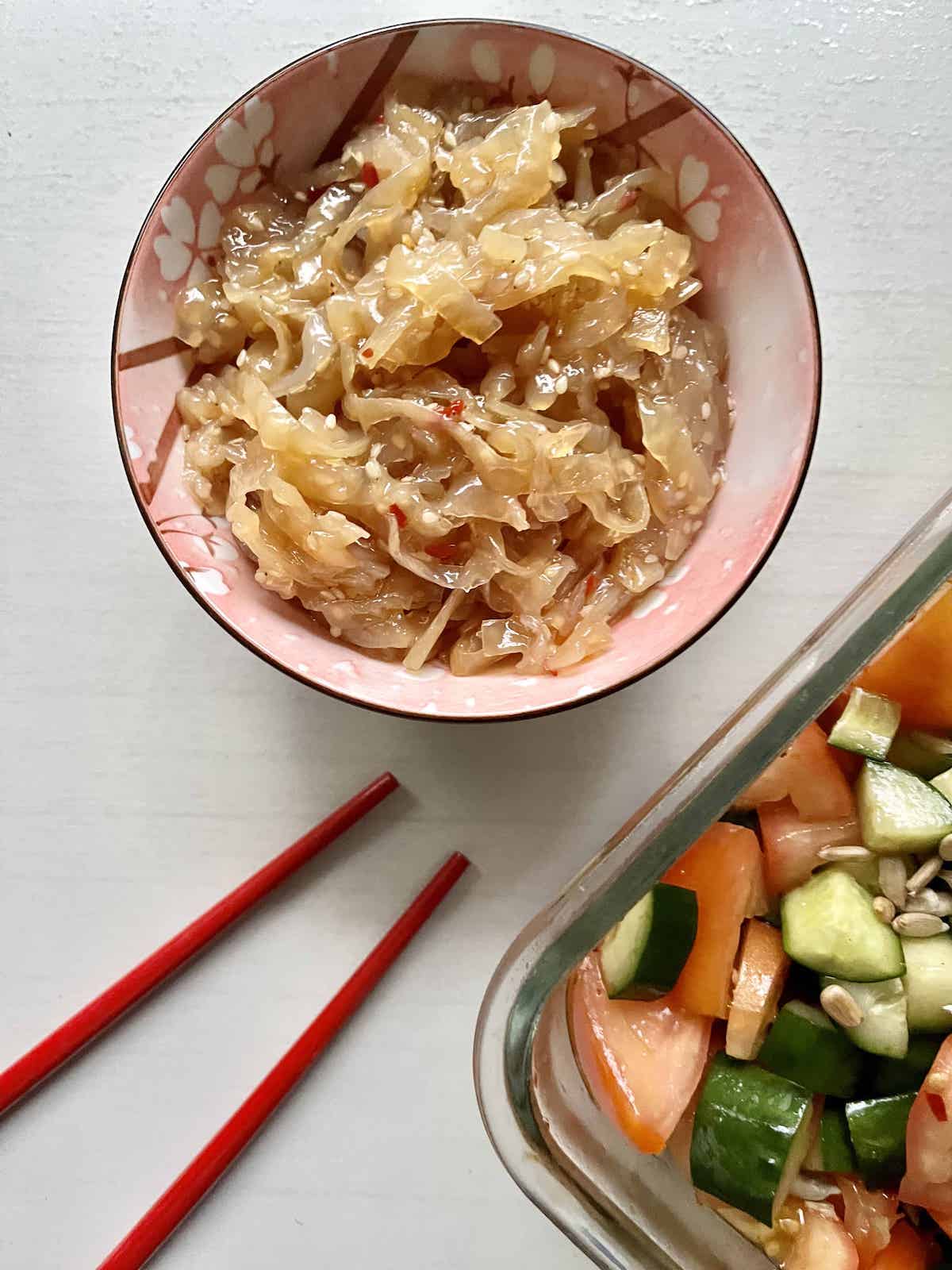 I usually make my cold Asian cucumber salad with just these 4 ingredients but if you want variety, you can also add the following:
minced garlic

I do not recommend substituting with garlic powder

marinated jellyfish (my personal favourite addition, although it can be hard to find)

How to serve
This is a cold dish, best eaten on a day with hot weather, so keep it chilled in the fridge till ready to eat.
Tips
You can smash (with something heavy like a rolling pin) then cut the cucumbers into neat cubes, as shown in my photo OR just roughly chop to save time. (Smashing the cucumber helps it to absorb the chilli better!)
If using homemade chilli oil, add some peanuts or seeds so that this flavorful salad will have more crunch. (Lao Gan Ma comes with peanuts inside.)
You can make a big batch of the salad dressing for this Chinese smashed cucumber salad recipe in advance- store it an airtight container in the fridge for up to 5 days.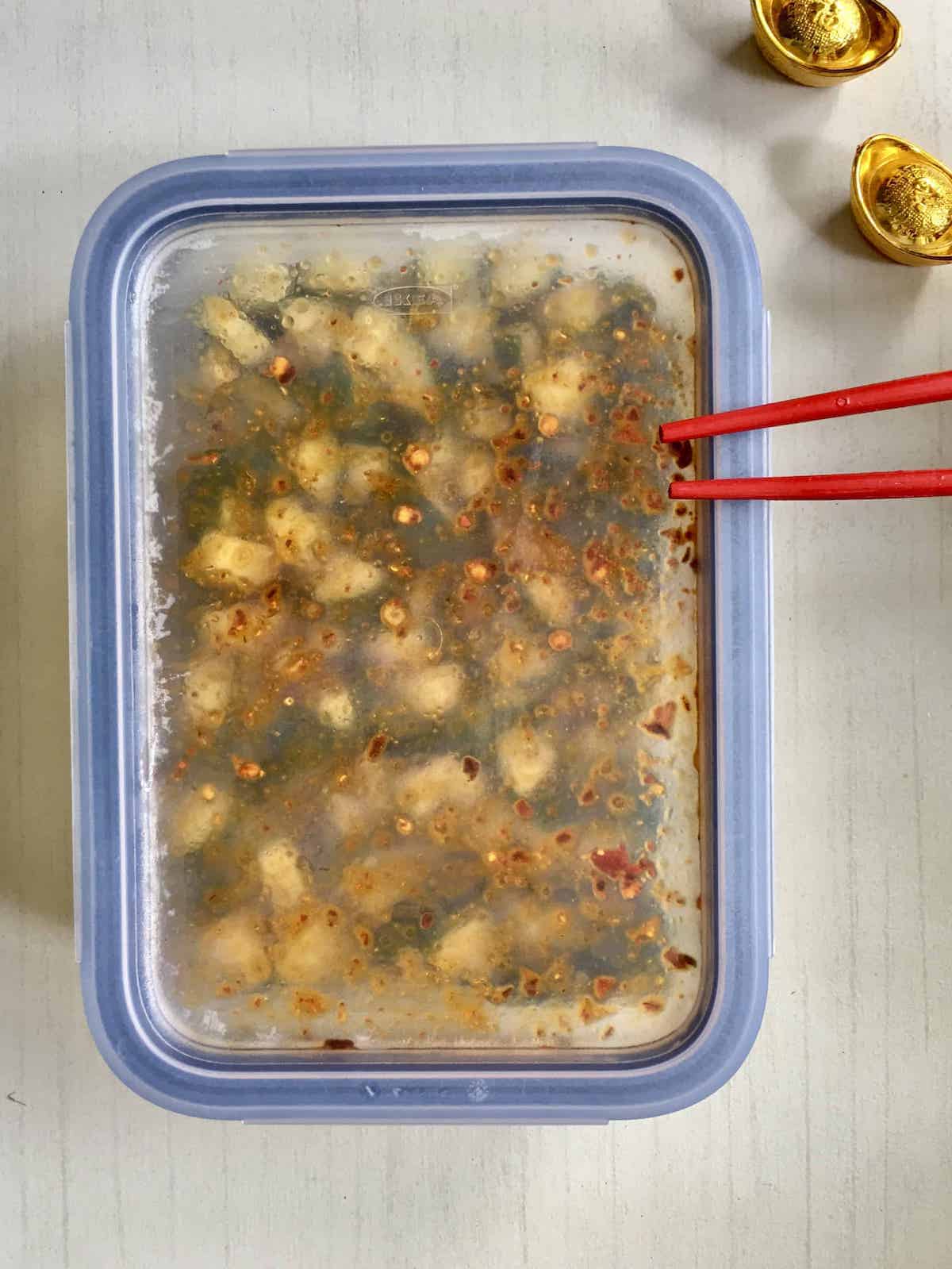 FAQ
How long do cucumbers last in the fridge?
If stored correctly, they will be good for 1-2 weeks.
How to tell if a cucumber has gone bad?
Wrinkled skin or softness is never a good sign- don't use those in your spicy cucumber salad. A cucumber's skin should be nice and smooth. If you see mold- toss at once!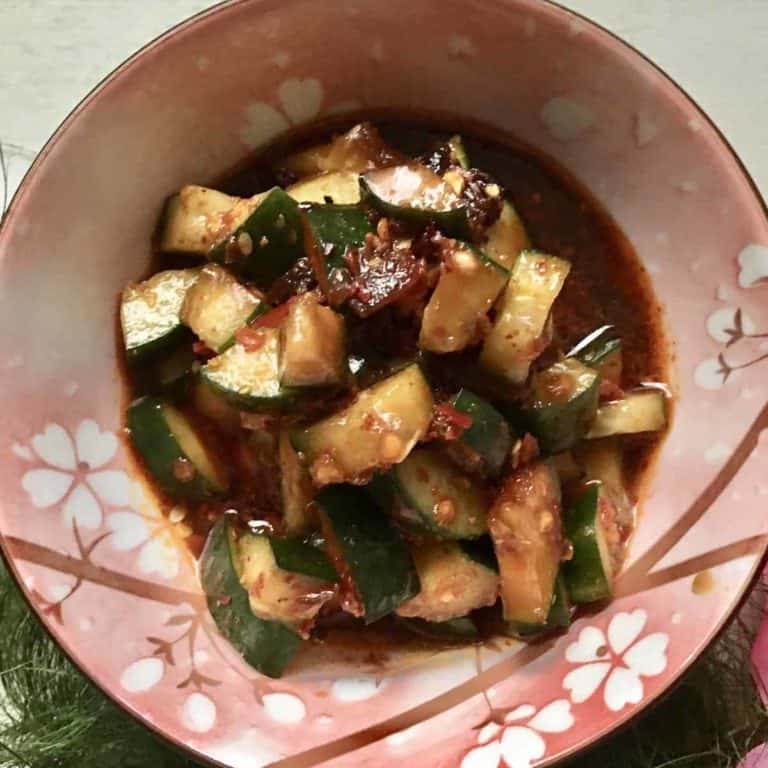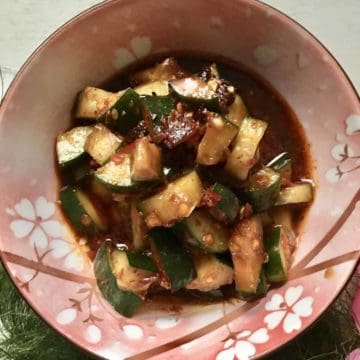 Cold cucumber salad Chinese recipe
The easy cold cucumber salad Chinese recipe is delicious and full of spicy flavor but only requires 4-ingredients and 5 minutes to make. 
Equipment
Tuppleware container with airtight lock

Knife and cutting board
Ingredients
2

cucumbers, smacked then cut into approximately ½ inch (1cm) cubes

Choose cucumbers with small seeds such as Persian cucumbers or Japanese cucumbers.

3

Tablespoons, or more

Lao Gan Ma chilli oil

Try to scoop up some of the peanuts etc too so that the salad will have contrasting textures.

1

Tablespoon

light soy sauce

Different soy sauce brands have different salt levels, so taste your dressing first. If it's not salty enough, add a pinch of salt.

1

Tablespoon

chinking vinegar

Substitute: balsamic vinegar

Drizzle

sesame oil, optional

Optional: garnish with fresh coriander
Instructions
Smack and cut the cucumbers into small cubes and place in a tuppleware container with an airtight lock.

Mix the chilli oil, soy sauce and vinegar then pour over the cucumbers. Taste to see if a pinch of salt is needed.

Close the container tightly then shake well. Ideally, leave in the fridge for at least 20-minutes so that the cucumbers can absorb the sauce and they're nice and cool. If you don't have the time, you can eat them straightaway as well.

Drizzle with sesame oil (if using) just before serving so that the aroma of the oil will be stronger.

Optional: garnish with coriander.
If you've enjoyed this recipe, please do share it on your Facebook or social media. What is your favourite easy Asian cucumber salad recipe? Let me know in the comments!