What to serve with lettuce wraps: the best Asian side dishes for a quick, easy and healthy complete meal, from sauces to bao buns and stir fry!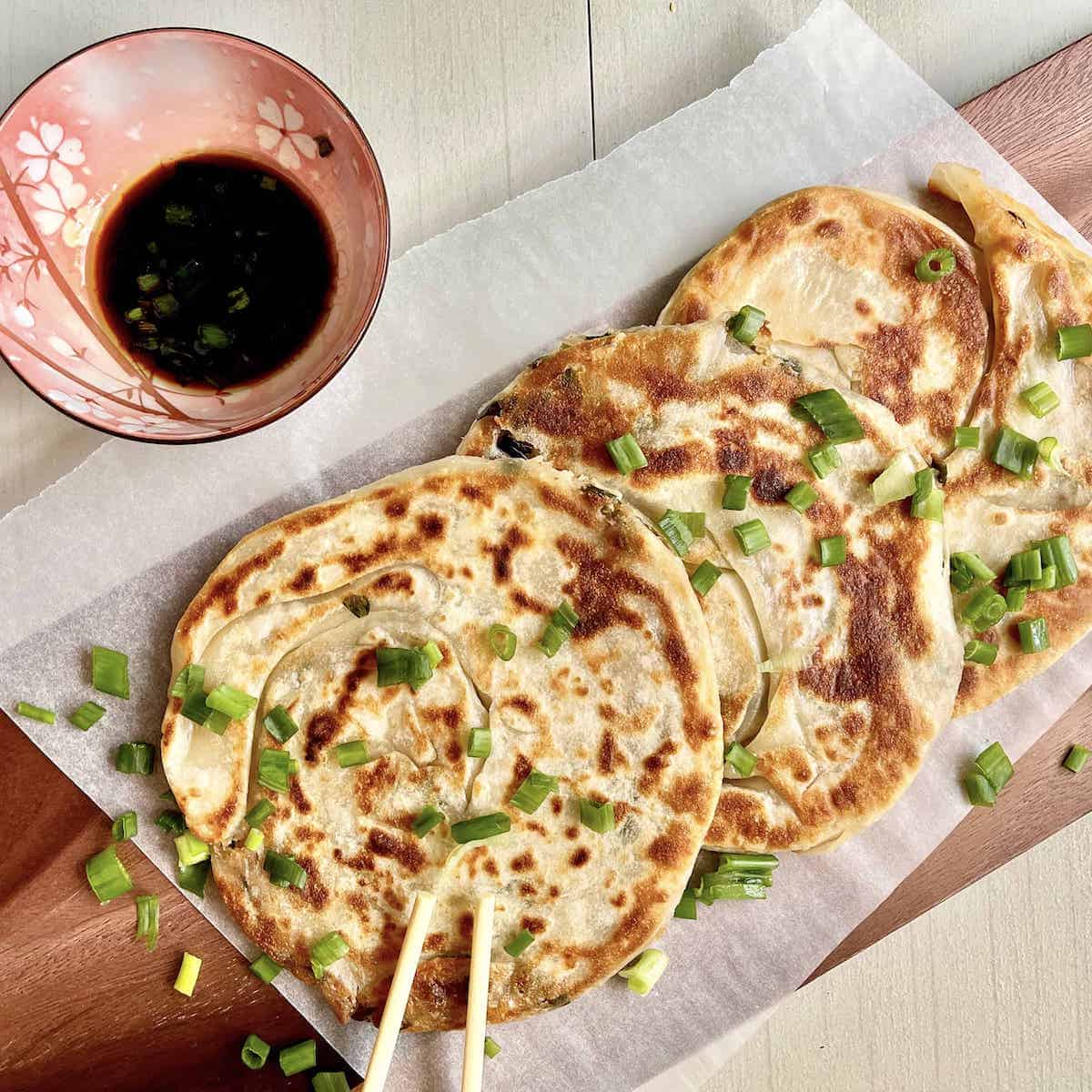 Jump to:
Lettuce wraps are a refreshing and light alternative to traditional tacos or bread-based wraps. When paired with the right filling and sauce, they're a great recipe for healthy eating!
Choosing the Best Lettuce
When it comes to lettuce wraps, selecting the right kind of lettuce is crucial for an enjoyable dining experience. Having the filling fall everywhere and staining your clothes and hands isn't exactly fun!
You want to make sure your lettuce leaves are sturdy enough to hold everything and not fall apart once you load it up. I like butterhead the best. Butter lettuce leaves are firm, gorgeously green and they're the perfect cup shape for wrapping food!
Iceberg lettuce is also a possible option, although you may need to tear the leaves to get the size right. (And the color isn't quite as appetizing.) Romaine lettuce, whilst sturdy, is an awkward shape for wraps!
Make sure the leaves are crisp and fresh to provide the ideal crunchy texture. Nobody likes soggy wraps!
Fillings
Meat
The most popular protein choice is usually chicken, especially ground chicken or shredded chicken breast, which can be easily flavored with different marinades and seasonings.
Orange chicken, soya sauce chicken, soy braised pork, kung pao chicken, and steak fajitas are good recipes for flavorful and satisfying fillings. Or if you want something simple, sear the meat over medium heat and mix with 1 of the sauces below.
Personally, I like to use leftover roast turkey and rotisserie chicken, chicken thigh (most Asians prefer this as it has more flavor) or bossam pork belly.
Vegetarian
Lettuce wraps are super versatile and a great way to make sure you're getting your 5-a-day.
If you're on a vegetarian or vegan diets, a great option is tofu. Alternatively, consider tempeh, young jackfruit or even white rice and beans! Bell peppers, cucumbers, green onions, water chestnuts and carrots are other popular fresh ingredients that can easily be added to Asian lettuce wraps to provide crunch!
Sauces and Dressings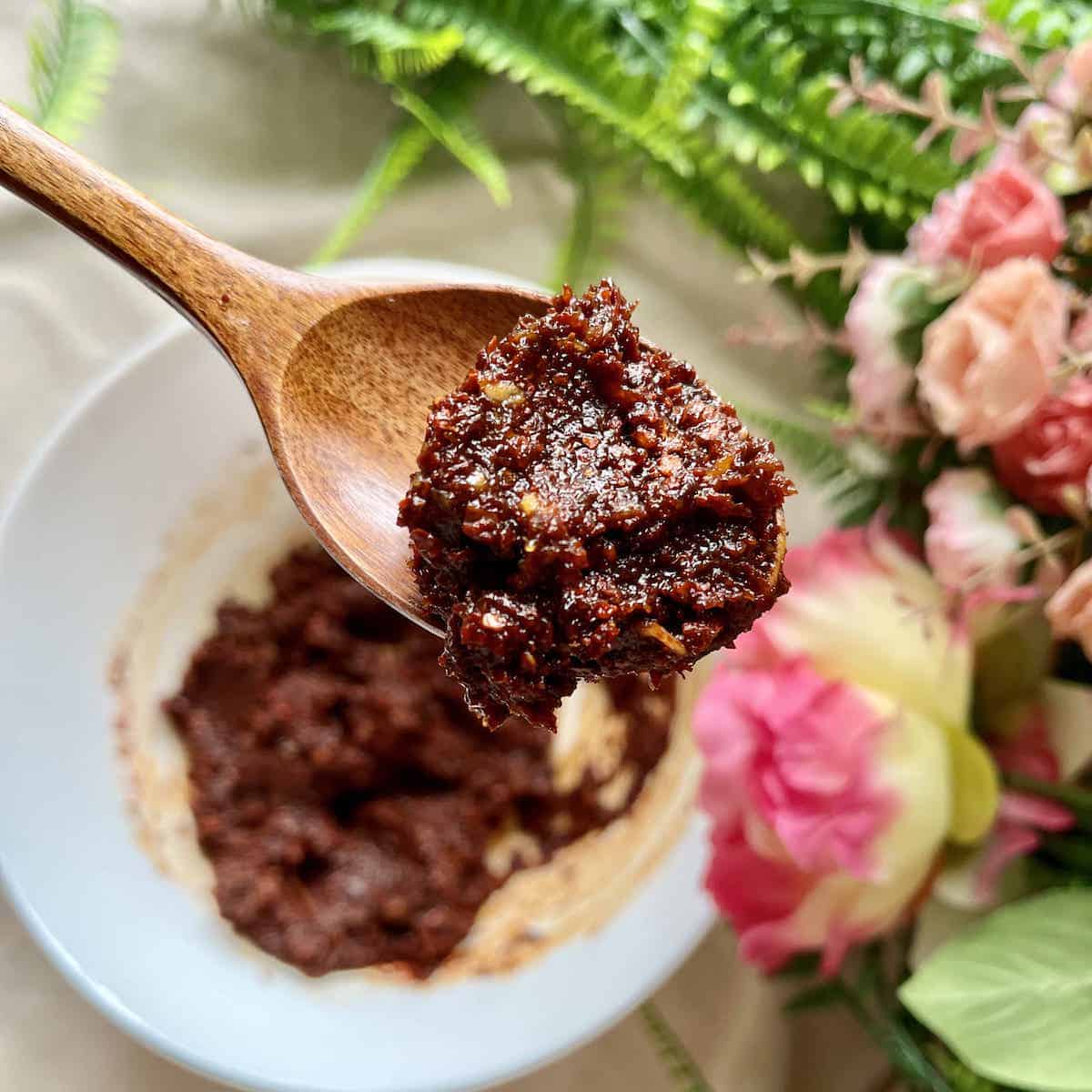 The key to a tasty recipe is finding the perfect sauce or dressing to complement the filling. Here are a few popular options:
Note: if you're looking for authentic Asian flavor, try not to cook with olive oil as it just won't taste right!
Now for the best side dishes for lettuce wraps, to make for a nutritious and satisfying meal!
Appetizers
Spring Onion Pancakes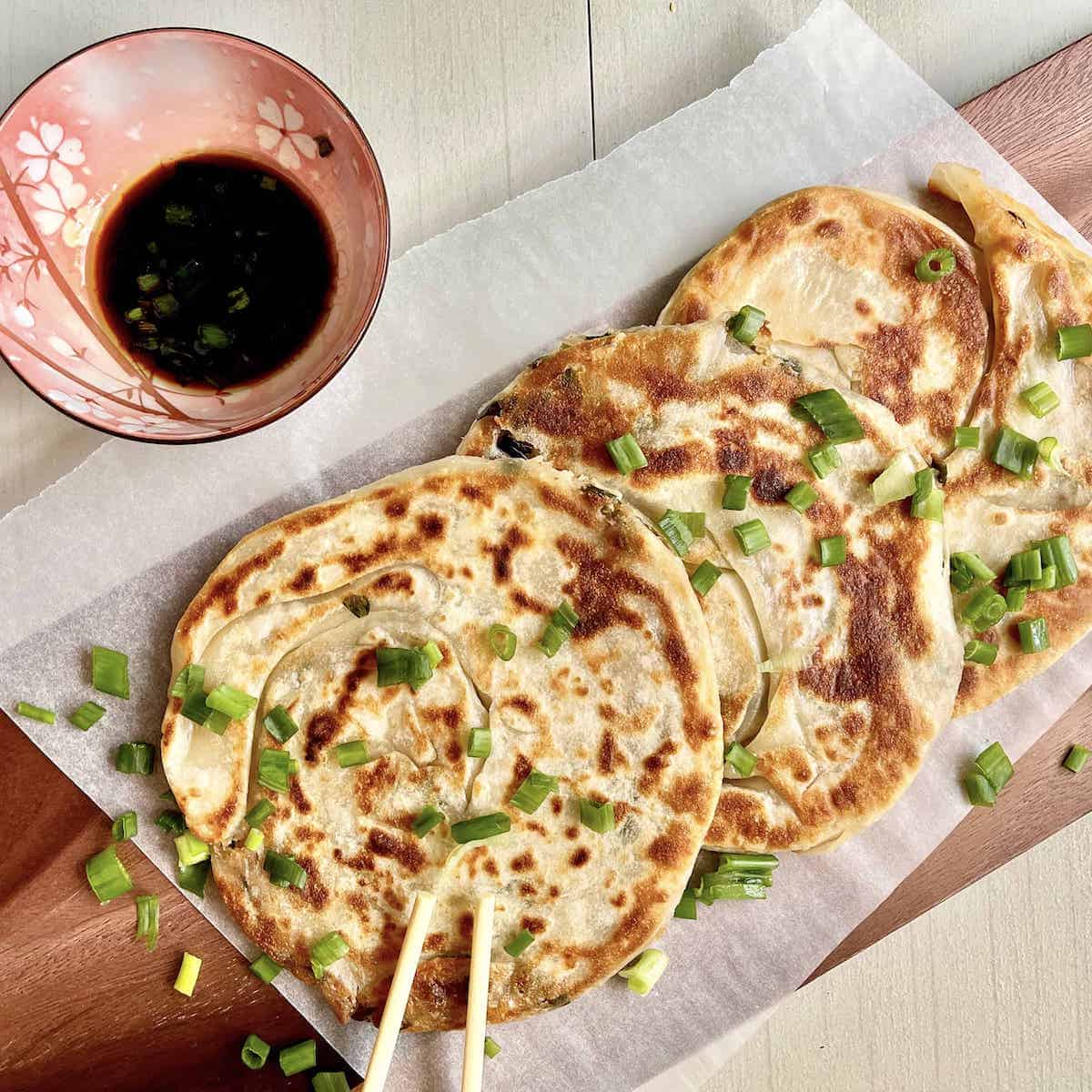 If you don't have green onions, you can use 1 of these spring onions alternatives.
Taiwanese green onion pancake recipe (Cong you bing)
Taiwanese green onion pancake (Cong you bing), also known as Chinese scallion pancake, is a delicious savoury street snack that is easy to batch make and freeze.
Click here for the Scallion Pancake recipe.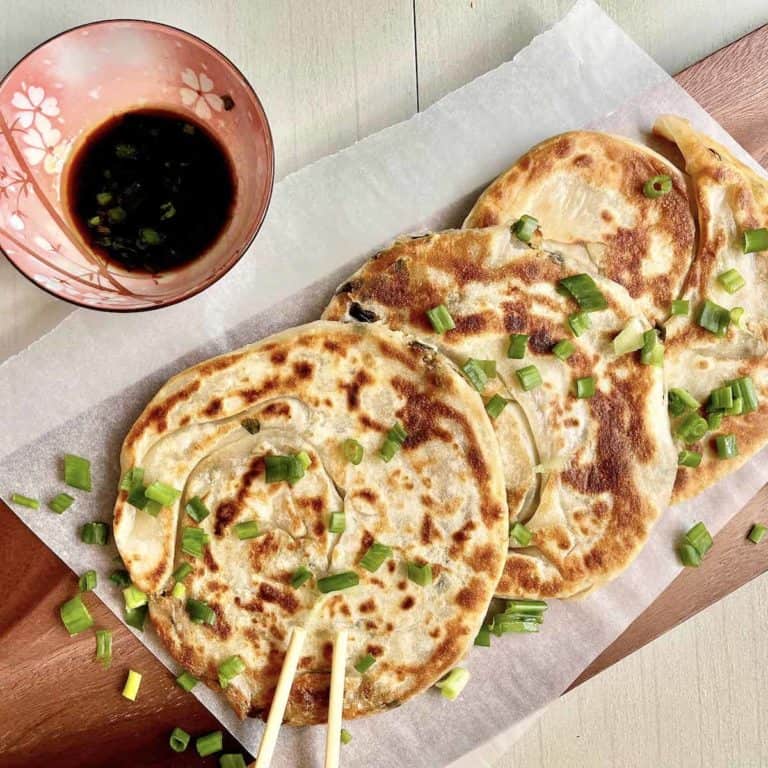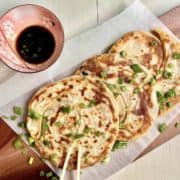 Wonton Soup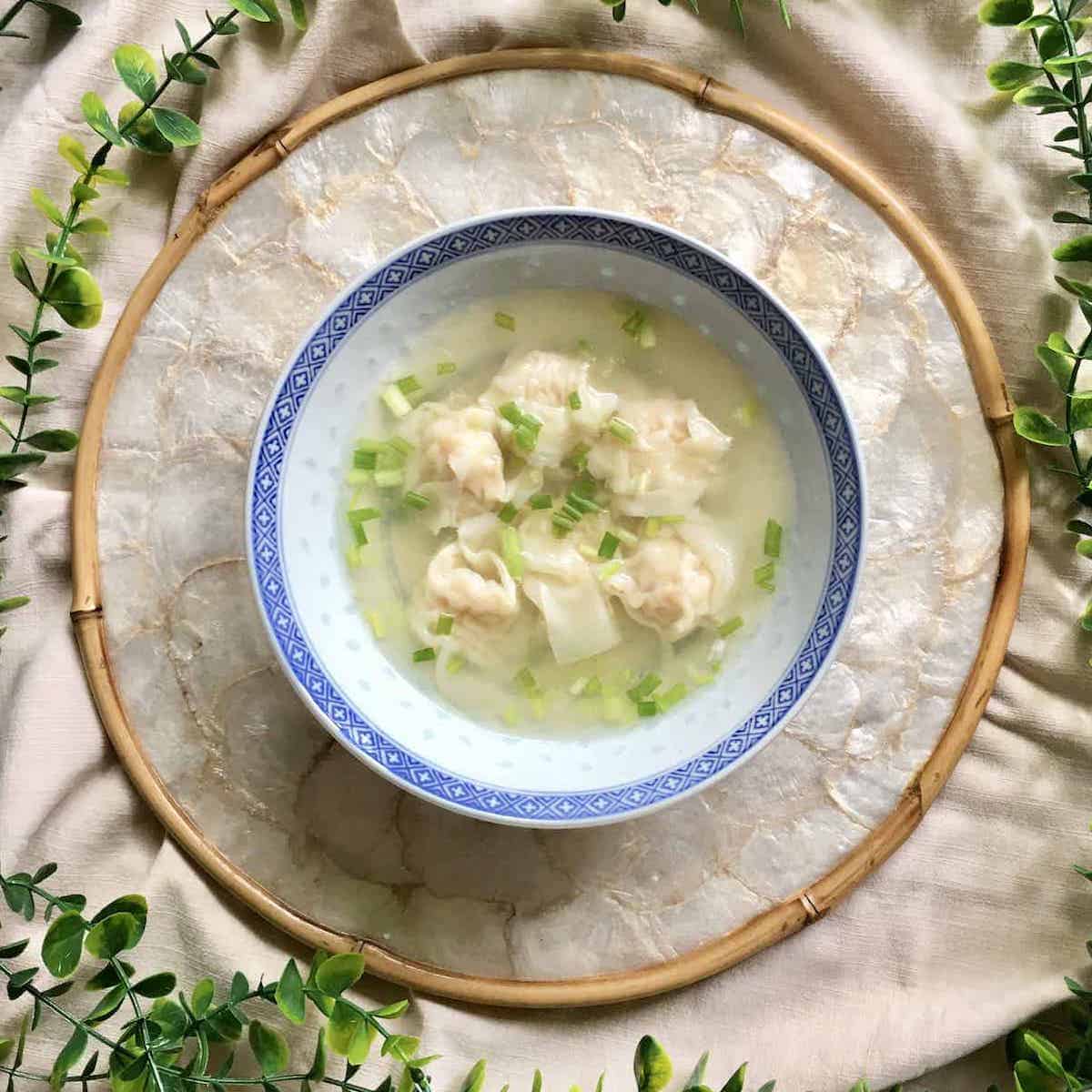 This is a great appetizer for those on a plant-based diet!
Easy Vegan Wonton Soup for Colds
Done in 20 minute vegan Chinese wonton soup that tastes as good as the traditional version. Gluten-free and made without commercially bought stock/ bouillon cube OR hours of making homemade stock! A great flu fighter thanks to the ginger and garlic!
Click here for the vegan Chinese soup recipe.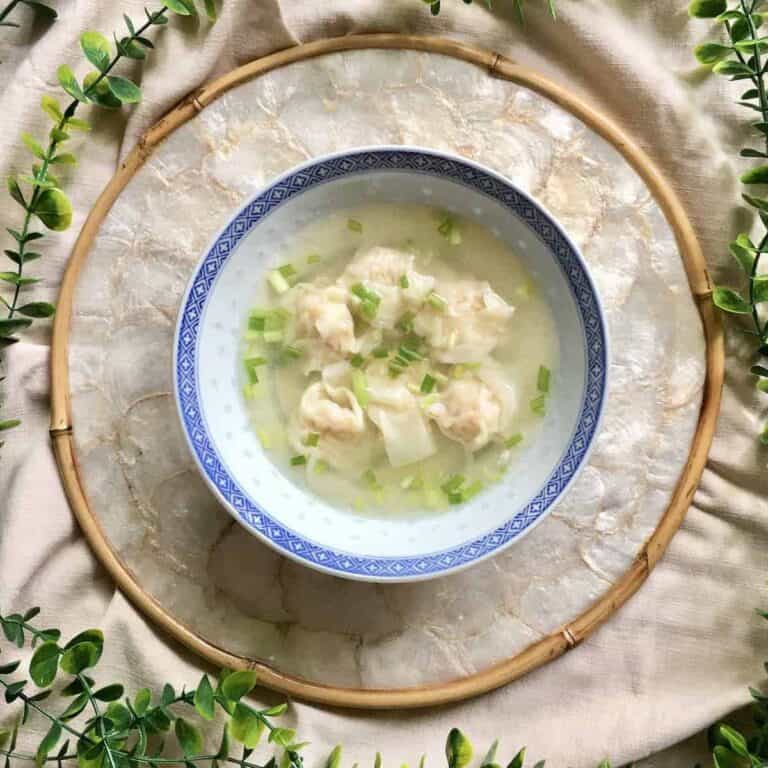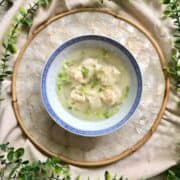 Potstickers
If you prefer something a little more savory, pan-fried dumplings are delicious. Don't forget to serve with this potsticker dipping sauce or 1 of these dumpling side dishes.
Egg Rolls
Egg rolls are always a popular appetizer! Best of all, these can be baked or fried!
Rice and Noodles
If not serving the Asian chicken lettuce wraps as the main dish, you may want to have rice or noodle dishes to bulk up the meal. If you need a healthier option, there's always brown rice or cauliflower rice!
Bihun Goreng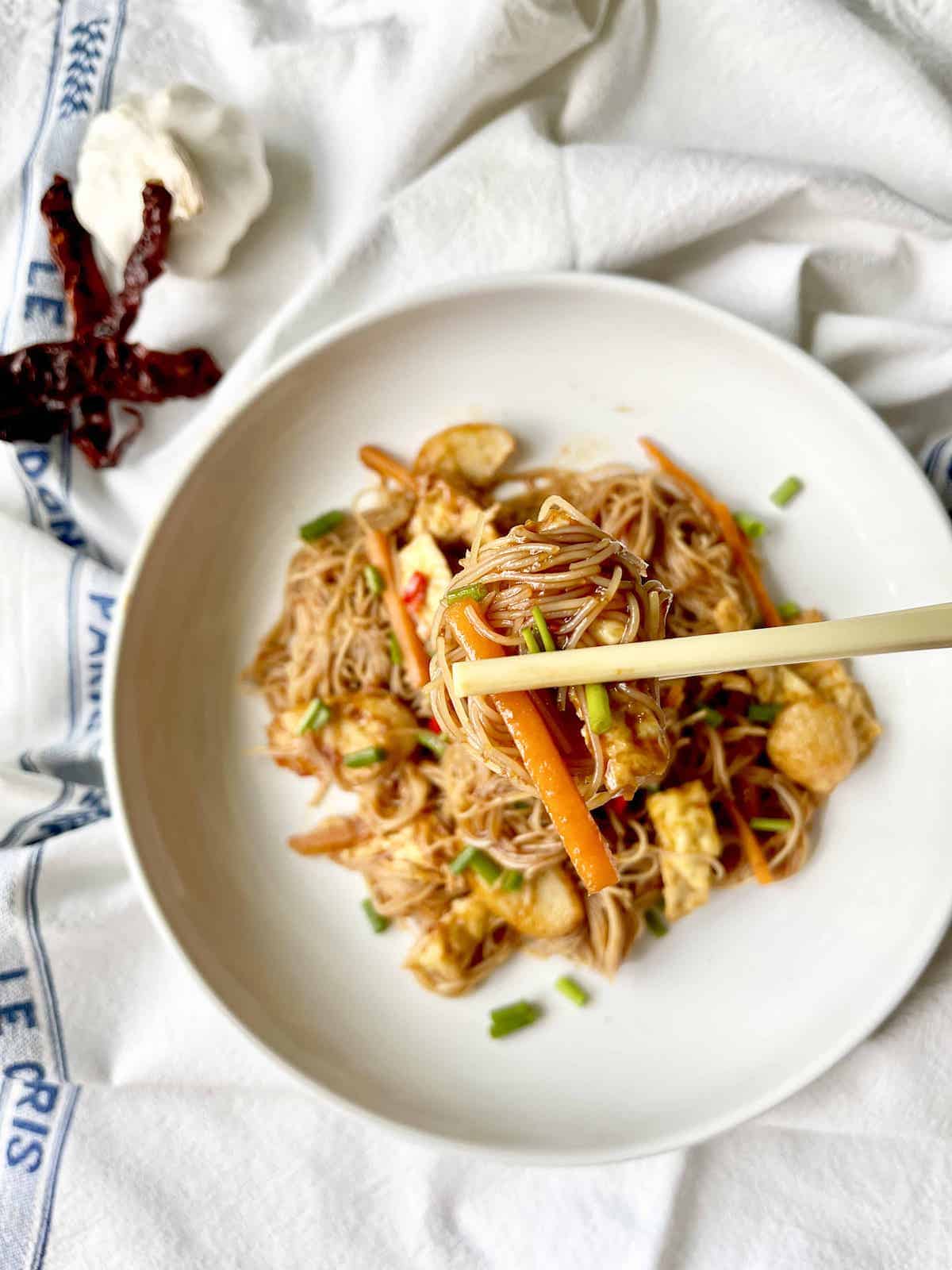 If you don't have rice noodles, here are some good vermicelli alternatives.
Singapore Fried Vermicelli (Bihun Goreng)
Singapore Fried Vermicelli, also known as Bihun Goreng, is delicious, easy to cook and quick to make in under 30 minutes. Using only simple ingredients (no chicken broth needed), it's a complete meal in itself. It's also cheap enough that some hawker centres (street food stalls) in Singapore sell it for only S$2/ US$1.50!
Click here for the economic noodles recipe.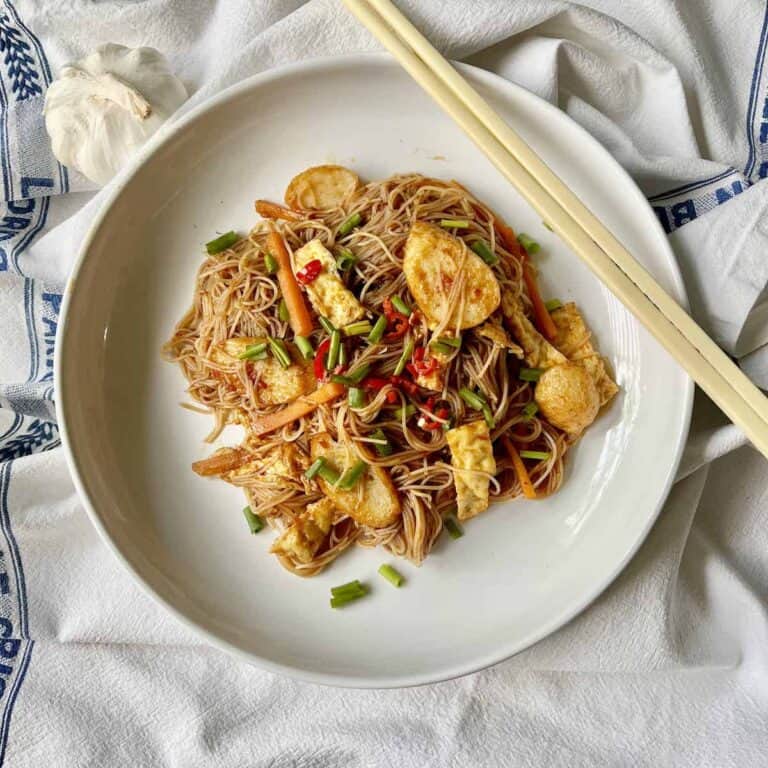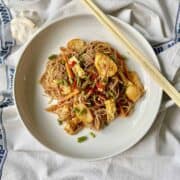 Singapore Noodles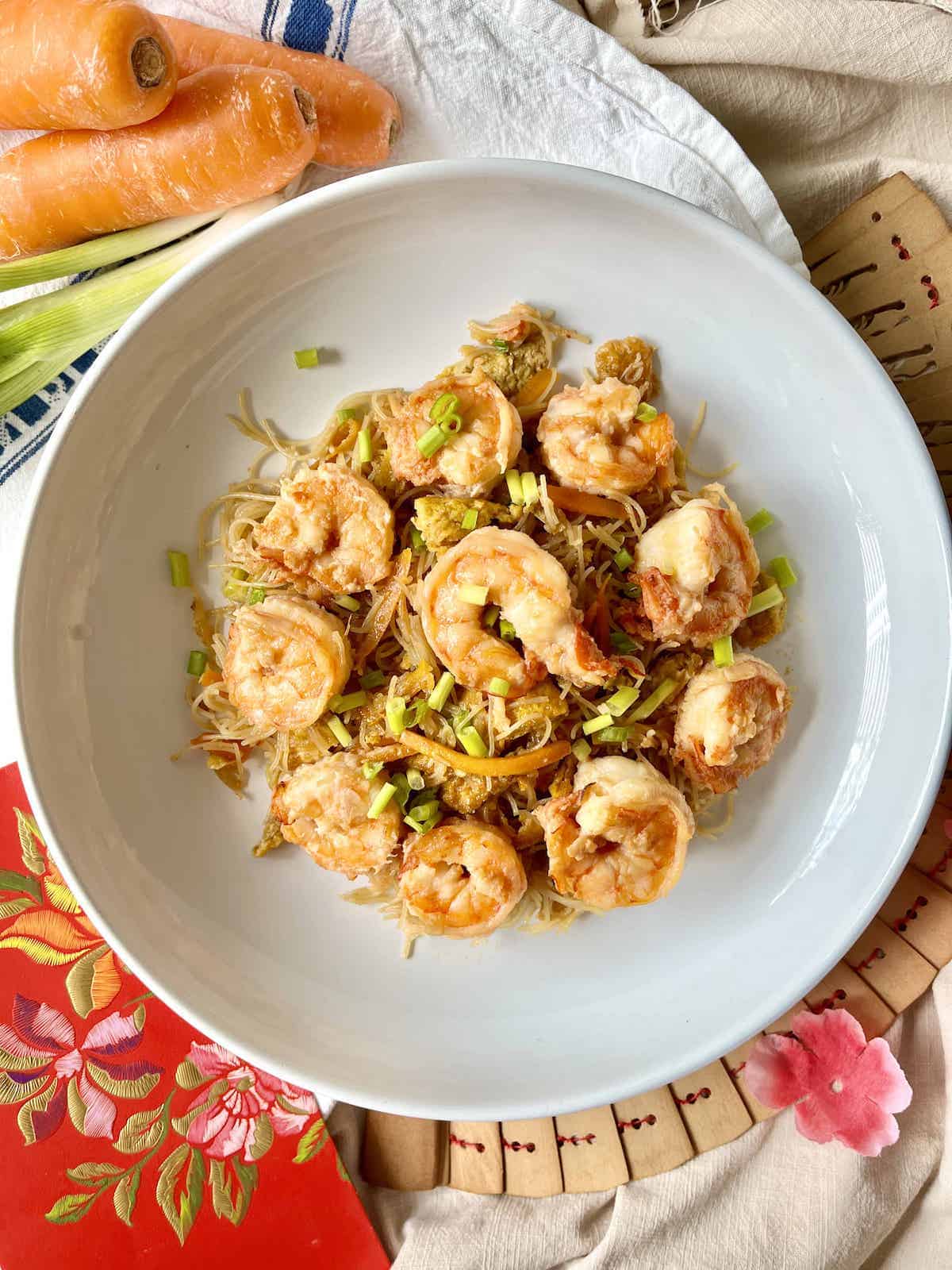 Shrimp Mei Fun (Fried Rice Noodles)
Shrimp Mei Fun is an easy Stir Fried Thin Rice Noodles Dish. Packed with shrimp and vegetables, it's a complete meal with fibre and protein that cam be made in under 30 minutes!
Click here for the stir-fried noodle recipe.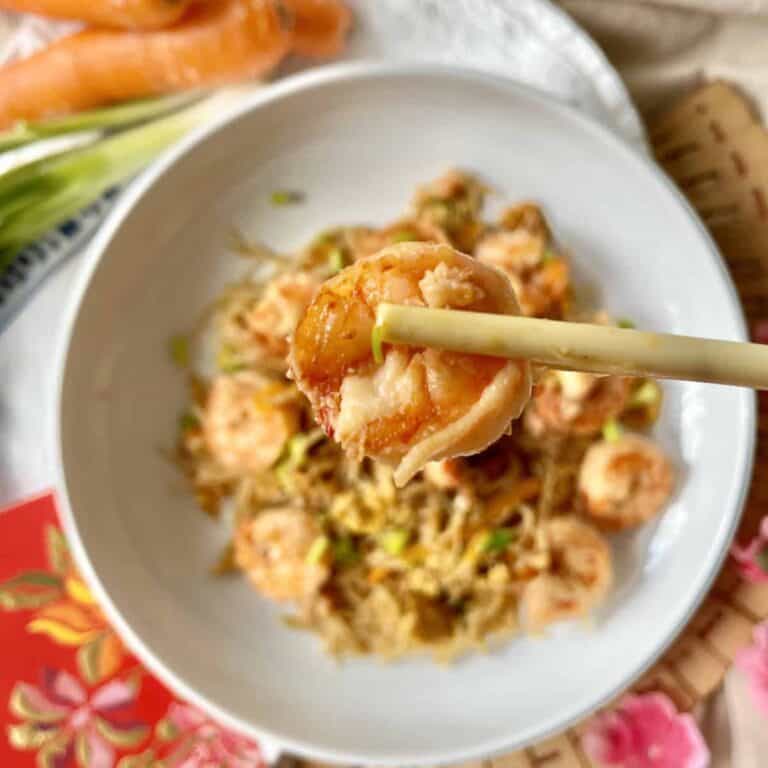 Thai Glass Noodles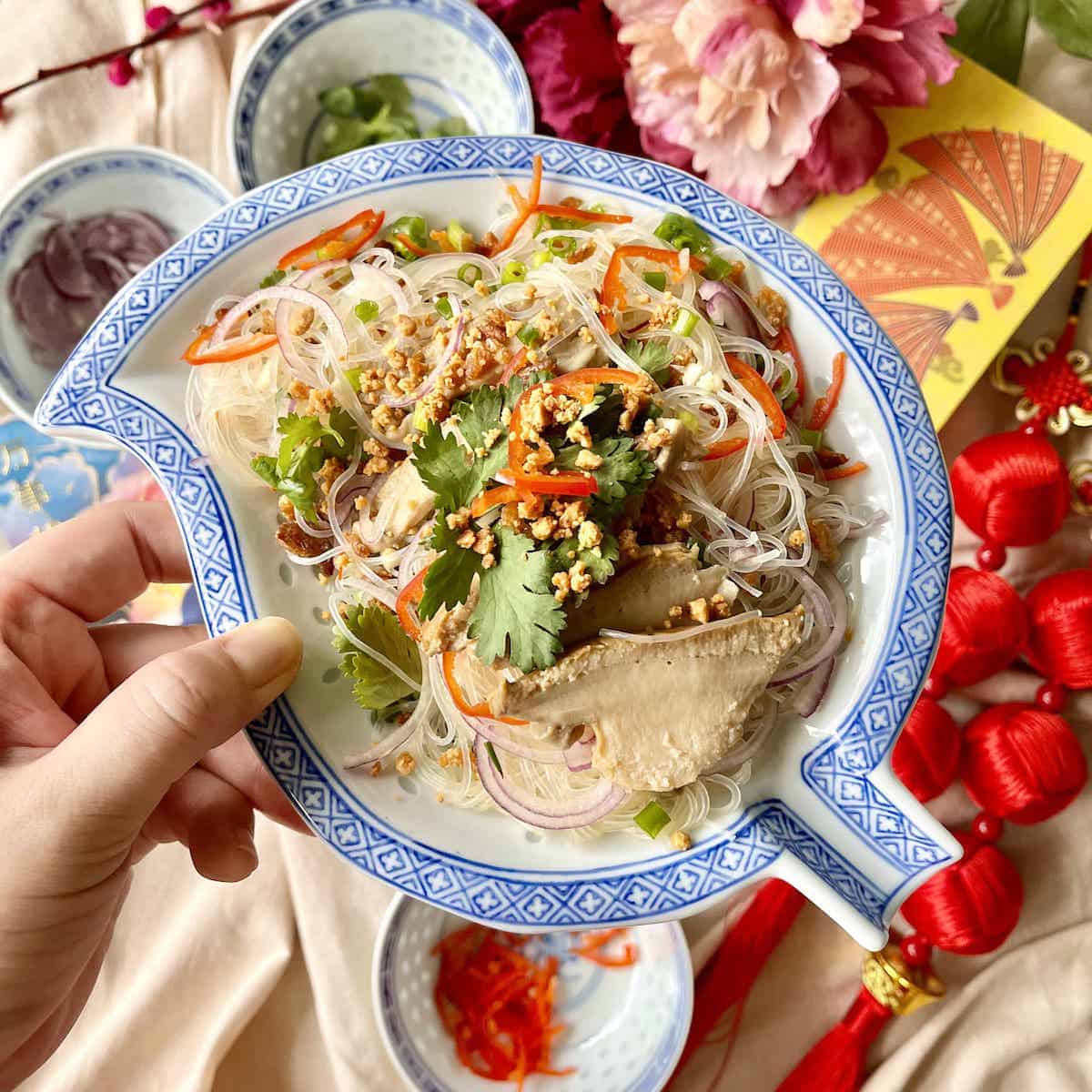 Thai Vermicelli Noodle Salad with Abalone
Tangy, sweet, spicy, and savory, this light Thai Vermicelli with Abalone Salad is a great make-ahead recipe for your Chinese New Year 2023 celebration dinner. It can even be a no-cook recipe, and is the perfect dish for beginner home chefs!
Click here for the glass noodle salad recipe.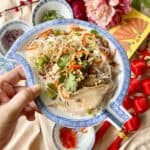 Vegetables and Tofu
Mapo Eggplant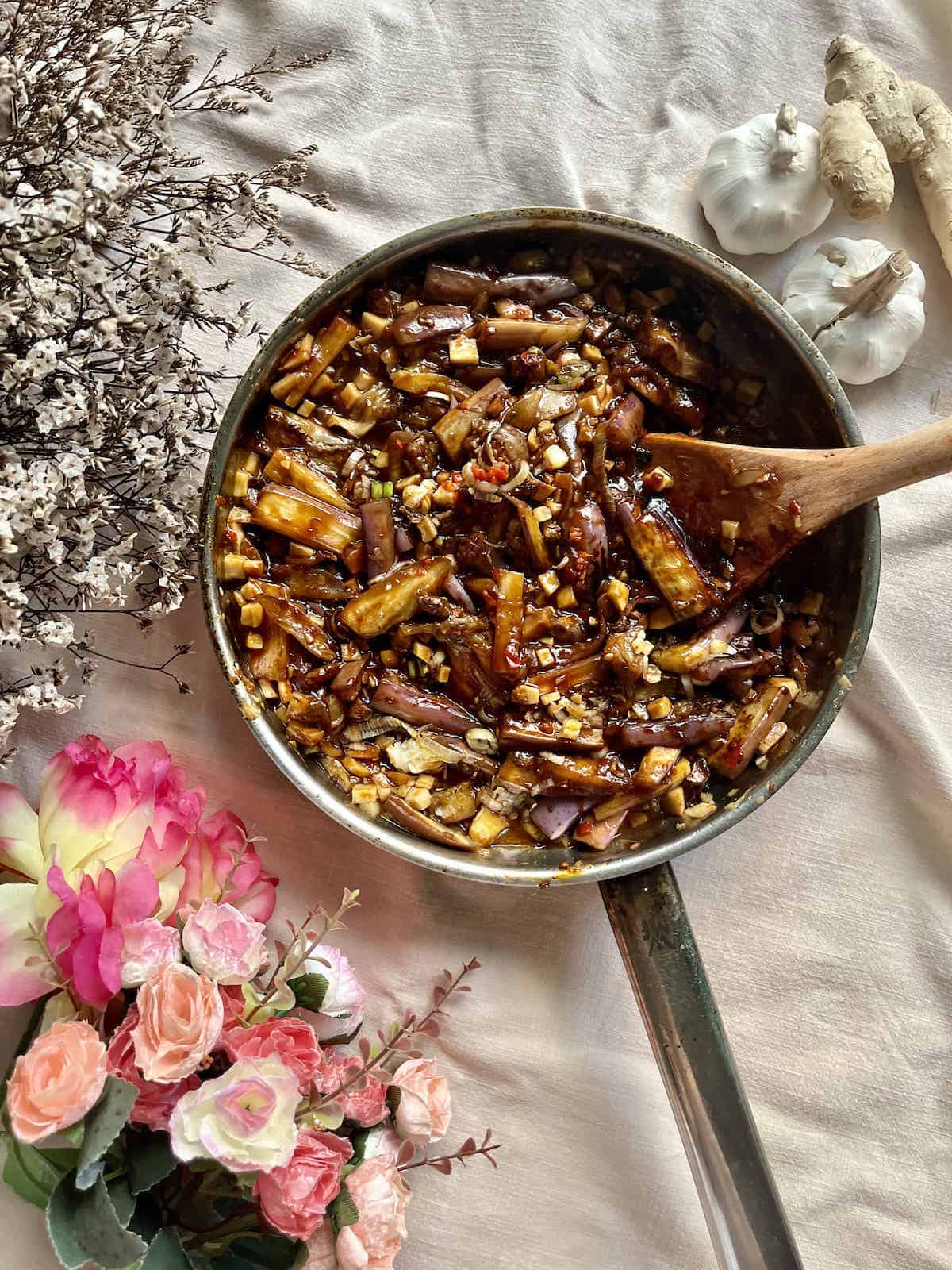 Easy Spicy Chinese Eggplant Recipe (Vegan)
This Vegan Easy Spicy Chinese Eggplant Recipe is a delicious and easy way to use up your eggplant crop! A healthier version that the one you get Chinese restaurants, the sweet-and-salty savory sauce is full of umami and ever so good with just a bowl of white rice! (I use Doubanjiang as a base, but also show you what to do if you don't have it.)
Click here for the spicy eggplant recipe.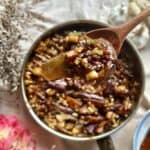 Teriyaki Tofu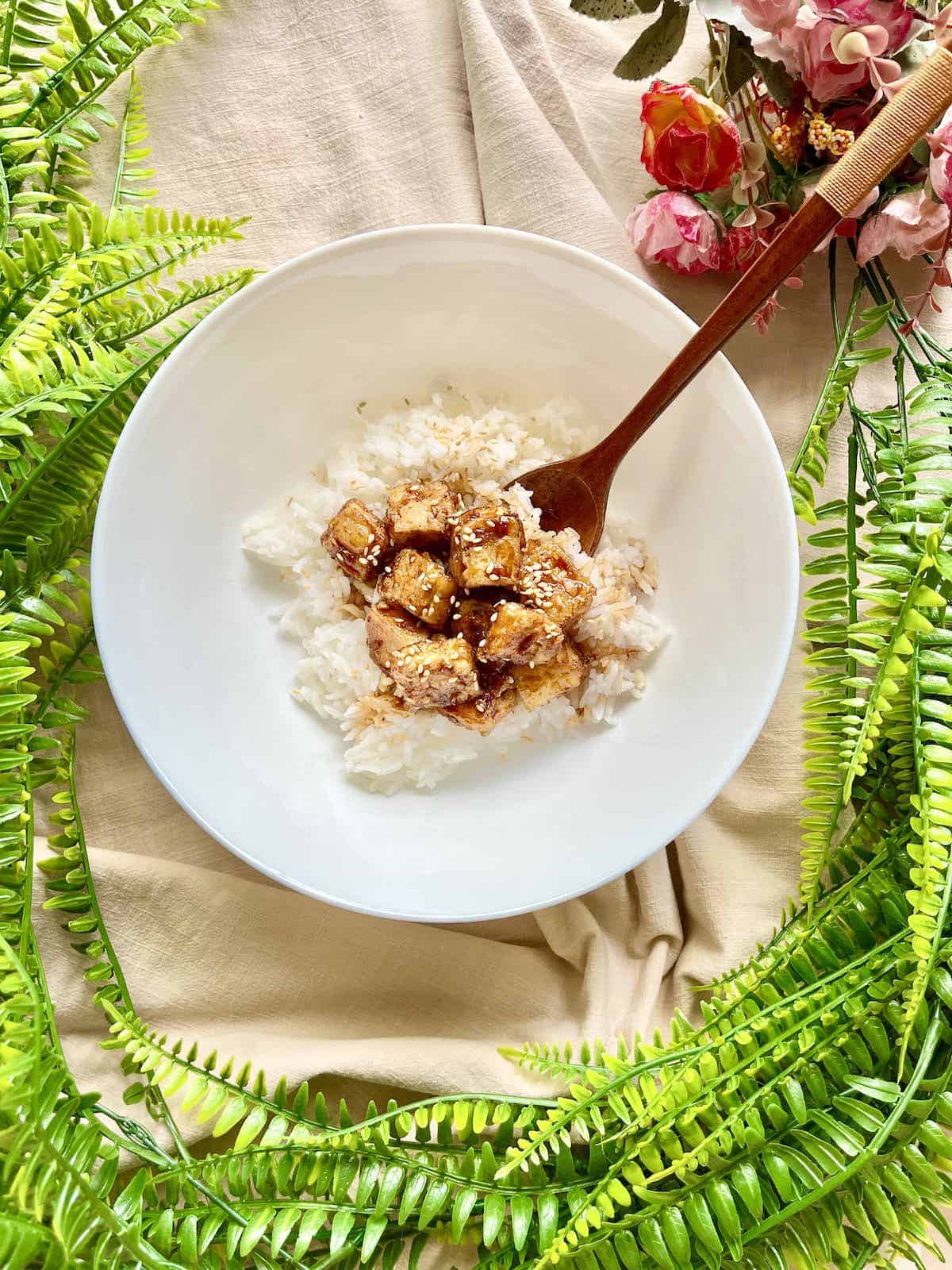 The teriyaki sauce is delicious drizzled over the wraps too!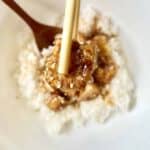 Butter Soy Mushrooms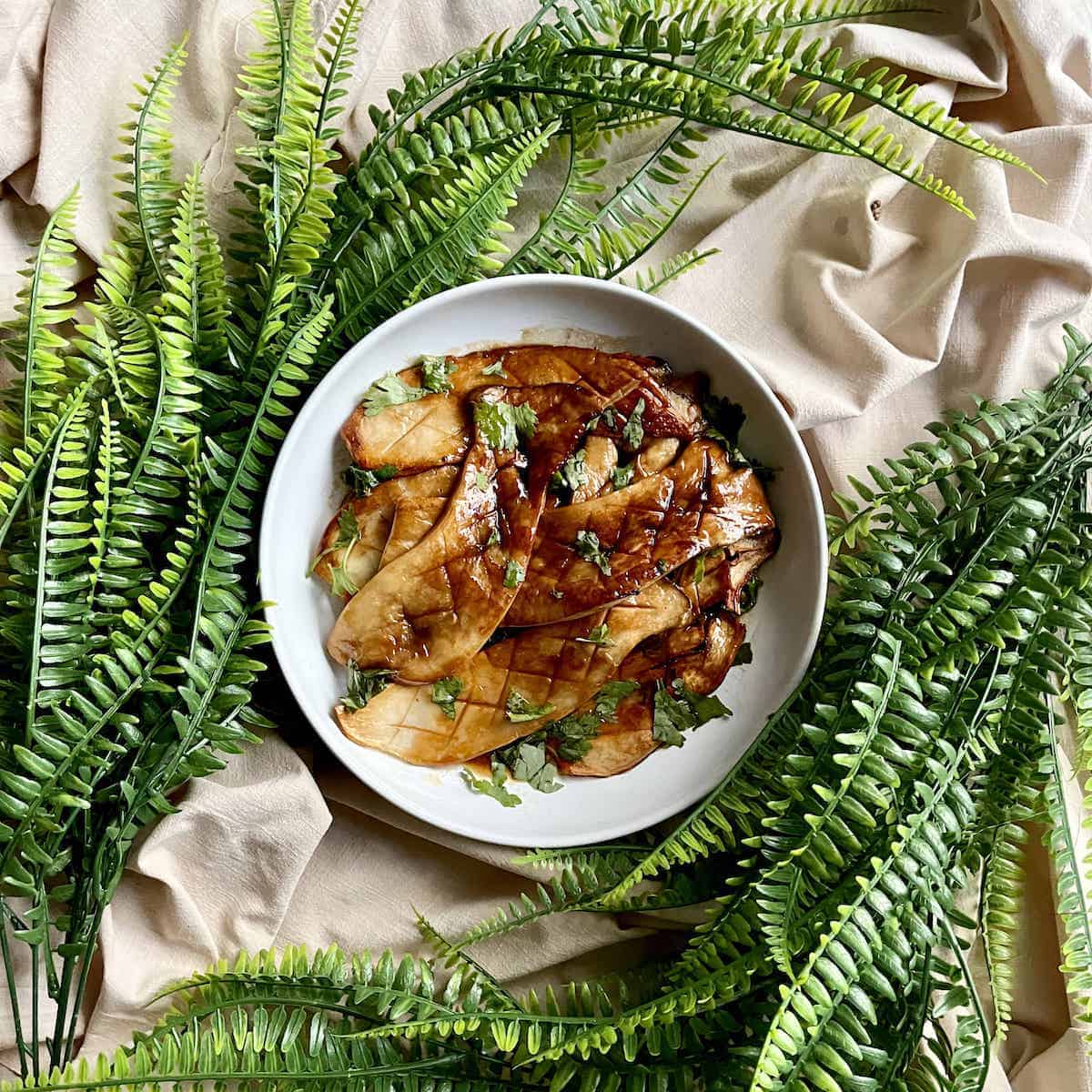 If king oysters are not your thing, here are more Asian dishes which use mushrooms for you!
Quick Eryngii Mushrooms (3-ingredients)
A 25-minute, easy to make and delicious eryngii mushroom recipe. These have a nice meaty texture which make them great meat substitutes for vegan meals.
Click here for the king oyster mushroom recipe.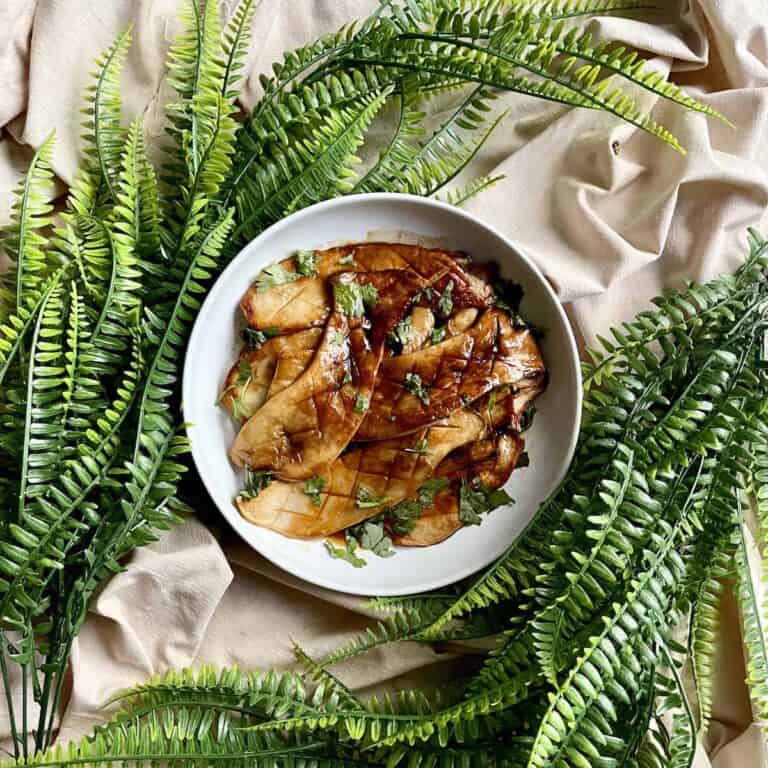 Eggplant Stir-Fry
This Thai eggplant recipe can be used to stuff your wraps or eaten with rice!
Salads
Mango Salad with Cucumber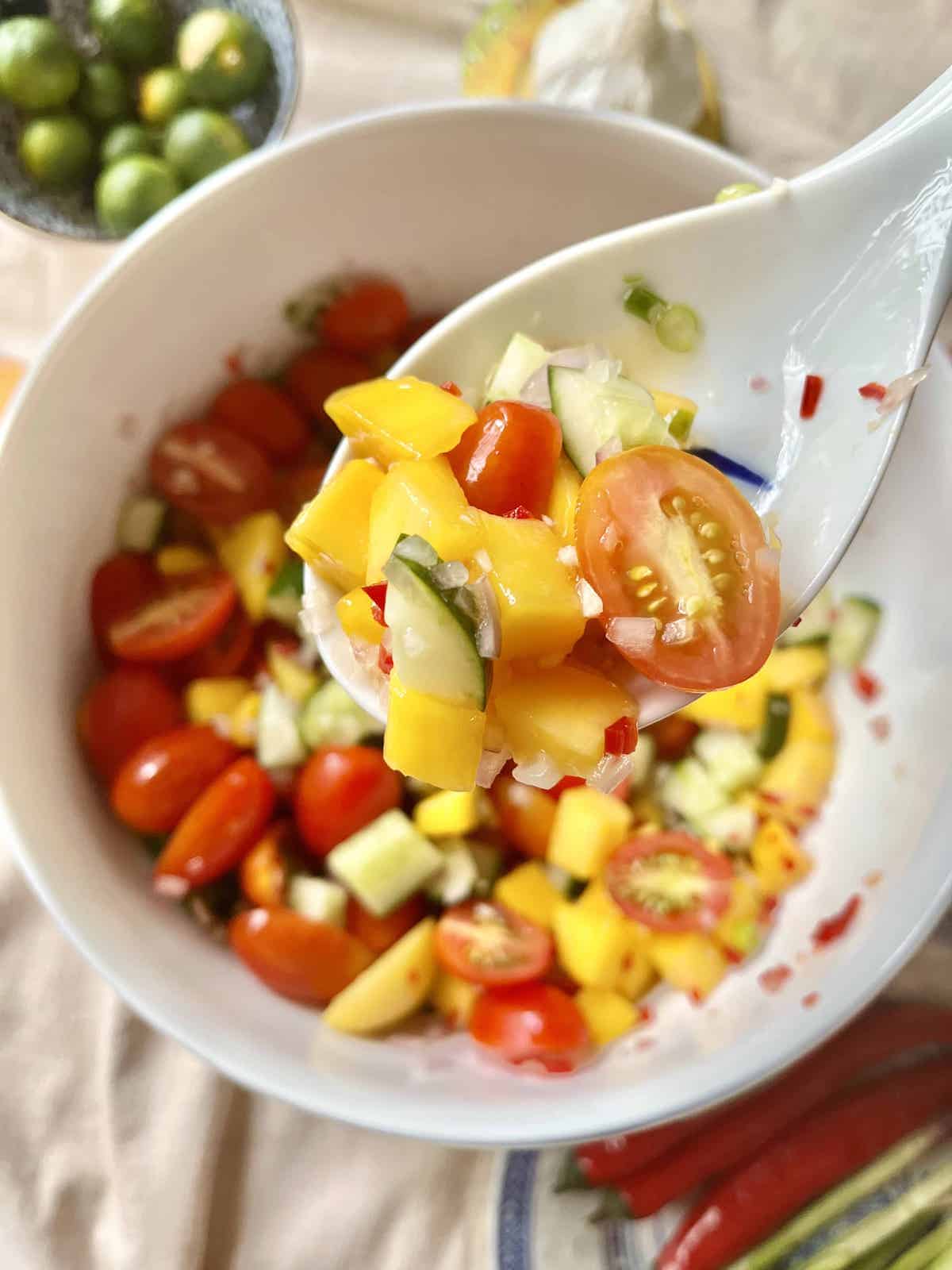 If your using a heartier filling for your wraps, such as steak or ground beef, a sweet and tangy salad is a great way to lighten the meal and make it healthier.
Mango Cucumber Salad (Asian)
This Mango Cucumber Salad (Asian recipe) is a light and refreshing side dish full of tropical flavor. Quick and easy, it's a sweet, savory and crunchy recipe perfect for camping or a summer barbecue. Plus, unlike many salads, there is no sour cream or olive oil used, so it's healthier and less heavy!
Click here for the Asian Summer Salad recipe.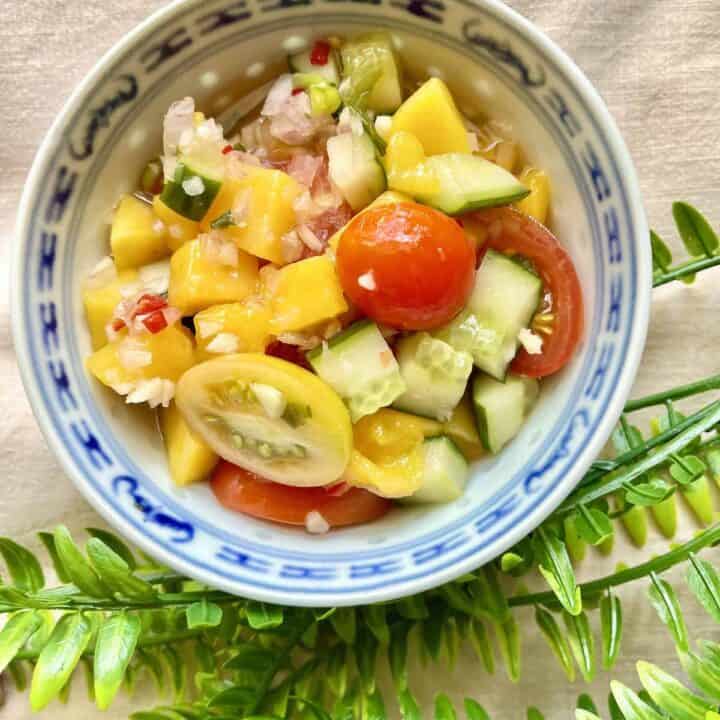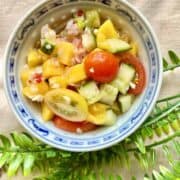 Cucumber Salad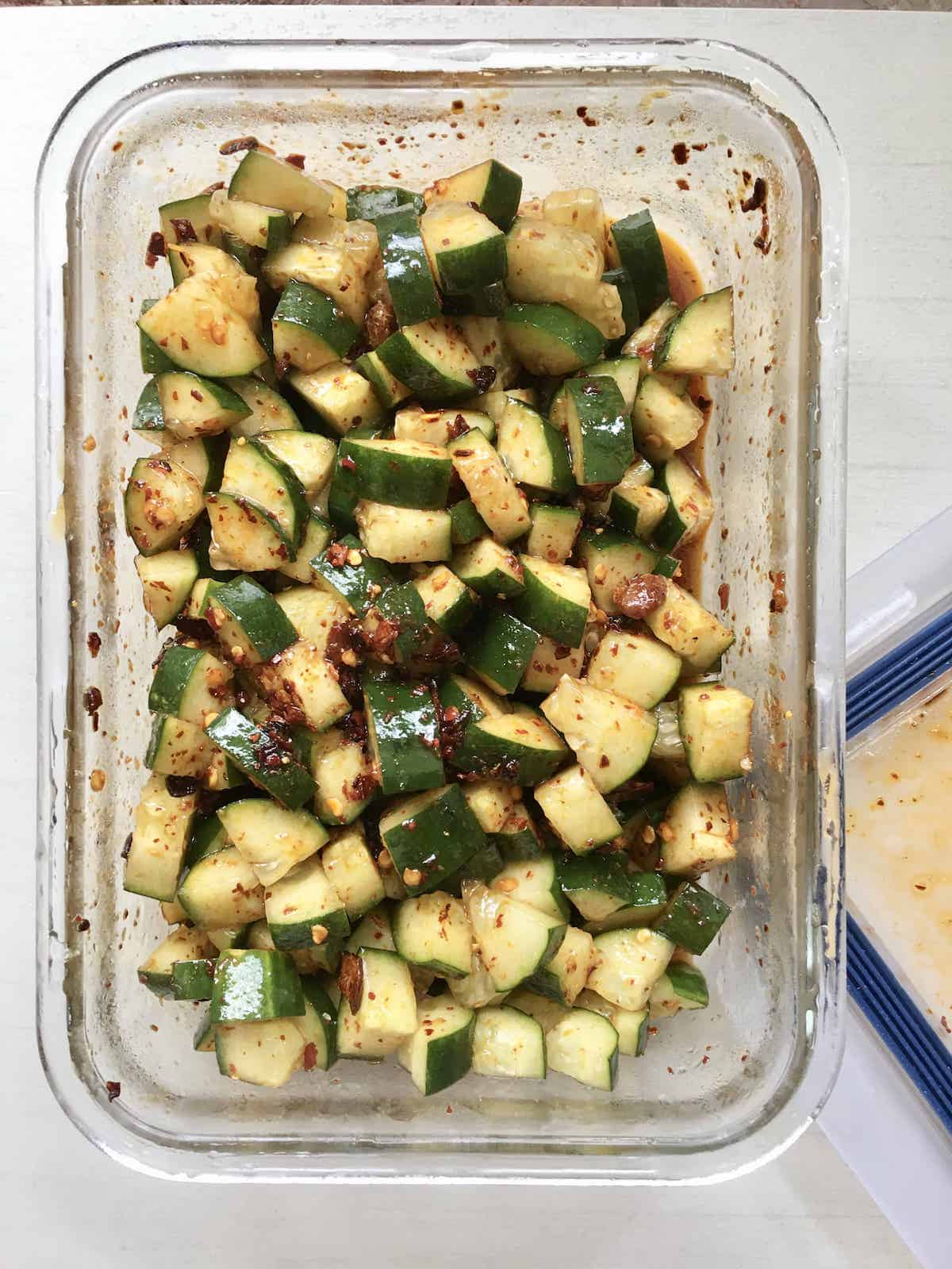 Cold cucumber salad recipe
The easy Chinese cold cucumber salad recipe is delicious and full of spicy flavor. Best of all, it only requires 4-ingredients and takes 5-10 minutes to make. 
Click here for the spicy cucumber appetizer.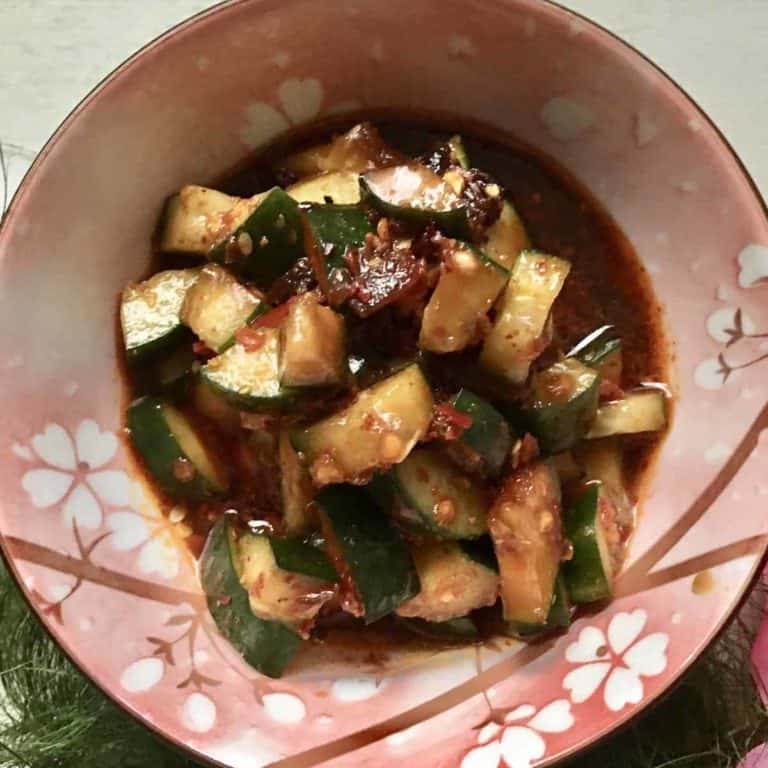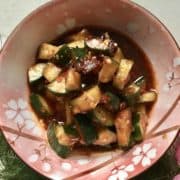 Pickled Cucumbers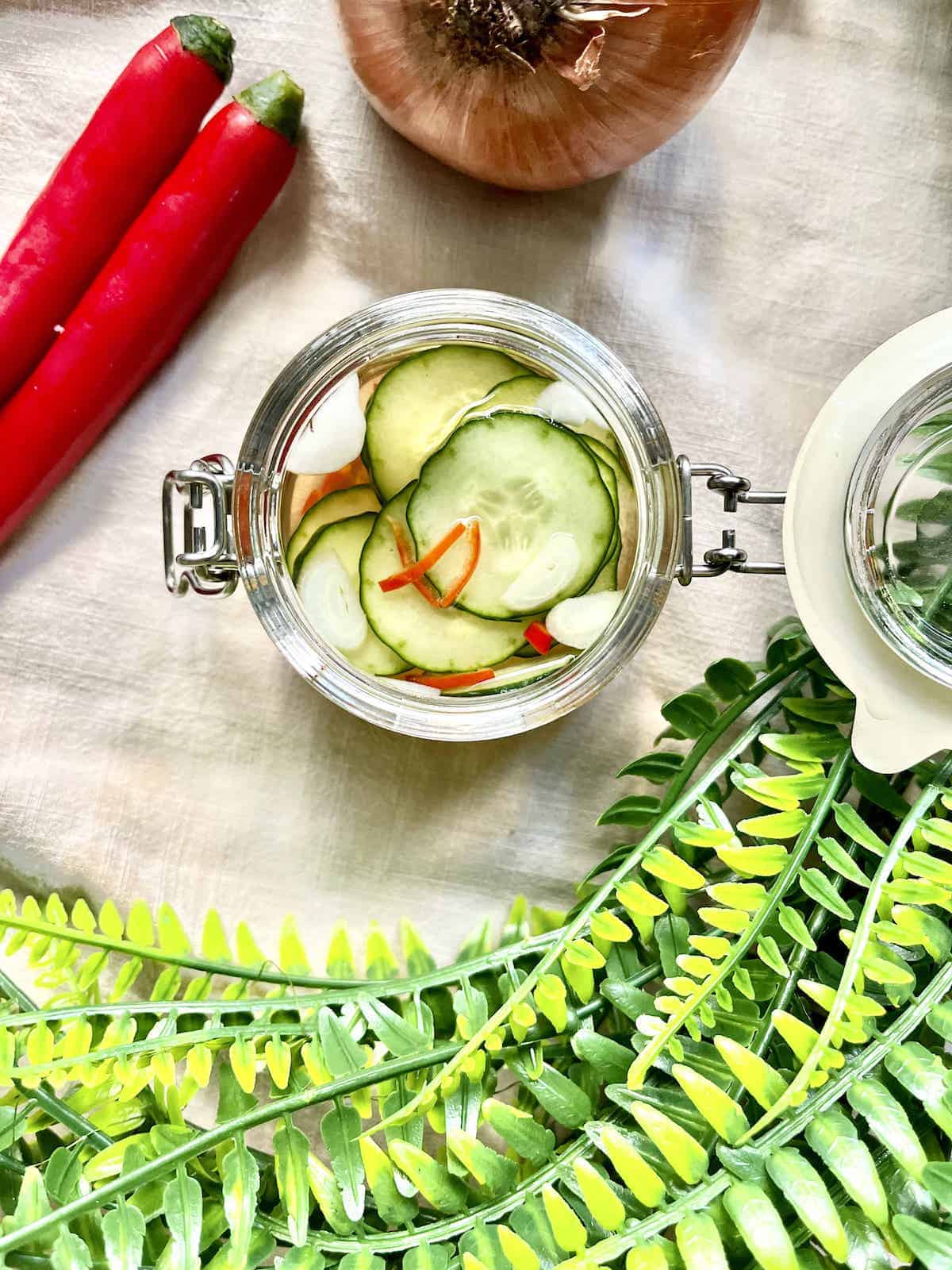 Asian Quick Pickled Cucumbers (5-min)
These easy and delicious Asian Quick Pickled Cucumbers are ready in 5 minutes, and make a great cooling side dish in summer! (I show you how to make 2 versions: 1 that can be immediately after tossing in the brine (the 5-min recipe) and a 2nd that has a milder flavor and needs to pickle for 15- 30 minutes.)
Click here for the Asian quick pickle recipe.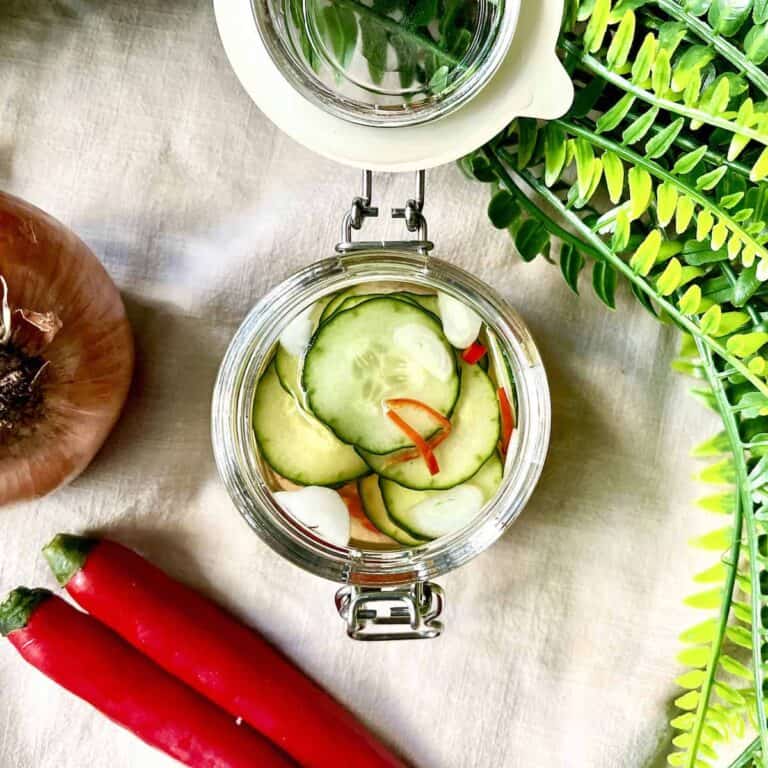 Thai Larb
Thai larb moo ลาบหมู is 1 of the most popular Thai street foods. You can serve it as a side dish or use it as a filling in your lettuce wrap recipes!
Seafood
Teriyaki Salmon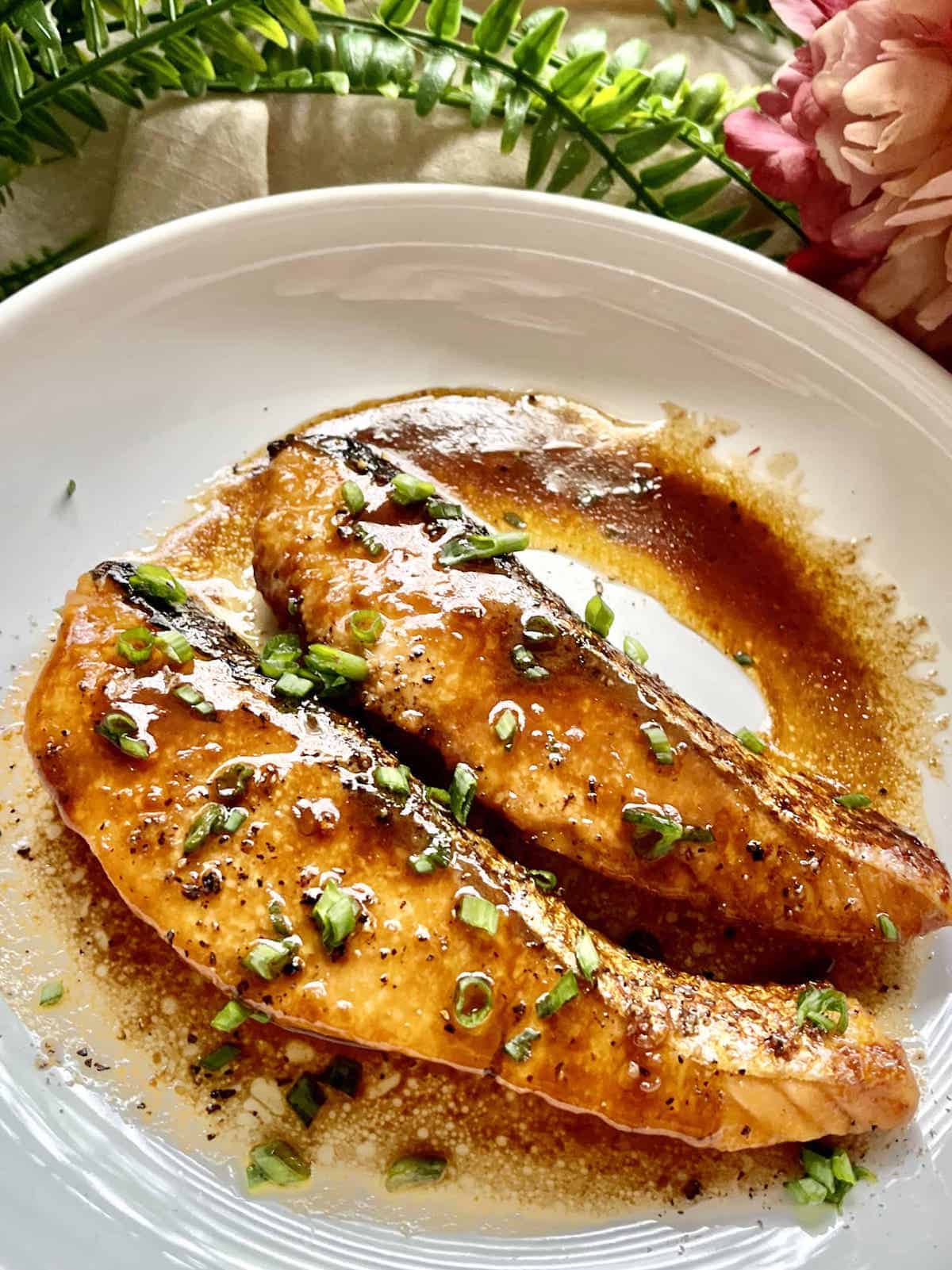 Pan-Fried Teriyaki Salmon (& Baked)
This deliciously savory Pan Fried Teriyaki Salmon recipe is sweet, savory and full of umami. Plus, it only takes under 10 minutes to cook and is perfect for busy weeknight dinners! (I include directions for both the pan fried and baked versions, as well as advice on when to use which method!)
Click here for the soy salmon recipe.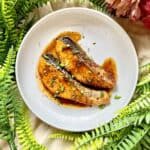 Korean Salmon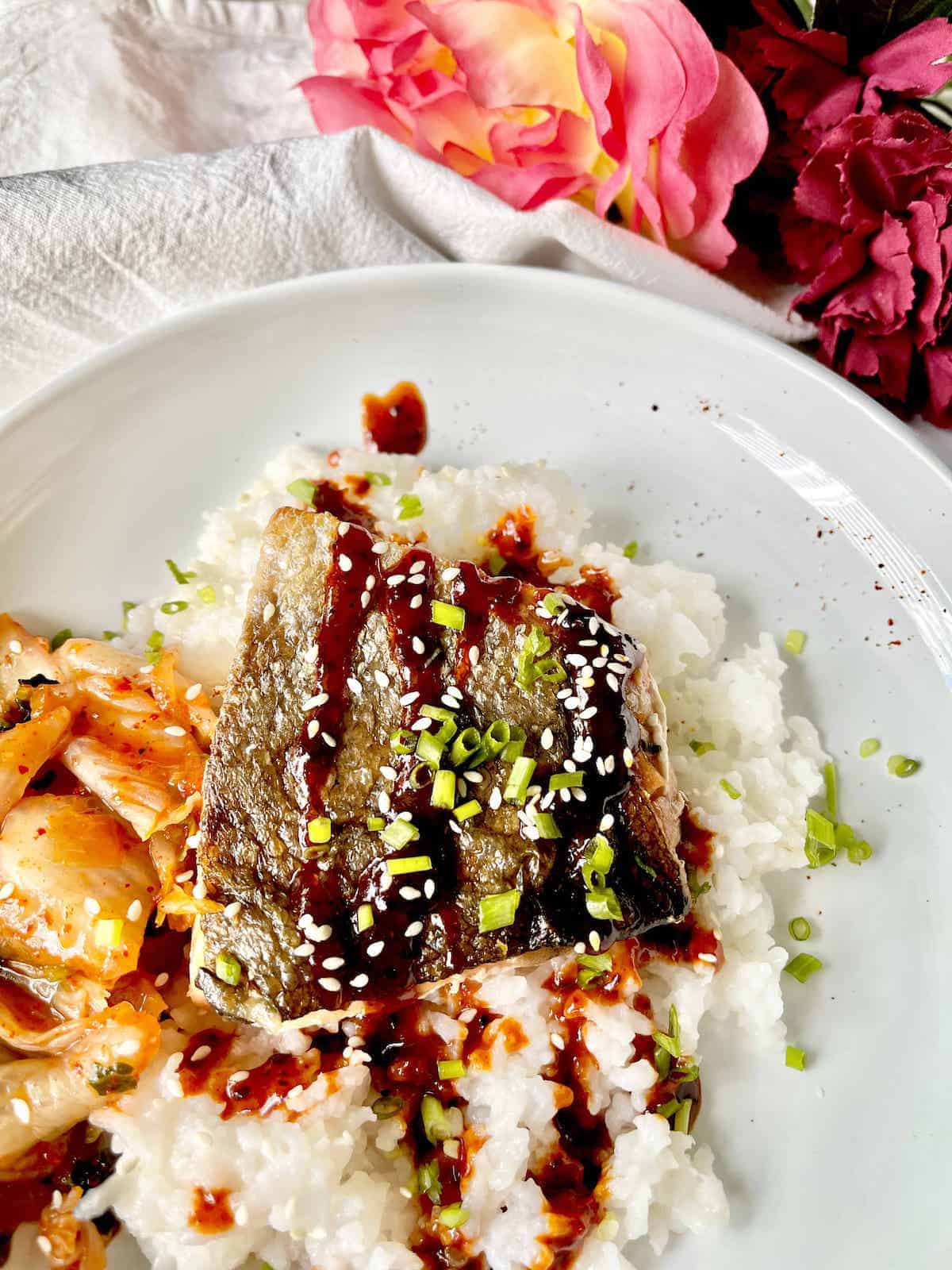 Gochujang Salmon (Pan-Fried vs Broiled)
This Gochujang Salmon is deliciously savory. And, it takes less than 10 minutes to cook, perfect for weeknight dinners! (I've tested both the pan fried and broiled versions, and offer directions for both, as well as advice on which is "better"! Basically do pan friend for crispy skin and broiled for nice charred bits.)
Click here for the spicy salmon recipe.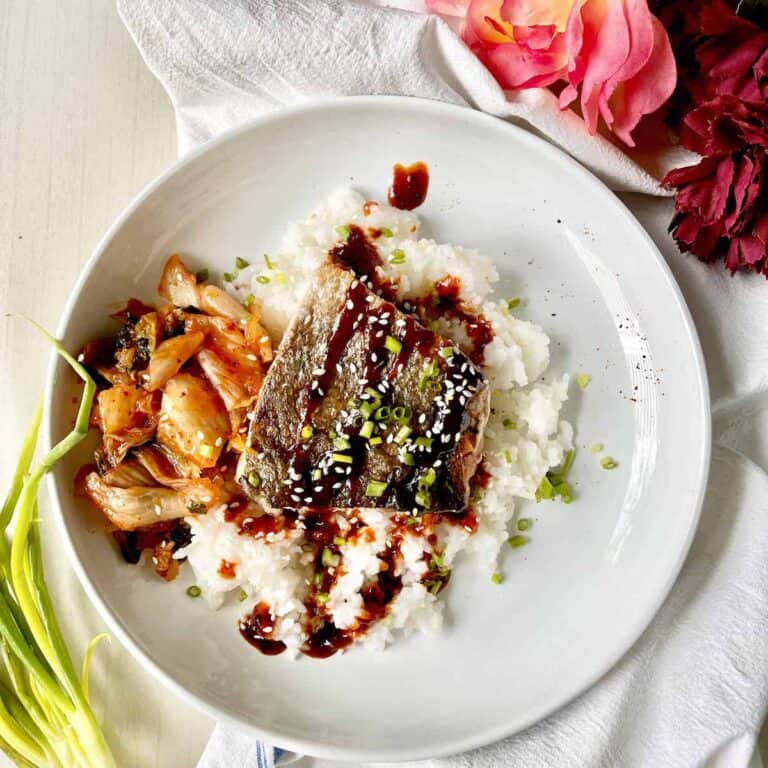 If you found these suggestions for what to serve with lettuce wraps helpful, would you like to sign up for my newsletter in which I send you more Asian recipes?