The Best Substitute for Sesame Oil for cooking, baking and salads! Light and dark sesame oil are used for different functions, so read on to find out what can be used in place of each!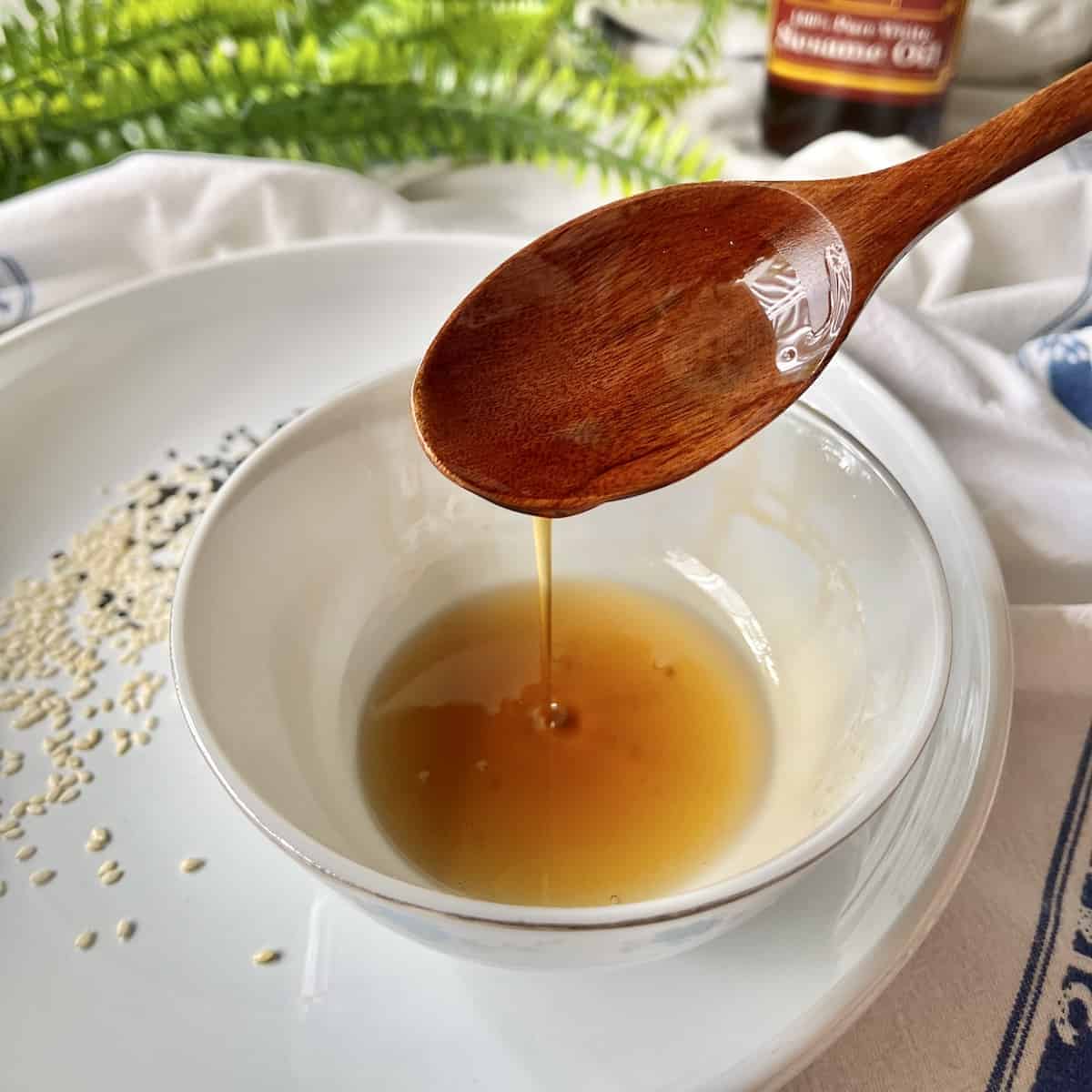 Jump to:
Sesame Oil ((芝麻油/ 香油) is commonly associated with Asian cuisine such as Chinese, Japanese and Korean food. (It's brushed onto Korean sushi, or kimbap, for example.) However, it's also used in India and the Middle East.
These days, it's so commonly used that you can find it in regular grocery stores and won't have to make a special trip to the Asian grocery for it!
Different countries may use a different type of sesame oil, which I'll elaborate on below. Obviously, what makes a great substitute for sesame oil would depend on what type of sesame oil/ cuisine you have in mind!
Note: If you're interested in Chinese food, you should definitely keep a bottle of toasted dark sesame oil in your pantry!
Toasted vs Untoasted
Sesame oil has a nutty, toasted flavor and can be used in anything from stir-frying, to congee toppings and garnishing cold dishes, such as this spicy cucumber salad. The oil comes from sesame seeds, and may or may not be cold-pressed.
Light
There are 2 main types, which are not interchangeable.
Light sesame oil (untoasted) comes in a light color between white and yellow, similar to regular vegetable oil. This has a smoke point of 410F and can be used as a cooking oil (as you would with, say, grapeseed oil) or for seasoning.
Note: This is usually labelled as "sesame oil" (not "sesame seed oil.") There is often no reference to whether the oil is toasted or not.
Dark (Chinese Sesame Oil)
Dark sesame oil (from toasted sesame seeds) has a much darker, amber color and a stronger, nutty, roasted aroma.
This is the sesame oil stocked in the Chinese and East Asian pantry, which is used for marinating, seasoning and garnishing. It's easy to burn in the wok (as it's already roasted it has a low smoke point) so we usually don't cook with it.
Note: this can be labelled as "sesame oil" or "sesame seed oil" so you will need to check the color of the liquid to tell which is light and which is dark!
👩🏻 Health Benefits
Note: some people are allergic to sesame oil and overconsumption can lead to weight gain. This information is FYI only. Before making changes to your diet, please consult a qualified health and medical professional.
Sesame Oil contains the essential nutrient, Vitamin K. It also has Vitamin E, phytosterols, Omega-3 and Omega-6 fatty acids and anti-oxidants.
Omega 3 and 6 are fats that the body needs, but can't make on its own, and can only be absorbed from food. Omega 3 has been strongly linked to preventing heart disease. Other potential benefits include stroke prevention, cancer protection as well as controlling lupus, rheumatoid arthritis and eczema.
Omega-6 used to have a bad reputation but is also good for your heart. Specifically, it lowers bad cholesterol (LDL) and raise good cholesterol (HDL.) In addition, they make the body more sensitive to insulin, helping to control blood sugar levels.
Traditional Chinese Medicine (TCM)
In TCM, sesame oil is believed to be warming and nourishing, and it's often used in the confinement diet (for women who've just given birth!)
Fun fact: long haired lasses, take note: sesame oil is also thought to be good for one's hair!
🥡 Storage
This oil can be stored at room temperature for several months but will also benefit from refrigeration. Keep in a cool, dark place, away from bright light and in a dark bottle.
Note: if you refrigerate it, it may turn cloudy but should still be good to use (if not rancid.)
🍜 Recipes which use Sesame Oil
The best sesame oil substitutes would depend on whether the original recipe called for light (untoasted) or dark sesame oil (toasted)!
📋 Substitutes
For Untoasted
Vegetable Oil
For stir-frying, a good alternative is neutral-tasting oils, such as vegetable or canola. I do not recommend something like coconut oil which has a very strong flavor which will change the taste of the final dish!
Substitutes for Toasted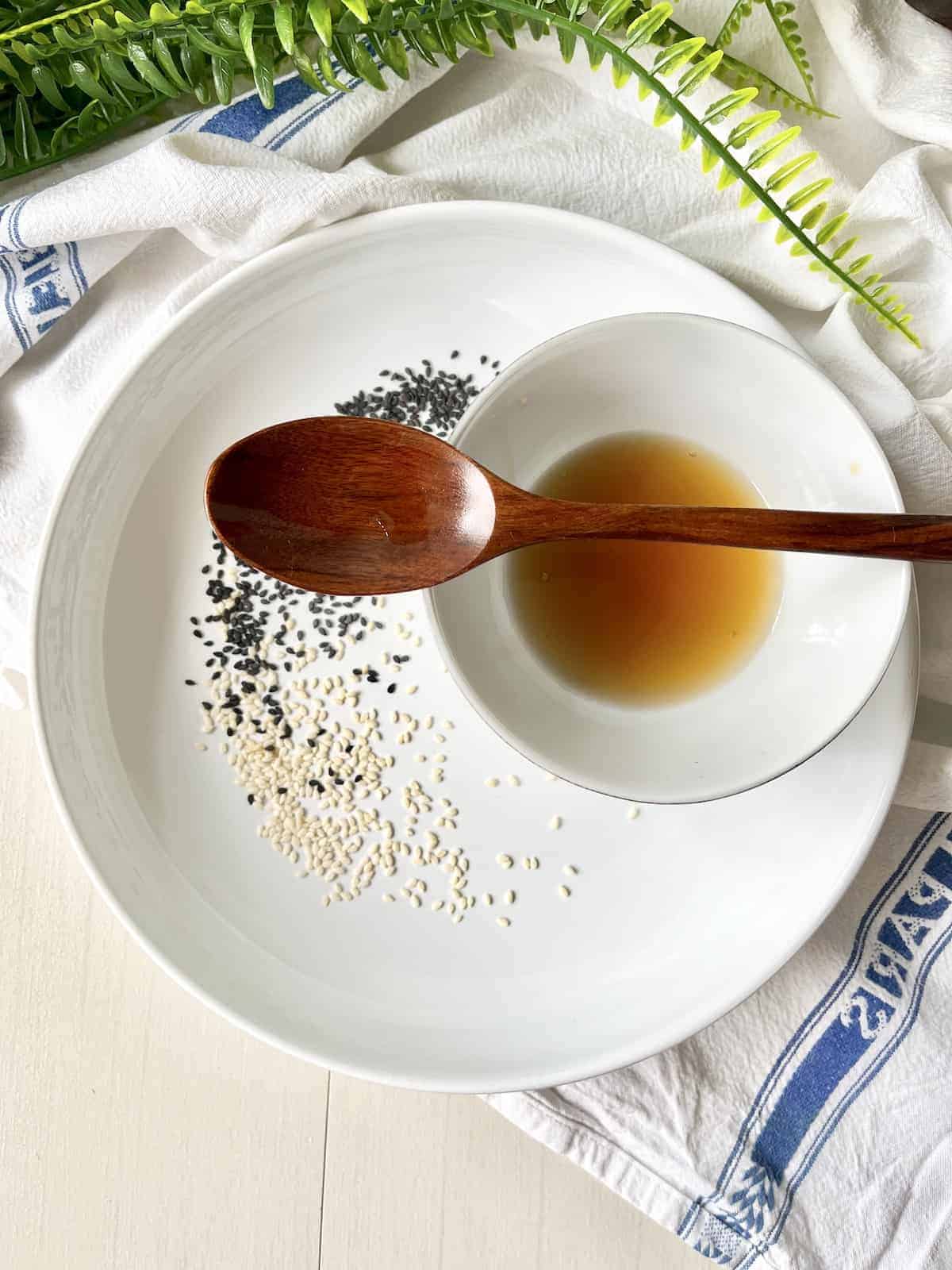 Sesame Seeds + Another Oil
You can make DIY sesame oil using white sesame seeds mixed with another neutral flavor oil, such as sunflower oil. Scroll down to the recipe card for more detailed directions.
Sesame Seeds
If you just need sesame flavor, but don't need it in liquid form, dry toast some sesame seeds and add that to the dish. For example, instead of adding sesame oil to a bowl of noodles, you could garnish it with the toasted seeds.
Sesame Paste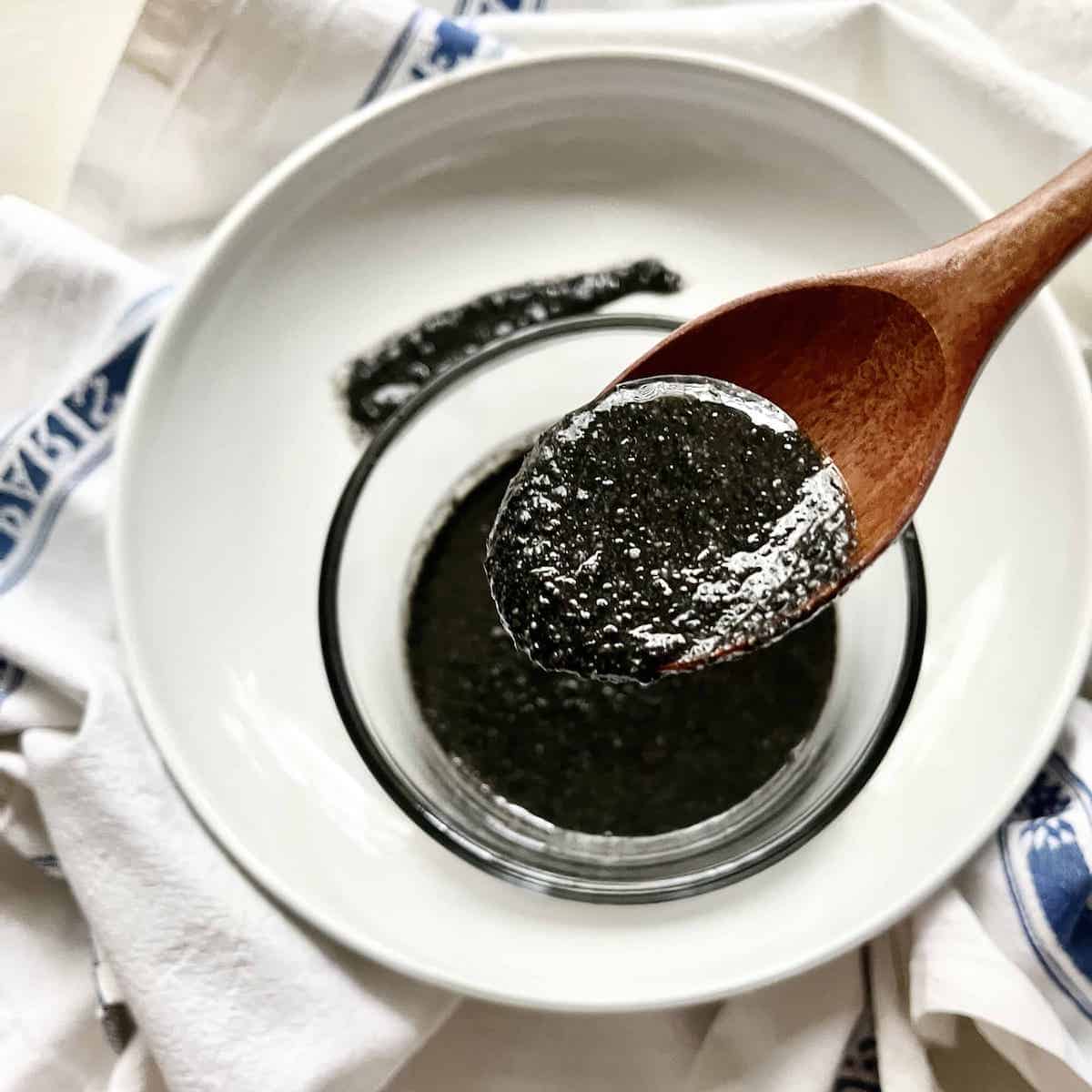 You can also use Chinese sesame paste (or Japanese) in place of dark sesame oil for marinades, sauces and dressings.
In a pinch, you can use tahini, but it's less ideal as it comes from raw sesame seeds, so tastes a little different.
Peanut Oil
Peanut oil (smoke point 440F) is another oil that is commonly used to stir fry and even deep fry Chinese food. (It's also used for snacks such as Chinese peanut cookies!) Like sesame oil, it also has a rich, nutty flavor.
Best of all, it's not that expensive compared to some of the other options on this list!
Other Nut Oils
You can also use other nut oils, such as almond oil (smoke point: 420F) and walnut oil (smoke point: 320 F), as sesame oil alternatives.
Both have rich, nutty aromas. Like dark sesame oil, they both have low smoke points and thus should not be used for cooking. They're best kept for salad dressings or toppings for cooked food (e.g. poured onto a bowl of ramen.)
Avocado Oil
When you're looking for a rich oil with a high smoke point (520F), but don't mind losing the nutty notes, you can use avocado oil in place of sesame.
Neutral Oil
For example, in Cantonese Soy Sauce Chicken, sesame oil is sometimes used to glaze the skin and make it look plump and inviting.
If you don't have sesame oil, you can use a neutral oil, like safflower oil (smoke point 510F), sunflower oil (smoke point 450F) or canola oil (smoke point 400F), in its place. (Don't use something like extra virgin olive oil, which has a distinct flavor that will be out of place in this dish!)
Obviously, the glazed dish won't have the sesame flavor, but you can always sprinkle some toasted sesame seeds on top!
Perilla Oil
Perilla oil has a similar rich flavor with a hint of anise/ licorice and an almost nutty taste. (Smoke point: 372F)
However, to be honest, unless you cook a ton of Korean food, it's harder to find than sesame so I don't think you would have it if you don't have sesame oil on hand!
Note: also, they're typically much more expensive than peanut oil!
Butter or Ghee
This may not seem like one of the best substitutes for sesame oil. However, did you know that in India, and some parts of Europe, 5-10% of margarine and hydrogenated vegetable fats is actually sesame oil? This is then added to butter or ghee!
Note: I suggest using clarified butter (smoke point: 482F) as regular butter has a lower smoking point (302F). Clarified, browned butter also has some nutty notes!
🥣 Homemade Sesame Oil
You can make your own sesame oil by stir-frying ½ Cup of sesame seeds and 2 Cups of another oil (choose 1 with a high smoke point) on low heat. Stir so that the seeds don't burn and allow the flavor to infuse into the oil.
Once the seeds have turned dark brown, switch off the fire. After cooling, blend the mixture, then use a fine sieve the filter out any unwanted particles.
Store the homemade sesame oil in the fridge and use it within a week. If it smells bad, toss it!
Note: use white sesame seeds, not black!
If you've found this list of sesame seed substitutes useful, would you like to sign up for my Asian recipes' newsletter?