I show you an easy homemade Gochuajng Paste recipe- with a shortcut for the fermentation (+ vegan option)- as well as how to turn the paste into a delicious Korean Gochujang sauce. (Gochujang Paste is different from Gochuajng Sauce- it's usually mixed with other ingredients and not really eaten on its own in Korea!)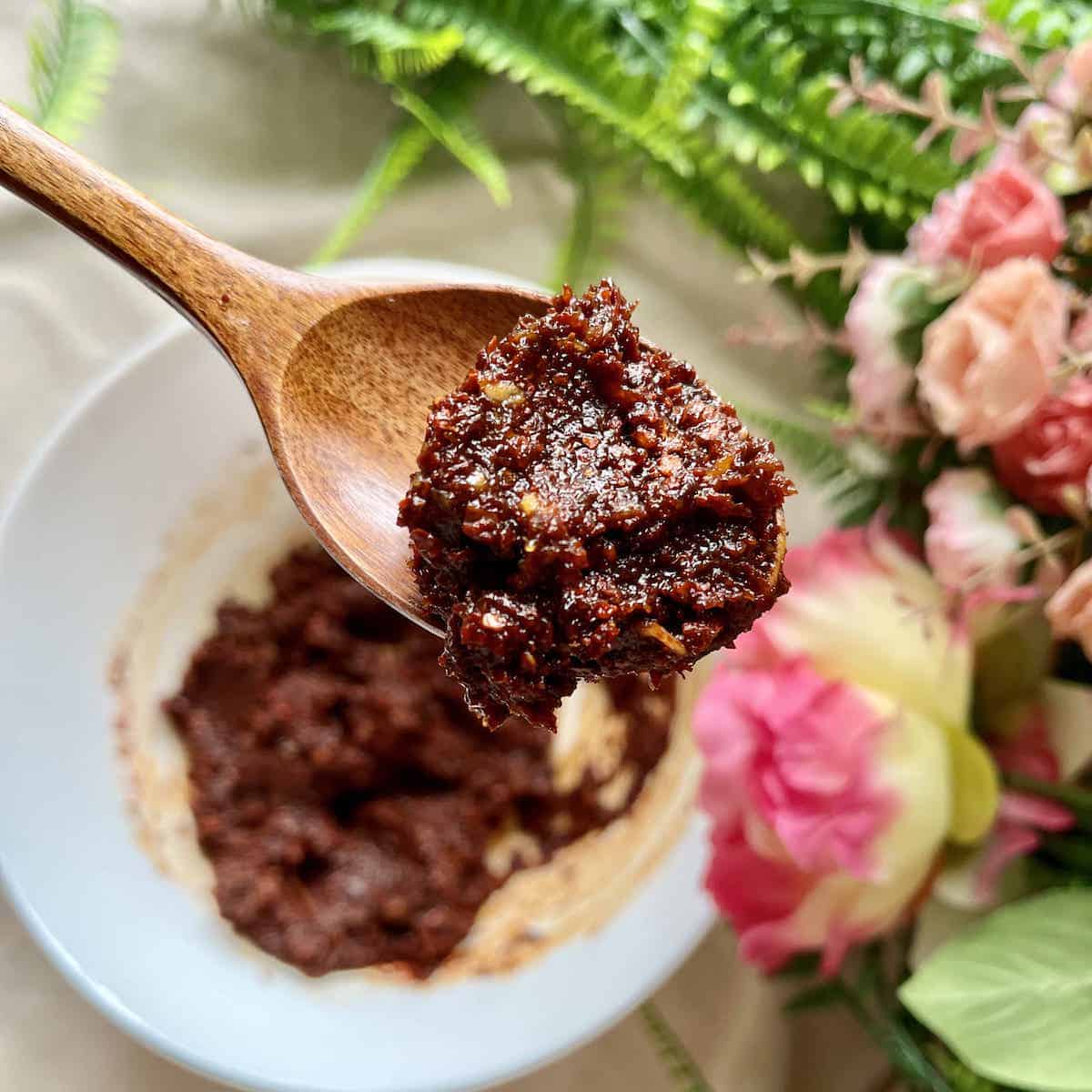 Jump to:
⭐ Why This Recipe is a Star
Easy: Typically Korean Gochujang Paste is fermented for ages to create the deep flavor. However, we're going to take a shortcut and mix a fermented base with some of its ingredients to create our own hack in 5 minutes!
Customizable: Gochujang is a delicious Korean condiment but unfortunately, it contains fish and is thus not vegan. Unlike shopbought Gochujang substitutes, homemade can be easily made vegan as well. No artificial chemicals and preservatives when you DIY too!
Hard to mess up: Gochujang sauce is really simple to make. You can play around with the ratios of the ingredients- it's kind of hard to go wrong! (The only thing that could happen is you could make it too spicy, but simply mix with dairy or add more sugar.)
Note: I show you how to make Gochujang Paste (a thick condiment, usually comes in a tub) AND Gochujang Sauce. Also known as Cho Gochujang or Chojang, this is a more liquid sauce made using Gochujang paste, and usually comes in a squeezy bottle (if buying a commercial brand.)
What is Gochujang Paste?
It's a fermented Korean ingredient, used in many Korean dishes, such as spicy dipping sauce, Korean scallion pancake, and homemade bibimbap sauce. You can find it in almost all Korean households.
These days, it's so mainstream, you don't have to go to the Korean grocery stores or Asian markets to get it. (Walmart, Trader Joe's and Whole Foods all stock it.)
It is a thick, deep red paste. The main ingredient is Korean chili powder (gochugaru), mixed with ground glutinous rice, fermented soybean powder, and salt. Sometimes other ingredients are added.
If you enjoy Korean cuisine, you need to keep this fermented paste in your fridge (or use my recipe to make your own!) It tastes a little spicy, a little sweet, with a deep, complex, umami flavor.
Shop-bought unopened Gochujang can be kept in a cool and dark pantry. Refrigerate once opened.
How to Use Gochujang Paste
This red pepper paste is used in so many Korean food recipes.
The most famous is gochujang sauce for bibimbap but it's also used in Gochujang Noodles, tteokbokki sauce (Korean rice cake), Gochujang Salmon, Korean BBQ or as a dipping sauce!
You can also use it drizzled on avocado toast, in salad dressings, marinades, to top noodle soups or mixed into rice bowls!
🥘 Ingredients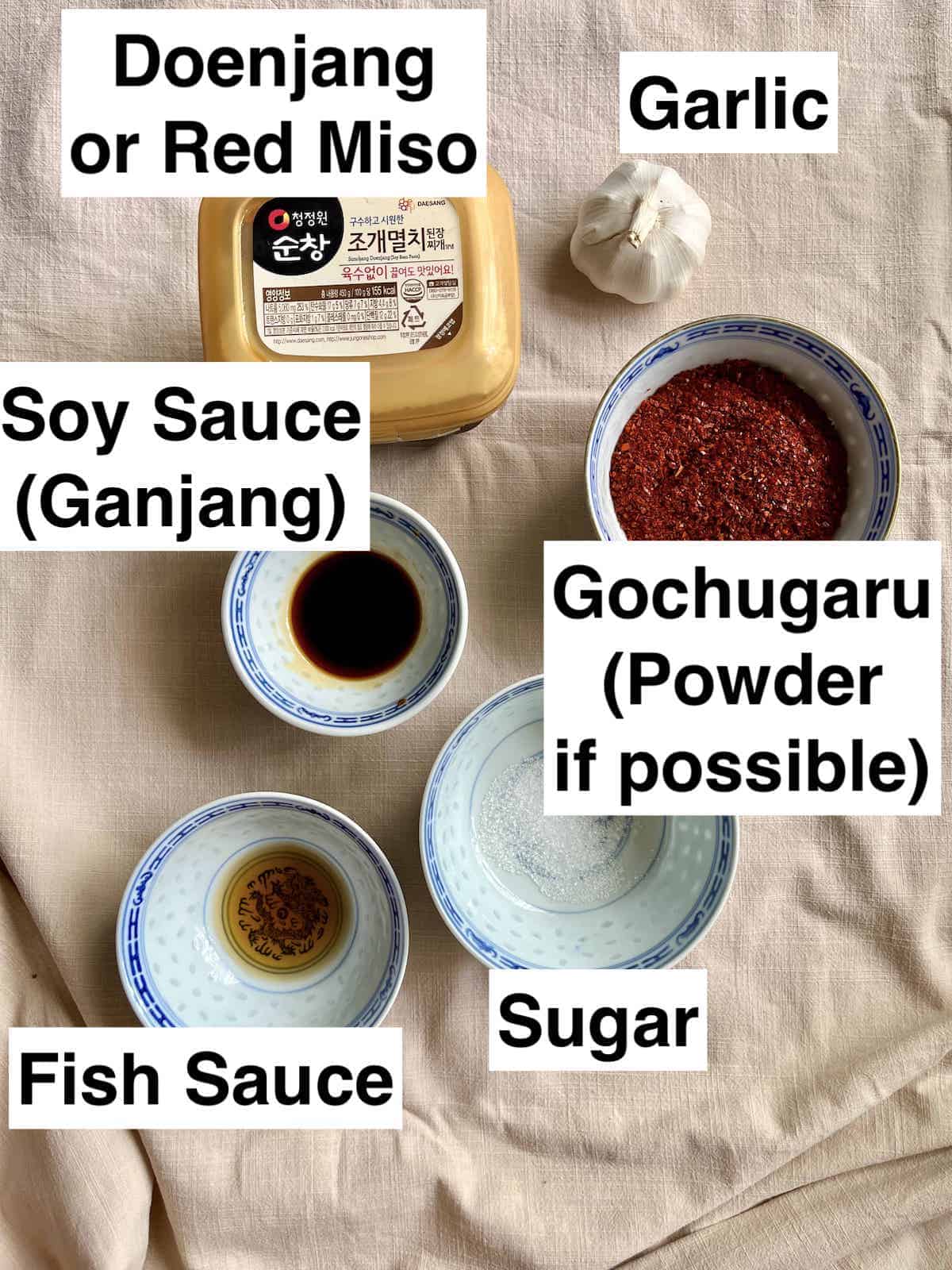 For DIY Gochujang Paste
You will only need a few simple ingredients for homemade Korean hot pepper paste:
Doenjang: This is Korean Fermented Soybean Paste. You can get it at Koeran grocery stores or online. If you don't have it, use Japanese Miso (choose a stronger miso like red miso.)
Gochugaru: This Korean red chili pepper powder will turn your brown miso paste red like Gochujang. Korean chili peppers are 1 of the key ingredients of (traditional) Gochujang, so do not omit them! They come in 2 grinds: bigger flakes and fine powder. I used the bigger flakes as that's what I had in my pantry, but I recommend the fine gochugaru powder for a better consistency in your homemade gochujang paste. Do NOT substitute with other types of chili flakes or chili powder. Even if you like spicy food, add with care. Some batches of gochugaru are VERY hot.
Sugar: both white and brown sugar work but use bone char free sugar if vegan. If not on a plant-based diet, you can use a neutral honey too. Some people like maple syrup.
Garlic: pound the fresh garlic cloves into garlic paste. If not, you can mince them or use garlic powder.
Korean Fish Sauce: Omit this if making vegan Gochujang. Substitute with Light Soy Sauce inatead. Use a Korean brand, and not Thai fish sauce.
Light Soy Sauce: Use Korean Light Soy Sauce. (Make sure it is NOT guk-ganjang, which is Korean Soy Sauce for soup!) Not the same as dark soy sauce or sweet soy sauce!
Note: you can also add some glutinous rice powder. Some recipes add water to make it more fluid, but I don't recommend it as it can shorten the shelf life.
To turn Gochujang Paste into Sauce
Mix the following:
Gochujang Paste: shop-bought or the homemade version you mixed up above
White Rice Vinegar: This is added to cut through the richness of the sauce. The "Cho" in Cho Gochujang, or Gochujang Sauce in Korea, refers to vinegar, so you can see what an important ingredient it is! If you can't get it, try a rice vinegar substitute. I recommend apple cider vinegar or white vinegar over lime juice.
Fish Sauce: substitute with light soy if you can't take the pungent smell.
Sugar: for sweetness to balance the heat. You can also use honey or maple syrup.
Sesame Oil: enhance the flavor with lighted toasted sesame seeds when garnishing the dish! NOT to be omitted if making the gochujang sauce for bibimbap. In fact, you may even want to add more!
Garlic and ginger: these are nice to have but don't sweat it if you don't have it.
Green Onions
water or chicken stock: I don't add any but you can if you want a thinner sauce. (Vegetable stock and dashi work too.) Alternatively, whisk in more sesame oil.
Tip: Gochujang also goes very well with dairy products such as butter and cream. You can use the recipe in this Creamy Korean Spaghetti for reference on the ratio of ingredients!
📖 Variations & Substitutes
🔪 Step-by-Step Instructions
For Homemade Gochujang Paste (Hack)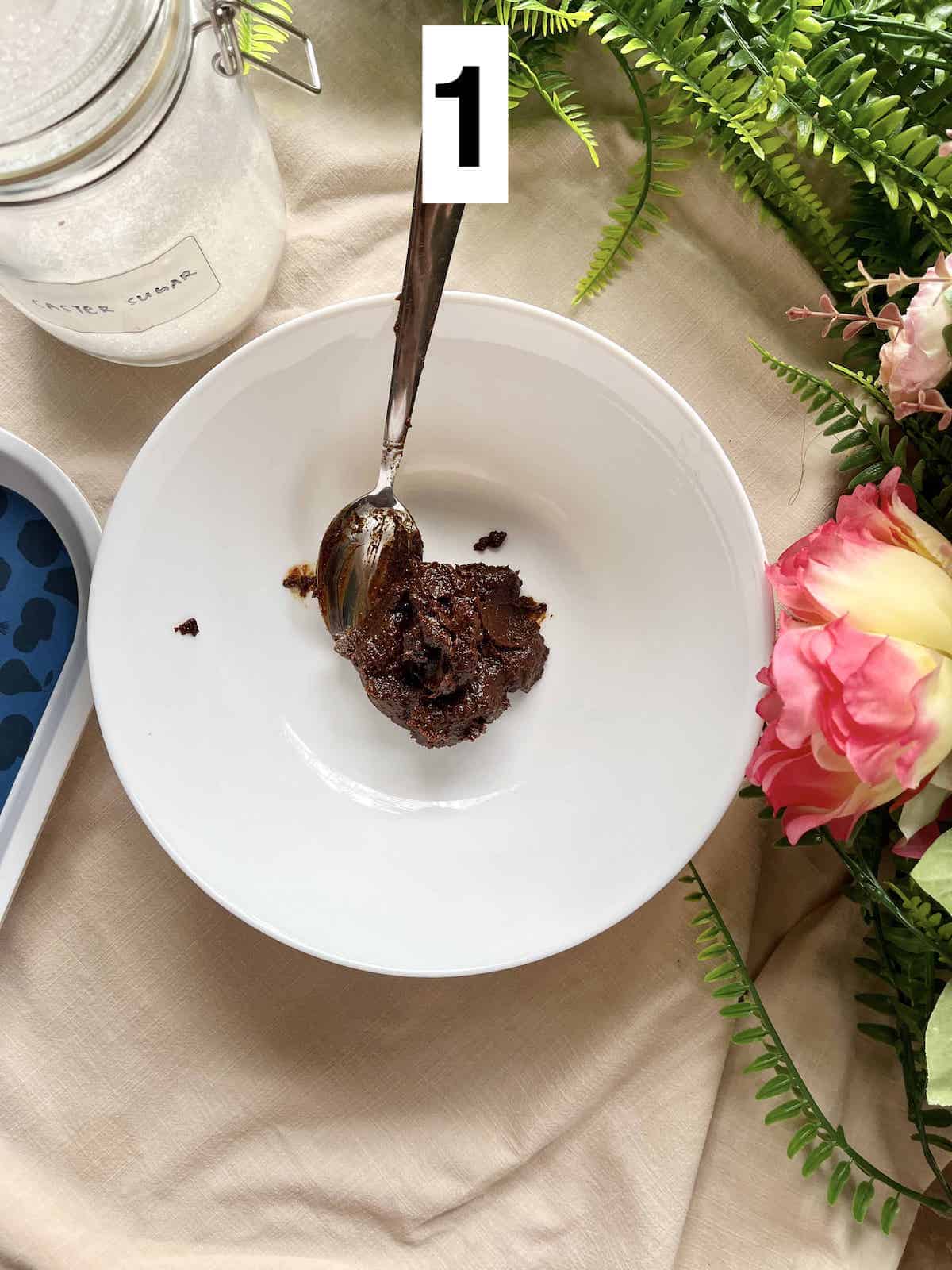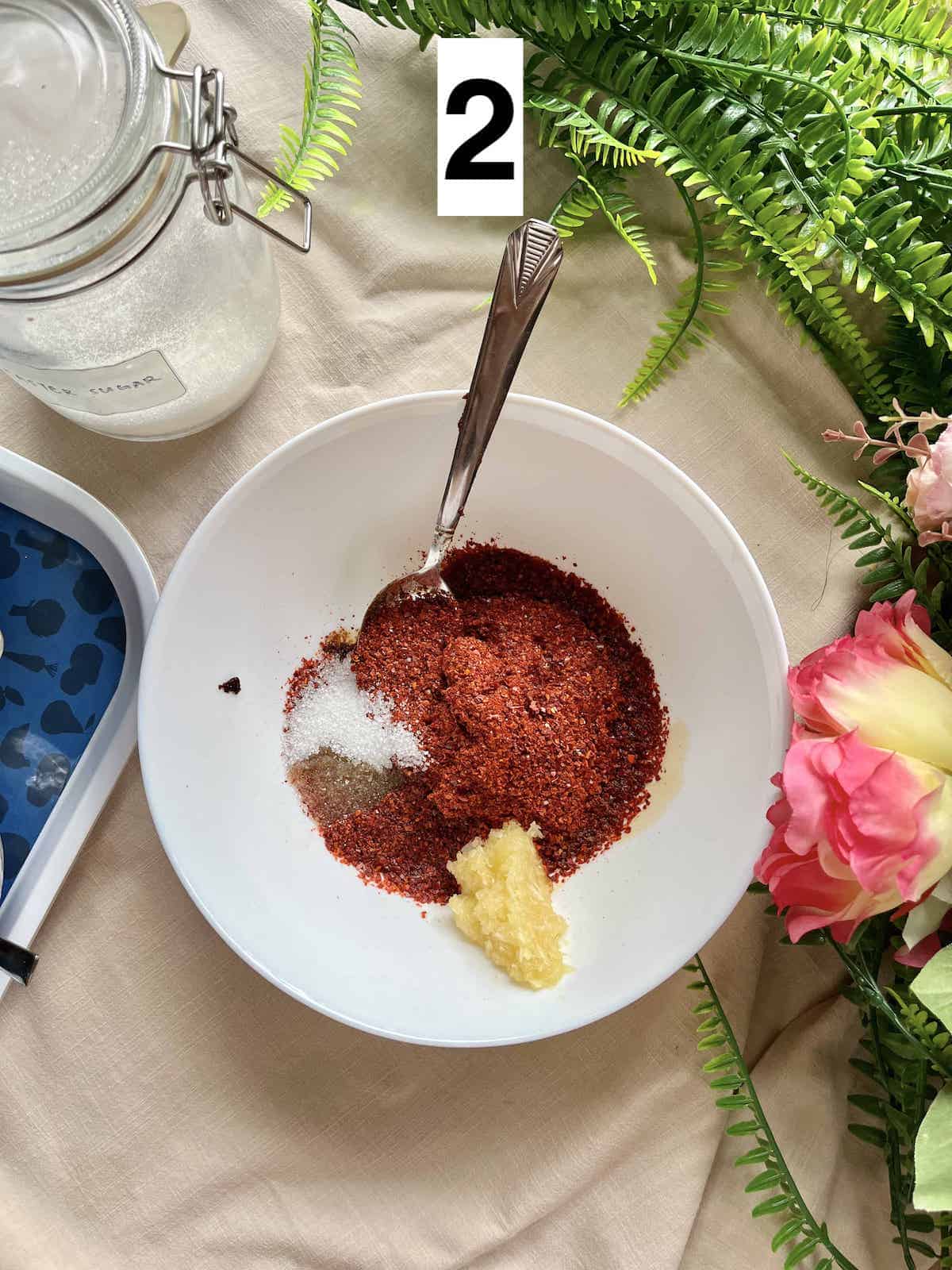 In a large bowl, mix all the ingredients till the chili powder has almost disappeared into the paste!
For Gochujang Stir-fry Sauce
Combine gochujang paste with the other ingredients in a small bowl. You may need more fish sauce or sugar, depending on how spicy your gochujang paste is.
🥡 How to Store
Store the paste in an airtight container in the fridge for 1-2 weeks, making sure you use a clean and dry spoon whenever you scoop.
For the gochujang spicy sauce, keep in the chiller for 2-3 days.
👩🏻‍🍳 Expert Tips
Tip #1: If buying gochujang paste to make gochujang sauce, check the spice level indicated on the red box. Some fermented Korean chili paste are spicier than others.
💭 Recipe FAQs
Can I eat raw doenjang or gochujang?
Both Korean pastes do not need to be cooked. Howevever, they are not usually eaten on their own.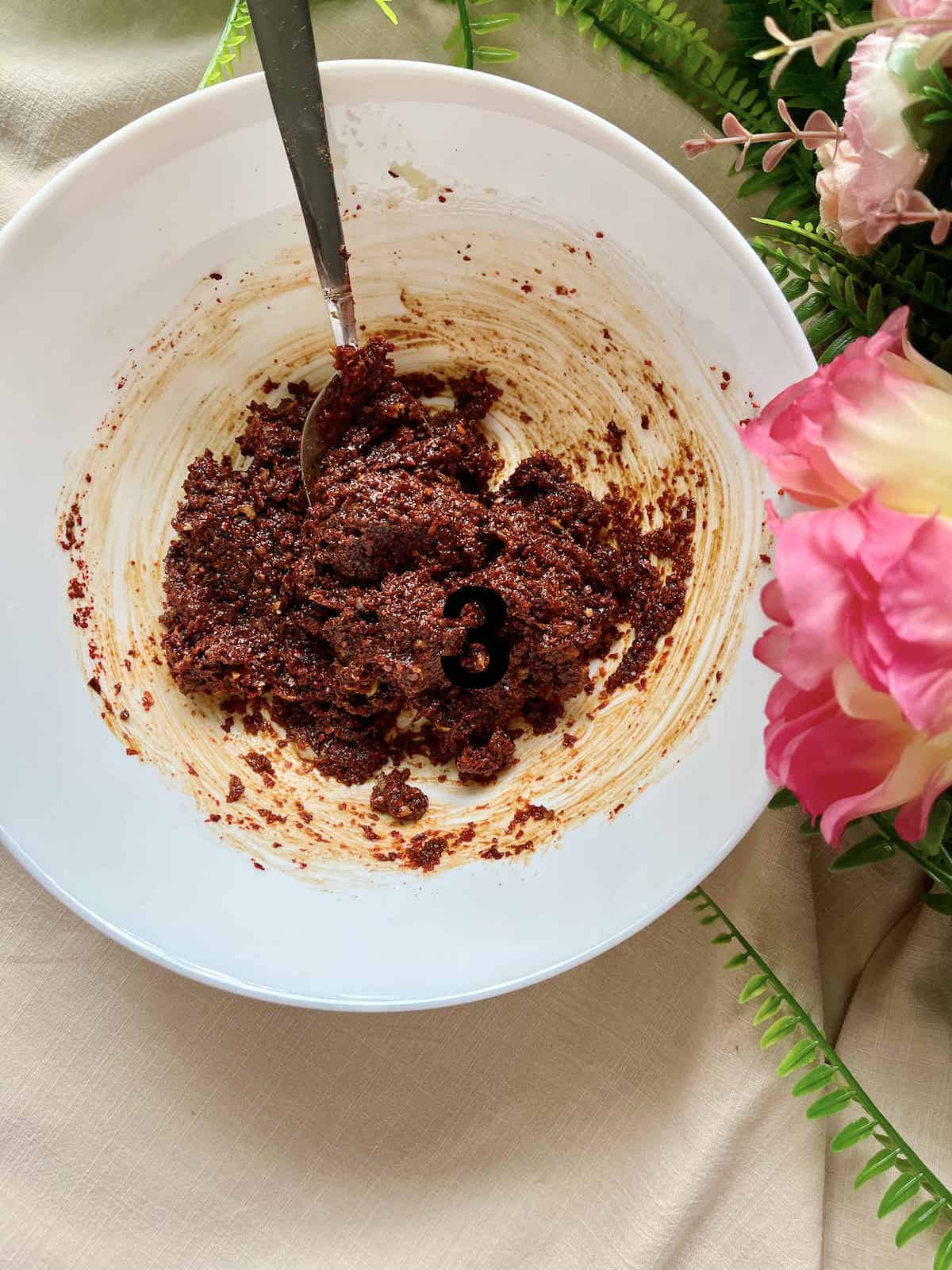 🥗 Use in These Recipes
Enjoyed this easy Korean Sauce Recipe? Please leave a 5-star 🌟🌟🌟🌟🌟rating in the recipe card below! If you REALLY liked this Gochujang Recipe, please consider supporting it by buying me a bottle of soy sauce! 🙂 (No obligation though!) Thank you and have a great day!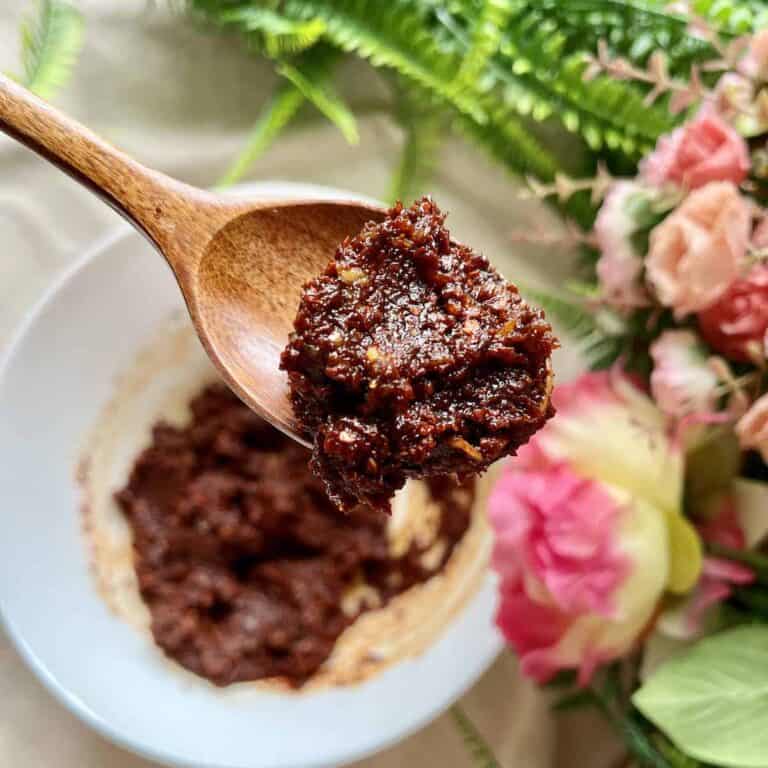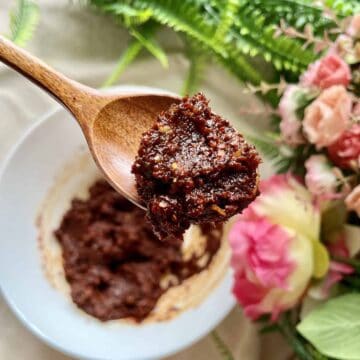 Korean Gochujang Sauce + Homemade Paste Recipe
I show you an easy homemade Gochuajng Paste recipe- with a shortcut for the fermentation (+ vegan option)- as well as how to turn the paste into a delicious Korean Gochujang sauce. (Gochujang Paste is different from Gochuajng Sauce- it's usually mixed with other ingredients and not really eaten on its own in Korea!)
Equipment
Mortar and pestle OR knife and chopping board

Bowl and spoon
Ingredients
For homemade Gochujang Paste
5-6

Tablespoons

gochugaru powder Start by adding 3 Tablespoons, taste and see if you want to add more. Each gochugaru crop has a different level of spice and you don't want it too hot!

8

cloves

garlic

peeled and preferably pounded. If not, smash and mince.

1

Tablespoon

Korean fish sauce Or to taste, as every doenjang brand has a different level of salt. Substitute with light soy sauce if vegan and coconut aminos or tamari if vegan AND GF.

1

Tablespoon

Korean Light Soy Sauce

Or to taste, as every doenjang brand has a different level of salt. Use coconut aminos or tamari if gluten-free.

1

Tablespoon

sugar

Use bone char free if vegan. Or to taste as the amount of sugar needed really depends on the spiciness of the chili flakes. (Spicier foods need more sugar for balance.)
For Gochujang Sauce
3

Tablespoons

Gochujang Chili Paste

The one made above or shopbought.

4

cloves

garlic

peel and mince. If you're lazy, you can skip this ingredient.

1

inch

ginger

peeled and grated. If you're lazy, you can skip this ingredient- the sauce will still be tasty.

1

Tablespoon

fish sauce

Substitute: light soy

1

Tablespoon

white rice vinegar

1

Tablespoon

sugar

½

Tablespoon

sesame Oil

Optional garnish: 1 sprig green onions, sliced thinly and 1 teaspoon lightly toasted white sesame seeds
Instructions
For Gochujang Paste
In a large bowl, mix all the ingredients together till well-combined.
For Gochujang Sauce
Combine all the ingredients and mix well.
Notes
Other uses for the Gochujang PASTE: sauces for roasted vegetables or marinade for grilled meat. See the recipe post for recipe links.
How to use Gochujang SAUCE: pasta sauce, noodle topping, bibimbap sauce, tteokbokki rice cake sauce, fried rice sauce etc
Note: the nutritional information is an estimate automatically calculated using the WPRM recipe maker and I am not responsible for its veracity.
Nutrition
Calories:
539
kcal
Carbohydrates:
91
g
Protein:
22
g
Fat:
17
g
Saturated Fat:
3
g
Polyunsaturated Fat:
8
g
Monounsaturated Fat:
5
g
Sodium:
7071
mg
Potassium:
1418
mg
Fiber:
19
g
Sugar:
38
g
Vitamin A:
12023
IU
Vitamin C:
20
mg
Calcium:
268
mg
Iron:
10
mg
If this Gochujang Sauce recipe was helpful, maybe you'd like to sign up for my newsletter in which I send you more tips and tricks to make authentic Asian food?