An easy 5-ingredient Gochujang Butternut Squash recipe that is bursting with flavour. The hardest thing about this roasted Korean butternut squash recipe is cutting the squash!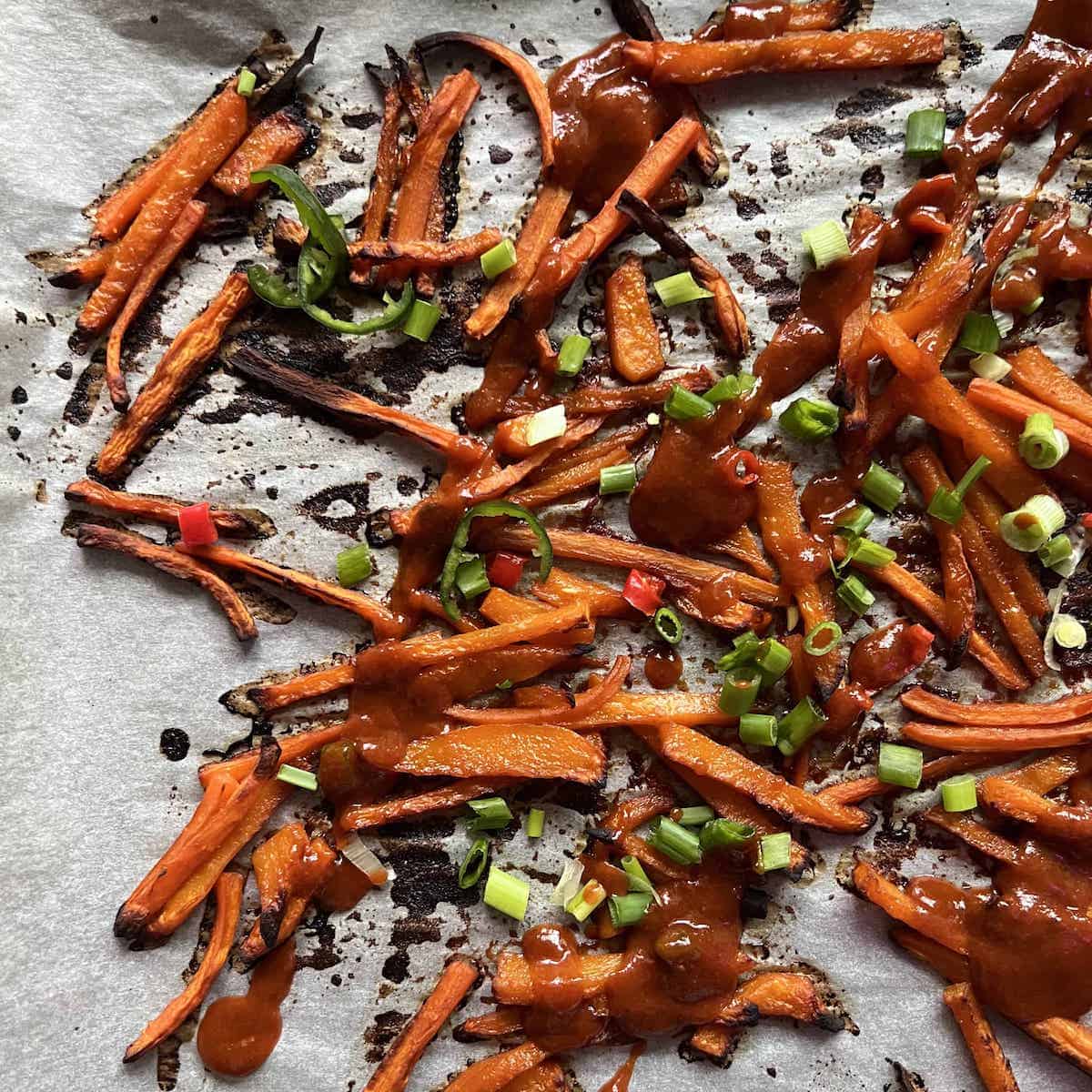 Jump to:
Why Make This
Gochujang butternut squash is delicious: the complex, deep flavors of gochujang go really well with the sweentess of the squash.
It's super easy: mix the sauce with the cut squash, bake and you're done!
What is Gochujang?
This thick red chilli paste is the cornerstone of Korean dishes such as bibimbap and tteokbokki. Recently, it has become very popular in the West too, and there are many fusion gochujang recipes around, such as this Gochujang Roast Chicken.
Gochujang (고추장) is fermented and thus has a very complex taste: at once spicy, sweet and savoury. It is usually made from gochugaru (Korean chili powder), glutinous rice, meju (fermented soybean), yeotgireum (barley malt powder), and salt, although many traditional households have their own secret recipes.
Note: This Korean-inspired side goes particularly well with cheese and other dairy products, and makes for a great side dish for breakfast or for chicken tenders and teriyaki chicken meatballs! For more Korean side dishes, click here.
Ingredients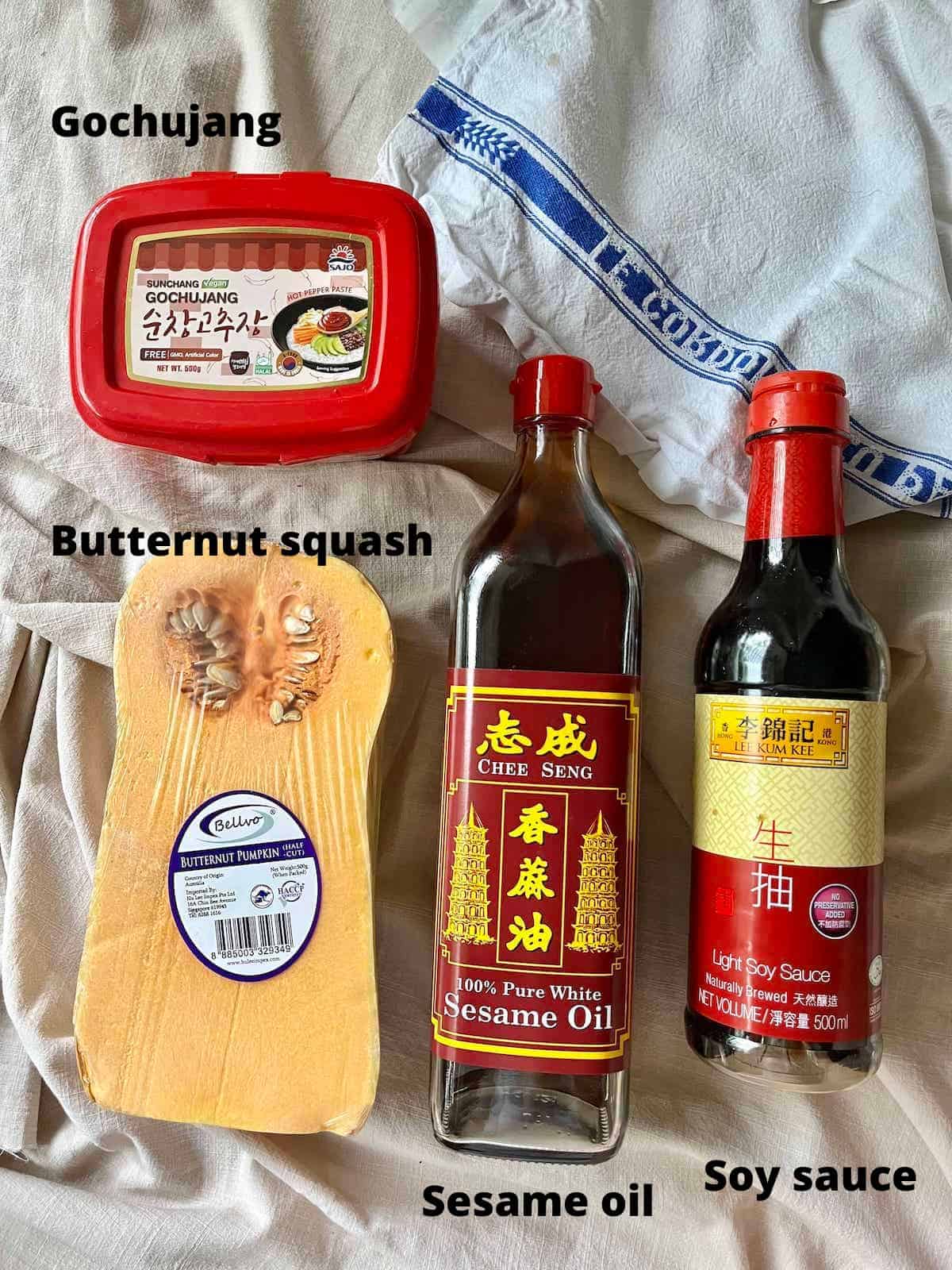 This delicious butternut squash gochujang recipe only calls for 5 ingredients but tastes like it has a whole lot more things packed into it! You will need:
Note: For more 5-ingredient, Asian recipes, click here.
How to Store
Leftovers (cooked) can be stored in an airtight container in the fridge for 3 days.
If you've cut your butternut squash but not had time to roast it with the gochujang sauce, you can keep the uncooked pieces in the fridge for 3-5 days.
Expert Tips
Tip #1: If you have time, leave the butternut squash to marinate in the sauce for 15-30 minutes before cooking. A lot of water will be drained out and you can use the leftover marinade to make a sauce, which can be used as a dip for the squash or as a pasta sauce. (Simply thicken it with cornstarch.)
Tip #2: Many gochujang recipes call for garlic, but I find it's not really necessary in many recipes, such as this one and Gochujang Korean Salmon, as this Korean sauce is so strong in flavour. If you do want to add garlic, you can use minced garlic or garlic powder. (Mix the garlic powder well or it will end up clumping in the sauce.)
Tip #3: For more variety, you can bulk up this butternut squash gochujang traybake with carrots, sweet potato etc
Tip #4: Gochujang is spicy so if you're not good with spice, maybe prepare a cup of milk or yoghurt on the side- they help to reduce the heat!
Tip #5: Make sure the squash is spread apart on the baking tray, if you want them to be crispy. If not, they'll release water and end up steaming themselves in the oven.
Tip #6: Save the seeds and grow yourself more squashes- they can even grow on the balcony of a flat in a tropical country like Singapore! For recipes of other Asian herbs and veggies that you can grow, click this link.
FAQ
Is butternut squash good for you?
It is rich in potassium, which helps control blood pressure (However, some people have too much potassium and should avoid potassium-rich foods.) It also contains fibre, which may help to keep you full for longer. 1 serving provides you with more than your daily required amount of Vitamin A and almost ½ that of Vitamin C.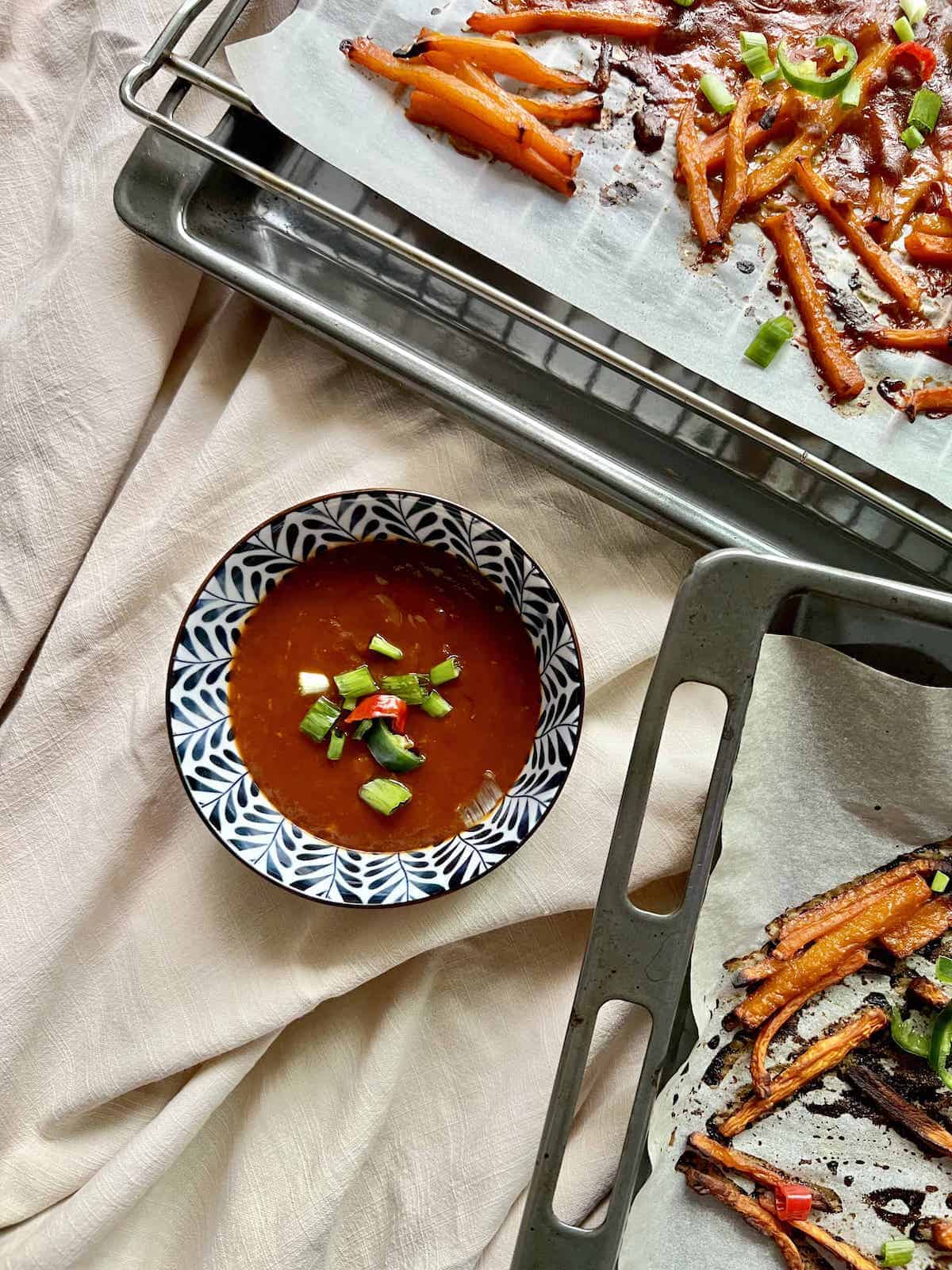 Other Korean Recipes
Enjoyed this savory Gochujang Butternut Squash recipe? Please leave a 5-star 🌟🌟🌟🌟🌟rating in the recipe card below & if you REALLY like it, I'd love a comment. Thank you and have a great day!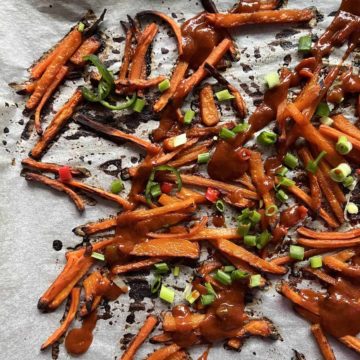 Easy Gochujang Butternut Squash recipe
An easy 5-ingredient gochujang butternut squash recipe that is bursting with flavour. The hardest thing about this roasted Asian butternut squash recipe is cutting the squash!
Equipment
Knife and chopping board

Baking tray & parchment paper

I needed 2-3 trays to spread out my squash slices.
Ingredients
1

small

butternut squash, cut into small pieces

Cubes or julienned- the smaller they are, the quicker they cook. Substitute: pumpkin, kabocha, sweet potato and carrots.

¼

Cup

gochujang sauce

Use a vegan brand if vegan

⅕

Cup

Sesame Oil

Substitute: other vegetable oils

⅕

Cup

Light Soy sauce

Don't use thick soy, dark soy or sweet soy- they're different sauces!

Shredded mozzarella cheese

Optional topping. Can substitute with other cheeses

Spring onions (sliced), chillies (sliced), sesame seeds (toasted)...

Optional garnishes
Instructions
Roasting the butternut squash
Mix the gochujang, soy sauce and sesame oil well. Add the butternut squash slices and toss in the sauce till all the pieces are coated.

Leave for 15- 30 minutes. Water will have oozed out at the end of the marinating period. (You may want to start pre-heating the oven at 400F/ 198C fan at this stage.)

Line baking trays with parchment paper and spread the slices of squash on them in 1 layer. Make sure they're not too close or they will steam in the oven and not become crisp.

Sprinkle the cheese on top.

Bake for 20-30 minutes, till edges are brown and squash is cooked.

Remove from oven and garnish with the scallions, sesame seeds and chillies.
Making the sauce
Whilst the butternut squash is in the oven, heat the remaining marinade in a pan.

If you want it to be thicker, add some cornstarch or potato starch, stirring well to make sure it doesn't clump.

This sauce can be a dipping sauce for the squash fries or chicken tenders, or used to cook pasta or fried rice.
Notes
Keep the butternut squash seeds so you can grow your own!
Note: the nutritional information is an estimate automatically calculated using the WPRM recipe maker and I am not responsible for its veracity.
Nutrition
Calories:
205
kcal
Carbohydrates:
27
g
Protein:
4
g
Fat:
11
g
Saturated Fat:
2
g
Polyunsaturated Fat:
5
g
Monounsaturated Fat:
4
g
Sodium:
659
mg
Potassium:
748
mg
Fiber:
4
g
Sugar:
6
g
Vitamin A:
19965
IU
Vitamin C:
42
mg
Calcium:
96
mg
Iron:
2
mg
What are some of your favourite Asian butternut squash recipes?