Breakfast Sides that make the most of simple ingredients, take your morning meal to the next level and start your day on a good note!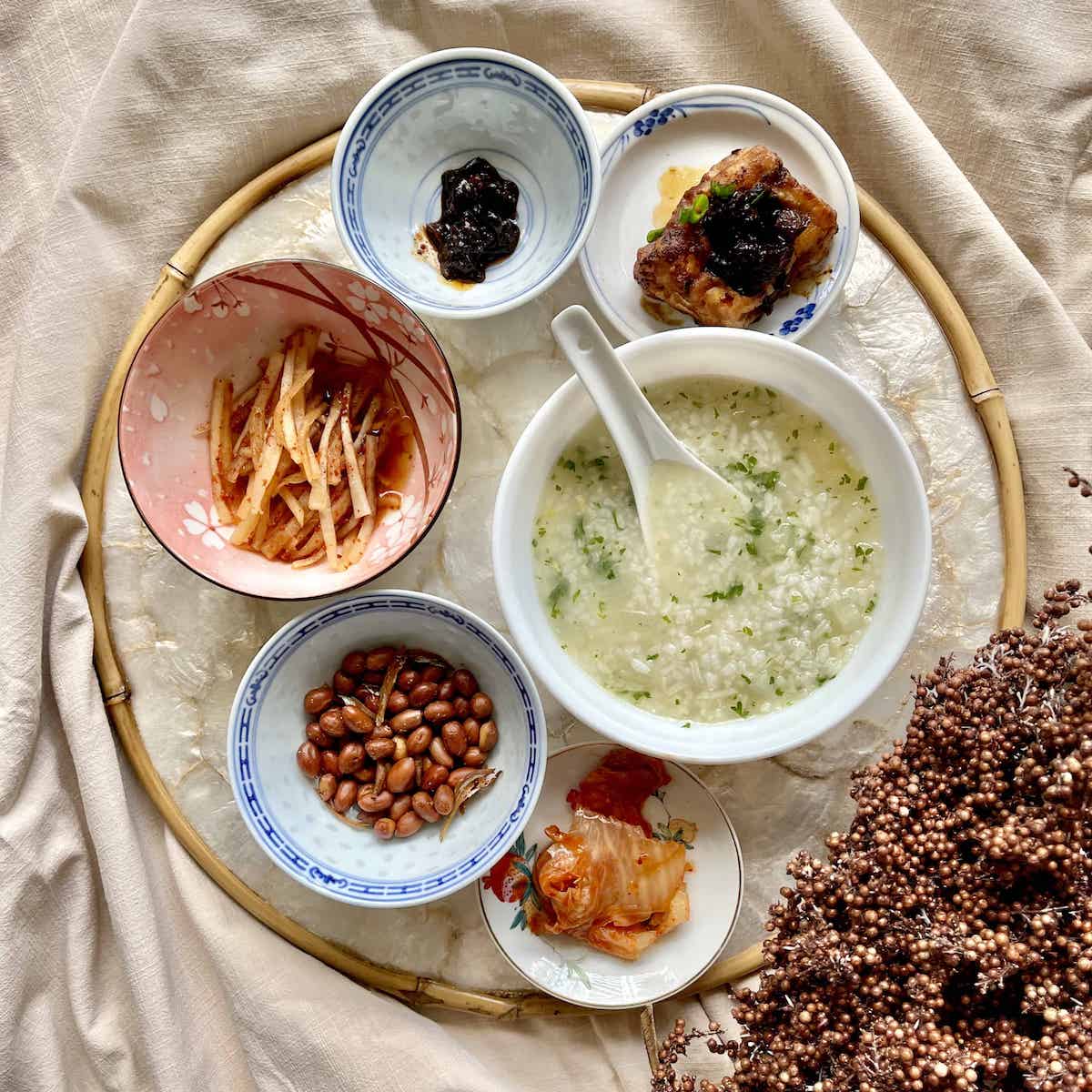 Jump to:
Asian breakfasts are typically savoury, unlike the Western meal of cereals or bread. These easy Asian side dishes for breakfast only need a handful of ingredients, are simple to make and are a great way to start one's day!
For more Asian sides, check out this list of Taiwanese side dishes! If you're looking specifically for traditional Chinese breakfasts, this is the link for you.
Fruits
Fruit Salad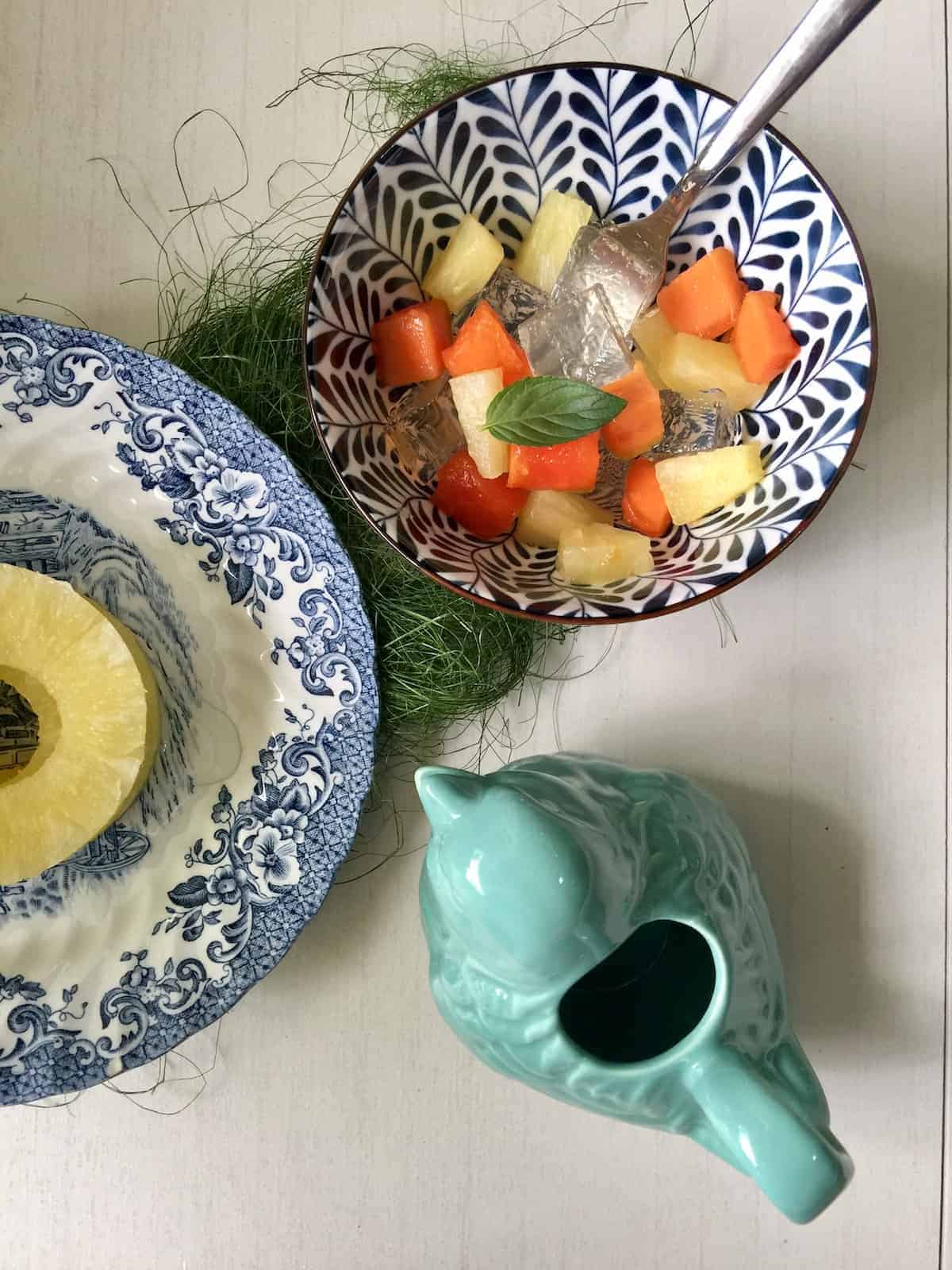 Instead of Greek yogurt with fruit compote, why not try some Japanese fruit jelly salad?
Mix your favorite fruits with fibre-rich (almost zero-calorie!) konnyaju jelly cubes to make this healthy and delicious fresh fruit salad, which is one of the healthier options out there. Add some citrus fruits- the tangy flavor is a perfect way to awaken your taste buds and start the day on a good note!
Expert tip: This fruit jelly salad can be kept in the fridge for 2-3 days, so you can prepare them the night before. It's delicious, refreshing and easy to make- the perfect breakfast side for a hot summer's day!
Lime Curd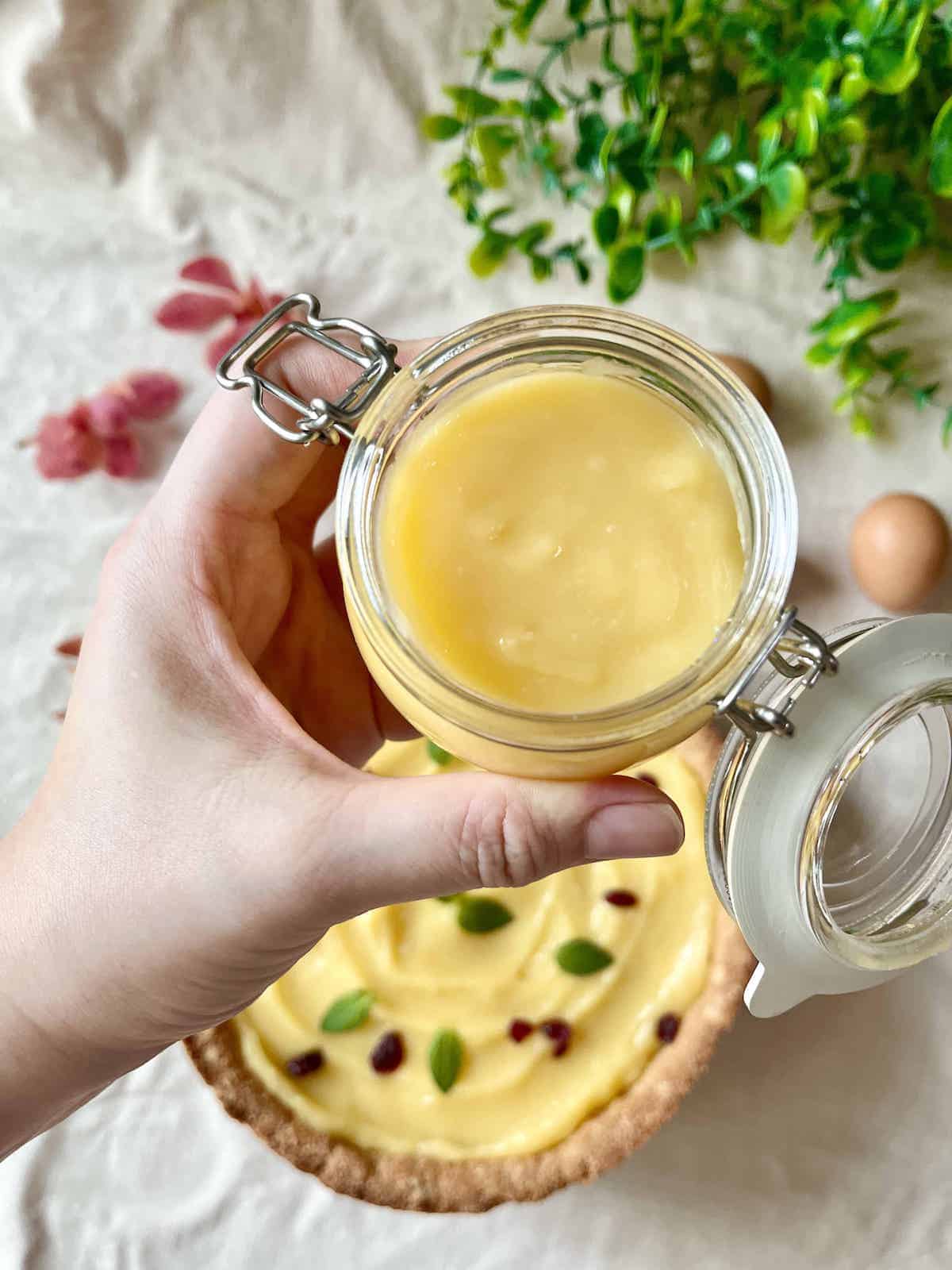 This easy calamansi lime curd with whole eggs recipe goes really well with toast or cake!
Even better, you only need 4 ingredients, no special equipment and 30 minutes!
Fruit Milkshake
Or turn your fruits into a drink!
Starting the meal with a filling fruit beverage, such as this old school Taiwanese Papaya Milk helps to pad your stomach and make sure you don't overeat! All the fibre keeps you really full too.
Blueberry Matcha Latte
A luxuriously sweet, creamy and easy to make in 15 minutes drink with only 4 ingredients! The milk and blueberries in this Dunkin Donuts Blueberry Matcha Latte fill you, whilst the matcha wakes you right up!
Tip: It's great warm in fall and winter, or iced in summer!
Yogurt
Greek yogurt and kefir are both good breakfast sides for your digestive systems- swirl in some calamansi lime curd and sprinkle some nuts, seeds or granola on top to make them even tastier!
Serve with this immune-boosting golden turmeric tea for a healthy start to the day.
Bread
Mantou Buns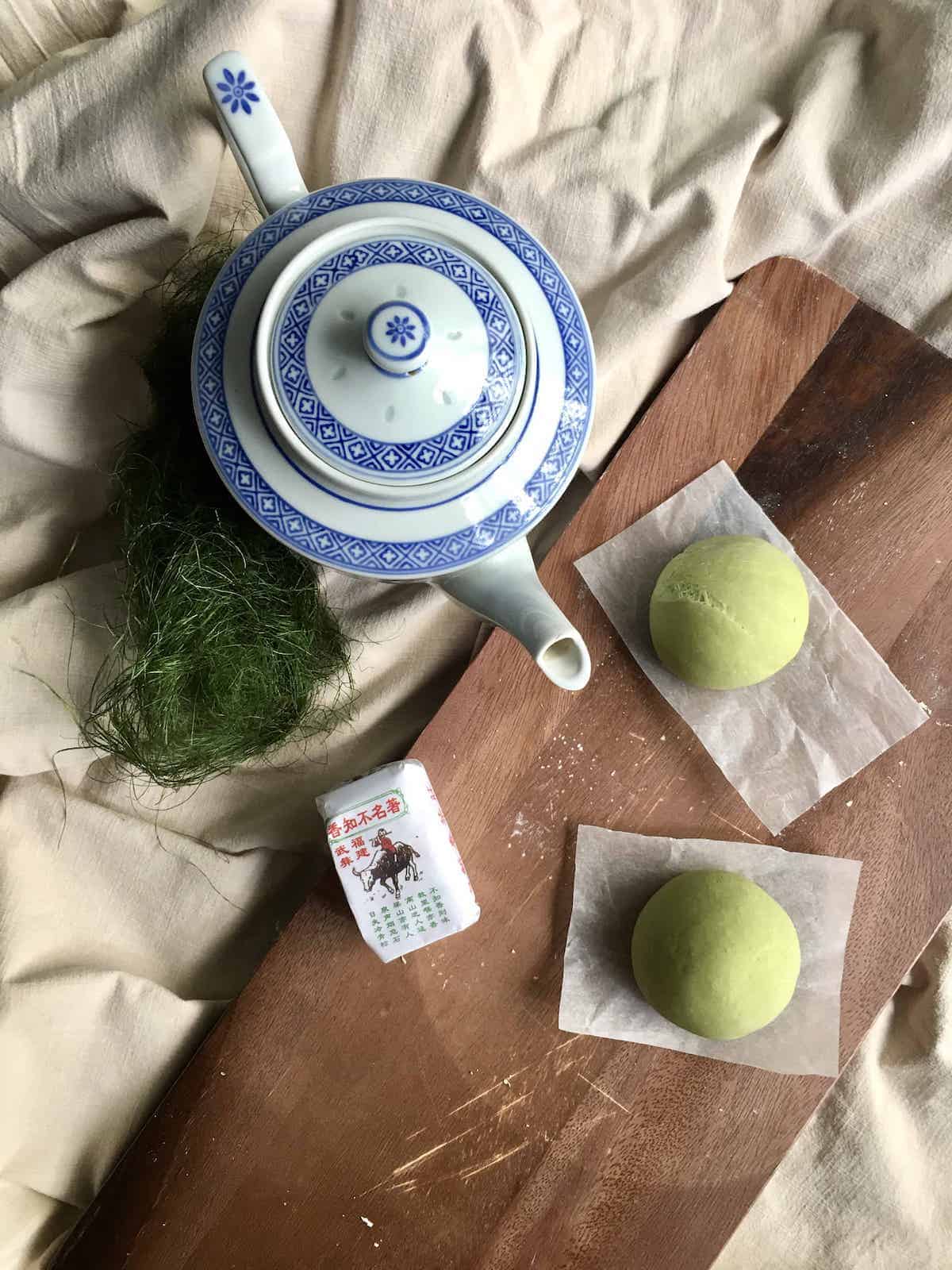 Skip the scones, cinnamon rolls and sticky buns for your breakfast meal, and try some soft Asian bread instead!
You can dip them in brown sugar sauce, condensed milk, maple syrup, Gula Melaka caramel or, if you prefer a savoury breakfast, curry!
Pair these soft green tea buns with a steaming hot matcha latte or these pandan rolls
In my opinion, Chinese steamed buns some of the best breakfast side dishes ever, especially since they're easy to batch make and freeze, and can be steamed from frozen. No need to fuss about defrosting so early in the morning!
Expert tip: These Chinese buns can also be popped into the air fryer. You also don't need a bamboo steamer for these buns- my Matcha Mantou post shows you how to get smooth buns with a regular steamer!
Other Asian breads
If you don't fancy mantou bao buns, why not try 1 of these 11 different Asian breads? The Japanese milk bread, for example, would taste delicious with this olive cream cheese spread and this sweet and creamy Japanese tea.
Muffins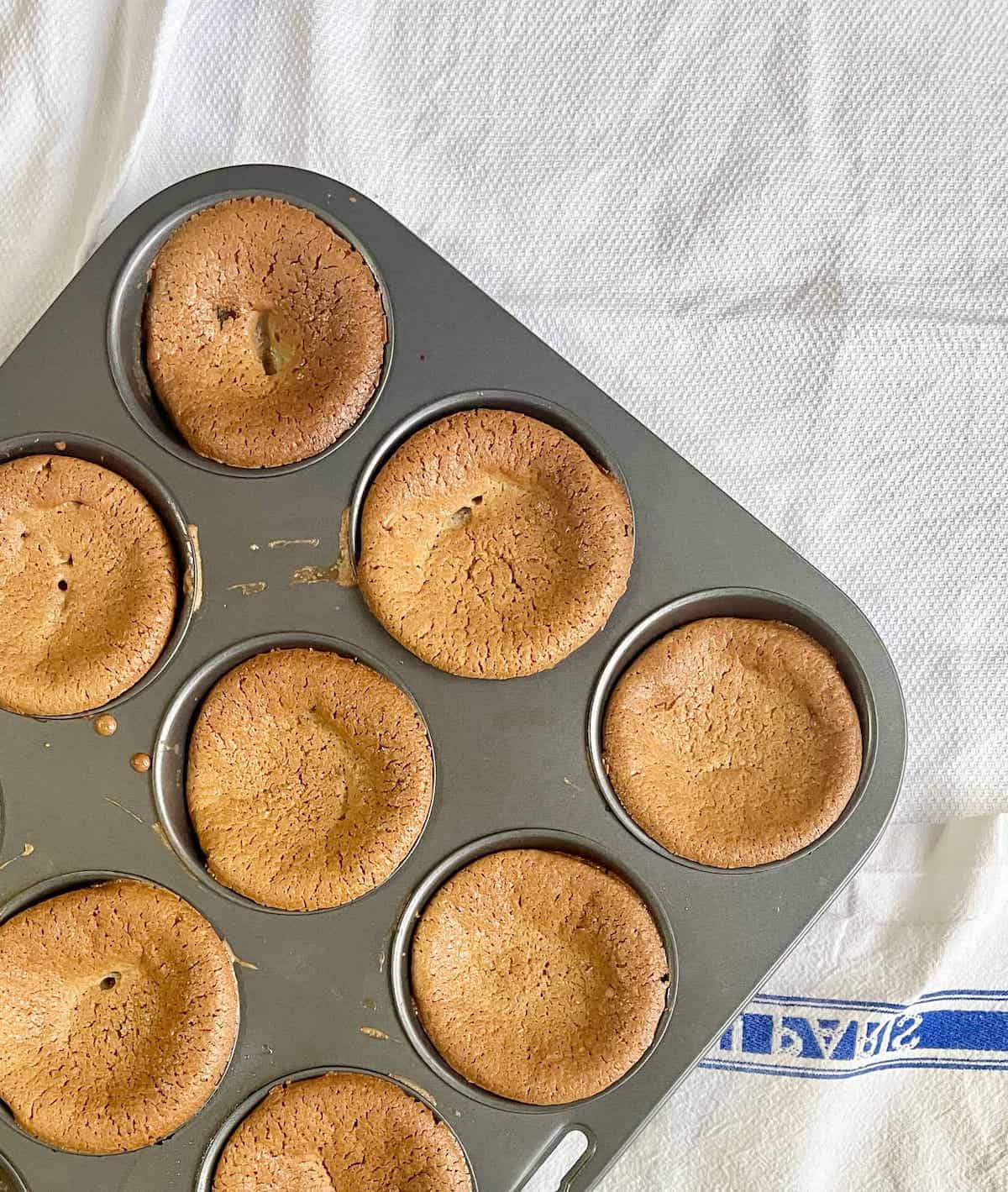 Mochi muffins are a nice and chewy breakfast side dish.
Try these not-too-sweet QQ matcha mochi cupcakes or these Hojicha Mochi Cupcakes if vegan.
To make it a full-fledged Asian spread, pair it with bubble tea such as Brown Sugar Pearls Milk Tea or Jasmine Flavored Milk Tea. Or, if you really love the roasted flavor, this Hojicha Latte!
Pancakes
Cong You Bing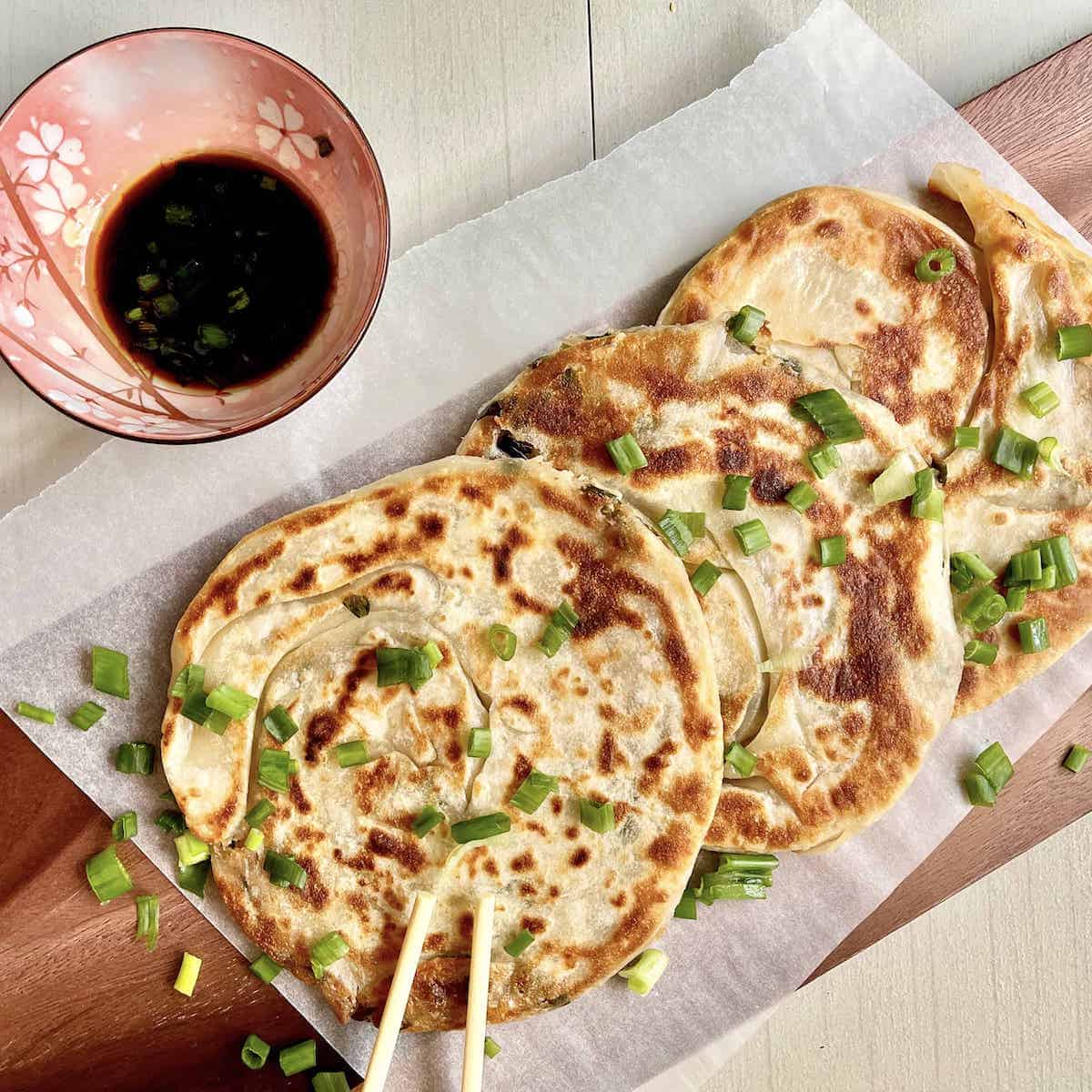 Instead of a sweet German pancake, try these savory spring onion pancakes! They're soft and flaky on the inside, but crispy on the outside- a great side dish with sausages or Canadian bacon! Pair this popular breakfast side with this Starbucks inspired chocolate mocha recipe.
Expert Tip: Like the mantou, these freeze well, and you can cook them directly from frozen.
Pandan Pancakes
Or, if you like to start your day on the sweet side, how about these sweet South East Asian pandan & coconut rolled-up crepes?
Alternatively, click here to try Chinese potato pancakes or some of these Asian potato dishes!
Mushrooms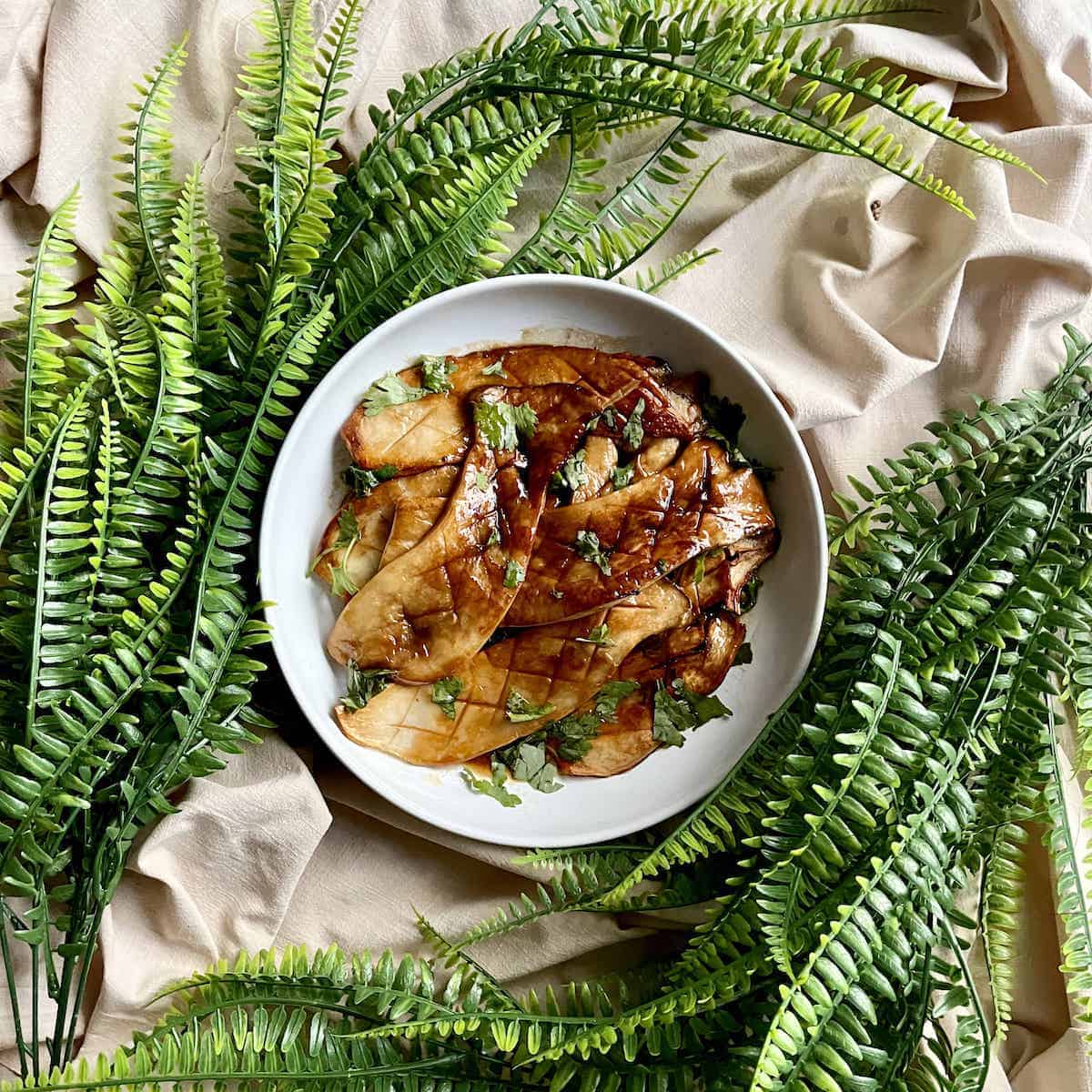 Give the standard English big breakfast a twist by serving caramelized bacon, golden brown sweet potato hash, Chinese sausage patties and easy butter soy mushrooms. These mushrooms are literally the simplest thing you could cook early in the morning, making them a great side dish for lazy people like me!
If soy and butter aren't your thing, you may want to check out this list of 19 Asian mushroom recipes. (If it is your thing, you may like this soy butter popcorn recipe!)
Expert Tip: you can cut the mushrooms the evening before, so you only have to fry them in the morning.
Porridge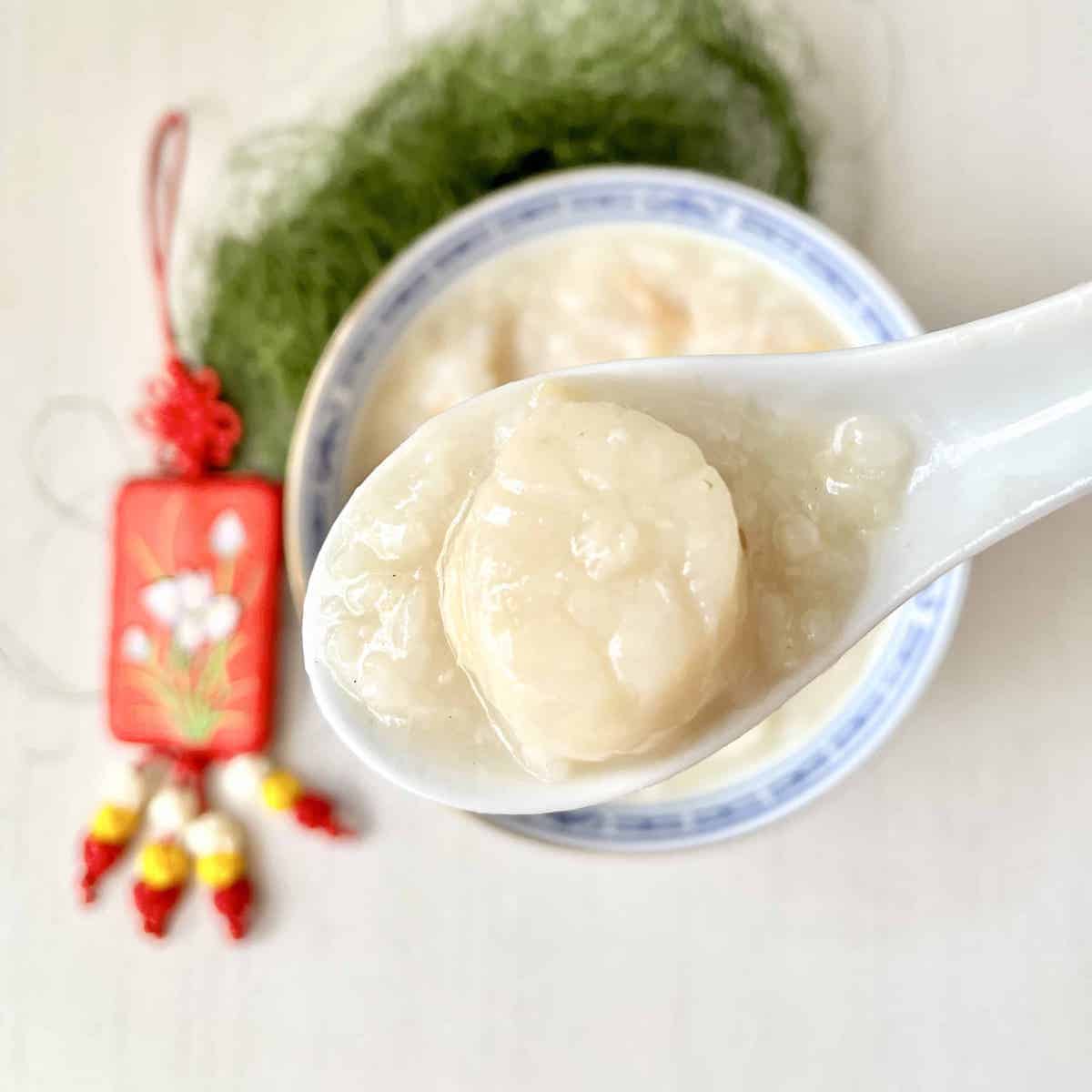 Asians love their breakfast hearty. Instead of oatmeal porridge, we often have a bowl of hot rice porridge (or even noodles!) early in the morning. Some favorite congee flavors include:
P.S. Here are some great condiments to top your congee with, such as salted eggs, and some of the best congee sides. Pair it with this Hong Kong Cha Chan Teng Coffee MilK Tea to make it an authentic Cantonese breakfast!
Expert tip: You can leave the pot of rice porridge simmering on the stove, and just give it a stir every now and then, allowing you the time to get ready for the rest of your day.
Noodles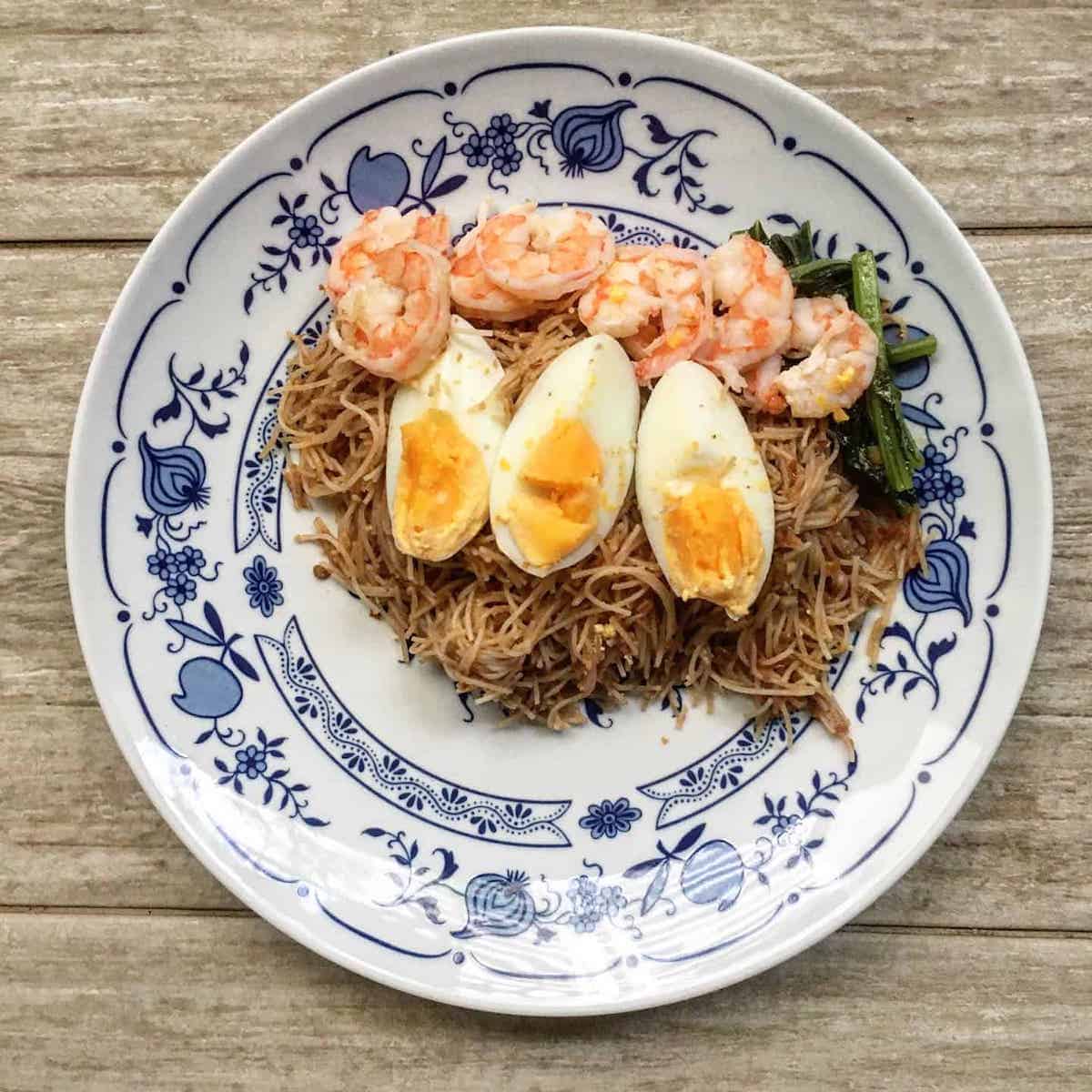 Breakfast is a very important meal of the day, so one must make sure it's filling and what better way than a piping hot bowl of noodles?
P.S: OK, to be honest, I'm not sure congee and noodles would actually count as breakfast sides rather than main dishes? But they're certainly very popular breakfast choices in Singapore and other Asian countries, so I couldn't leave them out!
Mee Siam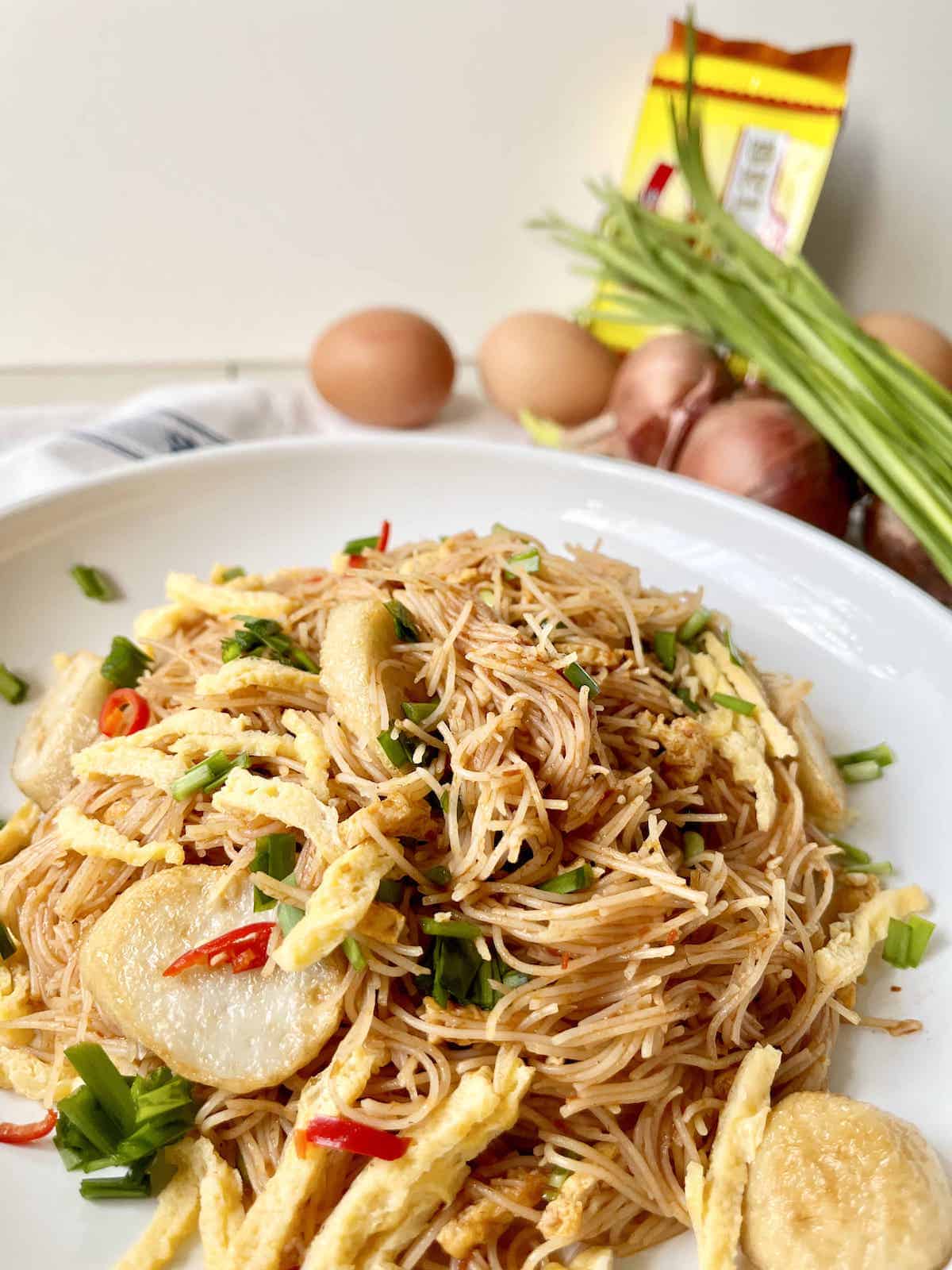 Singaporeans and Malaysians love this tangy noodle recipe so much, they have it for breakfast, lunch and dinner!
Click here for a Singapore Mee Siam Soup recipe and here for a Stir-fried Mee Siam Recipe (Malaysian style.)
Singapore Fried Noodles
Economic Noodles is actually 1 of the most common breakfasts in Singapore- it's a simple stir-fried bihun noodle that you can match with fried chicken, pan-fried SPAM, an egg or more. Usually served with some sambal chili on the side!
Wonton Mee Soup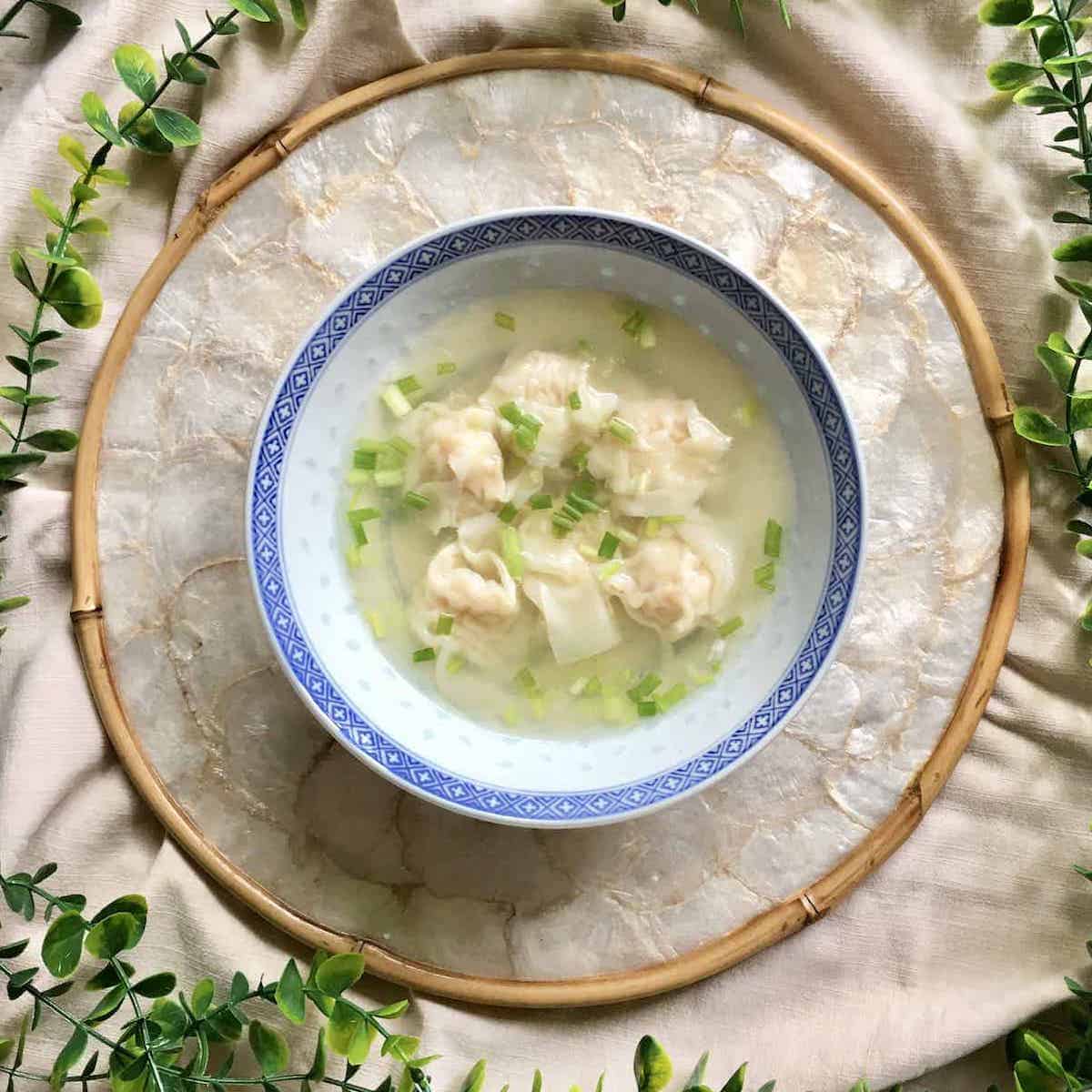 If you want something soupy, try this vegan wonton noodle soup which is ready in under 30 minutes, without the help of instant stock cube or bouillon!
Korean Cold Noodles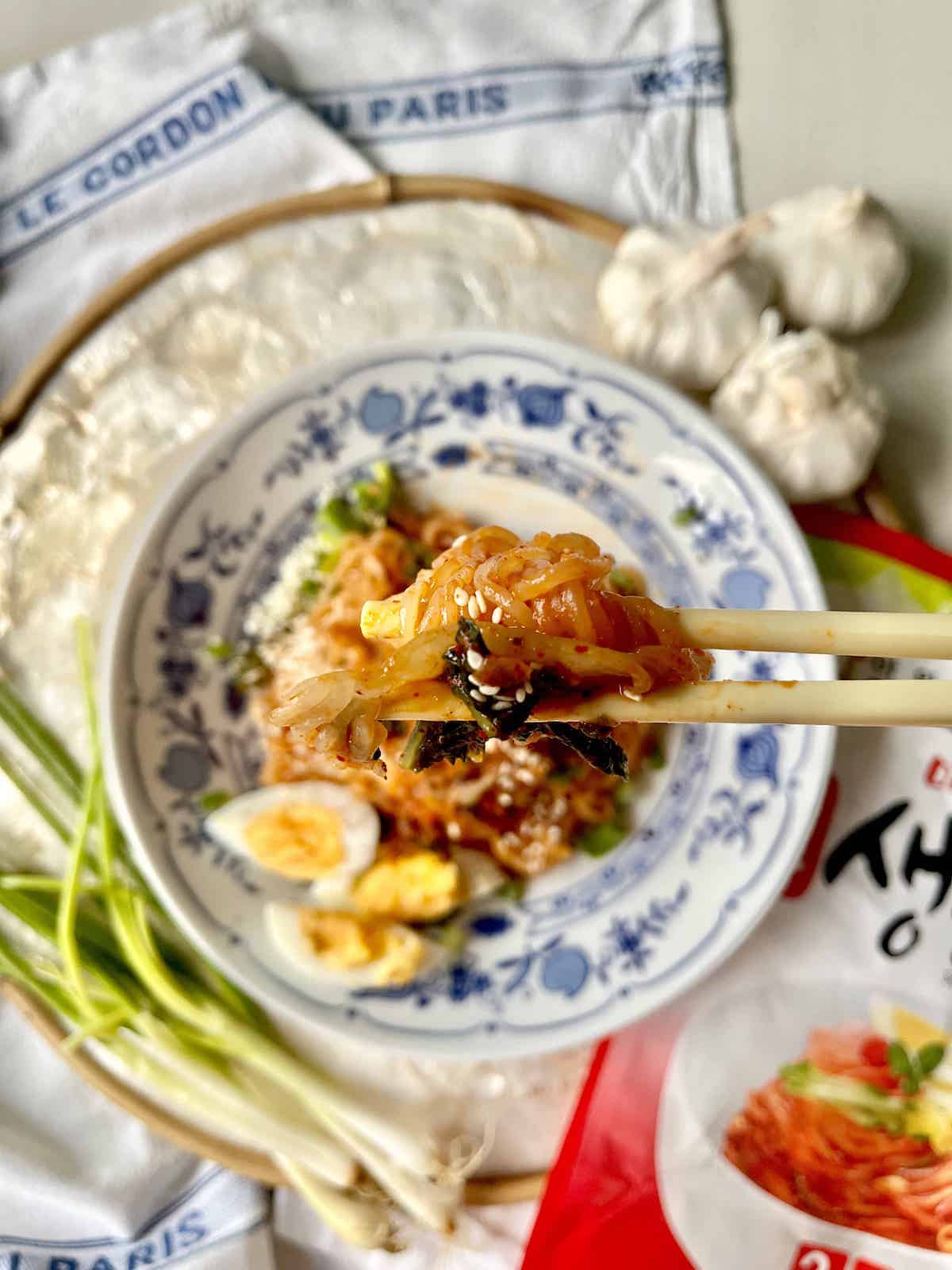 Or if you want something really instant, try 1 of these instant Korean naeng myeong brands that I've reviewed (all unsponsored.)
Others
Fried Kimchi and Eggs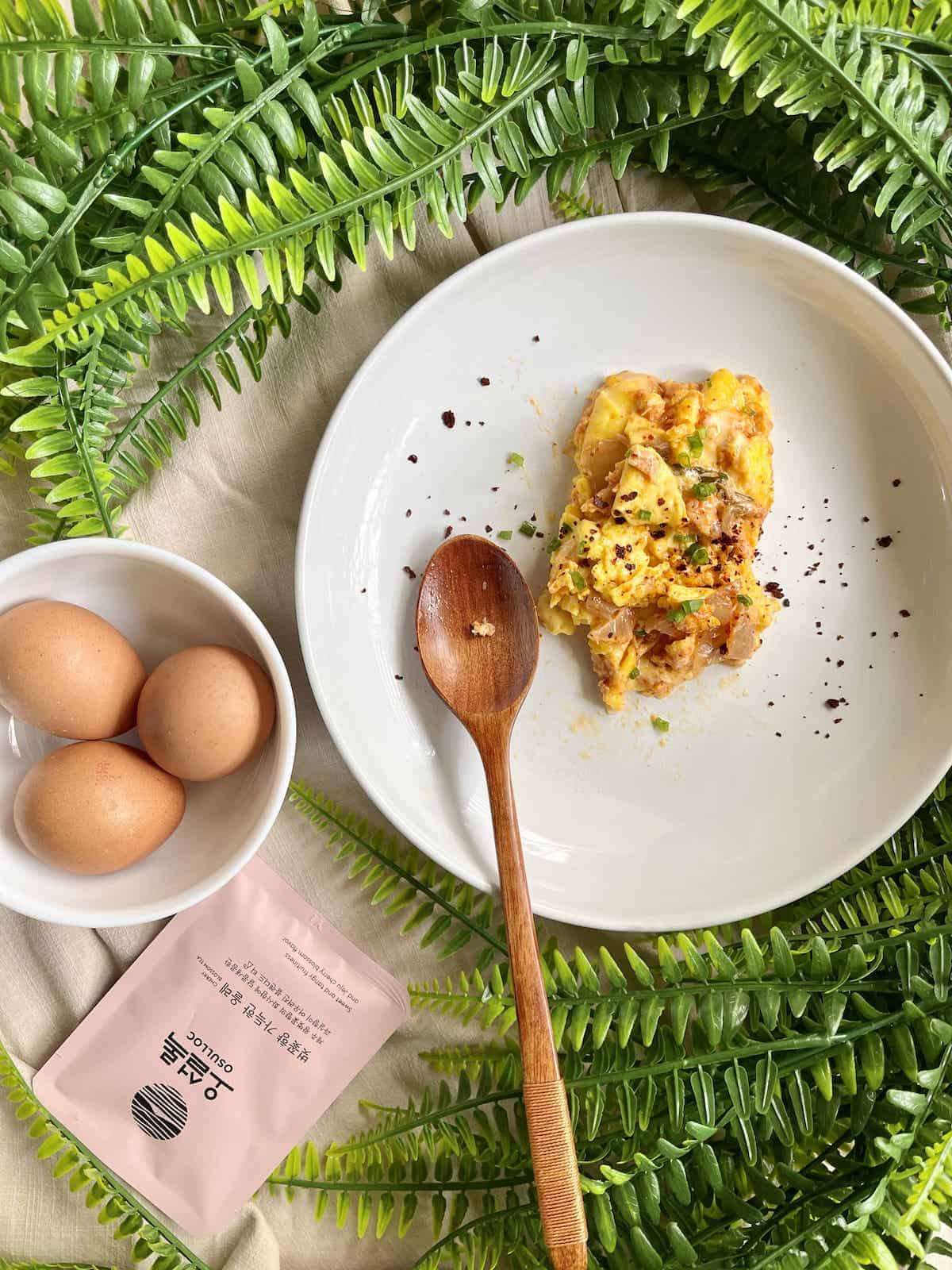 Kimchi Eggs (10 minutes)
An easy Kimchi Eggs recipe that only requires 10 minutes to whip up- perfect for breakfast, lunch or dinner! You really only need 2 ingredients (though ideally 5) and all are readily available at the regular grocery store!
Click here for the spicy scrambled eggs recipe.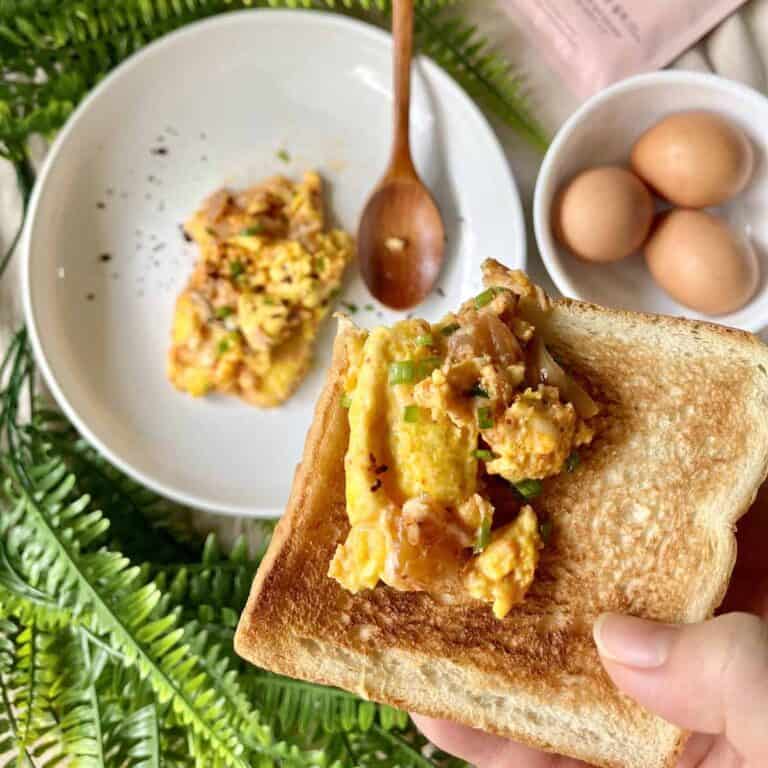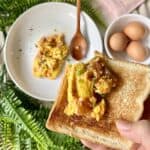 Curry Puff Pastry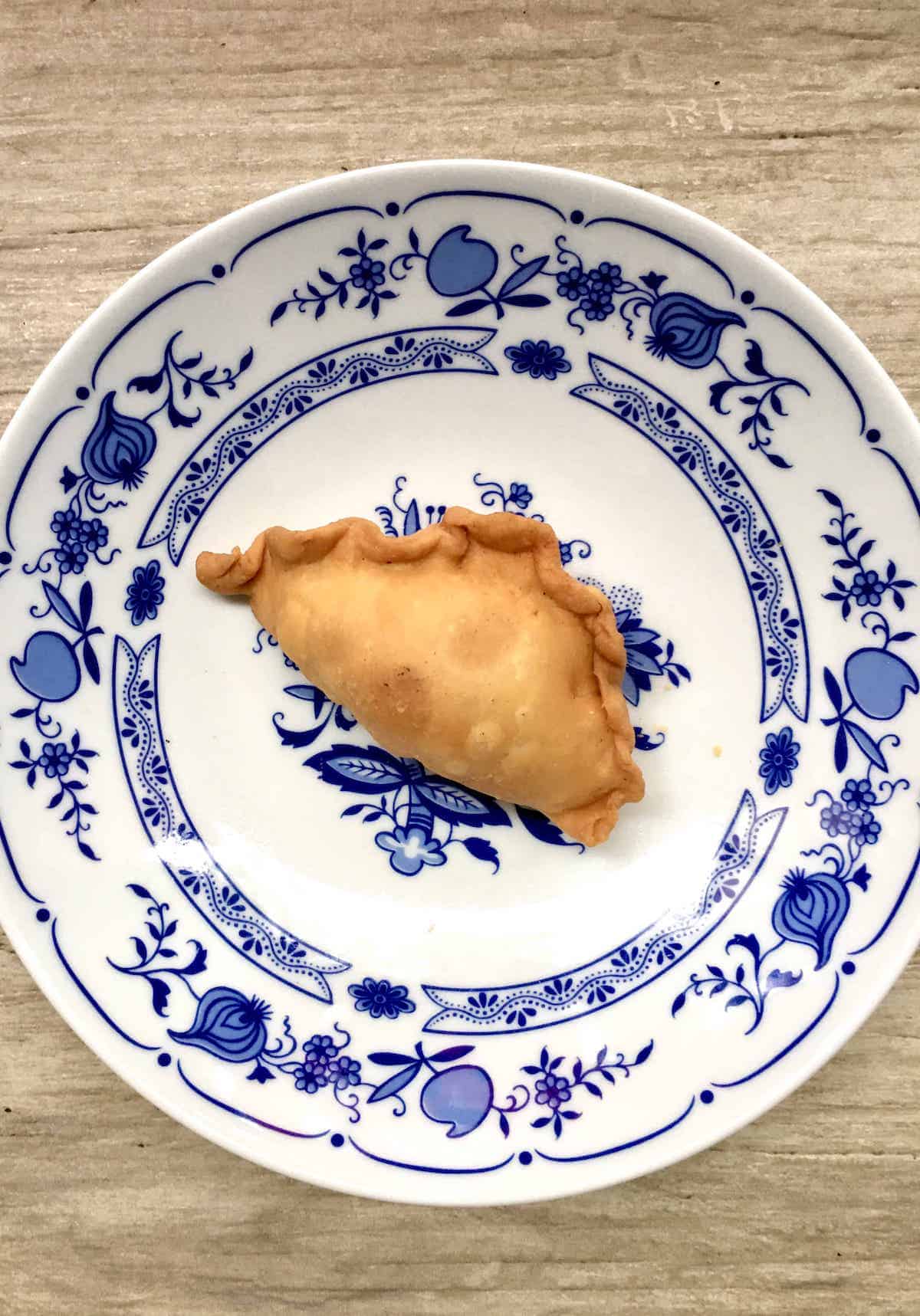 Curry Puffs are popular breakfasts sides in Asia. If you're not familiar with it, it's like an Asian Cornish Pastry or Asian Empanada!
P.S. Some people think this dish evolved from Indian samosas, so why not pair it with this Matcha Chai Drink?
Butternut Squash Fries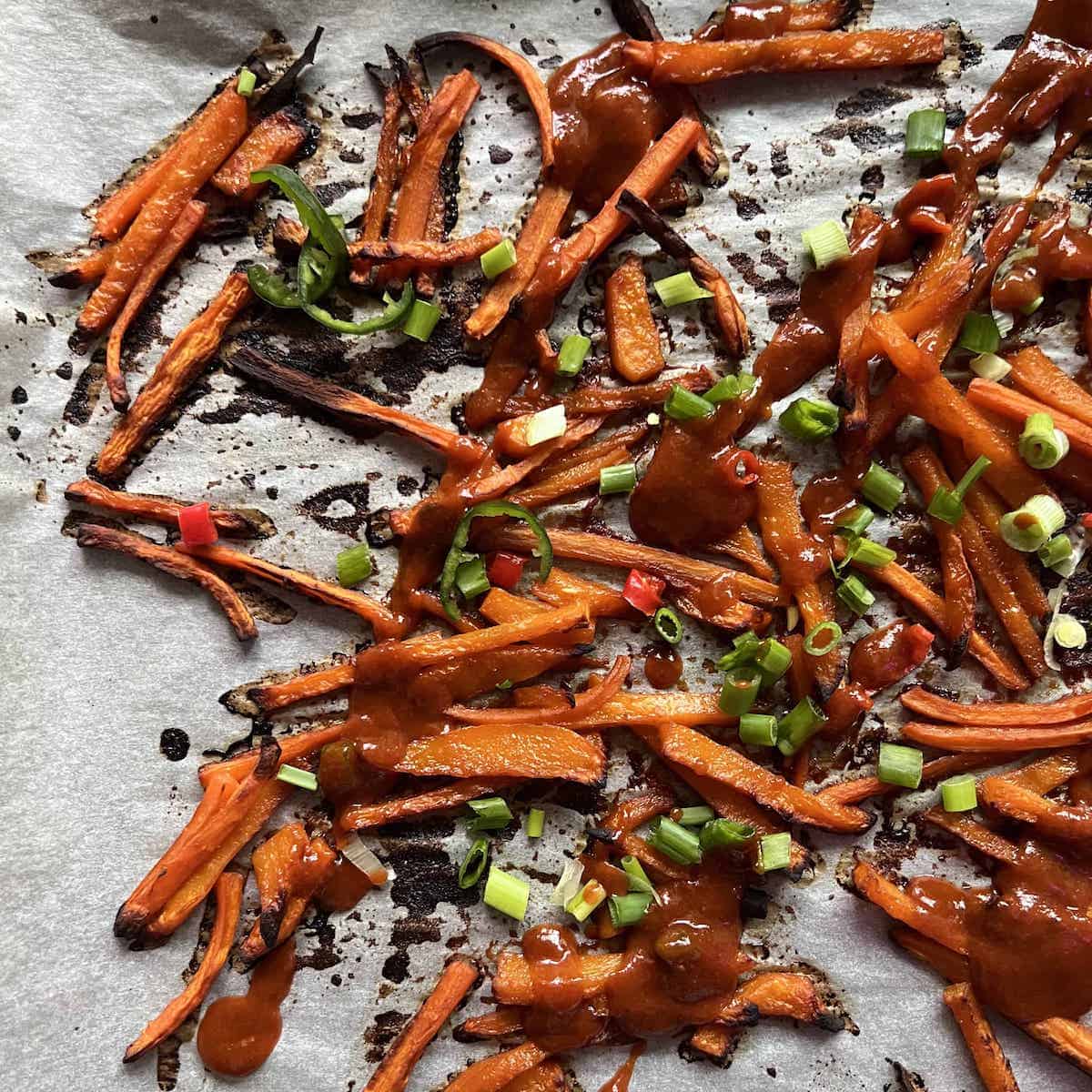 Instead of fried potato hash browns, why not try this healthier baked butternut squash? (You can also use sweet potatoes for the recipe) They're the perfect accompaniment to the traditional fried eggs.
What are your favorite breakfast side dishes? Let me know if I've not mentioned it above. If this list of breakfast sides with an Asian dish has been helpful to you, I'd be grateful if you would share it on your social media!