This Easy Chinese Shrimp Congee is a delicious and creamy seafood rice porridge- easy to cook but still silky, creamy and rich. The ultimate comfort food when it's cold out!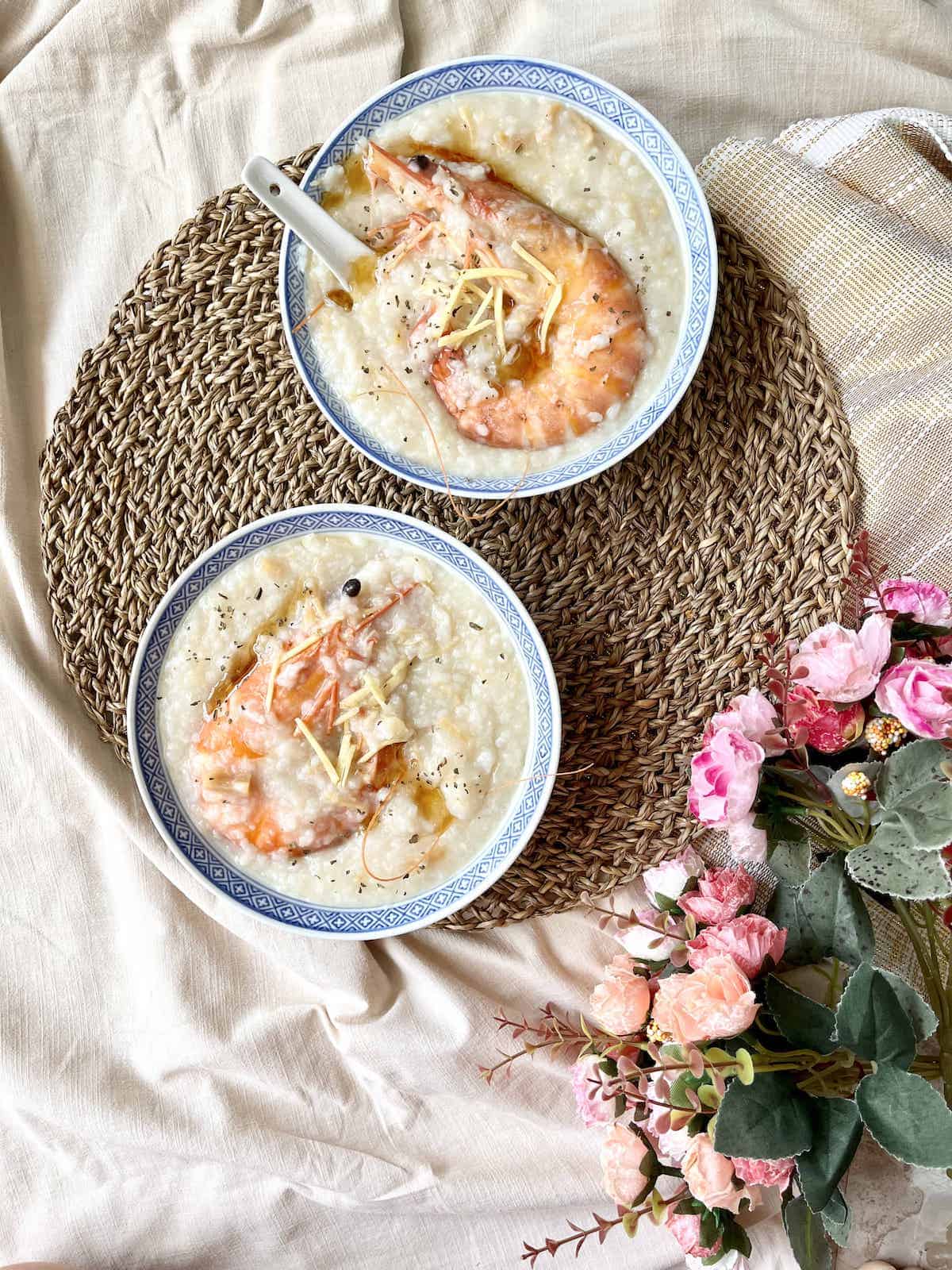 Jump to:
Why Make This
Shrimp congee is delicious: the jasmine rice is cooked till it's almost melted, making for a very silky, creamy and thick rice soup.
But still easy to cook! At its most basic, congee is rice grains simmered in water or stock for a very long time- not much prep time, skill or special equipment needed!
Note: if you like shrimp, you'll love these Asian shrimp recipes!
What is Congee?
Congee is a type of rice porridge that is a staple of East Asian cuisine. Interestingly enough, the word "congee" is actually derived from the Tamil word "kanji" so there is actually an Indian version too!
This creamy rice dish is also known as zhou 粥 (Chinese), jook (Cantonese), xi fan (Taiwanese), muay (Teochew/ Hokkien), juk (Korean), okayu (Japanese), chok/ khao tom (Thai), bubur (Malay), Chao (Vietnamese), lugaw (Tagalog), hsan pyok (Burmese) and babar (Khmer.) You can see how ubiquitous it is in Asian culture! (It was even mentioned in the Disney film "Raya and the Last Dragon!")
The earliest mention of congee was in the Zhou Dynasty (around 1000 BC.) It's often mentioned in historical accounts of national disasters such as famines. (Rice soup helps to stretch out the limited rice available so that more people can be fed.)
Today, Chinese rice porridge is still the ultimate comfort food for Chinese people- especially when sick- and is no longer associated with austerity. There are many luxurious versions of porridge from abalone chicken congee to lobster or this fresh shrimp congee!
Note: Although rice porridge can be a complete meal in itself, it is often served with small side dishes, such as pan fried dace fish cake. There are also standard congee toppings, such as sesame oil, sliced green onions, crispy pork crackling and Chinese salted eggs. (Click the links for more additions to take your bowl of savoury porridge to the next level!)
How to Cook
On one hand, cooking shrimp congee is super easy- you cook rice in water or stock.
On the other, it is a slow cook dish- getting that creamy, silky-smooth texture that a perfect bowl of congee should have takes a long time and lots of effort! (My favourite Hong Kong eatery cooks the grains of rice in a large pot for FIVE hours over low heat.)
If you don't have all afternoon to spend slaving over the stove- congee needs to be frequently stirred, if not the rice might catch at the bottom of the pot and the rice won't release its starch into the liquid- many food bloggers and chefs have come up with their own hacks to shorten the cooking time.
These include:
using short-grain rice (instead of long-grain jasmine) - this is what I did for this shrimp congee to cut down the cook time
adding some sweet rice/ glutinous rice to the mix
whisking the cooked rice (see below for a photo comparison)
freezing the soaked and washed rice before cooking. Soak for at least 30 minutes and freeze for at least 1 night.
blending the uncooked rice
using cooked rice then blending with the liquid
etc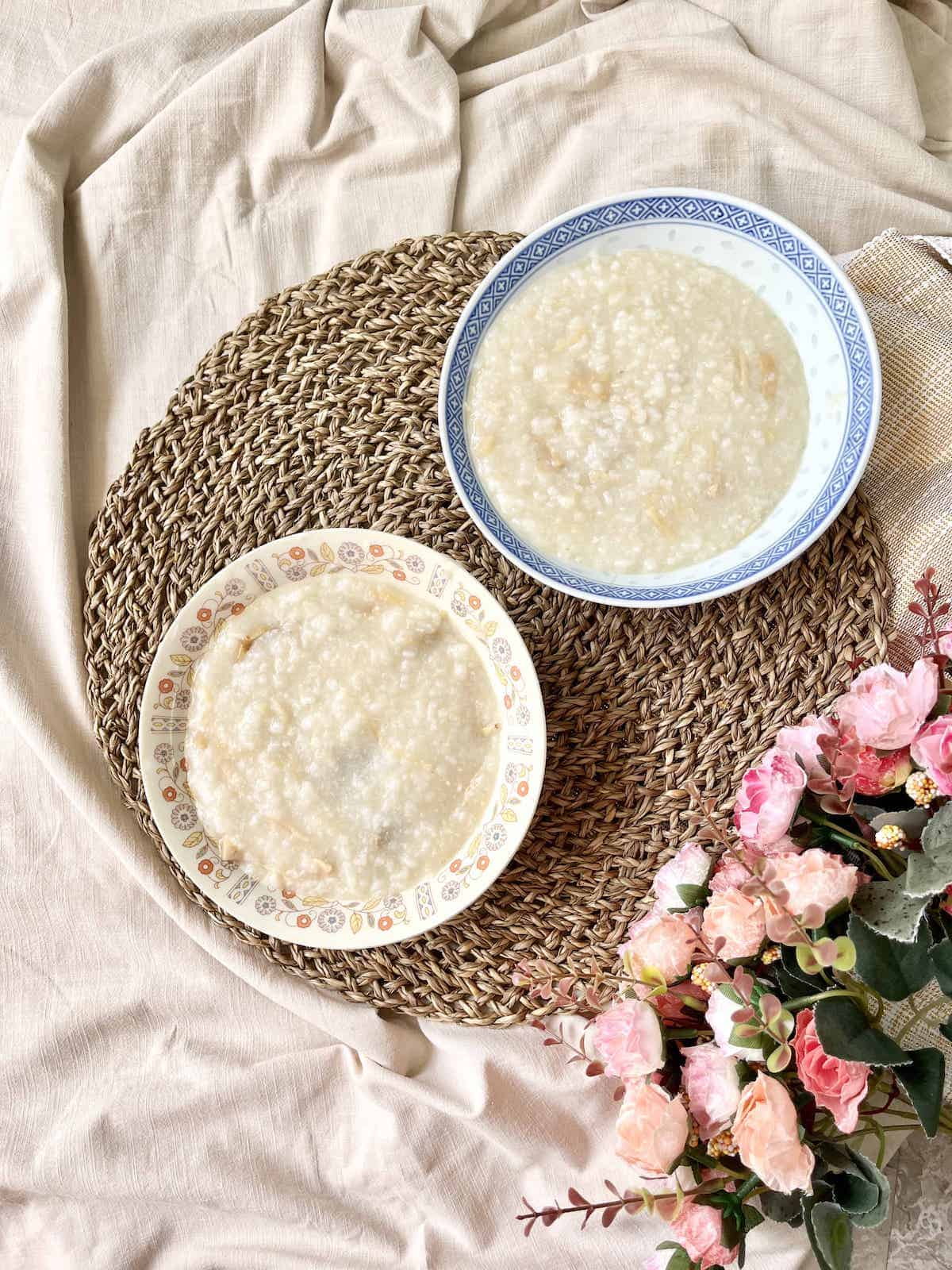 Variations
Sampan boat congee (Ting zai jook): this porridge dates back to the Qing Dynasty and is a particular favourite in Hong Kong today. Skip the seafood stock and use water or pork stock. When the rice is at the right consistency, add char siu, pork skin, roast duck, minced pork, fish fillet, squid, fried peanuts to the shrimp congee.
Fish congee: substitute the shrimp for white fish fillets
Healthy congee: add dried chinese goji berries, which are good for your eyes
Prawn Congee with egg: You can also break an egg into the pot (after adding the seafood.) The yolk will add to the richness and creaminess of the shrimp congee. If you have a century egg, so much the better!
How to Reheat
Porridge thickens the longer it is cooked, so you will need to add some water to loosen the grains when reheating.
Start with ½ Cup of water/ stock and add more to the shrimp congee if needed.
Expert Tips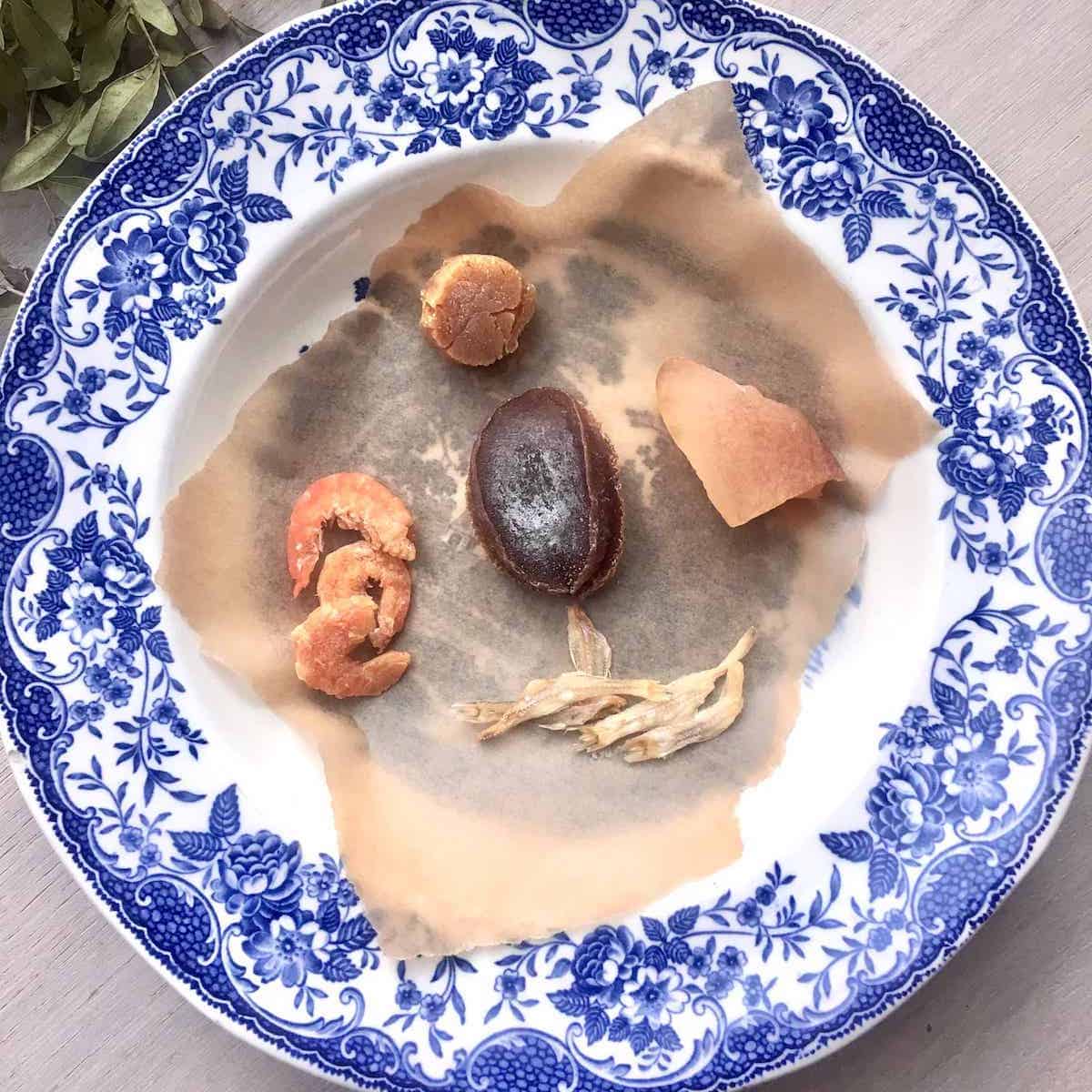 Tip #1: Use a large pot/ deep pot- you need many cups of water to cook Shrimp congee and you don't want everything to overflow!
Tip #2: Don't throw away the rice washing water- it's great for watering plants. The 2nd and 3rd rinses are also great ways to add body to soups and stews!
Tip #3: Ginger helps to get rid of the fishy smell of seafood- you can add some ginger juice to your shrimp marinade if you want.
Tip #4: If you don't have dried scallops and can't get any good conpoy substitutes, you can still create the deep umami flavours by using chicken stock or seafood stock to cook the shrimp congee (instead of the plain water I use.)
Tip #5: Don't toss the soaking liquid of the rehydrated dried scallops/ dried shrimp- add the seafood liquid to your pot of shrimp congee.
Tip #6: If you're concerned about diabetes, you can make Chinese shrimp congee with brown rice (which has a lower Glycemic Index than white rice) but it will take longer to cook and won't become as smooth.
Recipe FAQs
How long can Shrimp Congee last in the fridge?
Some online sources say that you can keep congee in the fridge for a few days but, growing up in a Chinese household, we were always told not to keep porridge overnight! Rice does go bad pretty quickly- and can give you really bad food poisoning- so... you decide!
Can you overcook Shrimp Congee?
Congee is almost like an overcooked rice, in which the grains have been broken down to form a starchy and creamy soup. Hence, you can't really overcook it, although different people have varying opinions on exactly how broken down the rice grains should be. If you find that your porridge has become too thick- just add more water and give it a good stir. It is possible, however, for the rice to stick to the bottom of the pot and burn so keep an eye out for that! (You can however overcook the shrimp and make them tough and rubbery! If fresh, add them just a few minutes before you want to switch off the fire.)
Is Shrimp Congee healthy?
At its most basic, congee is boiled white rice. It is easy to digest and thus good for your stomach. However, too much white rice isn't good for those watching their blood sugar levels, such as diabetics. The nutrition also depends on the ingredients added- shrimp or lean meat are good sources of protein.
Can I make Shrimp Congee in the rice cooker?
If you have a rice cooker, most have "congee" cooking functions these days. You can also reduce the hassle by cooking the seafood congee in the rice cooker first, then fine-tuning the seafood congee over the stove till you get the right thick consistency. (Add the seafood over the stove and not to the rice cooker if you're doing this, as you don't want the seafood to be overcooked.) You can also make congee in an instant pot, thermomix and rice cooker if you have those appliances!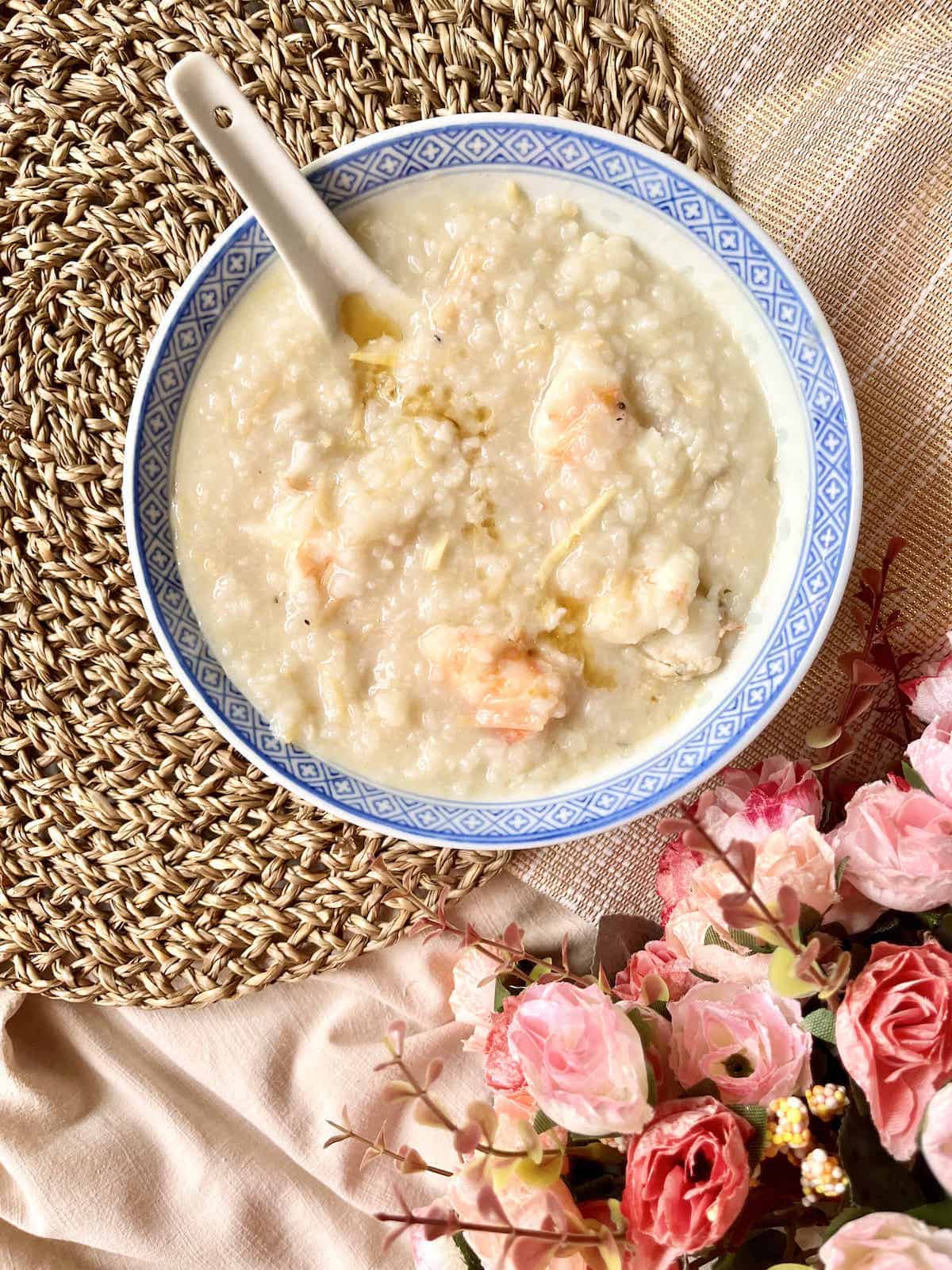 Suggested Accompanying Recipes
Enjoyed this Chinese shrimp congee recipe? Please leave a 5-star 🌟🌟🌟🌟🌟rating in the recipe card below & if you REALLY liked this Cantonese dish, a comment would make my week! Thank you and have a great day!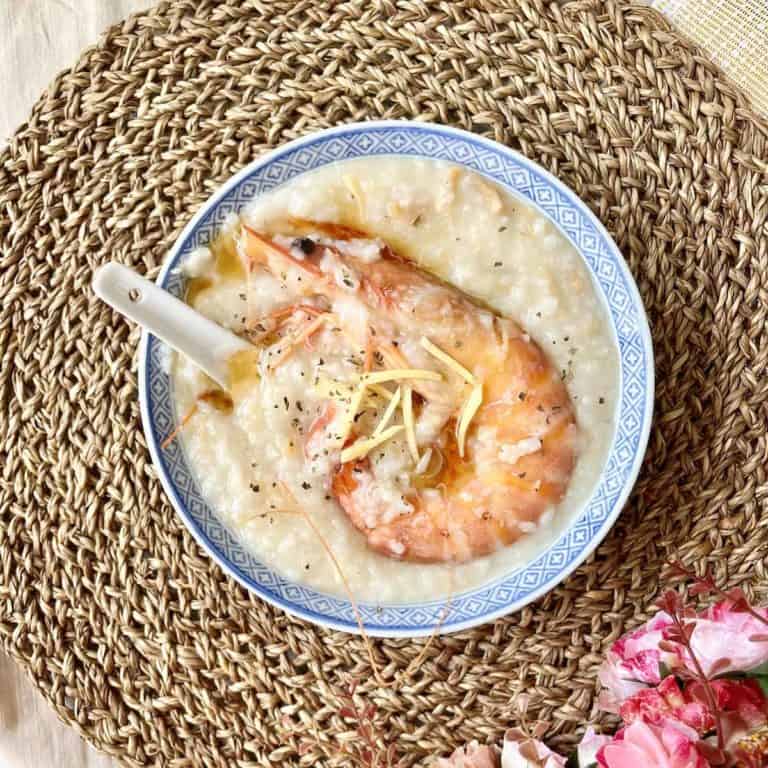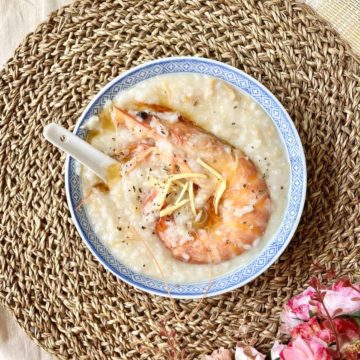 Easy Chinese Seafood congee with shrimp/ prawn
This Easy Chinese Seafood congee with shrimps or prawns is a delicious seafood rice porridge that is easy to cook but still silky and rich. Chicken stock/ broth optional!
Equipment
Big pot

Has to be big enough that the 15 cups of water and rice can boil without overflowing! If you don't have such a large pot, just add less water/ stock initially, and add the rest of the water when the porridge has cooked down a bit.

Blender and strainer

Optional- only if you are blitzing the prawn shells
Ingredients
Marinade for prawns
8.8

oz

Fresh Shrimp or prawns, shelled and deveined (250g)

Keep the shells! (See Step A below)- if your prawns come without shells, go directly to Step B. You can also add other seafood such as squid, clams and fish but note that they take different amounts of time to cook, so add them at different periods of time. (Add the ones that take the longest to cook first.)

1

Tablespoon

sesame oil

Pour the marinade into the pot of congee too when adding the seafood.

½

Tablespoon

shao xing wine

As above
For the congee
15

Cups

Water

You can substitute with chicken or seafood stock. Note that you will need a HUGE pot. (If using 1 of the "quick cook" congee methods mentioned in the post above, such as freezing and blending the rice, you may not need so much water as the rice will break down more quickly.)

1½

Cups

White rice

I used Calrose but you can use long-grain jasmine or sushi rice. Some people feel that using short-grain rice helps shorten the cooking time as the starch is released more quickly.

10-15

dried scallops (conpoy), rinsed and soaked in hot water for at least 30 minutes

Add the soaking water to the pot of congee. To save money, use broken up conpoy which is cheaper- the scallops will be broken up during the cooking process anyway. For substitutes, see notes.

2

Honey dates, rinsed then soaked in hot water for at least 30 minutes

Add the soaking water to the pot of congee. These have large seeds in the middle which you may want to remove after cooking, before serving. Substitute: ⅛ teaspoon white sugar or to taste

2

thin slices

ginger

Wash but don't stress about peeling!

1- 1½

Tablespoons

Shaoxing wine

2

Tablespoons

Fish sauce

Used to create extra umami (especially if not cooking with stock), but if you don't have it just use salt
Seasonings- add after cooking the prawns in the congee
½-¾

teaspoon

salt, or to taste

⅛

teaspoon

ground white pepper, or to taste

Do not substitute with black pepper, they're not the same thing. White pepper is super strong so less is more here!
Optional garnishing
Thinly julienned ginger, chopped spring onions, fried garlic, fried shallots, a bit of light soy sauce etc

Drizzle of sesame oil over each bowl
Instructions
A. If your prawns have shells- make prawn stock and you'll get a beautiful orange rice porridge
Shell your prawns and put the meat and shells in 2 separate containers.

Add the shao xing wine and sesame oil to the prawn meat and mix well, then cover & refrigerate. (Take the prawns (and any other seafood you may be using) out 10 minutes before you want to add it to the congee base so that it will be at room temperature before cooking, but not too early as seafood spoils easily.)

Heat oil in the pot over medium-high heat and, when the oil is hot and shimmering, add the prawn shells & ginger. Be careful of oil splatter if your shells are wet.

Turn the heat down to medium and stir-fry till the prawn shells are cooked and almost crisp. Keep pressing the prawn heads as lots of goodness is stored in there (but be careful that they don't fly out of the pot!)- this will take about 10 minutes. Add the 15 Cups of water/ stock to the pot and bring it to a boil.

Reduce the fire to medium low and simmer for 15-30 minutes, after which you strain out the shells (and keep the liquid.)

Optional extra step: if you really want to get all the umami out of the shrimp shells, you can blend the shells and liquid before straining out the shells.

Continue to Step A2 below.
A2. If your prawns do NOT have shells- start from here.
Add the 15 Cups of water/ chicken stock/ prawn stock that you made above to a pot and bring to the boil over medium-high heat. Once boiling, add the rice and bring back to the boil.

Once boiling, reduce the heat to medium-low then let the mixture simmer, making sure to stir every now and then to prevent the rice at the bottom of the pot from sticking and burning.
C. Add the seafood
Once the congee is cooked to your desired texture- probably about 45 minutes (remember to keep stirring occasionally)- add the shrimp (and other seafood if using.) (Note: if you're adding the seafood at the 45 minute mark, take it out from the fridge at the 30-35 minute mark so that it's not super cold when it goes into the hot porridge- this helps to keep it tender!)

Stir the congee till the shrimp/ seafood is cooked through then switch off the fire. Note that a properly cooked prawn or shrimp should have a "C" shape, in which the head and tail do not tough- if it has tightened into an "O" shape (i.e. the head and tail are touching), it's overcooked. (See the photo in the recipe post to see what I mean by "C" shape)
D. Serving
Ladle out into individual bowls and garnish each with (optional) sliced ginger matchsticks, soy sauce, sesame oil, coriander, spring onions etc.
Notes
Click here for what you can use instead of dried scallops. 
You can reduce the time needed to cook silky congee by:
soaking the uncooked rice for 1 hour-overnight 
using (uncooked) rice that has been frozen 
blending the uncooked grains
adding cooked white rice to boiling water then using a handheld blender to break down the rice grains. You will only need to cook the congee for about 10-20 minutes (just about long enough to cook the seafood) but note that the cooking time will be so short, your dried scallops and honey dates may not soften enough to eat!
Note: you can use slightly less water as the congee won't be cooking for as long!
Note:the nutritional information is an estimate automatically calculated using the WPRM recipe maker and I am not responsible for its veracity.
Nutrition
Calories:
216
kcal
Carbohydrates:
22
g
Protein:
19
g
Fat:
4
g
Saturated Fat:
1
g
Polyunsaturated Fat:
2
g
Monounsaturated Fat:
2
g
Trans Fat:
0.01
g
Cholesterol:
109
mg
Sodium:
1264
mg
Potassium:
316
mg
Fiber:
1
g
Sugar:
3
g
Vitamin A:
3
IU
Vitamin C:
0.1
mg
Calcium:
81
mg
Iron:
1
mg
If you've enjoyed this easy Chinese shrimp congee, please do share it on social media!