The best dried scallop substitutes, or conpoy alternatives, for cooking Chinese and Cantonese food, including vegan options.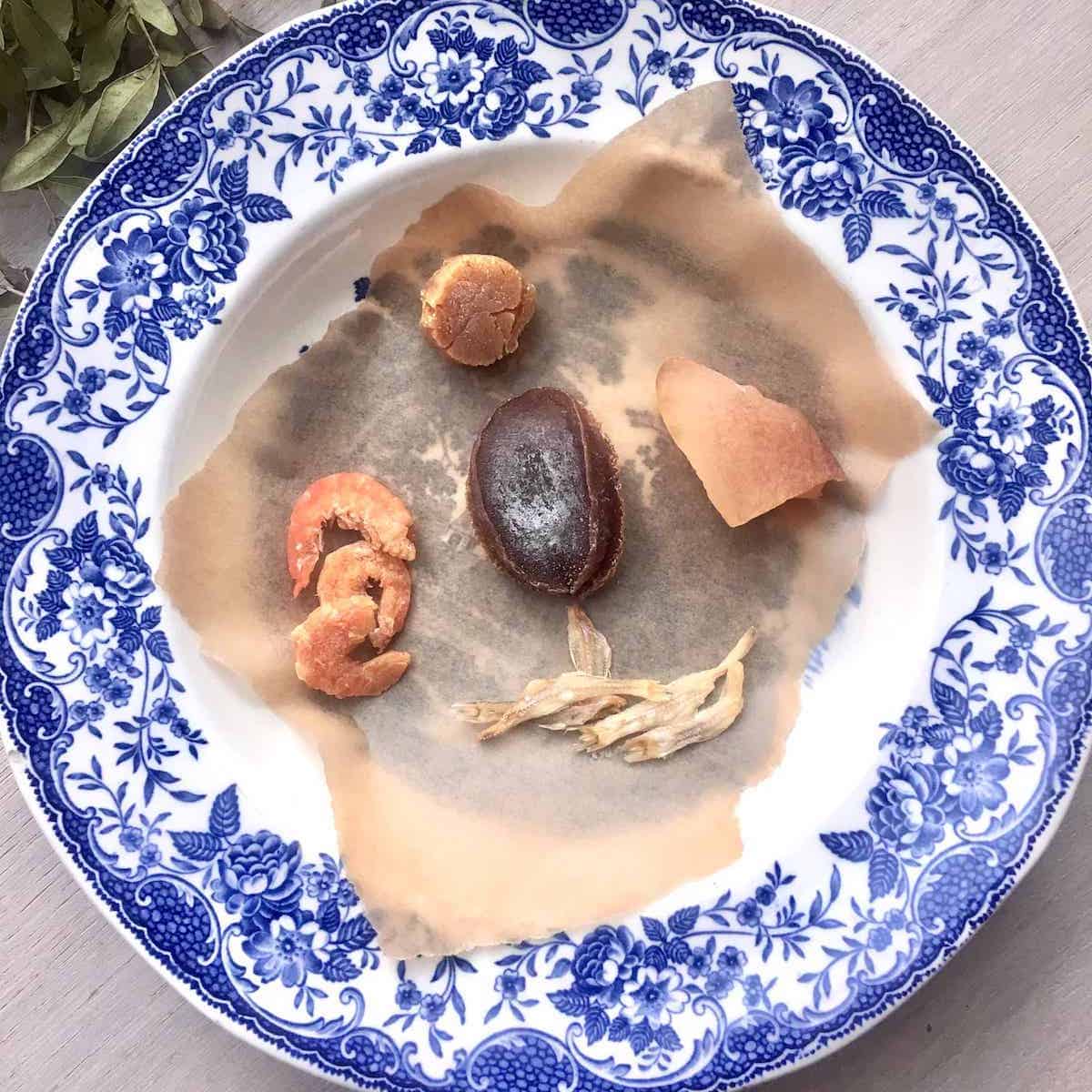 Jump to:
What is Dried Scallop?
Dried scallops, also known as conpoy or Jiang Yao Zhu (江瑤柱/ 江瑶柱 (traditional/ simplified)) and Gan Bei (乾貝/ 干贝 (traditional/ simplified)) in Chinese, are scallops that have been preserved by drying.
They're not to be confused with "dry scallops" which are raw scallops that have not had water aded to them, and thus good for searing.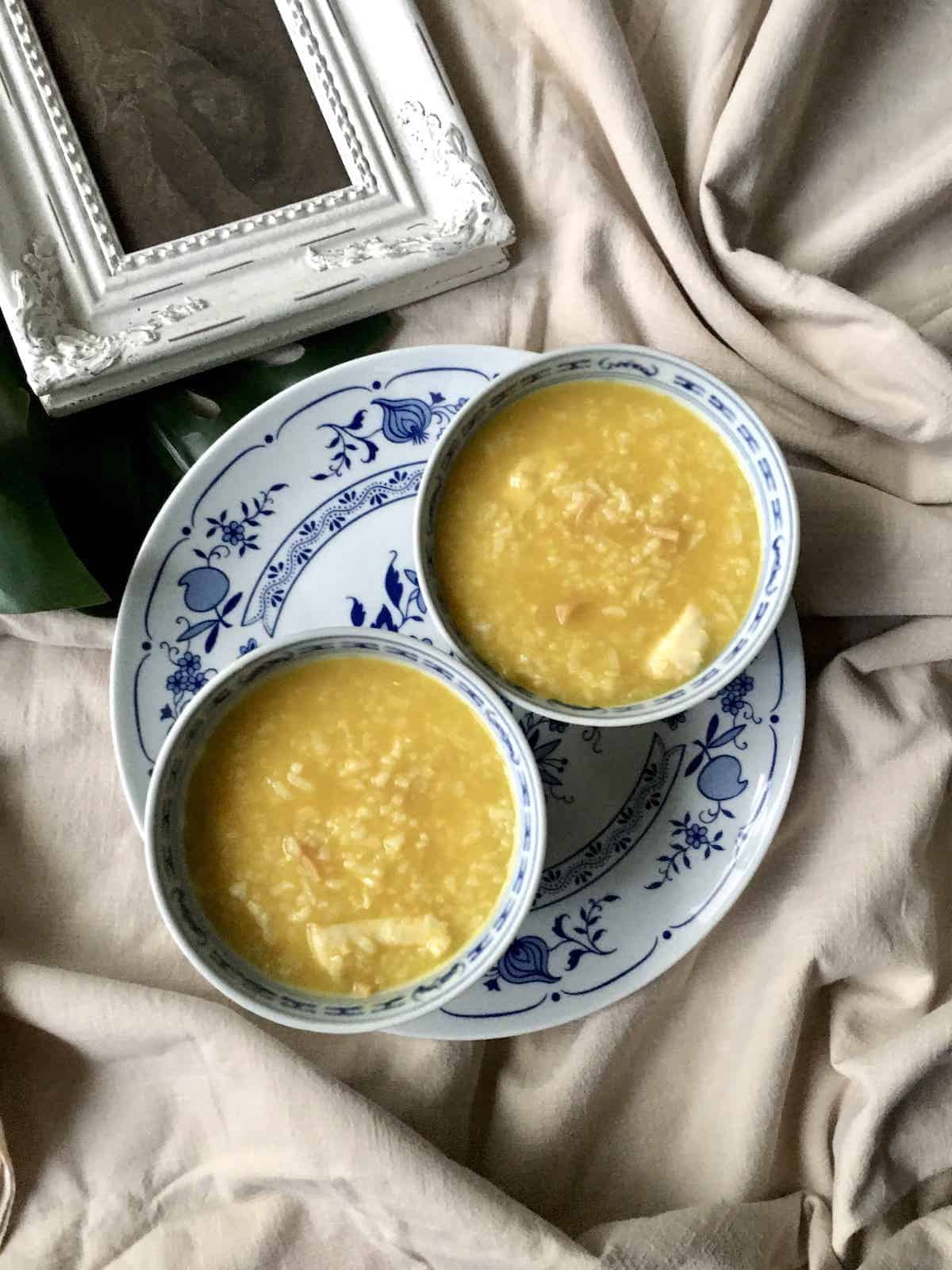 These savoury morsels, which are like natural Chinese stock cubes, are often used in Cantonese recipes, especially in soups, sauces and porridge, such as shrimp congee. For more Chinese conpoy recipes, click here.
Fun fact: the name conpoy derives from its Chinese name gan bei.
Taste
Dried scallops have a slightly sweet, briny flavor that is full of umami thanks to its high content of various free amino acids, such as glycine, alanine & glutamic acid.
The taste is a little similar to that of salt-preserved meats such as ham and bacon, albeit with the taste of the sea.
How to Use
They are quite hard and, like other types of dried ingredients such as dried shrimp and dried oysters, need to be rehydrated by soaking in warm water or hot water for 30-60 minutes before using. (Larger pieces need to be rehydrated for longer- some are soaked overnight.)
Some people like to steam the dried scallops before using, to get them extra soft, especially if adding them to a recipe that doesn't have a long cooking time.
How to Use
They're typically added for their sweetness, umami and the depth of flavour they bring to food. Dried scallop is often added to Cantonese congee and soups, such as abalone congee, pumpkin fish porridge and black silkie chicken soup. You can think of them as Chinese, natural stock cubes.
You can use less salt when you cook with dried scallops.
Tip: the water used to rehydrate the dried scallops can be used in cooking so don't throw it away! Click here for other money-saving Asian cooking tips.
Where to Buy
You can find dried scallops in many Asian supermarkets but note that not all dried scallops are of the same quality. They are also easy to find online, where you will have access to more brands and grades of conpoy.
Japanese dried scallops are usually considered "premium" (especially the ones from Hokkaido.)
How to Choose
Larger scallops usually cost more than small pieces (which are often tough); and whole pieces are considered "better" than dried scallops that have broken down into bits.
For congee or XO sauce, you can just buy the broken conpoy as they're cheaper and the 2 recipes call for shredded scallops anyway. (Saves you the manual labour of breaking them down yourself, which can be quite laborious.)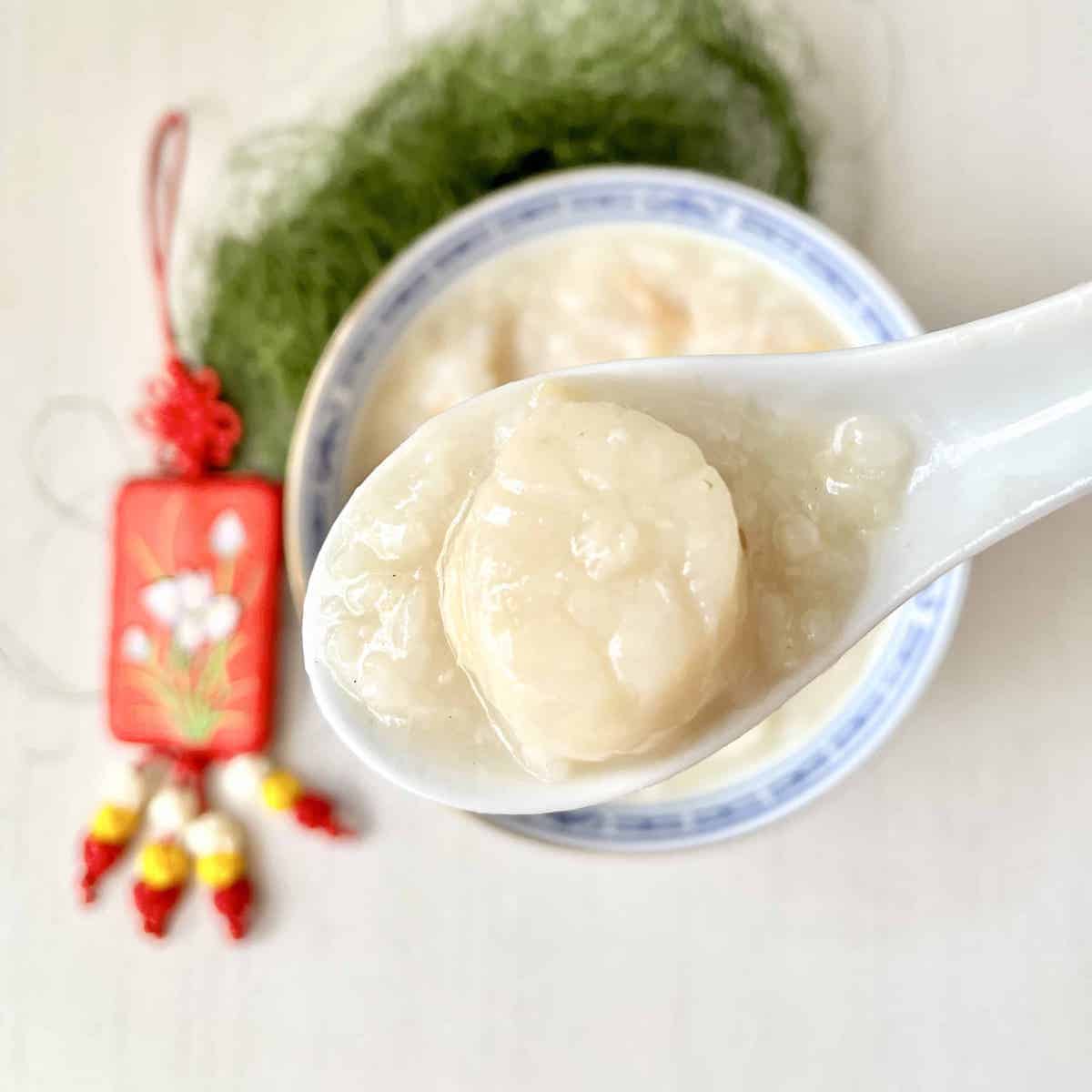 Some people say you should avoid the ones with white specks on them, as these are a sign of old age (age spots, like humans!)
How to Store
Dried scallops last for a very long time in the fridge- I have 1 that's been in mine for over a year now- and even longer in the freezer, if kept dry and stored properly.
If you're not sure if they can still be used, smell them. The scallops should smell fragrant, like the sea and, of course, not have any mold on them!
Dried Scallop Recipes
Substitutes
The best substitutes for dried scallop in Chinese cooking are other types of dried seafood. However, some are more expensive than others!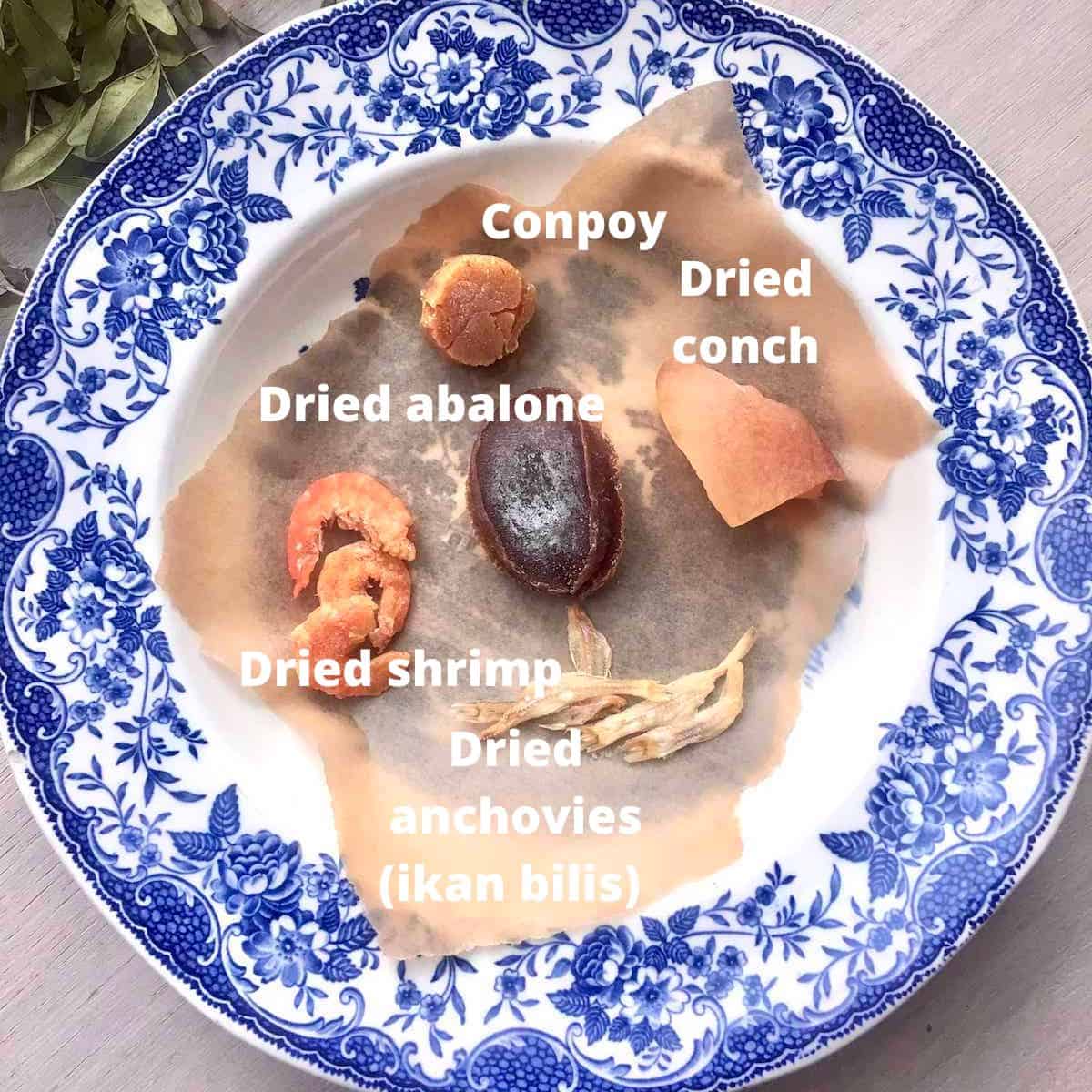 Dried Shrimp
This is the most common conpoy substitute, as both the texture and flavor are similar.
Dried shrimps, however, don't taste as "clean" as dried scallops do. In fact, many commercial manufacturers of XO sauce bulk up their sauce with dried shrimp, to reduce the amount of dried scallop they have to use as the latter is much more expensive.
If you buy these online, search for "dried prawns" not dried shrimp- the latter tends to show up results which are meant for feeding fish and turtles not humans!
Dried Ikan Bilis (a small fish)
Another very common dried seafood in Asian cooking, dried ikan bills (something like a dried anchovy) is often boiled with soya bean to make soup, as it has a lot of umami.
It is more troublesome to use than dried shrimp as the guts produce a very bitter flavour and you'll need to remove them before boiling in soups or stews. On the bright side, they're relatively inexpensive.
Like dried scallops and dried shrimp, dried anchovies come in different sizes and grades.
Dried Squid
Dried squid can be shredded and used in place of dried scallops. Like all the dried seafood on this list, you will need to rinse and soak in hot water to rehydrate before using.
Note: the quill is usually removed before drying the squid, but check just in case.
Dried Conch
Dried conch is sometimes used as a fake dried abalone- if you don't mind paying a bit more, I think it's just as good or maybe even better than dried shrimps as a replacement for conpoy.
Dried Abalone
This is 1 of the most expensive types of dried Asian seafood so, to be honest, I doubt anyone would use dried abalone in place of conpoy!
I don't recommend it unless you have a lot of money and time to spare. (The preparation is the most troublesome on this list.)
Saeu-jeot
A salted and fermented small Korean shrimp usually stored in liquid (so not dried) and with the shell on, saeu-jeot is a decent replacement for conpoy.
Kapi
You can also use the Thai version of shrimp paste (kapi) but don't use too much as the flavor is strong.
Clam Juice
If you're only worried about taste and not mouthfeel (e.g. in soups), clam juice is a viable replacement for dried scallops.
Anchovies/ Anchovy Paste
If you can't get any of the dried seafood on the list- which most likely would involve online shopping or trekking to the Asian super market if you live in the West- anchovies are a possible alternative to dried scallops. Add a bit of sugar as anchovies don't have the same natural sweetness.
Fish Sauce (Nam pla)
Fish sauce has a similar though deeper flavor to dried scallops- some people find the taste offensive, so make sure the people you are cooking for don't mind fish sauce before using it as a substitute.
It's also much saltier so you probably won't need to add salt! Blend the fish sauce with some fresh scallops or fresh shrimp and a bit of sugar, then blitz them into smaller pieces, if you want an alternative with more bite.
Katsuobushi (bonito flakes)
High in glutamates, katsuobushi can help mimic the umami of dried scallops.
Oyster Sauce
Oyster sauce creates a similar flavor as dried scallops, but obviously not a similar texture- you may want to blitz up some fresh scallops or fresh shrimp to add a bit of chewiness. (If you can, buy the Lee Kum Kee brand- they invented oyster sauce!)
You can also use abalone sauce or scallop sauce in place of dried scallops.
Vegan Alternatives
Dried Shiitake Mushrooms
You need to be very careful when using dried shiitake mushrooms in place of dried scallops. Although they also have a lot of glutamates (umami), the mushroom-y flavour is very strong.
Other types of dried mushrooms could work too, such as porcini.
Kelp
Kelp is a seaweed that is used to make Japanese dashi and Korean broth. Not only is it vegan, it is positively cheap compared to dried scallop!
Tip: Don't wipe off all the white flakes on the kelp- those are the natural glutamates that have crystallised!
Nutritional Yeast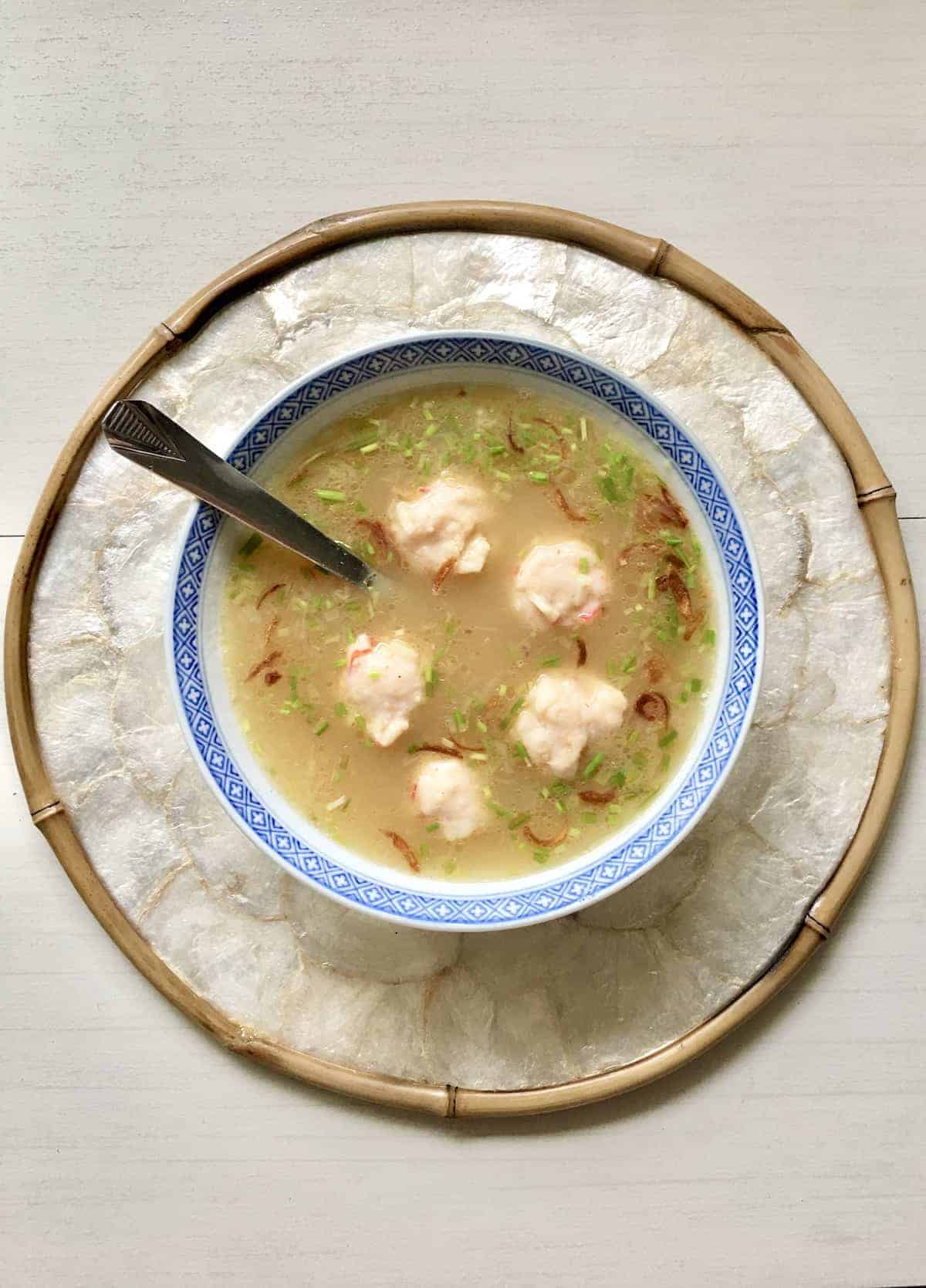 Kelp on its own can be a bit lighter in flavor compared to conpoy, so adding some nutritional yeast will help to produce a better vegan substitute for dried scallops- together, they are a umami powerhouse, such as in this easy vegan wonton soup.
Fermented Bean Paste (Fu Ru)/ Miso/ Doenjjang/ Taucheo
Mix it with a bit of soy sauce, kelp stock (to replicate the brininess of the scallops) and crushed peanuts (for texture). If using miso, dark miso works better than white.
Vegetarian Oyster Sauce
Like fu ru, miso, doenjjang and taucheo, vegetarian oyster sauce is available in Asian supermarkets. It's usually made out of mushrooms and there are quite a few good brands not that taste a lot like the original oyster sauce.
Vegan Fish Sauce
Vegan fish sauce is slightly harder to find than vegetarian oyster sauce, so you may have to try Amazon if your Asian grocer doesn't stock it.
What do you usually use in place of dried scallops? Let me know if I've missed out anything on this list!