An easy & delicious dried scallop congee recipe or, Cantonese rice porridge, made using only 6 ingredients.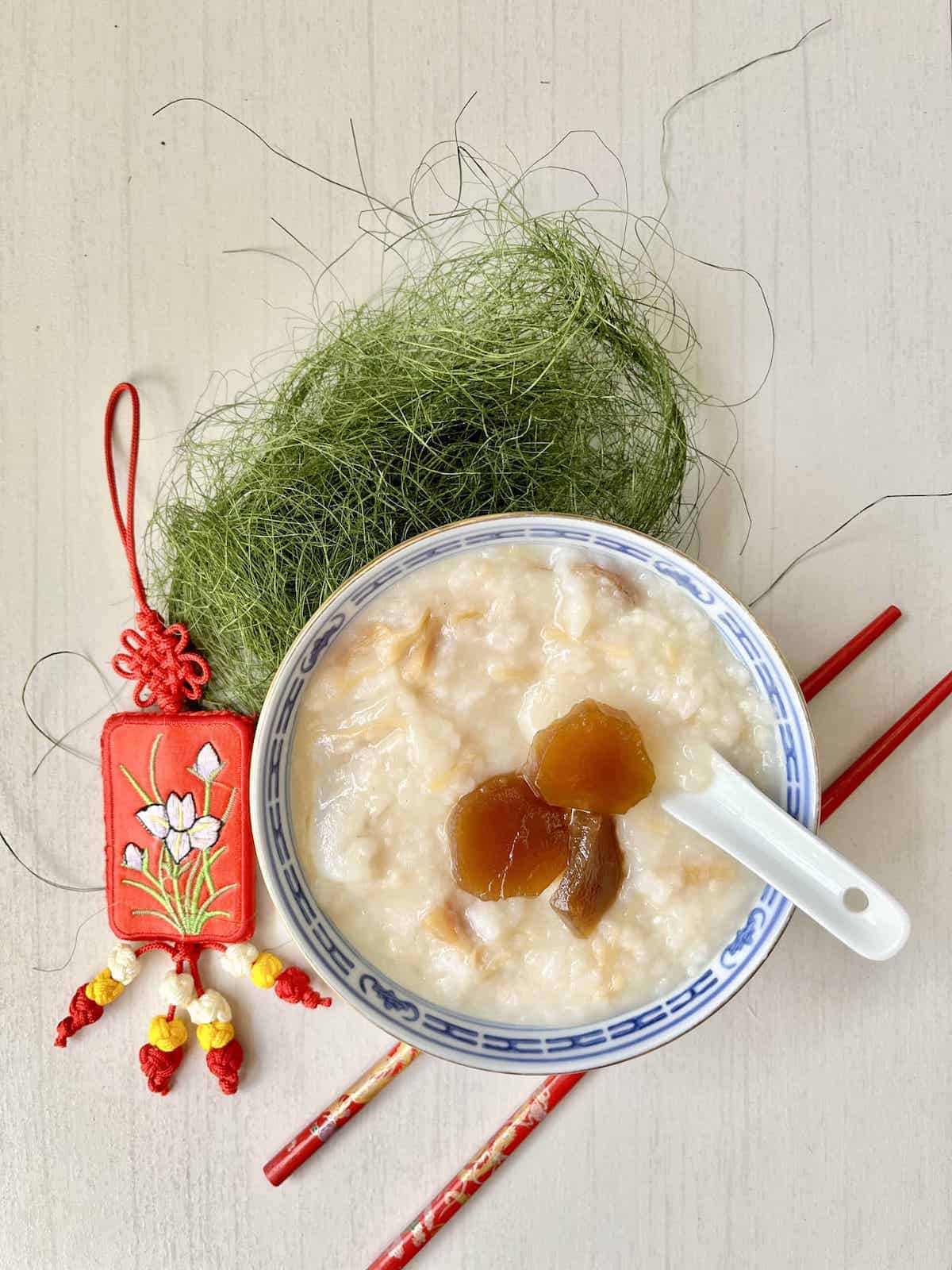 Jump to Recipe
Jump to:
Congee vs (rice) porridge
In the West, porridge is made with oats but in Asian countries, porridge is almost always made with rice (and maybe some other grains.) There is more than 1 type of rice porridge, such as Taiwanese porridge and Cantonese congee.
To be more specific, congee (also known as juk or jook) is a type of Chinese rice porridge or gruel, but it has a different texture. Congee is silkier than other types of porridge, which may have separate rice grains. Most commonly associated with Cantonese cuisine, congee has an almost starchy and thicker texture with the rice pretty much broken down after a long cooking period.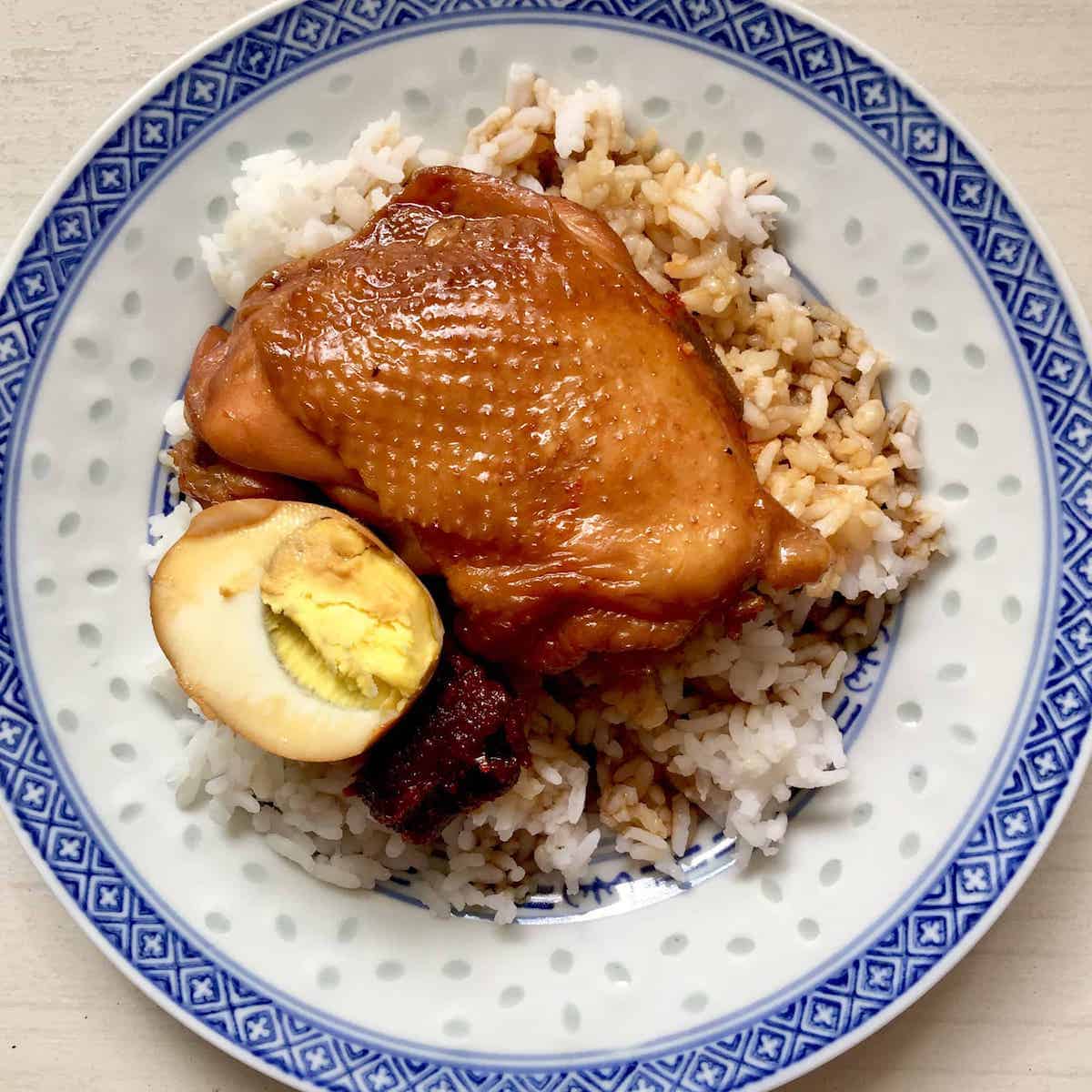 In fact, to congee enthusiasts, the challenge of cooking congee is how to replicate the smooth & thick consistency you get at Cantonese restaurants at home. (I will be doing 1 of my kitchen experiment posts on this subject, in which I compare and contrast the results of various famous recipes- such as what I did for Chinese New Year peanut cookies and Cantonese soy sauce chicken- to see which produces the silkiest congee.)
Chinese people can eat porridge for breakfast, lunch or dinner, and it's especially beloved when feeling under the weather, as it's light and easy on the stomach. Moreover, all of us have fond childhood memories of this dish so it's considered a comfort food. It can be a very frugal dish made with simple ingredients, or made more lavish by using rehydrated dried scallops and other seafood, as I have done
What are dried scallops?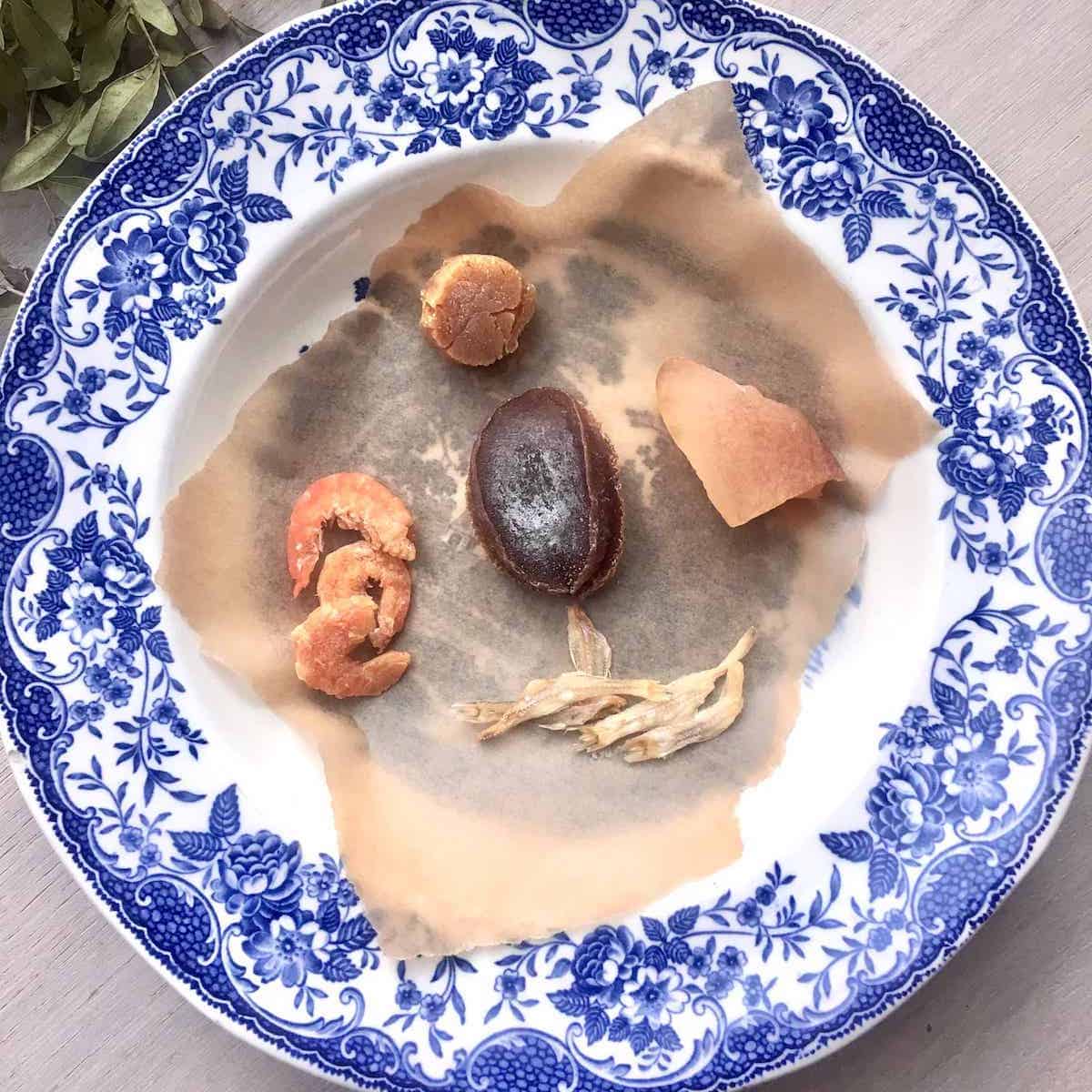 Dried scallops, also known as conpoy (in chinese: Jiang Yao Zhu 江瑤柱 (traditional) 江瑶柱 (simplified) or Gan Bei 乾貝 (traditional) 干贝 (simplified)), are scallops that have been preserved by drying and are often used in Chinese cooking.
They're not cheap though so if you'd rather not splurge, here are some good dried scallop substitutes.
How to use
They are quite hard and, like other types of dried ingredients such as dried shrimp and dried oysters, need to be rehydrated by soaking in warm water or hot water for 30-60 minutes before using. (Larger pieces need to be rehydrated for longer- some are soaked overnight.) Some people like to steam the dried scallops before using, to get them extra soft, especially if adding them to a recipe that doesn't have a long cooking time.
They're typically added for their sweetness, umami and the depth of flavour they bring to food. Dry scallop is often added to Cantonese congee and soups, such as abalone congee, pumpkin fish porridge and black silkie chicken soup. You can think of them as Chinese, natural stock cubes.
Where to Buy
You can find dried scallops in many Asian supermarkets but note that not all dried scallops are of the same quality. Japanese dried scallops are usually considered "premium."
Larger scallops usually cost more than small pieces; and whole pieces are considered "better" than dried scallops that have broken down into bits. For congee, you can just buy the broken conpoy as they're cheaper and the congee calls for shredded scallops anyway.
Some people say you should avoid the ones with white specks on them, as these are a sign of old age (age spots, like humans!)
How to Store
Dried scallops last for months in the fridge and even longer in the freezer.
Ingredients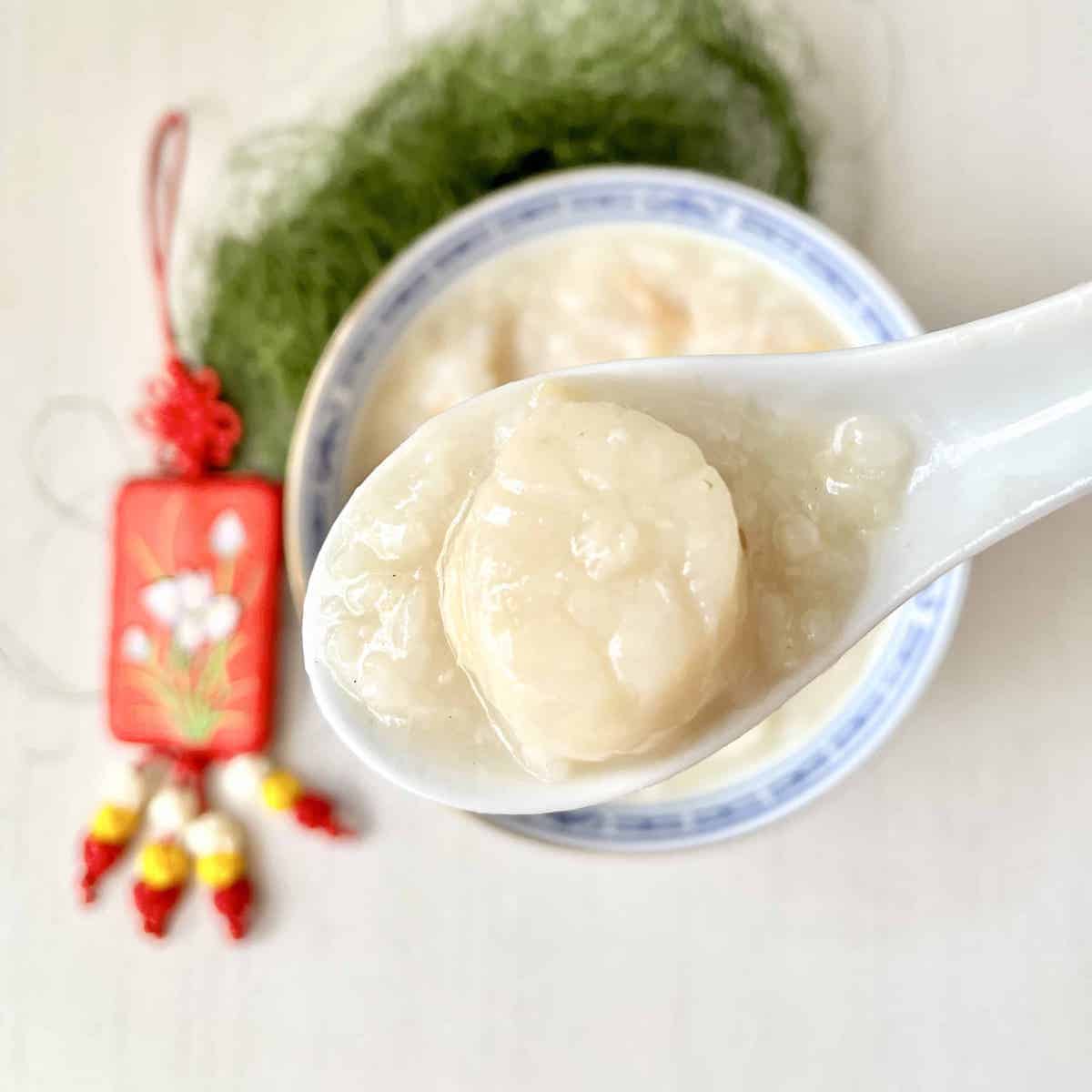 The main ingredients of scallop porridge are relatively few:
Rice

I like to use short grain rice in my congee, as it breaks down more easily to recreate that gooey congee feeling and you won't have to cook for such a long time. (You can use 100% short grain rice, or mix short grain and long grain white rice.)

Dried Scallops

If you plan to cook a lot of Cantonese food, you should definitely get a bag of this and freeze the excess. (Or use it to make XO sauce!)
Substitute: other types of dried seafood such as dried shrimp, dried conch, ikan bilis (small dried fish) and kelp. Some people use dried shiitake mushrooms as a substitute for dried seafood, but I personally find the taste to be very strong and overpowering.

Honey date

A dried honey date is added to make the scallop congee naturally sweet. If you can't find it you can use red dates or goji berries instead. Honey dates and red dates have large seeds in the middle which you may want to remove after cooking, before serving.
For more jujube red date recipes and goji berry recipes, click the respective links.

Ginger

Slice some to cook in the congee, and shred some to top the congee with when cooked

Seasonings such as Sesame oil, Shaoxing Wine, Salt and White Pepper
Optional: Proteins

To bulk up the congee and make it healthier, I like to add frozen scallops, but you can omit this if you wish.

If using frozen scallops, just add them straight to the pot of congee when it's at the right consistency (no need to thaw.) However, if you're using fresh seafood, you may want to marinate it in a little shaoxing wine, ginger and soy sauce before adding it to the scallop congee.
See below for other ingredients you can add

Optional toppings include: 
Variations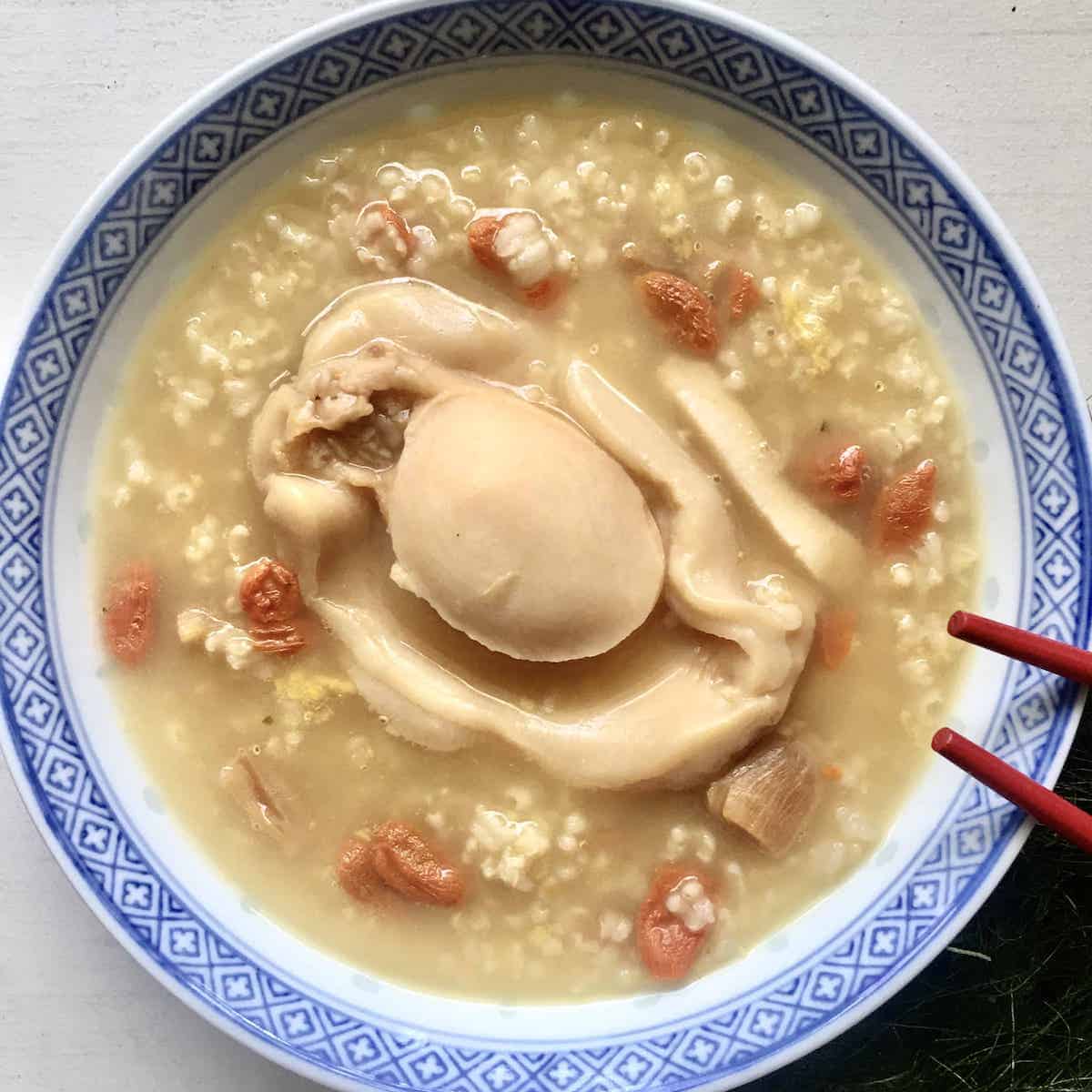 Once you are familiar with this congee recipe with dried scallop, you can make:
minced pork and scallop congee: add ground pork
shrimp and scallop congee: add prawns (either fresh or frozen is OK)
fish and scallop congee: use either fresh or frozen white fish fillet
chicken and scallop congee: I recommend dark meat as it is less prone to overcooking and becoming tough
scallop abalone congee: we usually use canned abalone
Side Dishes
In Hong Kong and Singapore, congee is often eaten with side dishes such as:
fried dough sticks (you tiao)
Click here for a full list of good congee side dishes and here for congee toppings.
Tips
For a healthier congee with dried scallops, you can use brown rice instead of white rice, as I have in the bowl of leftover roast chicken congee below, but note that the texture won't be silky like typical congee.

This is recommended if you have diabetes as brown rice has a lower Glycemic Index
You can even add other grains such as pearl barley and beans, but then you won't be able to get that smooth congee taste.)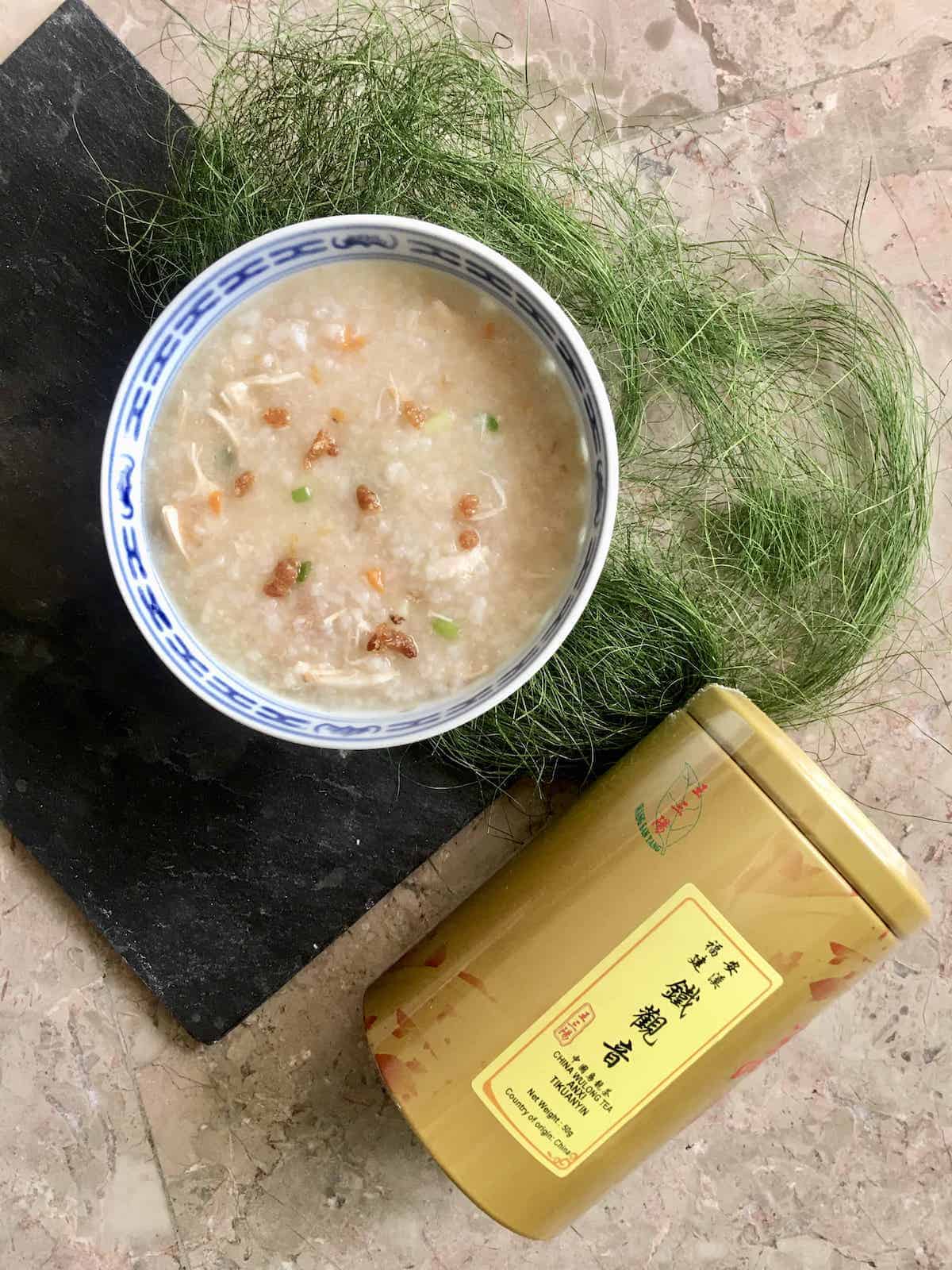 2. Don't throw away the scallop soaking liquid! These are full of the sweet & briny goodness of the sea and can be added to sauces and soups. Do give them a quick rinse before rehydrating though.
3. For fuss-free cooking, you can even get a rice cooker with a congee setting these days and dump everything in the pot, although the final result isn't as silky as the congee in Hong Kong. (You can also use a thermomix or Instant Pot, if you have 1.)
4. Use a large pot if cooking this over the stove, as the water will bubble up when boiling and may overflow if the pot is too small.
Do stir the bottom of the pot regularly, to avoid the rice grains from burning and sticking to the bottom
5. When you rinse rice, you can keep the water. The first rinse can be used to water plants, and the 2nd and 3rd rinses kept to make thicker stews and soups. (The starch will give them more body.)
FAQ
Can you freeze congee?
Some people say congee can be frozen for up to 3 months but, in my household, we've always been told that we should finish all rice porridge or congee on the same day it's cooked as it's not good to keep it overnight.
Other jook recipes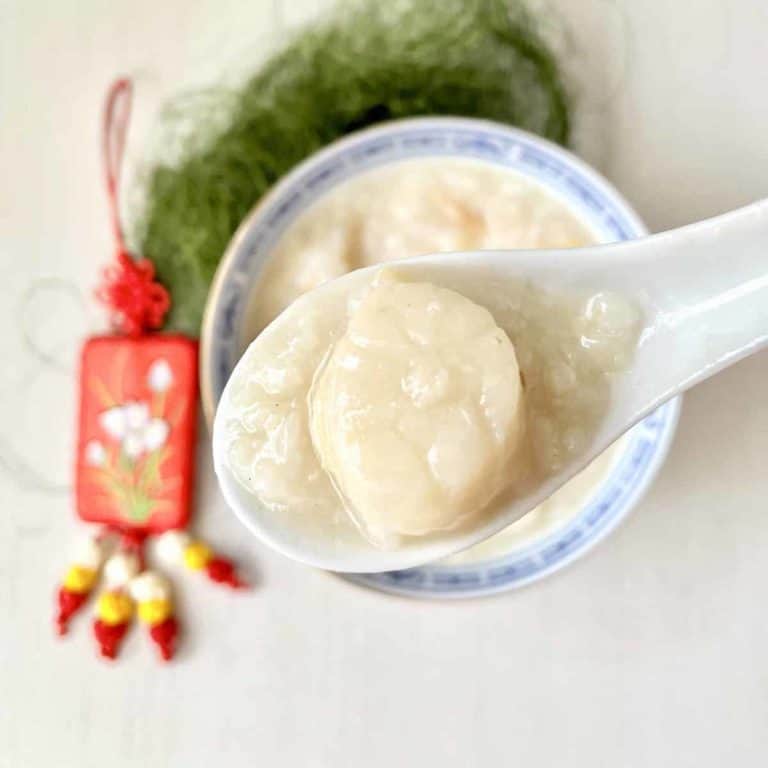 Dried scallop congee recipe
Equipment
Deep pot

The congee is cooked on high heat to break down the grains, and it can bubble over, so a bigger pot is better to prevent the rice from splashing onto your hand or making a mess.
Ingredients
1

Cup

Short grain white rice, rinsed and drained

You can use 50% long grain rice and 50% short grain rice.

1

handful

Dried scallops (or 5-6 pieces if you're using whole scallops)

Rinsed then rehydrated in warm-hot water for 30-60 minutes. The more dried scallops you use, the less salt you'll need later. If they're in big pieces, shred them once they've softened after soaking.

8-10

Cups

Water

You can use chicken stock if you want, but with enough dried scallops, the congee won't need it.

1

Honey date

Soak in hot water for 30-60 minutes (You can soak it with the scallops.) Alternative: Jujubes/ red dates or goji berries

1

knob

Ginger, peeled and sliced

You can also shred some of the ginger to use to garnish the seafood porridge later. (If you don't have enough ginger, cut them into smaller pieces so that the flavor is amplified.)

½-1

teaspoon

Shaoxing wine

Substitute: soju, sake or sherry

¼-½

teaspoon

White Pepper

White pepper is very strong, so don't add too much!

Salt, to taste

I add about ¼-½ teaspoon usually but different brands of dried scallops have different salt levels so it will vary for you. Substitute: fish sauce or light soy sauce

Optional: 6-8 frozen scallops

Substitute: frozen prawns or frozen fish fillets (or even minced pork, though that will change the flavour of the scallop congee slightly.) If using fresh seafood, you may want to marinate in shaoxing wine, grated ginger and soy sauce first.

Sesame oil, to taste

Chopped spring onions, coriander, shredded ginger etc

Optional garnish
Instructions
Add the rice, dried scallops, water, honey date and ginger to a big pot. (Start with 8 cups of water as you will be adding the scallop soaking water to the pot too- if it's not enough, you can always add more water later.) Bring to the boil, stirring every now and then to prevent the rice from burning at the bottom of the pot.

Let it boil on high heat, uncovered, for 10-15 minutes. (Don't forget to stir.)

Reduce to medium-high heat for 30 minutes, stirring frequently to prevent the rice from sticking to the pot. The congee will get thicker- if it becomes too thick, add more water.

When the rice has broken down enough such that it's at your desired consistency, turn up the fire again and add the frozen scallops. (Add more water if necessary.) Cook till the scallops are cooked through, not forgetting to stir. (you'll be able to cut through the scallops easily using a wooden spatula once cooked.)

Add the shaoxing wine, white pepper and salt, season to taste then switch off the fire. Drizzle with the sesame oil and sprinkle on the spring onions (or other toppings.)
Notes
Note: add the salt at the end, not the beginning, as the congee will cook down and something that tastes just nice at first may be way too salty later.
If using frozen scallops, you can add them straight into the pot without defrosting.
If you decide to use canned abalone in the porridge, you can add some of the abalone brine to the congee.
What is your favorite childhood congee recipe?