A porridge (Jook) version of the famous Singapore Hainanese Chicken Rice, 1 of the most popular Singaporean street foods.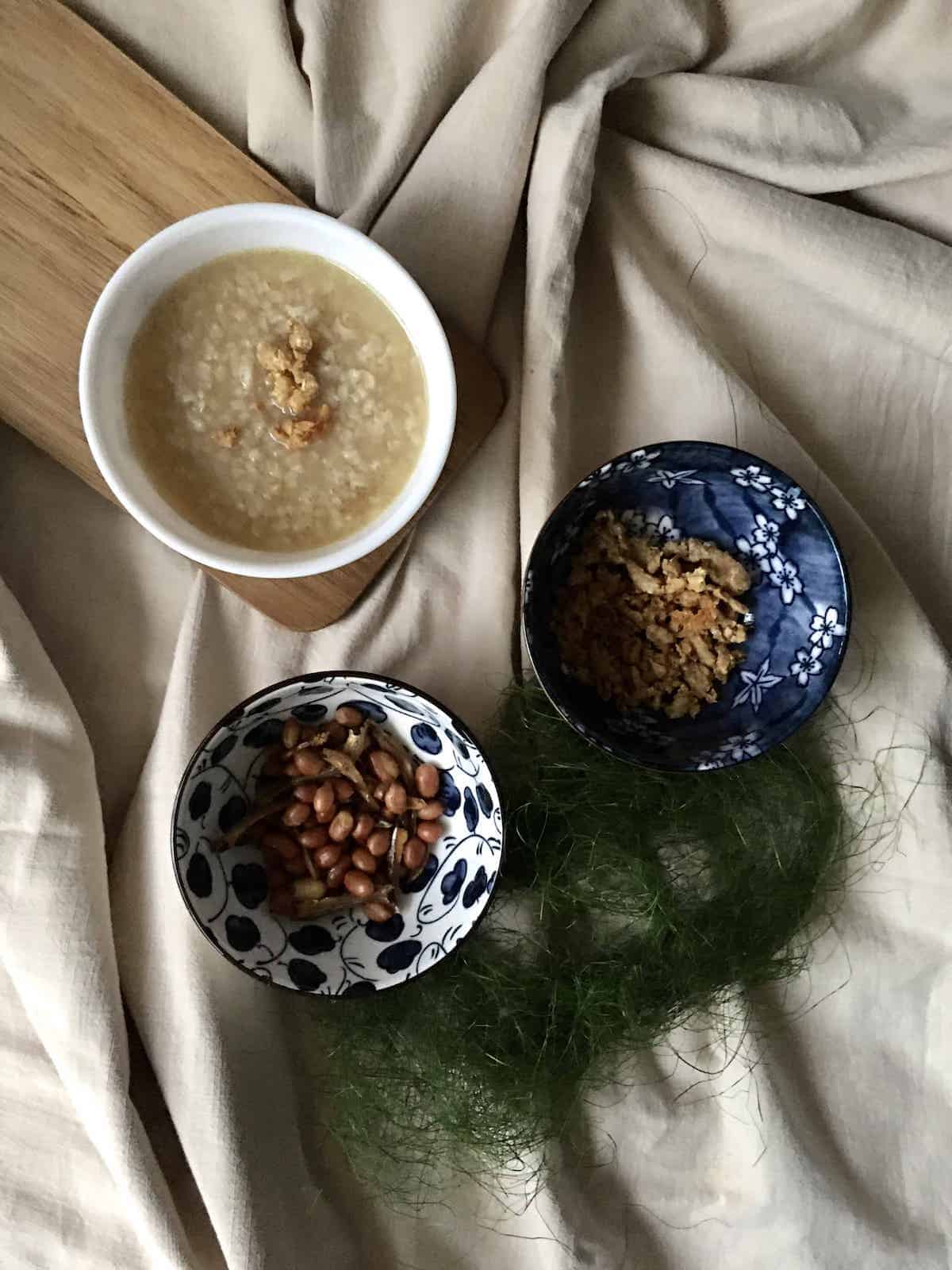 Jump to:
This Singapore chicken porridge is a (brown) rice congee with a broth reminiscent of Singapore Chicken Rice. (White rice is more traditional but brown rice is healthier!)
Rather random, but when you have a Mother who loves eating porridge and congee, you start craving some variety in your recipes, and porridges such as seafood jook, Cantonese scallop jook, abalone scallop porridge, golden pumpkin fish porridge, leftover rotisserie chicken jook etc are the result.
For chicken lovers, you may also want to try this Chinatown soy sauce chicken recipe that is better than takeout, this easy braised soy chicken that has 1 of the most fragrant sauces I've ever eaten or 1 of these Asian whole chicken dishes.
How to Cook
Unlike my other recipes, this Singapore Hainanese Chicken Porridge Recipe is very Singaporean style- agak agak. In other words, a lot of the timings and measurements are approximations rather than set in stone.
I make it when I'm not sure of the time we're having dinner and just leave it on the stove top for anything upwards of 45 minutes, topping up with water whenever the broth is running low.
Right before serving, I either add water or boil it down a bit more, depending on how watery a porridge I feel like having. (Because of the uncertain porridge cooking time, we'll have to sacrifice the porridge texture- sometimes the rice may be firm, and sometimes softer, but it is always delicious!)
If adding small pieces of chicken meat, I add them towards the end so they they're not overcooked (especially if it's chicken breast which is quite dry)- do make sure the meat is heated through though. One of my Instagram friends called this comforting recipe "a cuddle in a bowl", which I think sounds about right- it's a great recipe for cold winter days .
Ingredients
Pandan
Pandan leaves may not be readily available if you live outside of South East Asia and they're optional- I've made the porridge both with and without the pandan leaves, and there hasn't been too great of a difference in flavour.
If you're lucky enough to have a pandan plant, store extra leaves in the freezer or use them to make homemade pandan juice which is a good food colouring and flavourer. (For example, it's used to produce the pretty spirals in this pandan mantou, to make these green Singaporean kueh and in these 4 other pandan recipes.)
Chicken stock
Stock, be it chicken or seafood or pork, is a key ingredient in Singapore cuisine. You can make your own by boiling chicken bones (as well as thin slices of ginger and garlic) in water for several hours (it's faster if you use a pressure cooker).
Alternatively, use shop bought (choose the low sodium chicken broth)/ chicken bouillon cubes. If making your own stock, adding some meat makes the stock taste better.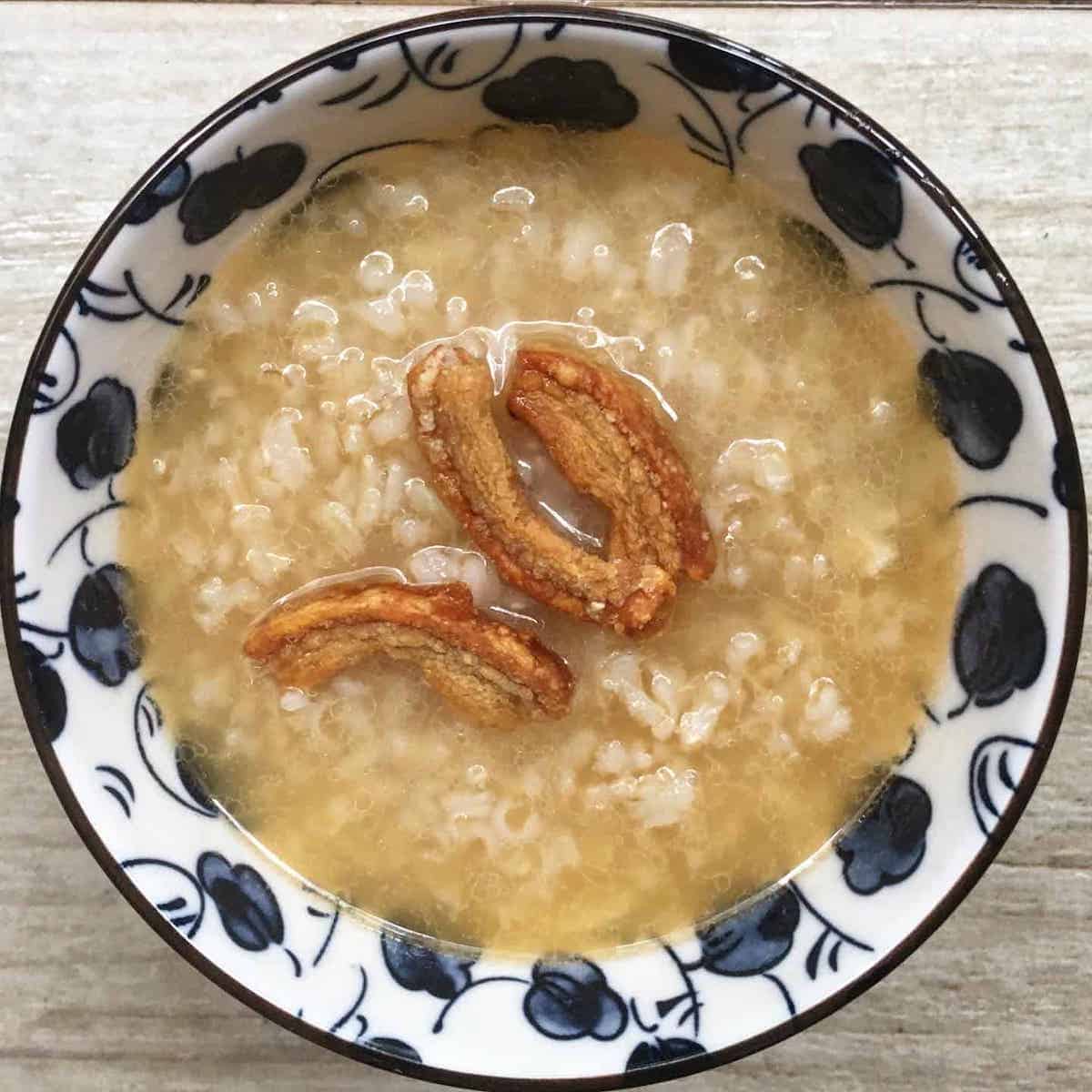 Expert Tips
You can sauté chicken fat, rice grains and aromatics on the stove, then transfer the ingredients (and chicken stock) to the rice cooker to continue cooking.
Substitute with white rice if you're in a hurry. (White rice cooks more quickly than brown.)
How to Serve
This would go great with a Chinese side dish of stir-fried veggies in oyster sauce. (For a list of common Chinese porridge side dishes, click here.)
Usually Chinese people like to eat their porridge with salted duck egg on top, but I'm not sure if it would go well with the flavours here. Instead, I suggest garnishing with chicken scratchings or 1 of these congee toppings.
How to Store
Since I was young, I've always been told never to keep rice porridge overnight. (If you cook it for lunch, you can leave it in the fridge and reheat for dinner, but if you make it for dinner, you have to finish it up!)
I'm not sure why but I'm guessing it's because leftover rice goes bad really quickly?
Click here for some leftover rice recipes as well as tips on how to ensure your extra rice is safe to eat!
Other Chinese Recipes
FAQ
What's the difference between porridge and congee?
Porridge can refer to an oat or cereal dish but, in Chinese cooking, it is almost always rice porridge. Congee is also a rice dish, however, it differs from Chinese rice porridge in the texture. Congee has a more silky texture whilst rice porridge is almost like grains of rice in a clear soup.
Love this Chicken jook recipe? I'd love it if you leave a 5-star 🌟🌟🌟🌟🌟rating in the recipe card below & if you REALLY like it, please leave a comment. Thank you!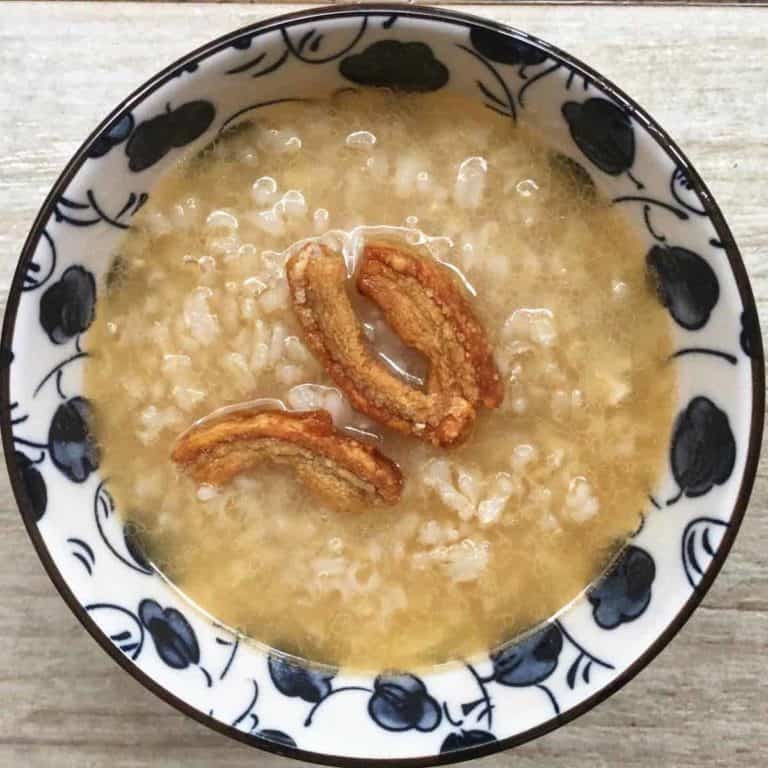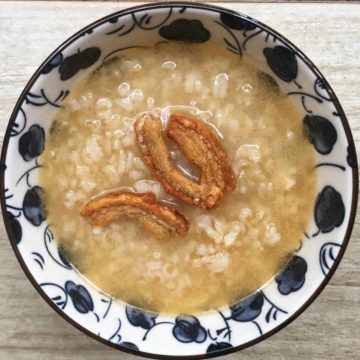 Singapore Chicken Rice Porridge Recipe
A jook version of the famous Singapore Hainanese Chicken Rice that is just as fragrant but super easy to cook!
Ingredients
1

tablespoon

chicken fat

You can get chicken fat by rendering it out of chicken skin. The leftover chicken skin (from rendering) will become super crispy and yummy chicken "crackling"

5

slices

ginger

i don't always bother to peel- the flavour is in the skin! just make sure you wash it well

2

cloves

garlic

peeled and smashed

3

pandan leaves

knot them for easy removal later

1

Cup

uncooked brown rice

washed but uncooked. Substitute: white jasmine long grain rice or short grain rice (but not glutinous rice)

4

Cup

Chicken stock

Do not substitute with water- if you do, you will get plain congee, not Singapore Hainanese Chicken Rice Congee

Shredded chicken meat

Optional: If you want to make the congee more substantial, you can toss in leftover rotisserie/ roast chicken meat (just make sure it's a plain roast and not something with a fancy flavour or the taste will clash with that of the other ingredients!)

Light soy sauce

To taste. Not to be confused with dark or sweet soy. Substitute: you could use a teeny bit of fish sauce instead

sesame oil

To taste.

Salt

To taste.

sliced green onions

Optional garnish
Instructions
Heat the chicken fat in a pot on medium. When hot, add the ginger, garlic and pandan leaves. Be careful not to burn the garlic! Once fragrant, add in the brown rice and stiry fry for a few minutes.

Add the chicken stick and bring to the boil on high heat, then decrease to medium-low and allow to simmer. Give it a stir now and then to prevent the rice from sticking to the bottom of the pot (every 10-15 minutes). Check that there is more than enough water- it should be more than just covering the rice- as you do not want the water to completely evaporate whilst you are off doing something else.

5-10 minutes before you want to eat, adjust the water to your preference (top up with water if the congee is too dry for your liking or increase the heat to evaporate the excess water if you find it too watery.) Season with salt, light soya sauce and sesame oil.

Enjoy! To pimp up your congee, you can top it with: sprin onions, crispy chicken skin, pork crackling, fried peanuts and anchovies etc
Notes
If you want dinner on the table in a hurry, use white rice instead of brown rice as it cooks faster.
Disclaimer:the nutritional information is an estimate automatically calculated using the WPRM recipe maker and I am not responsible for its veracity.
Nutrition
Calories:
243
kcal
Carbohydrates:
40
g
Protein:
8
g
Fat:
6
g
Saturated Fat:
2
g
Polyunsaturated Fat:
1
g
Monounsaturated Fat:
3
g
Cholesterol:
3
mg
Sodium:
73
mg
Potassium:
347
mg
Fiber:
2
g
Sugar:
0.4
g
Vitamin A:
0.1
IU
Vitamin C:
1
mg
Calcium:
28
mg
Iron:
1
mg

If you try this Singapore chicken porridge recipe, let me know how you find it in the comments below or tag me on social media (@greedygirlgourmet)