Chinese people, regardless of which dialect group they belong to (Hokkien, Teochew, Cantonese etc) all love their rice porridge and congee. Delicious plain or with ingredients, congee is usually served with some toppings and side dishes. Here is a list of the best Chinese congee side dishes.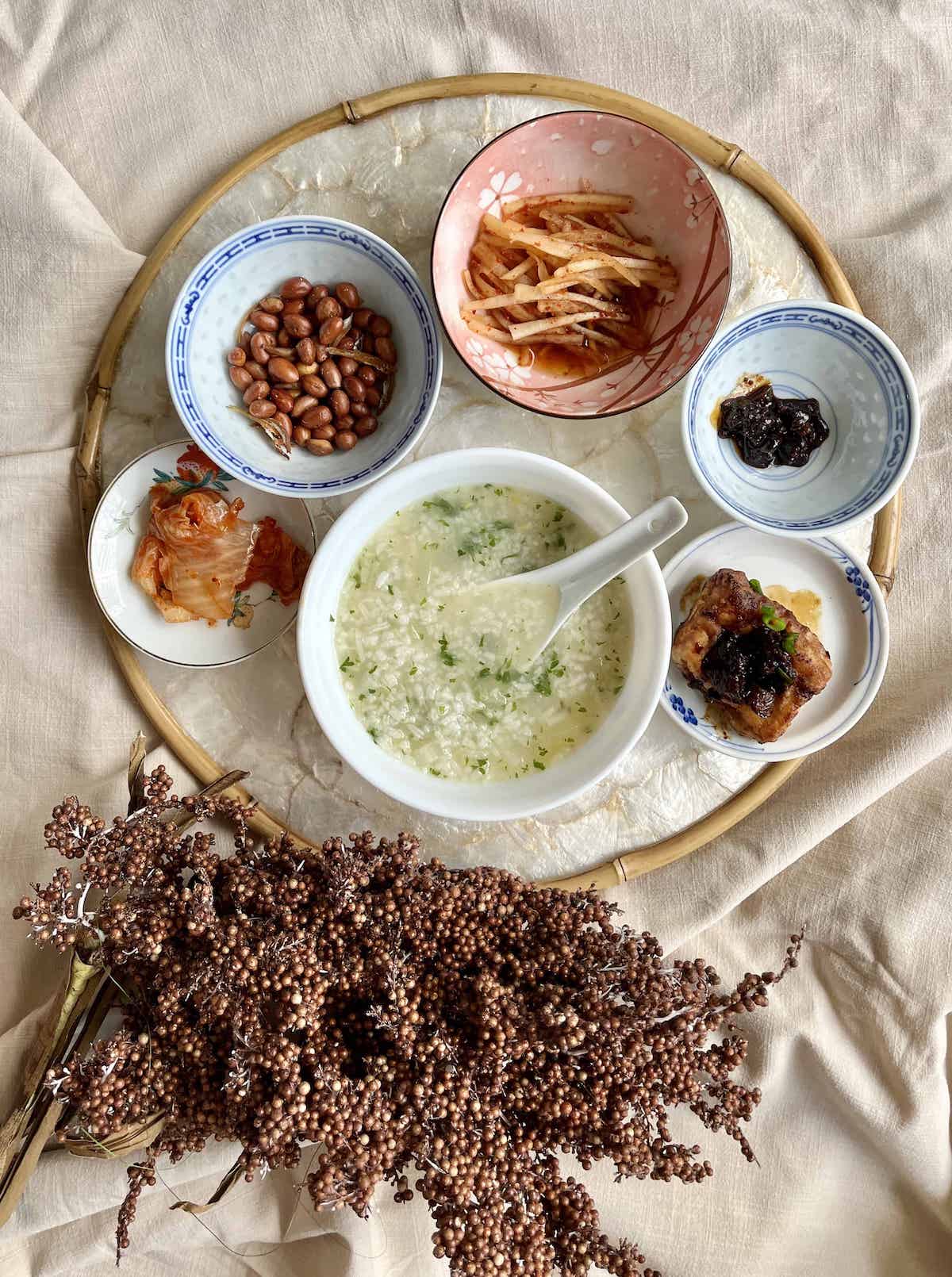 Jump to:
What is congee?
Congee, also known as juk or jook, is a type of Asian rice porridge (粥 or Zhou). In the West, porridge is made with oats but in Asia, porridge is almost always made with rice (and sometimes other grains and beans.) There is more than 1 type of Chinese rice porridge, such as Teochew porridge and Cantonese congee (i.e. all congees are rice porridges, but not all porridges are congee!)
To be more specific, congee is a type of Chinese rice porridge or gruel with a thicker texture. Most commonly associated with Cantonese cuisine, Cantonese congee has an almost starchy and thick texture with the rice pretty much broken down after a long cooking period. (The challenge of cooking Cantonese congee is how to replicate the smooth & thick consistency you get at restaurants.) Other porridges, such as Teochew porridge, are more like rice grains in water!
For Taiwanese congee (usually called xi fan 稀飯 or muê 糜), the rice is usually cooked plain or with sweet potato (vs Cantonese congee which is usually cooked with tofu skin or gingko nuts.)
Note: Besides side dishes, there are popular congee toppings such as fried dough fritters (you tiao.)

Congee recipes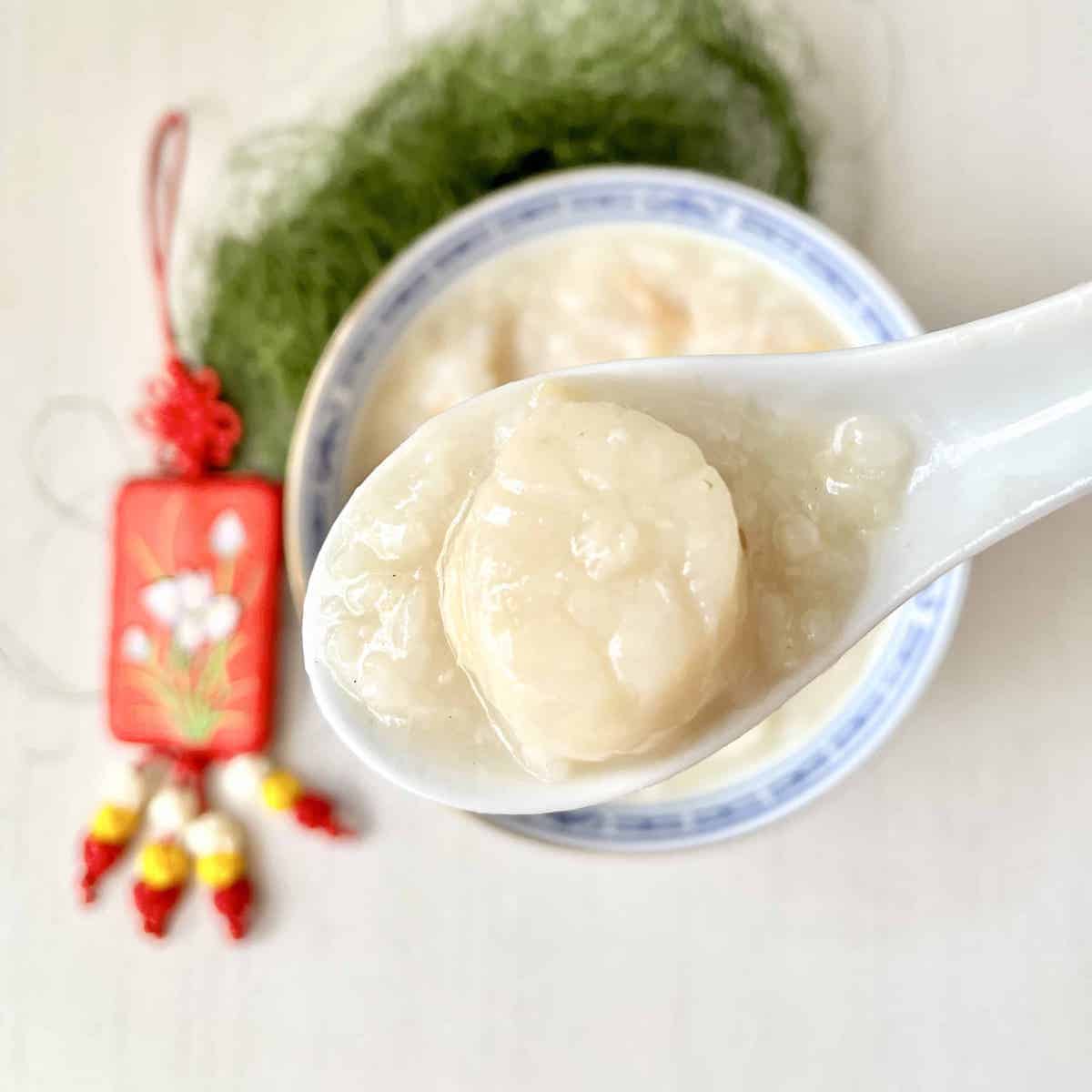 Chinese people can eat congee for every meal, even breakfast, and it's especially beloved when one is ill, as it's light and easy on the stomach. In addition, most of us have fond childhood memories of this dish so it's a comfort food. It can be a very frugal dish made with simple ingredients, or a sumptuous one using rehydrated dried seafood.
Some of my popular congee recipes include:
To be honest, there isn't any hard and fast rule as to what constitutes a congee side dish- my family often serves our regular stir-fried dishes such as stir-fried bak chow or broccoli in oyster sauce etc- but if you have no idea what to serve with Chinese congee, here are some ideas for you.
Snacks
Most congee side dishes are small and light, such as:
You tiao- a must have side dish for Cantonese congee and 1 of my favourites!
Braised peanuts
Salted clams (again, more commonly served with Taiwanese congee than Cantonese)
Wheat gluten
Preserved foods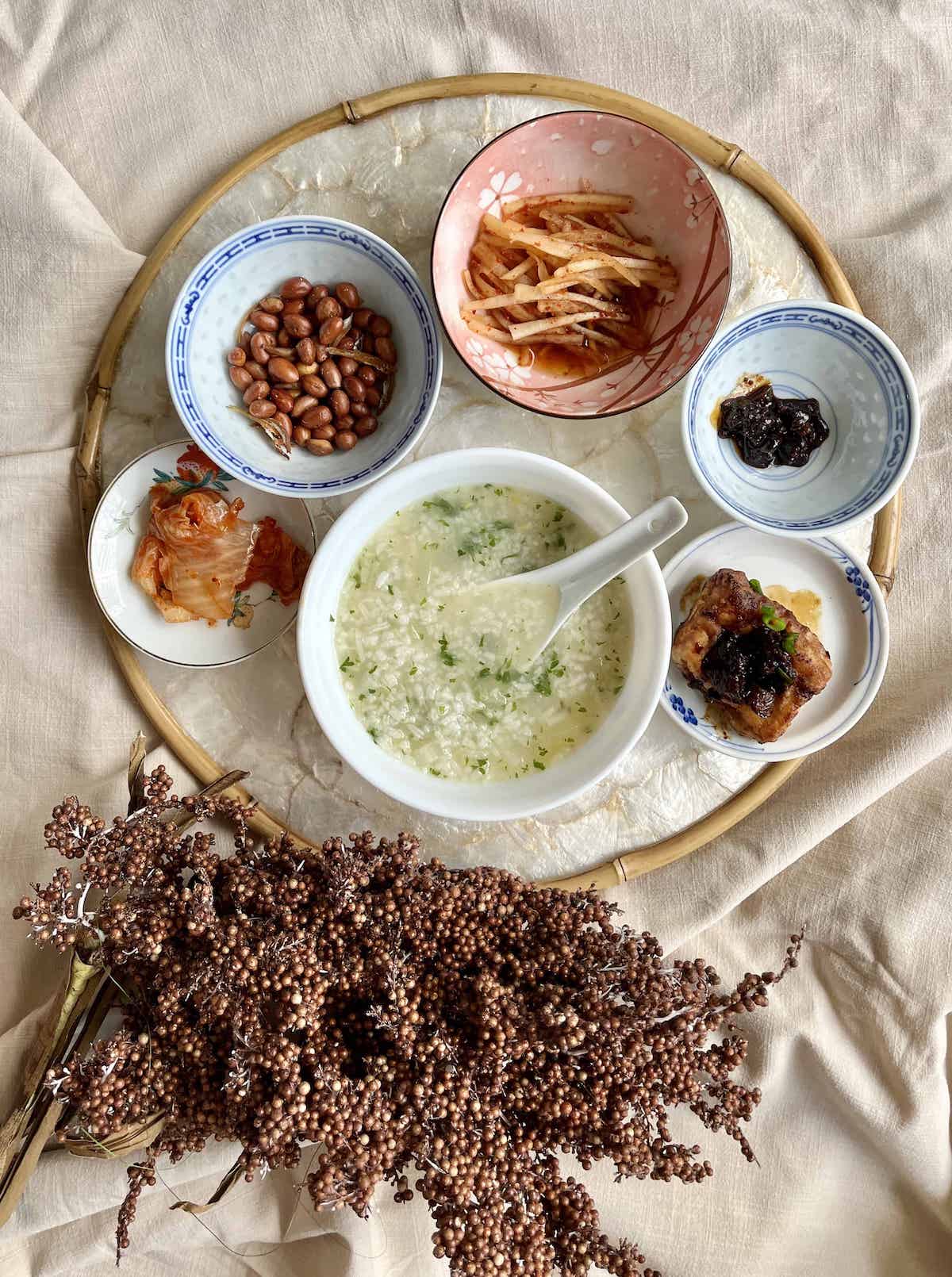 One of the most popular snacks to serve with Chinese congee are preserved vegetables such as:
Fermented tofu (2nd dish on the right of the bowl of porridge (in the biggest bowl, at the bottom of the photo) shown above)
Pickled lettuce (shown in the photo below)
Pickled cucumber
Pickled radish
Pickled white gourd (more commonly served with Taiwanese congee than Cantonese)
Dried beancurd sticks
Fermented or dried bamboo shoots
Fermented black beans (usually stir-fried with oyster in Taiwanese congee shops)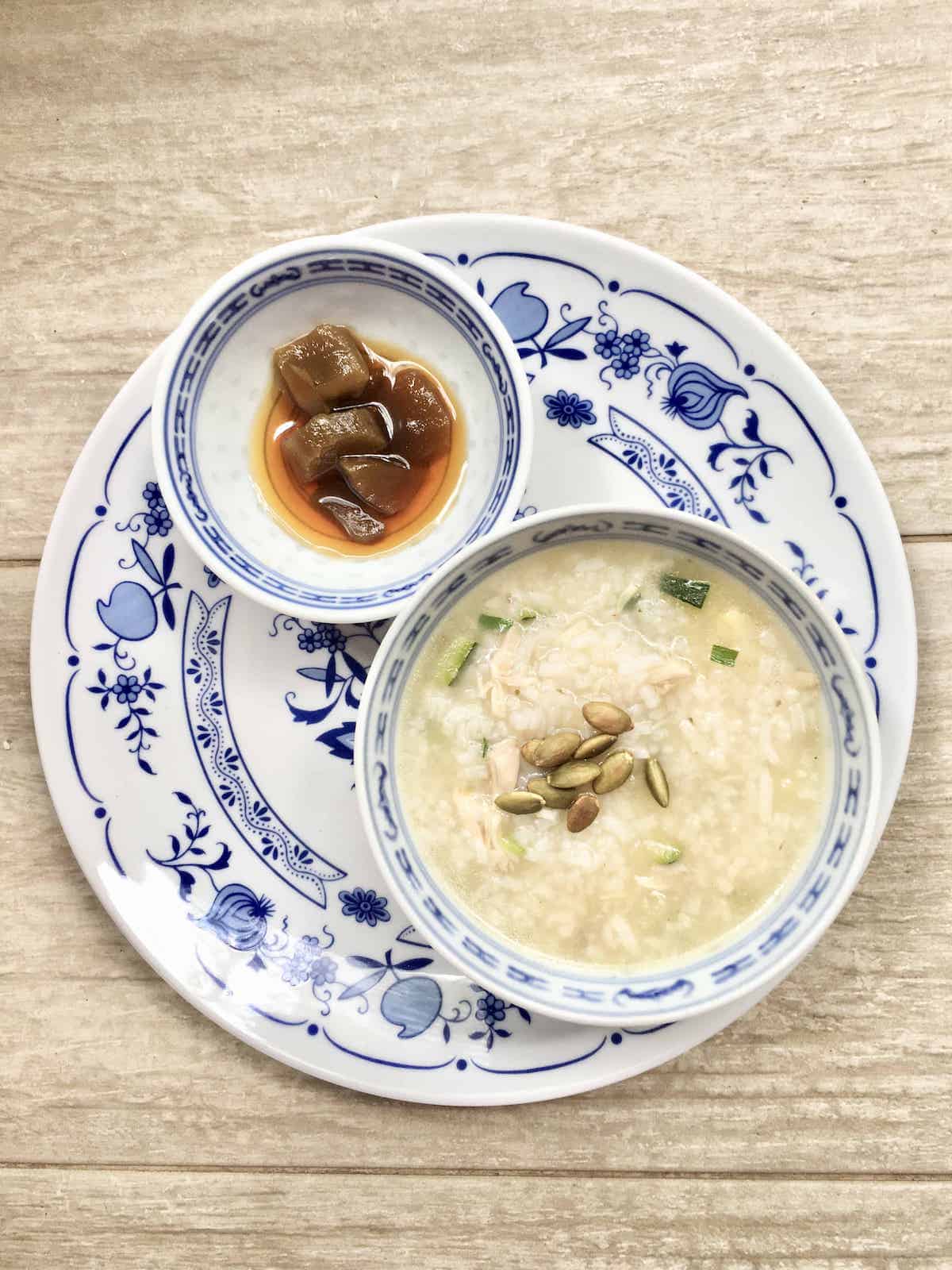 Preserved meats are not to be missed out too when serving congee:
Chinese sausage
Meat floss (traditionally pork, but there are also halal chicken, fish and beef versions. Known as bahu, this is 1 of the most popular food souvenirs that tourists buy when visiting Singapore. If you're interested in foodie travel, here are some fun activities for foodies in Singapore.)
Pan-fried luncheon meat
Tofu
Salted Egg Tofu (Fried tofu & salted egg yolk sauce)
This salted egg tofu is an easy but delicious recipe- the fried tofu is crispy and smothered with a creamy and buttery salted egg yolk sauce that has hints of the citrusy curry leaf and the spice of the chilli. Yum!
Click here for the salted egg beancurd recipe.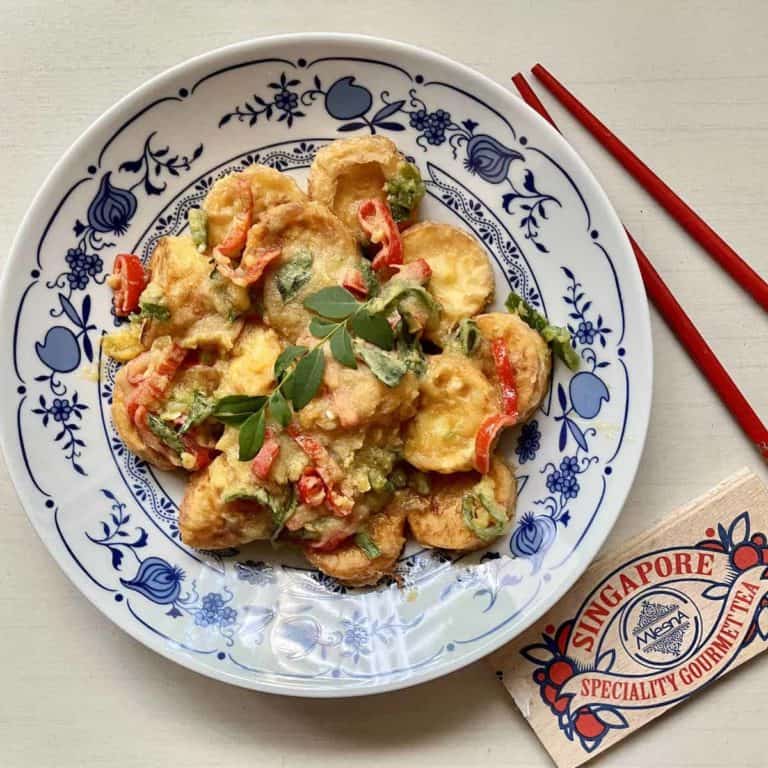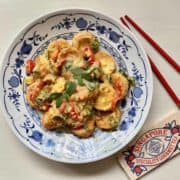 Eggs
A simple fried egg
Chye Poh omelette (or preserved turnip/ radish omelette. This is commonly served with Teochew rice porridge as well.)
Steamed or boiled salted ducks' eggs
How to Make Chinese Salted Egg Recipe
Learn how to make 1 of my favorite condiments, Chinese Salted Egg, at home using brine solution with only 3 ingredients. So good but so quick and easy: the hardest part is the waiting! (My homemade salted egg yolk recipe is passed down from my Greatgrandmother so you know it's tried and tested.)
Check out the homemade salted ducks egg recipe here.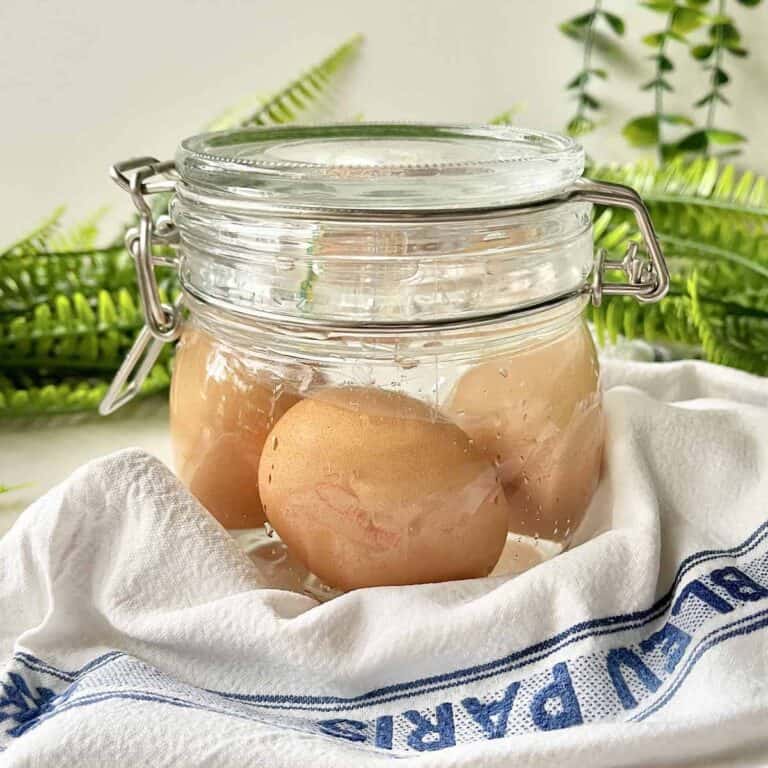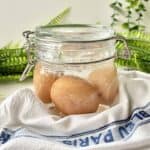 Meat
12345 Chinese Spare Ribs (5-ingredients)
These Chinese Spare Ribs are delicious, finger-licking Asian-style pork spare ribs that are as simple to cook as 12345 (a mnemonic device that will also help you recall the recipe.) Using only the Asian pantry staples of wine, dark soy sauce, vinegar and sugar to braise the meat, with only a few minutes of active cooking, this is the best easy sticky Chinese Spare Ribs for a lazy food lover.
Click here for the best Chinese pork ribs recipe!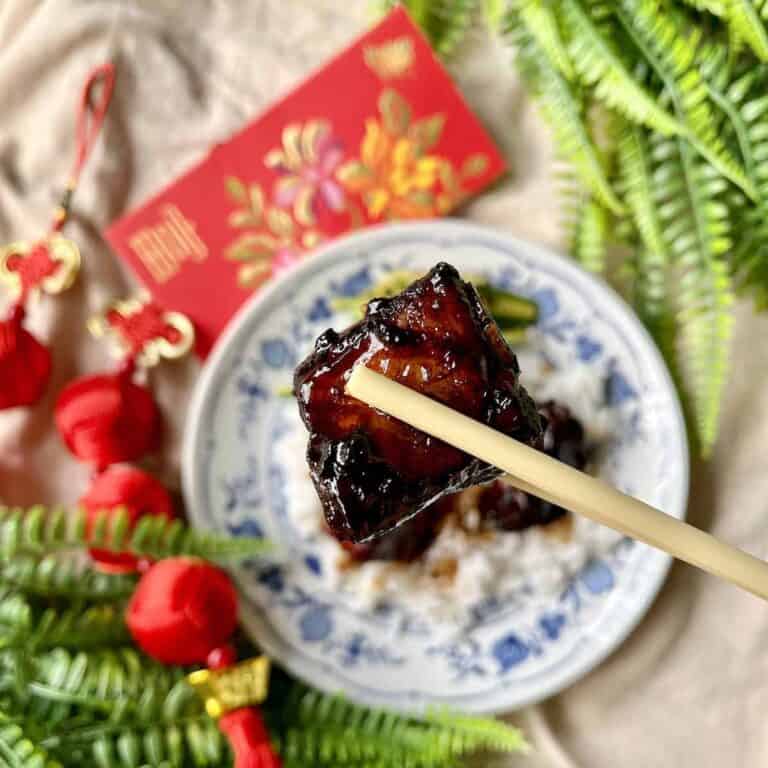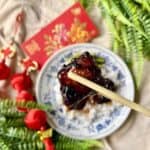 Tau Yew Bak (Braised Pork in Soy Sauce)
A super easy recipe to make for a weekday dinner after work, this braised pork dish is a delicious comfort food that doesn't require much prep time.
Click here for the braised pork recipe.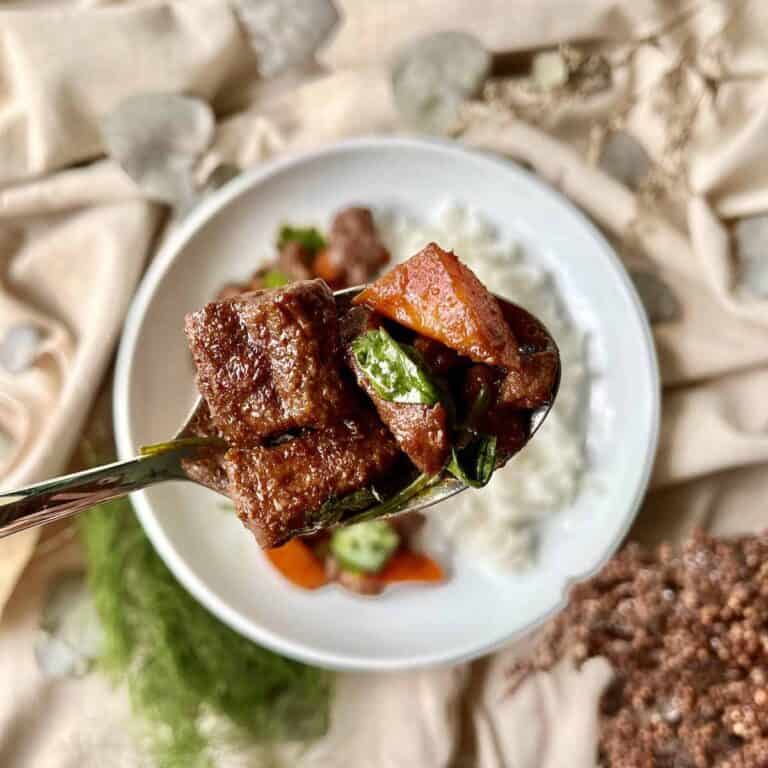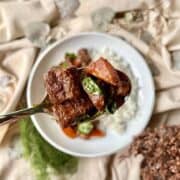 Besides tau yew bak, Taiwanese people also like to eat pan-fried pork liver or minced pork and cucumber with their congee.
What is your favourite congee side dish, Cantonese, Taiwanese or otherwise? Let me know if I've missed it out, and do share this on your social media if you've found it useful!