This Salted Egg Tofu (Fried tofu & salted egg yolk sauce) is an easy but delicious recipe that is on the table in under 30 minutes- the fried tofu is crispy and smothered with a creamy and buttery salted egg yolk sauce that has hints of the citrusy curry leaf and the spice of the chilli. Yum!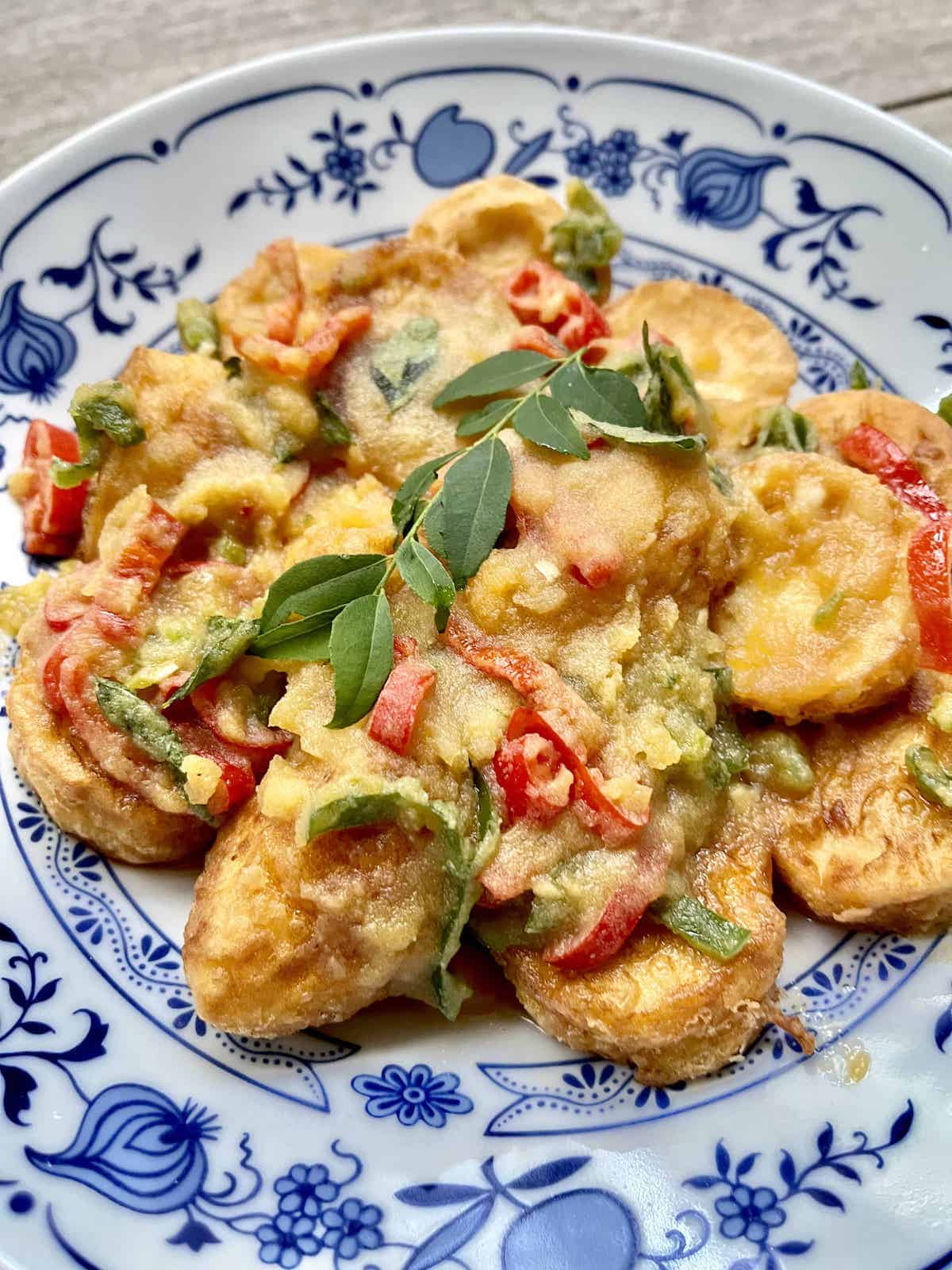 Jump to:
What is Salted Egg?
I love salted egg, which is why I have a whole category dedicated to things you can make with salted duck eggs here. This tofu with salted egg yolk is at once soft yet crispy and also buttery and full of umami. It's 1 of my favorite Asian tofu recipes!
It's a must try if you love strong flavourful dishes, as I do. (Maybe stay away if you like blander, steamed foods.) For other salted egg yolk dishes recipes, click here.
In Singapore, curry leaves and chilli can't be omitted when cooking anything (savoury) salted egg, as it helps to make what could be potentially too rich a sauce, just nice.
Curry leaves are also super easy to grow in the tropics- click the link to find out more as well as for a collection of delicious curry leaves recipes from all over the world.
If you like gardening, as I do, I have more edible garden recipes here.
Where to buy
These are so easy to make at home, there's no need to stress about where to get them- you can try my Great Grand Mother's brined salted egg recipe here. The only downside is you need time- at least 1-2 days if making the quick version- so if you need the salted eggs NOW, you can check out the nearest Asian grocery store or Chinese supermarket. (In Asia, they're found at regular markets.)
Variations
In Vietnam, this salted egg yolk tofu is called "đậu sốt trứng muối" or"đậu chiên trứng muối" As far as I can tell, the Vietnamese version doesn't involve curry leaves, unlike the Singaporean one for which the curry leaves and chilli are a must, as they help to cut through the sauce which can otherwise be too fatty

We call it "jelat" in Singapore- when something tastes awesome and creamy, but it's a bit too creamy for its own good, and can make you feel a little sick
The tofu is soft and I find that a bit of crunch helps to elevate the dish- feel free to toss in some cornflakes for texture.
If you don't have egg tofu, silken tofu or Japanese tofu is good too. Just be careful when frying the silken one as it breaks pretty easily.
Tips
If you put your cooked ducks eggs in the fridge, the yolk will be cold and hard, making it difficult to mash. (It's best to cook the yolks right before you make the sauce.) If there are still big lumps in the duck egg yolk, press it through a sieve. (Don't skip the mashing or your sauce will be rather clumpy
If you plan to serve the tofu later- for example if you're waiting for guests- double frying them helps to keep them crispy. The key to a good salted egg tofu is a crispy tofu (the corn flour or rice flour coating is so important!) and a rich and creamy salted egg sauce! Soggy tofu doesn't make anyone happy.
Don't sauté the salted egg yolks for too long or it'll separate from the butter and your sauce will split.
Instead of stir frying the tofu in the pan, I prefer to pour the sauce over the fried tofu on a plate- this helps to make sure that the delicate tofu doesn't break. (You'll have to make sure the pieces all get some sauce, or they'll taste a bit bland- more sauce is always better than too little!
This sauce is a very rich, very flavourful and very creamy delicious sauce. If you have guests that prefer bland food, you may want to skip it. Tasty as the sauce is, all that buttery umami can get a bit much, so prepare a nice up of hot tea to wash it down after the meal!
Some Asian tea recipes you may be interested in to wash down the sauce:
FAQ
What goes well with salted egg?
So many things! In Singapore, we use salted ducks egg yolk in both sweet and savoury recipes. They are used in croissants, ice cream, chips, pasta sauce, or eaten plain with porridge!
Related recipes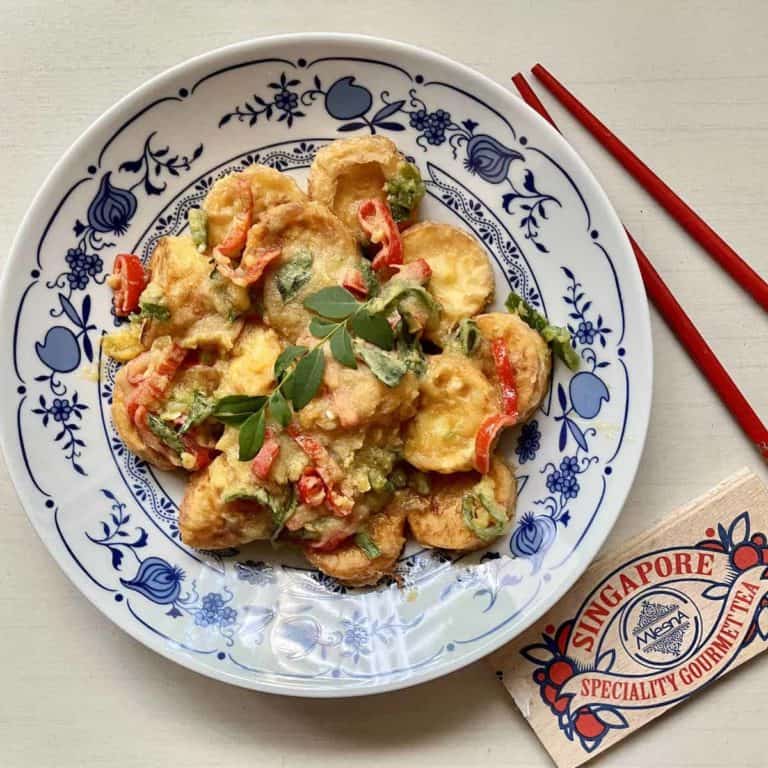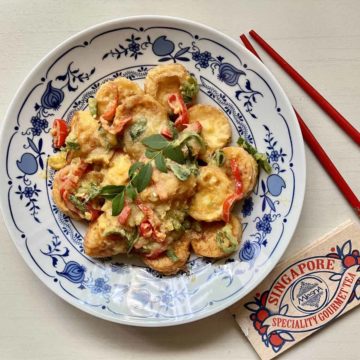 Salted Egg Tofu (Fried tofu & salted egg yolk sauce)
This salted egg tofu is an easy but delicious recipe- the fried tofu is crispy and smothered with a creamy and buttery salted egg yolk sauce that has hints of the citrusy curry leaf and the spice of the chilli. Yum!
Equipment
Pot

Knife and chopping board

Bowl and fork

Sieve optional (for if you can't get the egg yolk mashed well with just a fork)

Pan
Ingredients
For the fried tofu
2

Packets (they usually come in rolls)

Egg tofu (about 300g or 10.6 0z)

Slice into rounds about 1.5cm wide.

2-4

Tablespoons

Rice flour, corn starch or potato flour

¼-½

teaspoon

Salt, optional

I prefer to omit this as the sauce is salty already but if you're worried you won't get enough sauce on all the tofu pieces. Salting the batter helps to ensure the fried tofu isn't too tasteless on its own

Oil

Enough to fry
For the salted egg sauce
4

salted duck egg yolks, steamed or hard boiled then mashed well with a fork

Substitute: salted chicken eggs (Use 4 as these are smaller) Keep the egg whites and eat them with your congee

4

Tablespoon

Unsalted butter (about 50g, but you don't have to be obsessive about the weight- just eyeballing it is fine)

Don't use salted butter unless you know for sure how salty your ducks eggs are. Some are super salty, then it'll be overload!

2-3

cloves

garlic, peeled and minced

1 sprig

Curry leaves

Remove the leaves from the sprig but toss everything into the pan, then remove the stalk just before serving

1-2

red chilli padi (bird's eye chilli)

Substitute: ½ big chilli- I used this in the photo as smaller chilli padi is pretty spicy and not everyone I was serving could take the heat. The spice does help to cut through the fat though!

Handful

cornflakes, unflavoured, optional

If you use sweet cornflakes, maybe skip the sugar later on.

½-¾

teaspoon

white granulated sugar, or to taste

The amount of sugar will change depending on the salt levels of your eggs, so don't take my quantity as prescriptive. Taste then season!

fish sauce (or salt), Optional

Taste your sauce before adding! I used 2 teaspoons of fish sauce (substitute: salt) but this will vary depending on the salt levels of your eggs. If you made your own, the longer you brined them, the saltier they'll be. If you really want to pile on the flavour, use chicken stock powder instead.
Instructions
Frying the tofu
After slicing the tofu, press it with a kitchen tower (gently) to make sure it's not wet as that could prevent you from getting it cripsy.

Dip each piece in the flour and lay them out side by side on a plate, to prepare for frying. Prepared another plate, with a kitchen towel on it, ready to place the fried tofu on.

Fill your pot with enough oil to fry the tofu. Turn on the fire and once the oil is hot enough, put 2-3 tofu pieces gently into the fire. (You can test the heat by putting a wooden chopstick in- if you see small bubbles, the fire is hot enough. If not, use a cooking thermometer- it should be 160C/ 320F.) Don't put too many tofu in an once or the oil temperature will decrease rapidly and you won't be able to get them nice and golden crisp.

Turn the tofu to fry the other side. If your chopstick skills aren't good, use a spatula or a metal sieve- you don't want to risk dropping the tofu into the hot oil or having the oil burn you!!

Once golden brown on both sides, place it on the kitchen towel to absorb any extra oil.

Repeat till you've finished frying all the pieces then move on to make the salad egg yolk sauce.
Cooking the salted ducks egg sauce (or salted chicken egg if that's what you've got)
On medium-high, melt the butter and once hot (make sure it doesn't burn), add the garlic, curry leaves and chilli.

Stir-fry rapidly till fragrant (your kitchen will smell So Good) then add the mashed up egg yolks.

Keep stirring and you'll see the sauce starting to bubble.

If adding cereal, toss them in now and give everything a good mix.

Taste then season with fish sauce/ sugar as appropriate.

Switch off the heat and pour the sauce over the fried tofu.
Notes
Salted eggs vary widely in salinity- it depends on the size of the yolks, the type of eggs used, the time they were brined etc. If you buy the ones packed in the black salted charcoal and leave them like that for ages, they'll slowly get saltier, for example. So the seasoning of the salted egg sauce very much varies from kitchen to kitchen. Use my quantities as a guide but taste before you add anything.
Option to skip the deep frying and cook the tofu in an air fryer before mixing in the sauce!
I like to mix red and green chillies to give the salted egg tofu more vibrancy in the plating.
As the sauce is so full of flavour, it's best to eat this dish with white rice and to have tea after the meal.
Once you learn to make this sauce, you can use it to cook anything, from salted egg pasta to salted egg chicken! 
Waste not, want not: there'll be lots of yummy sauce leftover in the pan, so I like to stir any leftover white rice I have in it to absorb the flavour. For more ways to use leftovers in an Asian kitchen, click here.
If you've enjoyed this creamy salted egg tofu recipe, please do share it on your social media!