Looking for alternatives to rice flour for gluten-free baking, thickening foods or coating fried stuff? Here are the worst and best rice flour substitutes, from amaranth to potato starch, with tips on how to use the substitutes to achieve the perfect texture and flavor.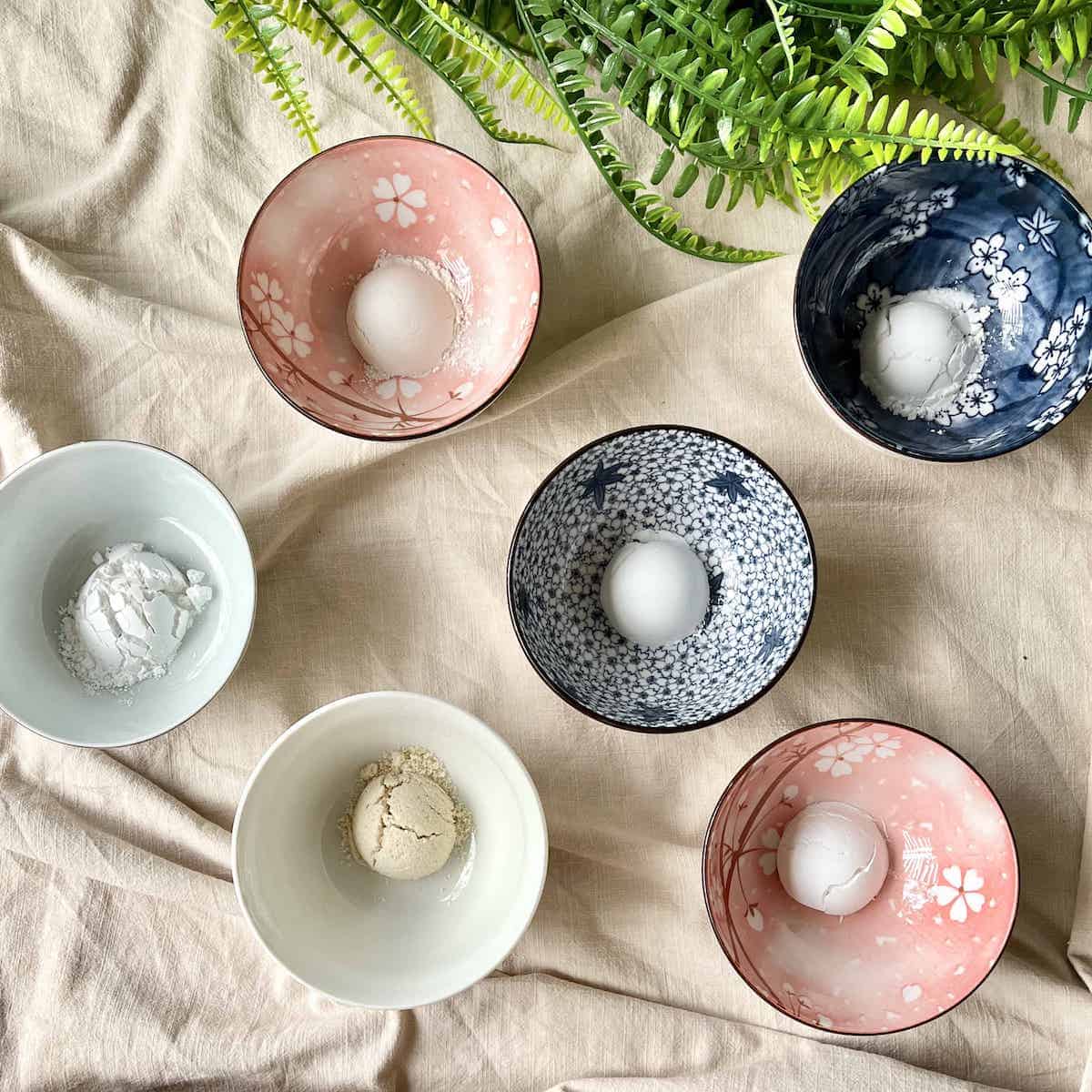 Jump to:
What is Rice Flour?
Rice flour is made of rice ground down to a fine powder that has been used in Asian cuisine, particularly Chinese food, for centuries.
Recently, it has become popular in the Western world in gluten-free cooking and baking as it is naturally gluten free and thus suitable for those who have celiac disease or are gluten-intolerant.
Hence, you can find it in regular grocery stores and no longer have to trek to the Asian supermarket for it!
Types
There is white and brown rice flour.
White rice flour is made from polished white rice grains, and is more commonly found in the Asian pantry. Brown rice flour is made from the more nutritious whole rice grain and contains more fiber and nutrients than the former.
Note: rice flour is not the same as Glutinous Rice Flour, which is also known as sweet rice flour and made from sticky rice. (Like Rice flour, Glutinous Rice Flour is also gluten-free, despite its name!) Foods made with glutinous rice flour, such as Chinese pumpkin pancake, tang yuan and Third Bakery-inspired mochi muffins have a chewy texture.
Health Benefits
Rice flour absorbs less oil than regular wheat (and other) flours during the deep frying process, creating a crispier and less oil dish. The final result is also healthier as it has less calories from fat!
Free of gluten so suitable for those with celiac disease or gluten intolerance
High in insoluble fibre that helps us remove waste as well as calcium (good for the bones)
Contains choline that is linked to liver health
Note: above is for information only and not meant as medical advice. Please consult a health professional.
How to Use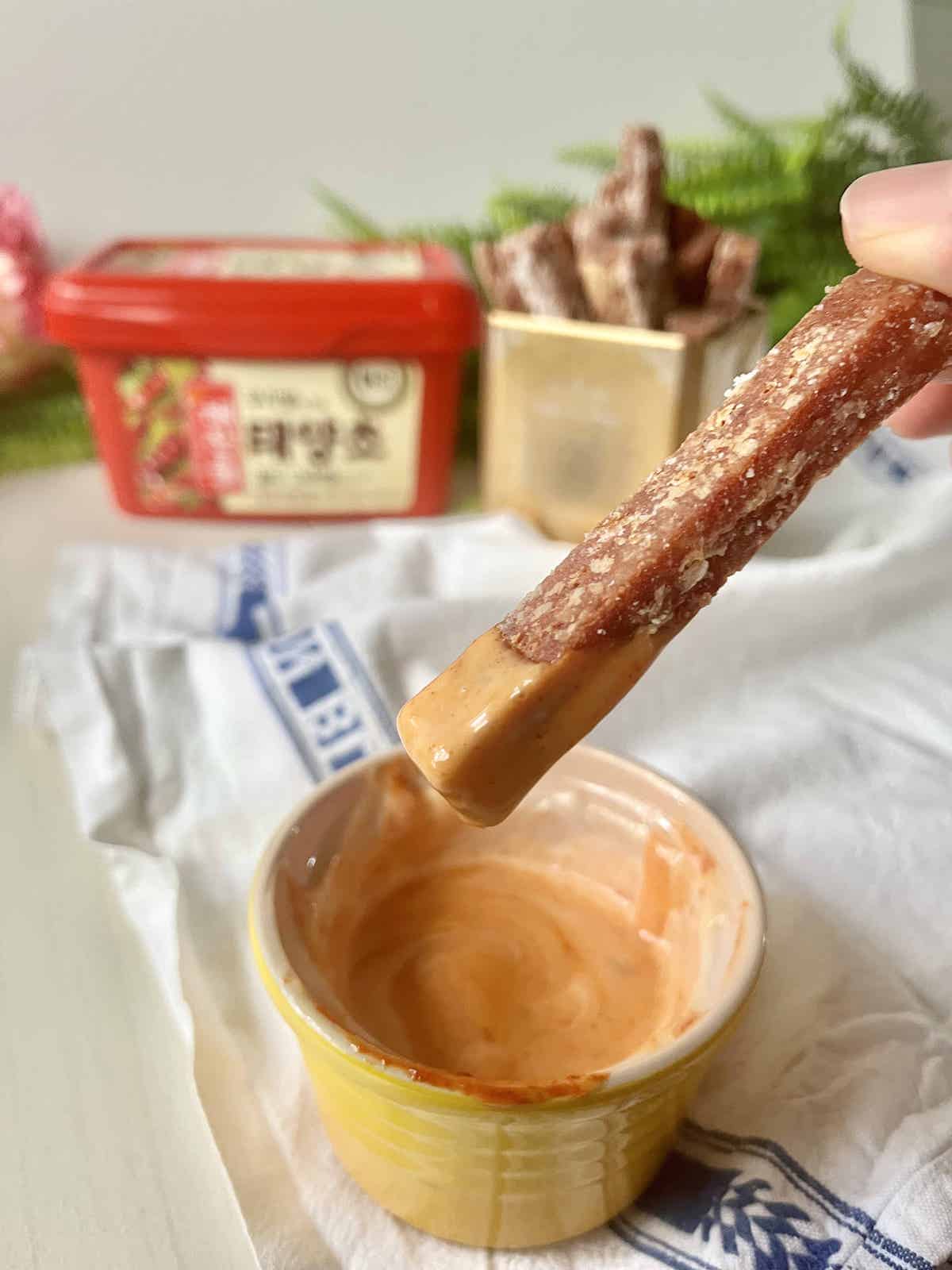 Rice flour can be used:
as a thickening agent, in dishes such as Chinese sesame soup (super easy to make if you batch make black sesame paste!)
as a crispy coating for fried foods, such as with these Spam Luncheon Meat French Fries (goes amazingly with dipping sauces such as gochujang kewpie mayo and sambal oelek aioli
to make noodles and dumplings: simply mix with water to form a dough, and then roll and cut into the desired shapes
to make gluten-free bread, cakes, and other baked goods (although the texture if a little different from regular wheat flour bakes. In addition, when baking with rice flour, you may need add binding agents, such as xanthan gum, to hold the dough together as rice flour doesn't have gluten.)
for traditional Asian snacks, such as Huat kueh (traditionally flavoured with brown sugar and sometimes pandan juice) and Indian murukku
Substitutes
When substituting for rice flour, it's important to consider the flavor, texture, consistency of the final dish as well as the dietary needs of the person eating!
Thickening Agent
Note: when thickening sauces with rice flour (or stews), simply mix it with a little water to create a slurry, then stir it into the hot liquid.
Neutral Flavors
Potato Starch
This is another gluten-free option for thickening amd is often used in gluten-free baking recipes too.
Corn Starch
This is 1 of the most commonly used thickeners in Chinese cuisine, used for soups, gravy and sauce. It has a neutral flavor and thickens very well (sometimes too well, when it forms a gooey mess!) but is not GF.
Arrowroot Powder
This is another neutral-tasting starch, also known as arrowroot flour or arrowroot starch, extracted from the roots of tropical plants that is also gluten-free. Plus, it's a great Keto-friendly substitute for rice flour if you're cooking a Keto Chinese dish!
All-purpose Flour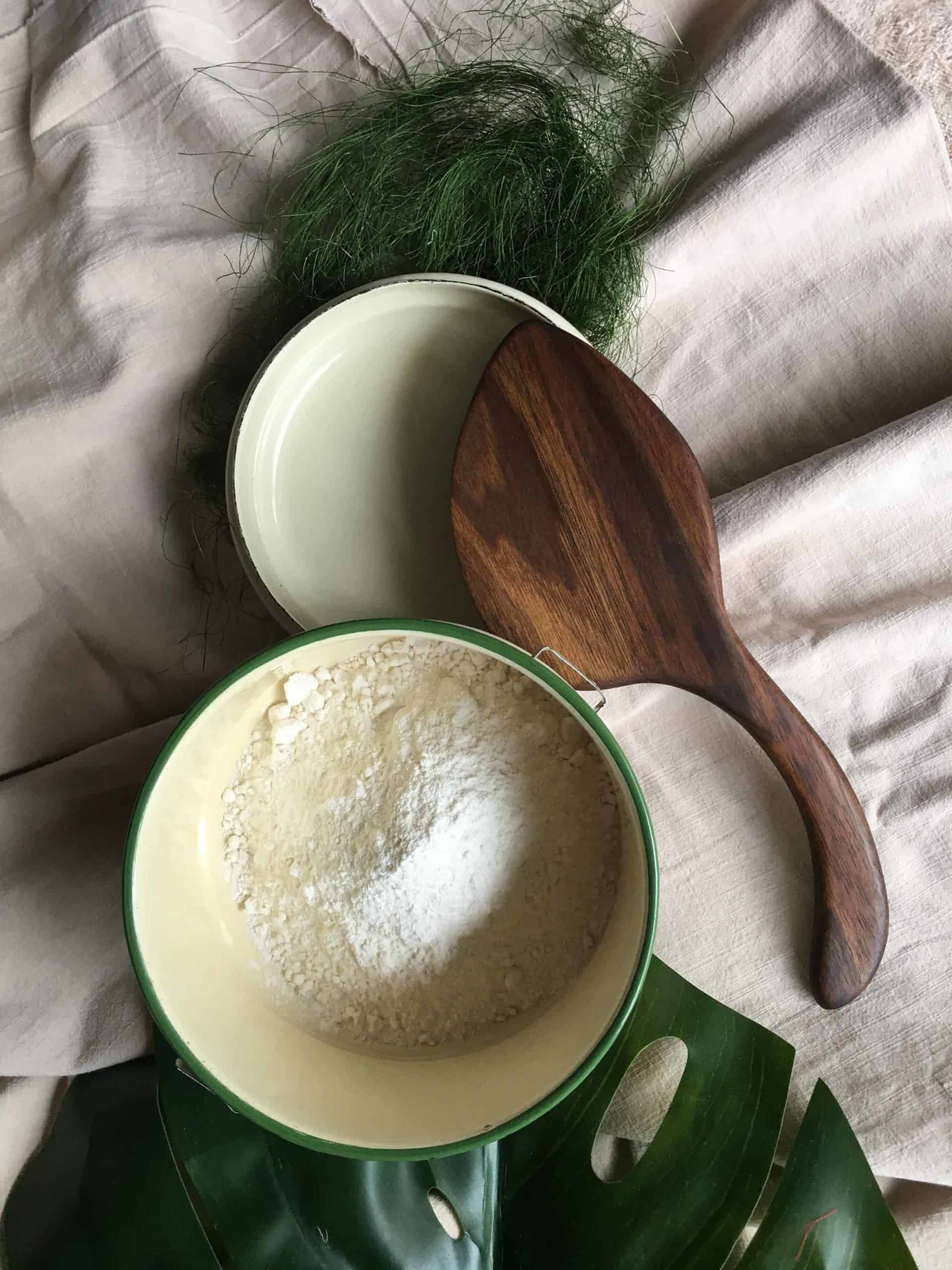 This is a less ideal substitute, as rice flour doesn't clump whilst wheat flour does! (It also doesn't thicken as well as, say, corn starch.)
Moreover, note that this is not a gluten-free alternative!
Non-neutral Tasting
Tapioca Flour
Another gluten-free flour that is made from the cassava plant root. Its high starch content makes it a great substitute thickener. Some people use the names tapioca flour and tapioca starch interchangeably but they really come from different parts of the plant!
Note: it has a slightly sweet flavor, and thus is not neutral in taste.
Amaranth Flour
Amaranth flour is a GF flour made from the seeds of the amaranth plant. It thickens well but has a nutty and sweet taste, hence can only be used for certain recipes and is a less ideal alternative.
To counteract the stronger flavor, you can mix it with other flours such as tapioca and potato starch when replacing rice flour.
Millet Flour
A gluten-free flour made from ground millet grains with a mild, slightly sweet flavor, it can replace rice flour in 3 ways: as a thickener/ binder, in Gluten-free baking (for bread, cakes, cookies etc) and as a coating for deep-fried dishes.
Due to its stronger flavor, you may need to blend it with other flours to get the right texture and flavor when using it as a rice flour substitute.
Sorghum Flour
This is a celiac-friendly flour made from sorghum plant grain, with a slightly sweet, nutty taste. It can be used as a thickener and in GF baking for bread, cakes and cookies.
However, like amaranth, its non-neutral flavor means it can only replace rice flour in certain recipes and may need to be combined with other flours.
As a Coating for Fried Foods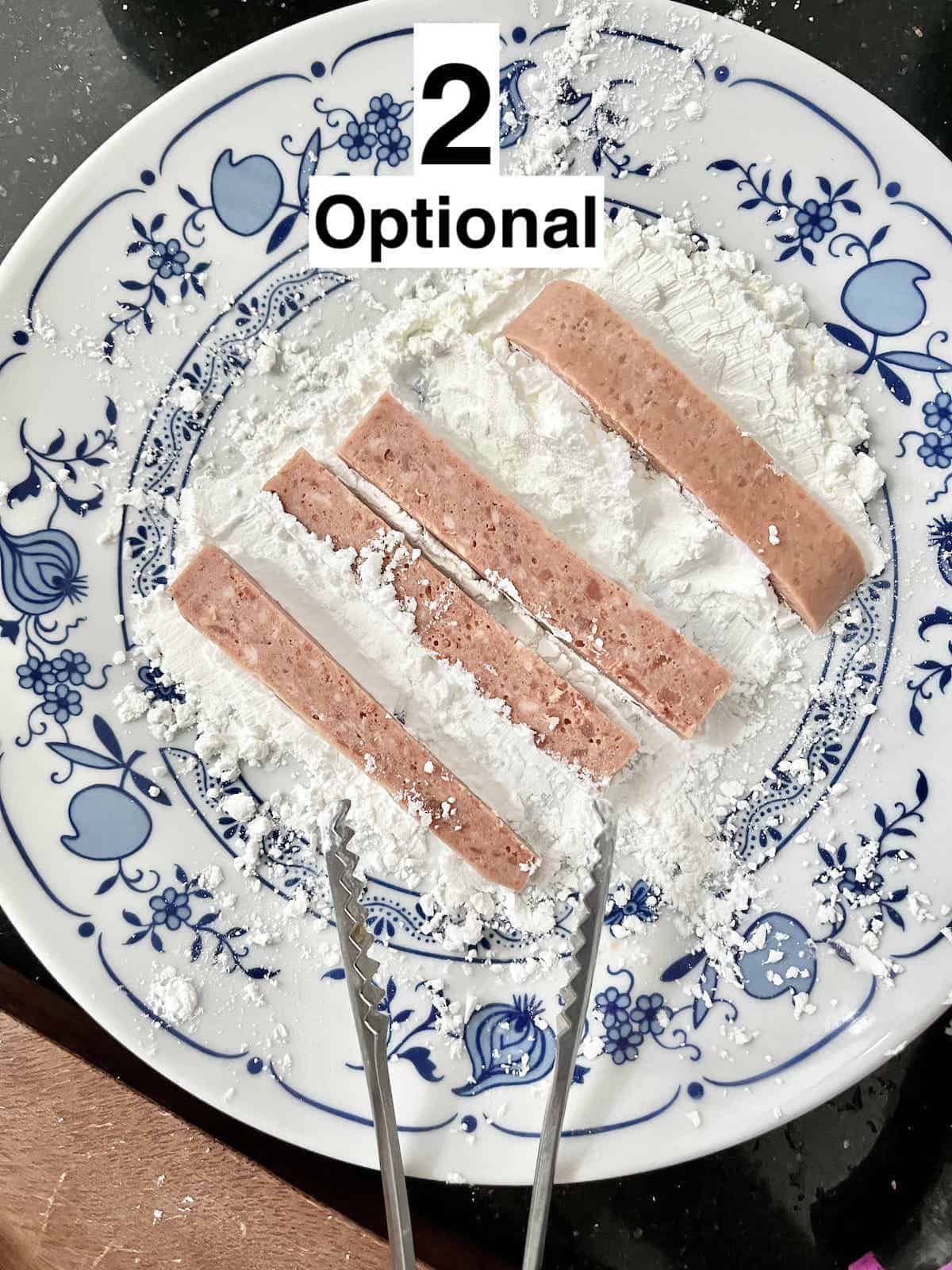 Other Gluten-free Flours
Corn Starch
As in my fried tofu with salted egg yolk sauce recipe, corn starch works wonderfully to create a crispy coating too!
Potato Starch
This has a neutral taste, fine texture, is gluten-free and creates beautifully crisp fried foods. Thus, in my opinion, it's 1 of the best substitutes for rice flour when frying!
Tip: it's used to create the crunchy batter in many Korean fried chicken recipes!
Cornmeal
Cornmeal is a possible alternative for coating fried foods. Although grittier than rice flour, it is also gluten-free and creates a crispy batter.
Chickpea Flour
Also known as besan, this is commonly used in Indian and Middle Eastern cuisine. Its slightly yellow, with a nutty flavor and is coarser than rice flour. good substitute if you're looking for a gluten-free substitute.
Almond Flour
A popular gluten-free substitute for wheat flour that can also be used to coat foods before frying.
However, unlike rice flour, it has a sweet and nutty flavor, so may not suit all foods.
Not GF
Tempura Batter
This popular Japanese batter is used for deep-fried seafood and vegetables and famous for its light, crispy texture. However, it usually contains wheat flour and is thus not suitable for celiacs.
In Baking
Rice flour is often used as a gluten-free flour for those with celiac disease in bakes. Moreover, as it doesn't have gluten, you don't have to worry about over-mixing and over-kneading resulting in a tough dough!
Almond Flour
Another good choice for those on a gluten-free diet, almond flour has a heavier and denser texture than rice flour but can also be used for GF muffins, quick bread, and pancakes.
Oat Flour
This gluten-free flour is ground from oats. Like almond flour, it has a slightly sweet flavor and a dense texture. I recommend it for baking cookies and bread.
Coconut Flour
Another GF flour made from ground coconut meat, it has a sweet, coconut flavor and a fine texture. You can use it for muffins, quick bread, and pancakes, when you want a less dense bake than you would get with almond or oat flour.
Potato Flour
I don't recommend this as an alternative, as it has a different texture and flavor: it is slightly sweet, nutty as well as light and fluffy (thus not a great thickener.) Moreover, it's also more absorbent so cannot replace rice flour in a 1:1 ratio.
Note: it can be used in baked goods, but the texture will be different!
For Making Noodles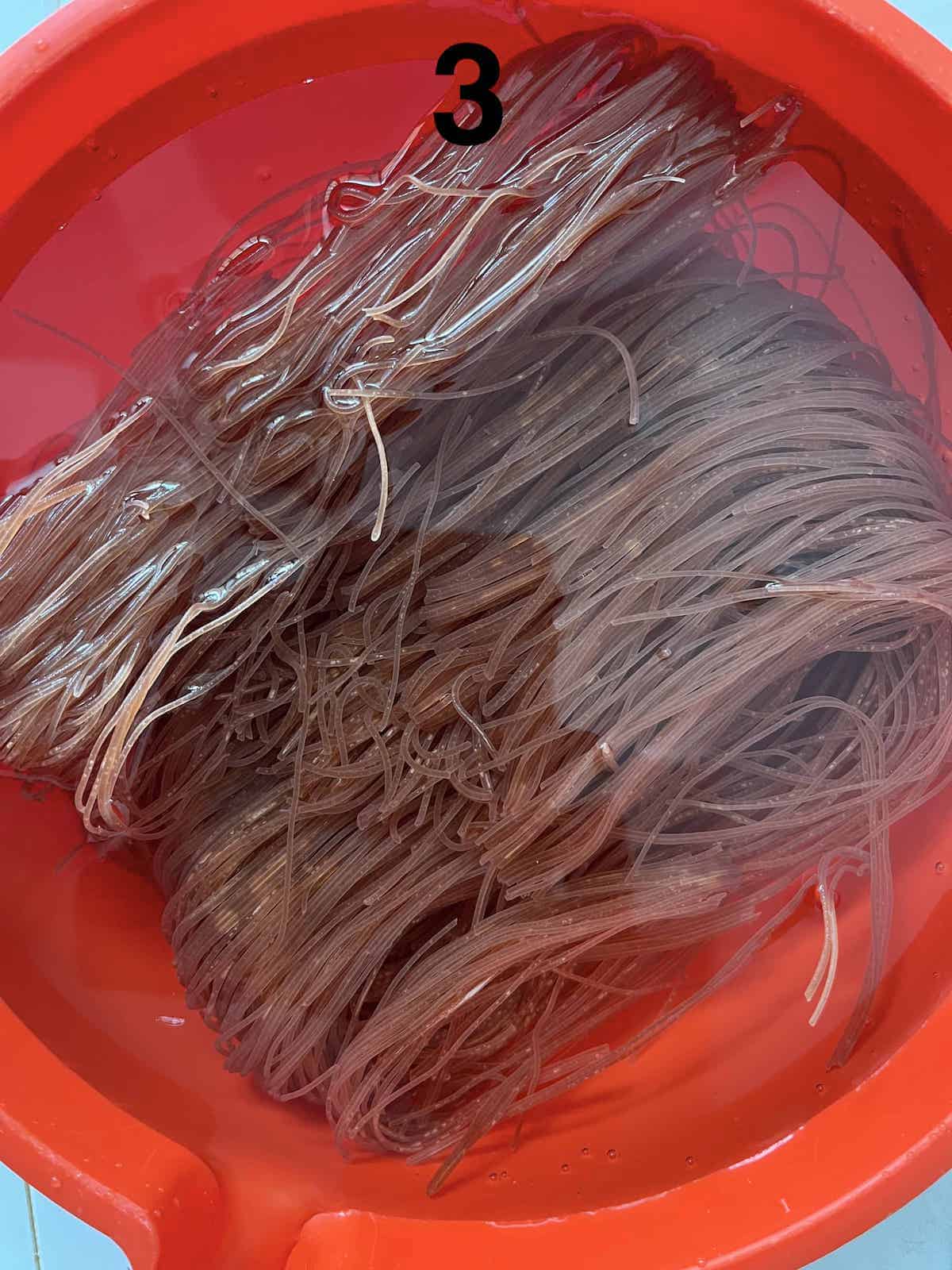 Brown Rice Flour
Chinese rice noodles can be made with both brown and white rice. White is more common and is usually cheaper but brown (or even red) rice vermicelli is healthier!
Buckwheat Flour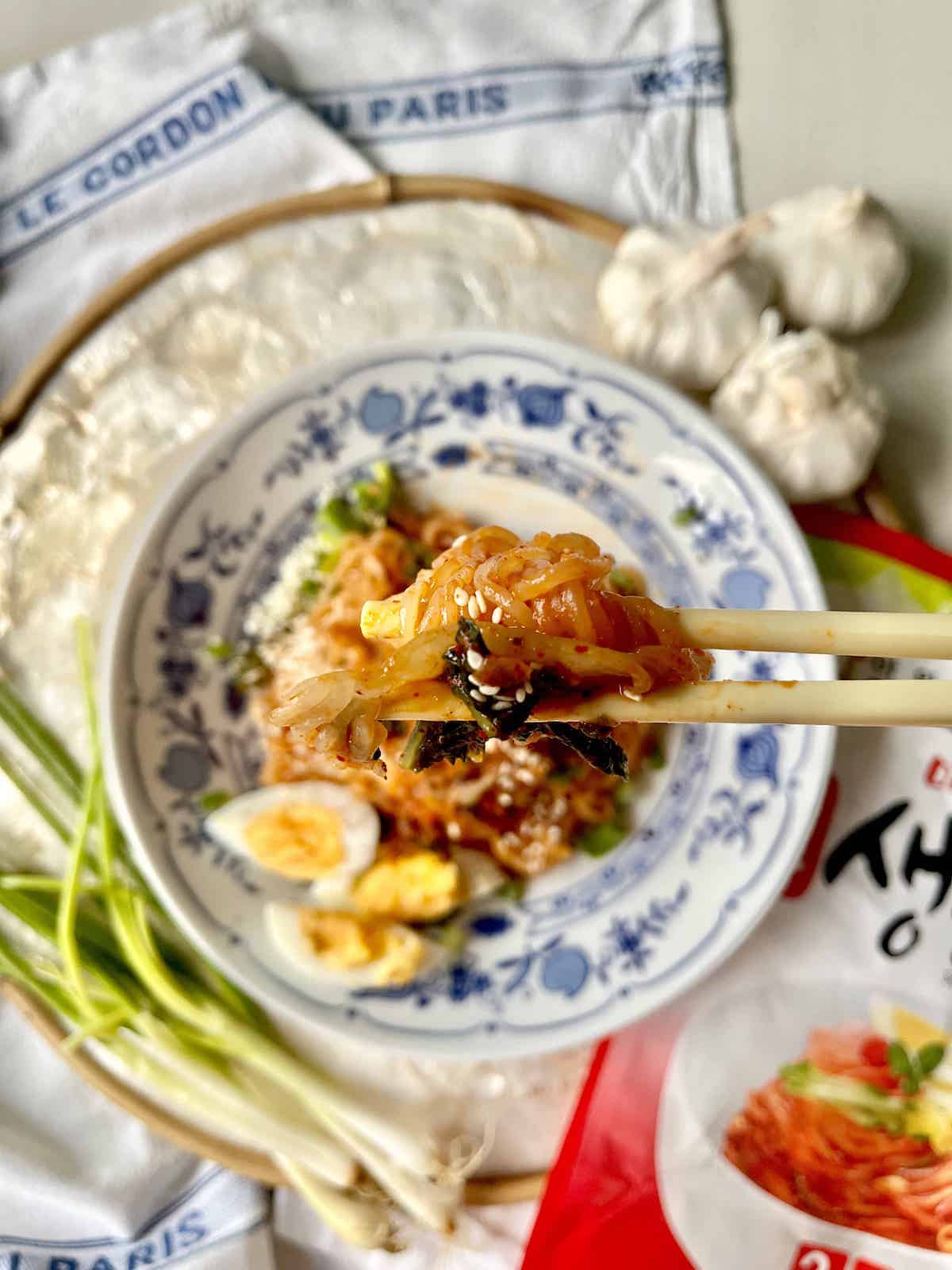 Buckwheat noodles are also gluten-free but have a different flavor and texture from rice noodles. Buckwheat flour is used to make soba noodles, naeng myeon noodles (sometimes with sweet potatoes) etc
If these worst and best rice flour substitutes were helpful, maybe you'd like to sign up for my Asian food newsletter?