The best vermicelli substitutes, whether you're looking for Chinese noodles or Italian ones, from someone who cooks with them regularly. (Vermicelli is a name used for both types of noodles!)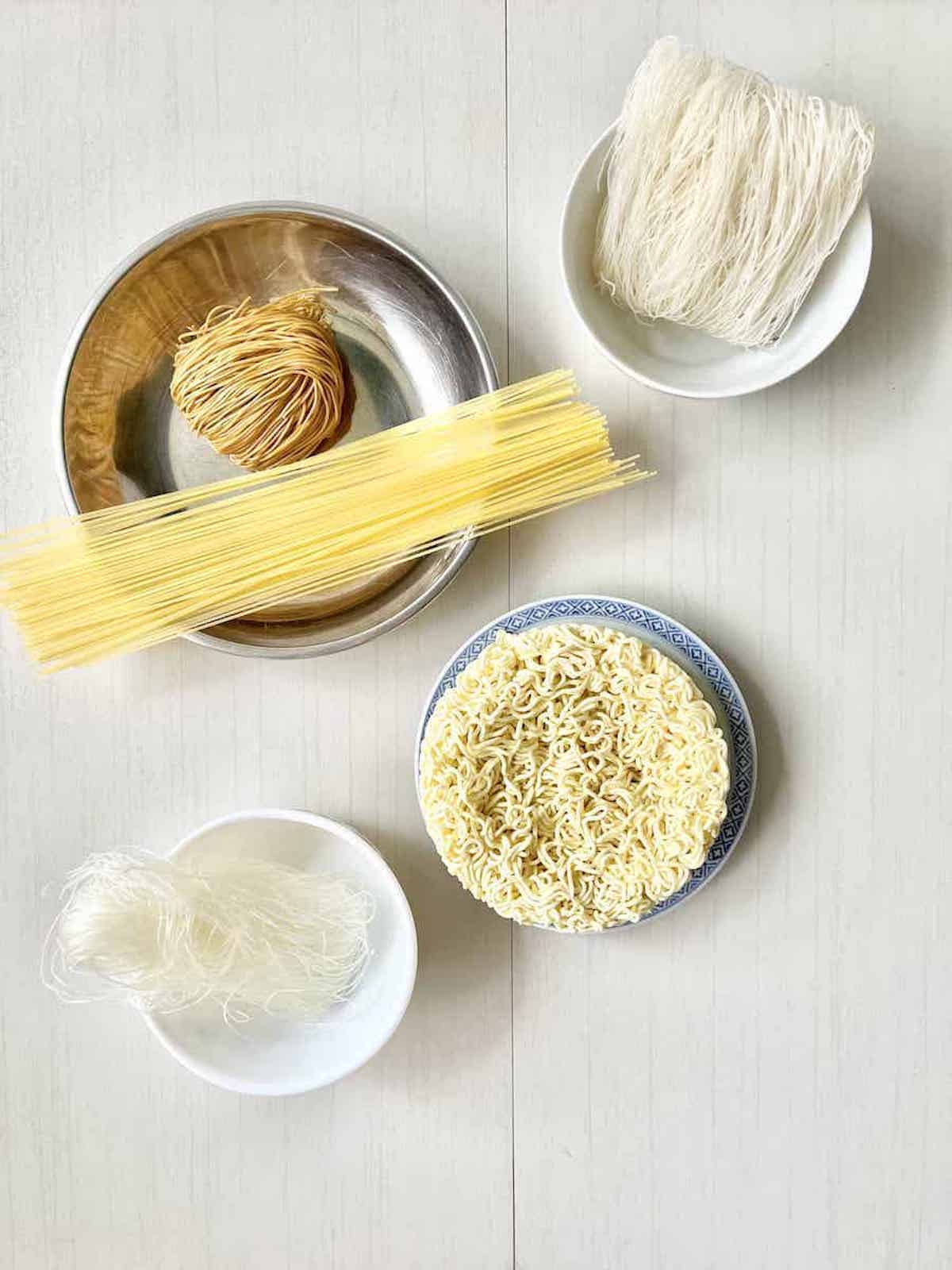 Jump to:
🍜What is Vermicelli?
Vermicelli can refer to 2 things: either a type of thin, traditional pasta noodles from Italy ("vermicelli" actually means "little worms") or thin rice noodles in Asia.
Whether it's Asian or Italian noodles you're looking for a replacement for, I've the best substitutes for vermicelli below!
🇨🇳 Chinese Rice Noodles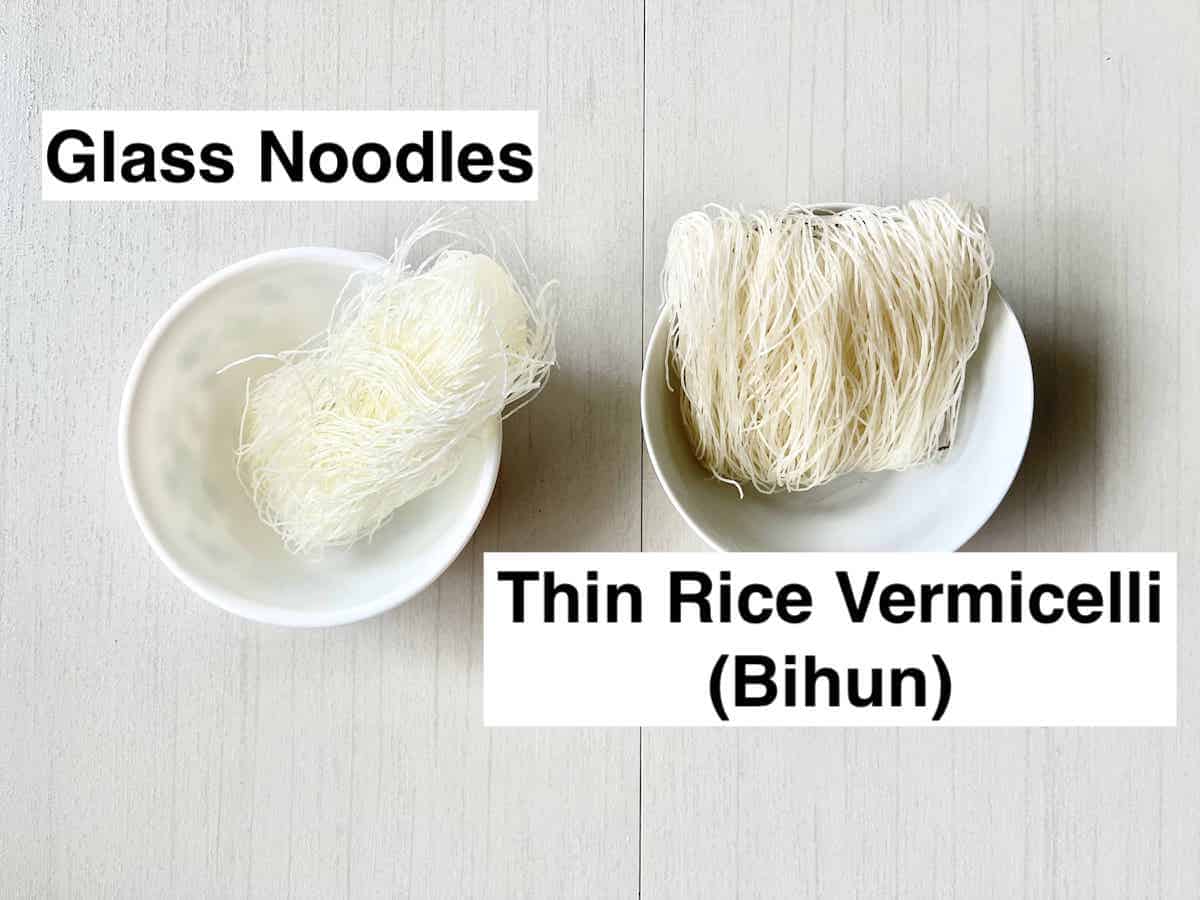 Made from rice flour and water, this thin and soft noodle is used in many Asian dishes, such as stir-fried noodles, noodle soups etc because of its neutral flavor which goes with almost any sauce or soup.
Moreover, it cooks quickly too!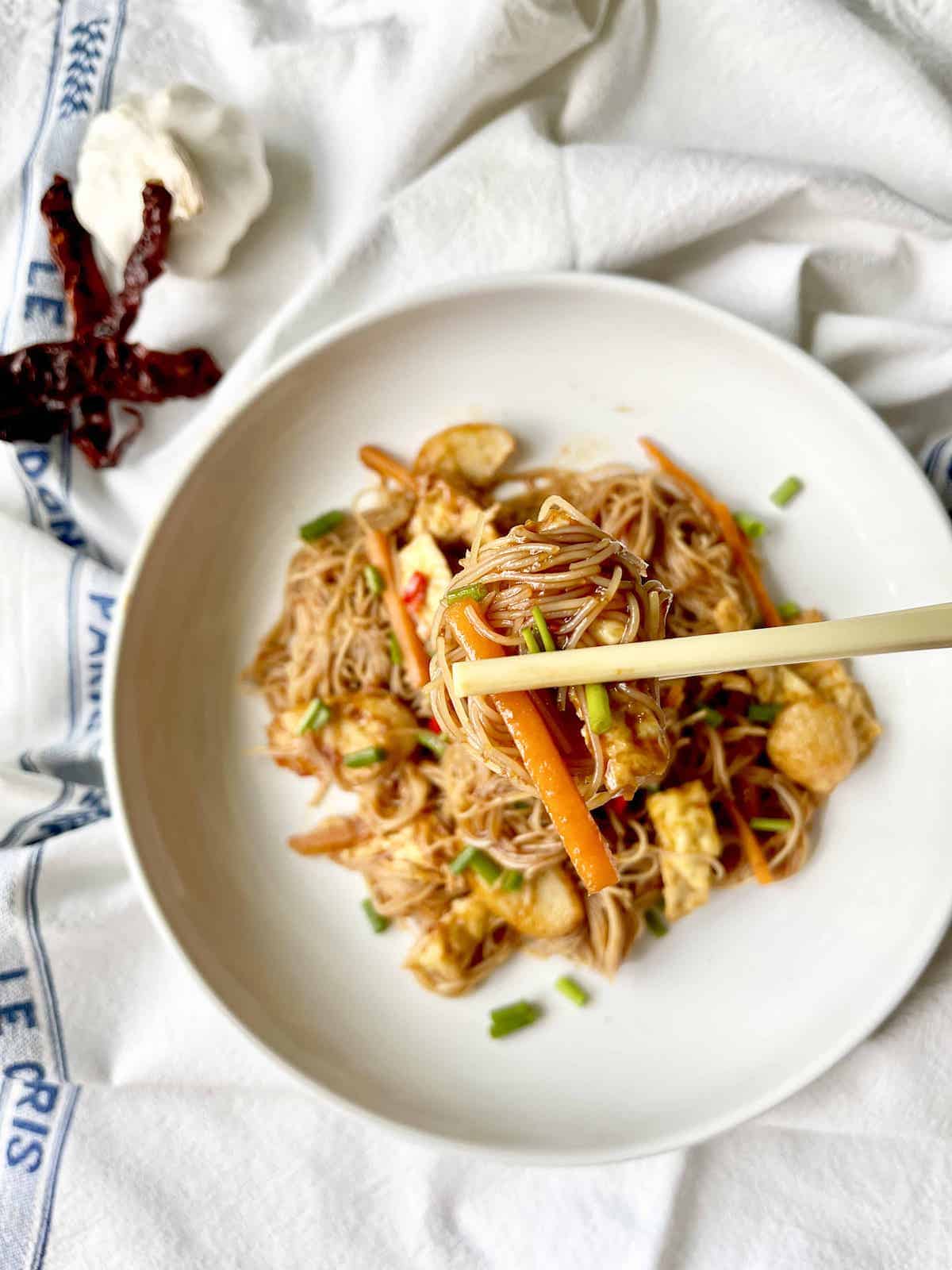 They are used in Singaporean dishes, such as Mee Siam Soup, Malaysian ones such as Dry Mee Siam, Chinese ones (e.g. stir-fried noodles), Thai foods and Vietnamese recipes.
The more common version is a large dried bundle, as shown in the photo above (right), which can be stored at room temperature. Be warned: these are a pain to cut to your desired serving size as small strands will fall everywhere!
You can also find them in fresh form, but these are much rarer. The fresh version usually has a better texture and flavor, but can only last a few days in the chiller.
Substitutes
In Singapore, at hawker stalls selling noodles, you are often able to choose from various types of Asian noodles, ranging from vermicelli (bee hoon or bihun), to thick bee hoon, thick egg noodles (mee pok), thin egg noodles (mee kia) and more.
These various options can be used to replaced each other in many dishes but read on for more rice vermicelli alternatives. (You just have to be careful when using yellow noodles as these have their own flavor.)
Flat Thick Rice Noodles
Rice stick noodles can actually be cut into many different shapes- not necessarily the thin strands we see with Chinese vermicelli.
There are many other types of rice noodles- such as the thicker, flat rice noodles used in Vietnamese Pho or Pad Thai. Some even look like curly worms (bee tai bak)!
If you don't mind the different width and shape, these are some of the best substitutes for rice vermicelli, as they're made from the same ingredients!
Cellophane Noodles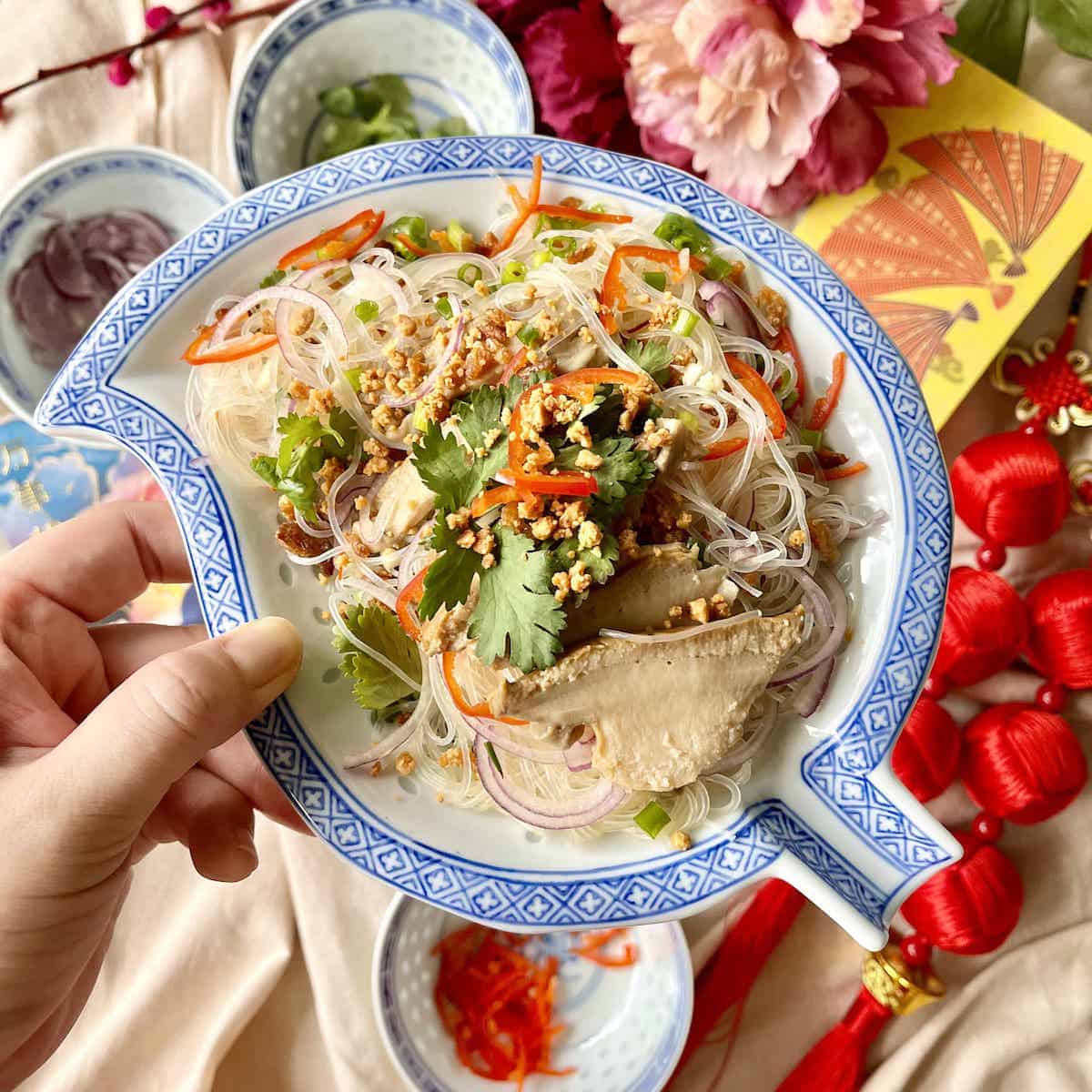 Also known as Mung Bean Noodles / Glass Noodles/ Green Bean Noodles / Beanthread Noodles, this is a translucent, chewy and thin noodle made from mung bean starch. (It's the one you find in spring rolls.)
It cooks up even more quickly than rice vermicelli- in fact, you don't even have to cook it! You can just soak it in hot water and even cold water till pliable and slippery to make it edible.
It has a neutral flavor and absorbs flavors well, like vermicelli, making it the best substitute for Asian rice vermicelli, in my opinion. (Gluten-free too!) It goes really well with many sauces, such as this Thai abalone glass noodle salad.
You can find it at almost all Asian grocery stores. It comes in dried form, usually in a messy nest but sometimes as straight strands (usually the Thai version.)
Note: people with gout may not be able to eat too much bean thread noodles!
Potato Starch noodles
2 other gluten-free options are Japanese and Korean noodles, made from potato starch and sweet potato starch respectively.
They're similar to Chinese mung bean noodles but much thicker and chewier.
Pancit Canyon
These Filipino wheat noodles is also a good substitute for rice vermicelli.
Soba Noodles
Japanese Soba noodles may work but are less ideal as they have a nutty flavor from the buckwheat flour. Thus, they may not go with every noodle soup and sauce.
On the plus side, they're healthier and high in fibre. Remember to check the label to see if wheat flour was added if you're on a celiac diet.
Udon Noodles
Although much thicker than soba and vermicelli, udon noodles actually make a better substitute for rice noodles as they have a similar mild flavor. Note that the texture is much more chewy though!
Next up are our yellow noodles, made with egg and (usually) wheat!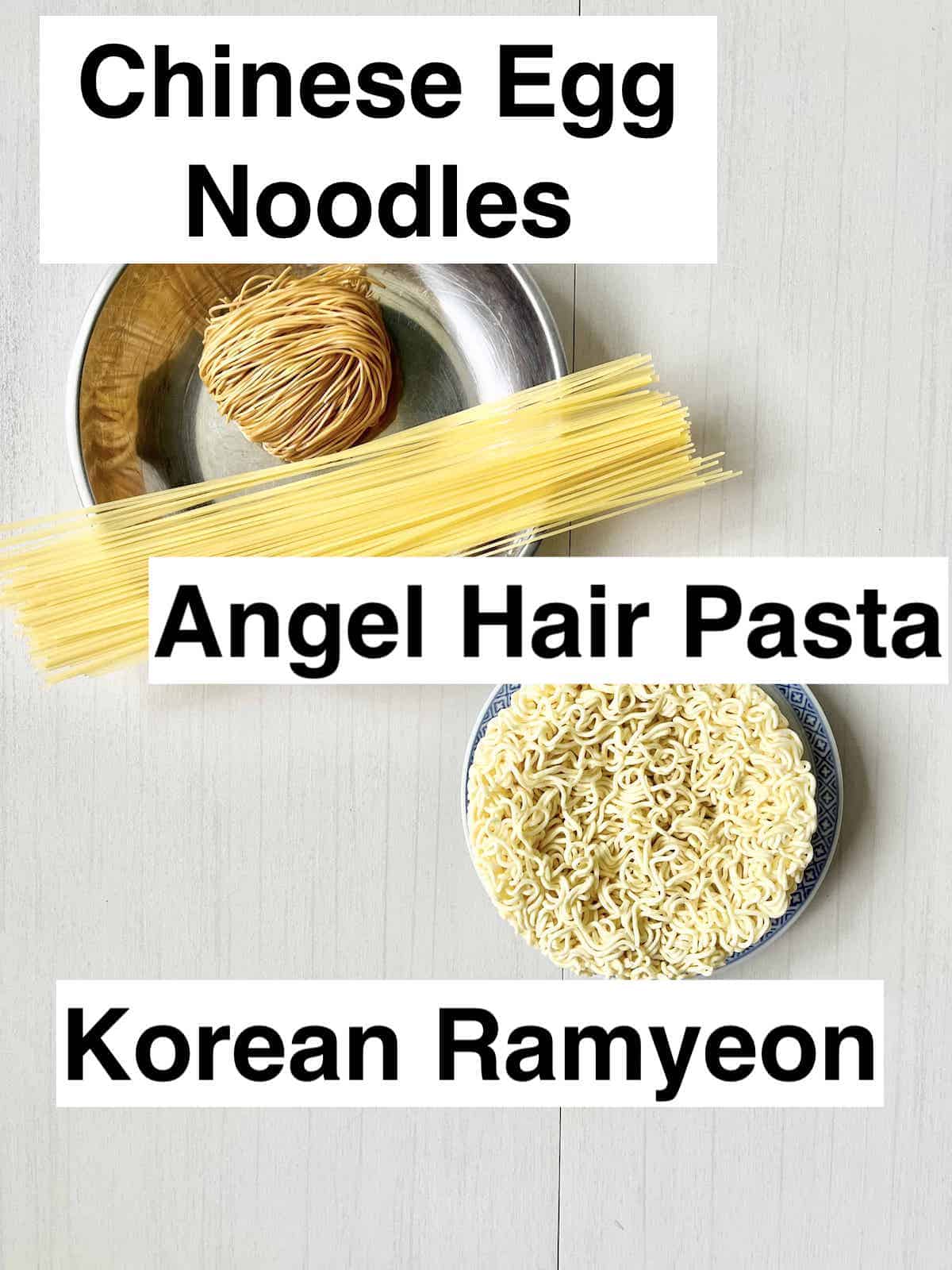 Chinese Egg Noodles
These are made from wheat flour and eggs, which given them a much more distinct flavor. They're also more chewy than rice noodles. As such, they can only be used to replace vermicelli in select dishes.
Ramen Noodles
If you need an alternative for soups, ramen and ramyeon noodles both make good replacements.
Pasta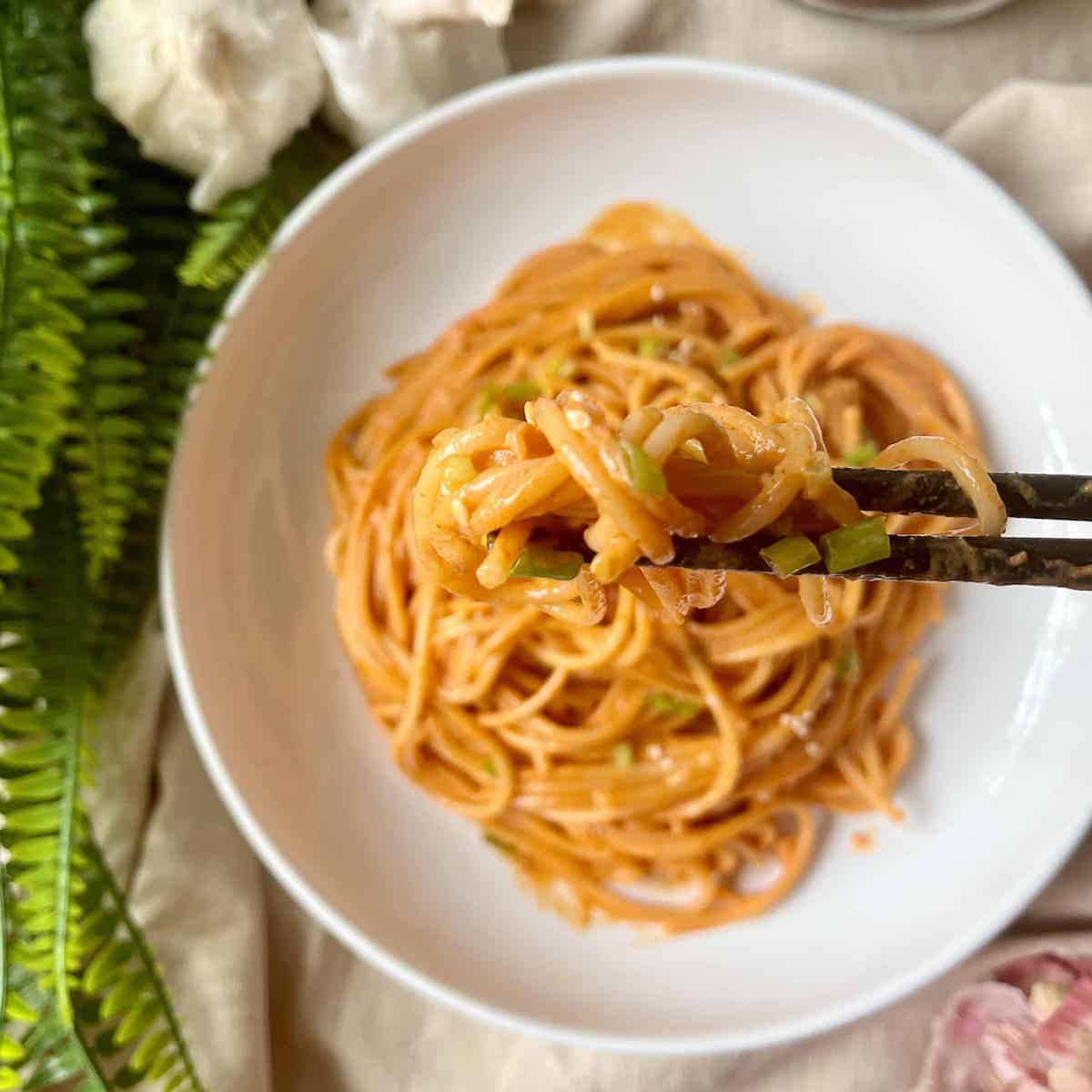 Last but not least, long pasta can ale be used as alternatives. Thinner ones, like angel hair pasta, spaghetti noodles and Italian Vermicelli, also cook quickly and absorb flavors well.
In fact, in Singapore (and other Asian countries), there is a whole category of fusion food which pairs Italian noodles with local flavors, such as Laksa Tagliatelle and Mee Siam Fettuccini!
The only thing to keep in mind is that the durum wheat gives pasta noodles a different texture and a more robust flavor. Hence, not every rice noodles dish can be substituted with pasta.
🇮🇹 Italian Pasta
Made of durum wheat flour, Italian vermicelli also a type of pasta. It is used in all types of Italian dishes from breakfast to dessert!
You can find it as a dried bundle, rather like a bird's nest, or in the refrigerated section in its fresh form.
Note: most Italian pastas made with Durum wheat, but there are some made with buckwheat or wholewheat flour. The substitutes below all refer to the Durum wheat ones.
Substitutes
Capellini (Angel Hair)
This is thinner than Italian wheat vermicelli and thus cooks more quickly. It's a good substitute for Italian vermicelli in light sauces.
Be careful not to overcook it, as we want our dish al dente!
Spaghetti
This is a long thin noodle pasta. Interestingly, depending on where it's from, the thickness differs: Italian spaghetti is thinner than Italian vermicelli. However, in the U.S., it's thicker!
It comes in dried long strands or in a fresh form.
Fettuccine
Thicker than Spaghetti, this is also made from wheat flour but requires more time to cook. It is best used in dishes with heartier sauces.
Note: there is also vermicelli made from hard wheat, water and salt, also known as Seviyan/ Semiya, in India and Pakistan which I'm not covering in this post.
⭐ Healthy Substitutes
If you're on a low-carb diet, some options are vegetable and seaweed noodles. These are great in noodle salads and include:
kelp noodles
shirataki noodles
long shredded spaghetti squash
shredded zucchini
etc
💭 FAQs
Is vermicelli gluten-free?
Italian vermicelli pasta is not gluten-free, as it is made from wheat. Chinese rice vermicelli is GF.
Is vermicelli healthy?
Vermicelli doesn't have much nutrients but it is low-in fat. Unfortunately, it is also high in calories so eat in moderation!
🥢 Recipes Which Use Vermicelli
If you've found a good replacement for vermicelli here, maybe you'd like to sign up for my Asian food newsletter?