Jump to Recipe
Jump to:
In my non-food blog life, I'm a big vintage fan- in fact, I used to sell vintage on Etsy before the fees got so expensive! I particularly enjoy reading vintage cookbooks and seeing how cooking has changed over the years- I grew up being told msg is bad for one's health (80s and 90s) and remember being super shocked when I first saw that msg was used in some of my Uncle's favourite cookbooks from the 60s and 70s. (He's Peranakan, 1 of the best homecooks that I know and no, he didn't use msg in his cooking- he substituted it with sugar instead. Recently, however, there's been some talk that msg has been unjustly vilified and should reclaim its place in our kitchen pantries- what's your take on msg?) This Singapore wet mee siam recipe is adapted from a vintage Singaporean cookbook by Hong Leong Finance, "Flavours of Singapore" (1994). (There is also a mee siam goreng (dry) version.) For noodle lovers such as myself, here are 8 more noodle mee recipes as well as a vegan Asian chicken soup recipe thats ready in 20 minutes yet doesn't require store bought stock/ powder/ bouillon etc!
Origin
Despite its name, mee siam is a Singaporean/ Malaysian dish, not a Thai one, although some argue that it was influenced by Thai cuisine. In Singapore, we have slightly different mee siam recipes, depending on which ethnic group you ask: there's Indian Mee Siam (quite hard to find now), Malay Mee Siam and Peranakan or Nyonya Mee Siam. Peranakan food is 1 of my favourite cuisines- for more Peranakan recipes, check out this vegan kueh dadar recipe.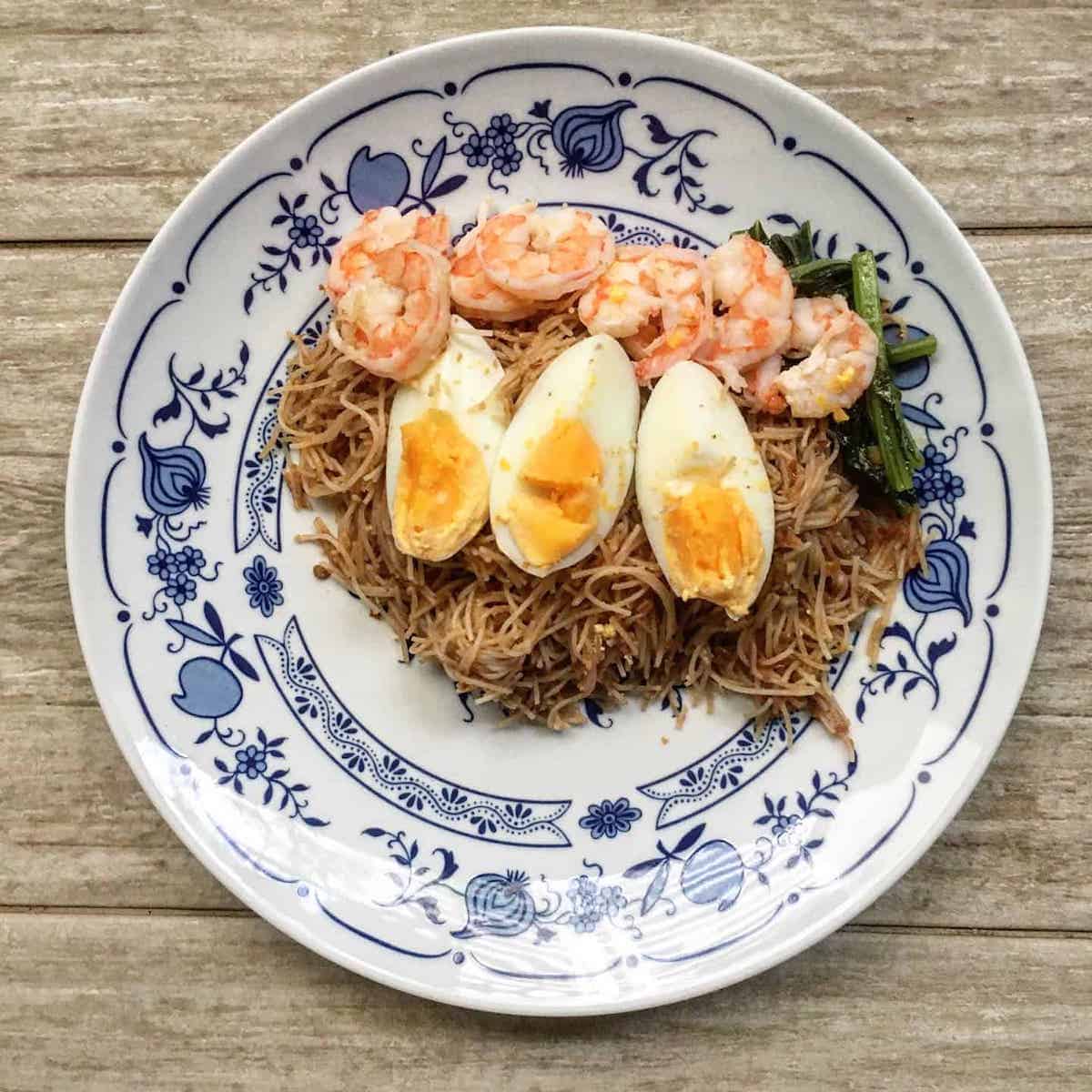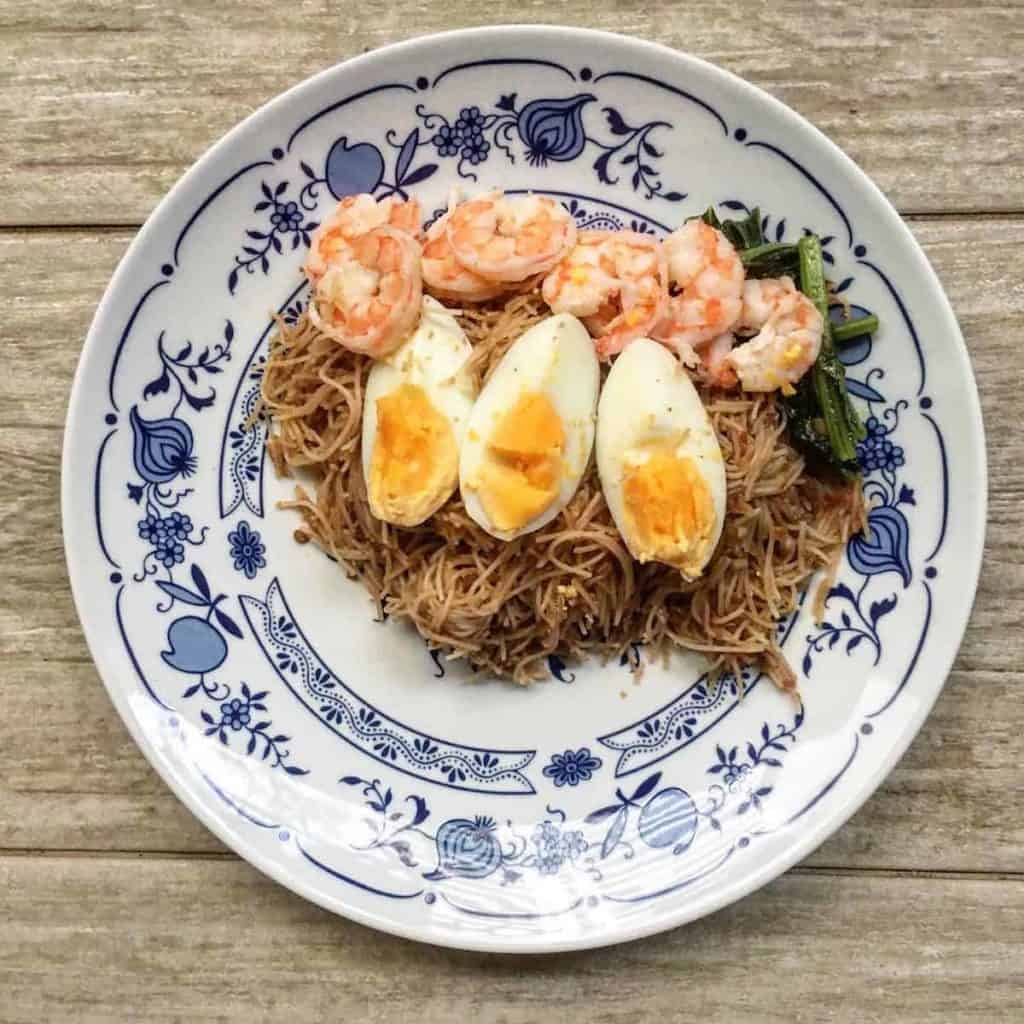 Substitutes
Please, please do not substitute belacan (shrimp paste) with fresh prawns! When I lived in London, I used to participate in the Borough Market Cookbook Club (one of my favourite things about living in London Bridge!). At the Sybil Kapoor cookbook meeting, somebody kindly decided to make the laksa recipe: however, as she didn't have belacan, she decided to use more fresh prawns but it just did not taste the same! Without the depth and complexity added by the fermented shrimps, the resulting dish tastes flat.
If you can't get candle nuts, which serves as a thickening agent, try 1 of these easy-to-find candlenut replacements. Do note that candlenuts shouldn't be eaten raw as they are toxic uncooked!
Out of taucheo? Feel free to use miso or doenjang instead. (Sorry, Peranakan Purists- when you've been making Asian food in a little village in Scotland, you get used to making do with what you have!) They're all preserved soya beans after all, but the first is Chinese, the second Japanese and the last Korean!
If you have home made lardons lying around, feel free to sprinkle some over each bowl, but I usually top mine with fried hei bi (dried shrimps)!
Warning
If you're not familiar with dried chillies, they can sting like mad. Use gloves to handle them and NEVER touch your eyes or lips when working with dried chillies! Even the fumes are potent- I once had a burning sensation on my arm for days (no red marks) after stir-frying dried chilli paste.
Meal prepping
I like to make the rempah, or spice paste, in a big batch and freeze in ice cubes. These can be used to make mee siam - both the wet and dry versions- in future or added to stir fries to add some oomph.
Singapore wet mee siam recipe
A tangy, sweet and spicy Singaporean noodle recipe, which is delicious both with a tamarind gravy or as a dry stir-fried noodle
Equipment
mortar and pestle OR blender

Wok (or pot)
Ingredients
A.For the wet mee siam rempah (spice paste)
40

Dried chillies

If you prefer less spice, remove as many of the seeds as you can

7

oz

Shallots (200g)

Substitute with onions, preferably red, if out of shallots

0.7

0z

Shrimp paste (belacan) (20g)

1.05

0z

candlenuts (kemiri) (30g)

Substitute with macademia if you live outside of Asia and can't find this (I did manage to find it in Chinatown in London so you never know!)

0-5

fresh large red chillies

(The number of chillies I use depends on the fertility of my chilli plant!)
A. Pound separately
3

tablespoon

dried prawns

Pound by itself

1

teaspoon

sugar

or to taste

1

teaspoon

salt

or to taste
B. Noodles
3-4

tablespoon

cooking oil

13.5

oz

water (400ml)

10.5

oz

beansprouts (300g)

10.5

oz

fine rice vermicelli (bee hoon) (300g)

soaked in hot water till soft

4-5

tablespoon

rempah from above (Section A)
C. Gravy
1-2

tablespoon

Oil

3

tablespoon

rempah from above (Section A)

6.5

Cups

water (about 1.5 litres/ 50.7 oz)

If you have prawn or chicken stock, so much the better! (But it's already pretty tasty with just water)

1

tablespoon

tamarind (assam jawa)

1

Cup

water (8 oz/ 236ml)

Mix with the tamarind above, then squeeze through cheesecloth and strain. Keep the water!

2

tablespoon

taucheo (preserved soya beans), mashed coarsely with a fork

Substitute with miso or doenjang if that's what you can get

2

teaspoon

sugar

or to taste

salt

to taste
D. Ingredients and garnishing
6-12

hard boiled eggs, peeled and sliced into 4

6 if you want 1 egg per person or 12 for 2 eggs per person

13.5

oz

prawns (400g)

2

pieces

tau kwa, deep fried and cut into 1 cm cubes

3.5

oz

Chinese chives (koo chye) (100g)

Use spring onions if you can't get koo chye. Wash and cut them into ½ cm bits

5

limes, sliced in half

preferably calamansi limes

2

tablespoon

dried prawns

Cut into small pieces then stir fried with a little oil
Instructions
A. Rempah
Boil the dried chillies till they are soft. (Remove some or all of the seeds, if not, it'll be super spicy!) Drain then pound the chillies with the rest of the rempah ingredients (from Section A but not including the dried prawns, salt and sugar) till they've become a fine paste. (The water from boiling the chillies can be discarded.)

Add oil to the wok and heat till shimmering then add the pounded dried prawns for 1-2 minutes, till the smell is released. Add the rempah spice paste from above and continue stir frying till fragrant and the oil has been released. (This may take a while)

Add salt and sugar to taste, then place the rempah in a bowl, leaving 4-5 tablespoons in the wok.
B. Noodles
Add the 400ml of water to the wok. Once simmering, add the bean sprouts and stir for about 1 minute. Add in the noodles then fry over high heat and stir till all the sauce has been absorbed.

Lower the heat, stirring continuously till the noodles are dry and fluffy. Plate.
C. Gravy
Add oil to the wok and once shimmering, add 3 tablespoons of the rempah, the taucheo and a little tamarind water (to prevent burning). Mix everything well.

Add the rest of the tamarind water then bring to a boil. Add the sugar and salt, and season to your taste.
D. Assembling the noodles, gravy, ingredients and garnishing
Boil the eggs, peel then cut into quarters.

Boil the prawns till cooked, shell, de-vein and, if feeling hardworking (or short on ingredients but want to bulk up the plate) halve the prawns. (The water used to boil the prawns can be kept as a base for soup stock.)

Assemble your bowls: place some bee hoon in each bowl, then pour the gravy soup over the noodles. Add a few prawns, 4-8 egg quarters and 1 calamansi (ie 2 pieces since it's sliced in half) to each bowl. Sprinkle the koo chye, tau kwa and fried dried shrimps over each bowl.
Notes
Note: there will be some rempah leftover- this can be added to the bowls of people who prefer a more intense flavour or can be used to make dry mee siam. (You stir fry the rempah, add the softened bee hoon and some of the gravy then fry till the wok is dry.)
To be honest, though I love Singapore wet mee siam, my favourite is really the dry version- the flavour is much more intense and packs a punch! If you've tried both, which do you like better?
P.S. Mee siam is a very savoury dish, so I prefer to follow it with a light dessert, such as these refreshing lychee champagne konnyaku jellies instead of my staple chocolate.