Milo Dinosaur is an over-the-top delicious drink that is really popular in Singapore. A hawker centre staple, this is not a drink for people on a diet, as it's extra sweet, extra creamy and extra comforting!
Jump to:
⭐ Why This Recipe is a Star
Delicious: Milo Dinosaur is 1 of the most popular Singaporean drinks and you can find it at the Drinks Stall of any hawker centre. Luckily you don't have to go to one to drink it as it's simple to recreate at home. A cold milo drink is just what you want on a sunny day (but the drink tastes great hot too!) If you enjoy this drink, you'll probably love the rich flavor of Nutella Chocolate cookies too!
Easy: if you can stir, you can make this creamy and sweet beverage in no time at all!
What is Milo Dinosaur?
It's basically a cup of milo, but pimped up: extra sweet, extra creamy and with a topping of extra milo powder! (If you don't know what Milo is, it's a chocolate malt powder.)
Milo is so beloved in Singapore (and Malaysia), it's even made its way into a Michelin-starred restaurant's menu! You can find it in a lot of Singaporean desserts such as cakes and ice cream.
This rich drink goes well with many Singaporean recipes!
🥘 Ingredients
You only need 3 ingredients for this Milo Dinosaur recipe:
milo: this can be found in the Asian supermarket. (Milo is super popular in Asia and parts of Africa.) There are different types of milo- the one made in Australia tastes better than the one in Thailand FYI. Also, make sure you are using the unsweetened milo. If you're using 3-in-1 skip the sugar but still add the milk. If you can't get milo, you can substitute with a hot chocolate mix or Horlicks.
white sugar: feel free to use light or dark brown sugar for a more caramel taste. You can also use a neutral honey or maple syrup.
hot water: whilst Milo does dissolve in cold water, it's obviously easier when the water is warmer!
milk: I recommend full-fat milk as this is meant to be a super creamy drink but you can also use a plant-based milk of your choice. Alternatively, substitute with evaporated milk or condensed milk (skip the sugar if using the sweetened milk.)
optional for iced milo dinosaur: ice cubes
🔪 Step-by-Step Instructions
Add the milo powder to a heat-proof cup.
2. Add the sugar and mix well with the milo powder.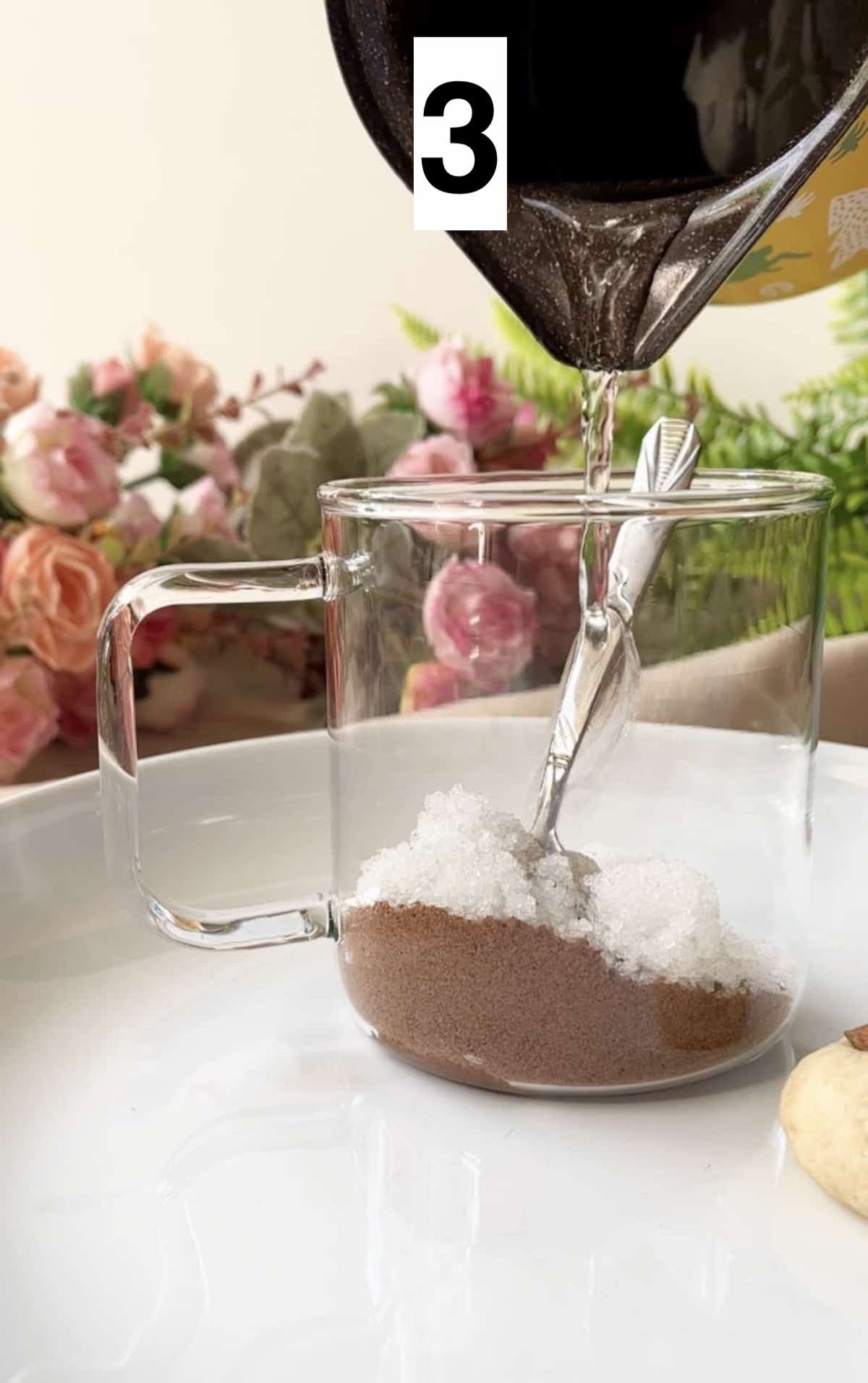 3. Pour in hot water to dissolve the milo and sugar. (It's much more difficult to do so in cold water.)
Note: you don't have to worry if some powder doesn't dissolve though- undissolved milo powder is a signature of Milo Dinosaur!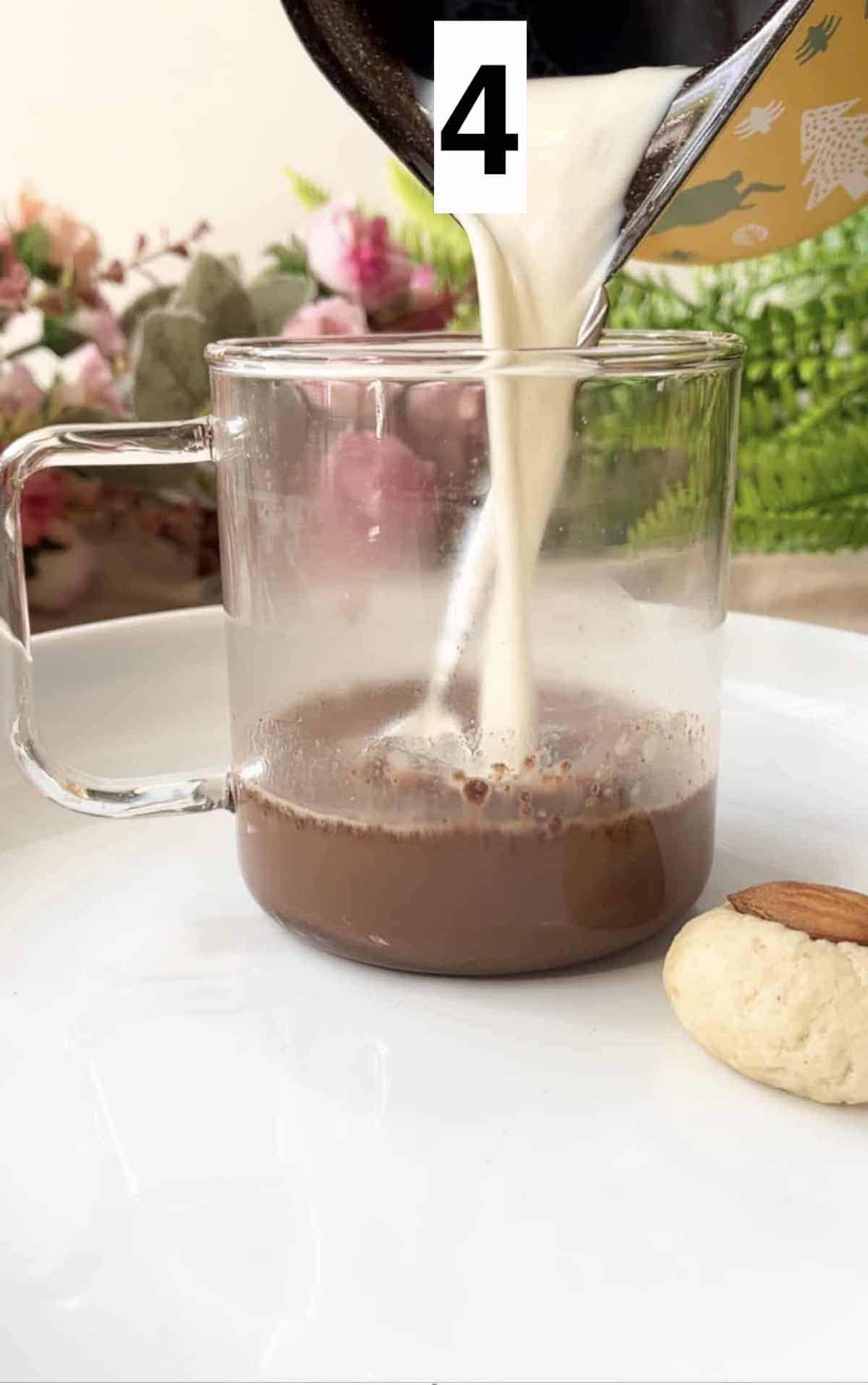 4. Add milk to the concentrated milo mixture.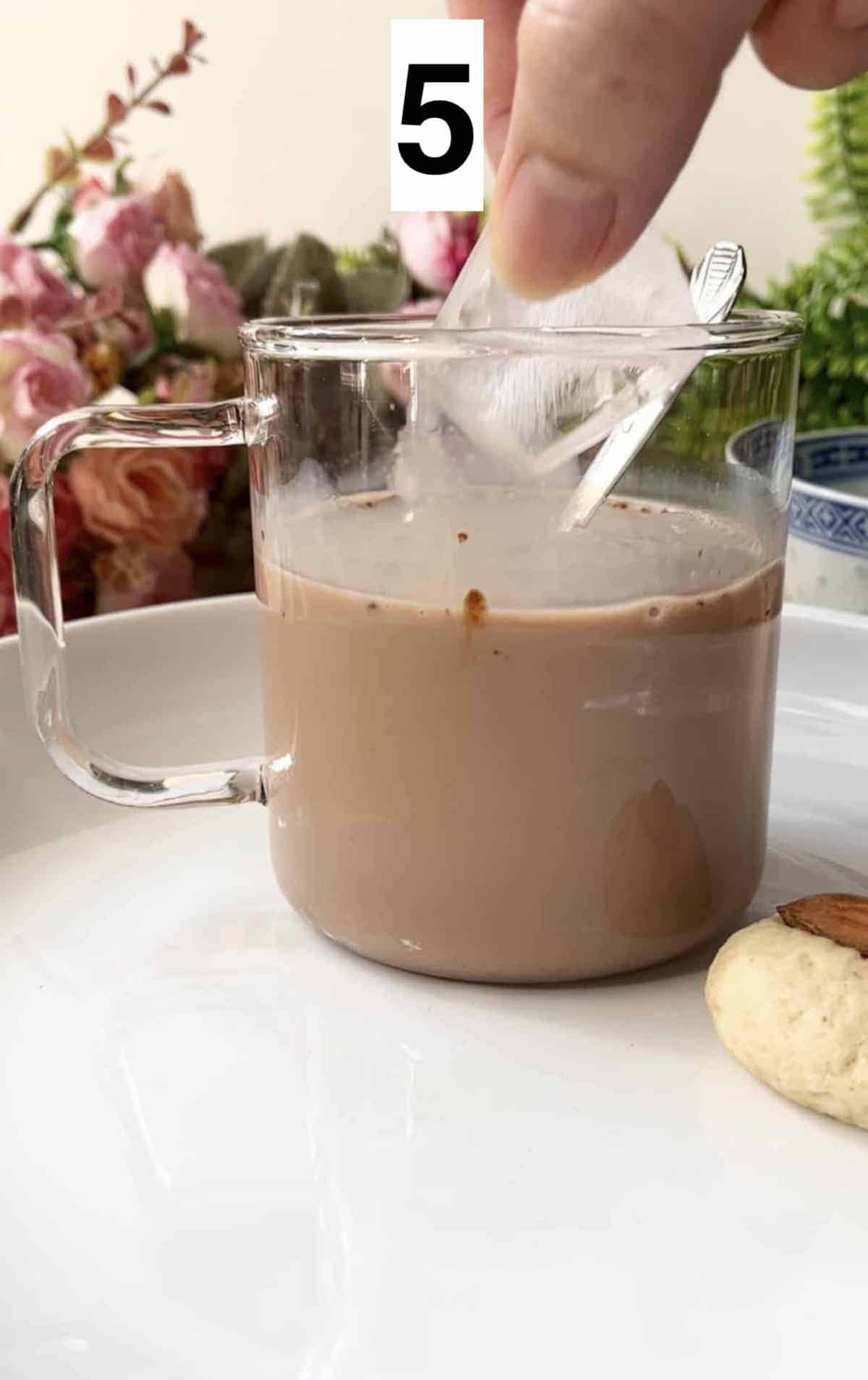 5. Add ice to the drink.
Note: the ice will dilute the drink when it melts so you can either make the drink sweeter and milkier than you normally like OR freeze some milo in an ice tray and use milo ice cubes to cool down your drink.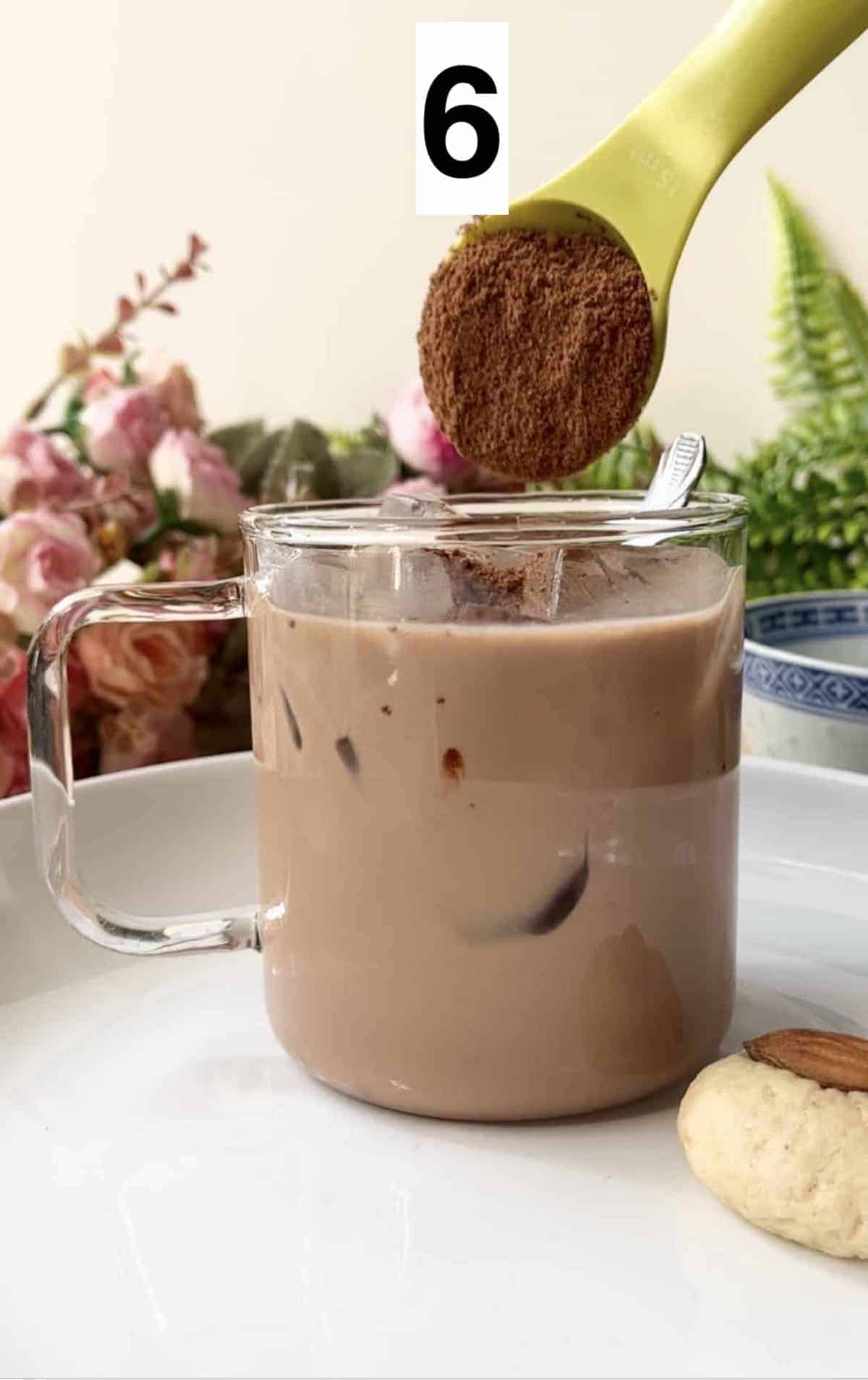 6. Top the drink with more Milo powder- this is what differentiates a regular milo drink from a Dinosaur!
Enjoy!
Tip: for a more sophisticated flavor, top with cocoa powder instead.
🥡 How to Store
Store in the fridge for 2-3 days in an airtight container in the fridge.
👩🏻‍🍳 Expert Tips
Tip #1: Top with whipped cream and ice cream to make Milo Godzilla!
Tip #2: Make a huge batch of the milo in advance if you're having a party, and have the guests add the ice and undissolved milo powder topping themselves!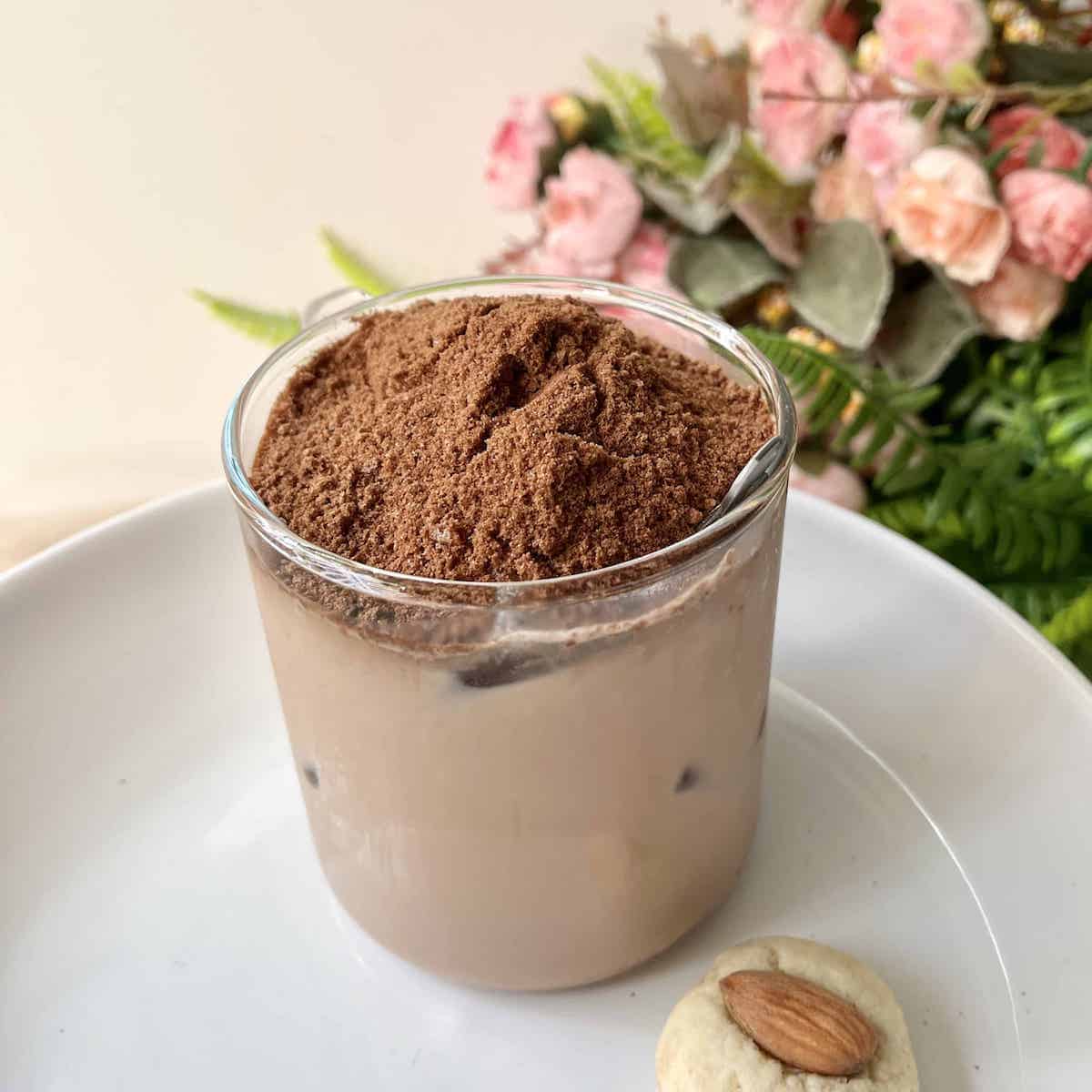 🥗 Other Singaporean Recipes
Enjoyed this easy creamy Milo drink recipe? Please leave a 5-star 🌟🌟🌟🌟🌟rating in the recipe card below! If you REALLY liked this dish, please consider supporting it by buying me a coffee! 🙂 (No obligation though!) Thank you and have a great day!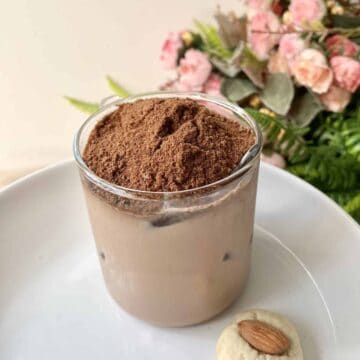 Milo Dinosaur
Milo Dinosaur is an over-the-top delicious drink that is really popular in Singapore. A hawker centre staple, this is not a drink for people on a diet, as it's extra sweet, extra creamy and extra comforting!
Equipment
Heat-proof glass

Spoon or fork to stir
Ingredients
4

Tablespoons

unsweetened milo powder

or to taste. If using sweetened milo, reduce sugar used. Get the Australian milo if you can- it tastes better than the Malaysian or Thai one!

1½

Tablespoons

sugar

or to taste. The recipe is super flexible. You can also use brown sugar.

¼

Cup

hot water

If you only have cold water it's a bit more difficult to dissolve the milo and sugar. A trick would be to put them and the water in a mason jar and shake vigorously to dissolve.

½

Cup

whole fat milk

Remember milo is a drink of excess! Low-fat is not the way to go (though you can if you want, of course.) In fact, I recommended using evaporated or condensed milk too!

5

cubes

ice

Use frozen milo to avoid the melted ice diluting the drink.
For the topping
2

Tablespoons

milo powder

or to taste. Substitute: cocoa powder.
Instructions
Add the milo and sugar to the cup and mix well.

Pour in the water and stir till more or less dissolved.

Add the milk followed by the ice cubes.

Top with the extra powder!
Notes
Storage: keep in the fridge for 2-3 days in an airtight container so feel free to batch make and prep ahead for gatherings.
You can pimp it up by blending it with ice cream, or topping with ice cream and whipped cream.
Note: the nutritional information is an estimate automatically calculated using the WPRM recipe maker and I am not responsible for its accuracy. It doesn't account for the nutritional profile of Milo so I would not use it as a guide!
Nutrition
Calories:
143
kcal
Carbohydrates:
24
g
Protein:
4
g
Fat:
4
g
Saturated Fat:
2
g
Polyunsaturated Fat:
0.1
g
Monounsaturated Fat:
1
g
Cholesterol:
15
mg
Sodium:
53
mg
Potassium:
183
mg
Sugar:
24
g
Vitamin A:
198
IU
Calcium:
154
mg
Iron:
0.01
mg
If this Singaporean drink recipe was helpful, maybe you'd like to sign up for my newsletter in which I send you more authentic Asian recipes?