Spicy bihun goreng, or fried rice vermicelli noodles, is a staple at Singapore's famous hawker centres (street food) but it's actually really easy to make at home!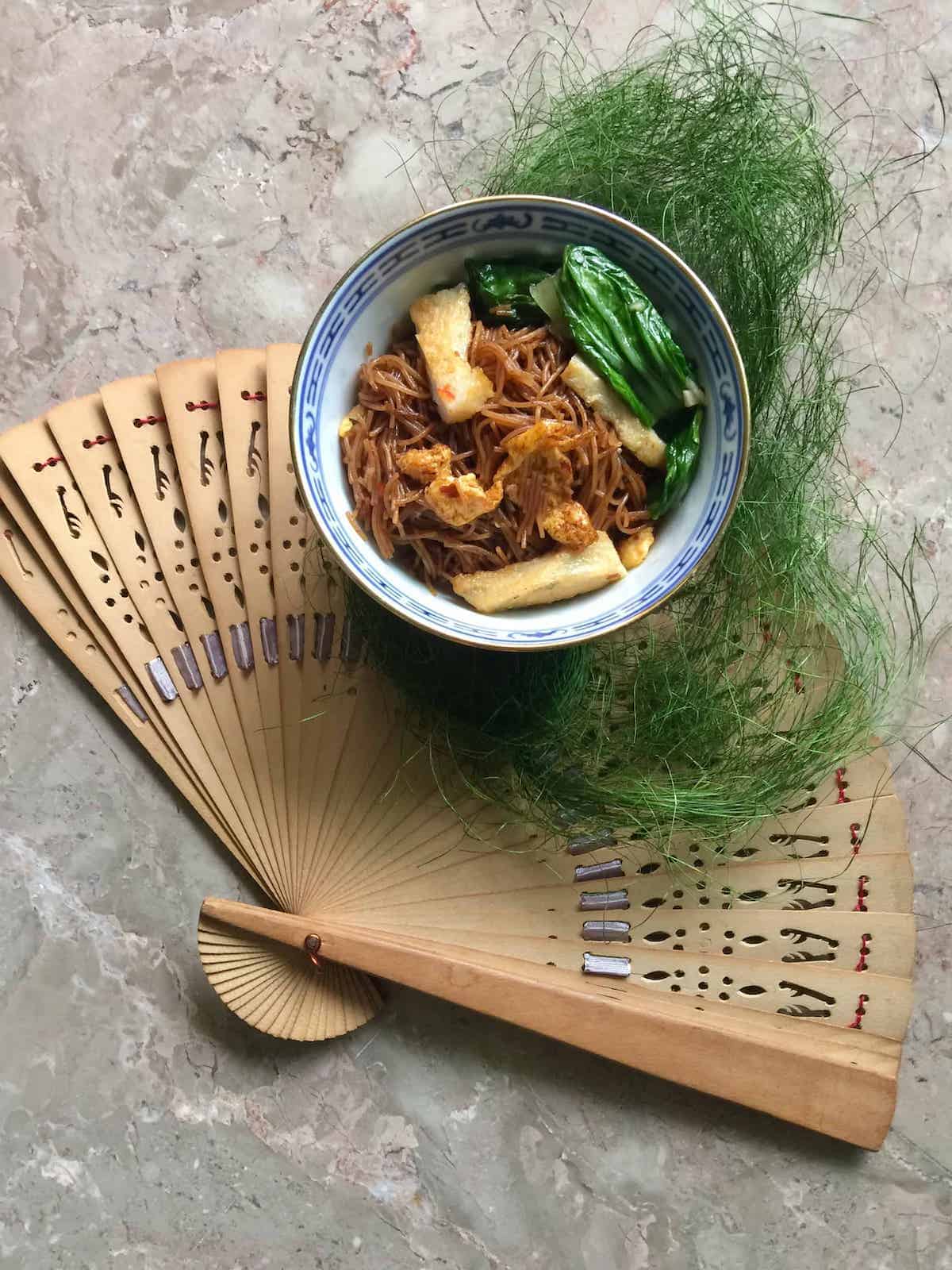 Jump to Recipe
Jump to:
Noodles are ubiquitous in Singapore- we have economic noodles for breakfast (fried thin noodles, usually with bean sprouts and maybe some leafy greens), Mee Siam kuah, dry Mee Siam goreng, stir-fried white bihun with a little gravy, mee goreng, bihun soup (this coconut & ginger chicken broth makes a great noodle soup base) and many other delicious noodle dishes. Click this link to find out more about the different types of noodles in Singapore.
1 of my favourites to cook at home is spicy bihun (mee hoon) goreng, or fried thin rice vermicelli noodles (also known as mee soon or bee soon)- not only can you make slight changes to the sauce to create very different dishes but it can also be anything from a humble dish (economic noodles can cost as little as $1) or a very sumptuous one depending on the ingredients added.
Oh, and by the way, despite the plethora of noodle dishes in Singapore, there is no such dish as Singaporean fried noodles- most Singaporeans experience Singaporean fried noodles for the first time in the UK! If I'm not wrong, it's an invention by the Cantonese takeaways in UK? For an authentic Singaporean vermicelli noodle dish, try dry mee siam or mee siam with gravy.
What is bihun (bee hoon)?
It's a thin noodle made from rice flour that's very popular in South East Asia (but with a chinese origin), much thinner than pho or kuay teow. Because it's so thin, bihun absorbs flavours very well, whether in soup or stir-fried. It's now very commonly used in cooking, but according to Wikipedia, rice noodles used to be a luxury good only seen at special festivals and banquets- maybe because white rice used to be expensive due to the milling process?
If you love noodles as much as I do, try these 8 longevity noodle recipes (perfect for birthdays or Chinese New Year) or add it to this easy Asian vegan "chicken" wonton soup that's done in 20 minutes without resorting to shop bought stock in any of its variations (powder/ bouillon etc).
Where to buy
Bihun is usually purchased in its dried form (instructions for how to cook it is in the section below), and it will expand by over 2x after soaking or blanching. If you live outside of Asia, you should be able to buy this type of thin rice noodle in the asian market or grocery stores.
Note: you can also make this spicy bihun goreng with other types of noodles if you can't get bihun. Mung bean glass noodles are 1 of my favourite, as they're so easy to cook and they absorb sauces wonderfully.
How to store
Some bihun packets are nicely separated into portions, with 1 portion equating to 1 serving (i.e. it is for 1 person). However, most brands sell the noodles in a big clump and you will need a pair of scissors to cut out the amount that you need.
The rest of the bihun (uncooked) can be put in an air tight container and stored in a dark cupboard at room temperature. Cooked bihun, on the other hand, should be kept in the fridge and eaten within 1-2 days.
Using bihun soaked in hot water for your bihun goreng recipe makes it easier to cook
Blanching vs boiling
Bihun is different from other types of dried noodles. In southeast asia, we're told by our Amahs (grandmothers) not to boil bihun, but instead to soak it in warm water for 20-30 minutes till soft to touch (though not soggy) then drain it. I presume this is to ensure that the finished bihun, whether in soup or stir-fried later, is al dente and not overcooked.
I have tried blanching it though (blanched for 1-2 minutes in boiling water then rinsed with cold water) and find that the end texture did not suffer in comparison to the soaked bihun dish. (Do note this is presuming that you blanch it briefly and rinse it- if you boil it for too long, it will not taste as good.) However, it was much easier to stir-fry when soaked (versus blanching) as the blanching made the bee hoon disintegrate into small pieces.
If purchased in its fresh form, no soaking of the bihun is necessary.
Ingredients
There is no limit to what you can add to your noodles!
Examples of what to add for a vegan bihun goreng (you would need to omit the oyster sauce later or use a vegetarian version (usually made from mushrooms)):
julienned carrots
beansprouts (tau geh)
sliced Chinese cabbage (nappa cabbage)
tofu
choy sum (chyle sim, a leafy green vegetable served with oyster sauce in a lot of chinese restaurants)
green onions (spring onion) (garnish)
sliced up fresh cucumber (garnish)
Examples of non-vegan protein that can be stir-fried with bihun goreng:
fish cake
prawns
abalone if going upmarket
Chicken thighs (sliced up) or pork (you can add beef if you want but chicken and pork are more common in the Chinese kitchen)- leftover roast or soya sauce chicken is great for this. I prefer to use dark meat as it has more fat (i.e. flavour) and doesn't dry out during stir-frying
strips of fried egg/ Asian omelette (I say Asian omelette as Western style cooking results in a golden smooth omelette whilst Asians like to have darker, "burn" marks on ours)
fried dried shrimp
The sauce for this noodle dish requires tamarind and kicap manis- if you don't know what to do with the rest of the tamarind paste, you can make Mee Siam or click here for more recipes. If you don't have kicap manis, which isn't a common condiment to keep in stock if you don't cook a lot of Malay or Indonesian food, here are the best kicap manis substitutes.
Note: noodles are a common Chinese New Year (CNY) dish, so you could certainly make bihun goreng with abalone and other seafood for CNY. Just make sure not to cut the noodles as the length symbolises long life and you don't want to shorten your life span!
Meal prep
You can make the sauce beforehand in a big batch, and divide into portions to freeze.
What to serve with
This noodle is very flavourful and can be eaten on its own. However, in Singapore, more is sometimes more when it comes to flavour, and we like to heap our noodles with all sorts of side dishes such as:
Spicy bihun goreng (fried rice vermicelli) recipe
A simple & easy to make South East Asian noodle dish that is full of flavour.
Equipment
mortar and pestle OR blender

Large heatproof bowl to soak the bihun

Metal sieve

Pan
Ingredients
Rempah
½

C

Dried Chillies, seeds removed

1

Tablespoon

Tamarind

Mix well with ½ Cup water then sieve- use the resulting tamarind "juice" for this recipe. If you don't have tamarind on hand, substitute with ½ T rice vinegar

1-3

Fresh red chillies

Omit if you don't have any on hand- I often do this as my fresh chilli supply is very intermittent depending on how my balcony plants feel!

3

garlic cloves

3

shallots
Noodles
200

g

dry bihun (bee hoon/ mee hoon)

Soak in hot water for 20-30 minutes then drain
Sauce
¼

C

kicap manis

Substitute with dark soy sauce and a pinch of sugar if you don't have any kicap manis on hand. Click the notes for a DIY dark soy sauce recipe as well as the best substitutes.

4

Tablespoons

tomato ketchup

(Weirdly enough, if you add more tomato ketchup it makes the noodles spicier!)

2

Tablespoons

light soy sauce

1

Tablespoon

oyster sauce
For stir-frying
Pork lard

Substitute with vegetable oil if you don't have pork lard on hand (you may need to add a bit more salt in that case as vegetable oil has less flavour) See the notes below for how to render pork lard.

1

Asian omelette, cut into strips

I used 6 eggs for the omelette, but it's really up to you

1

Fish cake, pan fried and cut into strips

Optional ingredients: julienned carrots, Chinese cabbage, prawns, sliced chicken/ pork etc

For a full list, refer to the section above

1

teaspoon

sesame oil. optional
Optional garnish
Spring onions, chopped

Thinly sliced cucumber

Pork lardons
Instructions
Put the bihun in a heatproof bowl and cover with hot, boiling water for 20-30 minutes. (You can stop soaking once the noodles are flexible but not soggy. (Whilst it is soaking you can proceed to pound the rempah, as stated below.) After the 20-30 minutes, drain the bihun.

Pound the rempah ingredients in a mortar and pestle, adding the tamarind water gradually, till a paste appears. Alternatively, blend the dry ingredients in the blender, slowly adding the tamarind water.

Mix the ingredients for the sauce together then leave beside your cooker.

Heat the pork lard (or vegetable oil) in a pan and fry the rempah till fragran and it splits (i.e. the colour of the rempah changes and the oil separates out.)

Add the bihun, stir, then add the sauce ingredients. Stir fry till well-mixed, add the omelette and fish cake, stir a few times then switch off the fire. (If you are using uncooked ingredients, such as carrots, you will need to add them before the bihun as the bihun cooks fast)

Drizzle the sesame oil over the noodles and serve.
Notes
To render your own pork lard for frying, click here for instructions. You will also get deliciously crisp lardons that can be popped into your mouth like snacks or sprinkled over the noodles for texture.
Click here for the best dark soy sauce substitutes, as well as a homemade recipe.
What's your favourite fried noodles recipe?
Other Singaporean recipes you may like include: