An overview of the deliciousness that is Naeng Myeon, or Korean cold noodles, as well as reviews of the various instant brands out there!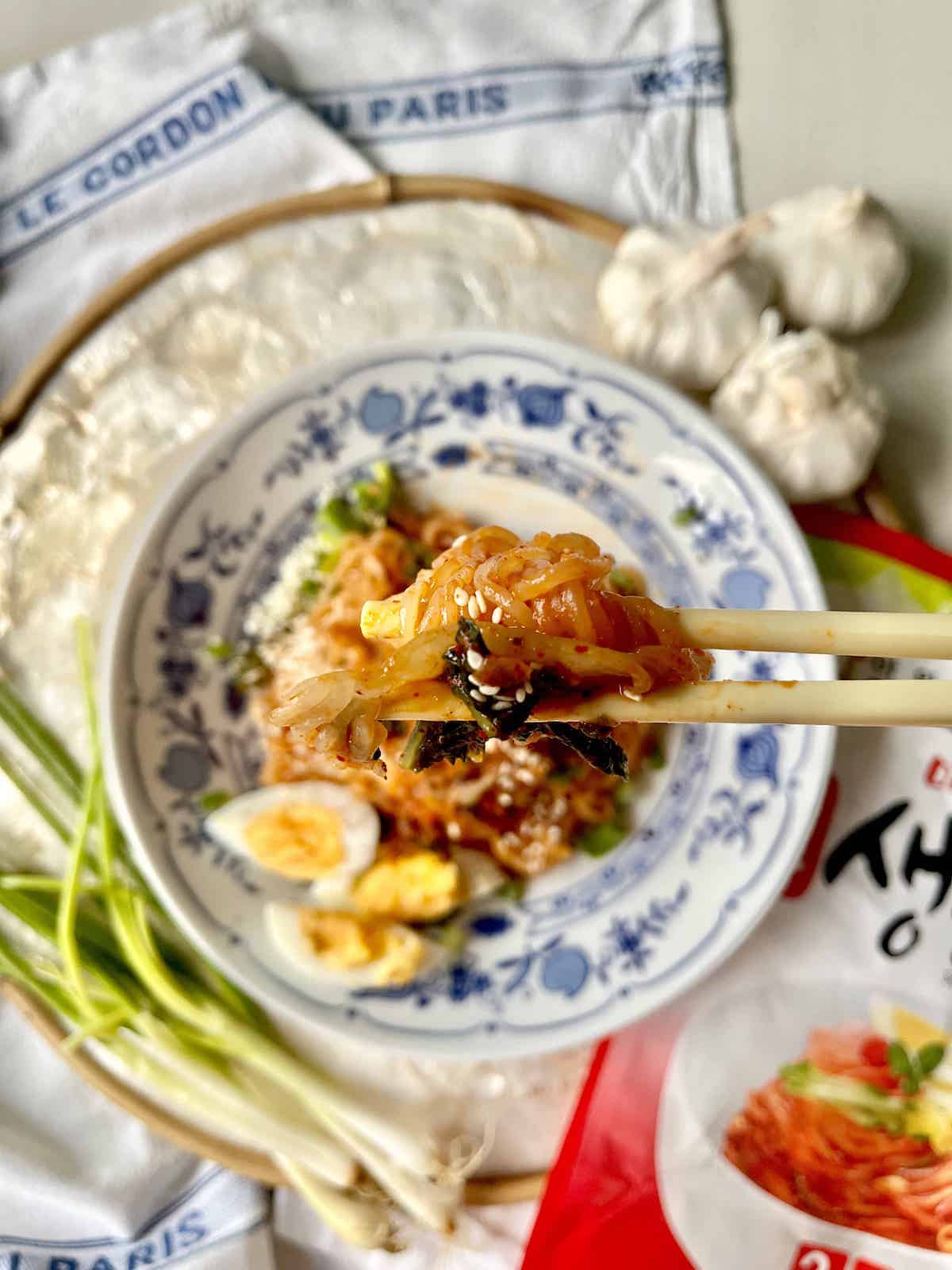 Jump to:
🍲 What is Naeng Myeon?
Have you tried Naeng Myeon (sometimes spelt Naeng myun), or Korean cold noodles, before?
Doesn't sound appetising, does it? I'm not a big fan of cold dishes (except for ice-cream!) and thus never tried it on any of my 8 trips to South Korea! However, after trying Korean cold noodles for the 1st time in London, I was hooked. (It's a great side dish for bossam, FYI!)
Naeng Myeon is special as, not only is it cold, it has super springy and chewy noodles. They're usually made of buckwheat flour, potato starch or sweet potato starch.
There are dry and soup versions- both are delicious but I really love the dongchimi broth which is tangy but still sweet from the Korean pear. (We owe this delicious dish to the North Koreans btw!)
Note: If you're wondering where to go for Korean food in London, you definitely have to check out New Malden, London's Korean town!
There was a Samsung factory there ages ago so lots of Koreans moved there- so much so that they even have Korean signs!
There are tons of Korean eateries on the high street, but my favourite is a little further away (maybe a 10 minutes walk from the tube?). It's called Jin Go Gae and was recommended by a Korean friend!
Types
There are several types of Naengmyeon:
Mul Naengmyeon (with a tangy, refreshing soup- typically beef broth and dongchimi brine- and often ice cubes)
Bibim Naengmyeon (in a spicy sauce)
Pyongyang Naengmyeon
Jjolmyeon
Kongguksu (Soy Milk Broth)
and more!
Fun fact: although the icy cold broth is super refreshing on hot summer days, this Korean dish is actually associated with winter time!
Where to Buy
Although you can find generic Korean instant noodle packets in almost all Asian grocery stores, for this instant cold noodle dish, you may have to go online or try a Korean grocery store.
🥘 How to Serve
Korean cold noodles are usually served with kimchi (or pickled radish), julienned cucumbers and a hard-boiled egg. Sprinkle some green onions and lightly toasted sesame seeds on top!
You can also make it more filling by adding some beef brisket.
Tip: I highly recommend pairing the noodles with boricha (Korean barley tea, Korean maesil-cha (you'll need Korean plum syrup) and Korean tangerine tea (if you want something sweet) or makgeolli and maesil-ju (for something alcoholic!)
📋 Reviews
To make Korean Cold Noodles, you need Asian pear, which I don't always have at home.
Thus, I resort to instant versions when I have a craving. Some are awful and some delicious, so I thought I'd help you not waste calories by compiling this list of Korean instant cold noodles reviews.
Chung Soo Bibim Naeng Myeon Review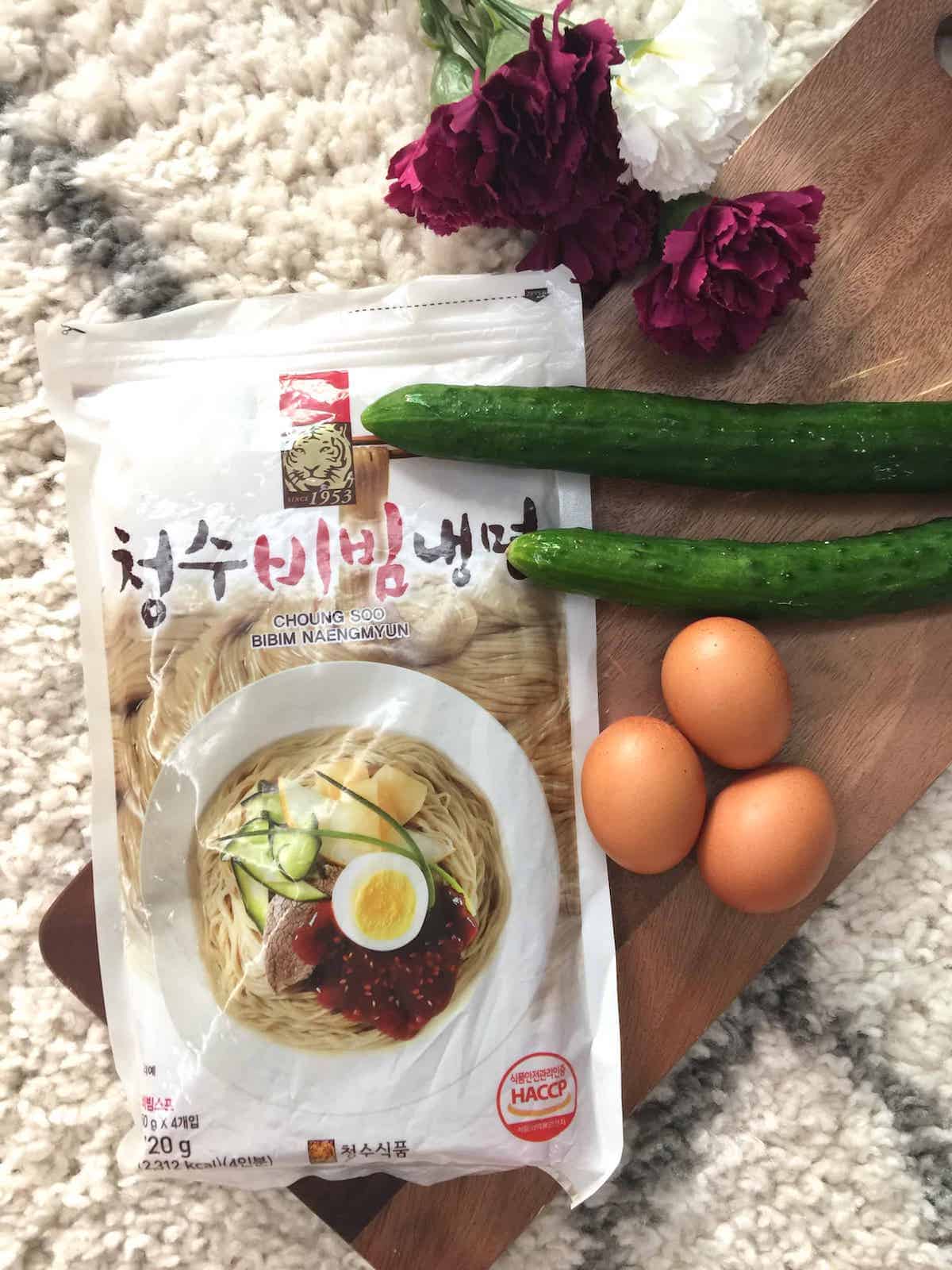 Price: SGD$9 for a packet of 6 from harinmart.com
I had really, really high expectations for this instant naeng myeon (it was the 1st I'd ever tried) as I'd bought it from a specialist Korean grocer in Singapore (harinmart).
Unfortunately, it really sucked.
It tasted so bad that I only cooked with it once and could never make myself use it again. In fact, I was going to give up on instant cold noodles forever (which my health would have probably thanked me for) but alas I caved when I saw a promo for another brand on Redmart, which turned out to be really good!
Why didn't I like Chung Soo Naeng Myeon?
Well, it just tasted like I was eating chemicals! We all know instant noodles aren't healthy, so they should at least taste good!
Weirdly enough, the reviews for this seem to be very polarised. Some people say it's awesome and others, like me, find it plastic-y and inedible! (Bit like coriander, I guess!)
However, personally I will definitely not be buying this again!
CJ Foods Cold Noodle with Watery Radish Kimchi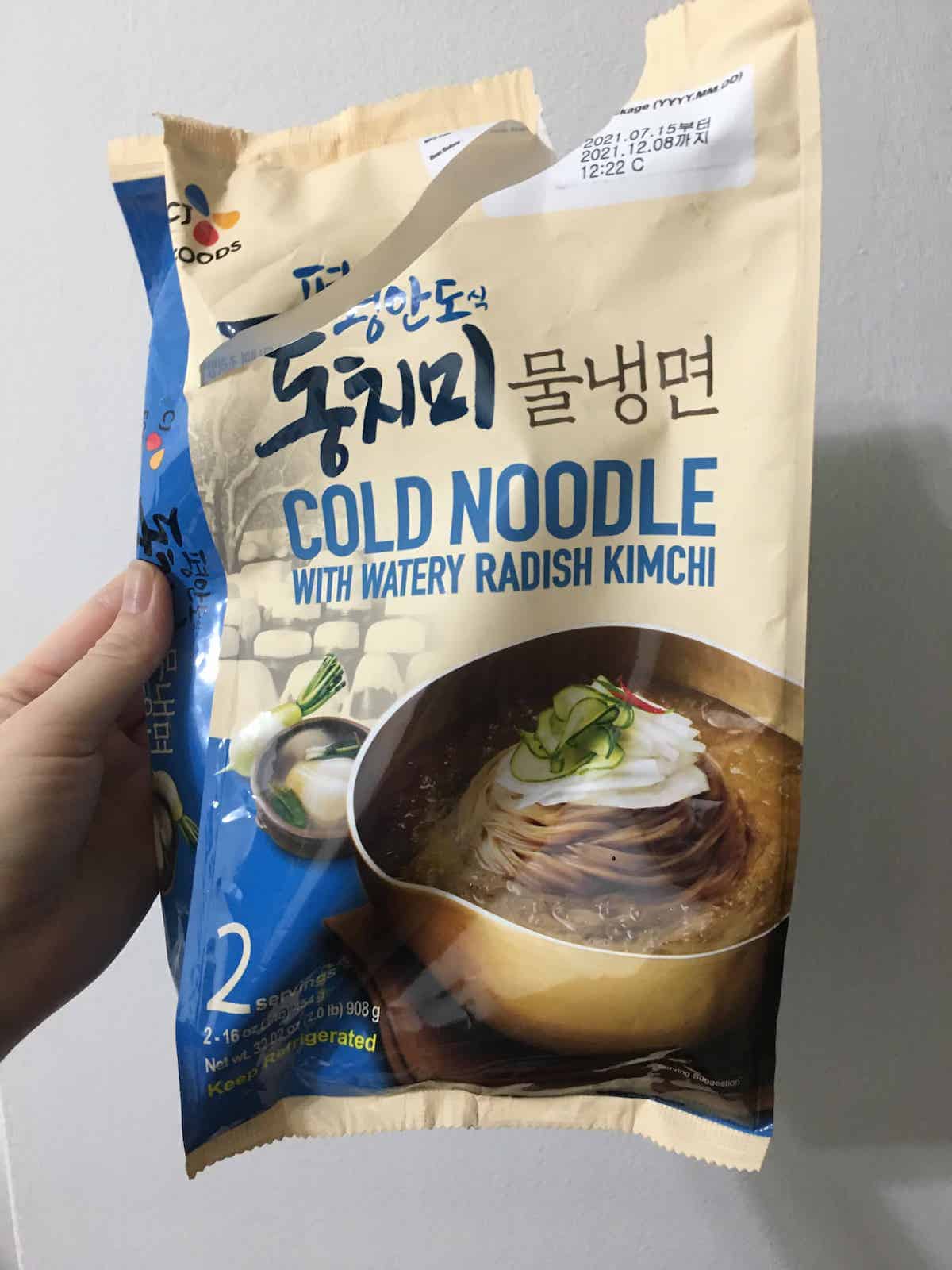 So I'd sworn off ever eating instant Korean cold noodles again till 2020 which resulted in my not having been to any Korean restaurants in ages.
Added to the fact that Redmart (a Singaporean online grocer) was running a promotion on this Mul Naeng Myeon packet, which also had a 4-5 star review, I soon succumbed to temptation and bought it.
I'm glad I did, as it tasted awesome 🙂
In fact, these naengmyeon noodles taste so good that
We ate it twice in a week
It's been out of stock ever since I first bought it so I've not been able to get it again!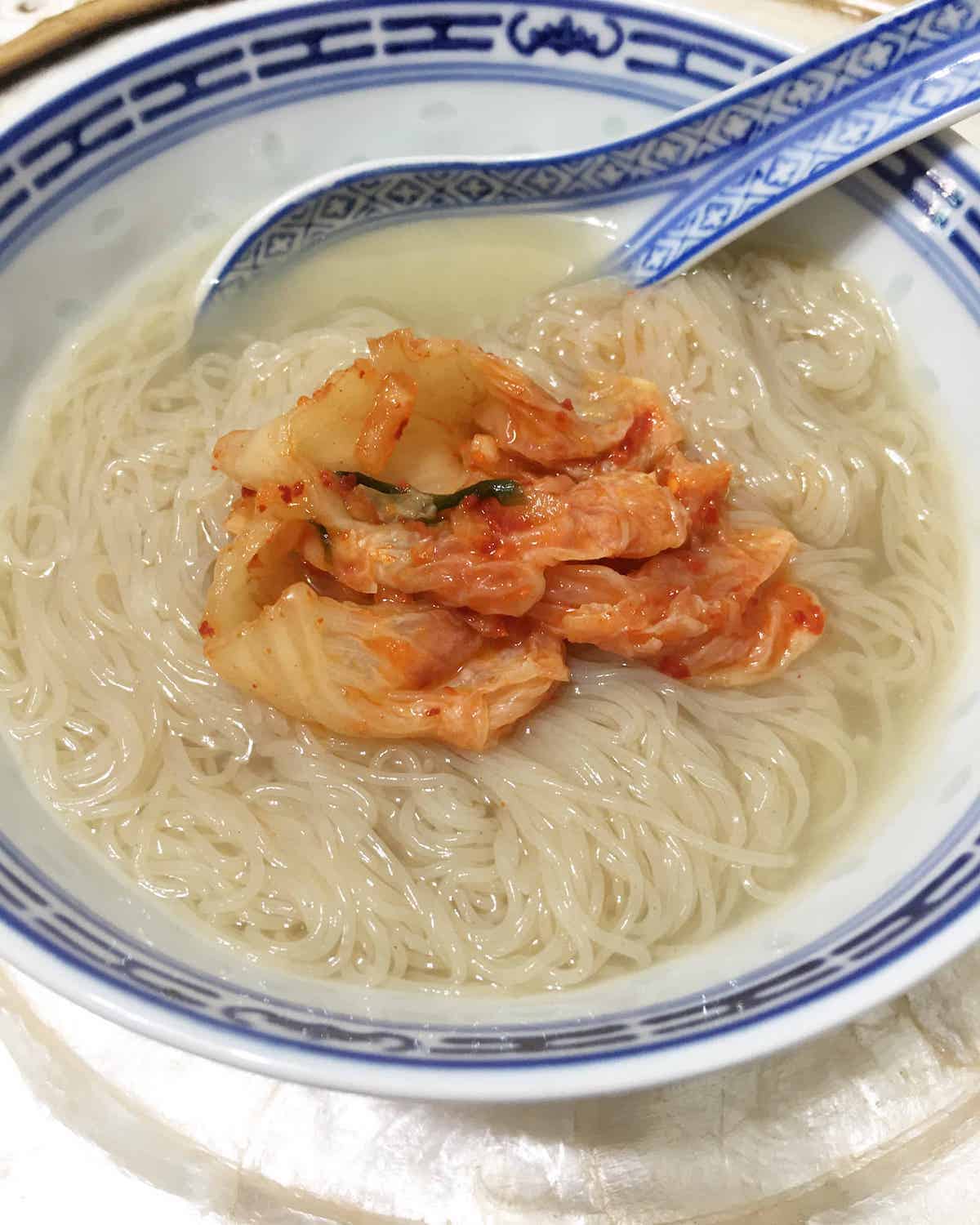 Note: this is a different type of cold noodle from the above (bibim naeng myeon is spicy) whilst this one is more refreshing and delightfully tangy.
If you've not tried this soupy cold noodle before, you may think it bland, but it's really not (and I'm someone who NEEDS strong flavours in my food).
There's a little packet of mustard inside, but the broth doesn't need it to taste good.
Hmm.. now I feel like buying it again!
Ourhome Sonsoo Jjolmyeon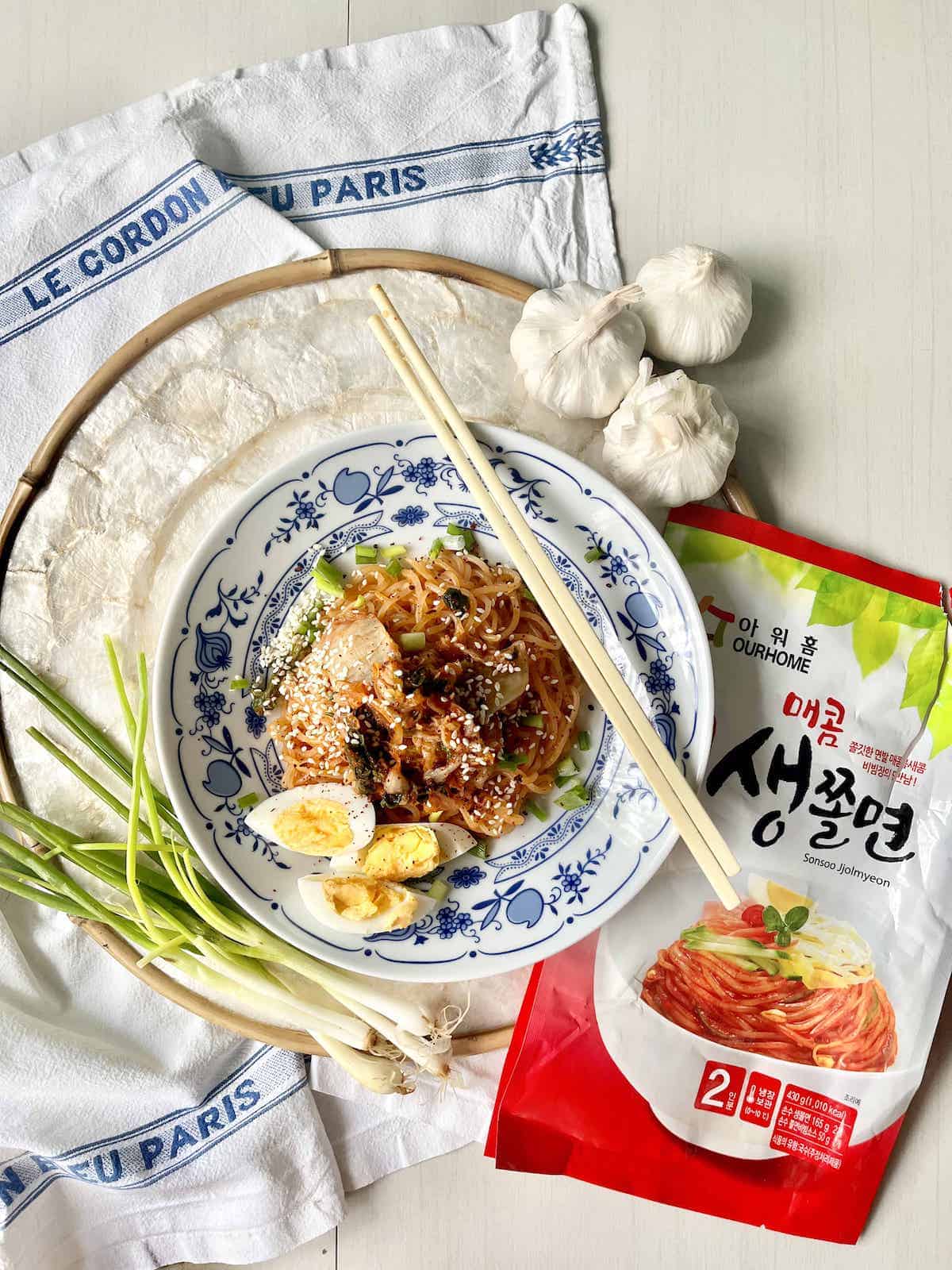 I've tried several products by Ourhome, all of which have been pretty good!
Before this packet, I'd never tried Jjolmyeon before. It's similar to bibimmyoen but with chewier noodles.
You need to cook it for a bit longer than the packet says, or it ends up undercooked. (Still edible though! I had already mixed the sauce into the thin noodles and was too lazy to recook so I just ate it as it was!)
OK these are the only 3 brands of instant Korean cold noodles that I've tried so far, but check back regularly as I add more Korean instant noodles reviews to this list!
🥫 Other Korean Instant Foods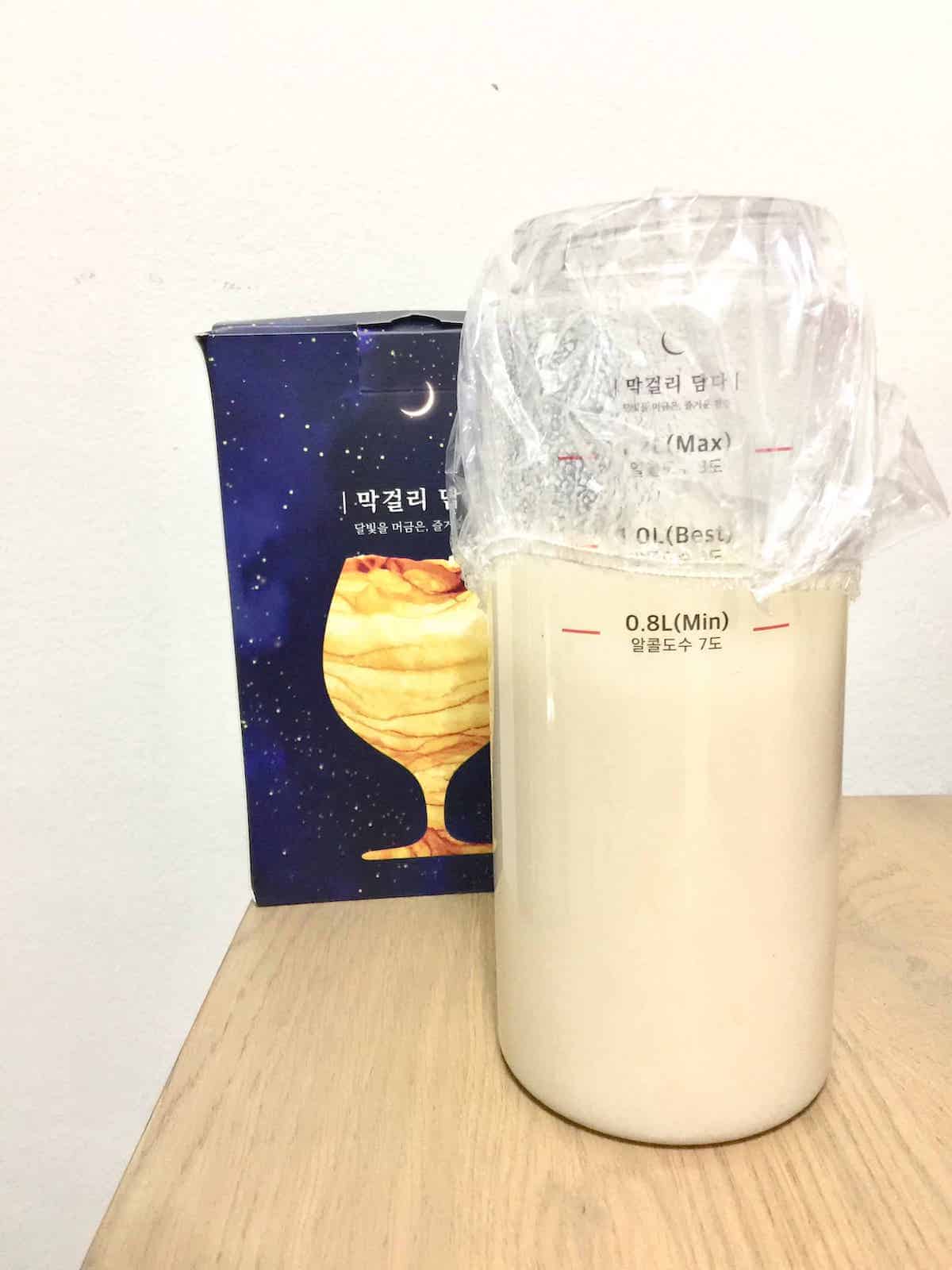 Other easy ways to eat more Korean food at home is to use box mixes. I prefer to make things from scratch but box mixes are good for when I'm out of the Korean ingredients.
Some Korean box mixes I've tried include:
Homemade Korean Recipes
If you actually want to MAKE your own Korean food from scratch, you can check out some of my other Korean recipe posts, such as:
If you've found this review of Korean instant noodle brands helpful, why not sign up for my Asian food newsletter here? (Mostly recipes though.)