The best and worst Korean Radish Substitutes for kimchi, beef radish soup and more, whether you want something milder, crunchier or just can't get this root vegetable where you live!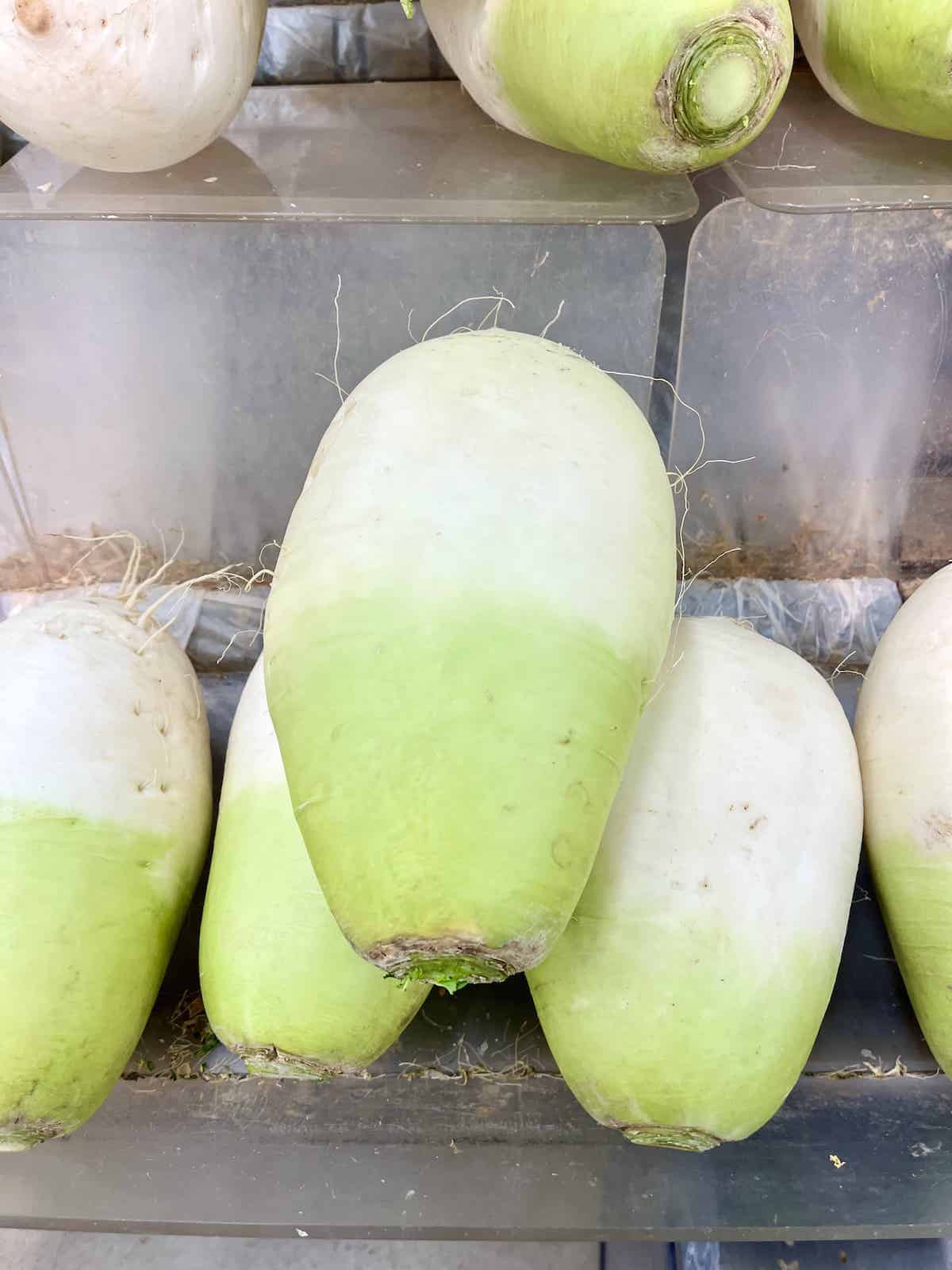 Jump to:
What is Korean radish?
Korean radish (Joseon-Mu 조선무), also known as Joseon radish, is a common ingredient in Korean cuisine, particularly in savory Korean banchan (Korean side dishes.) A member of the mustard family Brassicaceae, it has a strong flavor, with a bitter-sweet aftertaste.
It's a short, firm and wide root vegetable, with a light green top merging into a white bottom. Generally longer and larger than regular radish- which is almost completely white- every part, including the greens (mucheong 무청), can be eaten.
You can find them at Korean and, less often, Asian markets.
Note: Korean radishes are a spring crop.
How to Store
Wrap them in newspaper and keep in a dark cool place. Do not freeze as the texture changes when it's cold: it becomes spongy!
Health Benefits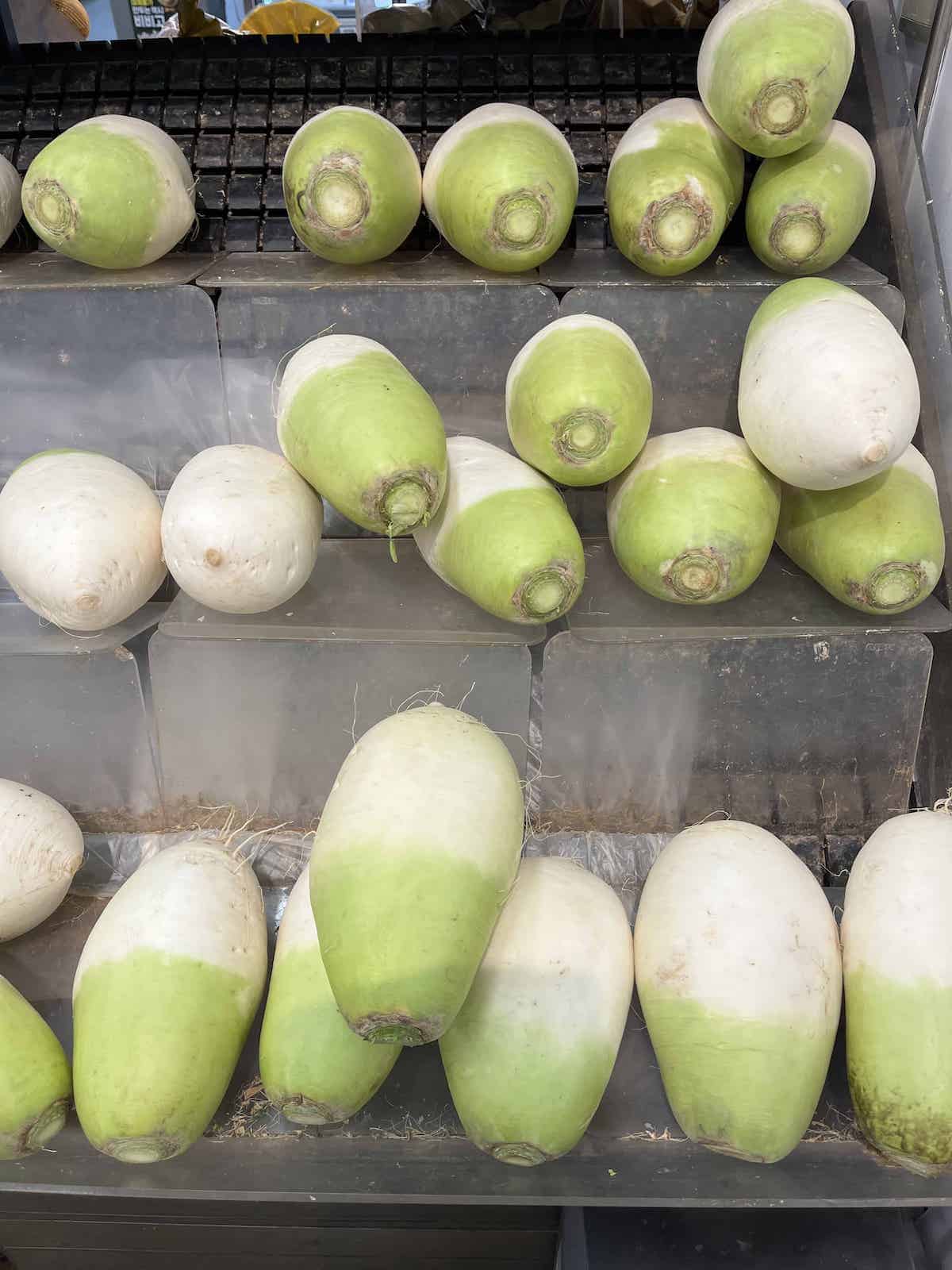 Radishes contain a lot of good things, such as catechin, pyrogallol, vanillic acid, and other phenolic compounds. They're also rich in the antioxidant Vitamin C.
They've also been said to:
lower the risk of diabetes: radishes contain chemical compounds such as glucosinolate and isothiocyanate that can aid in regulating blood sugar levels.
enhance liver function: ndole-3-carbinol and 4-methylthio-3-butenyl-isothiocyanate in radishes help detoxify the liver and enable it to heal damage
Used In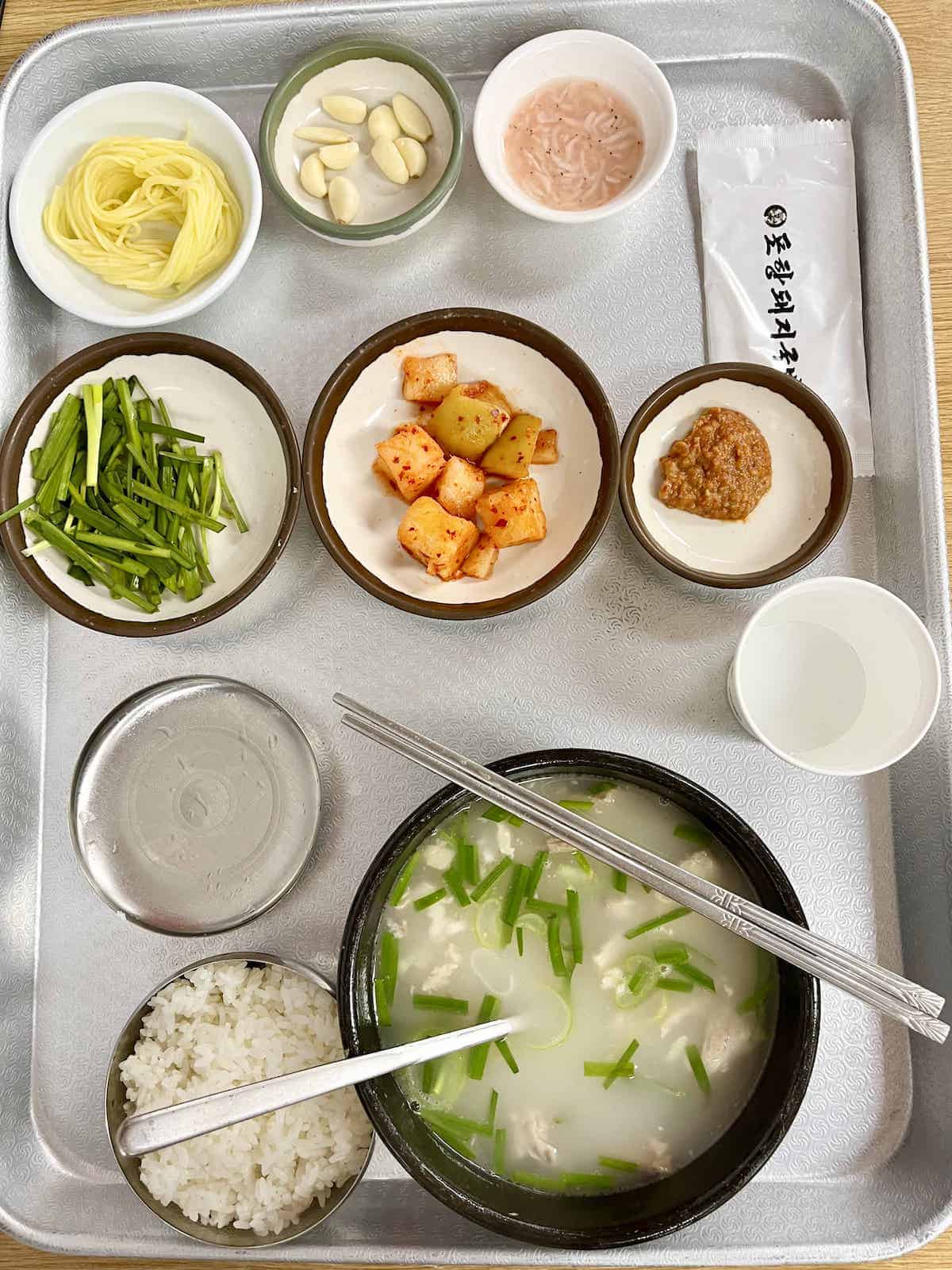 Korean radishes can be used in soups and stews, such as:
Mu Guk 무국 (Korean radish soup )
Mu Namul 무나물 (a seasoned vegetable side dish)
Mu Ssam (a radish wrap)
Mu-jeon 무전 (Radish Pancake)
Mu Bap (Radish rice)
However, they can be difficult to find outside of Korea or Asian grocery stores. Luckily, there are plenty of other root vegetables that can provide a similar flavor and texture!
Scroll down to see the best Korean radish substitutes!
Recommended
Daikon
One of the best substitutes for Korean radish is daikon (大根) also known as Japanese radish, Oriental radish and Mooli. Daikon is your best choice if you're trying to find a replacement to use to make kimchi.
This winter radish looks like a large white carrot and is a staple in Chinese cooking. You can find it in dishes such as Chinese carrot cake, Chinese Zha Zai pickles and soups. Daikon radishes have a mild flavor which is similar to Korean radish, although it has a sweeter and less peppery taste.
They also have a crisp, crunchy texture that is great for slicing into small pieces.
Note: some varieties have a green top and white bottom, like Korean radishes. However, the Korean one has firmer flesh and softer greens.
Turnips
White turnips are another excellent substitute for Korean radish.
Like radishes, the flesh is white. They have a sweet flavor and similar texture to daikon radish, making them a great option for use in Korean cuisine or other Asian dishes.
Cabbage Hearts
Cabbage hearts, particularly Napa cabbage hearts, are also a great substitute for Korean radish in some dishes, particularly kimchi, soups and jjigae (stews.)
Note: This is where the leaves meet in the centre.
Red Radish
Red radishes, also known as round radish or globe radish, can be used as a substitute for Korean radish in terms of texture. They're the most commonly available at mainstream supermarkets but have a slightly different, stronger flavor (and color, obviously.)
Hence, they may not be ideal for all Korean dishes.
Fun fact: radishes range in color. There is even a variety of black-skinned radish (Spanish Radish.)
Watermelon Radish
Watermelon radishes, so named for their green exterior and pink interior, belong to the same family as mustard. (Specifically, Raphanus in the Brassicaceae family.) Hence, they have a peppery flavor similar to arugula rocket and are thus a good replacement for Korean radish.
Note: these are an heirloom variety of Daikons which originated in China and are available all year round.
Water Chestnuts
Water chestnuts can also provide a similar crunchy texture to Korean radish, and are commonly used in Asian cuisines. For example, they're added to Chinese dumplings and pork meatballs for crunch as they remain crisp even after cooking.
They have a sweet, mild flavor and are often used in stir-fries or other savory dishes. (Fresh chestnuts have a stronger taste whilst canned ones are quite neutral in flavor.)
Mexican Turnips
Mexican turnips, also known as Mexican Potato or Jicama, can be used as a substitute for Korean radish as it has a similar crunchy, juicy and crisp texture. Despite being yellow on the outside, the inside is creamy white, like Korean Radish.
It tastes a little nutty, sweet and starchy, and can be eaten raw in salads, or used in soups and stir-fries. However, it's almost as difficult to find in the States as Korean radish, so may not be a feasible alternative.
Note: only the root of the plant is edible. The rest of it is poisonous!
Horseradish
Personally, although it is mentioned by some sites, I do not find horseradish root a good substitute on its own. Though they belong to the same family, it has a much more spicy, peppery flavor compared to the Korean radish taste.
If you really need to use it to replace Korean radish, do mix it with some raw daikon on white radishes to tone down the flavor.
Note: intact horseradish has no aroma. It only develops its pungency after being cut or grated. If exposed to heat or air, it will darken and become bitter.
Not Recommended
Beetroot
Another proposed alternative to radish is beetroot, which I find does not work at all as beetroot has a very strong, unique flavor, that is nothing like the mild one of radish.
Moreover, color is an important part of food, and beetroot's bright red hue is so different from that of the pale radish!
Parsnips
Although this has been suggested by some sites due to a similar texture, parsnips have a rather different flavor to radish. Hence, it's not an alternative I recommend if you're trying to cook authentic Korean food.
No matter what substitute you choose, there may be slight differences in flavor or texture compared to Korean radish, so have fun and experiment! If you found this list of the worst and best Korean radish substitutes useful, would you like to join my Asian food newsletter?