A jar of kimchi (the fermented cabbage variety, at least) can last for a long time in the fridge. Here are the best Korean and non-Korean recipes for delicious side dishes to eat with your kimchi, from rice to burgers and stews!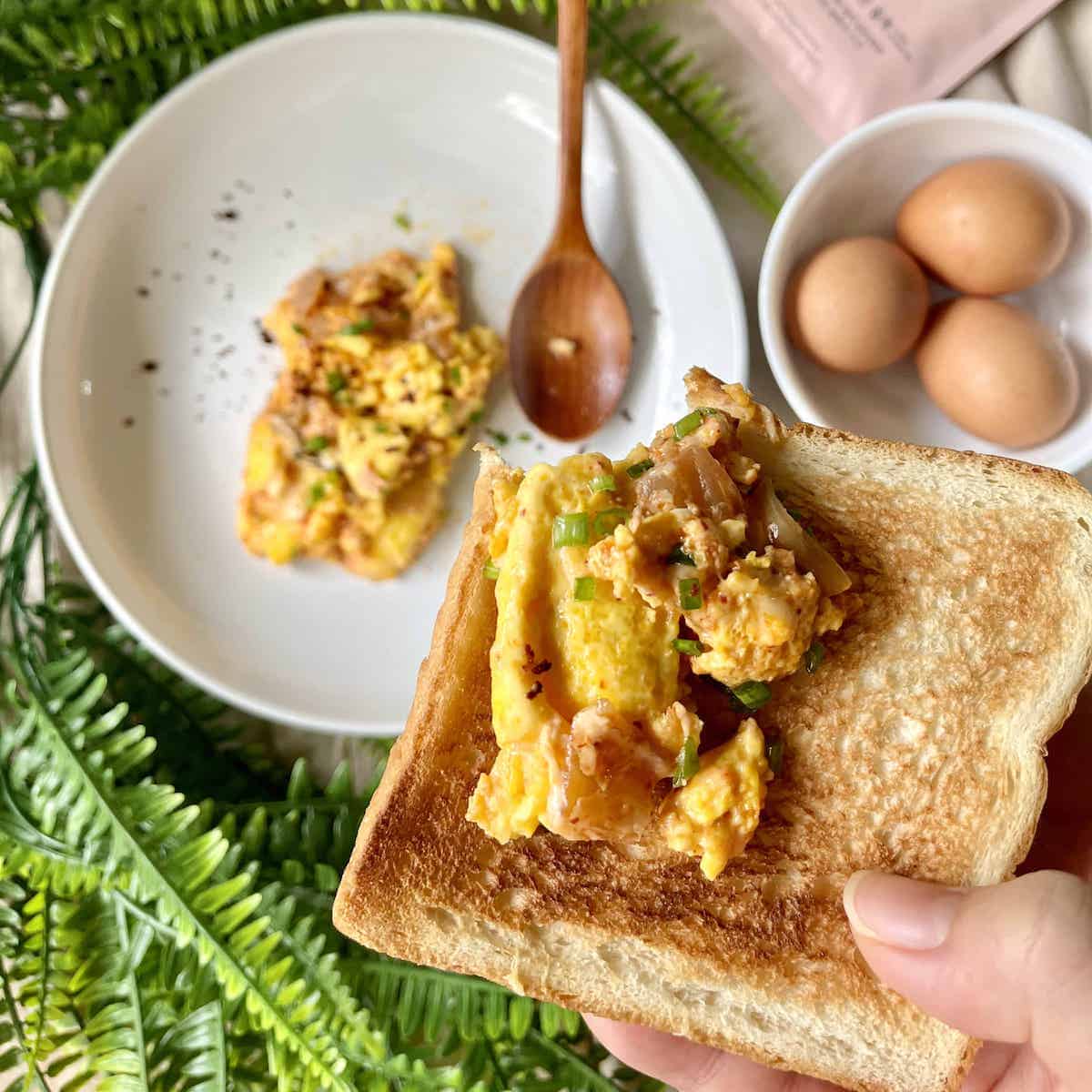 Jump to:
What is Kimchi?
Kimchi 김치 is a traditional Korean fermented vegetable dish that plays a big part in Korean cuisine.
Most Koreans love kimchi so much that they have a special kimchi fridge to store it (as kimchi is super pungent and the smell infuses through your entire chiller!) These days, kimchi has become popular internationally as it not only tastes delicious but is said to be good for your gut microbiome.
As a result, you no longer have to hike down to the Korean supermarket to get it, but can find it in mainstream grocery stores, such as Trader Joes and Whole Foods. 2 popular brands are Bibigo Kimchi and Chongga/ Jongga Kimchi. (I like to make my own kimchi though!)
Tip: don't throw away the extra liquid at the bottom of the jar. It's perfect ingredient to add umami flavor to stews (jjigae) and sauces!
Taste
The most common kimchi is Baechu Kimchi or Napa Cabbage Kimchi. It is spicy, tangy, and flavorful. However, not all kimchi has a spicy flavor!
For example, 백김치 Baek Kimchi (White Kimchi) is a non-spicy kimchi that is made without Korean chili pepper flakes. It often contains ingredients like Korean pear, giving it a sweet, zingy and fresh flavor. This kimchi is a good choice when serving the very young or the very old!
If you're wondering why this is important, well, obviously, different types of kimchi would go with different side dishes, due to their different flavors! My focus here is more on Baechu Kimchi, since it's the most common but I will touch on the other types below as well.
Tip: the best kimchi is made in traditional Korean earthenware containers called onggi. Such kimchi has over 100 times more good bacteria (lactic acid bacteria)!
Types
배추김치 Baechu Kimchi, or Kimchi made with salted Napa cabbage, is mixed with seasoning such as gochugaru (Korean red chili peppers), green onion, sesame seeds, sau-jeot (Korean salted shrimp), fish sauce, sugar, ginger, garlic and glutinous rice porridge. (This is easily made by boiling water and glutinous rice flour.)
Other popular kimchi include 깍두기 Kkakdugi (Korean radish kimchi or mu kimchi), 오이소박이 Oi Sobagi (Cucumber Kimchi) etc.
Note: Not all kimchi have to undergo a long fermentation process FYI- 오이소박이 Oi Sobagi and 배추겉절이 Baechu Geotjeori (fresh cabbage kimchi) can be eaten almost immediately after making! (I like to use my maesil-cheong or tangerine-cheong when making fresh kimchi, instead of sugar.)
Goes Well With...
Kimchi goes wonderfully with a wide range of dishes, such as:
Carbohydrates
Kimchi is super flavorful so it is the perfect accompaniment for plain-tasting dishes, such as rice, pasta and potatoes.
Rice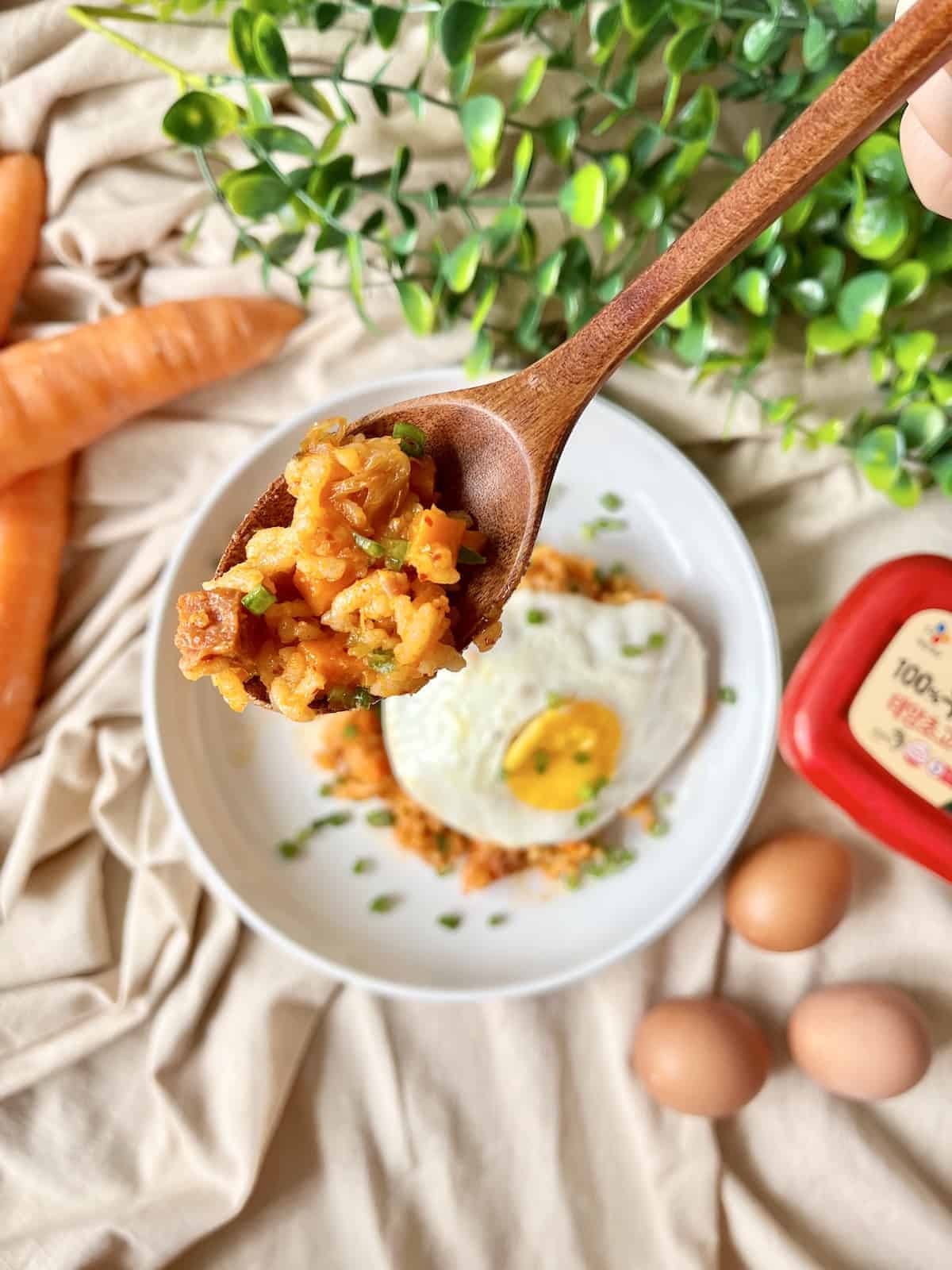 Kimchi is so tasty that you can eat it with a bowl of plain steamed rice or congee!
You can also stir fry it with Spam and white rice to make Kimchi Fried Rice (Kimchi Bokkeumbap) or use it as a topping for an Asian rice bowl or a sushi bake!
Tip: Eat it the Korean way by spooning some white rice and kimchi onto a piece of seaweed, then wrapping it up and eating it!
Noodles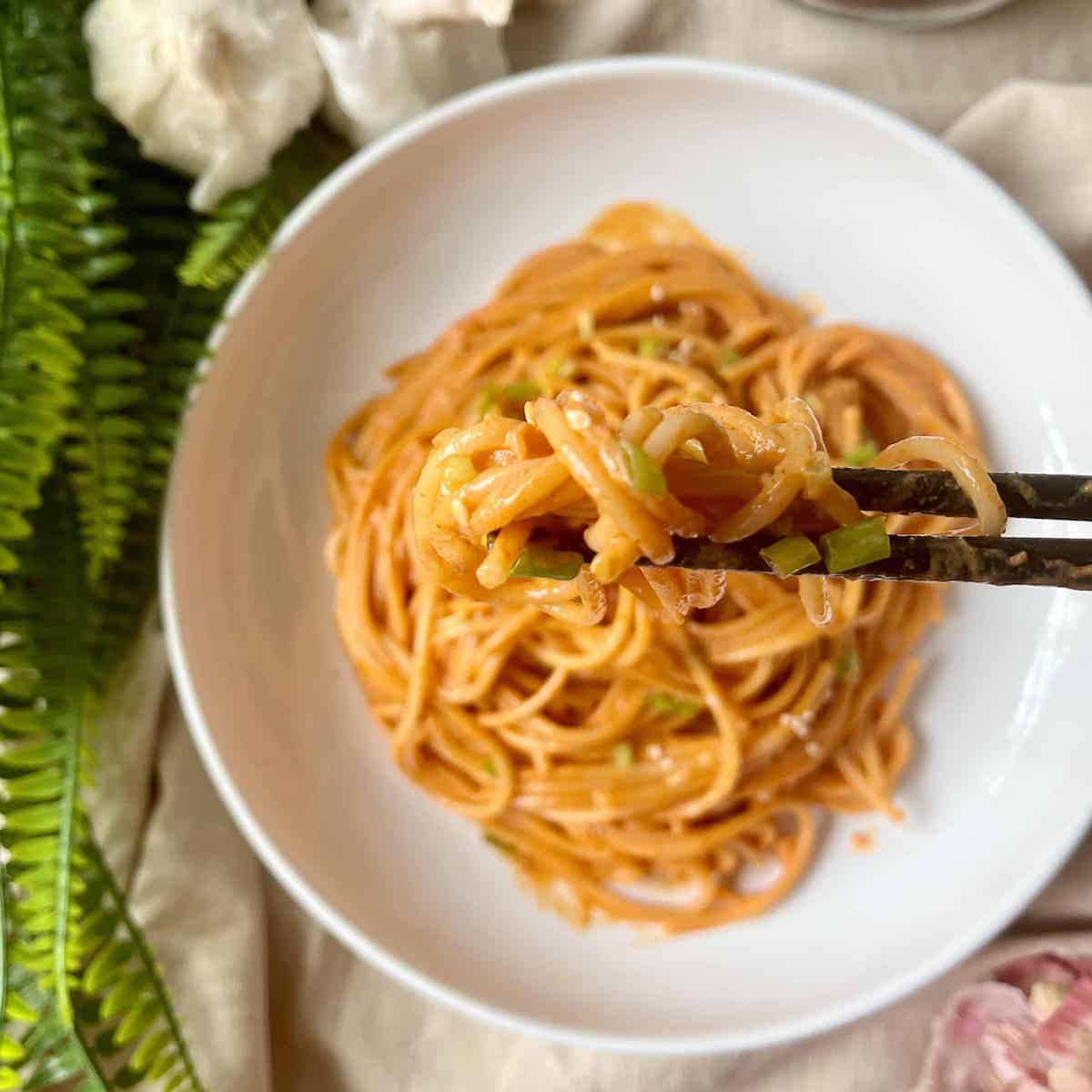 Besides Korean pasta, kimchi is also a great accompaniment to Korean cold noodles and Korean instant noodles (instant ramyeon)! (Another popular dish that goes really well with kimchi is Mac and cheese, as the tanginess elevates the heavy flavors!)
Note: in fact, some cold noodle broths are made using 동치미 Dongchimi (water kimchi.)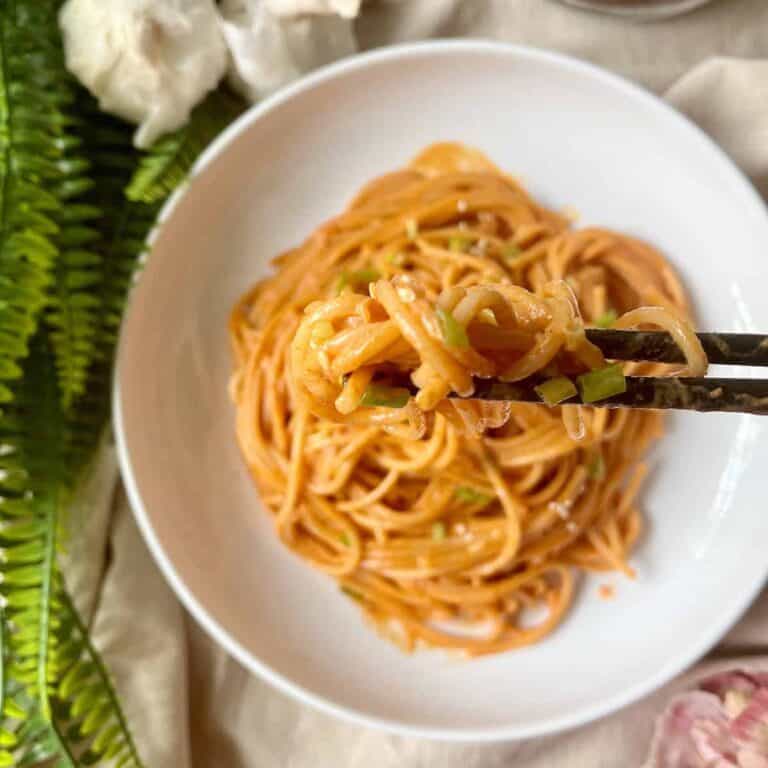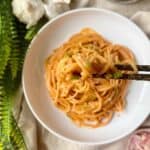 Pancakes and Fritters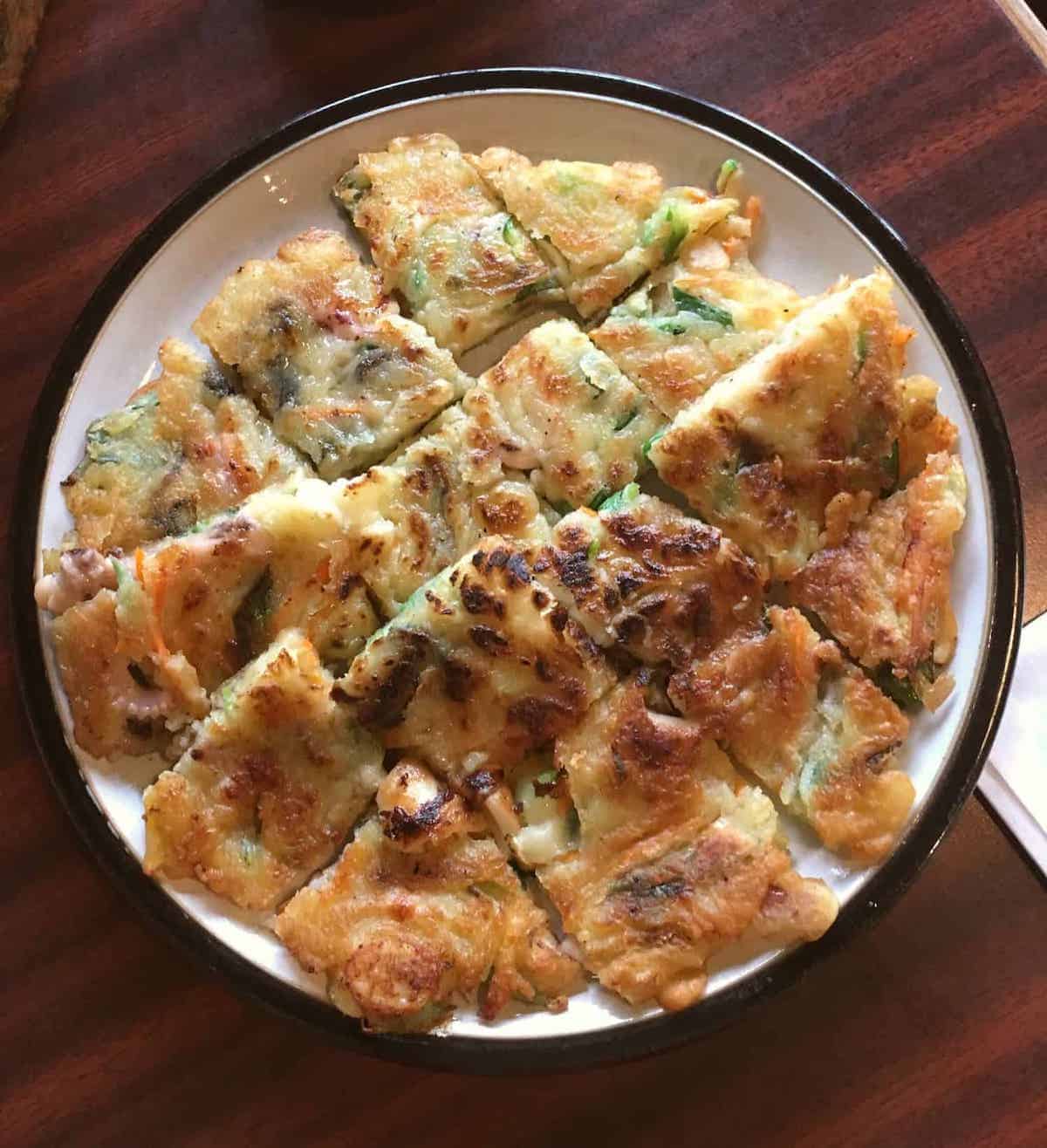 Kimchi is a great way to add flavor to flour recipes, such as savory pancakes and fritters. It's often added to pancake batter to make Kimchi Jeon, or Korean Kimchi Pancake.
Tip: don't forget the dipping sauce, which is made of sesame oil, soy sauce etc.
Burgers, sandwiches and wraps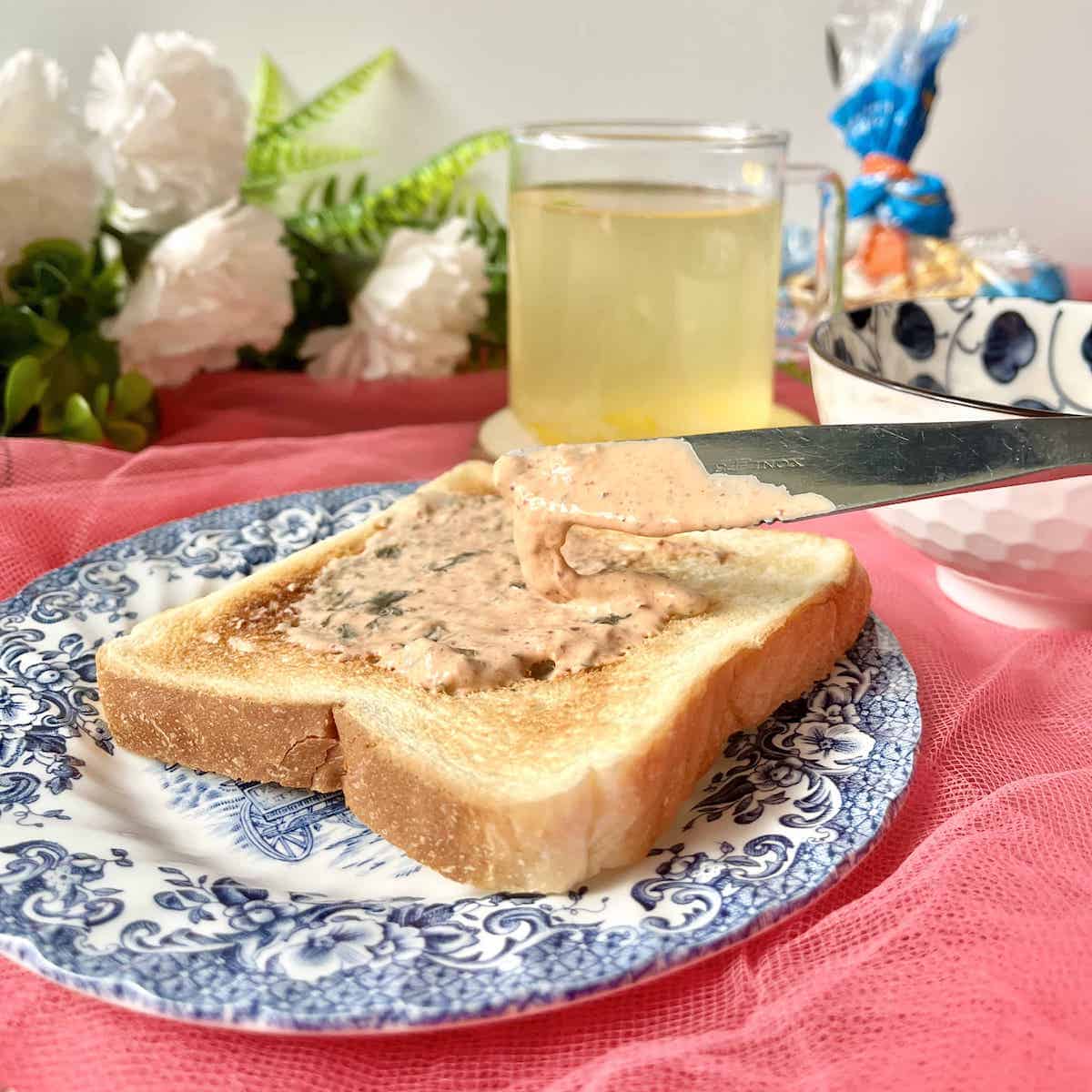 Tangy kimchi can replace cucumber pickles and gherkins in burgers and sandwiches.
Alternatively, you can mix it with something creamy like sour cream or mayonnaise to make a dipping sauce for fries, or a spread for the burgers.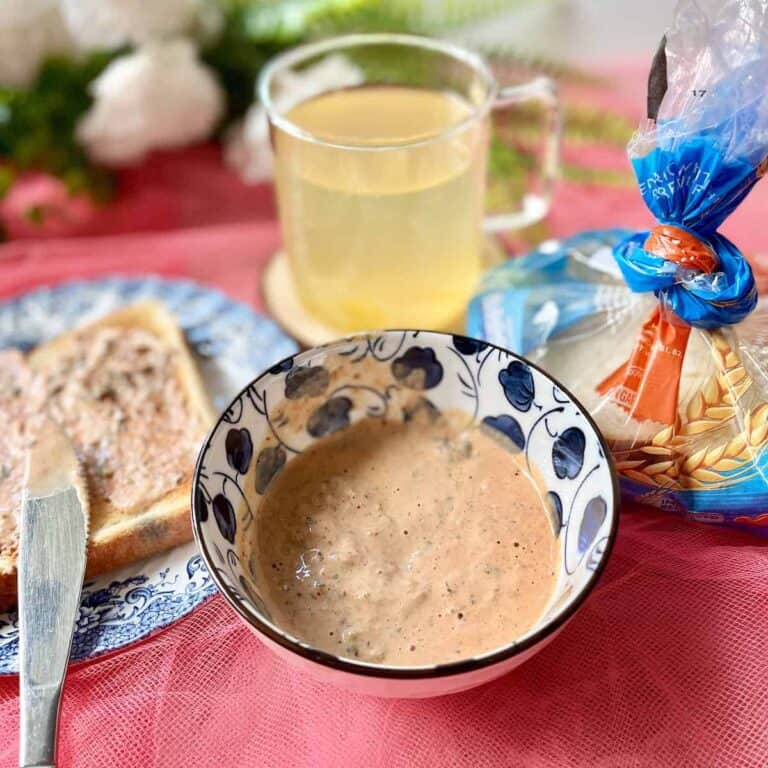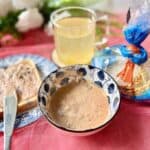 Korean Rice Sandwich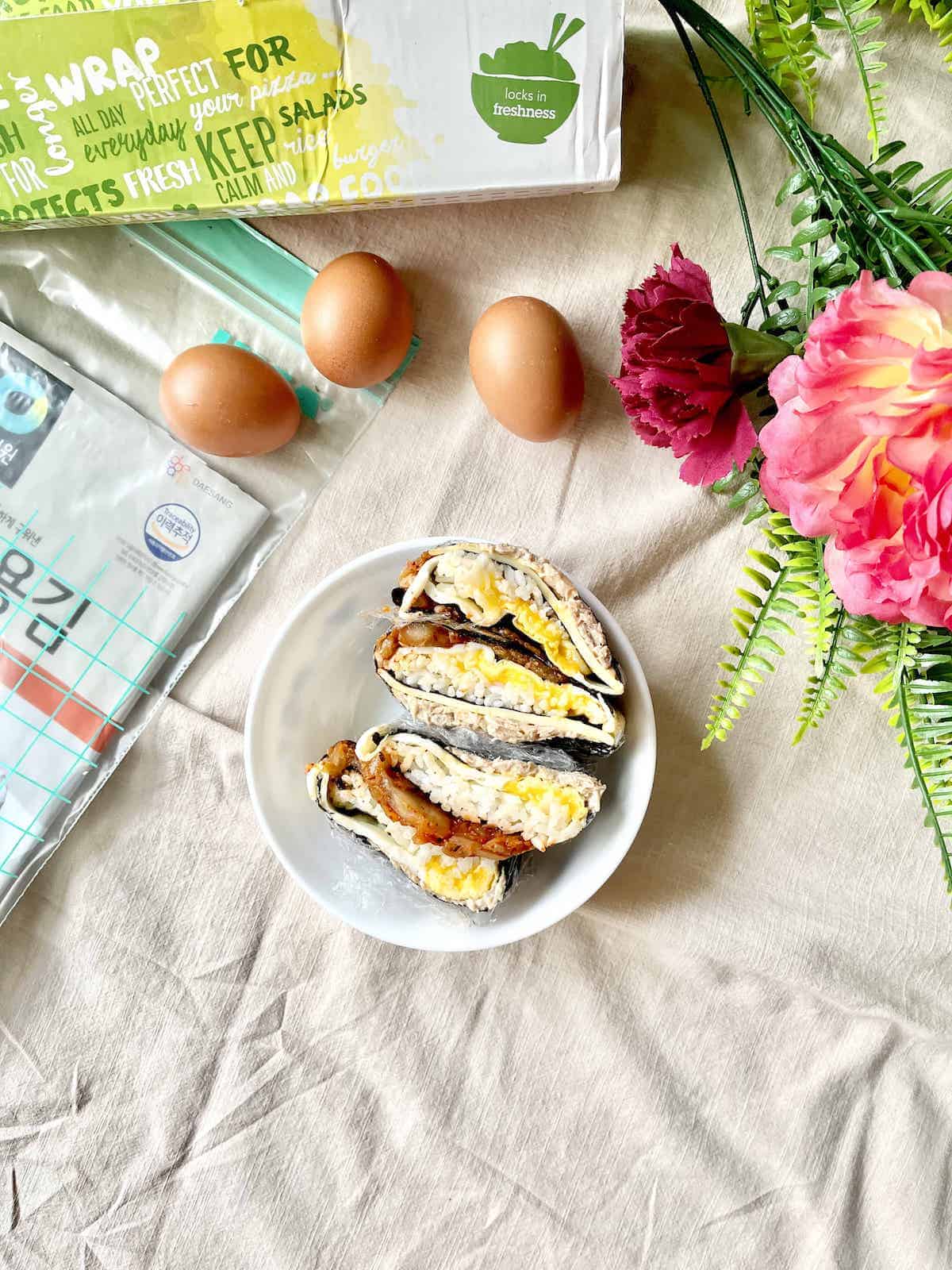 Kimchi can also be used as a filling in Asian sandwiches!
Folded Kimbap Sandwich (Attorney Woo)
Folded Kimbap Sandwich is a fun, easy and delicious Korean street snack that shot to fame with the K-drama, Extraordinary Attorney Woo. It's simple to make and super versatile for lunchboxes: read on for some of the many possible fillings!
Click here for the spicy rice sandwich.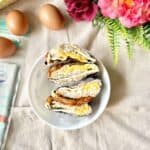 Meat (Gogi)
Korean Spicy Chicken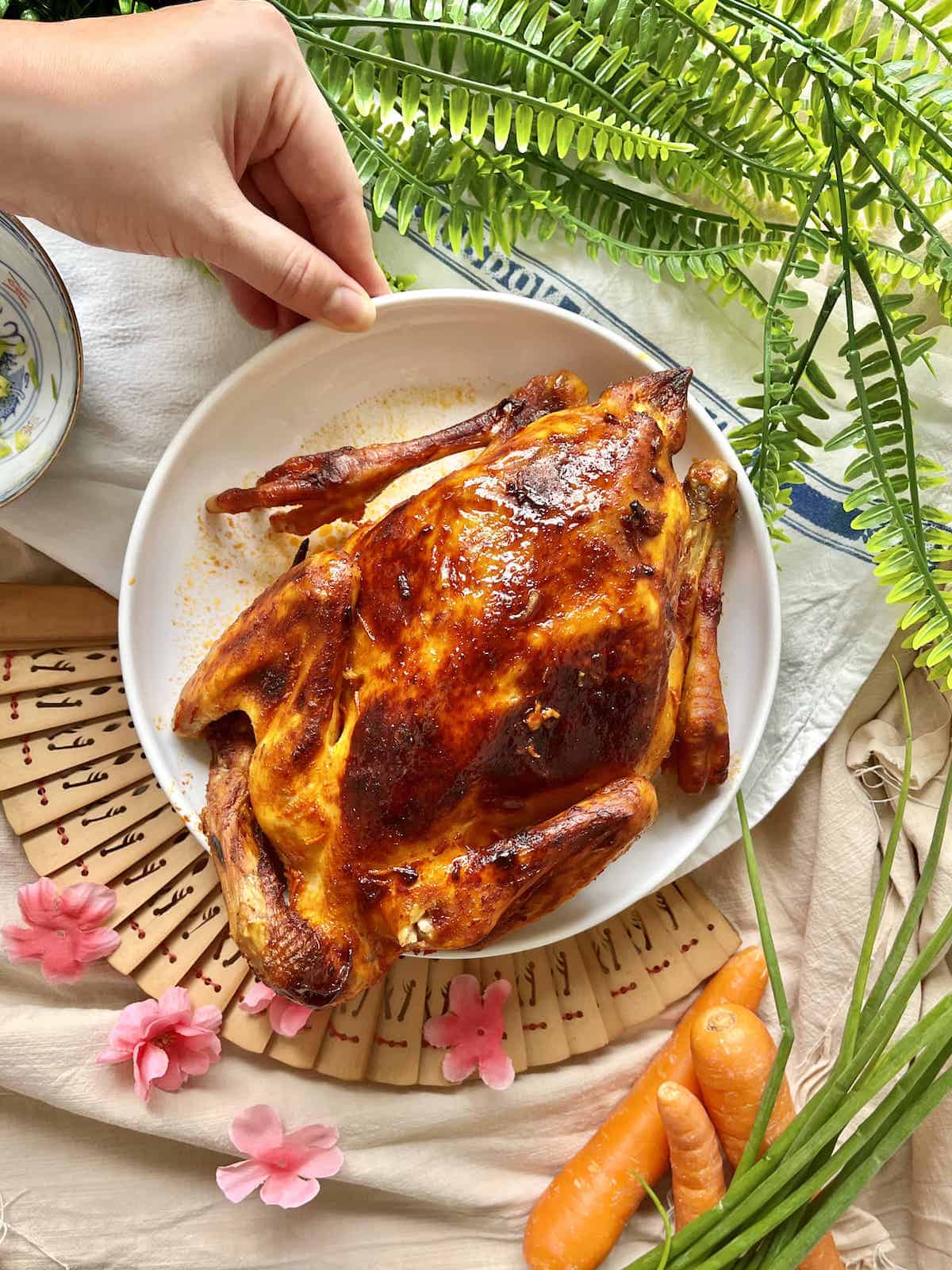 Korean Gochujang Chicken
Spice up your weekday dinner routine with this scrumptious Korean Gochujang Chicken recipe! An easy-to-make dish, the tender, juicy chicken is coated in a mouth-watering blend of Korean red chili paste, soy sauce, and more. Whether you're a fan of Korean food or just looking for new chicken recipes, this recipe is sure to impress!
Click here for the Korean roast chicken recipe.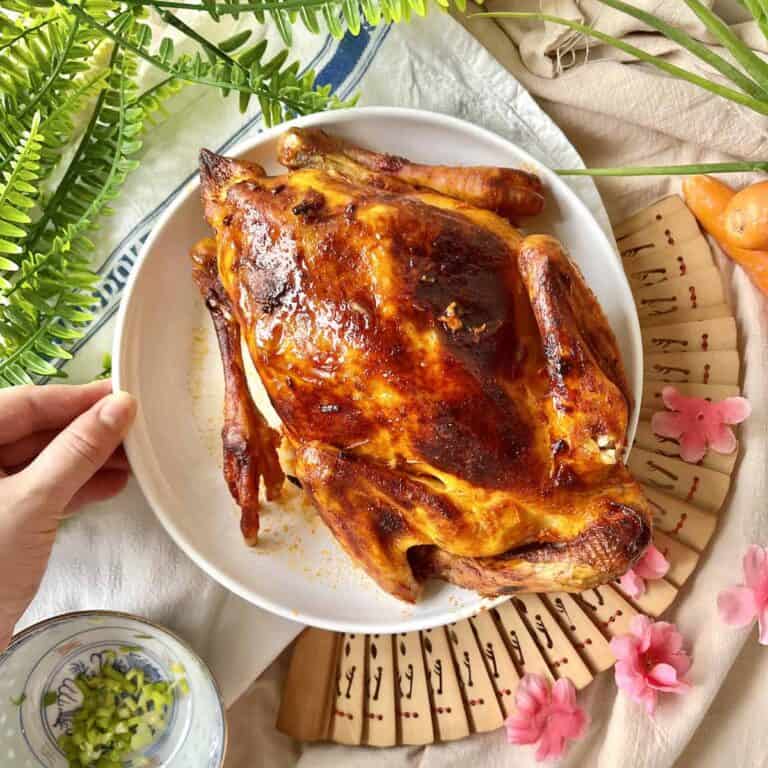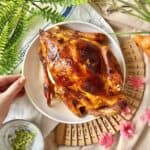 Bossam
Kimchi provides acidity to cut through the richness and fattiness of the meats and lift the flavor. Hence, it goes terrifically with fatty cuts such as Korean boiled pork belly (bossam.)
Note: there is a type of kimchi called Bossam Kimchi, or Bo Kimchi. It is NOT kimchi that is made for bossam. Rather, "Bossam" refers to the way the kimchi is wrapped in cabbage leaves! It's quite a fancy kimchi that you don't see often nowadays, and is made with oysters, yam, Korean pears etc. I made it during the Professional Kimchi Certification course that I took in South Korea and it was delicious!
Korean Barbecue
Kimchi is a match made in heaven with grilled meats, such as pork and beef in Korean BBQ!
Soups and Stews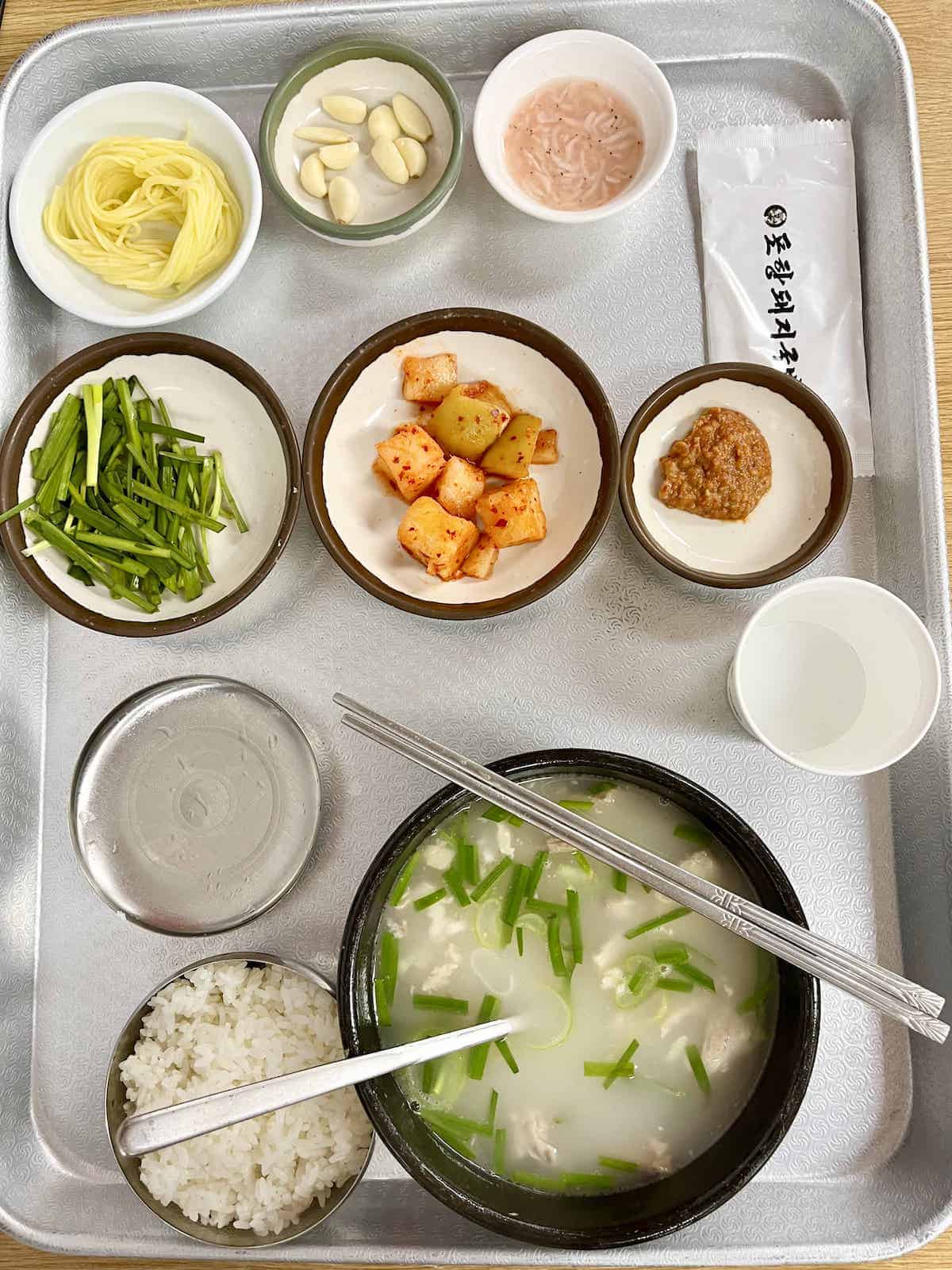 Adding Kimchi is a quick and easy way to add flavor to a dish.
For example, in Busan, Dwaeji Gukbap (Pork Soup and Rice) is almost always served with some cubed radish kimchi on the side!
Cabbage Kimchi is also splendid in Korean Kimchi Stew 김치찌개 (Kimchi Jjigae.) Some even add it to 된장찌개 Doenjang Jjigae (Korean Miso Stew) and 순두부찌개 Soondubu Jjigae (Soft tofu stew)!
Other Protein
Scrambled Eggs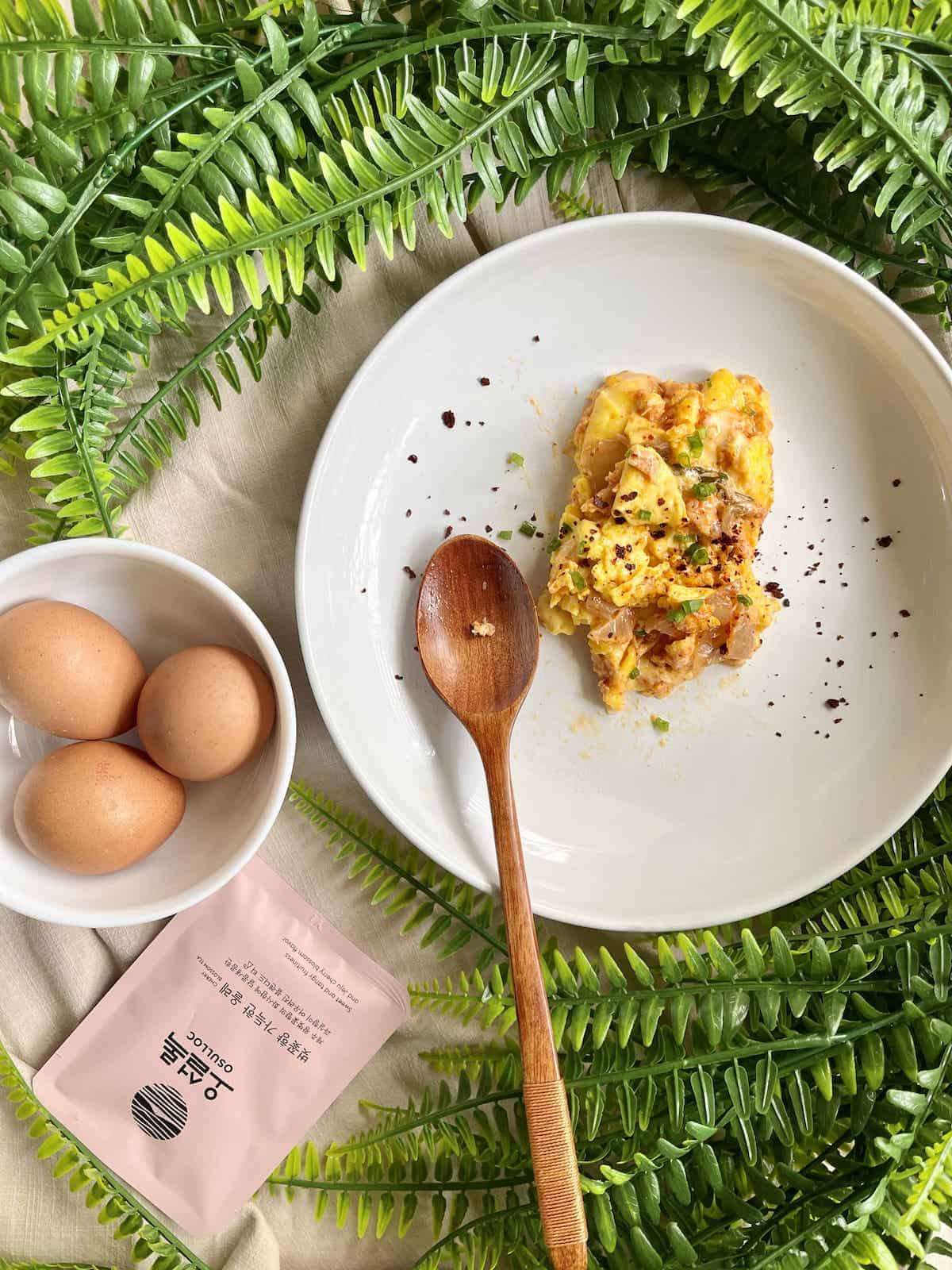 Kimchi is delicious with plain ole sunny side eggs, mixed with cheese as a filling for an omelette or in a scramble!
Kimchi Eggs (10 minutes)
An easy Kimchi Eggs recipe that only requires 10 minutes to whip up- perfect for breakfast, lunch or dinner! You really only need 2 ingredients (though ideally 5) and all are readily available at the regular grocery store!
Click here for the Korean egg recipe.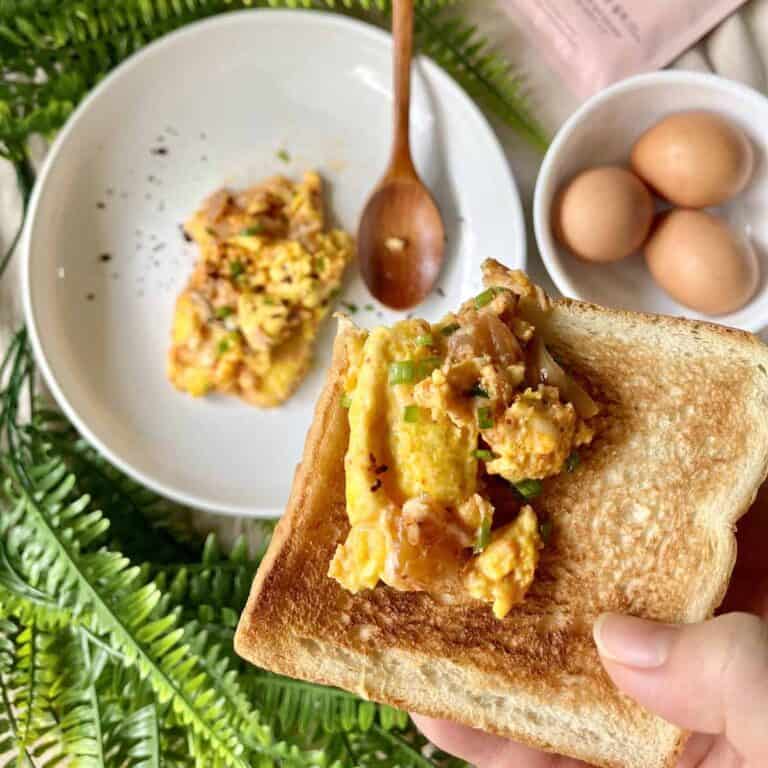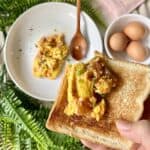 Mayak Gyeran
Mayak Eggs
Mayak Eggs is a super simple but deliciously savory Korean side dish that can be made in minutes! It tastes phenomenal with just rice and lasts for 3-4 days in the fridge, so is a great Asian meal prep recipe!
Click here for the Korean egg banchan.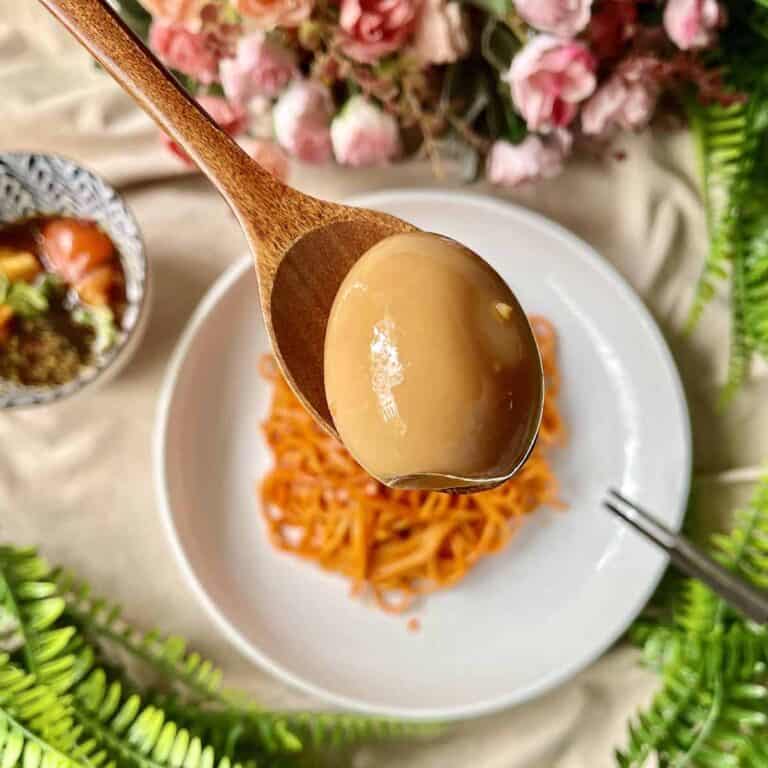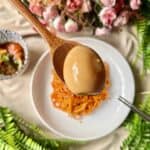 Tofu
Because kimchi is full of savory flavors, it is a great accompaniment to lighter foods such as steamed or boiled tofu.
Small Bites
Dumplings
Korean dumplings, also known as mandu, taste even better when paired with kimchi.
Tip: you can also use kimchi to stuff both steamed and fried kimchi dumplings (kimchi mandu)!
Drinks
Makgeolli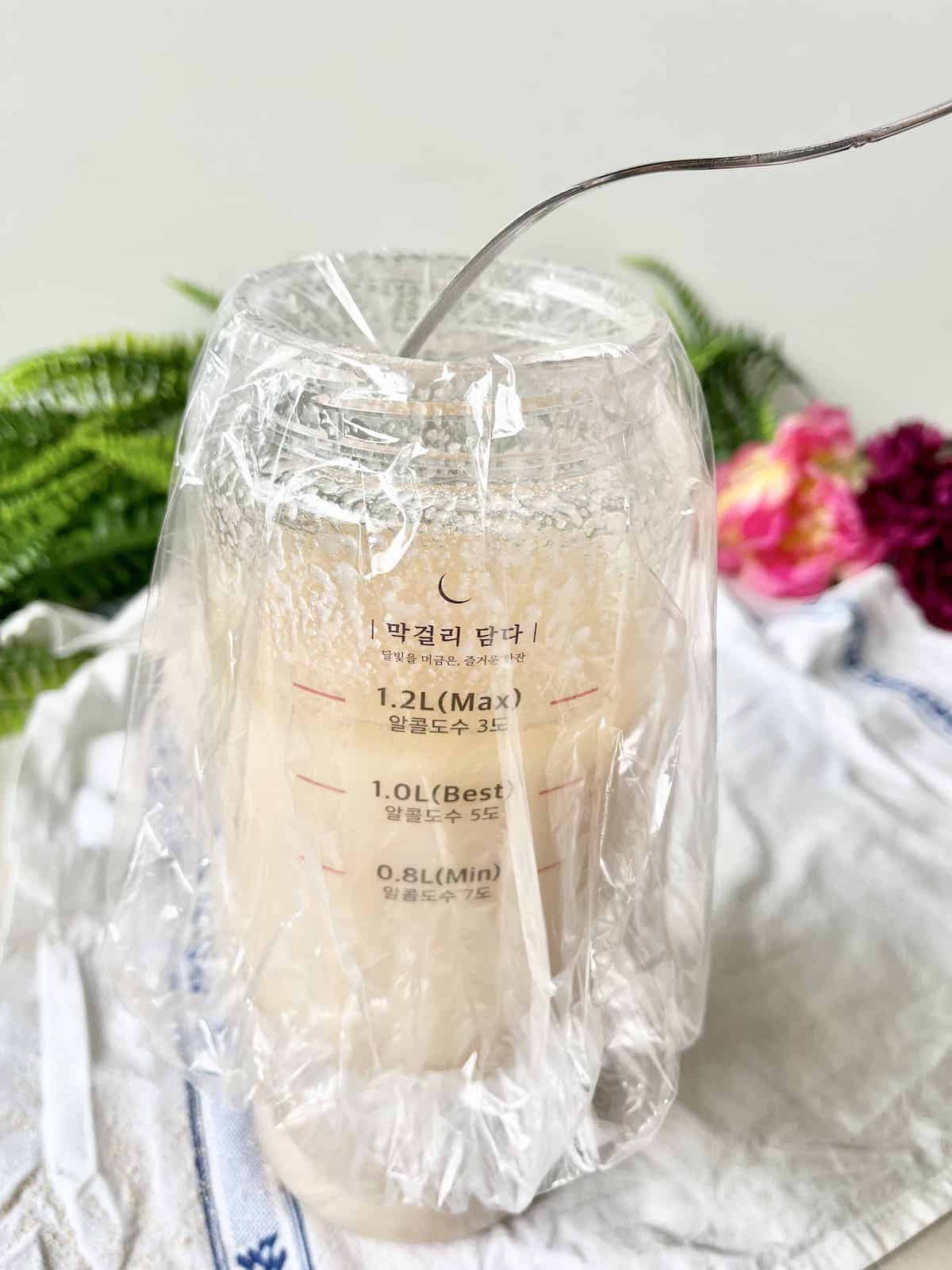 How to Make Makgeolli with a Kit
Intimidated by fermenting your own Korean rice wine? Don't be! Here's a step-by-step guide, with photos, showing you how to make makgeolli at home with a kit- it honestly couldn't be simpler!
Click here for the Korean rice wine recipe.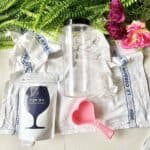 Overall, kimchi is a super versatile condiment that goes with many recipes, not just Korean ones. It can be used in many different ways to add flavor and spice to your food!
P.S. If these Kimchi Side Dishes suggestions were helpful, maybe you'd like to sign up for my Asian food newsletter?