It's been a while since my last post. I must confess that I feel less inclined to cook these days, as I no longer hold dinner parties. (The hot and humid Singapore weather doesn't help either- in case you didn't know, we're not meant to switch on the air conditioning when we cook, as the oil will collect inside the AC and it'll be bad for your health!) How about you guys, do you still bake and cook often? Anyway, when sogoodk sent me an email about their Korean green tangerine syrup kit (and when I received some lovely Instagram messages from readers!), I decided to get off my lazy ass and back into the kitchen. (This isn't a sponsored ad FYI! Also, in the end, I decided to buy just the green tangerines (sogoodk throws in the sugar for free) as it works out to be more economical than getting the kit.)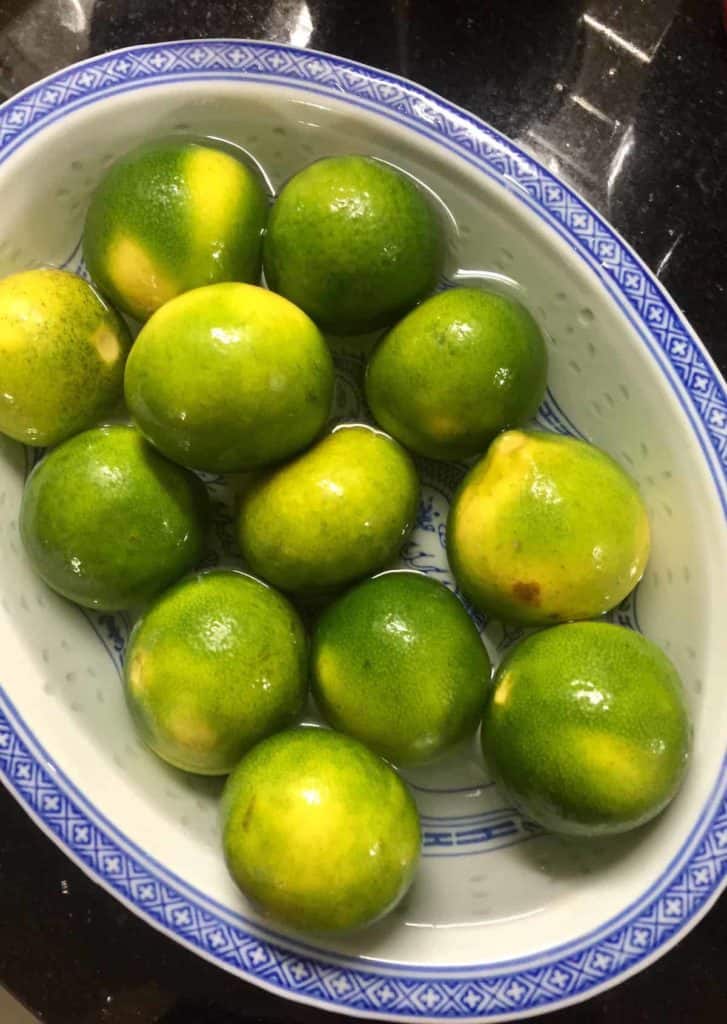 It's very simple to make your own Korean green tangerine syrup, or chung gyul cheong. Best of all, it only takes 1 week to mature, unlike with maesil-cheong (plum syrup), which takes 3 months. My maesil syrup has finally matured- I had the first sip the other day and it tasted great with cold sparkling water. My only complaint is how much syrup you need to make a good drink- that jar of plum syrup won't last very long at all! I'll definitely make a bigger batch next year.
PS Another fun and fast fermentation project for impatient people like myself is makgeolli!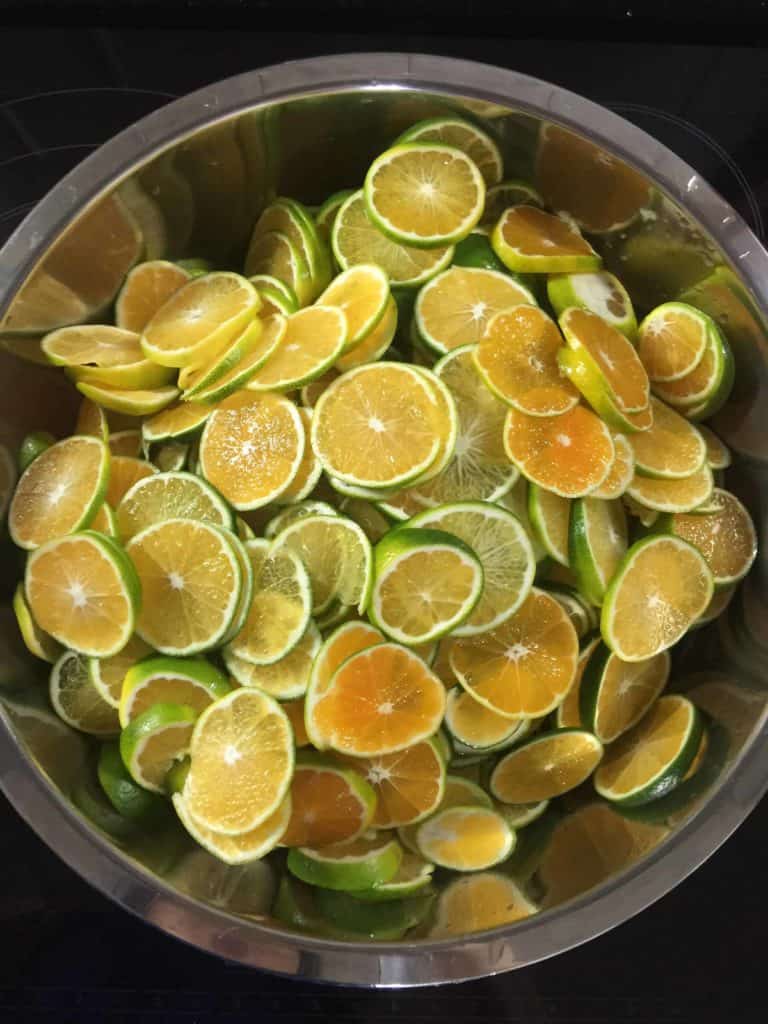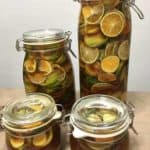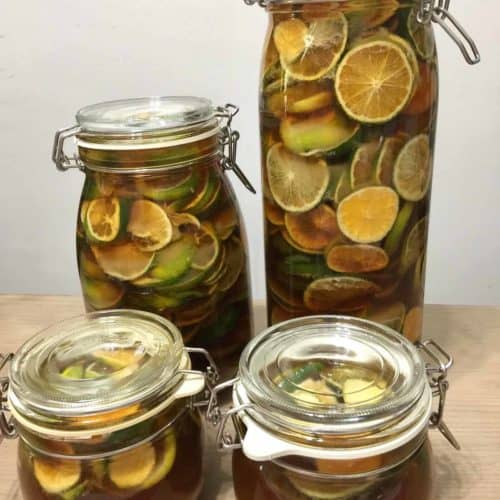 Print
Korean green tangerine syrup (chung gyul cheong)
Pesticide free green tangerines + sugar + 1 week = delicious syrup
Equipment
Sterilised glass jars

Sterilised wooden spoon

Large pot or bowl

Cutting board and knife
Materials
1

kg

Korean green tangerines

Korean tangerines have thinner skin- you're using the entire fruit here which is why these work best. Also, since you're eating the skin, try to get pesticide-free/ organic produce!

1

kg

sugar

My tangerines came with xylitol sugar but you can use regular sugar too. Basically the fruit and sugar are in a 1:1 ratio
Instructions
Sterilise the glass jars by pouring boiling water into them. You may want to prepare your glass jars by using hot (but not boiling) water first- this helps to prevent accidents in which the glass jars shatter! Dry the jars completely.

Clean the green tangerines. I like to soak my fruits in baking soda for 5 minutes (to remove any pesticide residue) before rinsing, scrubbing with salt, and then rinsing well again. Remove any stems that may be on the fruit and dry the fruit well.

Slice thinly and mix the fruits with 2/3 of the sugar in a large bowl.

Once the sugar has dissolved, transfer to the sterilised glass jars before topping with the remaining 1/3 of the sugar.

Leave at room temperature for a week before transferring the jar to the fridge. I open my jars every day to allow any gas out- you'd be surprised how quickly the syrup starts fizzing! Mine exploded (when I opened it- the jar was super full) after only a few hours!

According to sogoodk, the syrup should last for 1 year if refrigerated. Use for drinks, salad dressing etc, making sure to scoop only with a wooden spoon.
Notes
Sogoodk specifies that the syrup should only be scooped using a wooden spoon, as a metal spoon may cause the cheong to spoil. I wonder if this means we shouldn't use a metal bowl to mix the fruit and sugar? The only bowl I had that was large enough was my metal baking bowl, so I used that, and I've had the cheong several times with no issues. Will keep you guys updated!
As we all know, the simplest things can ironically be the hardest to do, so I've compiled some tips to help you with your Korean green tangerine syrup making!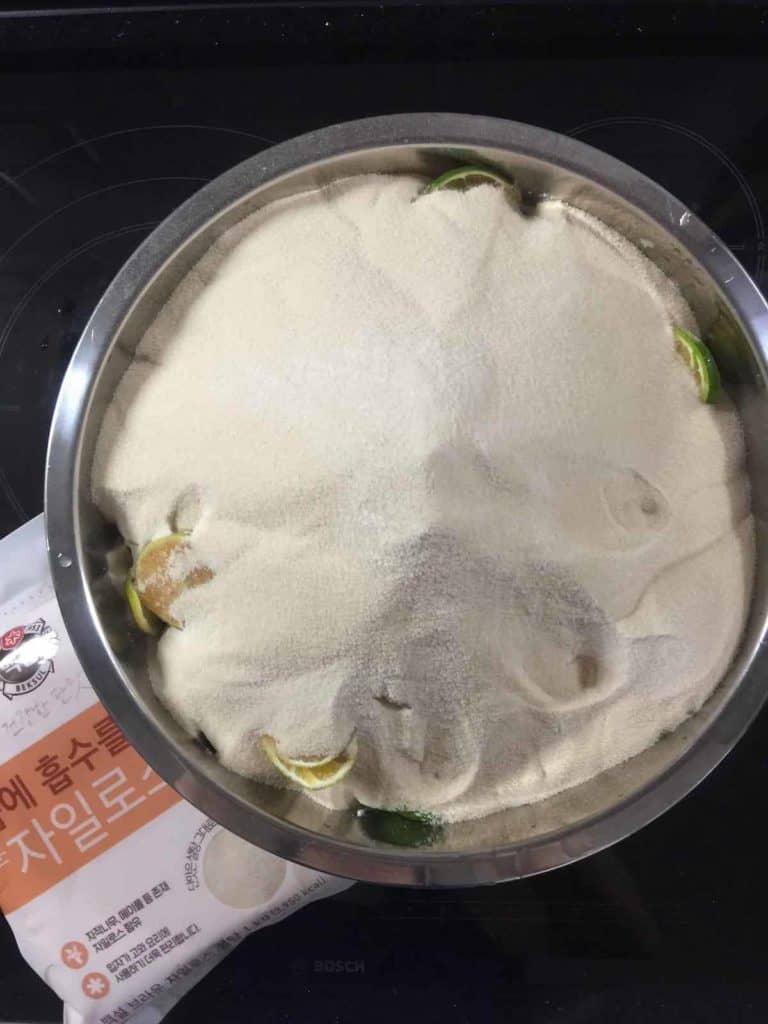 Tips
1. If you have a large batch of tangerines, separate them into smaller quantities. It's hard to ensure the sugar and tangerines are properly mixed if the quantities are too big.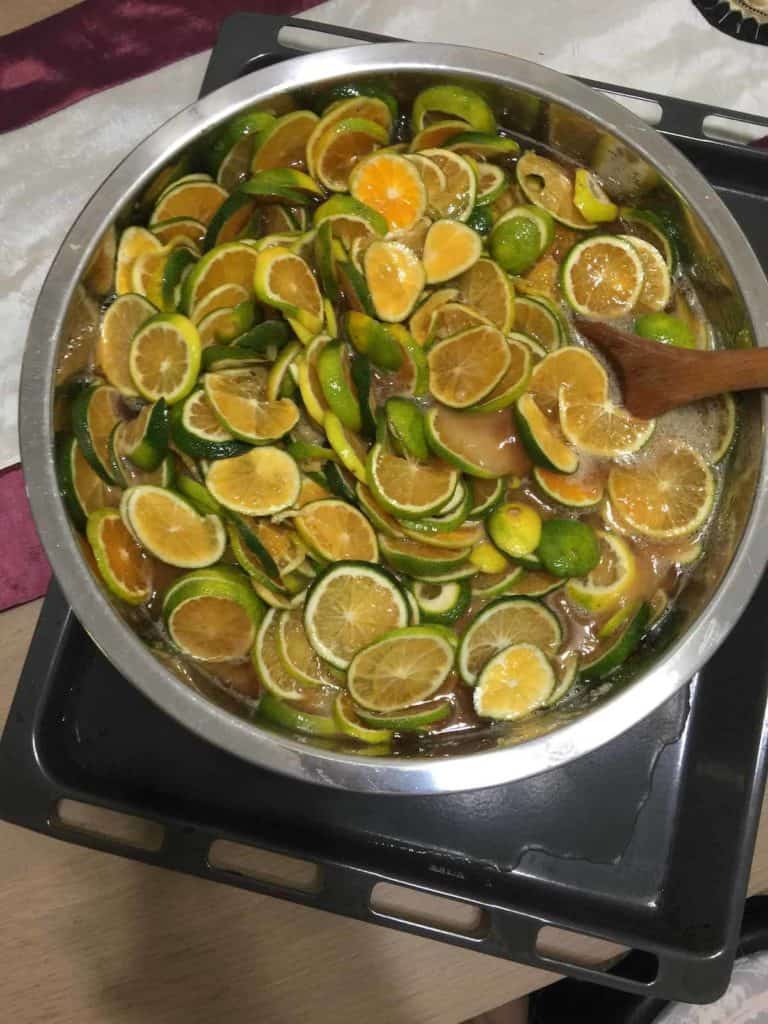 2. Sogoodk recommends discarding the ends as they are slightly bitter but since these precious green tangerines cost me $132, I decided to waste not, want not and tossed them into the jar too! So far, so good!
3. My sliced tangerines kept floating above the syrup- I was concerned that they would grow mold but they didn't. (Also checked with sogoodk who said they're still good to eat, so don't worry if this happens to you too. I shake my jars every day or so to make sure all the fruit gets some sugar covering it.)
4. Don't fill the jars to the top- this syrup produces gas like crazy! When I made maesil-chung, I wondered if any fermentation was happening as I could barely see any bubbles. Well, with the green tangerine syrup, the bubbles form almost immediately. I opened the jar an hour or so after I'd filled them up, and there was already so much gas, the syrup burst out! It makes for a very, very messy and sticky kitchen!
5. If you need glass jars, you can get them very cheaply from Ikea. I used the Korken glass jars from Ikea to store the syrup. Initially, I was a little concerned that the Korken glass jars would shatter if boiling water was poured into them (to sterilise them) (as they're so thin and cheap), but the IKEA website said that it would be OK as long as you warm the jars up first (Pour in hot but not boiling water to heat up the jars, before using boiling water to sterilise the jars.) Everything turned out OK, thankfully, but these jars are definitely much thinner than the one that sogoodk includes in its chung gyul set, which includes everything you need to make the syrup (1 kg tangerines, 1 kg sugar, label + glass jar for $80). As they say, you get what you pay for.
PS fermentation experts- is this green tangerine syrup a ferment? I thought not as there is no starter, but so much gas was produced, I wondered if it worked like sourdough fermentation?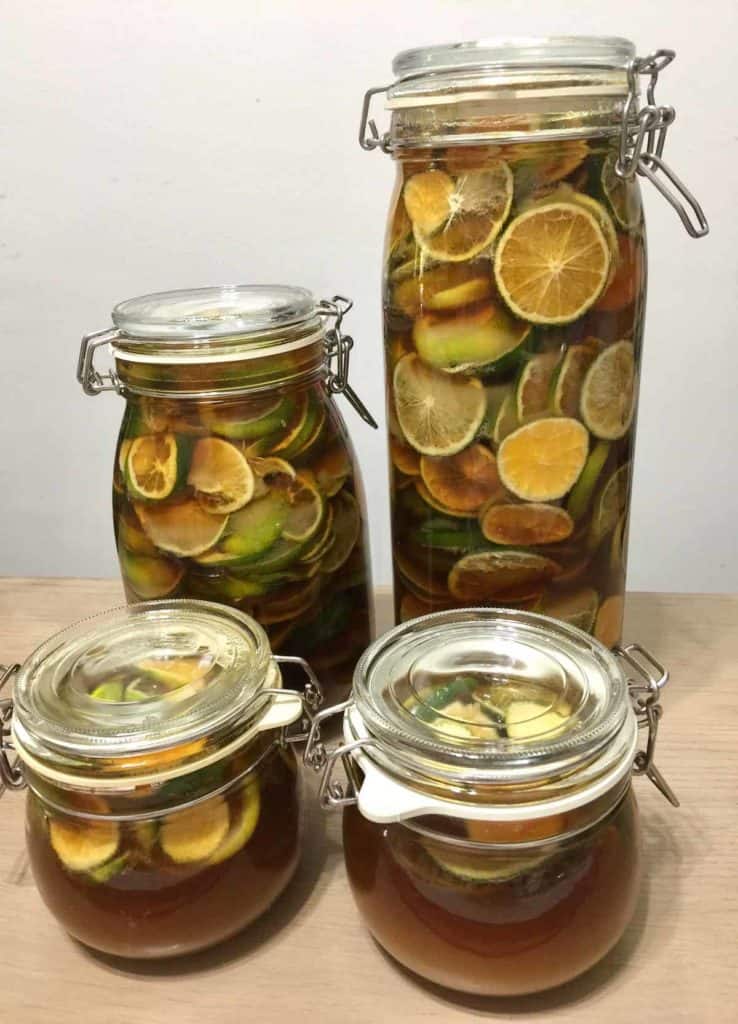 How to use chung gyul cheong (green tangerine syrup)
Add sparkling water and ice for a refreshing drink on a hot day
Add hot water to make a comforting tisane before you go to sleep
Use in cocktails!
Salad dressing
Meat marinade