A spicy, tangy and creamy spread, Kimchi Mayo Sauce is delicious on toast, as a vegetable dip (or for French fries!) and as a salad or pasta sauce! (Gluten-free)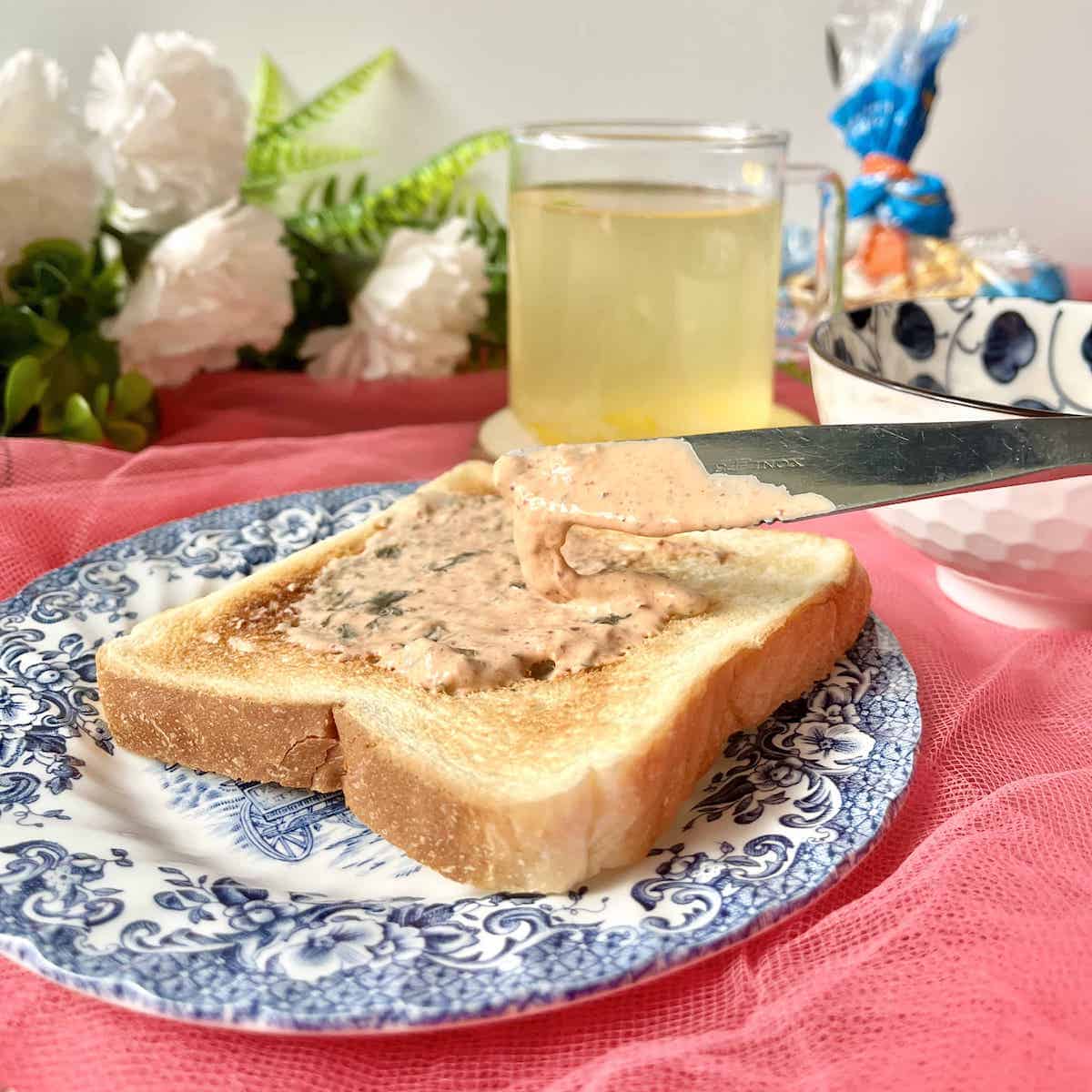 Jump to:
⭐ Why This Recipe is a Star
Quick and easy: this kimchi mayo recipe only needs 3-ingredients and done in under 5 minutes! What could be simpler than that? (Well, maybe Kimchi eggs which can be a 2-ingredient recipe.) This is also a very forgiving recipe so feel free to fudge with the ingredients and quantities!
Versatile: Like Gochujang butter and Gochujang Aioli, this spicy sauce has many uses. It can be used for burgers, hot dogs, chicken tenders, roast vegetables such as butternut squash, as a dip for Spam Fries, or spread on croissants and brioche!
Readily available ingredients: kimchi is so mainstream now that, like the rest of the ingredients, you can get it at Trader Joe's or Whole Foods. No long trek out to the Asian grocer necessary!
Note: if you prefer a sweeter creamy spread, try Homemade Yuzu Aioli.
What is Kimchi?
It's like Korean sauerkraut but spicy and is a key ingredient when cooking Korean cuisine.
Spicy, sweet, tangy and full of umami, it's used in everything from frying rice and making small plates to Korean stews. You can even use it to stuff roast chicken!
Surprisingly, it goes really well with cream and dairy!
🥘 Ingredients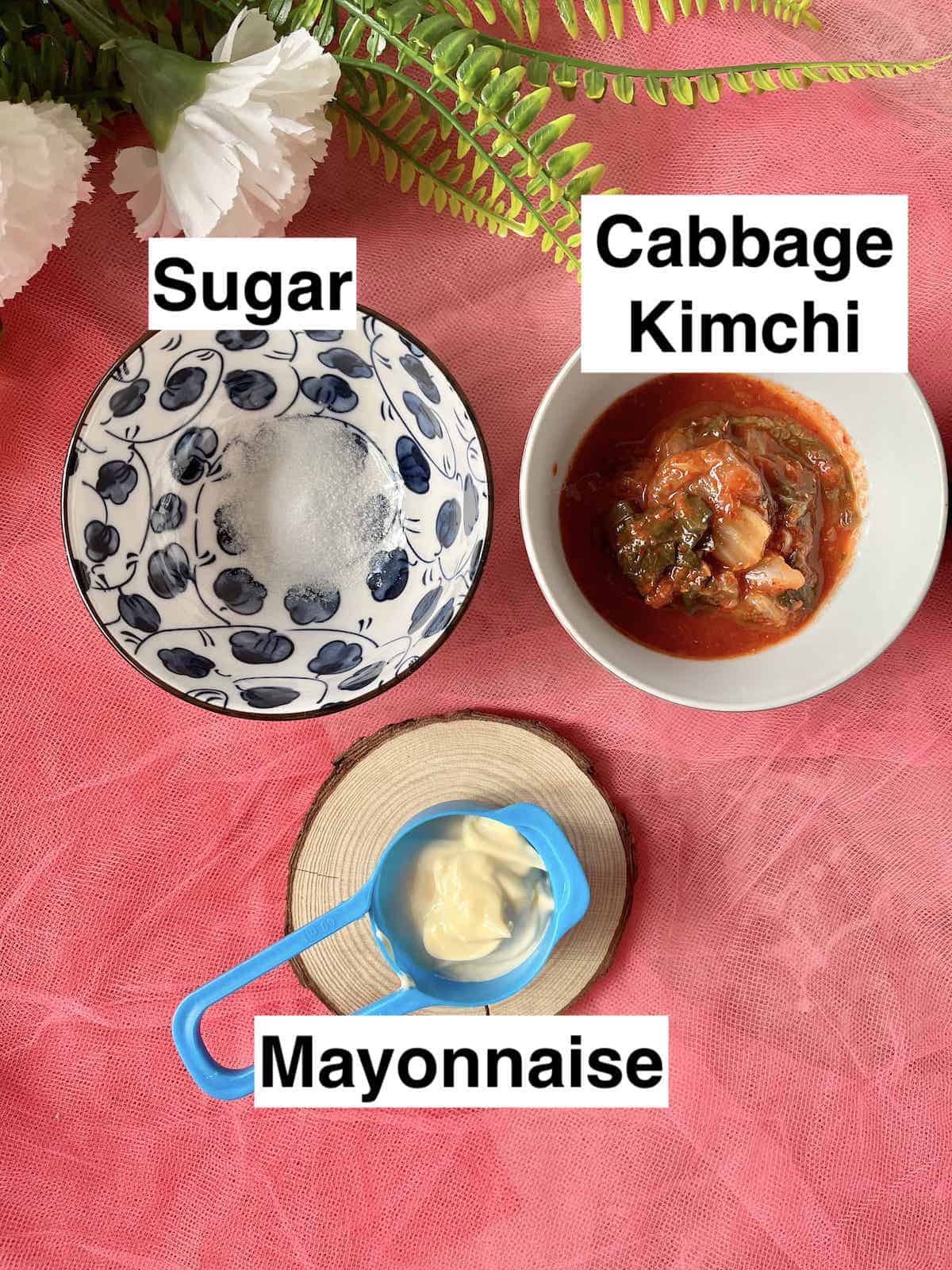 You only need 3 essential ingredients:
Korean Kimchi: I use old Baechu Kimchi, or Napa cabbage kimchi in this recipe, although radish kimchi (Kkakdugi) should work too. Aged kimchi is more flavorful, which is why I recommend it for cooking Korean fried rice too. Use both the cabbage leaves and the kimchi brine here for best results. (The brine adds oomph and the leaves add texture.) Make sure that the kimchi is labelled GF if you're gluten-intolerant as even though traditional kimchi is GF, industrially produced kimchi may not be.
Mayonnaise: I highly recommend Kewpie mayonnaise which is much more flavorful than regular mayo. (There's a gluten-free version sold commercially.) However, the recipe still works with Heinz or even homemade mayo/ aioli! (Whisk 4 large pasteurised egg yolks with 2 teaspoon of mustard and 2-3 teaspoons of rice vinegar to make your own mayo.)
Sugar: Don't omit this as it'll temper the acidity of the kimchi. Otherwise, you may find the kimchi spread a tad too sour!
📖 Variations & Substitutes
If you have it, I recommend adding a bit of sesame oil to boost the flavor of the spicy mayo or even lightly toasted sesame seeds if you want more texture.
Sliced green onions will also add some freshness to lift the Mayo, as well as a more attractive burst of color.
If you're using fresh and not old kimchi, the flavor may be milder. Feel free to add a touch of lime juice or rice vinegar to give it more tang.
The mayonnaise could be replaced with Greek yoghurt or sour cream but you'll need to alter the seasoning level slightly. I've not tested the substitutions yet but will update the sauce recipe once I do!
Use stir-fried kimchi for more depth of flavor.
To make it spicier, add some gochujang, gochugaru flakes or dried chili pepper flakes.
🔪 Step-by-Step Instructions
This recipe is so easy, it's done in 1 step. Simply place all the ingredients in a food processor or blender and blitz!
If you like you can season with some fish sauce, light soy sauce or salt but I personally find it salty enough for me!
Can you make Kimchi Mayonnaise without a food processor or blender?
Yes. However, you'll either need to be OK with huge cabbage leaves in the aioli sauce- so good for serving on bread but not as a dipping sauce- or cut the kimchi very fine before stirring in the mayo!
🥡 How to Store
Make a big batch and keep it in an airtight container in the fridge for 5-7 days. (Note that kimchi has a very pungent smell and most Koreans have separate fridges for it!)
Some people keep it longer but I prefer not to take risks!
Note: if using homemade mayo, please finish it within 1-2 days as the raw eggs spoil easily!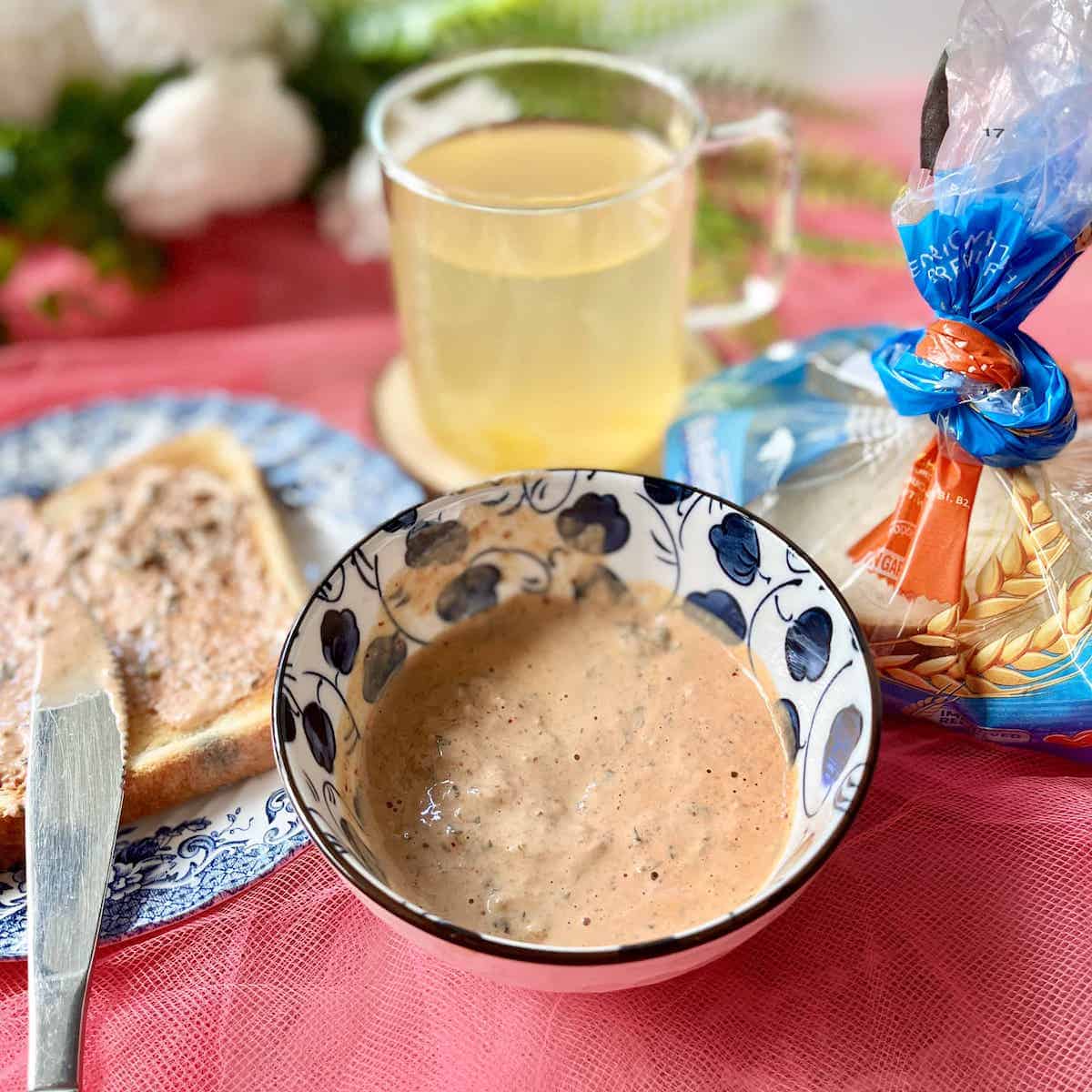 🥗 Other Korean Recipes
Enjoyed this easy spicy Kimchi spread Recipe? Please leave a 5-star 🌟🌟🌟🌟🌟rating in the recipe card below! If you REALLY liked this dish, please consider supporting it by buying me a coffee! 🙂 (No obligation though!) Thank you and have a great day!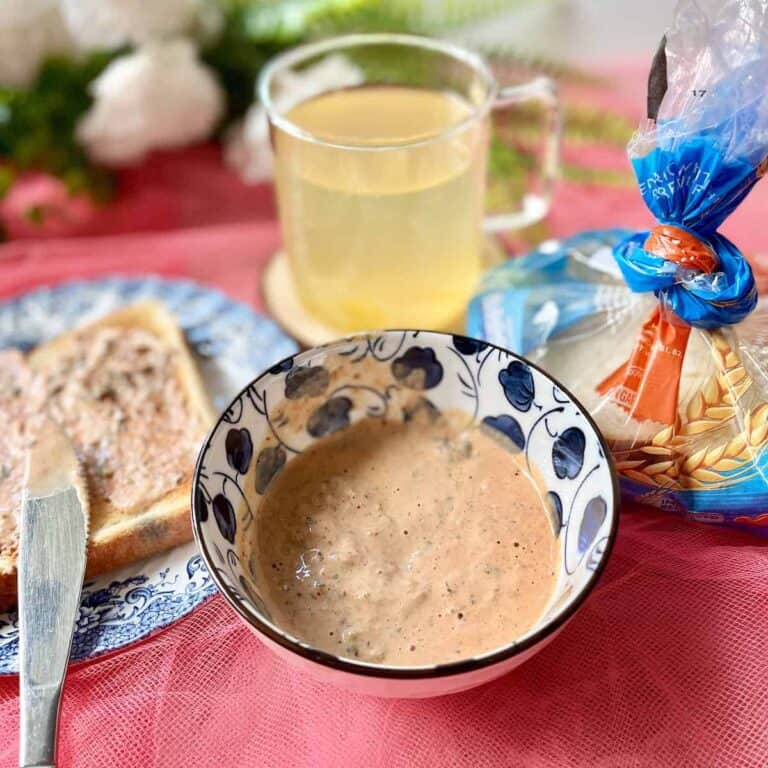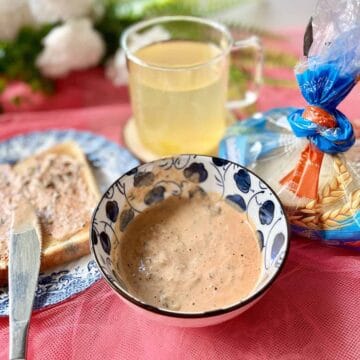 Kimchi Mayo
A spicy, tangy and creamy spread, Kimchi Mayo Sauce is delicious on toast, as a vegetable dip (or for French fries!) and as a salad or pasta sauce! (Gluten-free)
Equipment
Food processor or blender

Substitute: knife and chopping board or kitchen scissors
Ingredients
¼

Cup

kimchi

I used cabbage kimchi, leaves and brine, but you can use other types too. Aged kimchi has more flavor.

⅙

Cup

mayonnaise

I used kewpie but other brands or homemade work too. If not using kewpie, you may want to add a bit more sugar.

1

teaspoon

white sugar

Substitute: honey. Not to be omitted as it's needed to balance the acidity of the kimchi.
Instructions
With a blender/ food processor: add all the ingredients and blitz. Process for a shorter period of time if you want some leaves to remain for texture, or for a longer period of time if you want a totally smooth spread.

With scissors/ knife: cut or snip the kimchi till they're in tiny bits then mix with the other ingredients. You won't get as smooth a spicy dip this way but it's still delicious!
Notes
To make spicier: add gochugaru, gochujang or chili peppers
For extra flavor: stir in some sesame oil, lightly toasted sesame seeds and sliced green onions. Substitute regular kimchi with roasted kimchi.
No Mayo?: Use sour cream or Greek yoghurt instead but you'll need to add more sugar and maybe a touch of light soy sauce or fish sauce.
Storage: 5-7 days in an airtight container in the fridge. Can keep for longer potentially but I don't. If using homemade mayo, use within 1-2 days.
Note: the nutritional information is an estimate automatically calculated using the WPRM recipe maker and I am not responsible for its accuracy.
Nutrition
Calories:
137
kcal
Carbohydrates:
2
g
Protein:
0.3
g
Fat:
14
g
Saturated Fat:
2
g
Polyunsaturated Fat:
8
g
Monounsaturated Fat:
3
g
Trans Fat:
0.04
g
Cholesterol:
8
mg
Sodium:
286
mg
Potassium:
25
mg
Fiber:
0.2
g
Sugar:
0.3
g
Vitamin A:
26
IU
Calcium:
6
mg
Iron:
0.4
mg
If this Kimchi spread recipe was helpful, maybe you'd like to sign up for my newsletter in which I send you more tips and tricks to make authentic Asian food?