Love Korean food but can't get your hands on Gochujang Paste? Here are ideas for the Best Gochujang Substitute (as well as what to avoid), which have the same deep, tangy, sweet, slightly spicy, fermented flavor!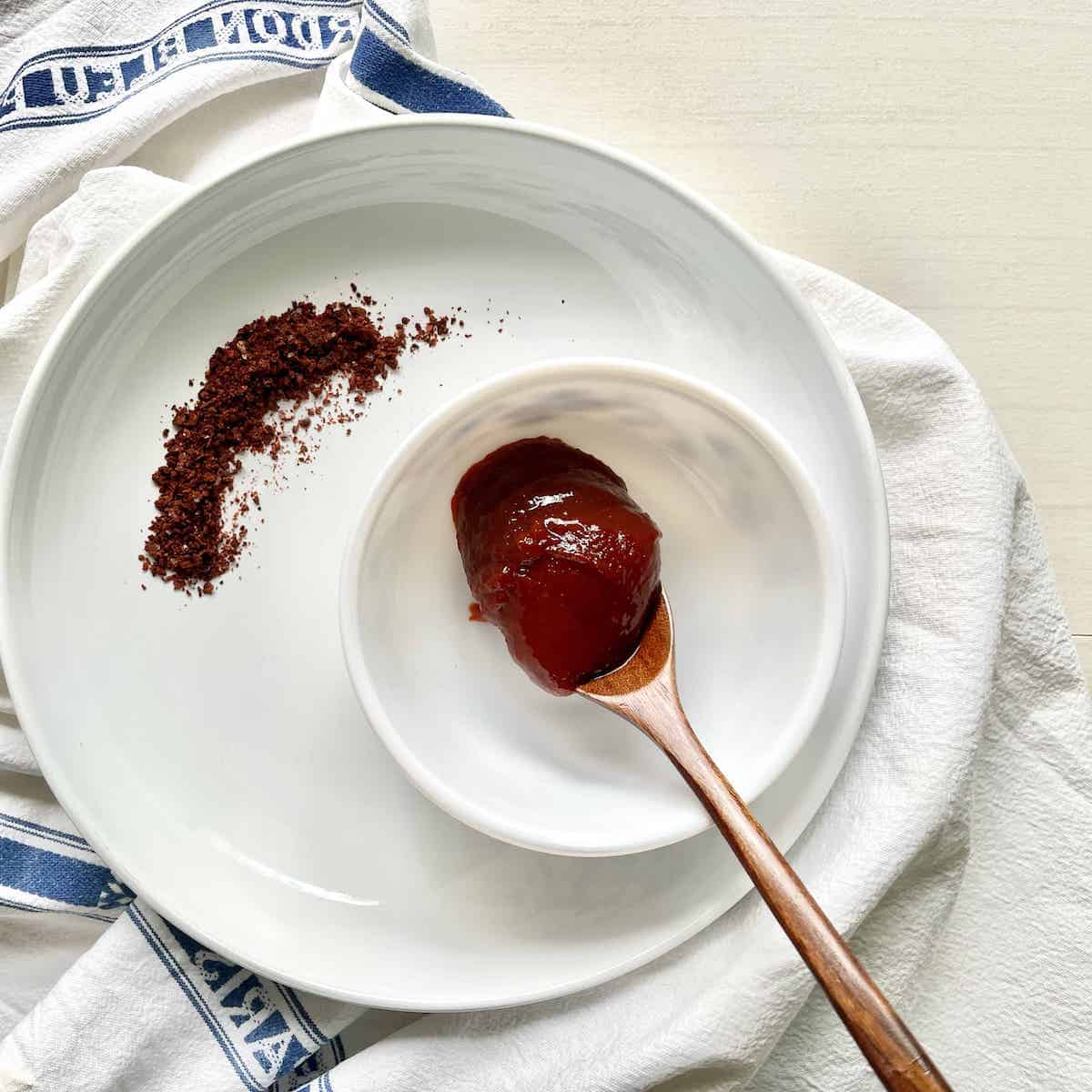 Jump to:
What is Gochujang?
Gochujang (고추장) is a fermented red chili paste. This staple Korean cooking ingredient is used in many Korean banchan, tteokbokki and bibimbap.
Made of fermented soybean, gochugaru red chili powder (고추가루), glutinous rice powder (meju powder),  yeotgireum (barley malt powder), salt and sometimes sweeteners, it has a deep and pungent taste. (Many families have their own secret recipes!)
It has a sweet and spicy flavor and the sauce has been gaining popularity in the West recently, used in condiments such as Korean-inspired Gochujang Spaghetti, Gochujang butter spread and Gochujang Mayonnaise Sauce. (Perfect with Homemade Spam Fries or in Folded Kimbap!)
How to Use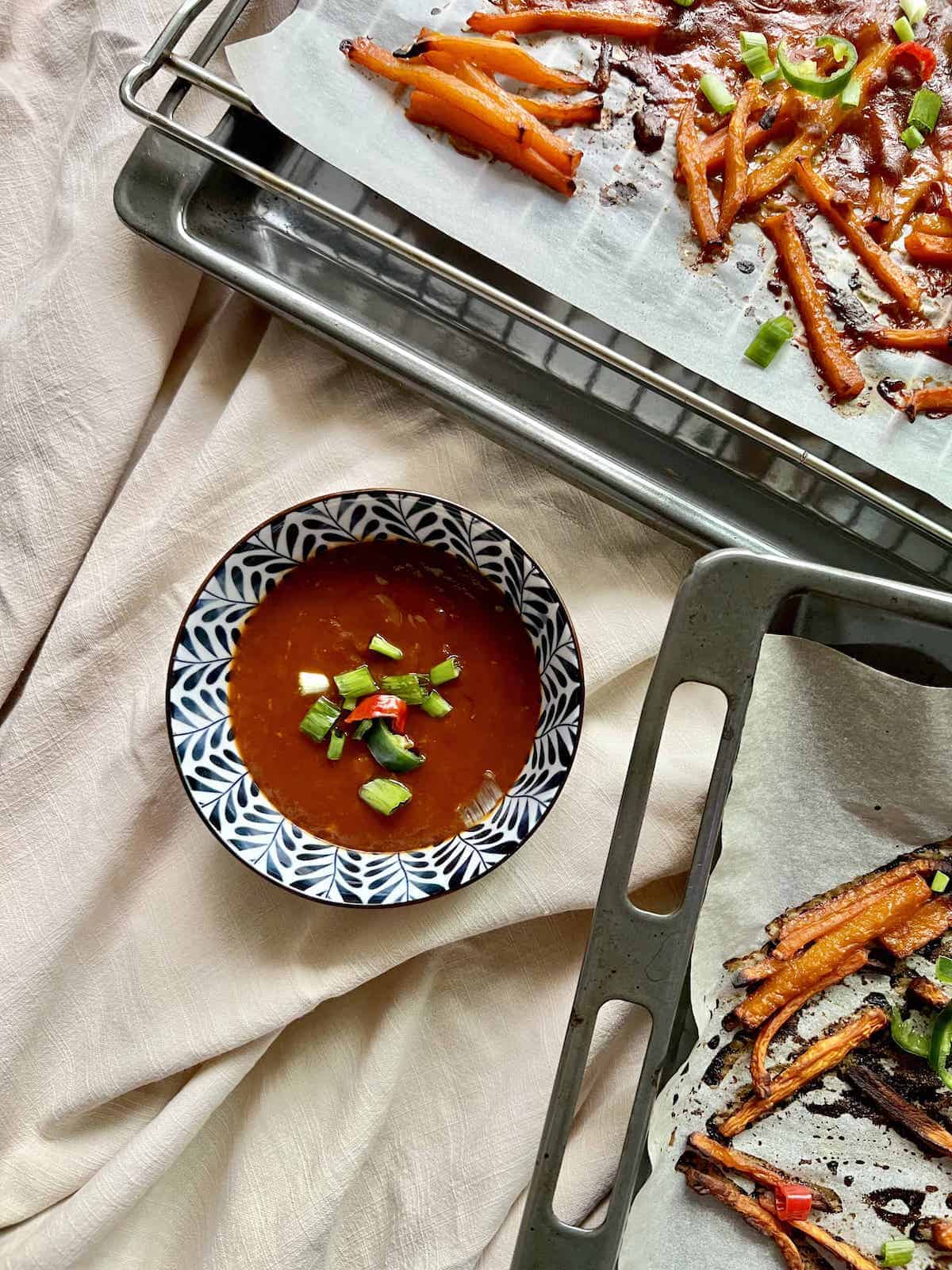 Gochujang is used in many traditional Korean dishes, such as Tteokbokki, but also in fusion foods such as this Butternut Squash with Gochujang Dressing and Gochujang Crispy Skin Salmon.
I especially like it in Korean roast chicken!
Where to Buy
These days, it's so widespread, it's sold in most large mainstream supermarkets. If not, head to any Asian market to find it!
Traditionally, Korean households made their own. It's not common these days but, if you want to, here's a homemade Gochujang tutorial.
🥡 How to Store
Unopened Gochujang can be kept in a cool and dark place. However, once opened, the box should be kept in the fridge.
Note: the date on the box is usually a Best Before and not an Expiry Date.
👩🏻‍🍳 Expert Tips
Tip #1: Gochujang is a thick paste, which can be difficult to apply. It's best first diluted in a liquid such as sake, soy sauce and/or water to make it easier to use (and to round out the flavor!) It's great in sauces and marinades!
Tip #2: Gochujang often contains wheat and soybean, so are not allergen-free. There is a larger range of diet-friendly gochujang sauces these days, such as vegan Gochujang, so you may be able to find a gluten-free one, but you will need to read the label super carefully. (Having grown up in Asia, I can tell you Asia isn't the best place if you have serious allergies!)
💭 FAQs
Can I eat raw gochujang?
Yes you can. However, Koreans traditionally don't eat Gochujang right out of the container! It's usually mixed with other ingredients and used in a sauce, stew or marinade.
🥗 Other Korean Food Recipes
📖 Substitutes
Red Pepper Flakes (Gochugaru) + Doenjang or Miso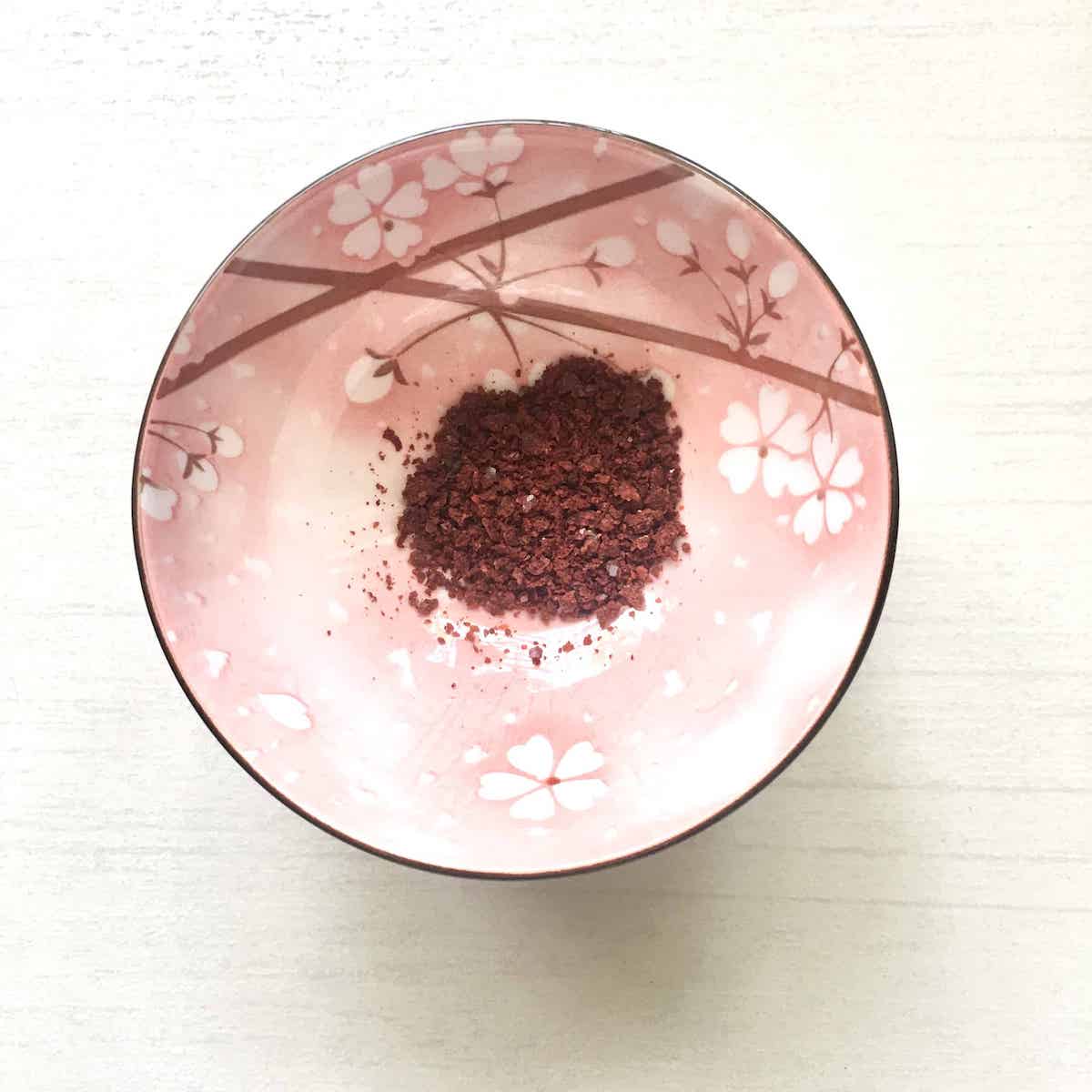 Korean Red Chili Flakes are 1 of the main ingredients used to make Gochujang so it stands to reason that they would make a good substitute. (They have a similar flavor profile!)
However, Gochujang is fermented and Chili Pepper Flakes alone can't create that deep, sweet umami flavor.
Recipe
I suggest mixing the Korean Chili Powder with some Miso Paste or Doenjang Paste, as the latter 2 are fermented (like Gochujang) in a 1:2 ratio. Taste to see if the spice level is OK for you- if not, add more of the chili. Next, add in some honey or sugar and some soy sauce to bind the ingredients. Stir in a touch of rice vinegar or apple cider vinegar for acidity, and you're done!
In my opinion, this is the 1 of the best substitutes!
Ssaamjang + Chili Powder
This is another Korean paste that is a blend of several Korean condiments, such as gochujang, doenjang and sesame oil. It's often used as as dipping sauce for meat in Korean cuisine.
It has the same fermented flavor as Korean chili paste, but is less spicy, so is another great substitute if you stir in some Korean chili peppers.
Note: you can use other types of chili powder, such as cayenne powder, if you can't get Gochugaru.
Sambal Oelek + Miso or Doenjang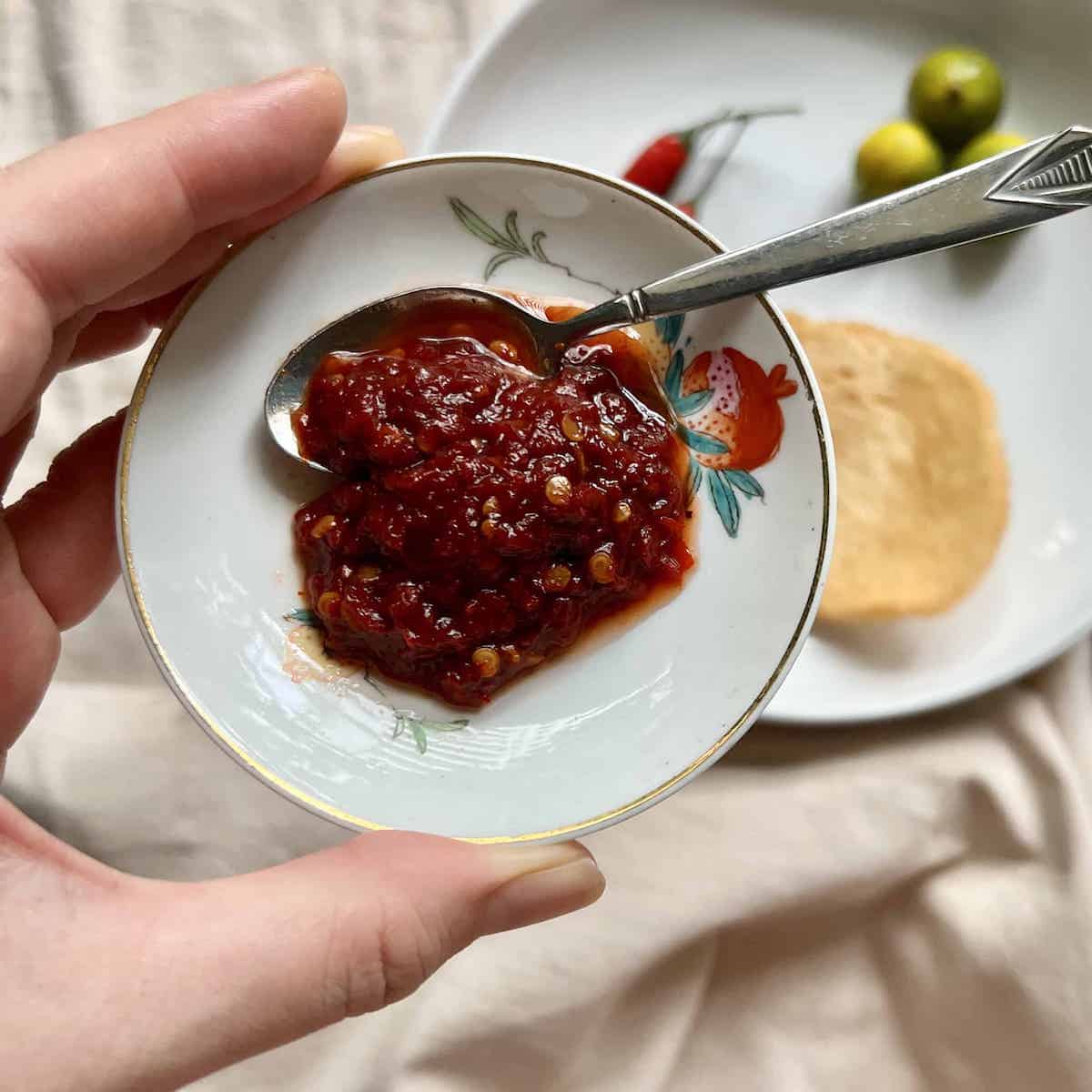 Sambal Oelek is a raw chili blend made of red chilies, salt and vinegar.
As you can see, the ingredients are pretty simple, so it's a great base to make a good gochujang substitute. (There are 1000s of sambals, so don't confuse sambal oelek with sambal belacan etc as those often contain spices and herbs such as kaffir lime leaf which are not found in gochujang!)
As this South East Asian chili is not fermented, you need to mix in some miso or doenjang to give it the super savory flavor, as well as a sweetener, such as maple syrup or a pinch of sugar, for sweetness.
Note: remember to avoid any Sambals that have belacan in it (fermented shrimp) as traditional Gochujang does not have a seafood flavor! (There are some niche blends which are made with anchovies- for those, using Sambal Belacan as a base substitute could work.)
Sriracha Sauce
Both are red and spicy pastes. However, this Thai Chili paste has a very strong garlic flavor, unlike Gochujang, and is also more watery. It's also less sweet, so I suggest mixing in some sugar to round out the flavor.
As Korean food often includes garlic, using this garlicky Thai Sriracha chili sauce in place of Gochujang still results in a tasty dish with balanced flavors.
However, the flavor would be noticeably different compared to using Gochujang. Thus, I'd recommend using Sriracha as a substitute only when making fusion food and not traditional Korean recipes!
Tomato Paste + Doenjang/ Miso + Chili
Tomatoes have a savouriness that is reminiscent of Korean Chili Paste and a similar, though somewhat lighter, consistency.
However, you would still need to add doejang or miso, to re-create the deep fermented taste, chili powder (ideally Korean, if not cayenne or Kashmiri) for spice and some sugar to balance everything up.
Not Great Substitutes
Some sites recommend Spiced Date Paste and Harissa as replacements.
However, I disagree. Both include spices such as cumin, paprika and coriander- all of which are not used in Korean cooking! Moreover, dates have a VERY strong flavor, as anyone who has ever made sugar-free energy balls would know! (Dates are 1 of the most common substitutes for sugar.)
Note: As Harissa is such a delicious sauce, you would probably still create a nice dish. However, the result would not taste anything like the original and may even taste weird to people familiar with Korean food.
If this list of Gochujang Alternatives was helpful, maybe you'd like to sign up for my Asian food newsletter?