A versatile, easy creamy salted egg yolk sauce recipe that can be used for tofu, chicken, pork, prawns and so much more! This liquid gold sauce is loaded with umami and super more-ish!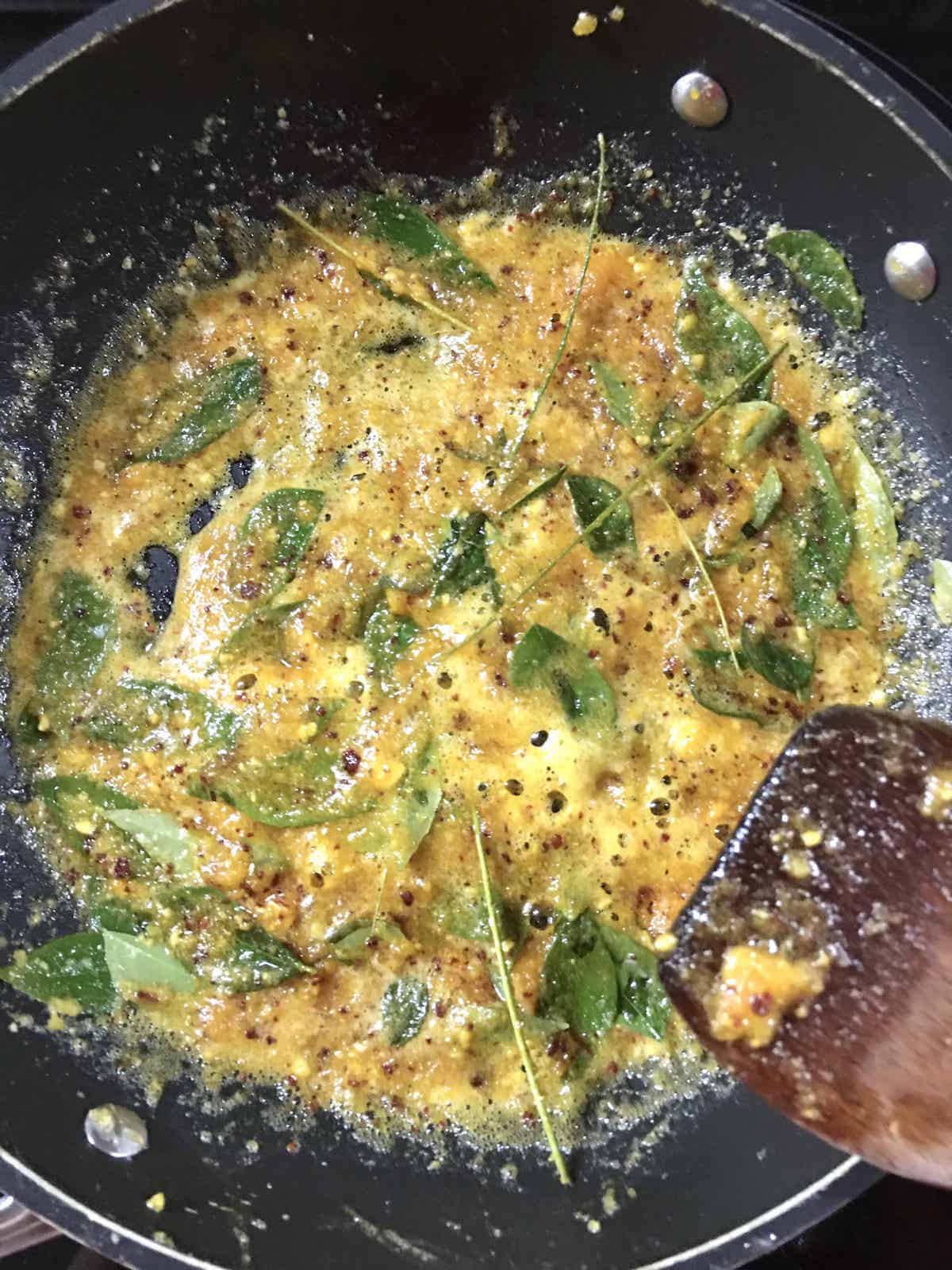 Jump to Recipe
Jump to:
What are salted eggs?
They're a type of Chinese preserved egg, that makes eggs last long by using salt. Traditionally, ducks eggs are used as they have oilier and riches yolks, which are the prized part of the egg, but many people use chickens eggs too as ducks eggs aren't always readily available.
Many Asian countries have their own version of salted eggs now- Philippines even has a fuchsia pink coloured version! Learn how to make your own salted eggs in salt brine- which is the easiest way of making salted eggs- here.
Why make this
This salted egg yolk cream sauce recipe is super easy to make and tastes good with so many things! It's also cheaper and healthier than buying a pre-made packet of salted ducks' egg sauce. For more ways to save money when cooking, click here.
How to use
Once you learn how to make this creamy salted egg yolk sauce, the world is your oyster as there are sooooo many delicious foods that you can make with it:
In fact, salted egg sauce is 1 of the few Cantonese sauces that's in your face: most Cantonese recipes focus more on lighter flavours!
Tips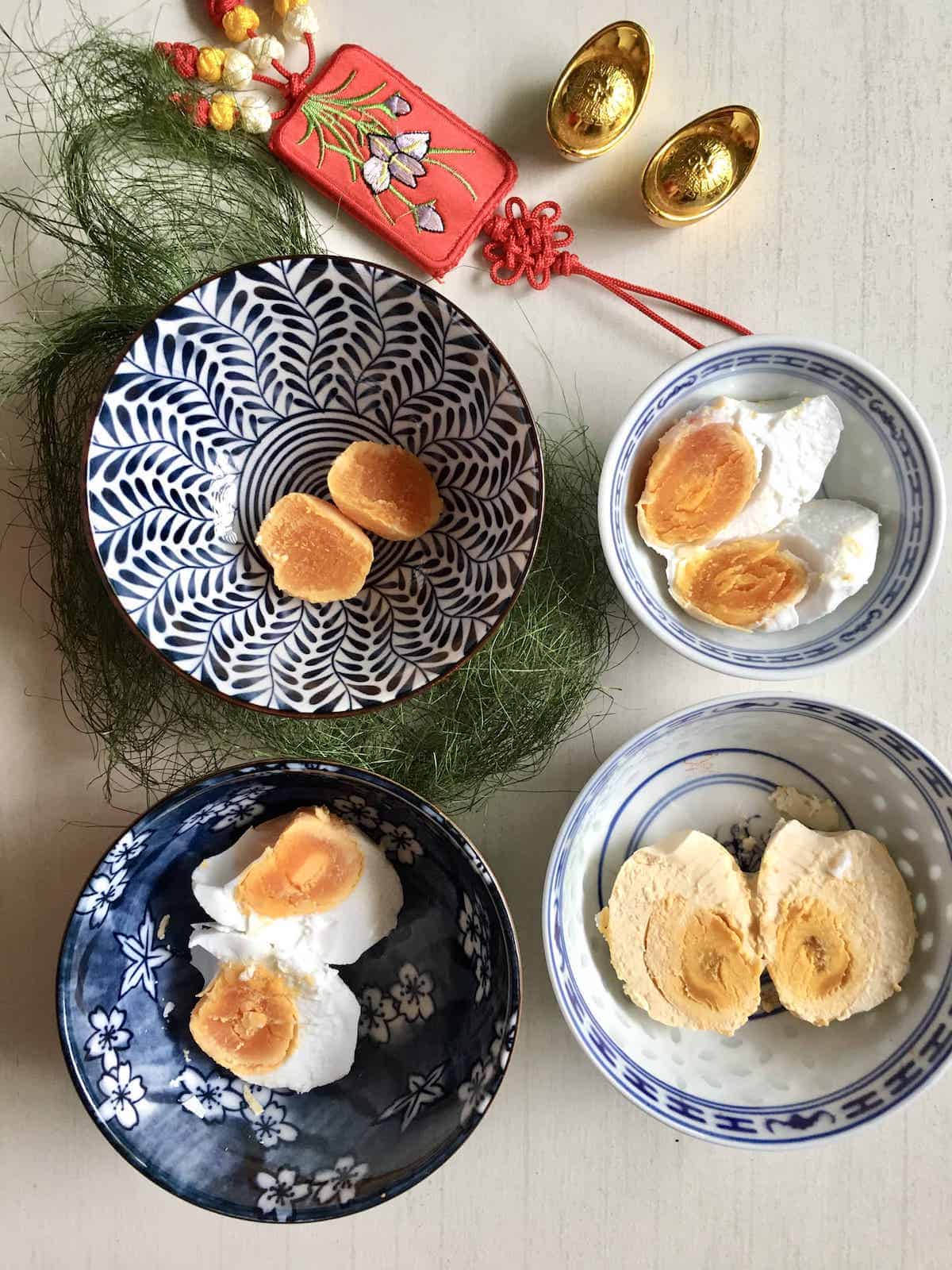 This salted duck egg yolk sauce goes particularly well with fried foods, as the fried batter has all the crevices to catch the sauce, so that it better coats the foods. Hence, it is typical to fry prawns before making salted egg yolk prawns, or to fry the pork before making salted egg pork etc etc
If you want to accentuate the golden colour of the sauce, you can add the tiniest pinch of turmeric- not too much as turmeric has a very strong flavour!
Don't throw away the whites! There are so many ways you can cook them, such as steaming with pork and egg. For more ideas on cooking salted egg whites, click here.
How to make the sauce smooth
Mash the yolks well- some people even sieve them- if not your salted duck egg yolk sauce will be grainy and not creamy!
To make your sauce even silkier, you can blend it for 1-2 minutes after cooking. (I don't.)
Variations
Some people like to add milk, milk powder, cream, evaporated milk or condensed milk. All these dairy products go superbly with salted egg yolks but as it is already so rich on its own- and delicious with just butter- I have decided to go without these additions.
FAQ
What do salted egg yolks taste like?
These cured Chinese duck egg yolks are bright orange, and slightly firm. They're obviously salty but the taste is so much more than that: they're buttery, rich and full of umami, somewhat reminiscent of parmesan.
Other traditional Chinese recipes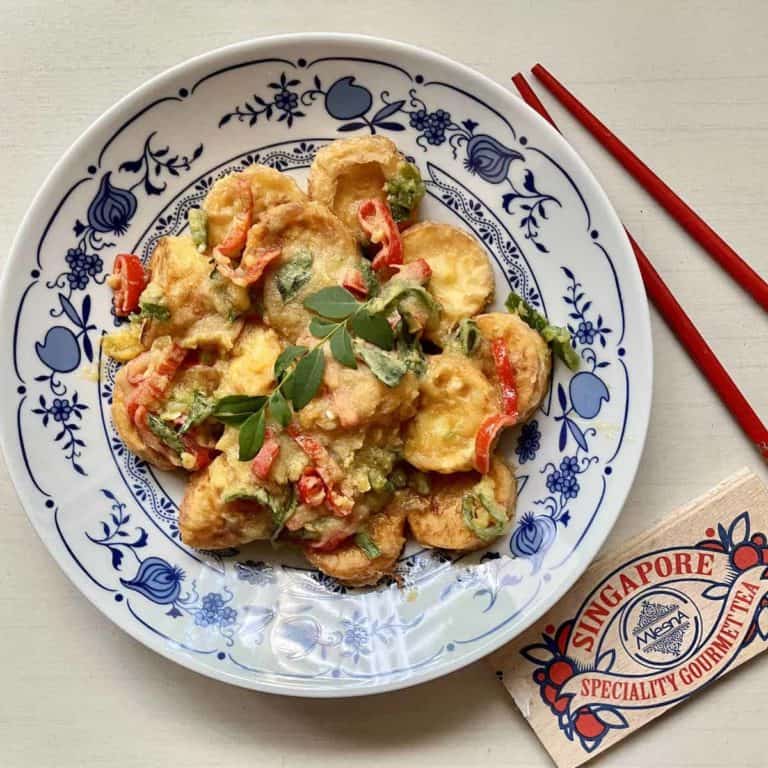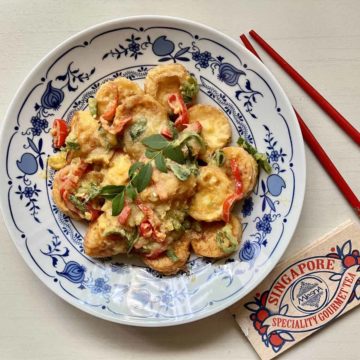 Salted egg yolk sauce
A versatile, easy creamy salted egg yolk sauce recipe that can be used for tofu, chicken, pork, prawns and so much more!
Equipment
Pan and heat-proof spatula

sieve or blender/ food processor, optional

if you really, really, really want the smoothest possible sauce
Ingredients
4

salted egg yolks

Don't throw the whites! See post for salted egg white recipe ideas

4

Tablespoons

butter

Some people use margarine instead- if you do, you will need to add cream or milk to make the sauce rich.

2-3

cloves

garlic, peeled and minced

1

large sprig

curry leaves, leaves removed from stem

Use both th leaves and stem when cooking the salted egg yolk sauce, but remove the stem before serving as it's too tough to eat

1-3

red chilli padi, sliced

Substitute with large red chill if not good with spice

½-1

teaspoon

white granulated sugar, or to taste

Salt or fish sauce, optional depending on how salty your yolks are
Instructions
Steam the salted egg yolks on medium heat for 15-20 minutes (fresher eggs cook faster), or microwave them on high for 2 minutes. Mash well till not clumpy. (As mentioned in the tips, those are fanatical about a smooth sauce can push them through a sieve or blend them.)

Over low-medium heat, melt the butter in a pan.

If you are going to use the salted egg sauce immediately, now is the time to add the garlic, curry leaves and chilli padi, which I highly recommend. Stir fry till fragrant. (Alternatively, if making the sauce to store in the fridge, skip the curry leaves and chilli till when adding the tofu/ prawns/ chicken/ pork etc.)

Reduce the heat and add the cooked salted egg yolks from Step 1- the sauce will start bubbling and frothing. Saute for 2-3 minutes.

Add the sugar and salt. Note that the amounts given are a guide only as different brands or versions of salted eggs will have different amounts of salt, and thus require different quantities of seasoning.

Stir-fry for 1-2 more minutes. Your sauce is now ready for whatever ingredient you are using it with, such as fried chicken or popcorn. If you forgot to sieve earlier and would be terrible upset by a not-so-smooth sauce, you can run the rich and buttery salted egg yolk sauce through a food processor now before using.
Notes
If you want a super rich sauce, add some milk, condensed milk or cream at Step 5 (i.e. 1-2 minutes after you add the salted egg yolks to the butter.) If you're wondering what it'll taste like- think of the Cantonese Liu Sha Bao.
If you like really unusual dishes, scoop some over a bowl of vanilla ice-cream! 
Tip: if you have too many yolks, you can grate 1 (after steaming!) over a plate of pasta or risotto, like you would with parmesan!
Let me know in the comments how you ended up using your salted egg yolk sauce!