This easy vegan wonton soup for colds is done in 20 minutes and tastes so authentic that I wouldn't know it was vegan if I hadn't made it myself! Packed with garlic and ginger, it's a quick and simple flu-busting recipe.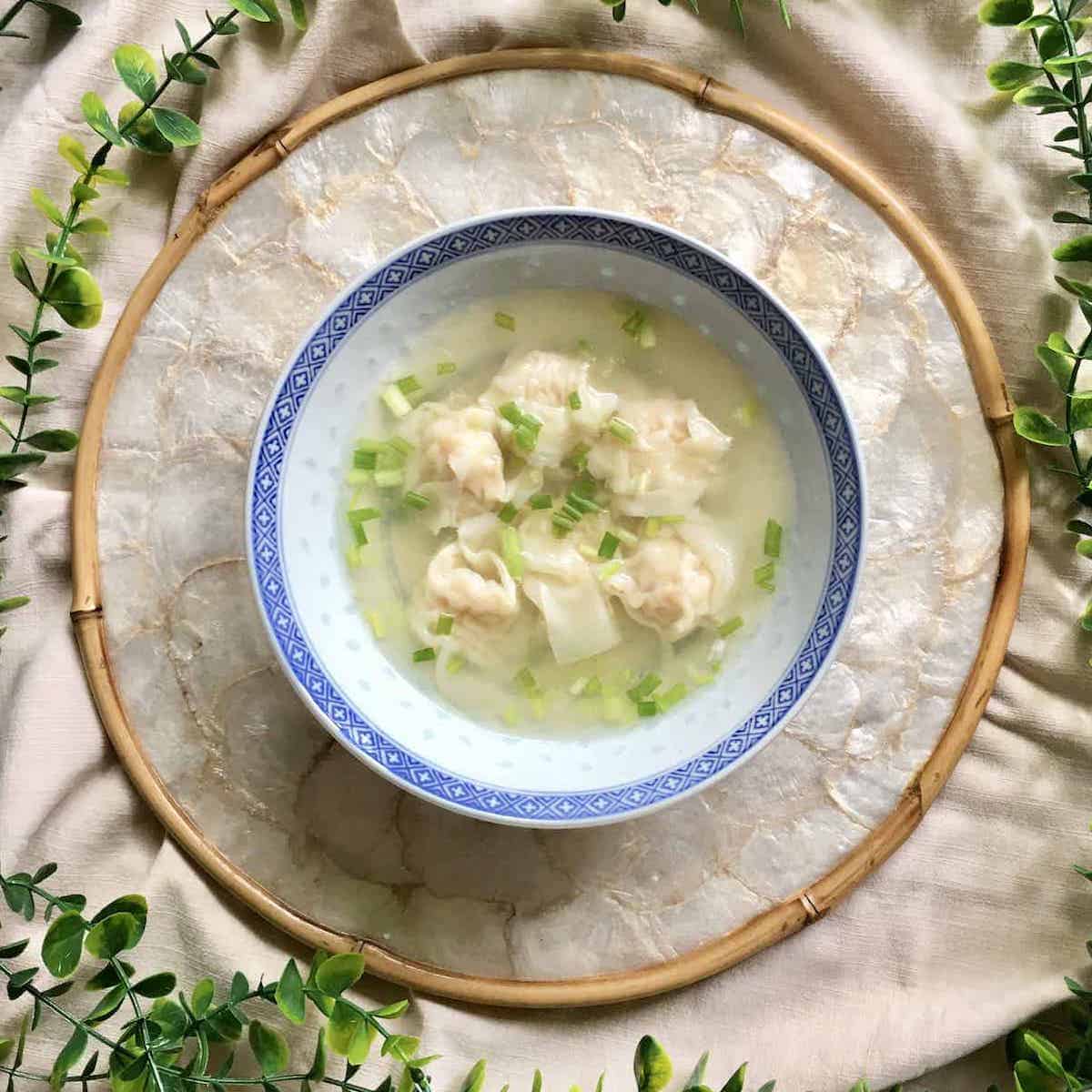 Jump to:
Who wants to spend 30 minutes standing over the stove when it's hot out, they're sick or making a weeknight dinner? With this quick and easy, authentic tasting, vegan wonton rice noodle soup recipe, you won't have to anymore! Have it with noodles, or serve with Chinese dumplings but don't forget the super important pickled green chili!
Note: Wonton soup is a popular traditional Chinese breakfast, especially in Hong Kong.
Why make this
Quick :It tastes just as good as authentic wonton soup, but only needs 10 minutes of simmering and not the usual hours of soup stock broth boiling.
Classic taste but vegan: I wouldn't even know it's vegan if I hadn't made it myself!
Flu-buster and healthier: It's packed with garlic and ginger, that have flu-fighting properties. (Click on the link for supporting research.) Made without bouillon cube or fake meat, which can be very processed
Gluten-free: Chinese food isn't the most celiac-friendly due to the use of soy sauce but now you don't have to miss out!
Common pantry ingredients: this applies only if you're a vegan who eats a lot of Asian foods, if not you may have to buy some of the ingredients, but they're all widely available in supermarkets.
Note: if you have no time to make wonton, you can even serve the soup plain as a side dish for fried rice!
Wonton noodle soup 101
Wonton is the Cantonese pronunciation of yuntun 云吞, a type of Chinese dumpling. Although dumplings date back centuries, wontons took on a life of their on in Southern China and the 2 started to have distinct identities from the time of the Tang Dynasty.
Wontons are typically smaller than dumplings (jiaozi) with thinner skins. They're usually served in soup, although some people fry them too. Different provinces in China have different types of wontons, but this recipe focuses on the Hong Kong Cantonese style.
Trivia: in Singapore and Malaysia, dried wonton - called wanton- noodles (served with boiled and fried wontons) are more common. These are also made from thin yellow egg noodles, but tossed in a combination of dark and light soya sauce (amongst other things). The soup is served on the soup, and there's often pickled green chilli or spicy sambal sauce as well.
Ingredients & Substitutes
Noodles
Rice Noodles

Traditionally, wonton is served with egg noodles but as this is a vegan recipe, use rice noodle vermicelli instead. They're typically gluten-free but check the ingredients just to be on the safe side.
In fact, I prefer white rice vermicelli to egg noodles, because the latter is harder to make well and some storebought ones don't taste good! (They have a weird aftertaste.)
There are thin (vermicelli) and thick (like pho) rice noodles- either is good for this recipe, but they'll need to be blanched for different periods of time.
Substitute: glass noodles (tang hoon) or even vegan GF pasta. If we're being super healthy, you can even use spiralized zucchini noodles!
For the soup
Onions, garlic and ginger

Onions are non-traditional ingredients, but they help to provide the wonton noodle soup with natural sweetness so we don't have to add as much sugar

Nutritional yeast

The best authentic Hong Kong wonton noodle soup boils bones, prawn shells, flounder powder and maybe even dried prawns for hours to add umami to the soup. Obviously, none of those ingredients are vegan, but luckily nutritional yeast and kelp are, and they make for an equally delicious, savoury soup! Best of all, they can be

Kelp or Kombu

Avoid boiling on high heat as this will make the soup bitter
The kombu can be eaten after boiling!
Do not wash it or all the glutamates that will make the soup delicious will disappear- just lightly wipe it
Substitute: if you can't get this Asian dried seaweed, you could use vegan bouillon cube or powder instead. If so, don't add any salt or sugar until after you've added the bouillon as those are usually heavily seasoned. Taste after adding the cube/ powder, then season to your taste. (Also, I'd suggest using ½ the nutritional yeast and taste before deciding whether to add the rest.)

Tamari

GF alternative to light soy sauce. Some people use coconut aminos to substitute for soy but I have no experience with that ingredient.
Feel free to use light soya sauce if you're not on a gluten-free diet. (Don't use dark or sweet soy sauce by mistake- they're not the same thing!)

Vegan sugar

regular sugar might contain bone char

Salt
Sake (not all brands are gluten-free so check first!

Traditionally wonton soup is flavoured with shaoxing wine, but it's not gluten-free.

Sesame oil

Try not to reduce the amount of sesame oil used.
Classic Hong Kong wonton soup gets its fat from the chicken and pork. A vegan version doesn't have the same amount of fat, which serves as a carrier of flavour as well as to thicken the broth, so sesame oil is used as a substitute!

Spring onions for garnishing, optional

If possible, use the white and light green part only for a more authentic wonton soup. If you only have the dark green bits, feel free to use those
If you don't have any, here is a list of good spring onion substitutes.
Vegetables & proteins
Vegan wontons (Store-bought of homemade)

If making your own from pre-made wonton wrappers, make sure they're egg-free and gluten-free!
Typically, wonton filling will use egg white as a binder and to make it more.. tender? (Tip shared with me by the staff of Mak's Noodle, a Hong Kong wonton noodle shop that has 1-Michelin star.) Since vegans don't egg eggs, you can use a teeny bit of cornstarch (mixed with water) instead. Don't overdo it or it'll be a gooey mess.
Alternatives: vegan GF Chinese dumplings or vegan GF meatballs, as seen in the photo at the top- this soup is flexible! It's vegan wonton noodle soup, but you don't have to add wontons or noodles to it!
Whilst not classic wonton soup ingredients, you can bulk up your vegan wonton rice noodle soup with these veggies:
Bok Choy

Boy Choy and baby bok choy, also known as xiao bai cai, are the same thing. They're like spinach and young spinach!
Baby bok choy tends to be sweeter and more tender so use if it you have it, if not regular bok choy is good too

Tofu

Honestly I don't think the dish needs it as it already has the wontons!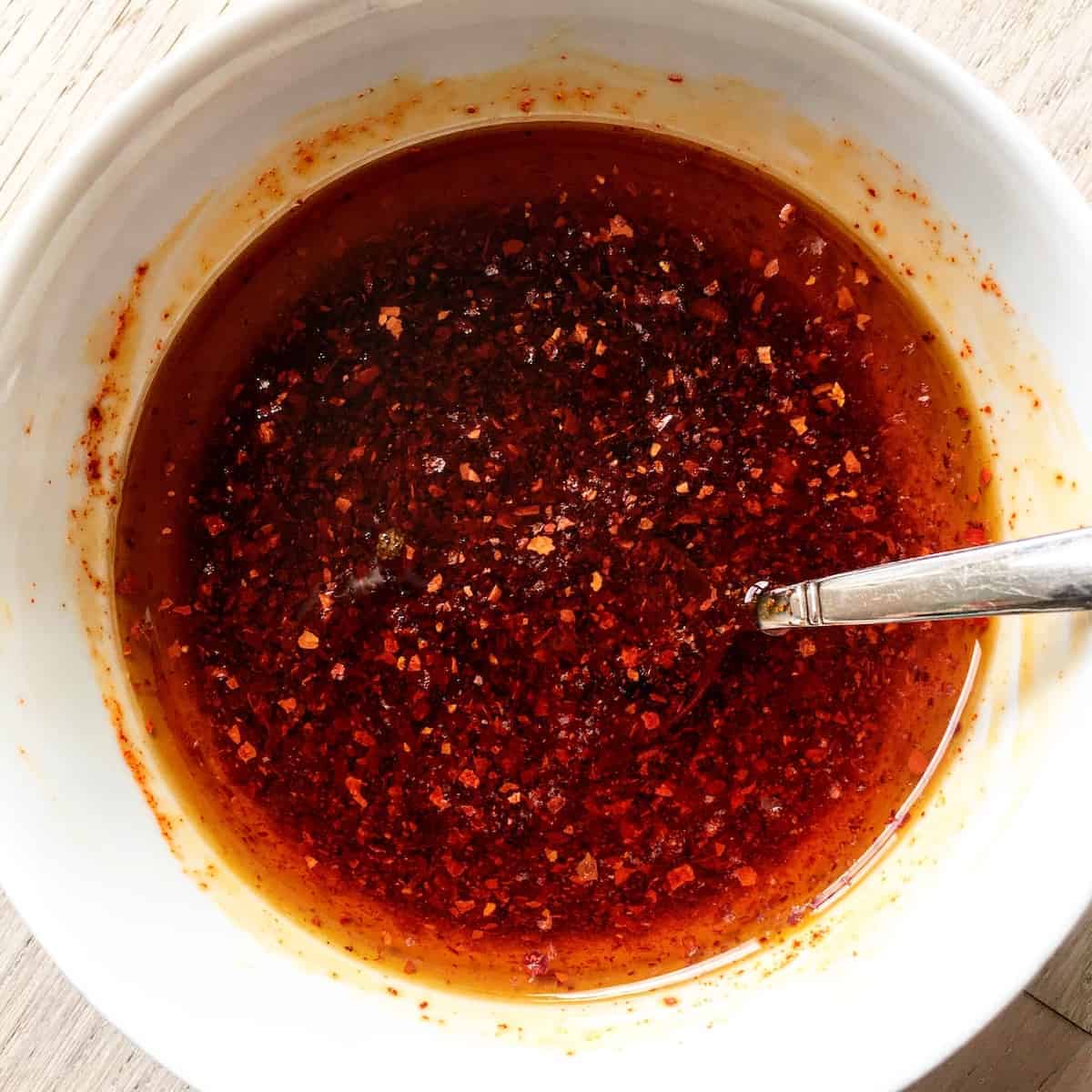 How to make spicy
If you like spice, you can serve this vegan Cantonese wonton noodle soup drizzled with vegan chilli crisp.
Preventing Soggy Noodles
Thin rice noodles (and glass noodles) can be blanched in hot water before before adding to the soup. Don't boil them in the wonton soup, as it'll make the broth starchy and less clear.
Put the thin rice vermicelli in hot water for 5-10 minutes before adding to the wonton soup - they're ready when they've become soft and pliable.
Serve with
Other Asian dishes that go very well with wonton rice noodle soup are:
Slices of Cantonese soya sauce chicken
Vegan Char siu- in Singapore and Malaysia, the focus of wonton noodles isn't wholly the wontons (ironically), so you get other ingredients such as char siu slices on the dry noodles
Chinese Dumplings- fried or added to the soup
Vegetables stir-fried in oyster sauce, such as kailan
Braised beef Brisket and tendon
Expert Tips
Not all brands of nutritional yeast taste the same- if you don't have a go-to brand, read the reviews first (I use Green Earth, which is organic)

If you don't know what to do with the rest of the nutritional yeast, add a bit to stir-fry and braising sauces for a more savoury result. It can also be used for vegan cheese and vegan pesto! Or as a sauce for popcorn

Dried shiitake mushrooms: a lot of vegan soups use this but I don't for vegan wonton noodle soup- wonton soup is a light, clear soup and shiitake mushrooms have a very strong flavour that can overwhelm the balance of the dish (Click here for more easy Asian mushroom recipes.)
If you're increasing the portion of wonton soup you're making, the cooking time will also go up as the onions will take longer to become translucent and aromatic. Also remember to use a larger pot, if not they'll steam rather than be sauteed! Don't skimp on the oil here (or on the sesame oil)- without meat, there is no fat in the soup to carry flavour so the oil serves that purpose!
If you want your soup slightly thicker- to mimic the slightly gelatinous feel the bones give traditional wonton soup- you can use a LITTLE cornstarch (or flour)- mix well with water first before adding to the soup (if not it'll clump). Don't go overboard- you're not making ramen!
If you're cooking vegetarian meat balls in the soup- ideally they should be poached separately then added to Chinese soup, but sometimes I get lazy and just toss it in to keep it a 1-pot meal- they may automatically thicken the soup as they sometimes contain starches (check the ingredient list). Also some are very well-salted and will bleed sodium into the soup, so taste after cooking THEN season with salt and soy sauce.
Traditional wonton soup uses ground white pepper (never use black- it's not the same thing at all!)- but I've given it a miss in this recipe as most people won't have it unless they cook Chinese food very often and because it's super strong. Even using ¼t to 1litre of water can have an overpowering taste if not properly balanced!
What to do with leftovers
Leftover vegan wonton soup can be used:
To make rice porridge
To make poached rice
Served plain on the side with white rice and some stir-fried dishes (Chinese families usually have a soup dish accompanying each meal)
Added to sauces when braising or stir-frying foods
How to store
I usually make a big batch of soup broth at 1 go because it involves boiling for ages.
With this easy vegan asian wonton rice noodle soup, it only takes 20 minutes so I don't bother making in advance. (See above for tips to make larger quantities of this recipe.) However, if you have more than you need, you can store it in the fridge for 2-3 days or freeze it.
Other Asian vegan recipes
Love this Chinese wonton soup recipe? Please leave a 5-star 🌟🌟🌟🌟🌟rating in the recipe card below & if you REALLY enjoyed it, I'd love a comment. Thank you!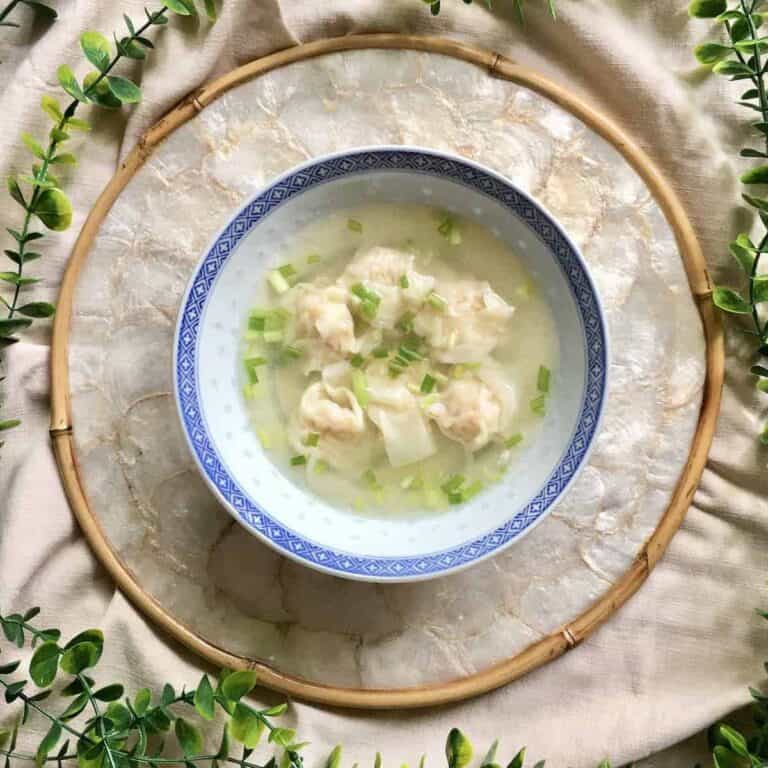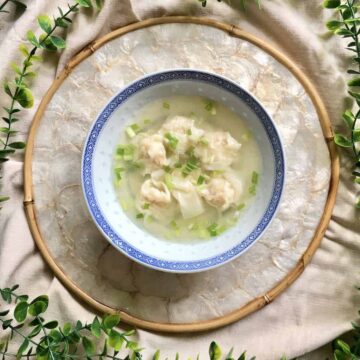 Easy Vegan Wonton Soup for Colds
Done in 20 minute vegan Chinese wonton soup that tastes as good as the traditional version. Gluten-free and made without commercially bought stock/ bouillon cube OR hours of making homemade stock! A great flu fighter thanks to the ginger and garlic!
Equipment
Pot

Don't use one that's very small as we don't want to steam the onions!

Wooden spatula

Heat proof bowl

To blanch the noodles

Sieve (optional)

Only if you want to remove the garlic, onion and ginger bits from the soup- wonton soup is originally clear but I enjoy having them to bite on for some texture (Just make sure you mince them small)
Ingredients
2.1

oz

onion minced (60g)

Mince them small, so they almost look grated, so that they will be less noticeable in the soup.

Use red ones or shallots for sweetness if you have them. If not, white ones work too.

1-3

T

vegetable oil

Don't skimp as fat is a carrier of flavour. (We're not frying the onions though so you don't need a layer of it!)

4

cloves

garlic minced

As with onions

1

thumb

ginger, minced (should give you about 6 slices before mincing)

As with onions

5

Cup

water

1

large sheet

kombu or kelp, soaked in 1 cup room temperature water

Wipe but don't rinse or the umami will be washed down the sink. My sheet was about 6 by 12 inches. You can use smaller sheets to make up that size if yours are smaller. (Don't discard the soaking water- it's going into the broth)

2

t

vegan white sugar (or to taste)

Almost the same as regular white granulated sugar, but it doesn't use bone char

1.5

t

salt (or to taste)

1

T

sake

Shaoxing wine works if you're not gluten-free

1

t

tamari sauce

Use light soy sauce if not on a GF diet

2-3

T

nutritional yeast

2

T

Sesame oil

Don't skimp on this, it gives the soup flavour and body

Optional garnish: sliced spring onion

For the most authentic soup, use the light green and white parts. If not, the darker green ones are OK too.

Optional: vegan chilli crisp to drizzle on top if you like spice!
Noodles
3.5

oz

Dried Thin White Rice noodles (100g)

Blanch in hot water for 5-15 minutes, till pliable. You can substitute with shirataki konjac noodles, glass noodles or brown rice vermicelli if you want to be healthier
Ingredients
4

bunches

(Baby) Bok Choy

Baby bok choy is preferable (sweeter and more tender), but regular works too

Optional: tofu

I'd be careful with mushrooms as they can add a heavy flavour to the soup, and it won't taste like wonton soup anymore!
Instructions
Noodles
Blanch the white rice vermicelli in hot water for 5-15 minutes till pliable. Make sure it's thin and not thick rice noodle! If you're using glass noodle, brown rice noodle or shiratake konjac noodles, check the instructions at the back of the pack

At the same time, soak the kelp/ kombu in 1C of room temperature water.
Bok Choy
After that, bring a pot of water to the boil and blanch some bok choy in it. You want to briefly cook the veggie- it should still be bright green and not boiled till it's old and limp!

Once blanched, plate the bok choy. Take the pot off the stove (with the water still in it), add the kelp and its soaking water to it then KIV the liquid to make the soup below
Making the vegan soup
Heat a pot with 1-3 tablespoons of oil in it on medium to medium-high heat. When hot, add the minced onions and saute for about 3 minutes till translucent and fragrant.

Add the garlic and stir for 30 seconds, then the ginger for another 30 seconds.

Pour in 10 Cups of water, including that used to cook the bok choy. If insufficient, supplement with regular water. Bring to the boil on high heat. (You can cover it to expedite the process)

Add the kelp to the pot and lower to a simmer, uncovered (usually medium heat- about 5 on a Bosch induction stove with a maximum of 9 works well for me)

Simmer for 10 minutes. 1 minute before you're about the switch off the fire, add the boiled wontons/ vegetable balls/ dumplings or tofu to the soup. Stir.

Season with the white salt, sugar, sake, nutritional yeast and tamari sauce. Use the quantities specified above then taste - if not, season to your liking. Right before you switch off the fire, add the bok choy to the pot to warm it up then switch off the fire.

Sprinkle the spring onions then drizzle the sesame oil. Stir and portion out, making sure every bowl of noodles has some wontons/ dumplings/ veggie balls/ tofu and bok choy.
Notes
You can also cook the veggie balls (they're like Asian vegetarian meatballs) in the soup- just note that they may thicken the soup if they contain starches as well as season it as most veggie balls are salted. (In this case, cook the veggie balls first, taste, then season.)
I don't recommend cooking the dumplings or wontons directly in the soup though, as they're too starchy and the consistency of the soup won't resemble that of wonton soup anymore.
Alternatively, if you don't cook any of the above in the soup, and find the texture too watery compared to authentic wonton mee (which is a bit gelatinous due to the bone broth), use a bit of flour or cornflour to thicken it. Add 1 T of cornflour to a bowl then pour in 3-4T of the soup and mix WELL. We don't want clumping! After that, add it bit by bit to the soup, stirring and tasting after each addition- don't just dump it all in or you may get something too thick. We're not making gravy or ramen here!
Note: the nutritional information is an estimate automatically calculated using the WPRM recipe maker and I am not responsible for its veracity.
Nutrition
Calories:
438
kcal
Carbohydrates:
54
g
Protein:
7
g
Fat:
21
g
Saturated Fat:
4
g
Polyunsaturated Fat:
8
g
Monounsaturated Fat:
8
g
Trans Fat:
1
g
Sodium:
2038
mg
Potassium:
244
mg
Fiber:
3
g
Sugar:
5
g
Vitamin A:
92
IU
Vitamin C:
5
mg
Calcium:
51
mg
Iron:
1
mg
If you've enjoyed this vegan wonton soup, please do give me a shoutout on social media!