12 delicious Chinese Dried Scallop Recipes, also known as Conpoy, that range from soups and congee to dim sum and XO sauce!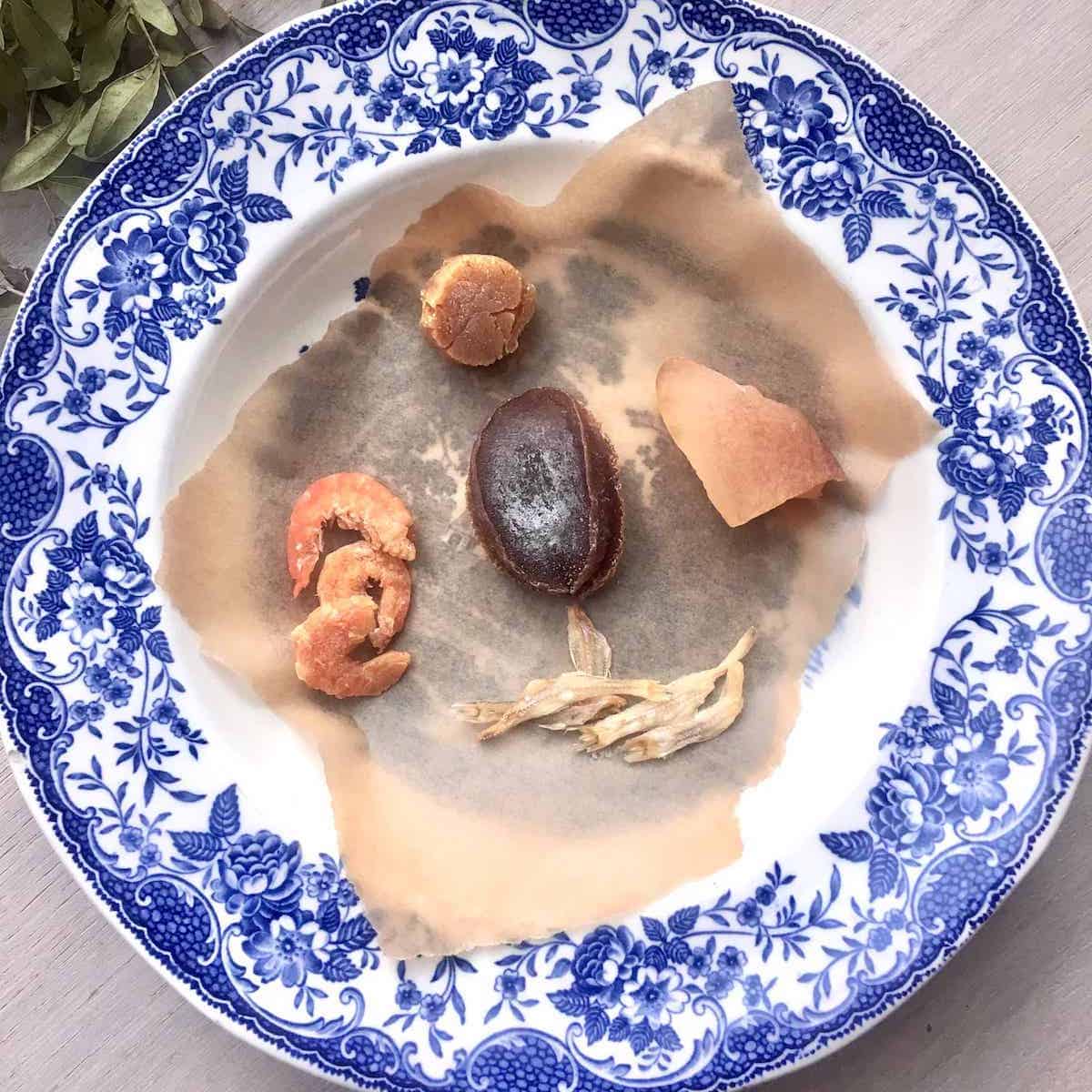 What are Dried Scallops?
Dried scallops are also known as conpoy. In Chinese, they're Jiang Yao Zhu 江瑤柱 (traditional) 江瑶柱 (simplified) or Gan Bei 乾貝 (traditional) 干贝 (simplified.)) Basically, they are scallops that have been dried to preserve them. Thanks to their abundant umami, they're often used as "natural stock cubes" in Chinese cooking.
Tip: As dried Chinese scallops are expensive, they're sometimes substituted with dried shrimp to lower the cost. We see this in a lot of commercial XO sauces! For more ideas on what to use as a dried scallop substitute, click here.
Health Benefits
The adductor muscle of scallops consist of about 20% protein. After drying, this becomes as high as 65%, making conpoy a protein-rich food.
Scallops also contain antioxidants and other essential minerals and vitamins such as taurine, potassium, Vitamin B-12, zinc and folic acid.
They can be salty, though, so make sure to reduce the amount of salt used in a dish with dried scallops.
How To Use
Dried scallops are very hard- almost like small rocks! Like other types of dried seafood such as dried abalone and dried oysters, they need to be rehydrated before using.
This is done by soaking the scallops in warm or hot water for 30-60 minutes before cooking. (The larger the pieces, the longer they have to be soaked- some are soaked overnight.)
Some people like to steam the dried scallops before using, to get them extra soft, especially if adding them to a recipe that doesn't have a long cooking time. (This can be anything from 15 minutes to 40 minutes!)
They're typically added for their sweetness, umami and the depth of flavour they bring to food.
Tip: Keep the soaking liquid to add to soups, stews and braises. It's like a seafood stock!
Where To Buy
You can find dried scallops in many Asian supermarkets. However, not all are of the same quality. Japanese ones are usually considered "premium" and thus more expensive.
Larger scallops also cost more than small pieces. The cheapest are those that have been broken into bits. (For many recipes such as congee or XO sauce, you can just buy the broken scallops as they're cheaper and will be shredded later anyway.)
If you find the dried scallop price shocking, click here for how to make conpoy at home!
Tip: Some say you should avoid scallops with white specks on them, as these are a sign of old age.
How To Store
Dried scallops last for months, and sometimes even years, in the fridge and/ or freezer.
Keep in an airtight container.
Expert Tips
Tip #1: Dried scallops need to be rehydrated, usually using hot water, before cooking. Save the soaking water to add to soups and stews- it will add lots of umami!
FAQs
How do you make dried scallops?
Raw scallops are washed and briefly boiled (to get the shells to open.) After that the flesh is cooled, cleaned again and then separated from the internal organs. After that, the flesh (adductor muscles) are boiled again, cooled and roasted over high heat. Lastly, they'll go through several cycles of drying and resting, which can take around a month's time. To see videos of how conpoy is made commercially, click this link. Some people also make their own dried scallops, but if you don't get the drying right, they'll become moldy.
Can dried scallops go moldy?
Yes they can if exposed to moisture. However, dried scallops generally can last for months and even years if stored properly. Dried scallops may sometimes have a white coating on them which is actually glycine and taurine, not mold, so check carefully before you toss. Conpoy that is in good condition should smell salty, like the sea.
What wine goes with scallops?
The flavor of scallops, like most seafood, goes very well with white wine, sake and champagne.
Congee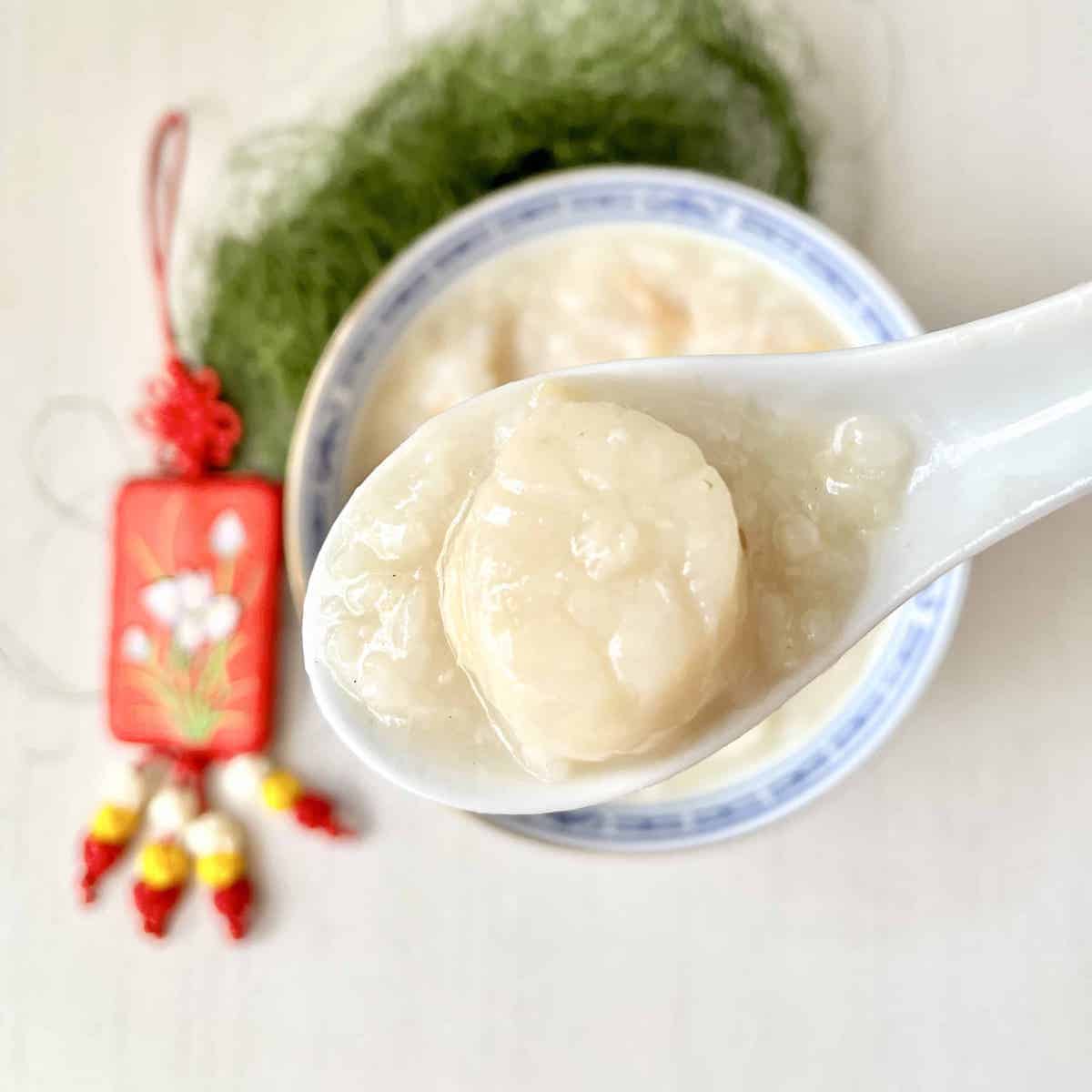 Dried scallops are often used to make rice porridge, a Cantonese favourite and common Chinese breakfast dish, more flavorful.
Fresh Scallop Porridge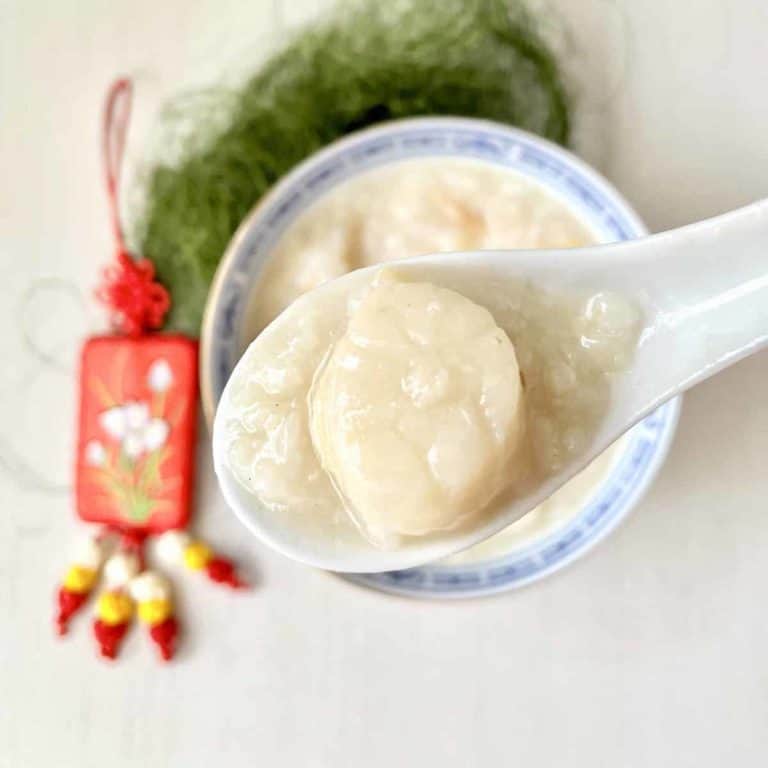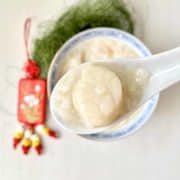 Shrimp Congee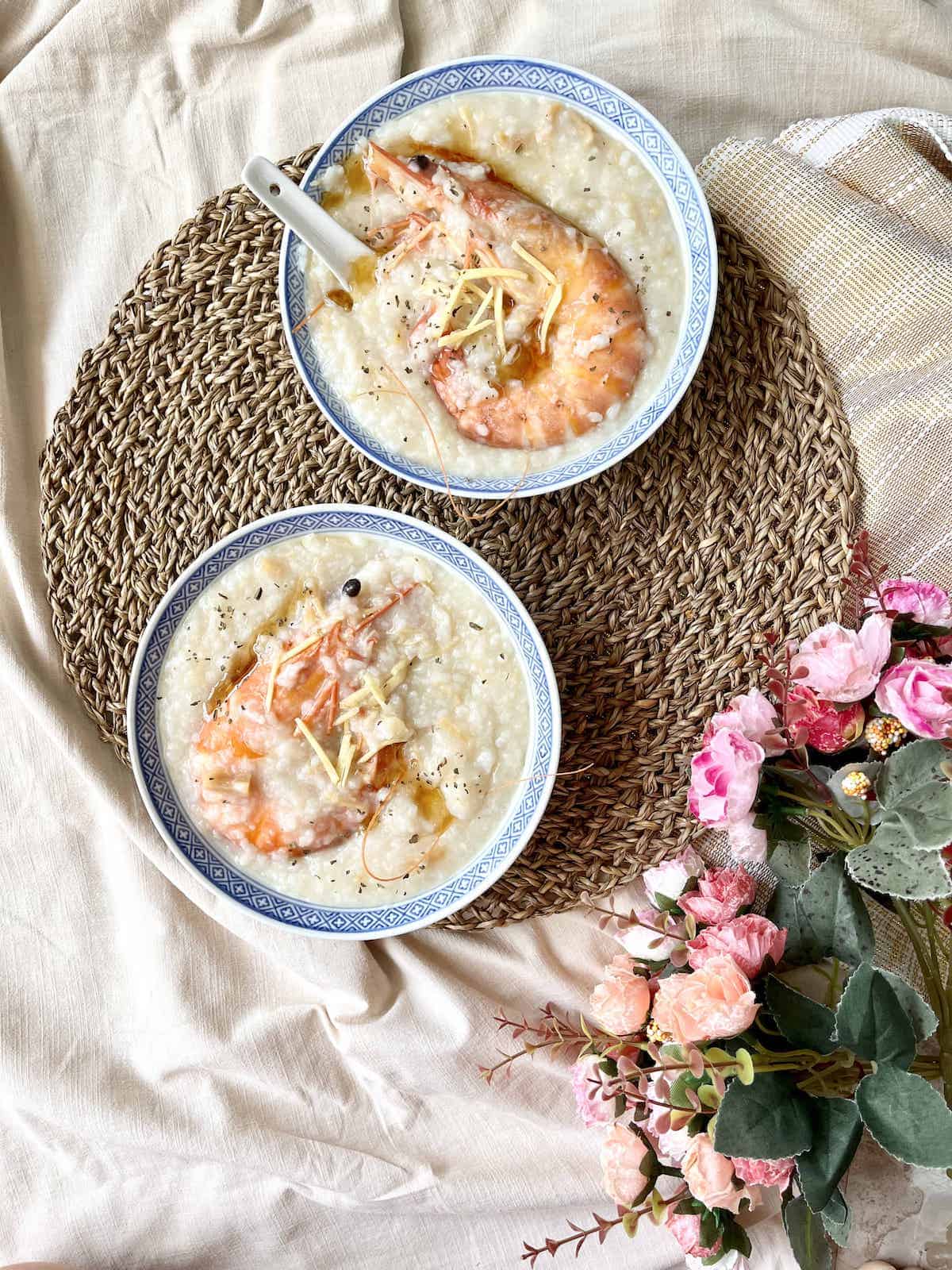 Easy Chinese Seafood congee with shrimp/ prawn
This Easy Chinese Seafood congee with shrimps or prawns is a delicious seafood rice porridge that is easy to cook but still silky and rich. Chicken stock/ broth optional!
Click here for the shrimp congee recipe.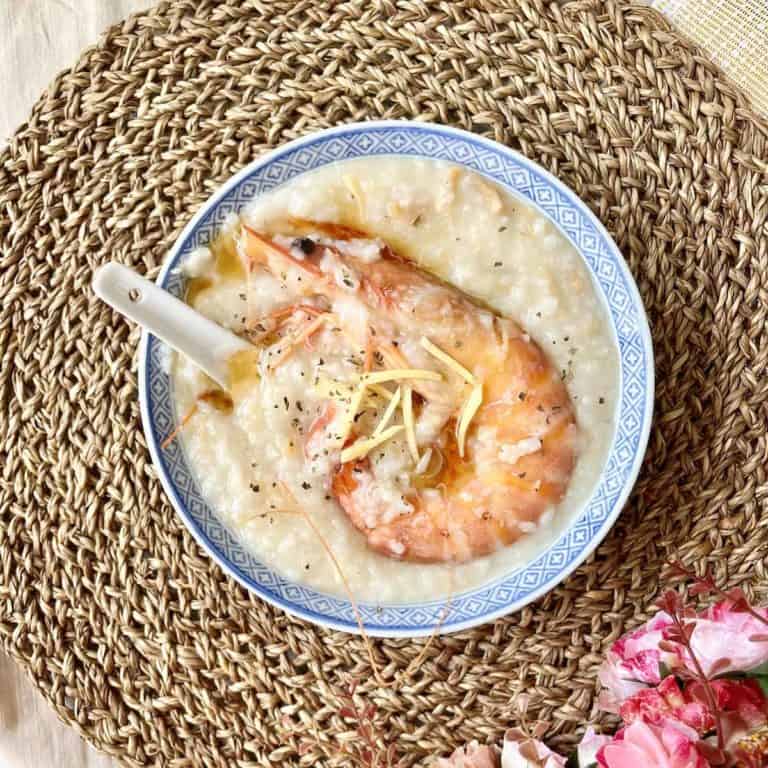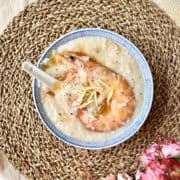 Poached Pumpkin Rice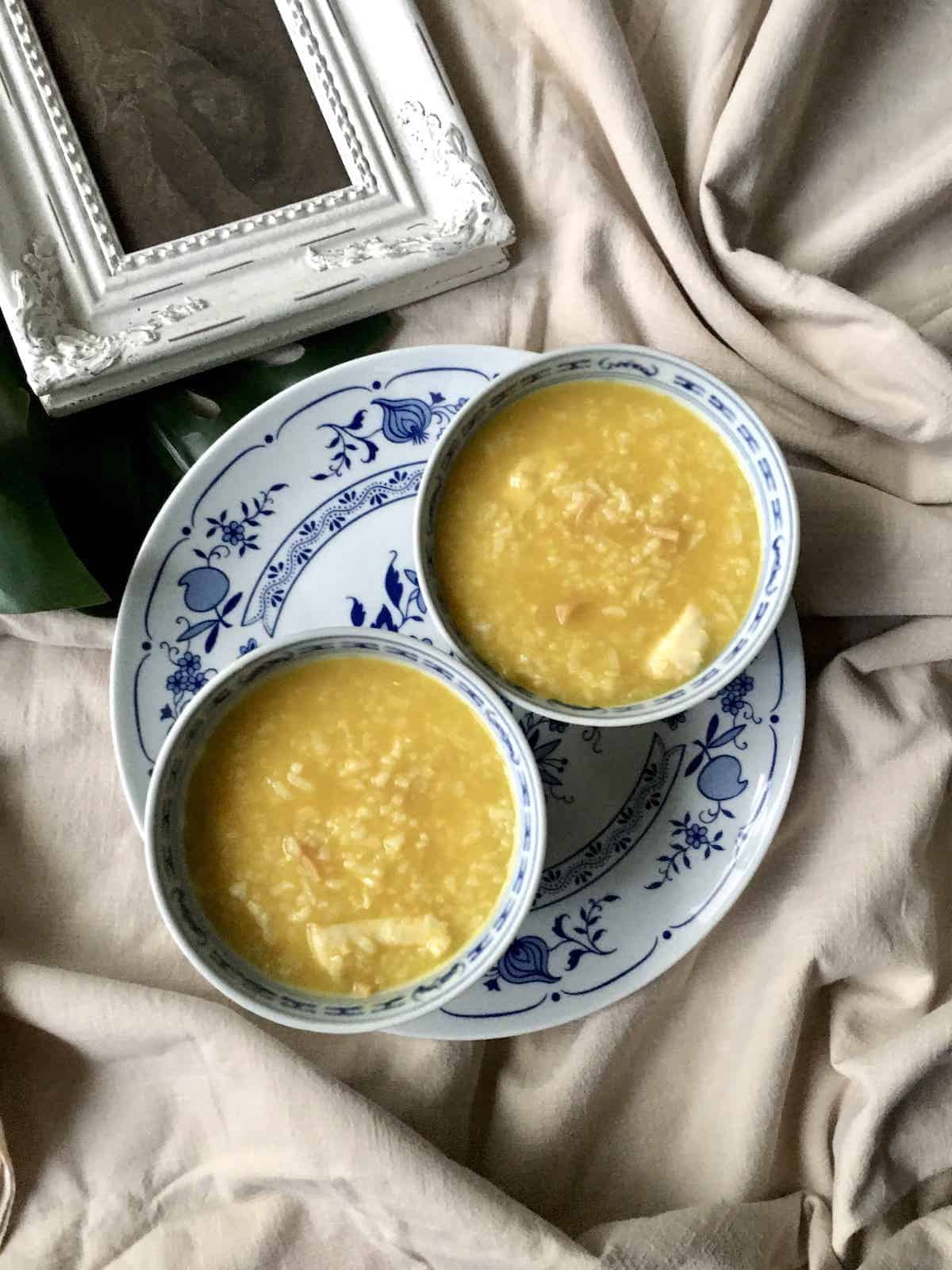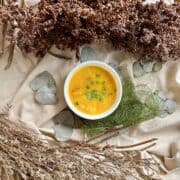 Abalone Congee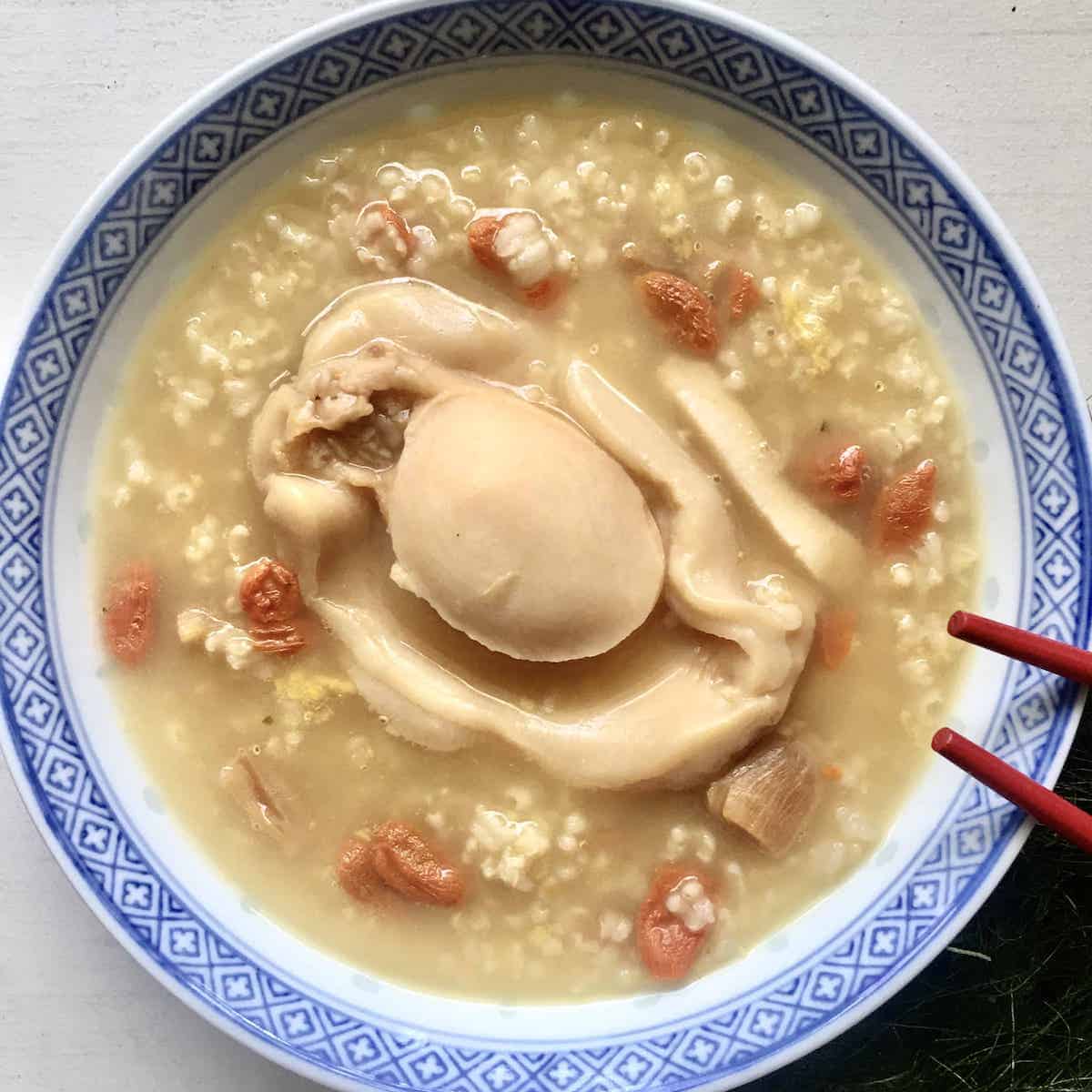 Easy Chinese Canned Abalone Porridge
A no-fuss, easy Chinese Canned Abalone Porridge recipe, also known as jook or congee, which can be made using store cupboard ingredients. So easy there's only 1 photo for the step-by-step instructions, it's the perfect comfort food and a delicious recipe for a weekday dinner.
Click here for an abalone congee recipe.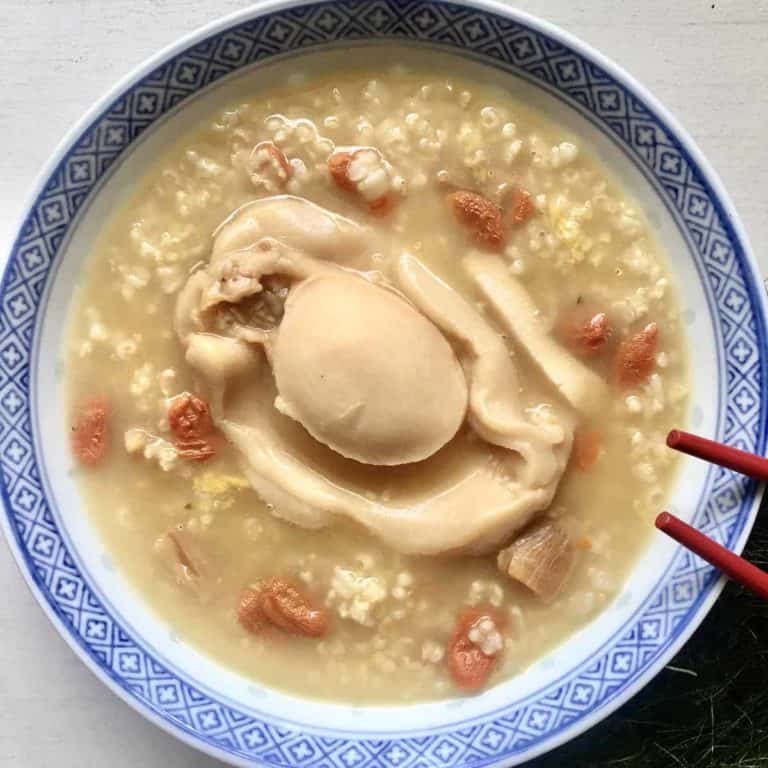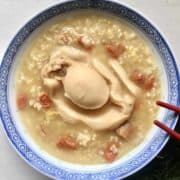 Soups
Buddha Jumps Over the Wall
Conpoy is used in all the most premium Chinese soups, such as Buddha Jumps Over the Wall (Fo Tiao Qiang). The name refers to the fact that this Hokkien dish is so delicious, it can tempt Buddha/ monks to leave behind their vegetarian dish for this meat and seafood-packed soup!
Fun fact: It is such a palaver to make, and consists of such expensive ingredients, you have to pre-order it at many Chinese restaurants.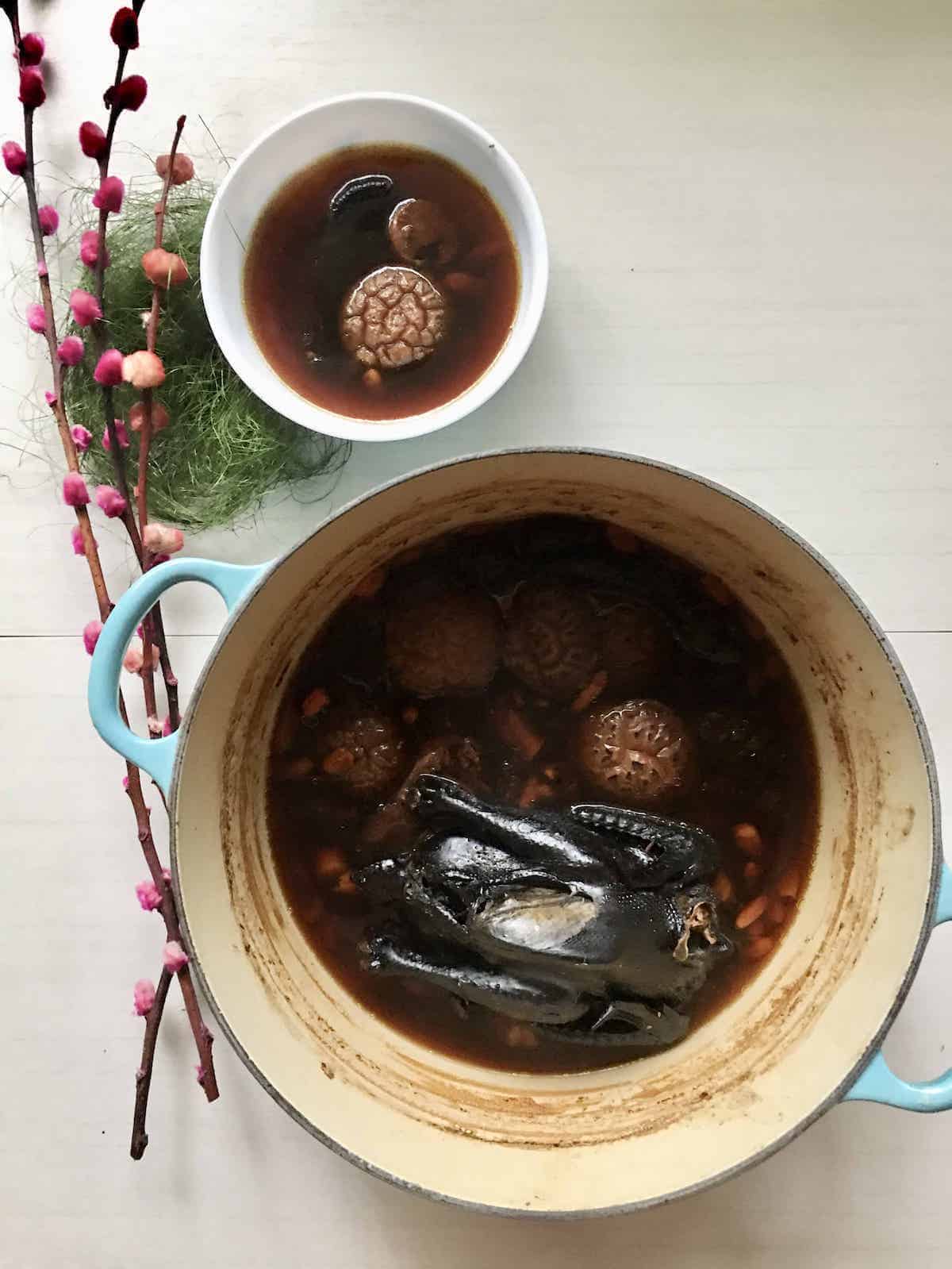 Chinese Silkie Chicken Soup
This Chinese Dried Scallop Soup recipe is made extra healthy by using black Silkie Chickens!
Easy Chinese Black Chicken Soup (Silkie Chicken)
This easy Chinese Black Chicken Soup, also known as Silkie Chicken, is a traditional Chinese soup recipe that is delicious, nutritious AND only calls for 5 ingredients! I've made this Black Chicken soup recipe non-herbal, as many younger Asians find it hard to accept the strong flavours of herbal soup, but it's still very good for you!
Click here for the black chicken Cantonese soup recipe.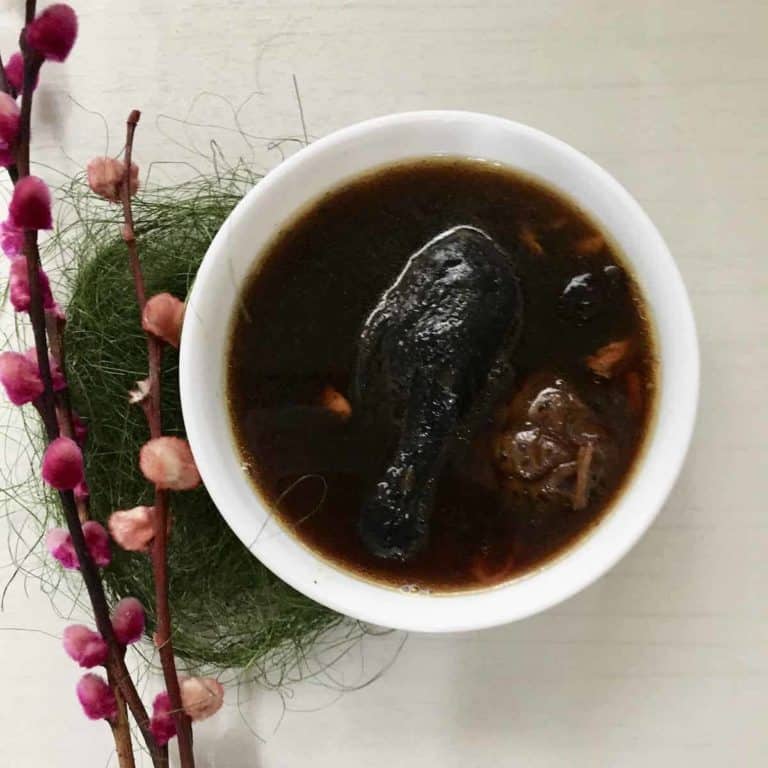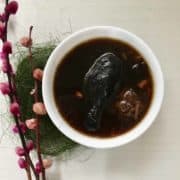 Chicken Feet Soup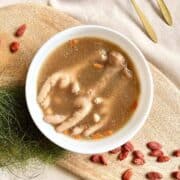 Stir-Fries
Egg White Fried Rice with Dried Scallops
Adding dried scallops to your fried rice is a great way to elevate this homely dish. You will need dried scallops, egg whites and (cooked) overnight rice for the most basic version of this dish.
For seasoning, you'll require salt, a little soy sauce and some chicken stock powder.
How to Cook
After steaming the scallops, shred them and fry till they're crispy then plate them. You want the texture to contrast with the softness of the egg whites.
Next, briefly stir fry the egg whites so that they're cooked but still soft and fluffy. Place them next to the scallops.
Stir fry the cooked rice over high heat for a few minutes. Season to taste.
Add the scallops in and stir to mix everything.
Lastly, add the egg whites, quickly mix everything and switch off the fire. (You don't want to over cook the eggs in this Dried Scallop Fried Rice.)
For more Asian fried rice recipes, click here.
Tip: Don't toss the egg yolks, you can cure them in salt to make salted egg yolks.
Dim Sum
There are many dried scallop recipes in classic dim sum bites:
Lo Bak Go
Sometimes translated into turnip cake, radish cake or carrot cake, Lo Bak Go is a popular dim sum dish which uses dried scallops, radish and rice flour (not to be confused with glutinous rice flour.)
Lo Mai Fan
Cantonese sticky rice, or Lo Mai Fan, also use dried scallops, as well as Chinese sausages (lup cheong) and sesame oil etc. Click here for an easy Instant Pot Lo Mai Fan recipe!
Others
Steamed Hairy Gourd
Dried scallops are also a great way to add flavor to braised and steamed Chinese dishes, such as braised mushrooms, braised cabbage and this stuffed hairy gourd recipe.
XO Sauce
A luxurious sauce found at all the best Cantonese restaurants, XO sauce is made using dried scallops, aromatics and chillies. Despite the name, there is no actual XO cognac/ brandy in it! "XO" is just used to indicate what a premium food it is!
For a delicious XO sauce recipe, click here.
What is your favorite Chinese Dried Scallops Recipe? Let me know in the comments or share a photo on social media and tag me (@greedygirlgourmet)!