17 Traditional Chinese breakfast recipes, with tips on how to reduce the cook time so that you don't have to be slaving over the stove early in the morning! From Cantonese Congee to Mantou Buns, I have you covered for the most important meal of the day!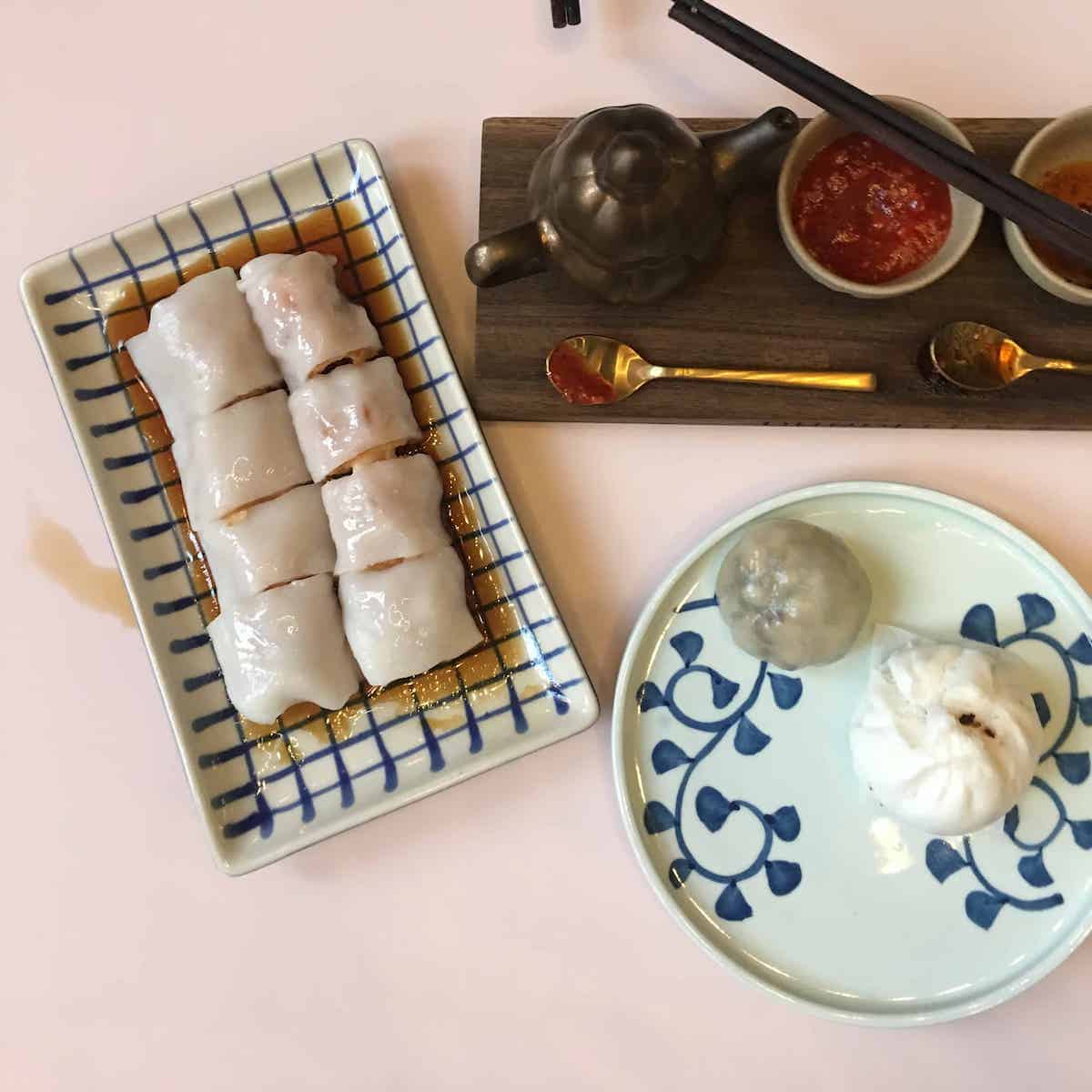 Jump to:
What's a Chinese breakfast?
There is no such thing as a typical Chinese breakfast recipe as different parts of China eat different dishes for breakfast.
However, they share some commonalities:
we all eat what Westerners would find rather hearty and filling morning meals!

My Western flatmates used to be amazed by the fact that I could eat a big bowl of noodles or rice porridge in the morning!

Unlike Western breakfasts, Asian breakfasts are usually savoury

One of the few exceptions is soy bean or tofu pudding (豆腐花 dou fu hua) but even so we pair that with deep fried Chinese dough sticks (you tiao, sometimes called crullers)!

We like our breakfasts hot!

Hot breakfasts need cooking- if you're like me and find it a chore to cook early in the morning, you may find the preparation tips (below each recipe) to cut shown the cook time useful!
Note: For more Asian breakfast food ideas, click here for a list of Asian breakfast side dishes!
Congee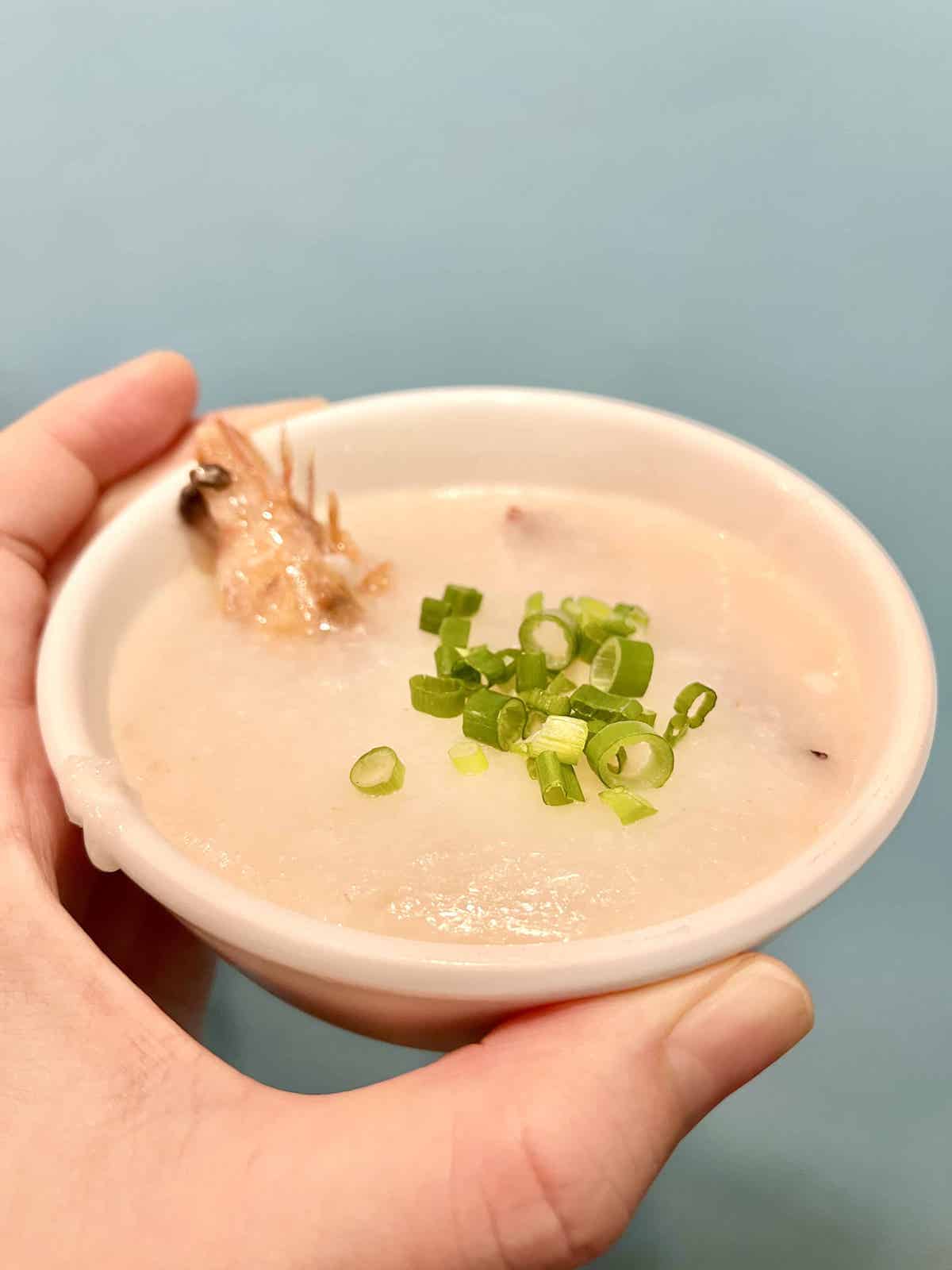 Paired with deep-fried dough sticks, congee (jook) is 1 of the most common and classic Chinese breakfast foods, especially in Hong Kong.
It's delicious even when served plain and without extra ingredients inside! (Plain white porridge is often paired with toppings such as peanuts and small side dishes such as salted eggs and Chinese sausage (lap cheong). Alternatively, stir in an egg yolk to make the dish richer. It's considered by many Asians to be a very comforting food!)
The versions of congee below, a type of rice porridge (Zhou), are all savoury but we have sweet congees too, such as Laba (8 treasures) Congee, though they are less common now.
We usually wash down the Chinese rice porridge with a cup of soybean milk (Chinese people believe that soy milk (Dou Jiang) is good for the complexion!) Alternatively, if you want something lighter for breakfast, you can just dip the fried dough sticks into the soybean milk and skip the porridge.
Tip
A good bowl of congee needs a lot of stirring and slow cooking, but that is too much work for early morning. Freeze your rice overnight and that'll help it break down more quickly. I.e. your bowl of congee cooks more quickly! (20 minutes instead of a few hours.)
If you have a thermomix, it works really well for Chinese porridge too!
Abalone Jook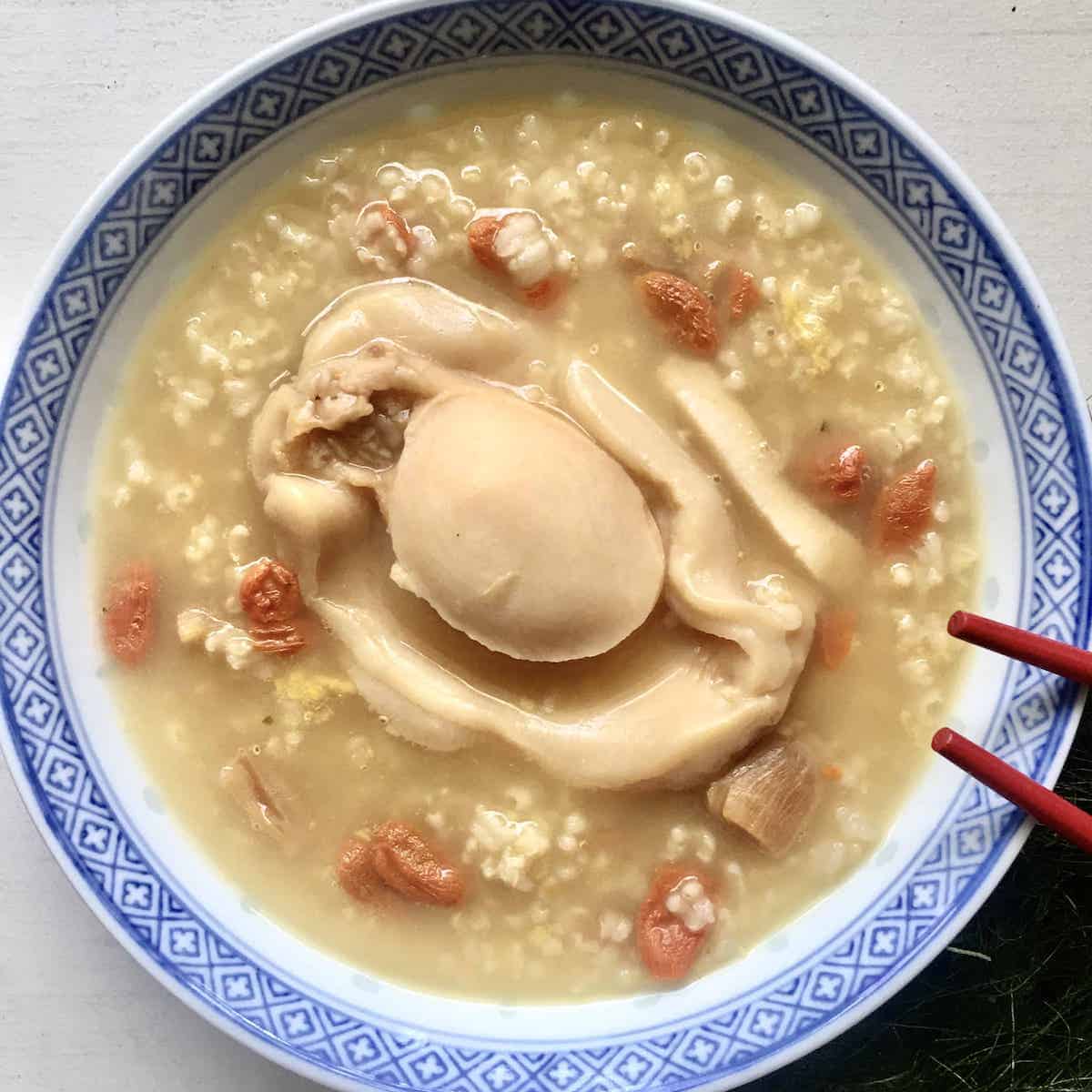 Easy Chinese Canned Abalone Porridge
A no-fuss, easy Chinese Canned Abalone Porridge recipe, also known as jook or congee, which can be made using store cupboard ingredients. So easy there's only 1 photo for the step-by-step instructions, it's the perfect comfort food and a delicious recipe for a weekday dinner.
Click here for the abalone jook recipe.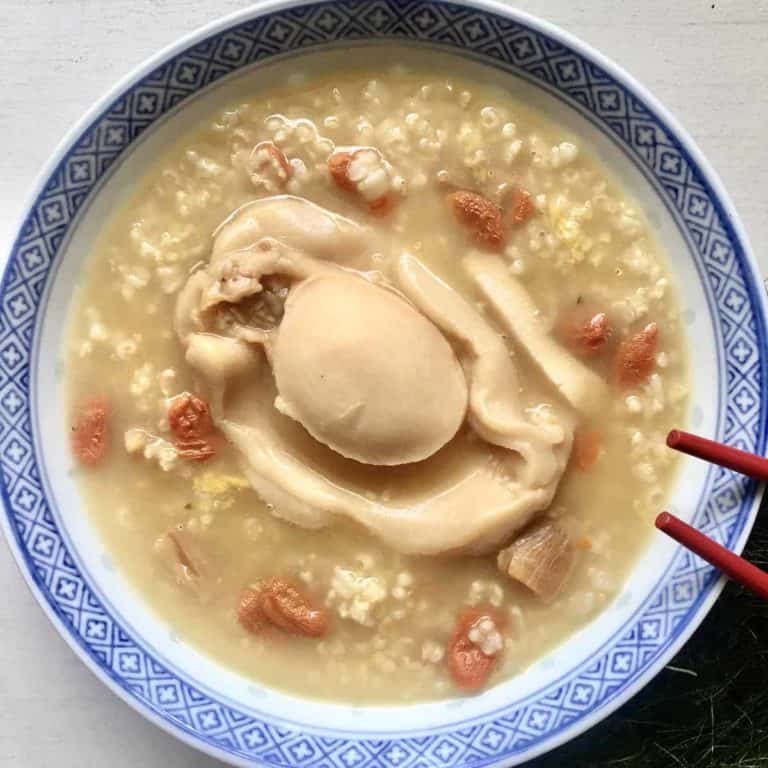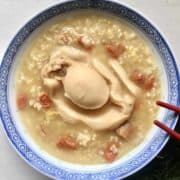 Brown Rice Congee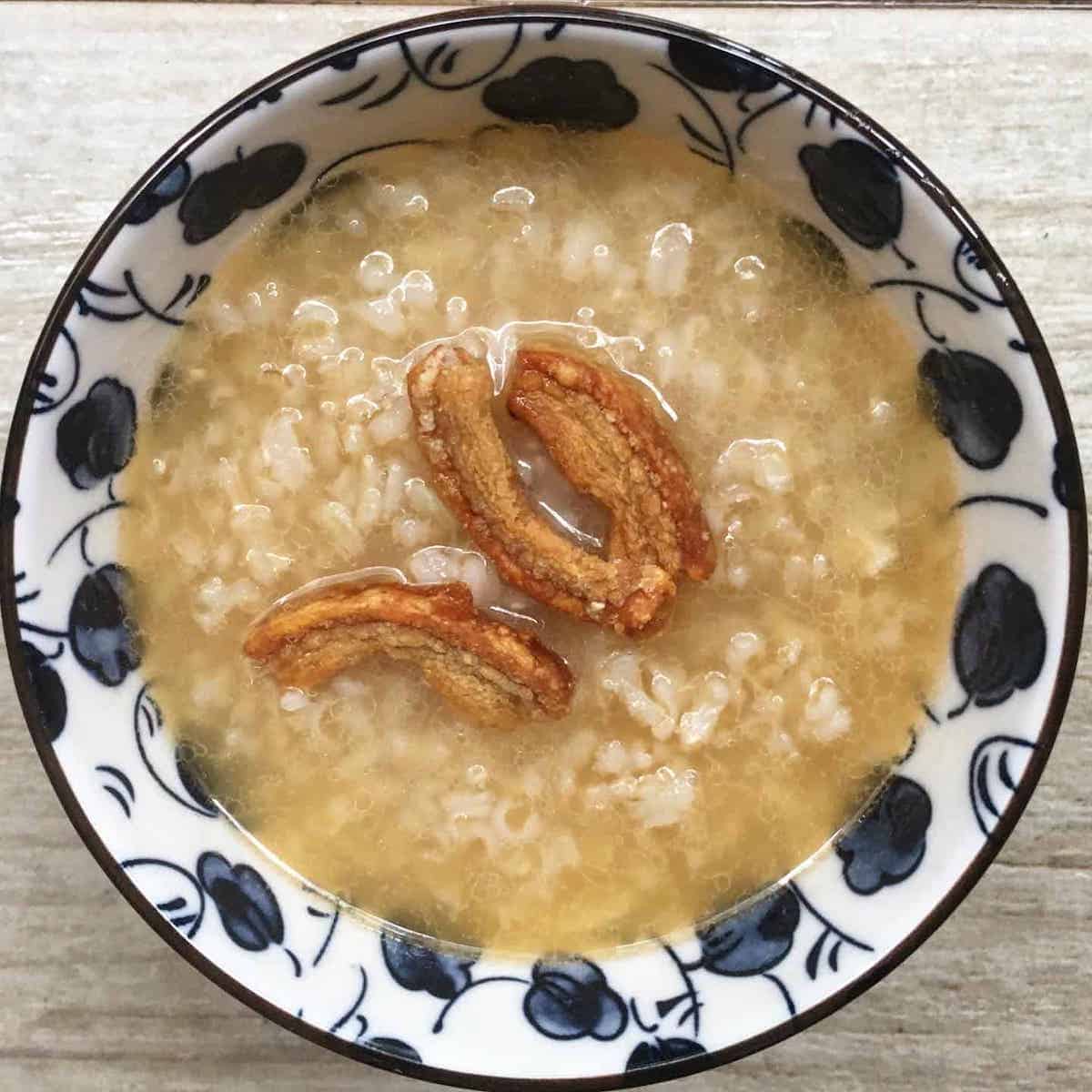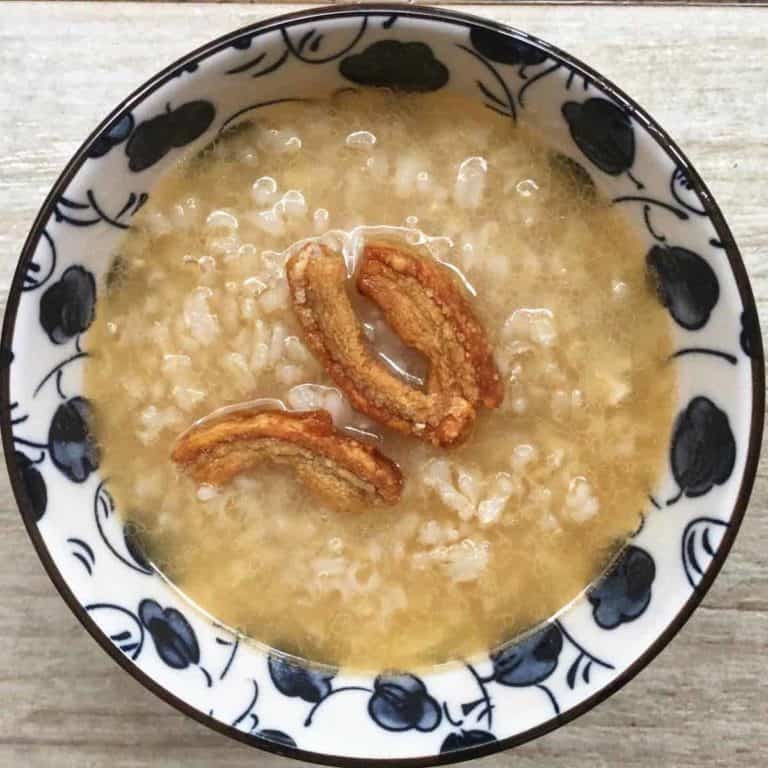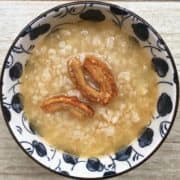 Shrimp Congee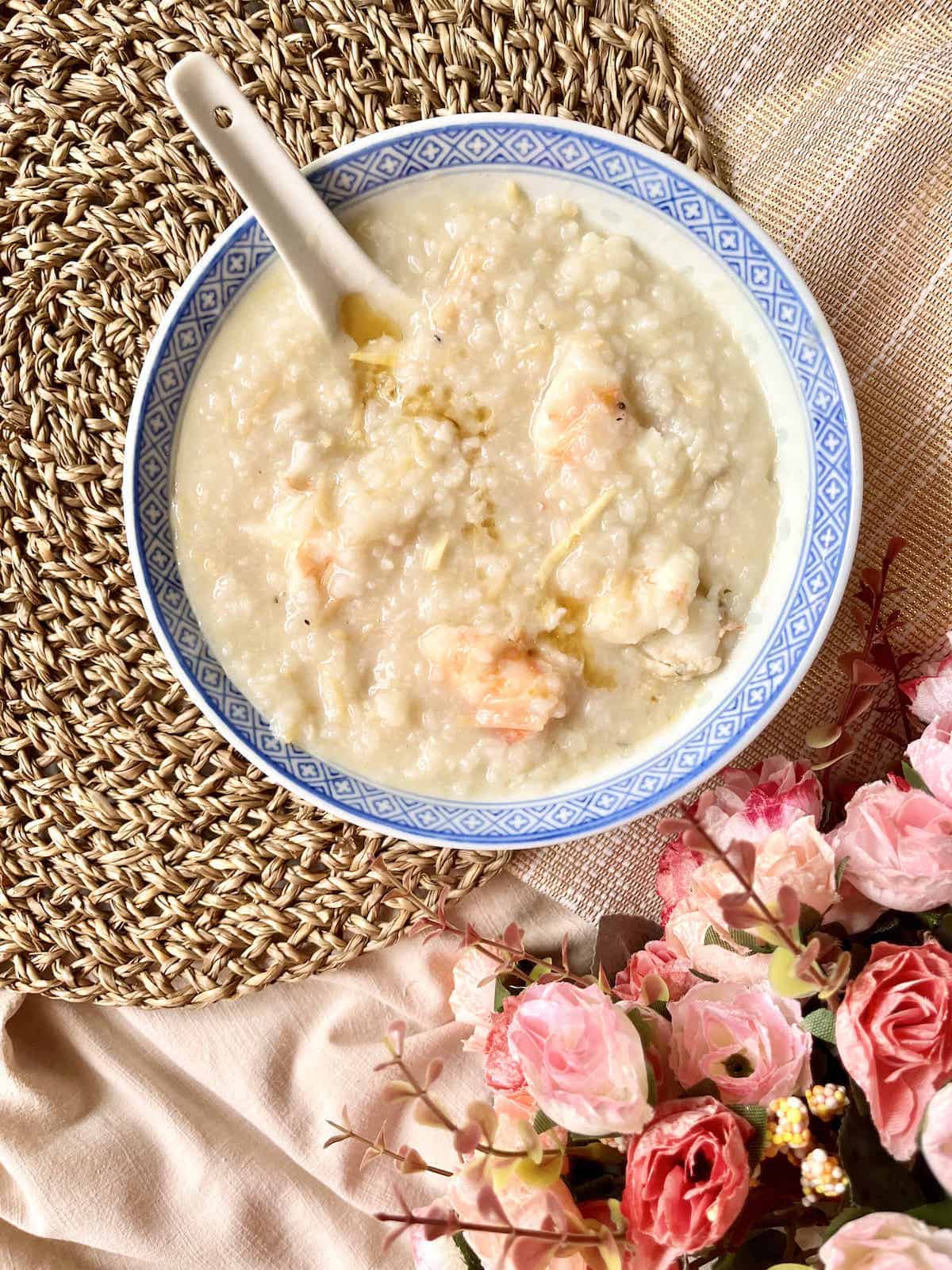 Easy Chinese Seafood congee with shrimp/ prawn
This Easy Chinese Seafood congee with shrimps or prawns is a delicious seafood rice porridge that is easy to cook but still silky and rich. Chicken stock/ broth optional!
Click here for the congee with shrimp recipe.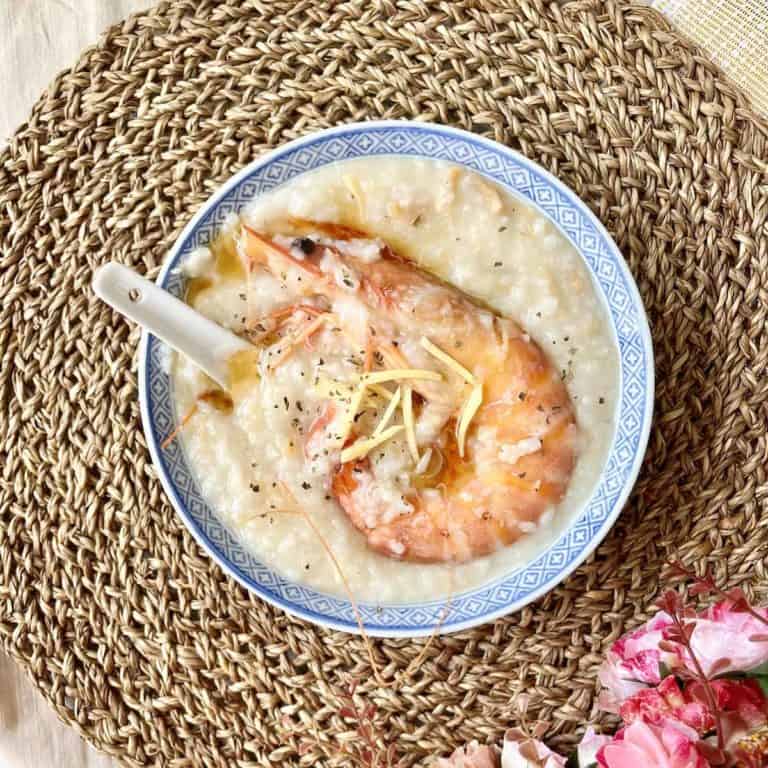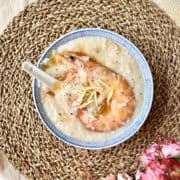 Leftover Meat Congee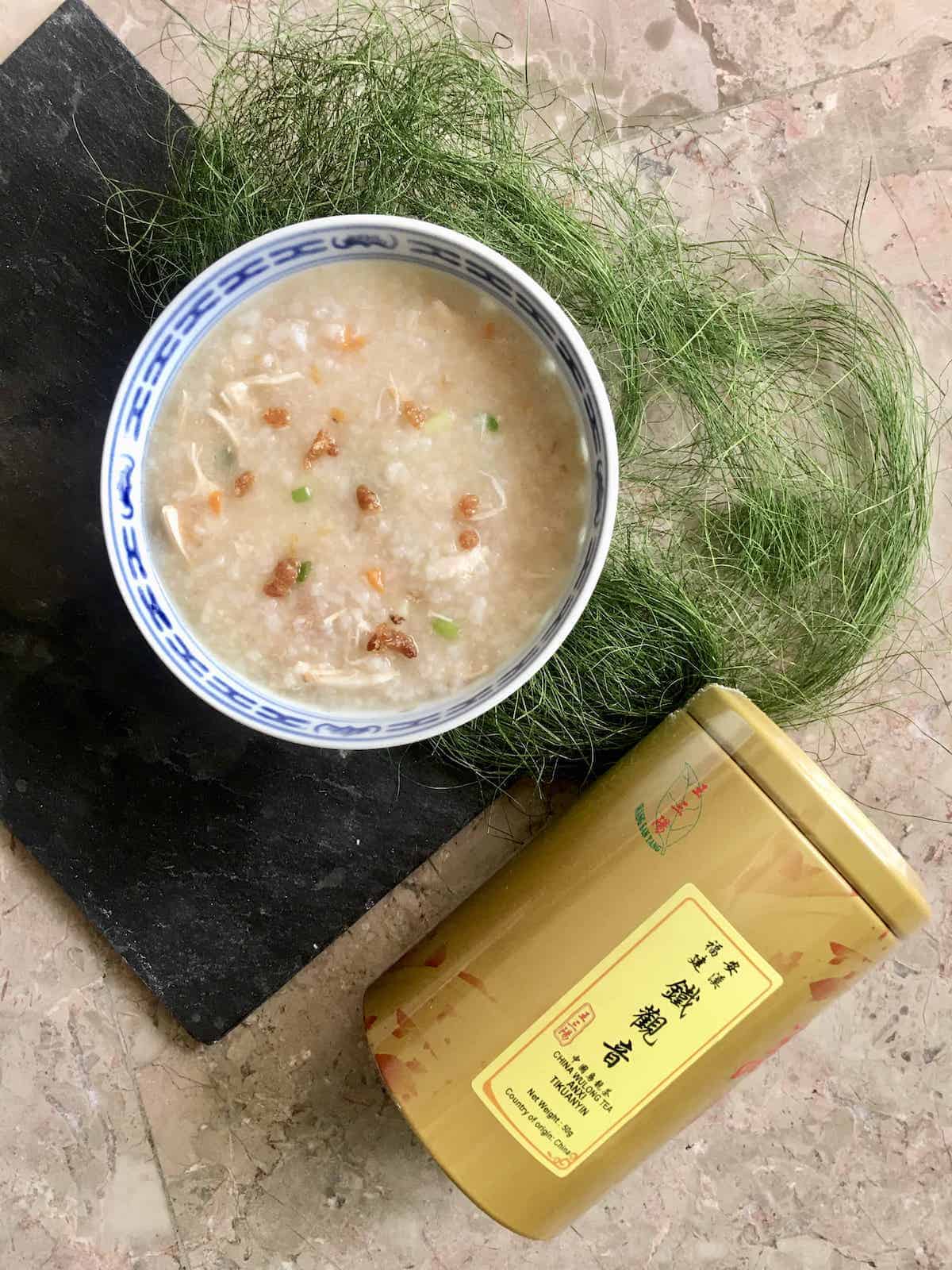 This is the perfect wallet-friendly recipe as you can use both leftover rotisserie chicken or turkey and leftover rice!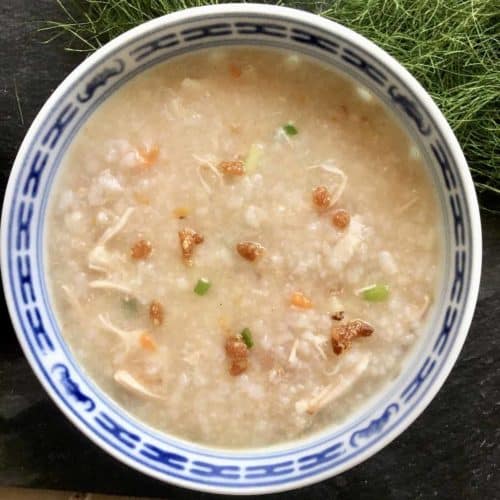 Scallop Jook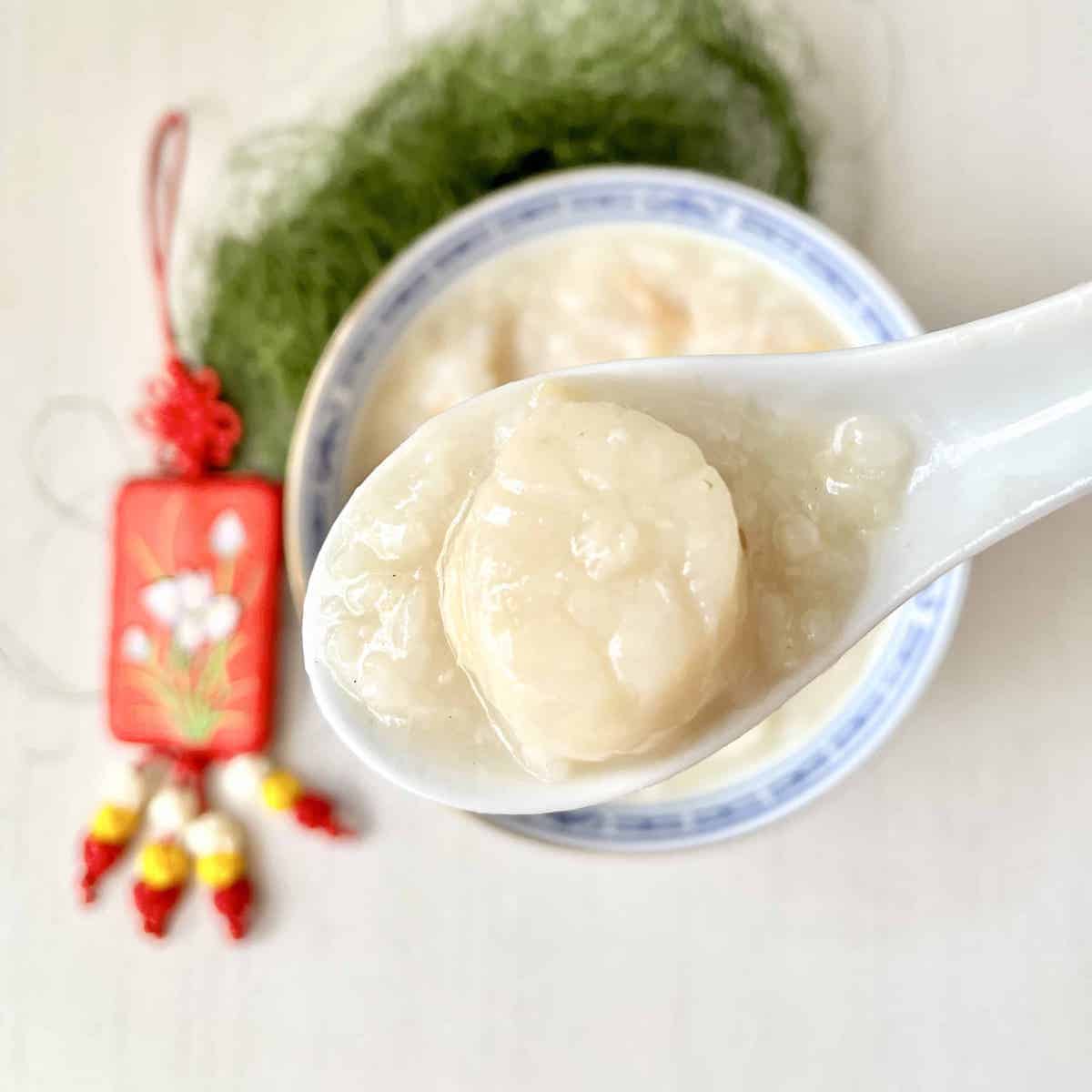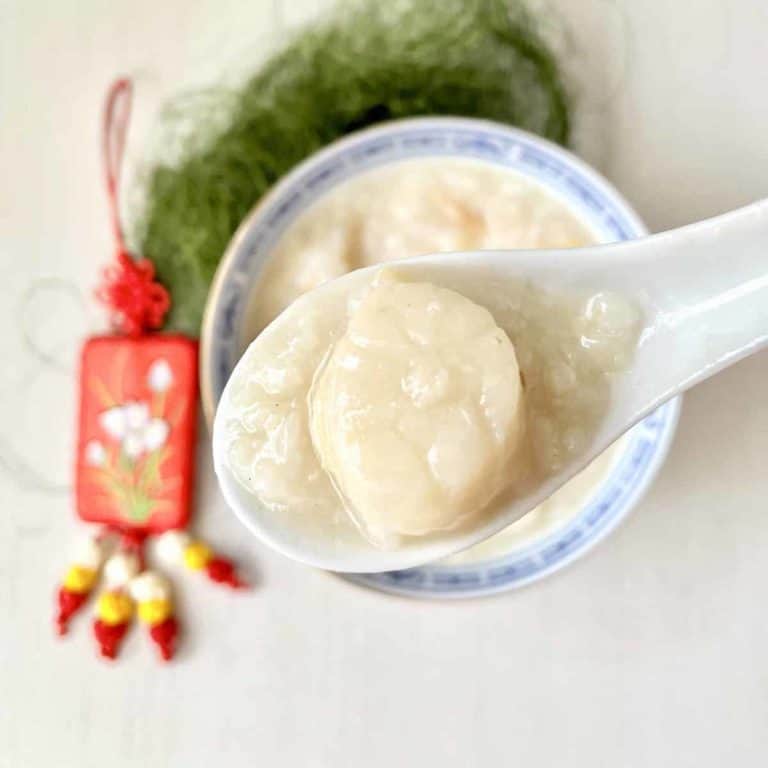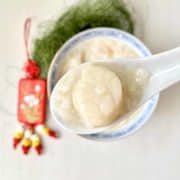 Noodles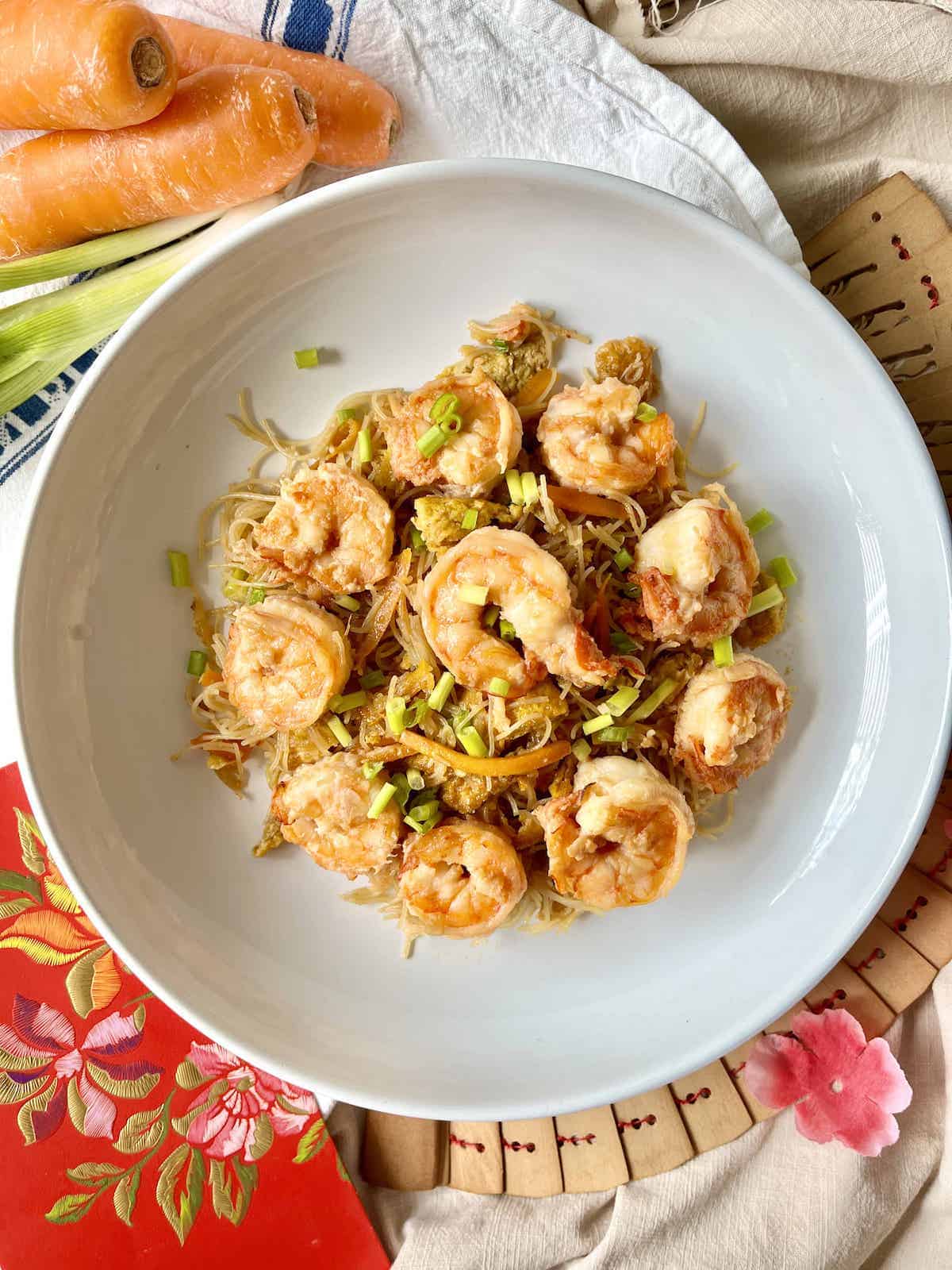 The most common generalisation is that in Southern China, they eat rice and in Northern China, they eat noodles (due to the different agricultural produce of the 2 regions.)
There are 100s if not 1000s of Chinese noodle recipes, but I'll focus on some that can be made in under 20 minutes for this Chinese breakfast round-up. (In Asia, we can get a quick breakfast on the go from street vendors, but outside of Asia, one has to make one's own meal and people have to get to work or school!)
Stir-Fried Rice Noodles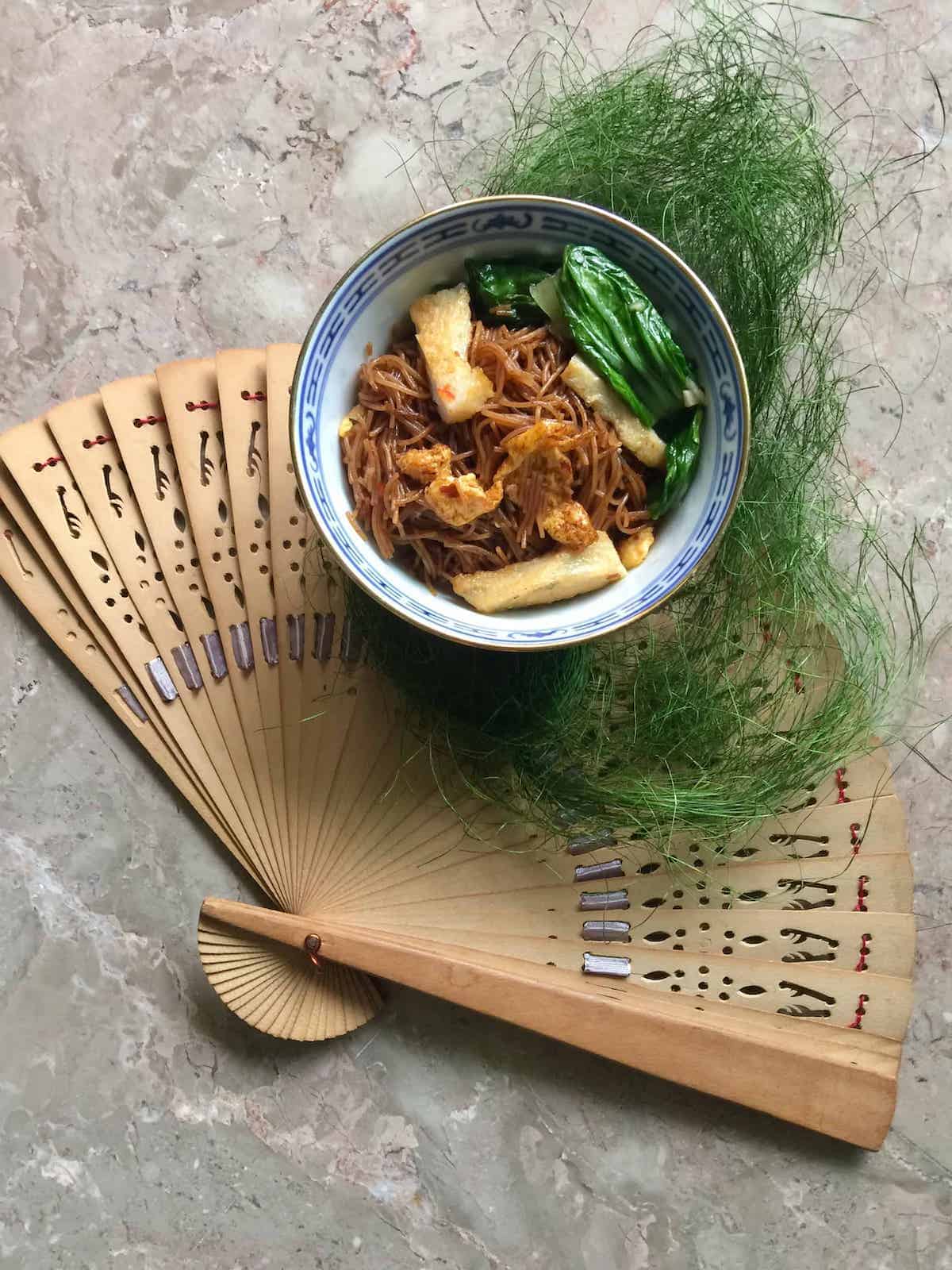 Perfect with some chili oil on the side and some morning tea to wash the grease down!
Singapore Fried Vermicelli (Bihun Goreng)
Singapore Fried Vermicelli, also known as Bihun Goreng, is delicious, easy to cook and quick to make in under 30 minutes. Using only simple ingredients (no chicken broth needed), it's a complete meal in itself. It's also cheap enough that some hawker centres (street food stalls) in Singapore sell it for only S$2/ US$1.50!
Click here for the Singapore noodles recipe.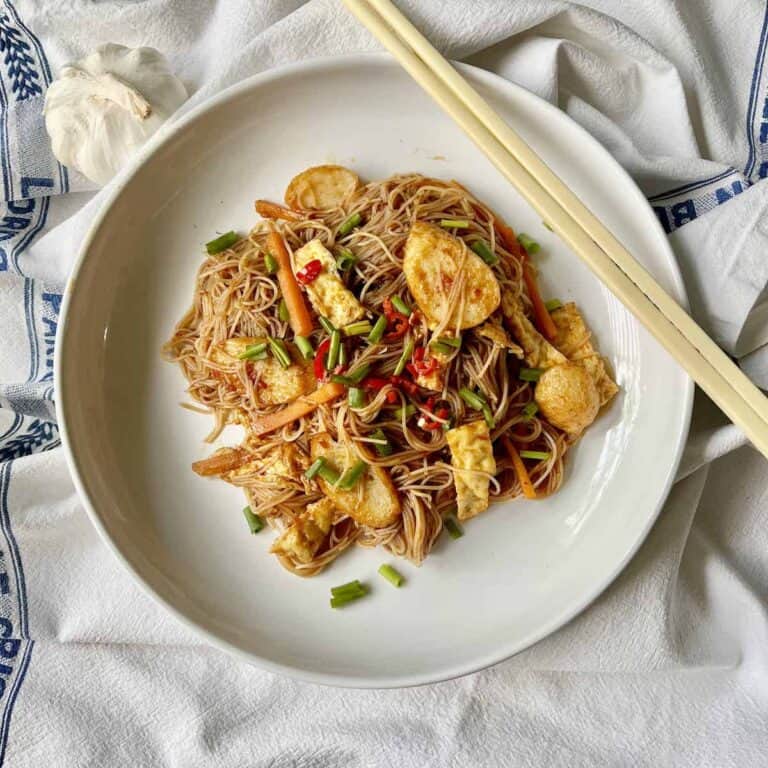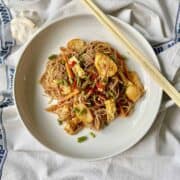 Shrimp Mei Fun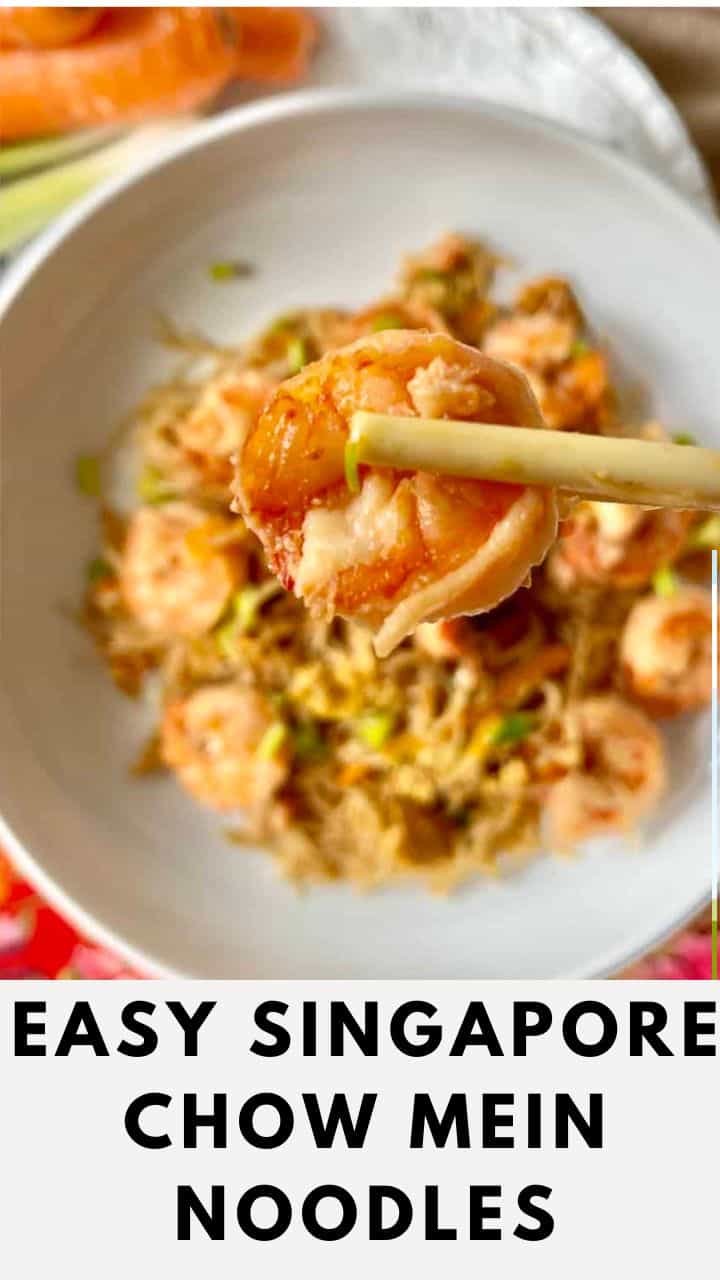 Shrimp Mei Fun (Fried Rice Noodles)
Shrimp Mei Fun is an easy Stir Fried Thin Rice Noodles Dish. Packed with shrimp and vegetables, it's a complete meal with fibre and protein that cam be made in under 30 minutes!
Click here for the Chow Mein Recipe.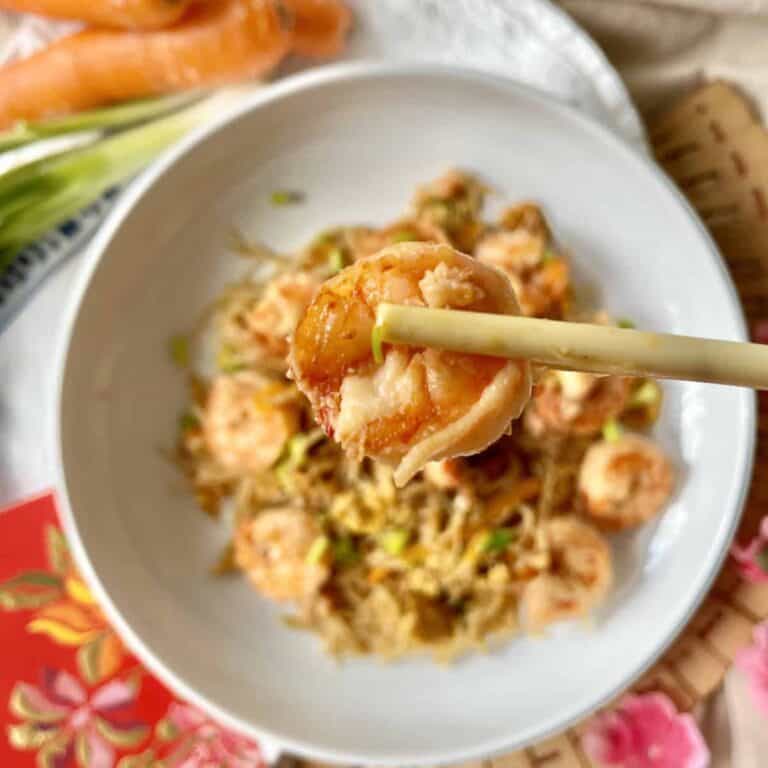 Scallion Noodles
The scallion oil can be prepared in advance, so you only need to cook the wheat flour dry noodles 葱油拌面 and toss with the oil in the morning! For a heartier meal, serve with a fried egg on the side.
Tip
Prepare a bigger batch of the oil ahead of time and it will last you for a few breakfasts. (Make sure never to include garlic in the start, as infusing garlic in oil is ripe for a botulism party.)
Sesame Noodles
This hearty bowl of noodles is great for fall and winter (sesame sauce is quite nourishing.)
Tip
Cut down the cooking time by prepping the sauce the night before.
DIY Instant noodles
OK instant noodles aren't a traditional Chinese breakfast recipe, but noodles in general are!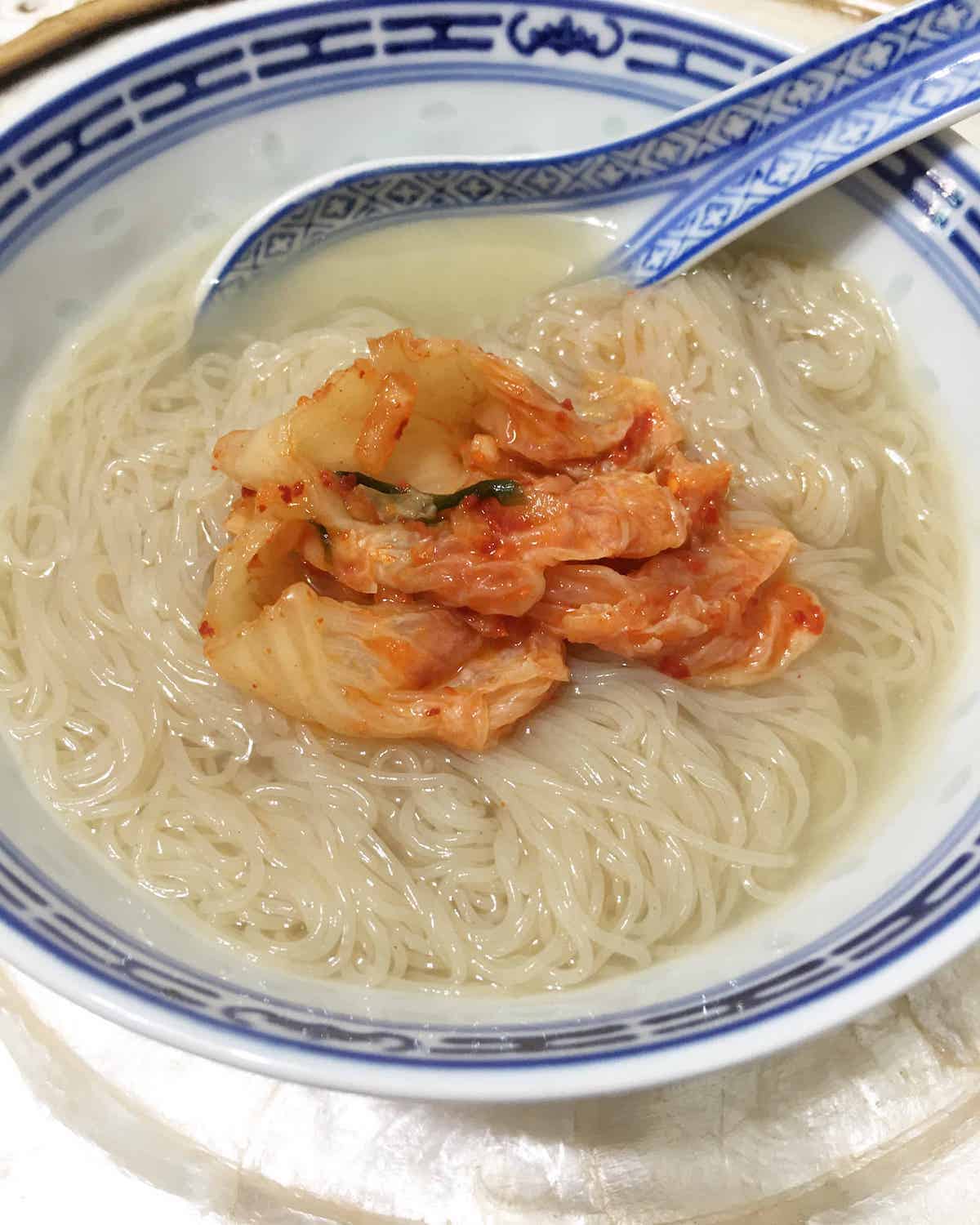 This is not the healthiest option, but some brands can be really delicious! (Click here for a review of Korean instant noodle brands- Korean food is very popular in Asia.)
For example, Gong Zhai Mein, or Hong Kong Instant Noodles, is a popular Cantonese breakfast recipe.
In fact, you can DIY your own make-ahead instant noodles that can be kept in the pantry (don't have to be refrigerated):
Place dried mung bean vermicelli (glass noodles) in a heat-proof airtight glass jar
Add some chicken stock powder or bouillon cube (you can use seafood or vegetable flavour too) on top
Place some roasted seaweed on top
Right before you want to eat: Pour boiling water into the jar, ensuring the noodles are submerged, and leave for 5-10 minutes before eating.
Optional: season with miso sauce, sesame sauce, kimchi, chilli oil (if you want spicy noodles), soy sauce, sesame oil etc and garnish with ginger, spring onions or coriander.
Tip
You can make these noodles with a variety of stock powder (from shrimp to pork to congee) and thus in lots of different flavors!
Soup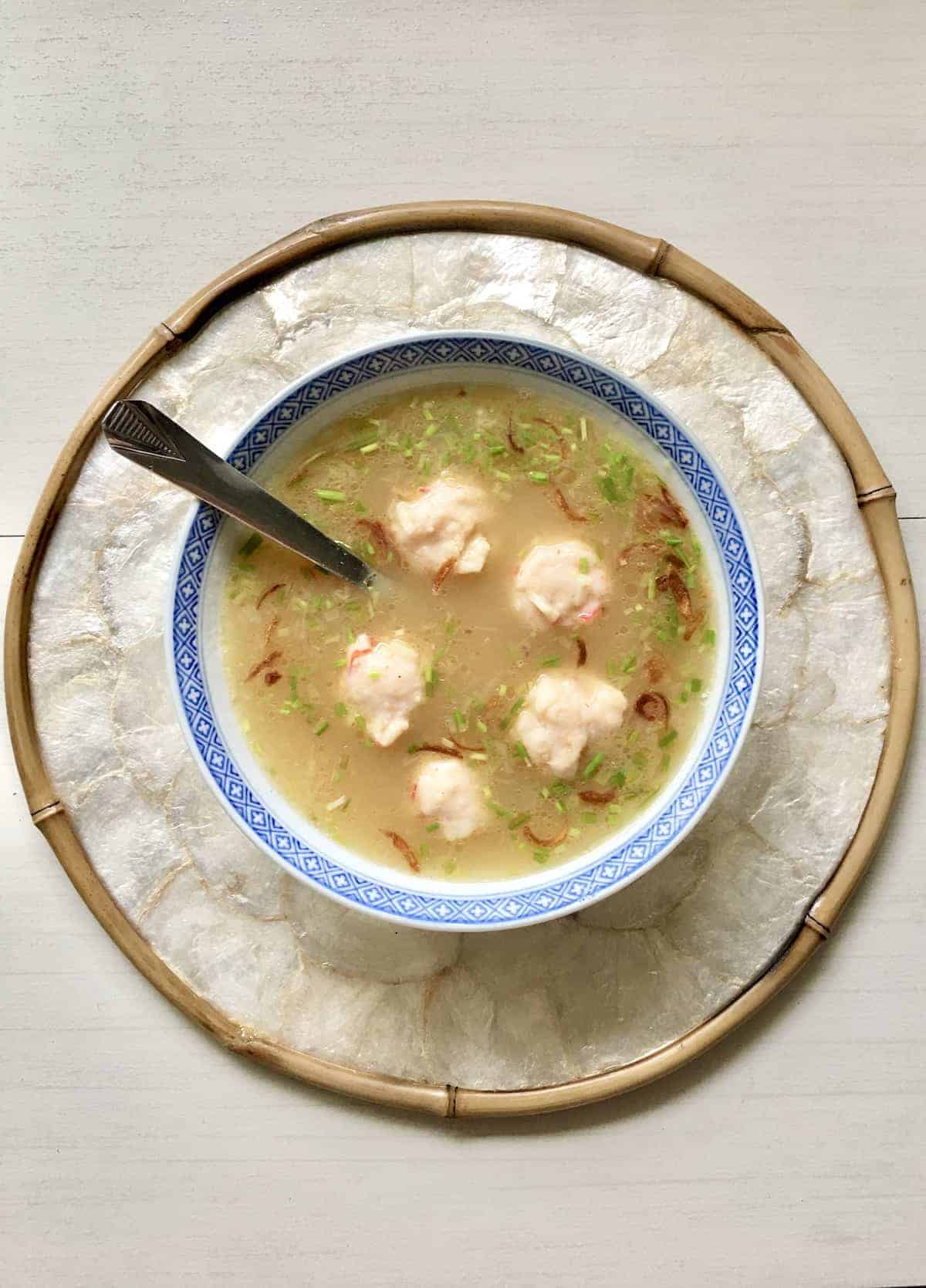 If you can't handle carbs so early in the morning, a bowl of soup may suit you better. I remember going with my Grandfather for bak kut teh (a peppery pork broth that is scrumptious with white rice) and chee cheong fun, every week when he was alive.
This wonton noodles soup is a really easy dish to cook as you don't have to spend hours boiling pork or chicken stock!
Easy Vegan Wonton Soup for Colds
Done in 20 minute vegan Chinese wonton soup that tastes as good as the traditional version. Gluten-free and made without commercially bought stock/ bouillon cube OR hours of making homemade stock! A great flu fighter thanks to the ginger and garlic!
Click here for a plant-based wonton soup recipe.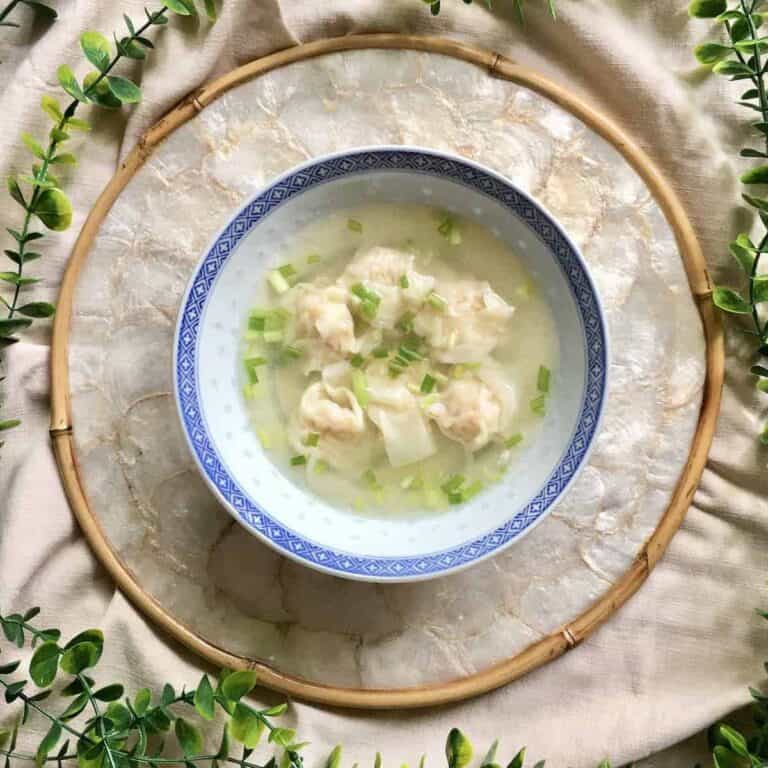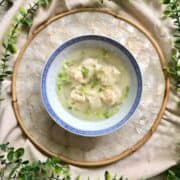 Fried rice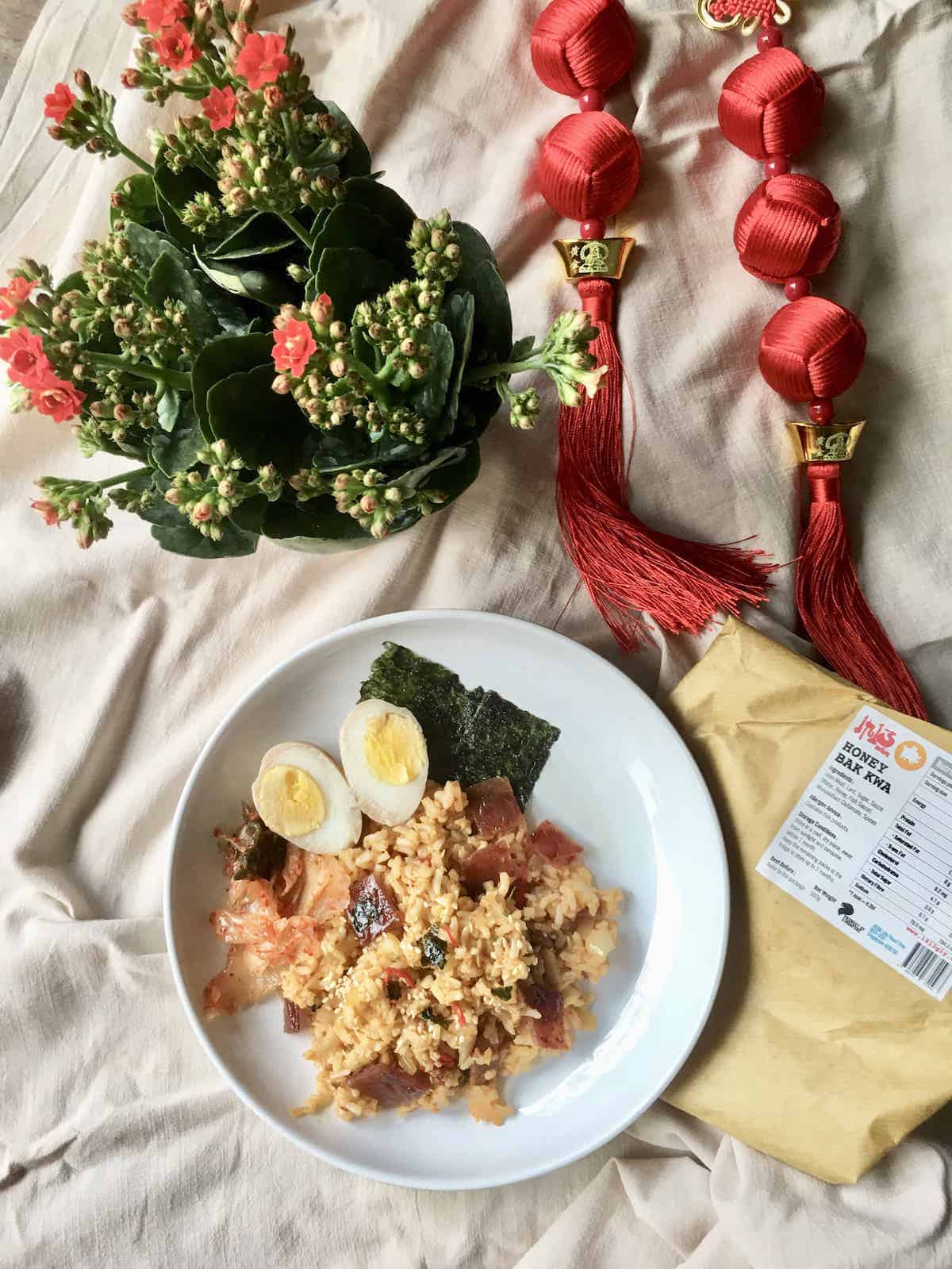 If you have leftover rice from the night before, fried rice is calling your name! (This works for Japanese sushi rice too.)
Click here for more fried rice ideas but remember to store the rice carefully as it can result in bad food poisoning!
Dumplings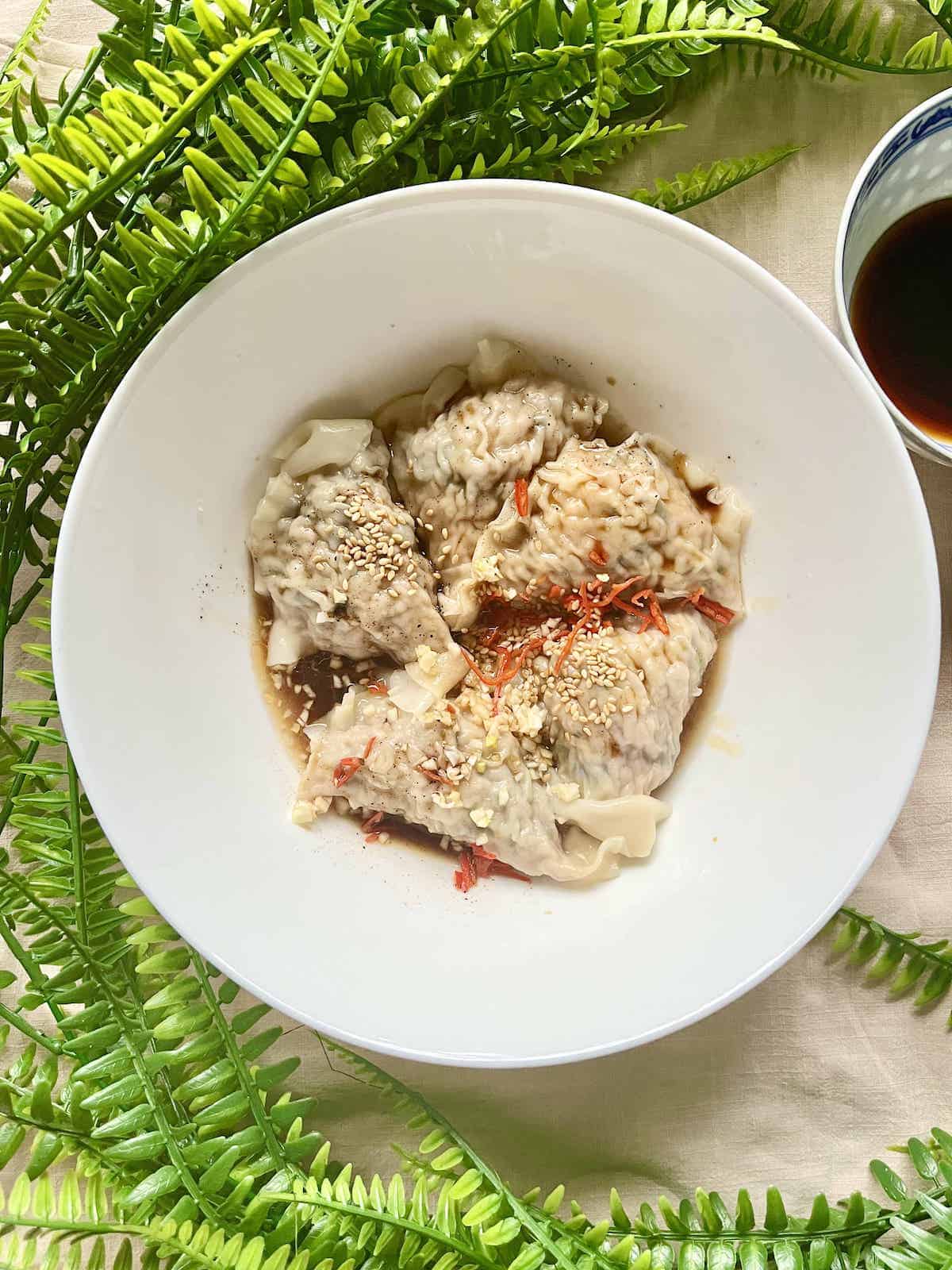 There are many Chinese dumpling recipes, such as wonton and shui gao, but here is an easy jiao zi (Northern Chinese dumplings) recipe from Kuali. Don't forget to serve it with the tangy dumpling dipping sauce!
Tip
If you're serving dumplings as the main and can't decide what to serve with them, here are some good Asian side dishes.
Dumplings freeze well so make a large batch 1 weekend and this meal prep will last you for months!
Bread
Savoury flatbread/ Scallion pancakes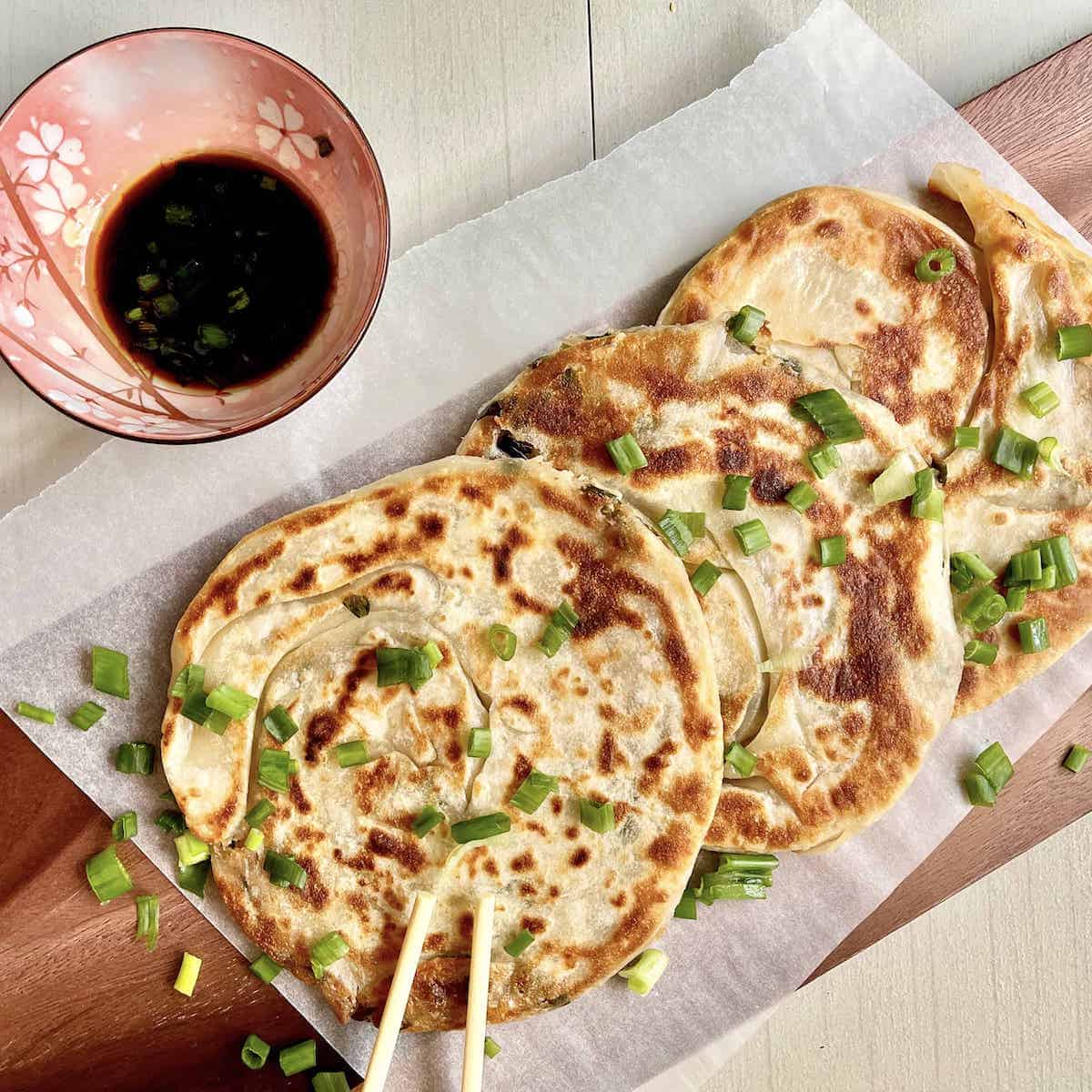 Expert Tip: These are a great make-ahead breakfast as they freeze well and can be cooked from frozen. Just make sure to use parchment paper to separate each pancake so that they don't stick and tear! If you can't get lard, you can use oil or 1 of these lard substitutes.
For green onion alternatives, click here.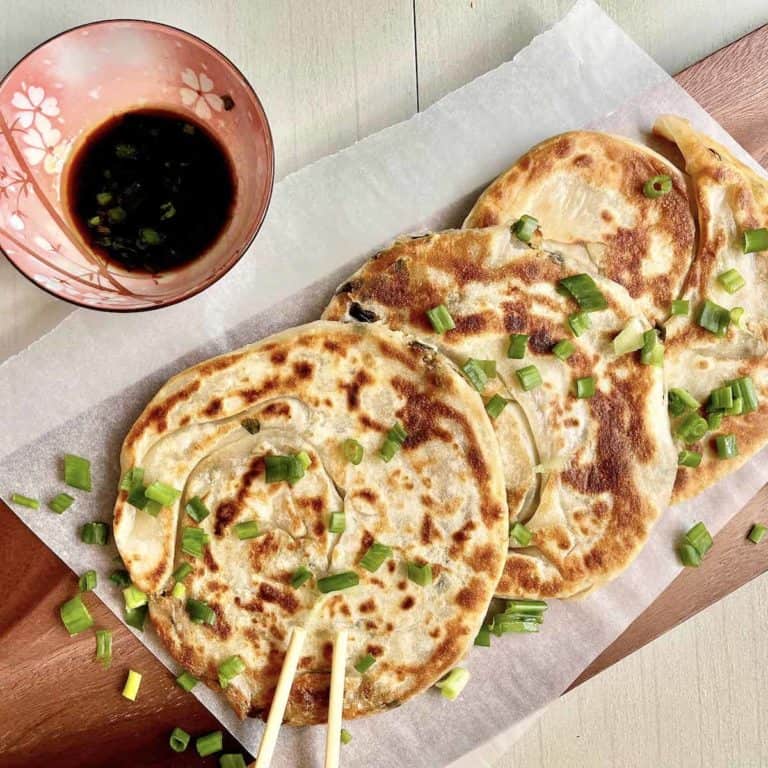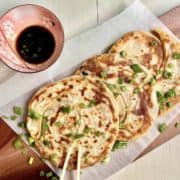 Jian Bing
1 of the most popular Chinese breakfast recipes is Jian Bing, a popular Chinese street snack similar to a rolled-up savoury crepe.
Other popular Chinese flatbreads are Chao Bing and Ji Dan Bing.
Buns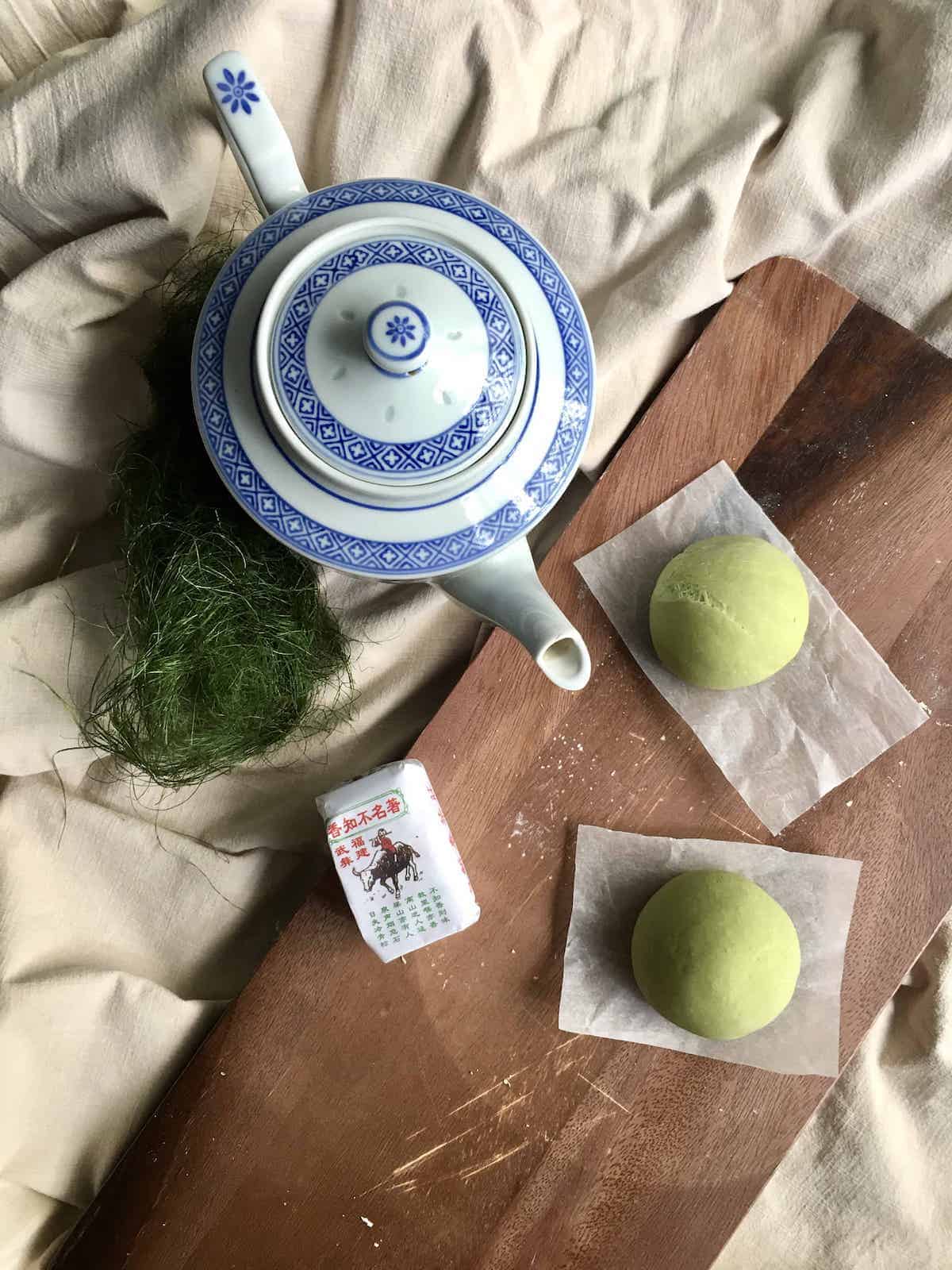 Buns (baozi) are 1 of the most common forms of bread found in China. (If you want something baked such as shokupan bread, click here for more Asian bread recipes.) Chinese buns can be eaten plain or stuffed with sweet and savoury fillings.
Examples of sweet buns are:
Some savoury stuffed buns include:
char siew bao pork buns (filled with roast pork)

Click here for the Whattocooktoday recipe- it's 1 of my favourite Asian blogs!

Sheng jian bao

Unlike char siu baos, this popular street food has crispy bottoms, like potstickers.
If serving guests, you can impress them with scallion flower rolls, which look quite pretty!
Mantou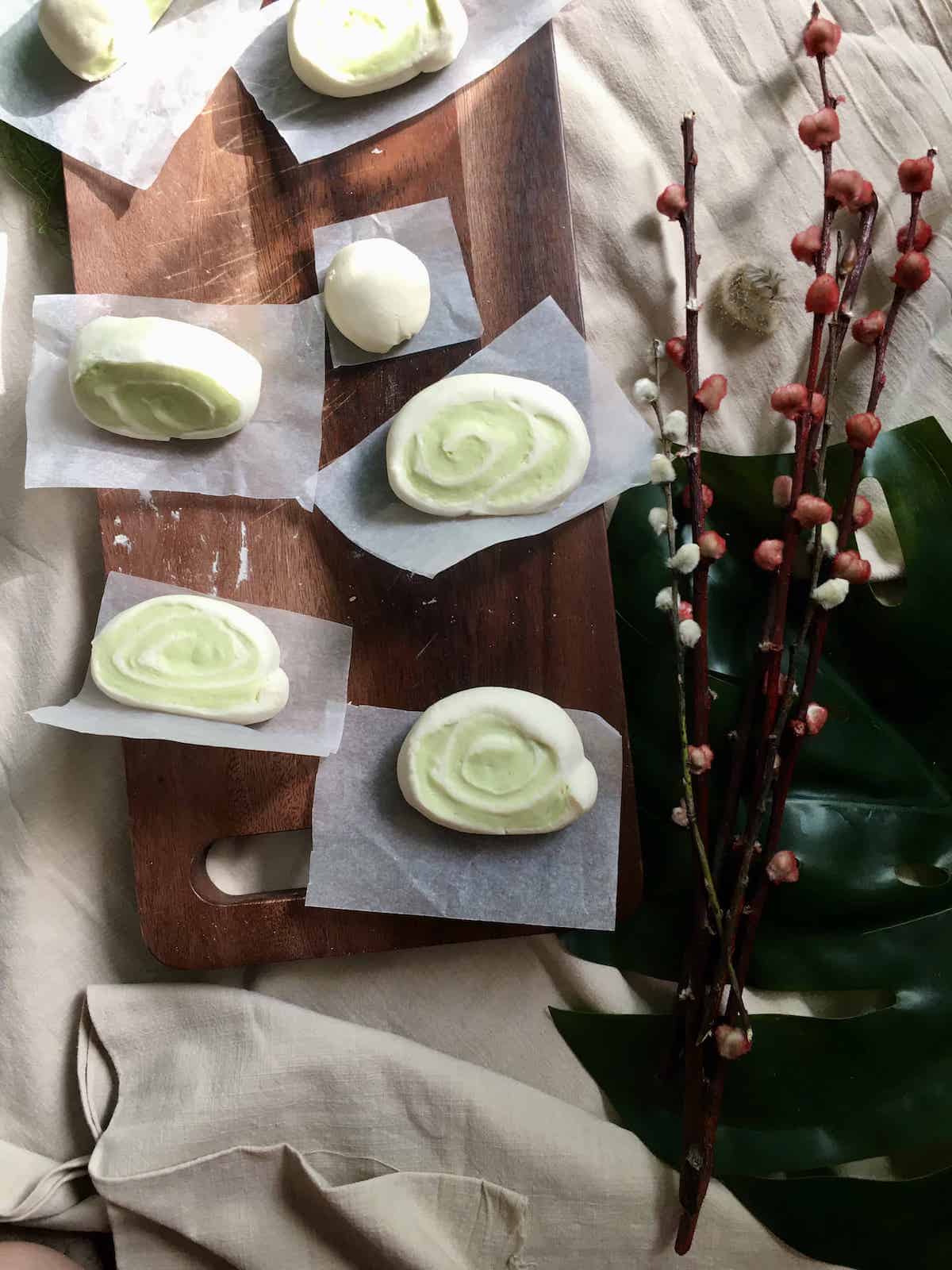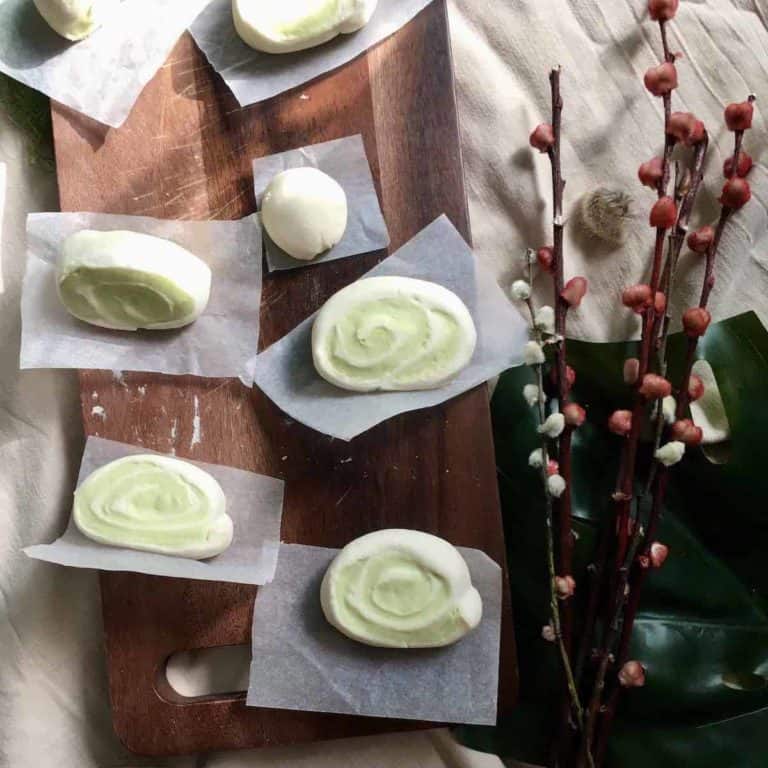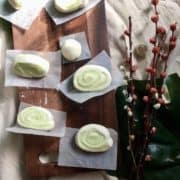 Easy Matcha Buns (1-rise Mantou)
An easy matcha bun (Chinese mantou bao) recipe which only requires 1 proof (1 rise), along with a mantou FAQ section on how to use a metal steamer (instead of the traditional bamboo steamer) and why your naturally vegan matcha buns aren't smooth.
Click here for the green tea steamed buns recipe.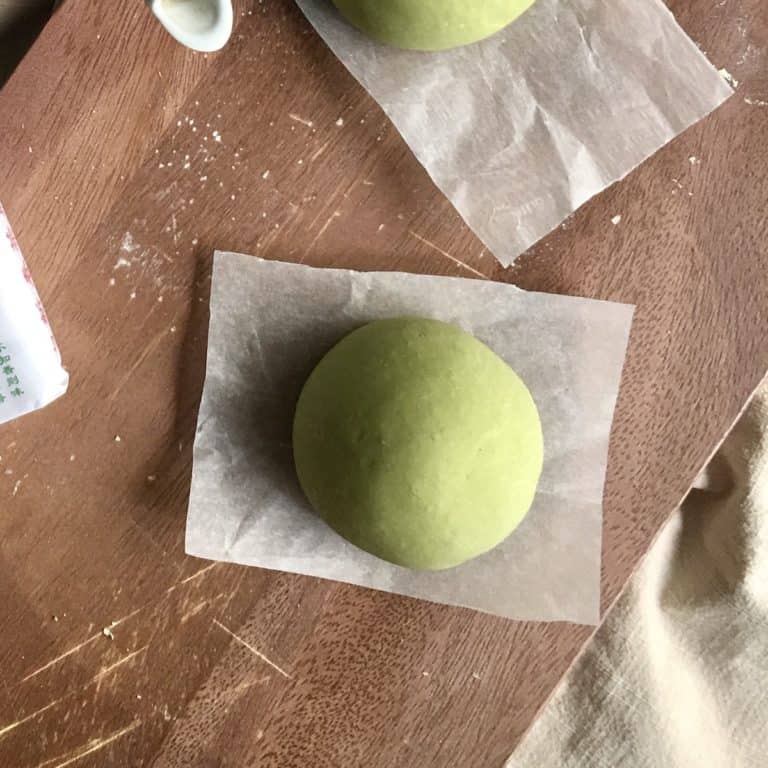 Tip
These 2 steamed buns freeze really well and there's no need to thaw before steaming, so you can make a huge batch then freeze them for future Chinese breakfasts!
You can easily vary the colour of the spiral mantou by using other natural colourings such as turmeric powder, matcha powder and cocoa powder.
Others
Dim sum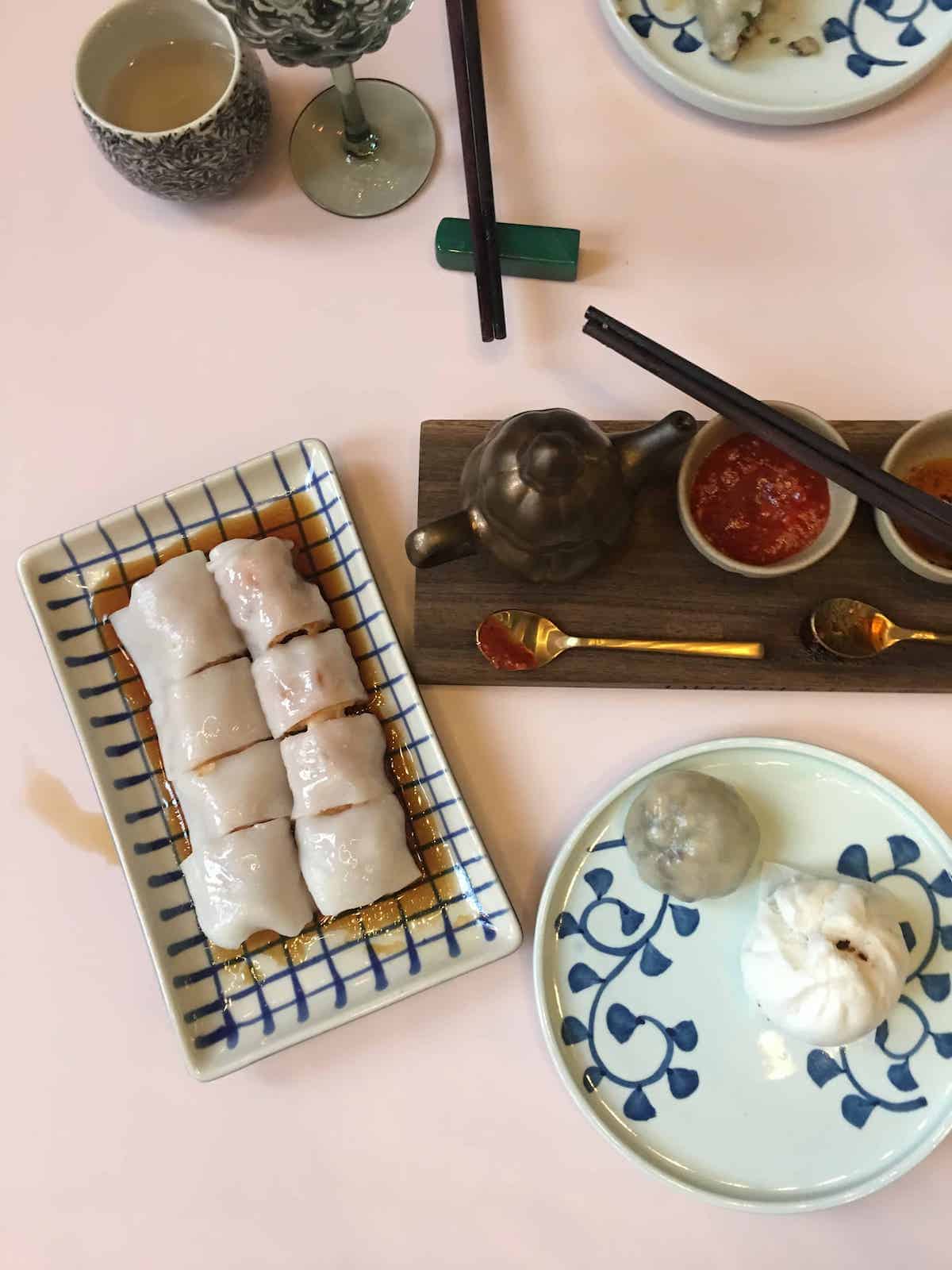 Dim sum is eaten for both breakfast and lunch. These range from sweet ones such as Hong Kong egg tarts and savoury ones such as Shumai and Lou Bak Gou (Turnip Cake).
Expert Tip: These days, you can buy (or make) frozen dim sum from many Asian supermarkets and steam/ boil/ fry these bite-sized snacks for breakfast. (I have some homemade lo bak gou/ turnip cake chilling in my freezer as I type!)
Marinated Hard-boiled Eggs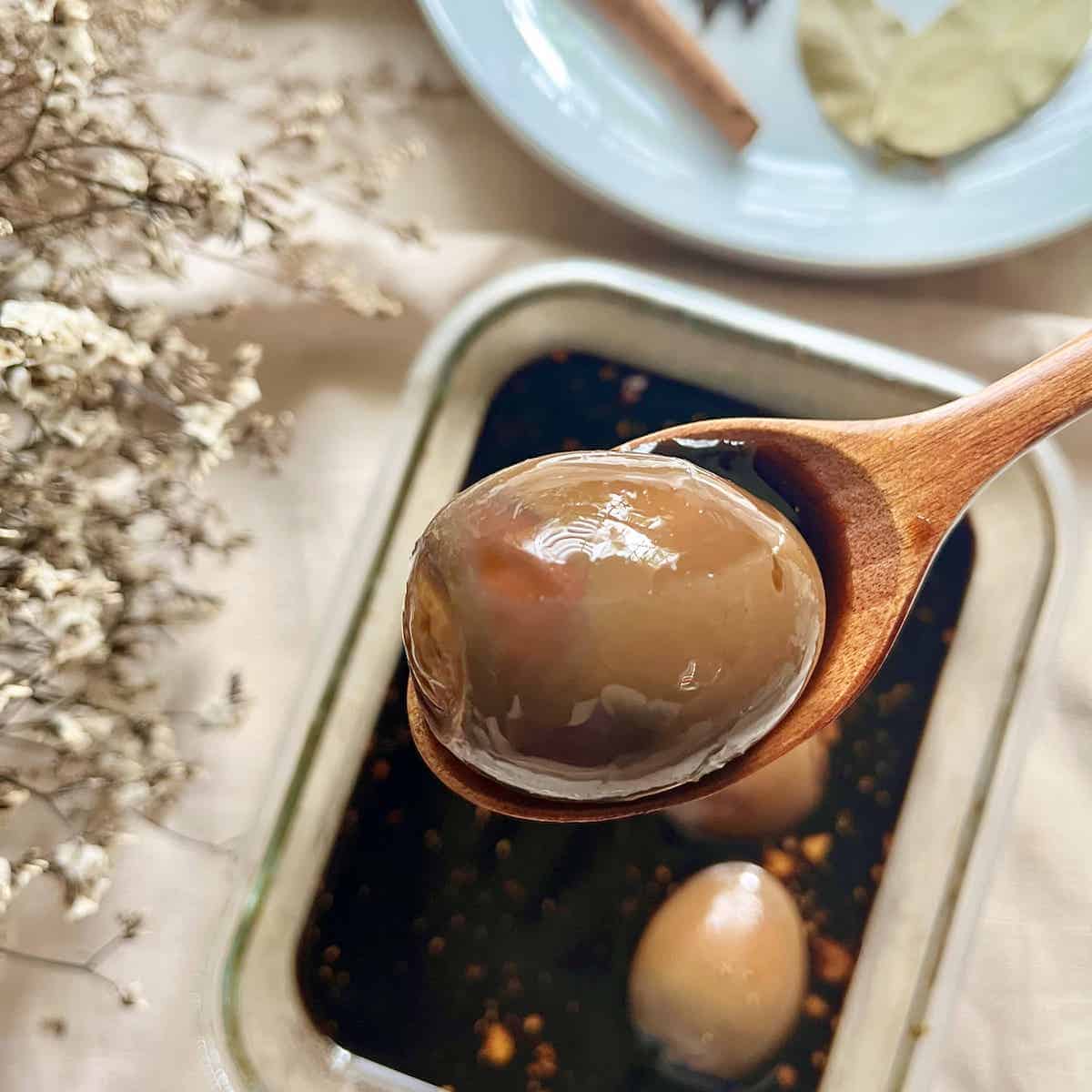 You can make Chinese Braised Eggs or Taiwanese Tea Eggs!
Both last for a few days in the fridge so they're great Chinese breakfast recipes- you can make a batch on Sunday to feed you for the coming week! The latter is beloved for their savoury flavour and their marbled appearance!
Expert Tip: You can braise other ingredients with your tea eggs such as mushrooms and tofu.
Chinese Braised Eggs
Chinese Braised Eggs is a delicious, easy make-ahead dish that can last for almost a week in the fridge! It makes for a very comforting meal, even with just a bowl of white rice or porridge. It usually needs to be marinated overnight in the fridge before it can be eaten, but I show you how to vary the recipe so it can be eaten immediately.
Click here for the Chinese Lu Dan recipe.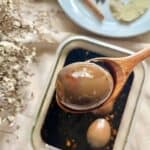 What to Drink
Yep, Chinese people drink tea at all times, including at breakfast! This can range from Pu-erh to a lighter green tea.
Note: For some popular Asian teas, click here.
What are some of your favourite traditional Chinese breakfast recipes? If you've found these useful, please do share them on social media and I'd love to hear about your favourite breakfast dishes in the comments!