The best lard substitutes, from animal-based to plant-based alternatives, for cooking and baking.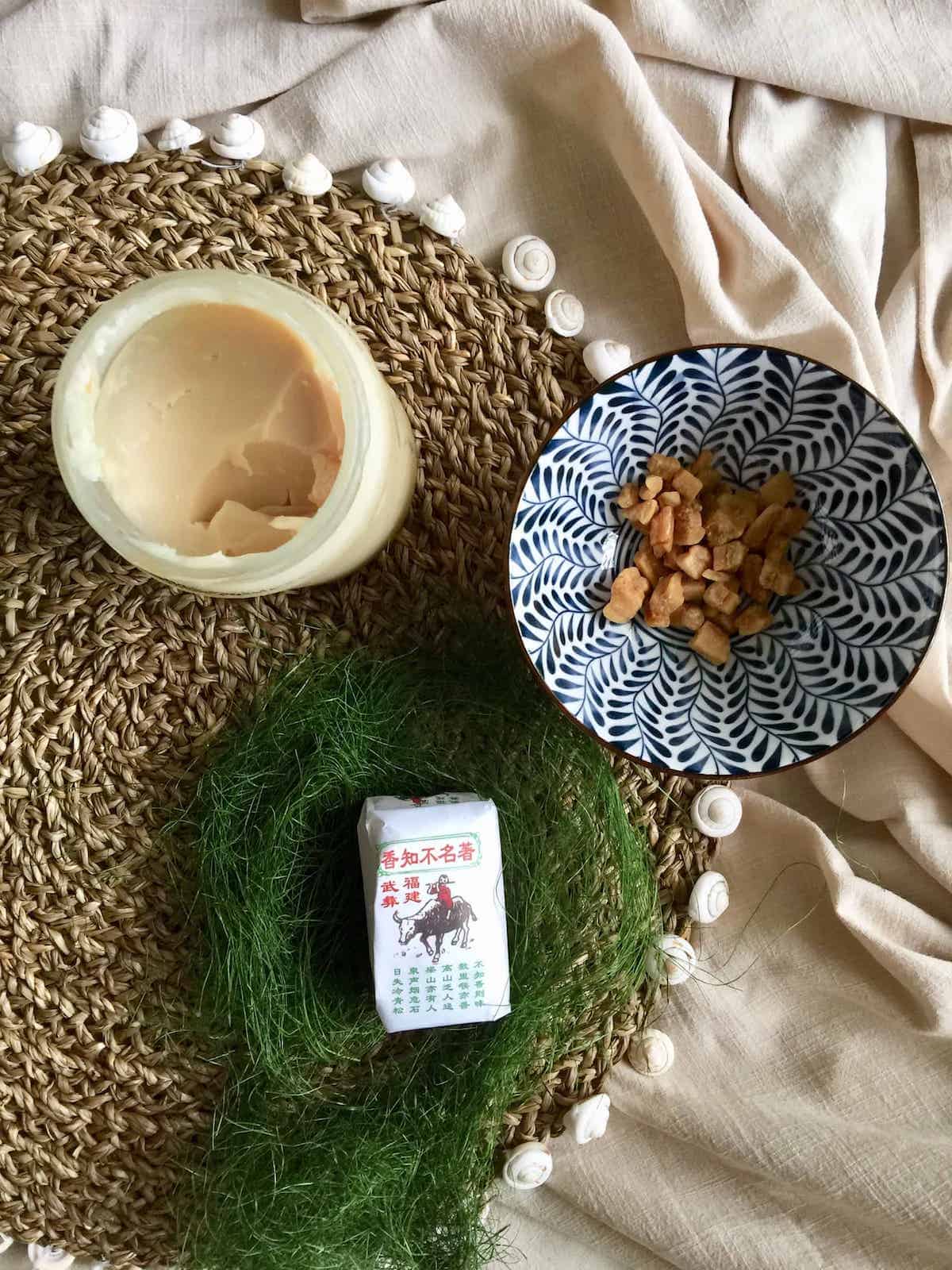 Jump to:
What is lard?
Lard is an old-fashioned ingredient used in both Eastern and Western cooking and baking. It is semi-solid at room temperature but becomes a solid fat when cold.
The key to making really, really good traditional Singaporean and Chinese street food, such as spring onion pancakes and hokkien mee, is to use pork lard- it gives hawker food an incredible flavour that regular oil just can't replicate!
Although you can buy ready made pork lard in the grocery store, I prefer to use homemade pork lard and lardons in my cooking/ baking because the store bought animal fat contains lots of additives, which can taste "off". If you're unable to buy or make your own, I have a list of the best substitutes for lard in this post.
Uses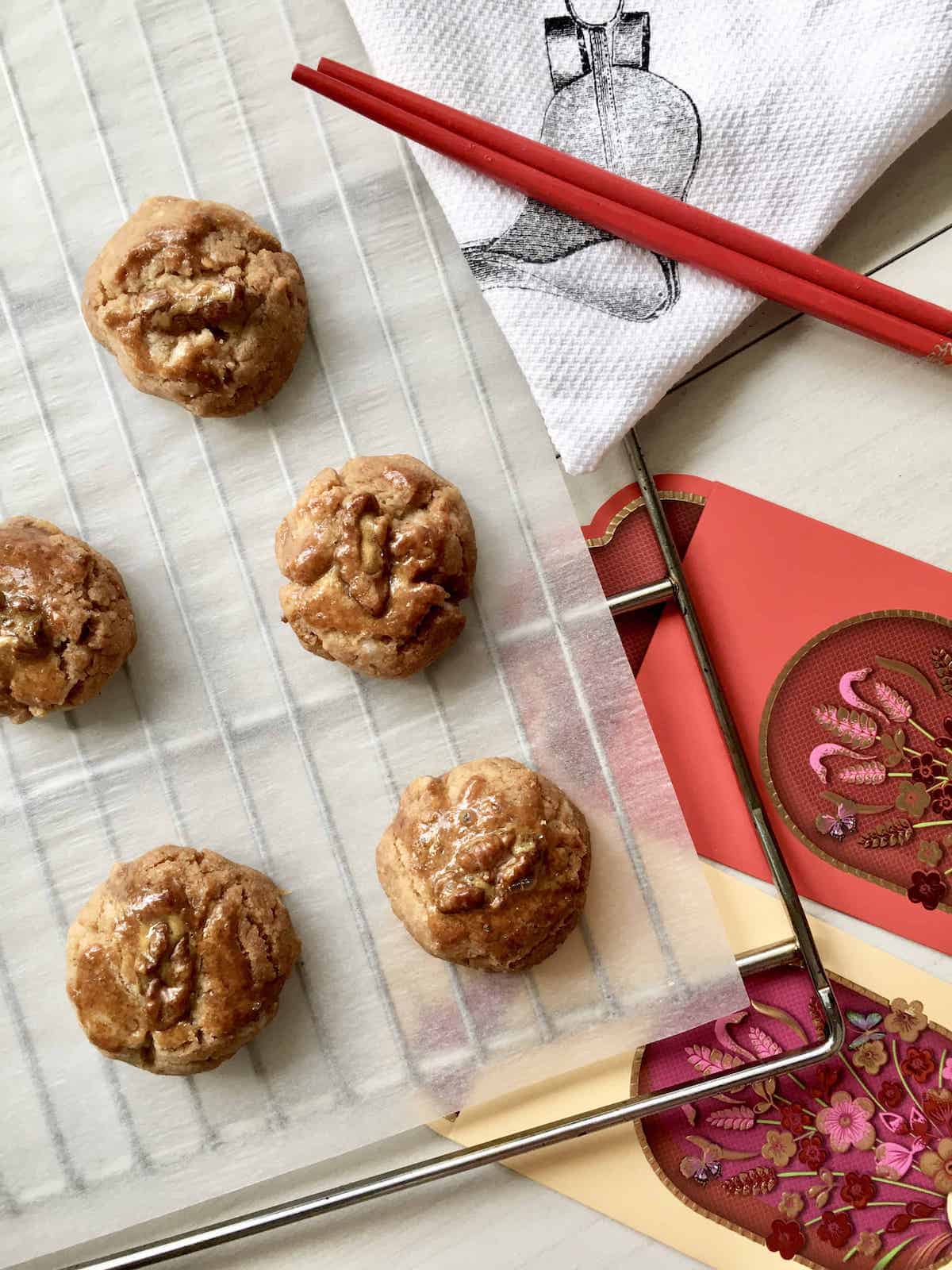 Traditionally, Chinese cookies were made using pig fat.
Lard, or the rendered fat of the pig, is used in traditional Chinese cooking for its high smoking point & great flavor. (Chinese people love pork.)
It also used for both Chinese and Western pastries and cookies, as it has a high melting point and thus results in very flaky pastries (think super flaky pie crusts.)
Health benefits
Several blogs claim lard has fatty acids and thus health benefits- I'm not a nutritionist so I really can't say!! It is true though that lard has:
60% monounsaturated fats vs butter's 45%, most of which is oleic acid (a fatty acid good for your heart that is found in olive oil)
no trans fat (unlike some shortening and margarine)
However, in Singapore, the government actually says the opposite: street food hawkers are encouraged to use vegetable oil instead of lard as it is healthier so..... any nutritionists out there that can comment?
Types
Lard can be made from different parts of the pig:
leaf lard (a white fat) comes from around the pig's kidneys or loins- it is considered to be the best for pastries due to its neutral flavour and nice white color
fatback- great for stir fries and crispy lardons
pork belly fat- not recommended if you can get either of the above
FAQ
Is lard vegan or vegetarian?
NO- lard comes from pig fat so it's not vegan and not suitable for those on plant-based or halal diets.
Can you substitute lard for shortening?
Just as shortening can replace lard, lard can also be used instead of shortening, assuming that there are no dietary restrictions (e.g. vegetarian, vegan, halal etc.) In fact, using lard in place of shortening will make your resulting dish even tastier!
Animal-fat
Bacon grease
Like lard, bacon grease comes from the pig. However, lard is rendered from pork fat whilst bacon grease comes specifically from bacon- the latter has a salty, smoky flavour compared to lard's neutral taste, giving food even more umami!. You can make bacon fat at home in the same way you make lard.
Obviously, due to the distinctive taste of bacon, lard can only be replaced with bacon fat in certain recipes- using bacon fat for pineapple tarts, which were traditionally made with lard, for example, would result in a very unique cookie flavor!
Note: bacon grease is salty so you will need to reduce the amount of salt in the recipe and/ or you may need to use less bacon grease than you would have lard.
Butter
Butter is a great alternative to baking with lard as it is another animal fat with a delicious flavour. You can also use it to replace lard when cooking but only if not cooking at high heat- butter has a lower smoking point than lard (350F/ 175C), so it would work well for Western food, but not so much for stir-frying as Chinese food is usually cooked at high temperatures.
You can, however, use ghee or clarified butter to substitute for lard in the dishes that need to be cooked over a very hot fire.
The amount of butter you need to replace lard will vary depending on the recipe.
Tip: remember to use unsalted butter, if not you'll have to reduce the salt or soy sauce in your recipe!
Beef tallow
Beef tallow is a saturated animal fat made by rendering beef fat, so whilst it is a good alternative to lard in many recipes, it is not suitable for those looking for healthier alternatives to lard. It actually has a higher smoke point than lard so you don't have to worry about burning (400F/ 205C to 370F/ 185C.)
Replace in a 1:1 ratio i.e. 1 cup of beef tallow for 1 cup of lard.
Note: some Chinese people, though not vegetarian, don't eat beef due to religious beliefs.
Chicken Schmaltz
Another animal fat that can replace lard is chicken schmaltz- it has almost the same smoke point (375F/ 190C).
Duck Fat
Duck fat is another tasty replacement for lard. Like chicken fat, its smoke point is 375F/ 190C.
Vegetarian/ vegan alternatives
For those on vegan diets or follow a halal diet, the following are the best lard alternatives.
Vegetable shortening
Shortening contains more fat and less water than butter, making it more similar to lard- it can be used to replace lard in baking. However, vegetable shortening is tasteless, unlike butter and lard.
Replace in a 1:1 ratio although, if not on a plant-based diet, most people like to mix the shortening with some butter to make up for the lack of flavor in shortening.
Note: you need to use sustainably sourced shortening if you're on a vegan diet.
Tip: a popular brand is Crisco!
Margarine
If you can't get shortening, you can also use margarine instead of lard to bake or cook. In Singapore, street hawkers usually use margarine instead of lard or butter when they make salted egg dishes, as it's cheaper!
Note: you can also use vegan butter which usually contains some margarine.
Vegetable oil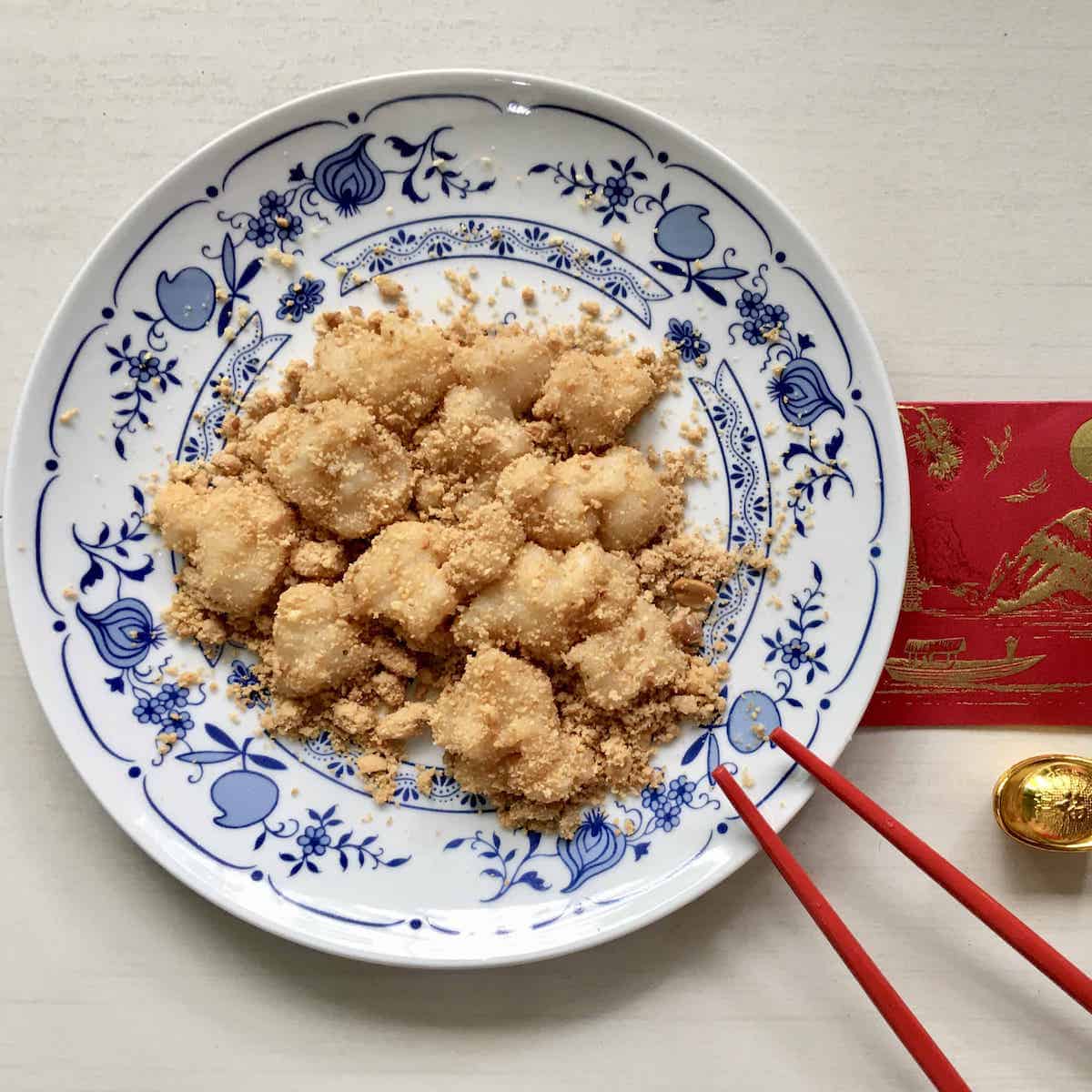 There are many different types of vegetable oils, all with varying smoke points of about 390F-510F (195C- 265C), which can replace lard in various recipes.
In Asia, popular vegetable oil substitutes which can withstand high heat cooking are:
palm oil
canola oil
soybean oil
peanut oil
sunflower oil
Coconut oil
Whilst coconut oil can substitute for lard in cooking and baking, unfortunately, it also has a very strong flavor. The taste often overwhelms the other ingredients in your recipe so it's only suitable for dishes whose flavours complement coconut!
Olive oil
Olive oil, a liquid fat, has a low smoking point so it's not suitable for strong fire cooking. It also has an olive flavor, so you'll need to use it carefully in your bakes- having said that, it definitely has a lighter taste than coconut oil!
Avocado oil
Avocado oil can be used for very high temperature cooking so is a good substitute for lard when stir-frying.
If you can't get avocado oil, you can try some mashed avocados or mashed banana in your bakes. Obviously, they won't work if you're looking for something to use in place of lard to cook!
What is the best alternative to lard, in your opinion? Let me know in the comments!