Samosas are an Indian deep-fried snack that are delicious on their own but often served with chutneys. Read through for 2 delicious samosa sauce recipes, which can also be used as Indian chaat dipping sauces.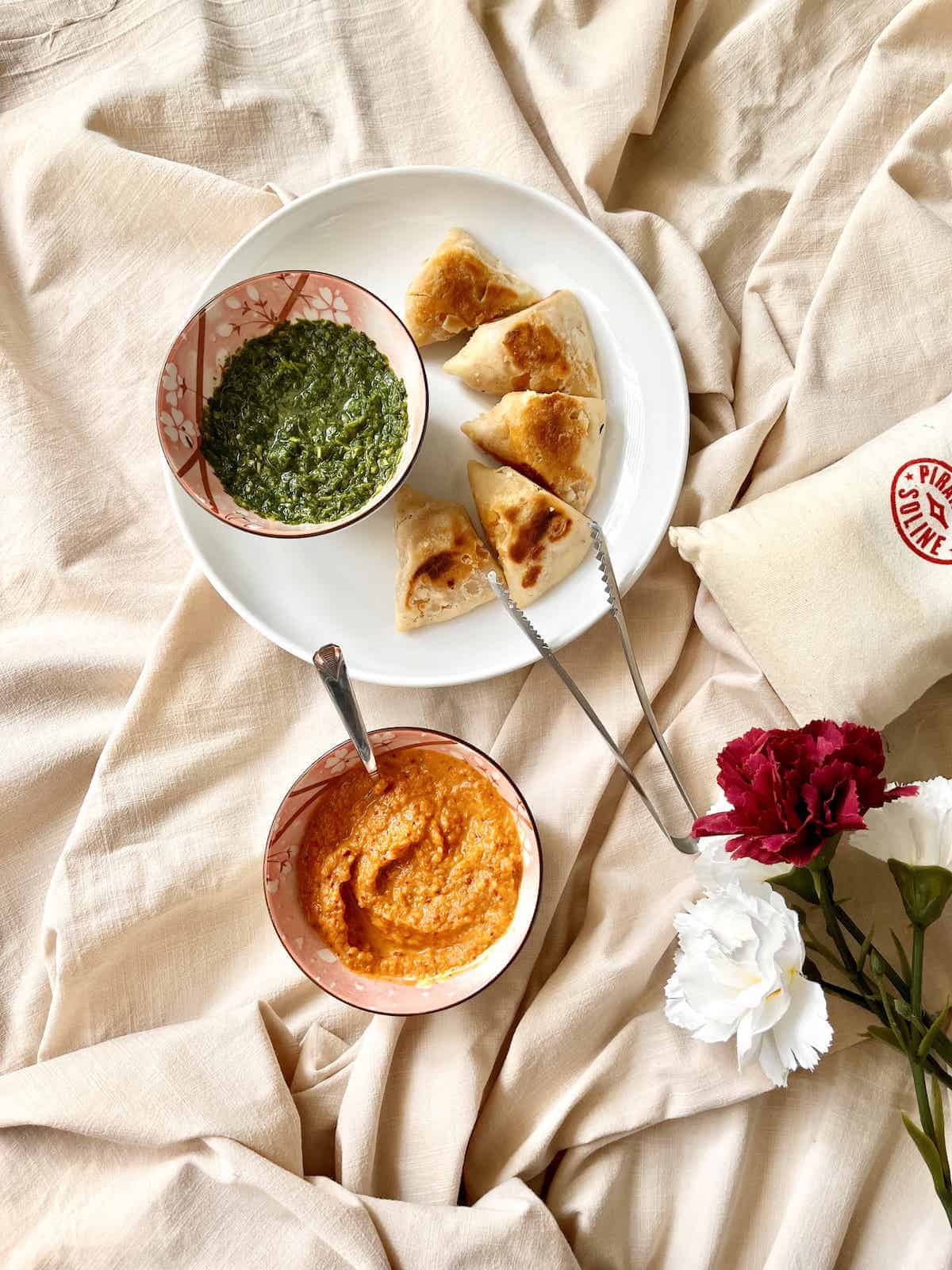 Jump to Recipe
Jump to:
What are samosas?
A beloved Indian snack and appetiser, this triangular golden morsel is believed to have been brought to India from the Middle East. There, it is thought to have evolved into other forms, such as the curry puff in Singapore & Malaysia.
Vegetable samosas are usually filled with a vegetarian spiced potato mix (not necessarily spicy), then deep fried to perfection. Keema, or minced meat fillings, are common too- this popular street food freezes very well and is thus the perfect make-ahead finger food for a Super Bowl party!
Taste
As samosas are often filled with a spiced mixture, the sauces are usually sweet, sour and not too spicy to complement the warm flavours. The sauces are typically made with fresh ingredients such as tamarind, cilantro, mint and Indian spices (cumin seeds, fennel seeds, garam masala "curry powder" etc). Mostly vegetarian (even vegan), they come in colourful combinations of yellow, red, green etc to create a beautiful platter with the vegetable and chicken samosas.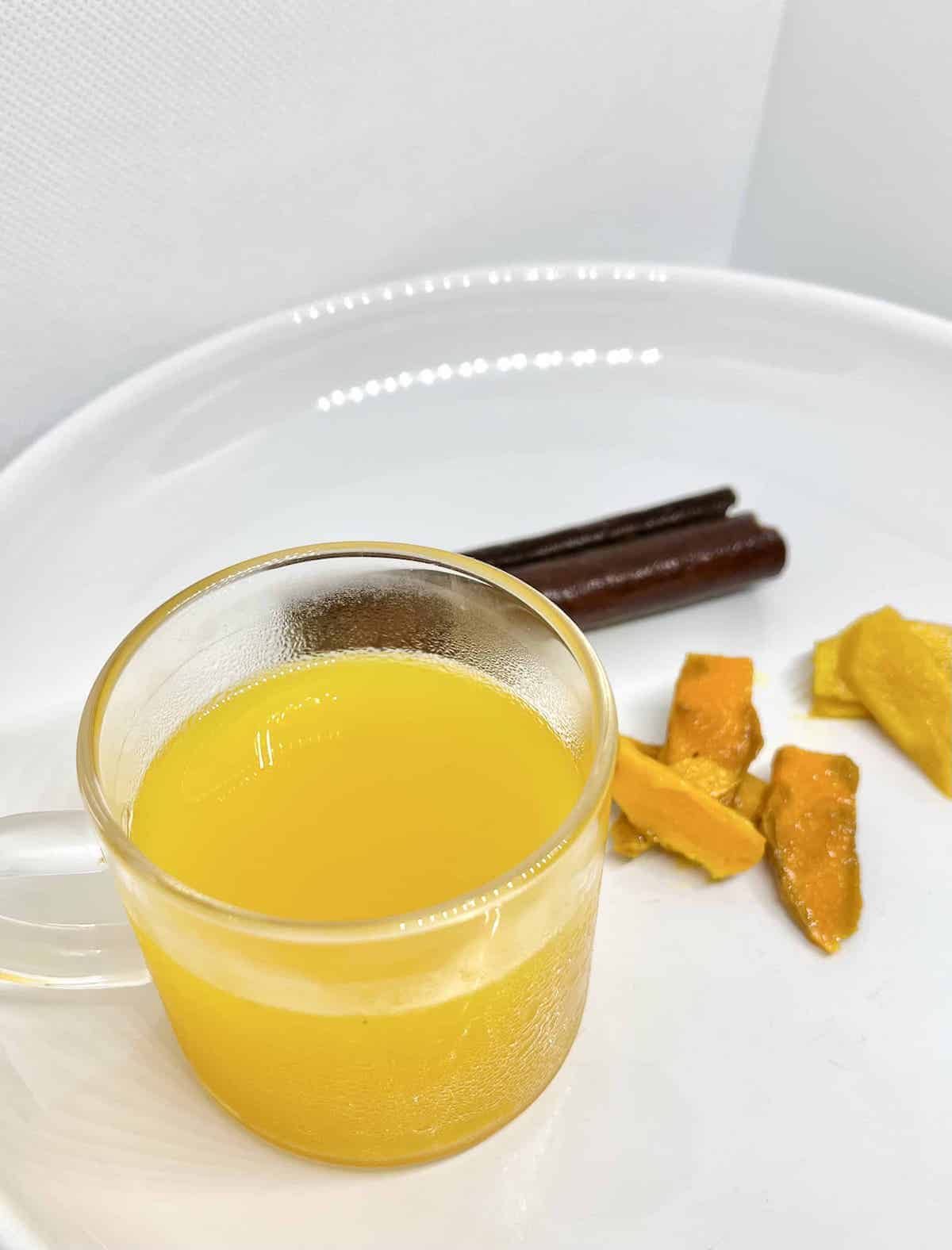 P.S. If you enjoy Indian food, you may like these Indian paratha side dishes or these vegetarian recipes.
Types of sauces
There are many dipping sauces and chutneys that can be used for samosas as well as bhajis and fritters! Brown sauce (tamarind chutney or Imli chutney), green sauce (mint cilantro or hari chutney) and red sauce (tomato chutney) are the 3 types most often seen at Indian restaurants.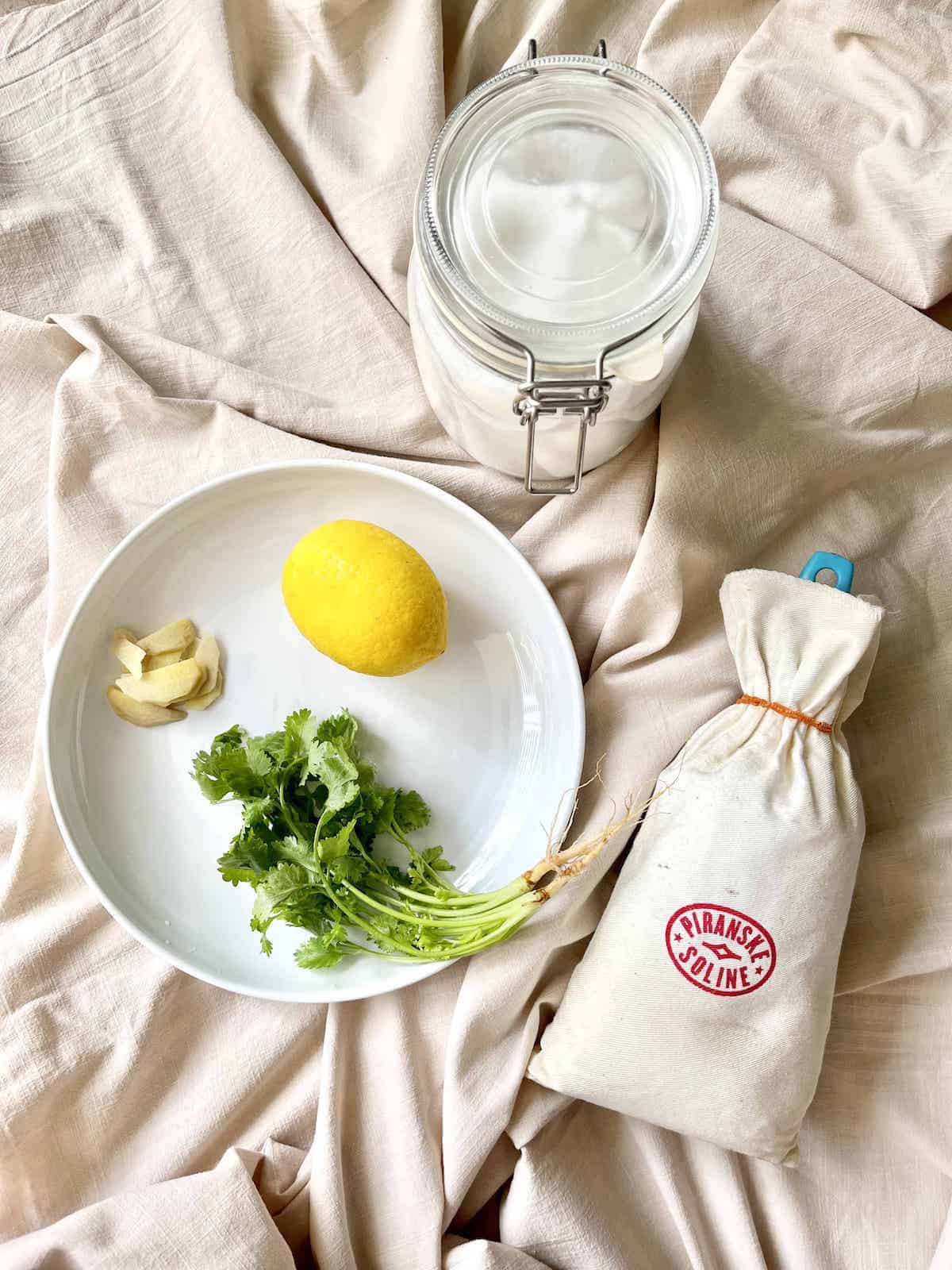 My favourite is green chutney as the lemon juice gives it a tanginess that complements the Indian samosa's warm spices perfectly. Red spicy tomato chutney is also delicious- it has more warm notes than the mint chutney- so I've included easy recipes for both in the recipe card below.
Green Mint Cilantro Chutney Sauce (Hari chutney)

The herbs make this dip very fresh- you can use mint, cilantro or both- and a squeeze of lemon or lime juice gives it its zing.

You can also substitute the lemon juice with vinegar- I've tested it and it still tasted good.

The herbs are blended or blitzed in a food processor with ginger, garlic and spices. Add some green chillies if you like your spice (I do!)
This coriander chutney be served thin or thick: if you prefer a more substantial sauce, use roasted ground peanuts, roasted gram dal or desiccated coconut as a binder.
Don't throw away the coriander roots- they're great for Thai cooking! You can use them in soup, or pound them with garlic and white pepper to make a sauce.

Best eaten fresh but can be kept in the fridge for 2 days.

I use the leftovers for my vegetable crudités!

Tomato chilli garlic Chutney

A red spicy sauce made with onions, tomatoes, and ginger that is popular in both Northern & Southern India
You can customise the spice level by of this red chutney adjusting the type and number of chillies added.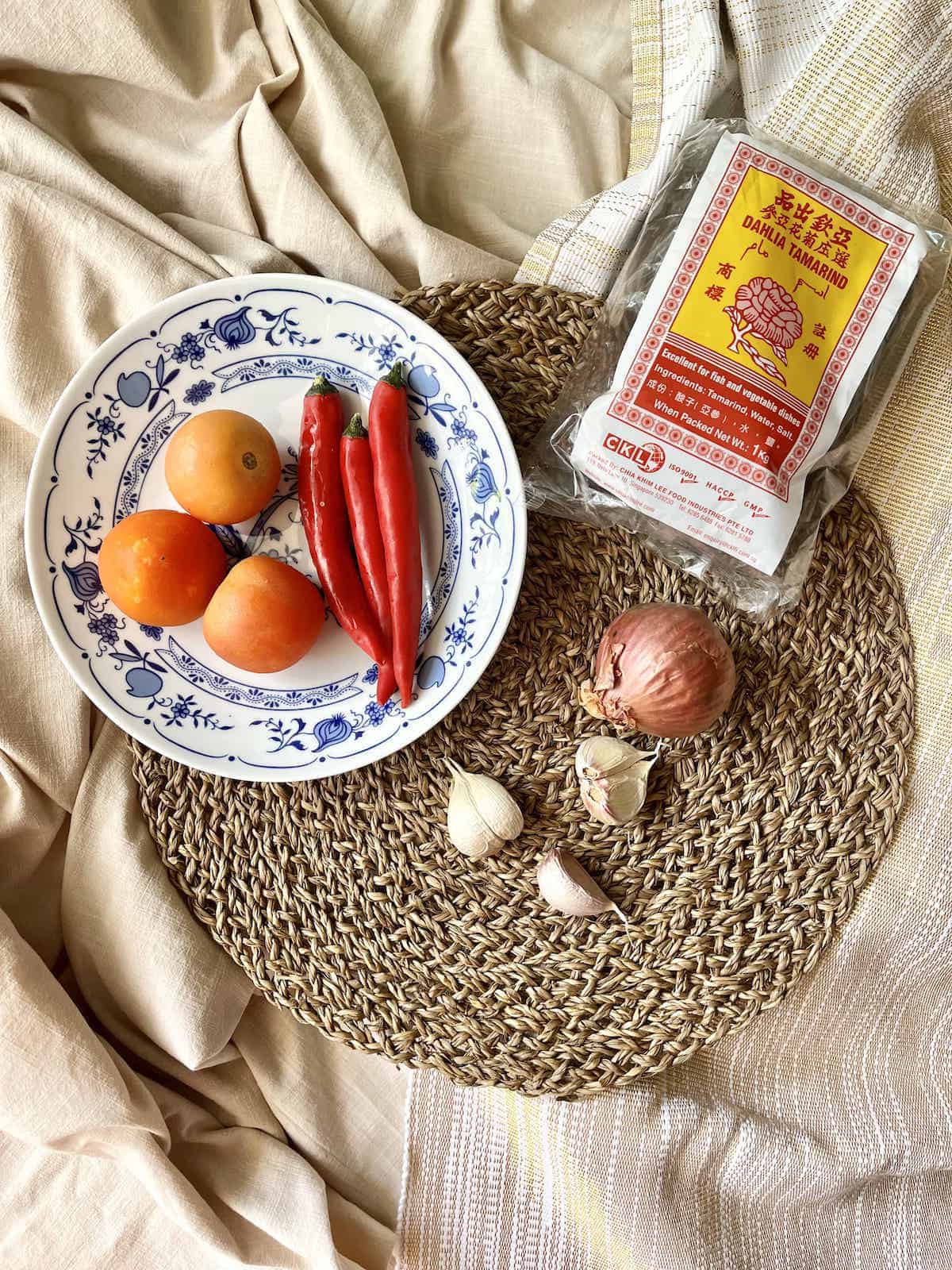 Sweet Tamarind Chutney (Imli chutney)

A sweet and sour brown sauce made with tamarind juice, jaggery and spices, this is tamarind sauce is 1 of the most common Indian sauces

You can get tamarind paste at the Indian grocery store as well as general asian supermarkets too.

I once got fresh tamarind at the Thai grocer in London's Chinatown!
Check out more tamarind recipes here.

Yogurt Dip

A quick 3-ingredient dip using yogurt (you can go Greek), mint leaves and cumin seeds.
This goes really well with tandoori chicken too!
Yogurt helps to reduce the spiciness, so pair this with chili hot samosas if you have guests who can't handle the heat!
Click here for more under 5 ingredient Asian recipes.

Mango(aam) Chutney

Usually made with either ripe or unripe mangoes along with spice, pepper, and salt, mango chutney is sweet, sour and a little spicy.
I actually use this sweet chutney for sandwiches too!

Other fruit chutneys:

apple date chutney
cranberry chutney
pineapple chutney
date chutney
You can find more Indian chutney recipes here (under the vegetarian section.)
Substitutes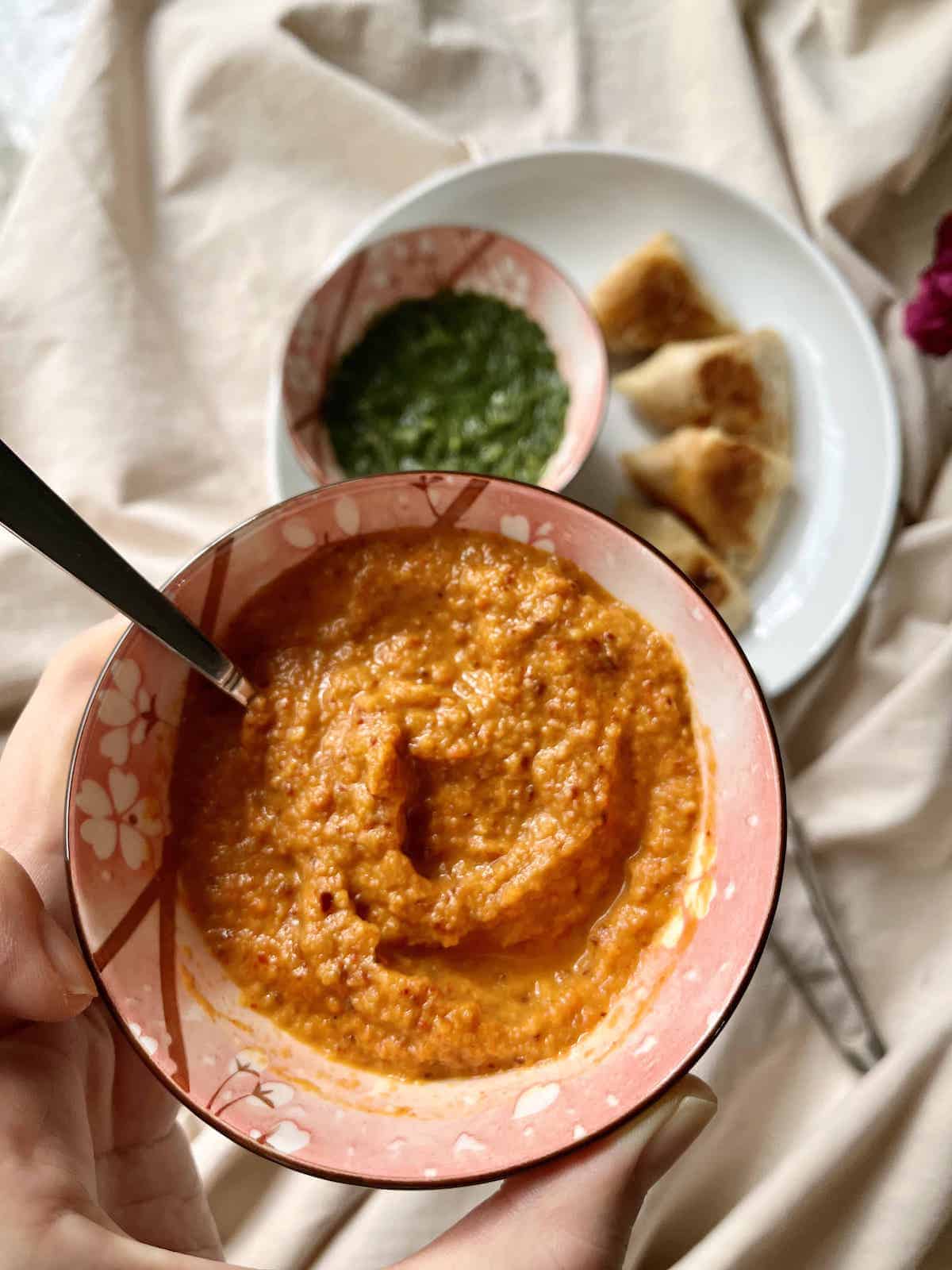 You can use marmalade or sometimes jam in place of chutneys when it comes to making sandwiches and wraps. As a dipping sauce for Indian chaat such as samosa, these are usually too thick, so you may need to heat up with some water to make them runnier.
A thin salsa may also be a good chutney alternative here, as both are sweet, spiced relishes. Also make sure to choose something that is a little more complex than a straightforward sweet jam (e.g. onion marmalade over strawberry jam would complement samosas better.)
Tips
Use jaggery instead of regular sugar to make the samosa sauces taste more authentic (brown sugar, in a pinch!)

If you want to reduce your usage of sugar, add dates or raisins to sweeten naturally

For homemade samosas, you can save time by replacing homemade dough with:

phyllo (filo sheet)
flour tortillas
spring roll sheets
puff pastry
wonton wrappers
egg roll wrappers

You can air fry the samosas (instead of deep frying them) if you're trying to be healthier. Some people bake them till golden brown but note that the amount of butter & ghee used will need to be changed if you want crispy samosa.
How to store
The sauces will keep in the fridge in an airtight container for - overnight for the green herb sauce and up to 3-4 days for the tomato chutney.
FAQ
What are the 3 common condiments served with Indian food?
Indian food is usually served with chutney (click through for 3 popular Indian chutney recipes), raita (made from yogurt) and achaar (pickles.) These sauces balance the flavours of the well-spiced Indian cuisine.
Is chutney the same as jam?
Although both are a form of preserves, chutney is made without pectin, unlike jam. Moreover, jam tends to be more one-dimensional in taste (sweet) whilst chutney usually includes spices and aromatics such as cumin and garlic or ginger.
Other Asian condiments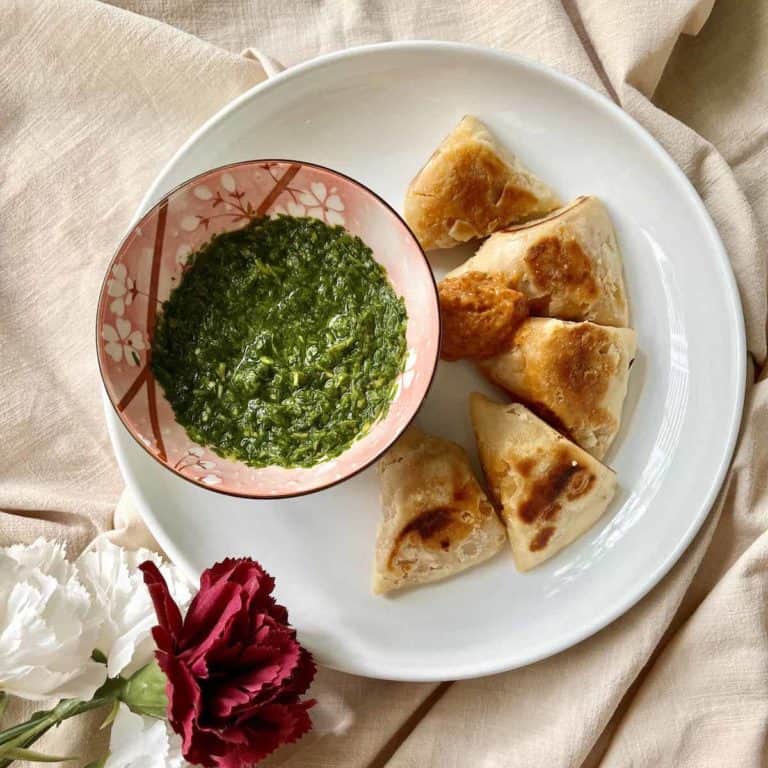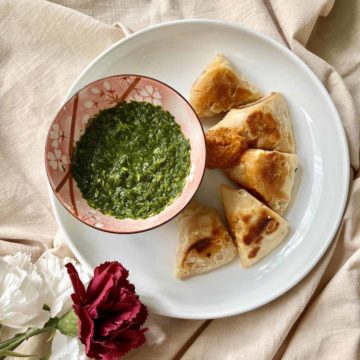 samosa sauce recipe (indian chaat dipping sauce)
samosas are an indian deep-fried snack that are delicious on their own but often served with chutneys. Here are 2 delicious samosa sauce recipes, which can also be used as indian chaat dipping sauces.
Equipment
Blender or food processor Substitute: mortar and pestle

Pot and wooden spatula

Knife and chopping board
Ingredients
Tomato chutney
1

onion, minced

3

cloves

garlic, minced

3

tomatoes, quartered

2-3

Tablespoons

tamarind paste

Mix with 2-3 Tablespoons water and strained- discard the pulp and keep the tamarind water for the red samosa sauce.

1-3

big red chillies, sliced

If it's not spicy enough, you can add more chilli powder later. Remove the seeds if you don't want it so spicy.

Salt, to taste
Cilantro green sauce
2-3

Cups

coriander leaves, washed

I used 8 coriander plants. Reserve the roots and stems for Thai dishes. You can pound them with garlic and white pepper to form a Thai spice paste. You can replace 1 Cup of coriander leaves with mint if you wish.

1-2

green chilies (sliced)

Optional. Remove the seeds if you don't want it so spicy.

1

thumb

ginger, peeled and sliced

1-2

Tablespoons

lemon or lime juice

Substitute: rice vinegar or apple cider vinegar or white wine vinegar. I've tried them and they work in this sauce.

2

teaspoons

white sugar, or to taste

½

teaspoon

salt, or to taste

⅓

Cup

water, room temperature

This is to help the herbs blend more smoothly.

Coriander leaf, mint leaf or pomegranate seeds

Optional garnish
Instructions
Tomato chutney
Heat oil in a pot. When the oil is hot, add the onion and saute for 5 minutes.

Add the garlic and stir fry for 2-3 minutes or till fragrant then add the chillies.

Add the tomatoes and stir 10 minutes.

Add the tamarind water and then salt to taste.

Allow to cool a little and blend in a food processor. Taste again and see if you need to add more salt or chilli powder. (If you made it too spicy, you can add cream or yogurt to reduce the heat.) Serve with the samosas.
Green coriander sauce
Add all the ingredients to the blender and blitz. Trickle the water in to help loosen the ingredients and get a finer paste. (You don't need to use all the water- stop when you are fine with the texture.)

Alternatively, pound it finely in a mortar and pestle.

Pour into a bowl, give it a good stir and serve with the samosa bites. (Garnish with a coriander leaf, mint leaf or slice of lemon if you wish. For something more colourful, you can sprinkle some pomegranate seeds on top.)
Notes
The tomato sauce can be kept 2-3 days in the fridge whilst the herb sauce should be finished within 1 day.
If you have extra, they can be used as a dipping sauce for crudités.
If you've like these samosa dipping sauce recipes, please do share it on your social media!