The 30 best Indian Side Dishes for Paratha bread, from pickles to curries and drinks for a filling and delicious meal.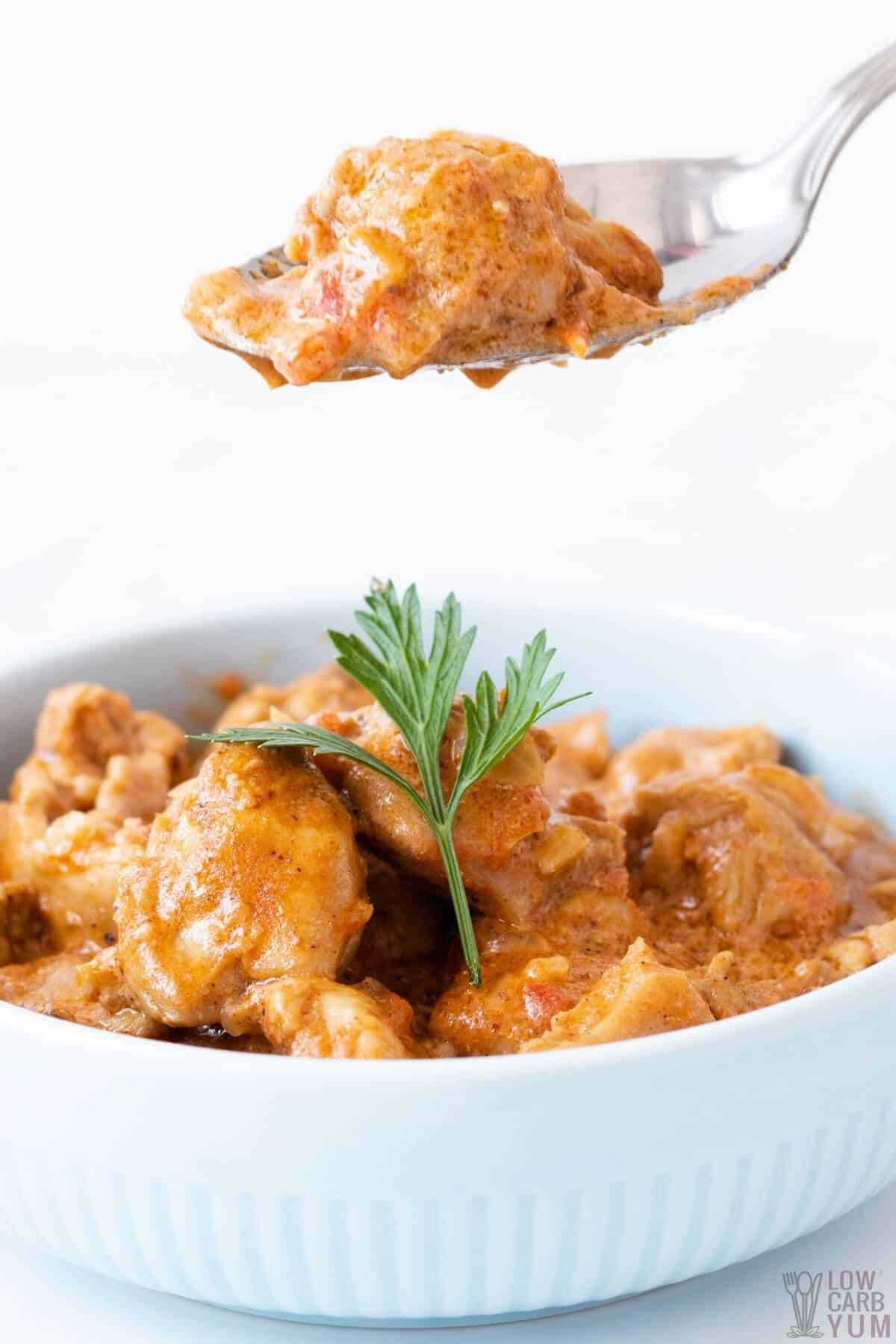 Jump to:
What is Paratha?
Paratha, not to be confused with parotta, chapathi or roti, is 1 of the most popular types of Indian bread. (There are about 30 different Indian breads.)
This unleavened Indian flatbread is crisp yet still flaky and chewy, with many layers created by slapping the whole wheat dough many times. The way it's made is a little similar to how a French croissant is made. However, you're folding ghee (and not butter) in the layers. After, which the paratha is baked in a tava then shallow-fried.
If you're wondering what to eat with paratha, here are some of the best Indian side dishes that go very well with this Asian bread!
Note: whilst naan bread, biryani, basmati rice, chapatti etc are all very popular Indian sides, I've not included them in this list of sides as I think it'll make the meal too carb-heavy.
Fun fact: Did you know that Indian Chickpea flour, also known as Besan or gram flour, is a good egg substitute? Simply mix it with an equal amount of water till creamy (e.g. 1 tablespoon to 1 tablespoon.)
Fillings
If making your own paratha, you can vary them by stuffing them with different fillings, such as:

spiced mash potatoes (aloo ka parantha- the most common type of stuffed paratha)
other vegetables such as beetroot, cauliflower, carrots, spinach and green peas
mung bean dal
paneer cheese
chicken keema
Note: If you want something to dip the Paratha into, try these easy samosa sauces.
Expert Tips
Tip #1: Whilst ghee is traditional, you can also substitute with vegetable oil to be healthier. (Or clarified butter if you're simply running short! They're not the same thing but it is the best ghee substitute.)
Tip #2: Frozen parathas are quite high quality these days, and taste almost as good as homemade ones made from scratch. If you can buy frozen parathas, you can use them to substitute for puff pastry in a pinch, or even as the base for a pizza or wrap for curry puffs!
Tip #3: Food is sometimes eaten with the hands in India. Always remember to use the right hand at Indian meals as the left is considered unclean!
FAQ
Is paratha good for weight loss?
The typical paratha is made with lots of ghee (animal fat) so, unfortunately not very good for you. You can tweak the recipe to make it healthier but it's best to eat in moderation.
What are the common Indian spices?
Sometimes known as the 7 Indian spices are cloves, cumin, cinnamon sticks, coriander seeds, turmeric, fenugreek and cardamom. They are used in both the kitchen and in medicine! They are so common, we even have dishes like Jeera Rice (Jeera is cumin in Hindi.)
How do I make Indian cooking easier?
A lot of my Indian friends use a pressure cooker to make the cooking process quicker!
Finger Foods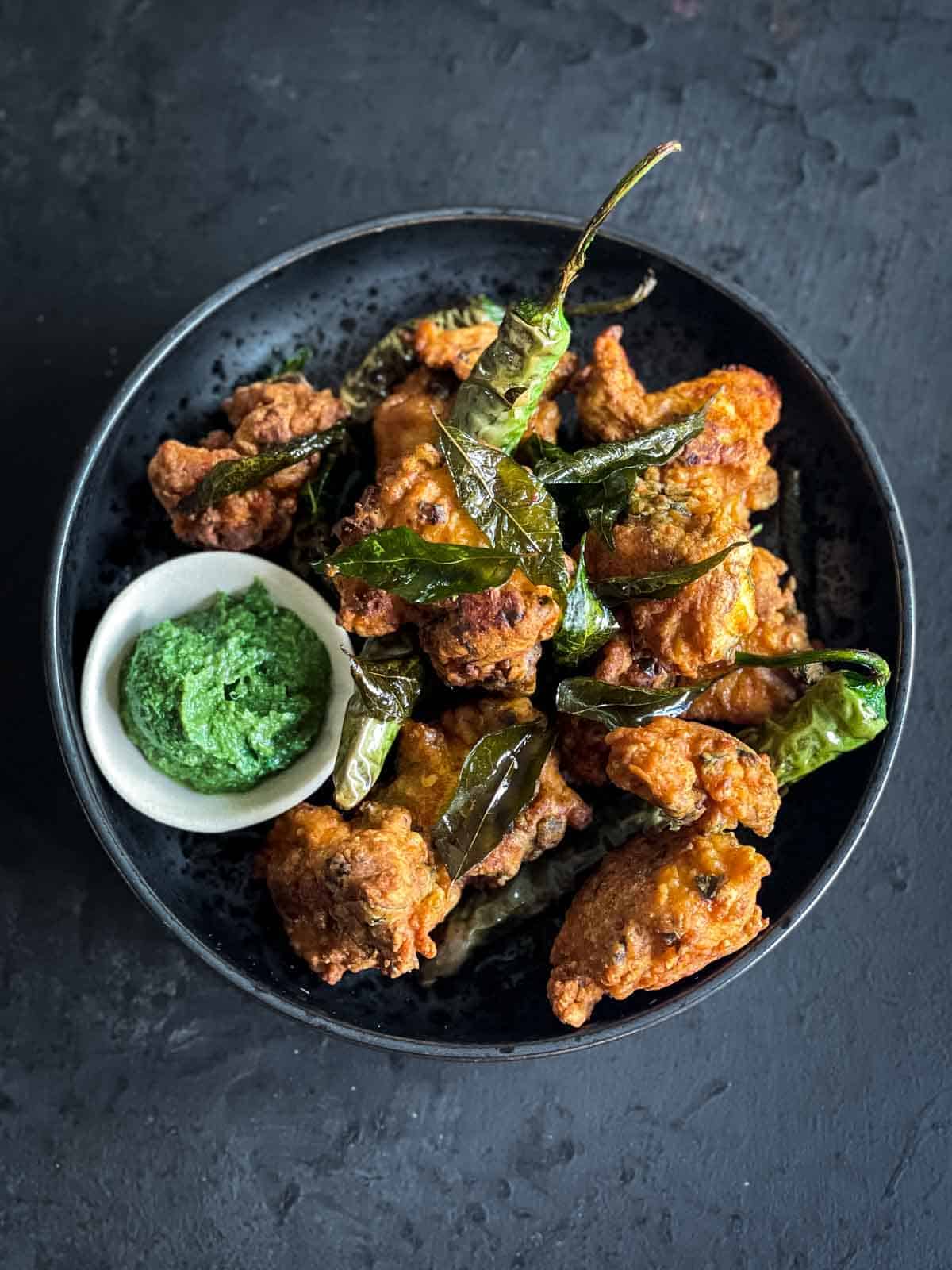 Pakora (Fritters)
Indian Chicken Pakora
These small morsels of chicken bites by The Devil Wears Salad are laced with quintessential Indian spices and fresh herbs are the best Indian side dish you can serve. This chicken pakora recipe is just like the street style snack we all know and love! 
Click here for the delicious chicken recipe.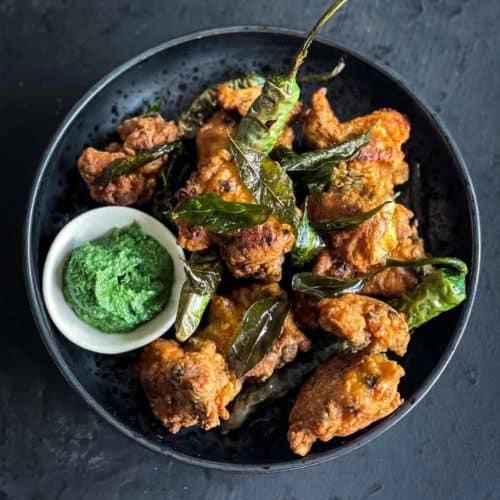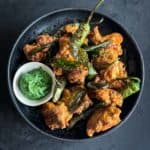 Papadum (Lentil chips)
Also known as appalam (Tamil Nadu), apadam (Andhra Pradesh), happala (Karnataka) and papad, these Indian snacks are served on the side at many Indian restaurants.
You can get them already fried in the grocery store but I highly recommend frying your own. We do this very often in my house and all our guests love them! They're the perfect accompaniment to Indian curries and turmeric rice.
They are sold uncooked as a packet of flat discs. The name actually means flattened disc! You can then deep-fry or air fry them. (If you live outside of Asia, you'll need go to an Indian super market to get them.)
Tip: there is no need to salt the pappadum as the pre-cooked versions are already spiced.
Onion Bhajis (Fritters)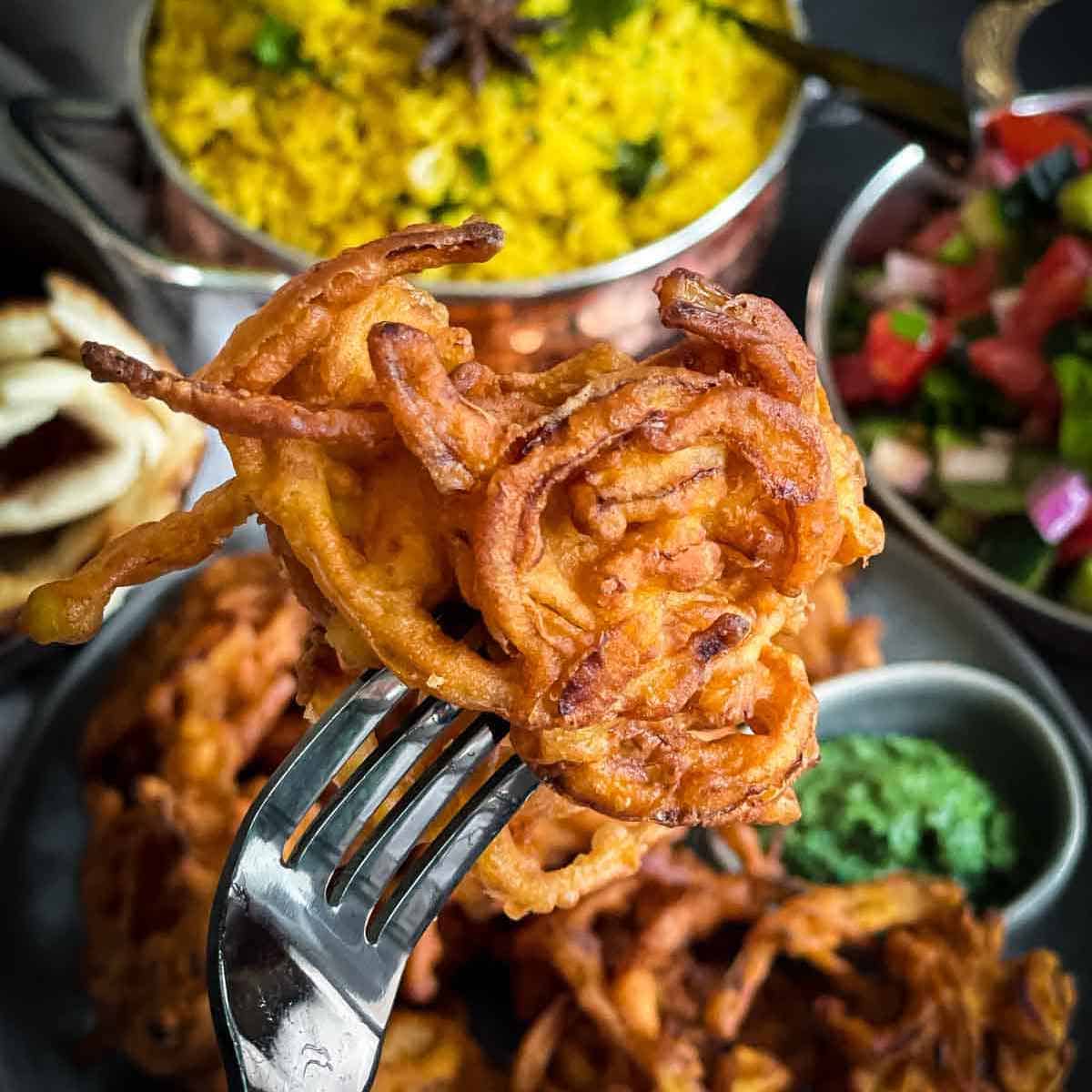 Onion Bhaji
Bring this popular Indian street food into your kitchen and you'll be amazed how easy it is to make. This onion bhaji recipe by The Devil Wears Salad is aromatic, crispy and perfectly fried—a delicious addition to any meal.
Click here for a delicious Indian Chaat recipe.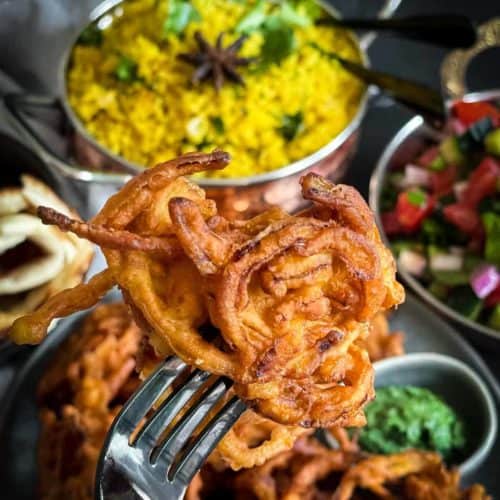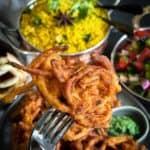 Curry Puffs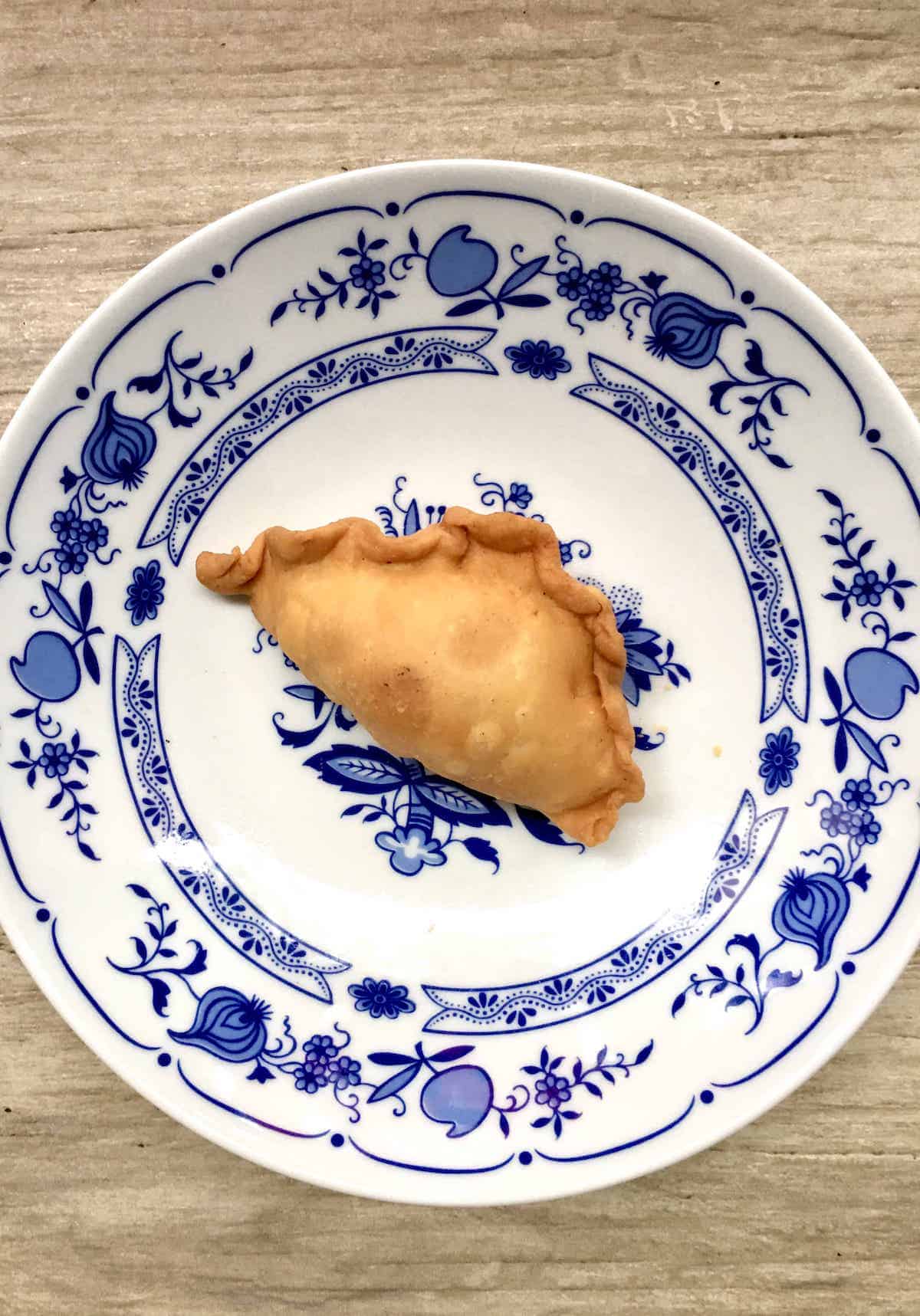 Note: you can find more easy Asian-inspired potato recipes here.
Curry Puff Recipe (Potato)
An easy, vegan curry puff recipe- one of the most popular snacks in Singapore which I grew up eating- that tastes good both hot and at room temperature. There are actually Chinese, Indian and Malay versions of this Singaporean dish- it all comes down to what you put in the filling!
Click here for the vegan curry puff recipe.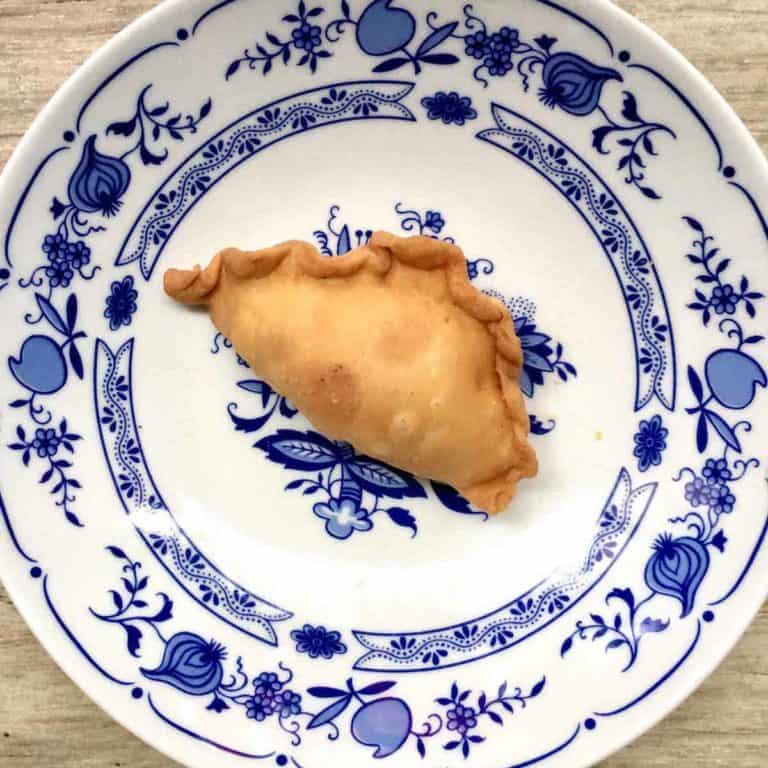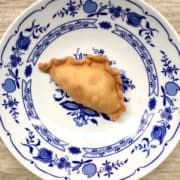 Note: For a more traditional Indian side dish, try Aloo Gobi or Bombay Potatoes (Bombay Aloo)! As a big fan of spicy food, I like to up the chili powder used in mine!
Bhalla (Lentil Balls)
Dahi Bhalla
This Dahi Bhalla Recipe by The Flavor Bells yields soft, fluffy, and perfect Bhalla (fried lentil balls) every time. It's an absolutely delicious and addictive Indian side dish or appetizer, also known as Dahi Vada, that is super easy to make at home.
Click here for the Dahi Bhalla recipe.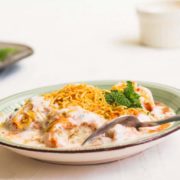 Samosas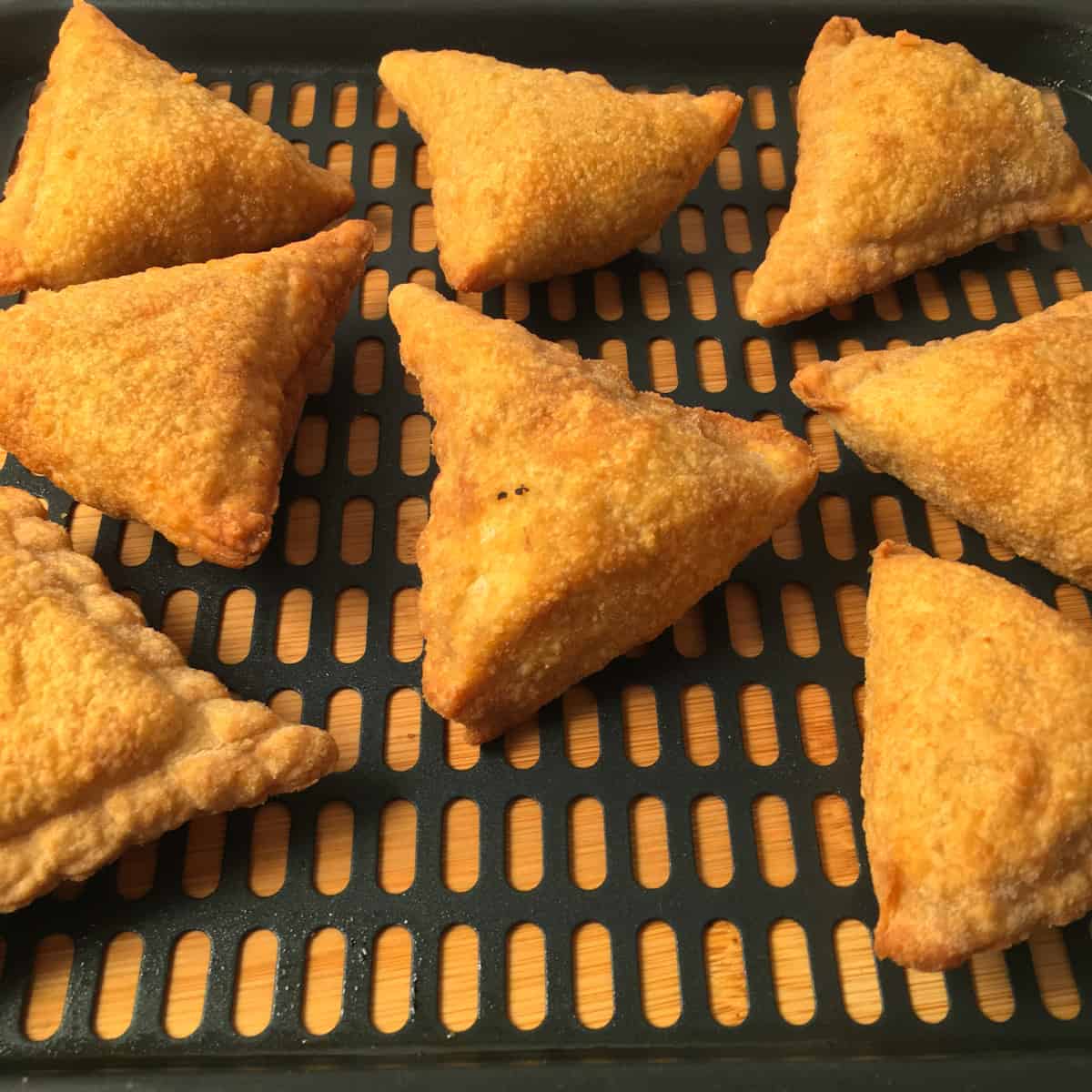 Samosas are 1 of the most popular and delicious Indian side dishes! This recipe is an air-fried version- a healthy alternative to deep-frying!
Golden samosas
Samosas are a great Indian snack but too much fried food isn't good for you! This Summeryule recipe shows you how to air-fry them till nice and golden, even if they're frozen! They taste great with this samosa dipping sauce!
Click here for crispy samosas.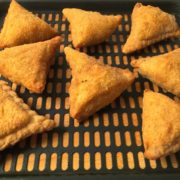 Vegetables
Roasted veggies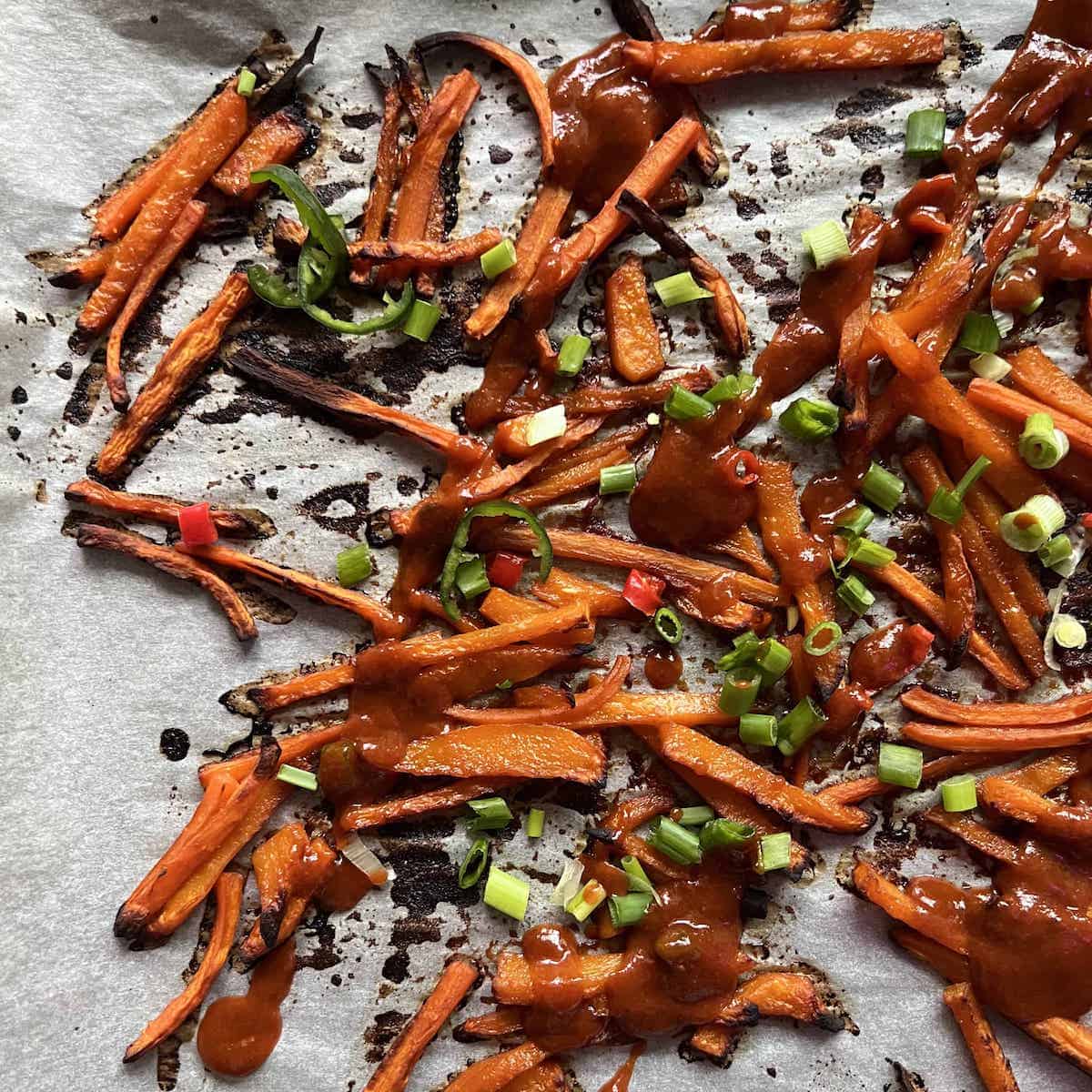 You can even make Indian-inspired roast vegetables, such as this curry roasted broccolini or this spiced butternut squash.
Salad
A green salad makes for a refreshing and easy side dish for home cooks. Try this Indian cucumber salad (katchumber) or this chana salad (chickpeas.)
Dipping sauces
I have yet to have an Indian meal that did not come with 1 of these sauces on the side!
Chutneys
Try:
Tip: If you have too much chutney, you can use them as spreads for sandwiches. I made too much of a delicious mango chutney the other day and the extra tasted great in a chicken sandwich!
Raita Yoghurt
The yogurt helps to cool the spice and is a great side dish for stuffed parathas at an Indian feast.
To make an easy Cucumber raita dish, mix full-fat yoghurt (you can use Greek yogurt), diced red onions, diced cucumbers, garlic, ginger, garam masala and citrus juice (lime or lemon.)
Tip: Don't forget to garnish with some coriander and mint leaves!
Achar (Pickles)
You can think of achar as Indian kimchi.
Achars differ based on the part of India you're looking at. Some use sesame oil in their recipes whilst other parts prefer mustard oil. The most popular achar is mango pickle (aam ka achar) but you can also try:
Tip: if you don't have time to ferment homemade achar, you can get ready made ones in the Indian grocery stores.
Note: in Singapore, we have a pickle that is also called Achar but it's made differently.
Dairy
Dahi (Curds)
Many Indian households make their own curds by fermenting milk with naturally acidic liquids, such as lemon juice, and eat it almost everyday.
Click through for a simple 2-ingredient curd recipe that makes a perfect side dish for curry night! (Curd helps to reduce the heat of spicy foods.)
Palak Paneer
Indian cottage cheese is 1 of my favorite savory dishes! And to make you feel less guilty about all that cheese, there's spinach in the dish too!
Soups
Dal/ dahl/ daal
Dal is 1 of the most ubiquitous Indian side dish recipes.
They're made from lentils which are a great plant-based protein as well as other split pulses such as split yellow peas (toor dahl) and beans.
Instant Pot Dal
This sweet, spicy and tangy lentil soup by Piping Pot Curry, made with pigeon peas (tuvar dal), has lots of warming spices, and is delicious as a side dish for breads or rice. (It can be made on the stove or in an Instant Pot!)
Click here for the Gujarati recipe.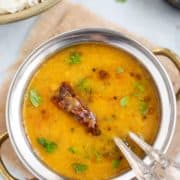 South Indian soup
South Indian lentil soup
Lemon lentil soup by Clan Kitchen is refreshing and tasty on a hot day. It's not hard to make, needing only 10 minutes of prep.
Click here for the Indian soup recipe.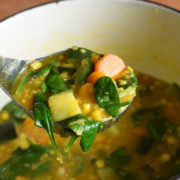 Curries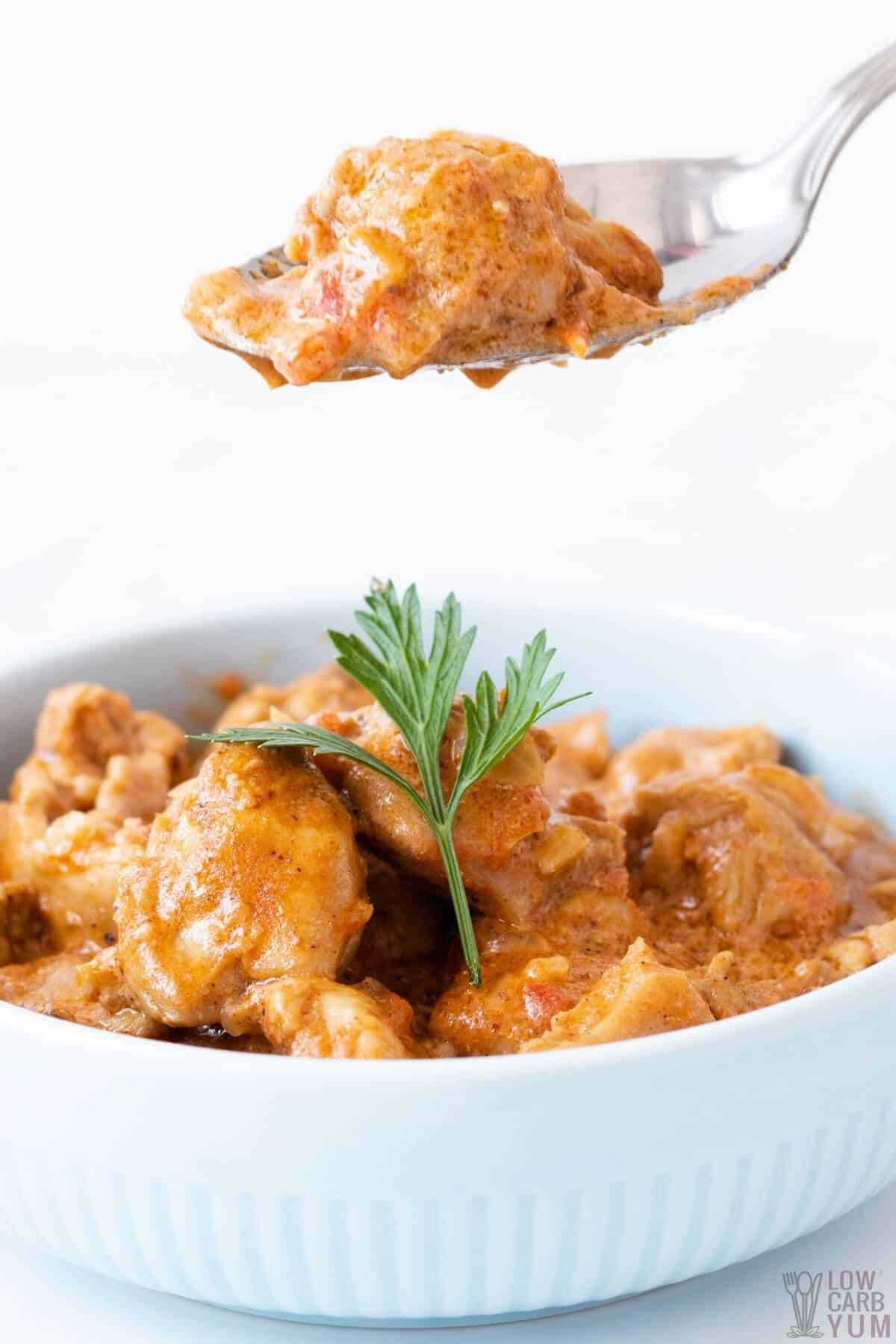 Meat and vegetable curries provide a delicious sauce for parathas.
In Singapore and Malaysia, we love to dip our roti prata (roti canai) in curry sauce (or sugar), even for breakfast!
Note: despite the common (mis)perception, not all Indian curries use coconut milk!
Chicken
Butter Chicken
Keto butter chicken
Enjoy this Lower Carb Yum recipe for keto butter chicken with all the classic Indian flavors you love. It's made with garam masala and Greek yogurt.
Click here for the keto chicken recipe.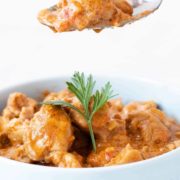 Seafood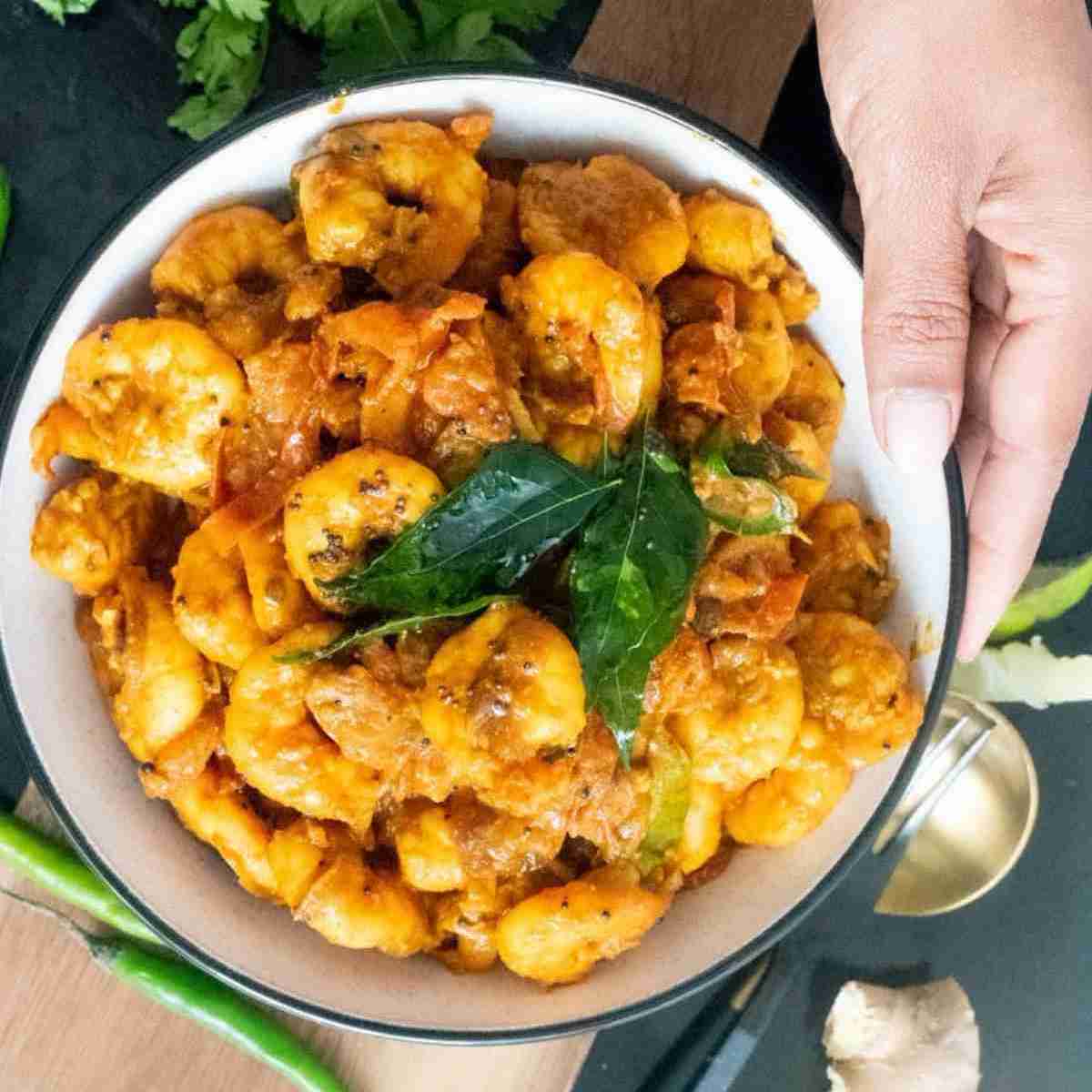 If you cook a lot of Indian food, I highly recommend getting a curry leaf plant as there are many curry leaf recipes in Indian cuisine, such as the following Indian prawn main dish and this chutney.
Shrimp Masala
Shrimp masala
Made with shrimps cooked in a semi-dry gravy of onions, tomatoes, curry leaves, mustard seeds, and a blend of spices, this home-style Indian shrimp recipe by Caramel Tinted Life will leave everyone wanting more!
Click here for the shrimp recipe.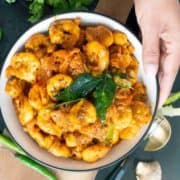 Drinks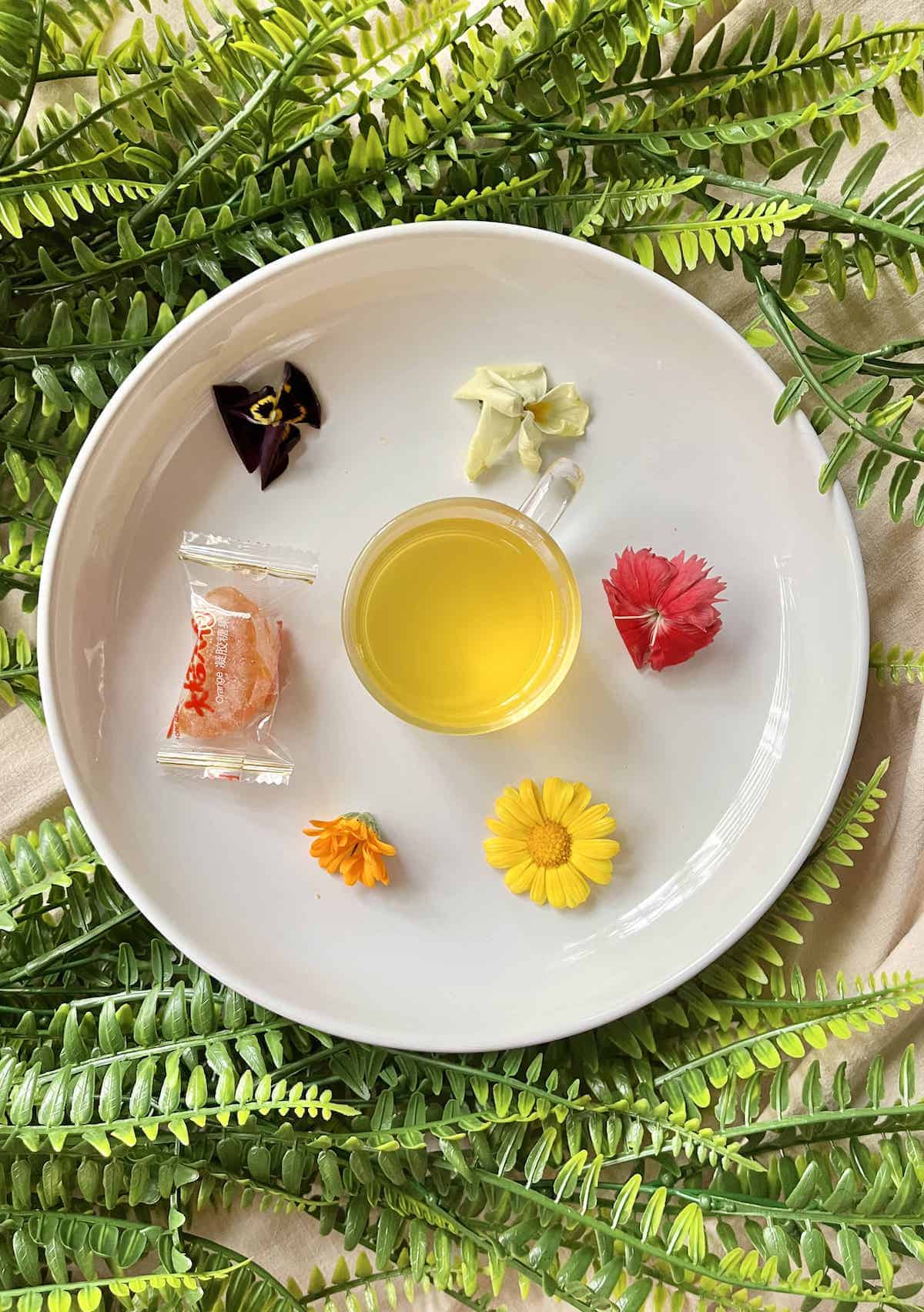 Lassi
Lassi, an Indian yogurt-based dish, comes in both sweet and salty forms. My favourite is mango lassi. It's so good the only time 1 of my friends quarrelled with her husband was over his failure to get her a mango lassi!
Other popular lassis that go well with Indian dishes include:
Makkhaniya lassi (lassi with lumps of butter)
there is even a cannabis Bhang lassi!
Turmeric Tea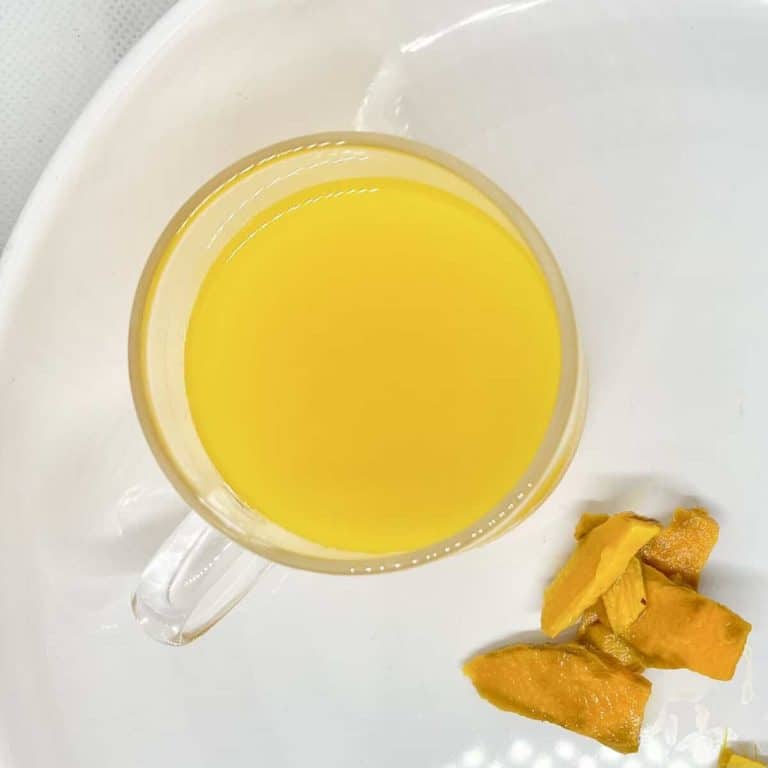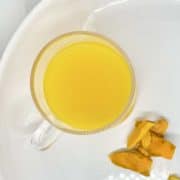 Chai Latte
You can go for regular Masala Chai tea, or try this delicious fusion green tea-chai drink that was popularised by Starbucks!
Whichever you choose, chai lattes are really easy to make with homemade Chai Simple Syrup and Matcha green tea Simple syrup! (Alternatively, you can also simmer the whole spices, such as black pepper and green cardamom. The recipe is quite flexible so feel free to adjust according to your taste buds.)
Starbucks Matcha Chai Latte
This easy copycat recipe makes a delicious spiced Starbucks Matcha Chai Latte recipe using only 4 ingredients and 5 minutes! It's delicious both hot on a cold day or iced in summer and allows you to easily recreate your coffee house experience at home!
Click here for the easy Starbucks match chai copycat recipe.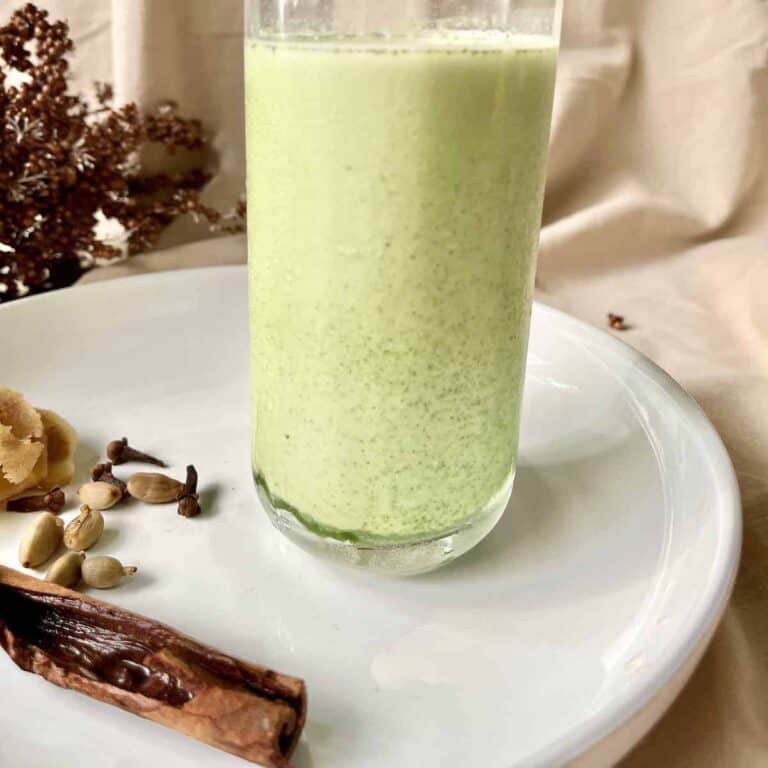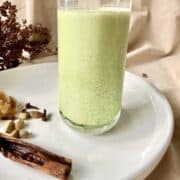 If you don't have matcha, try this green tea blend instead!
Green Tea Chai
This easy Green Tea Chai recipe is a creamy and sweet spiced tea. It's the perfect cosy drink for the colder weather in fall- just nice for those who want a more mellow version of the typical Masala Chai Black Tea!
Click here for the Masala Green Tea.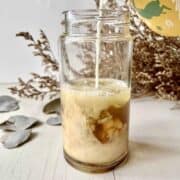 Coffee lovers can make it dirty!
Dirty Chai Latte
Dirty Chai Latte is sweet and spicy from the Chai but has a deep, roasted flavor from the coffee to make it more complex. Together with the frothy top, it's simply delicious! I show you how to make it in 3 ways: from scratch, using Chai Concentrate (along with a homemade recipe) and using tea bags!
Click here for the chai-coffee drink.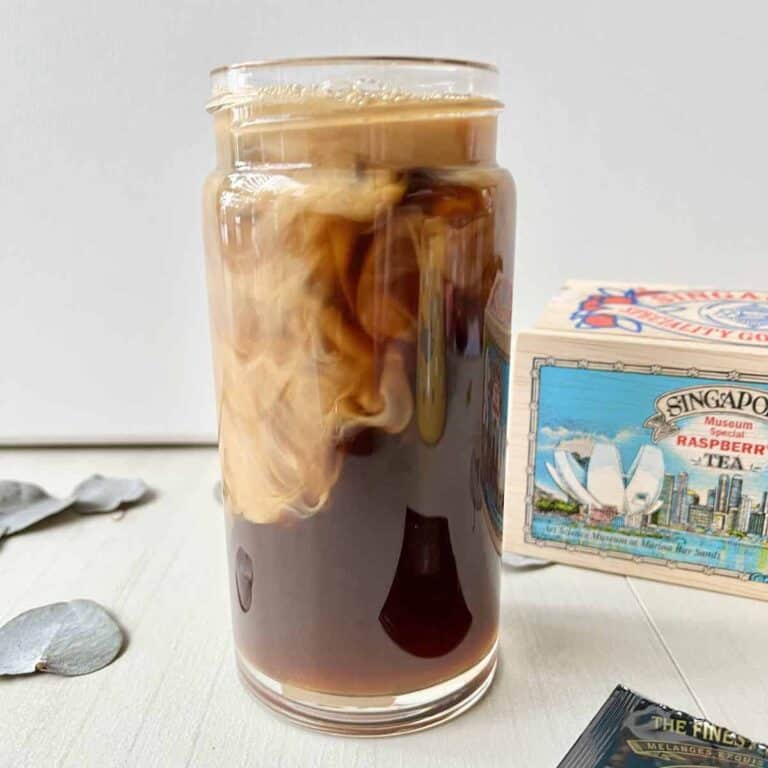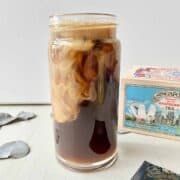 Note: if you feel the meal is not complete without dessert, click here for a list of over 100 Indian sweet treats!
What are your favourite Indian side dishes for Paratha? Let me know if I've missed something out. If not, I'd be super grateful if you share this post on your social media!