A super easy, 5-min cream cheese olive dip recipe that has everyone asking for seconds! Made with 3 simple ingredients, this easy appetizer can be made ahead of time so you don't have to stress on the day of your dinner party or picnic.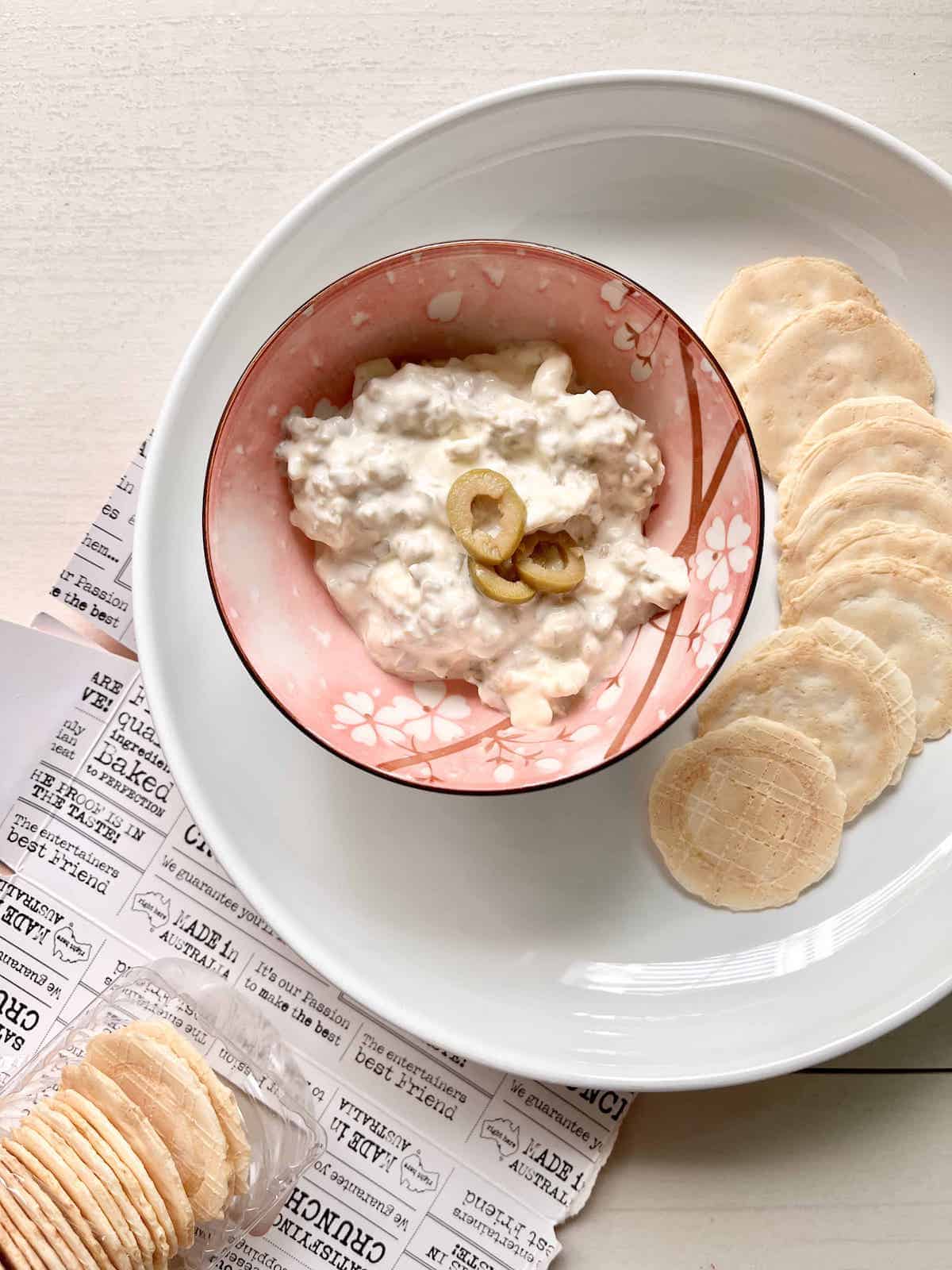 Jump to:
Why make this
This olive dip recipe with cream cheese only takes 5 minutes to make, perfect for an olive lover who is short on time.
It only requires 3 ingredients but packs a lot of flavor!
You can easily vary it by adding pantry staples, such as garlic and onion powder.
It's cheaper than buying pre-made dip!
Note: for other picnic recipes for summer that require few ingredients, try this quick Chinese cucumber salad.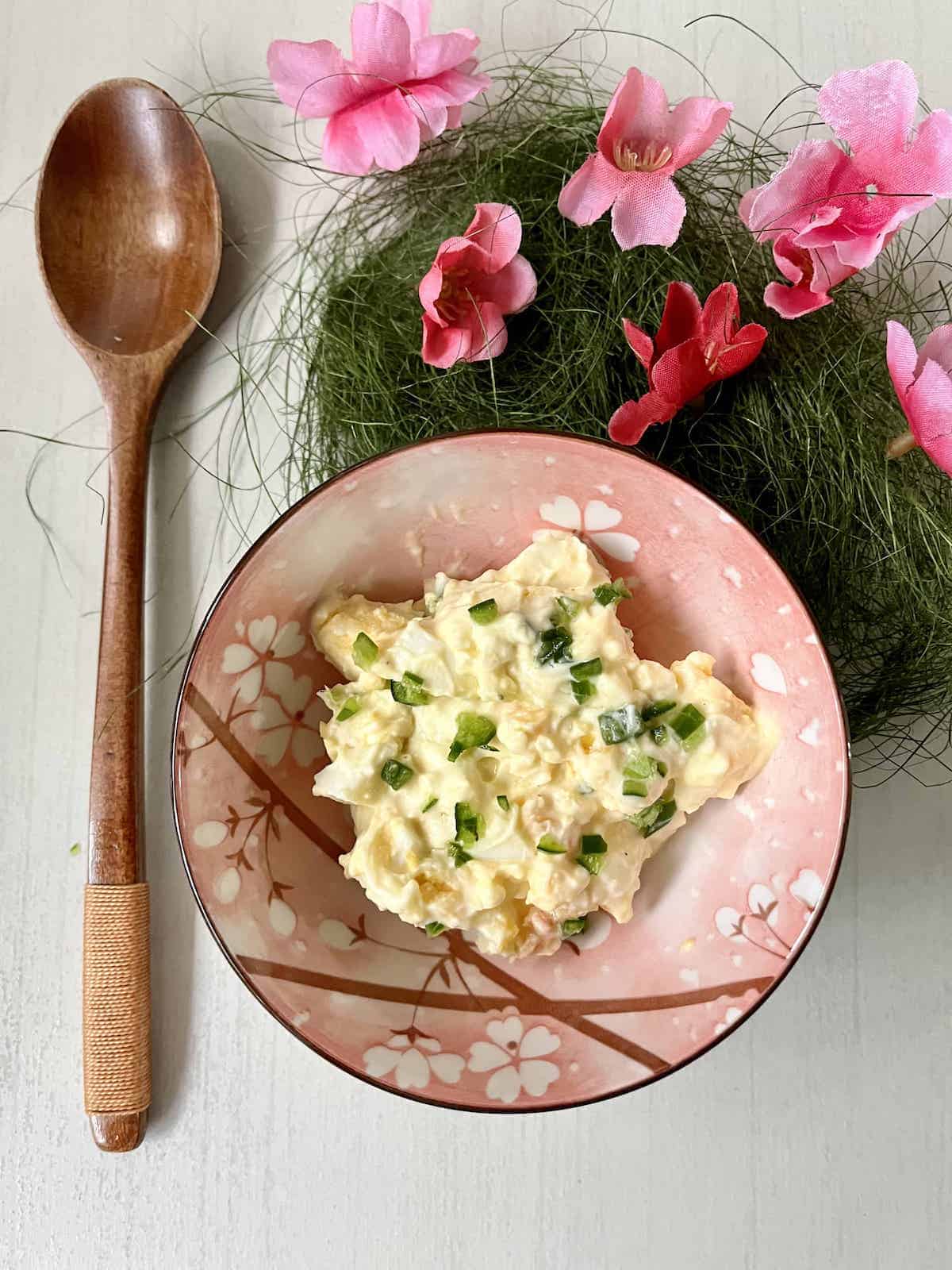 Ingredients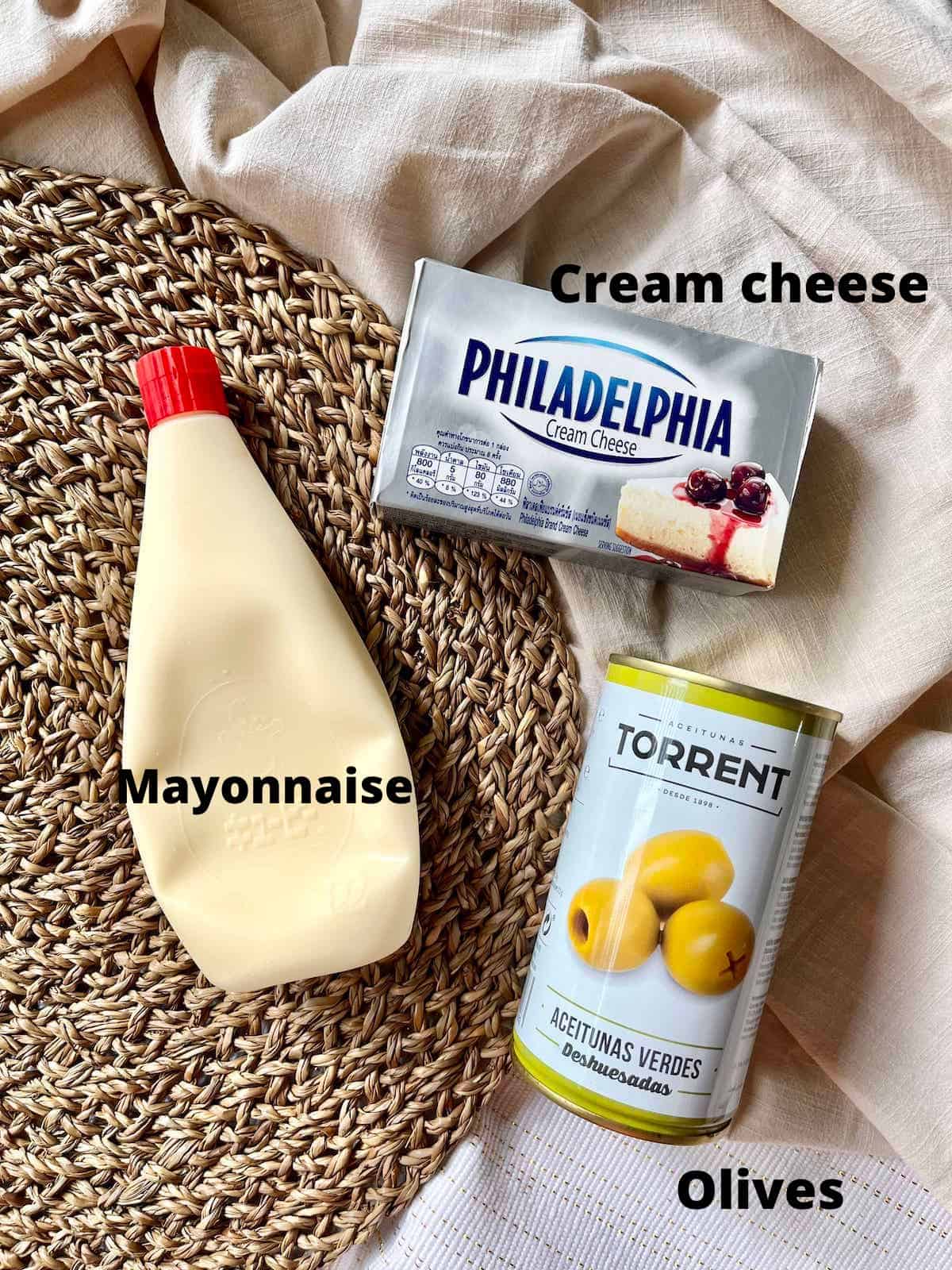 There are so few ingredients in this green olive dip, each one has to work extra hard, so make sure you use the good stuff.
Cream cheese: use full fat cream cheese for a creamy texture.
Mayo: I swear by Kewpie mayonnaise which gives the dip more of a punch. If you only have regular mayo, add a pinch of sugar and chicken stock powder to DIY your own Japanese mayo.
Olives: The secret ingredient is the olive brine- add 1-2 tablespoons to your dip. (You can keep the rest for your pasta sauce and tomato soup.) To make the cream cheese dip look more appetising, use Manzanilla olives (green olives with pimento.) Regular green or black olives taste good but the bright red of the pimento makes the olive dip look better.
Variations
Hot olive & cheese dip: You can serve this easy dip chilled or warm. For a hot dip, bake it in the oven with a bit more cream cheese on top. (Taste changes with temperature, so do taste before serving.)
Cream cheese olive dip: Add minced onions to give the olive spread a bit of a bite and sprinkle with green onions for a pop of color.
Step by Step Instructions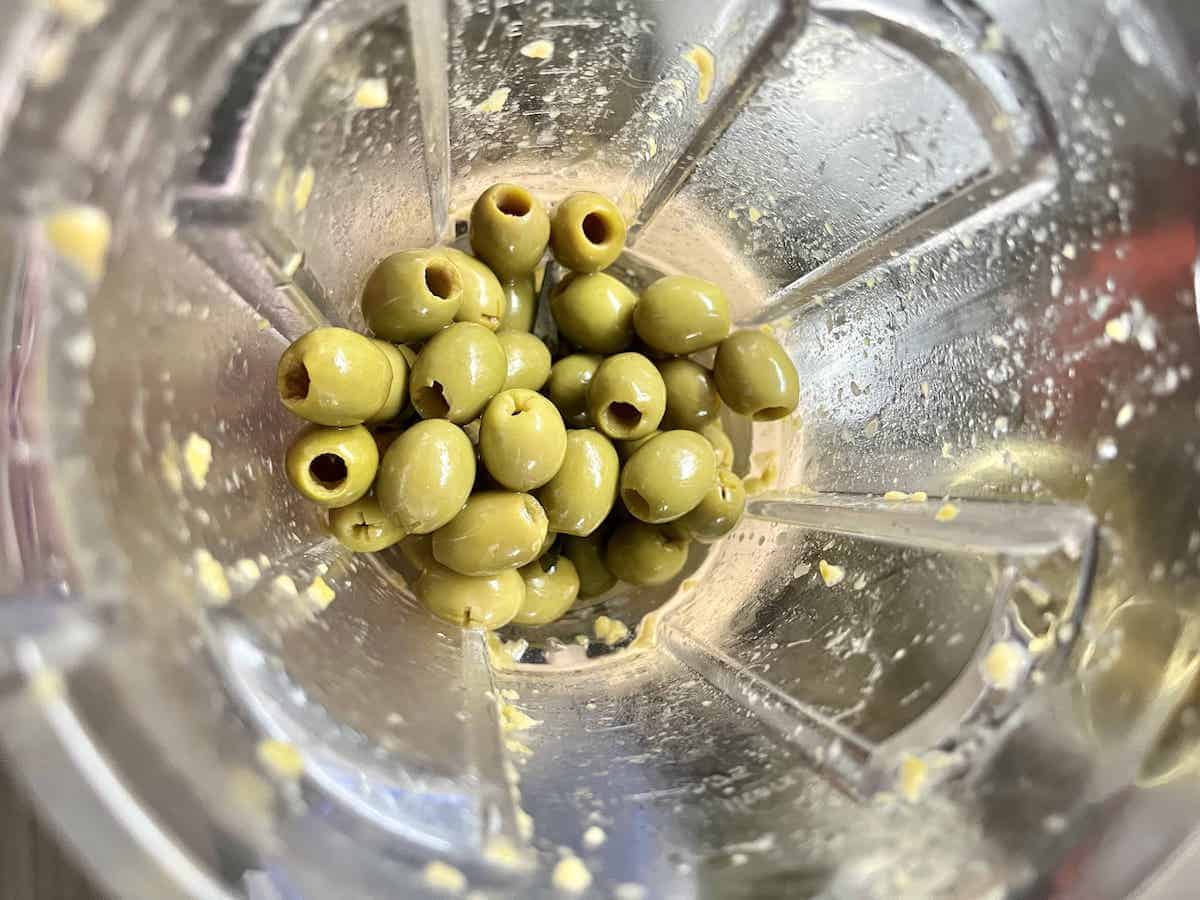 Drain the olives, keeping the brine by the side (do not throw.) Place the olives in a blender and give it 1-2 whirls. (It will only take a few seconds.)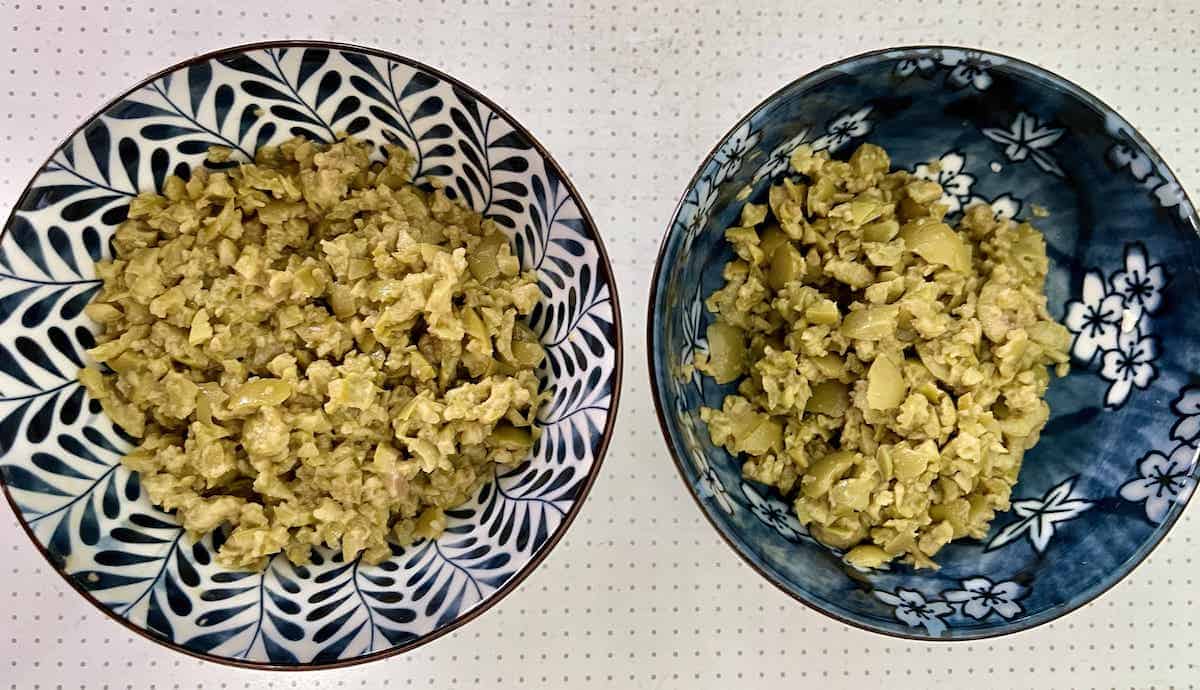 2. Don't over-process the olives- you want the olives to have texture, like the bowl on the right. (The bowl on the left was blended for too long and has no more chunky pieces.)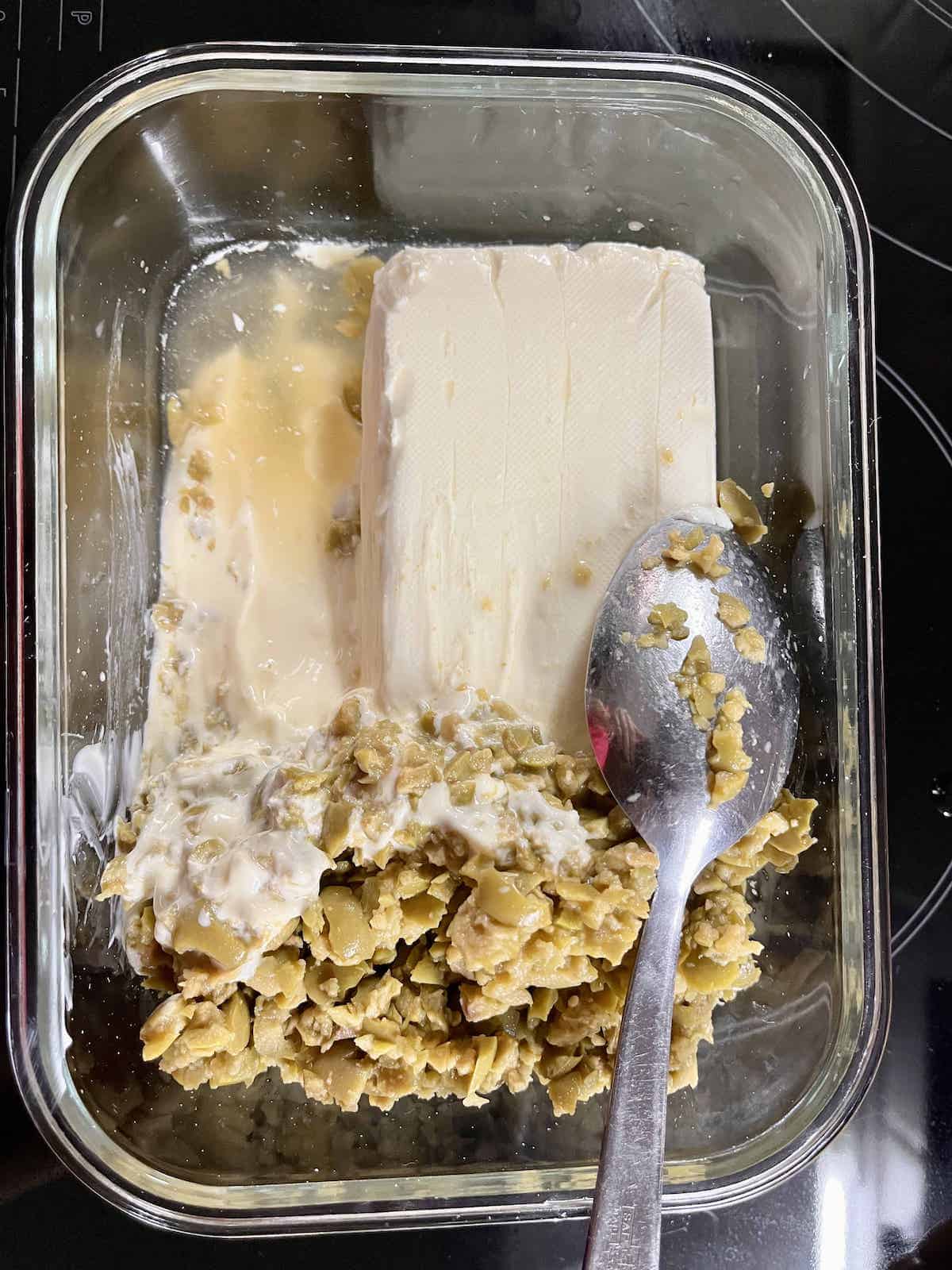 3. Mix the blended olives, the olive brine, mayo and cream cheese till thoroughly combined.
Tip: instead of measuring the mayo in a cup, I just eyeball it and squeeze directly onto the other ingredients. (As the mayo tends to stick to the measuring cup!)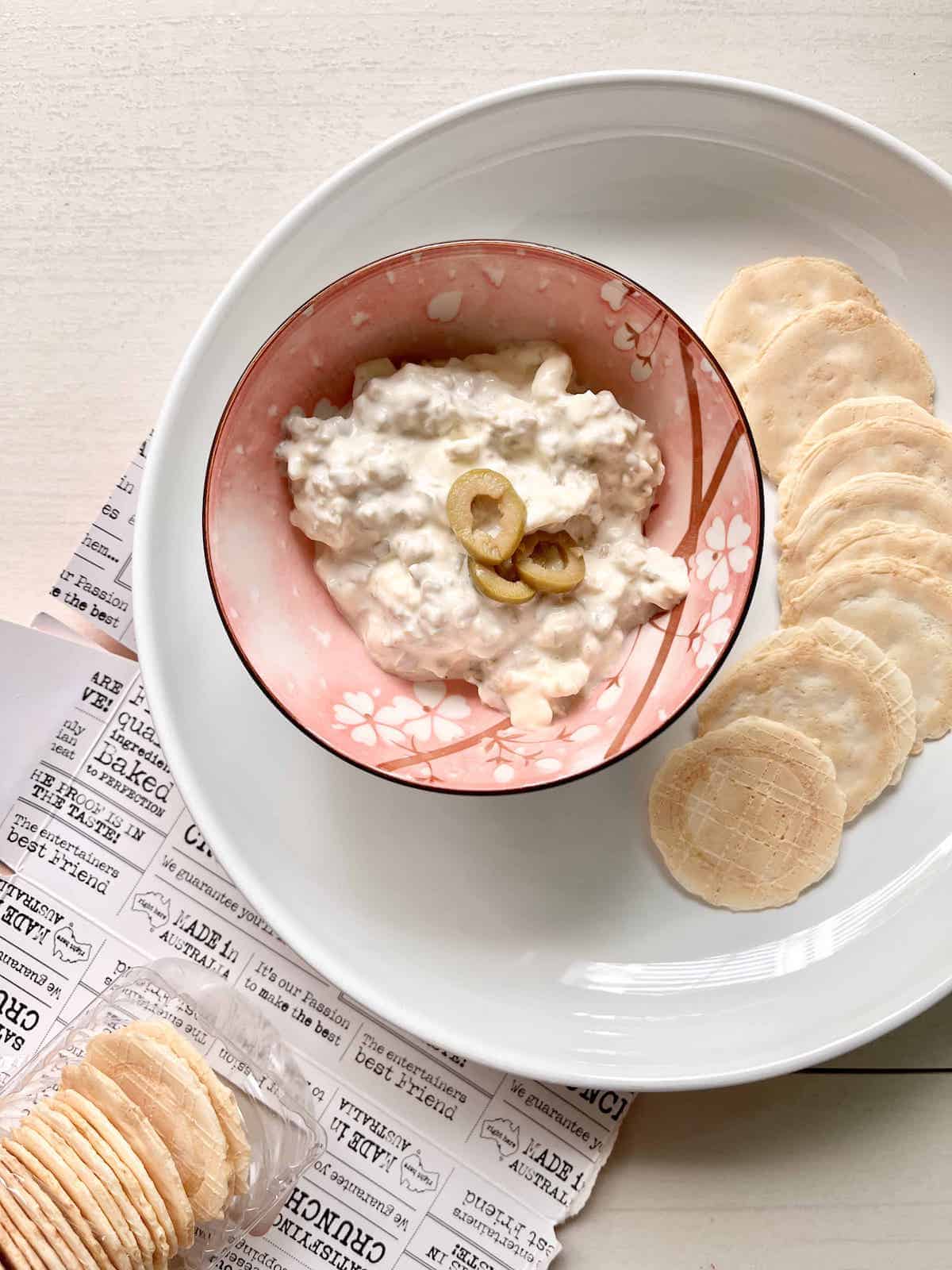 4. Serve the cheesy olive dip with:
Crudites/ sliced fresh veggies such as carrots and cucumbers
Crackers
Breadsticks
Pita chips
Ritz crackers
Bagel chips
Tortilla chips
Melba toast
Pretzels
Potato chips
Recipe FAQs
Is cream cheese gluten-free?
Most cream cheese, particularly full-fat ones, are gluten-free. However, do check that they've not been processed in the same facility as crackers and other wheat products to avoid cross-contamination- it should say on the label. If you have celiac disease, you may be interested in these gluten-free dips.
What other dips can be made with olives?
If you have leftover salty olives after making this cheesy dip, you can use it for tapenade. Simply blend the olives with some garlic and lemon. Throw in anchovies, parsley and sun-dried tomatoes if you have them, and you'll get a classic French spread which would actually go very well with this olive & cream cheese one! (The acidity of the tapenade helps to cut through the fat of the olive.)
Can olives go bad in the fridge?
Yes, if stored improperly or for too long, olives do go bad. There was even a case of botulism linked to organic olives in Europe so always be careful!
Expert Tips
Tip #1: It is easy to mash the cream cheese straight out of the fridge, once the mayo and olive brine have been added. However, you can take the cream cheese out 15 minutes before hand if you want it softer.
Tip #2: The secret to making this creamy olive dip in 5-minutes is to blitz the olives in the food processor instead of mincing them by hand. Blitz for only a few seconds, so you get some finely minced olives and some bigger pieces. This will add some texture to your cream cheese dip.
Tip #3: If you want to change the flavor, add some garlic powder, black pepper or red pepper flakes for a hint of spice. Alternatively, throw in fresh herbs or Italian seasoning.
Tip #4: If you're a fan of cream cheese, you may also be interested in this garlic cream cheese & egg dip recipe or these gluten-free nachos and dips.
How to store
You can keep this olives dip in an airtight container in the fridge for 2-3 days. If you're having a party, make it the day before your gathering to reduce party stress!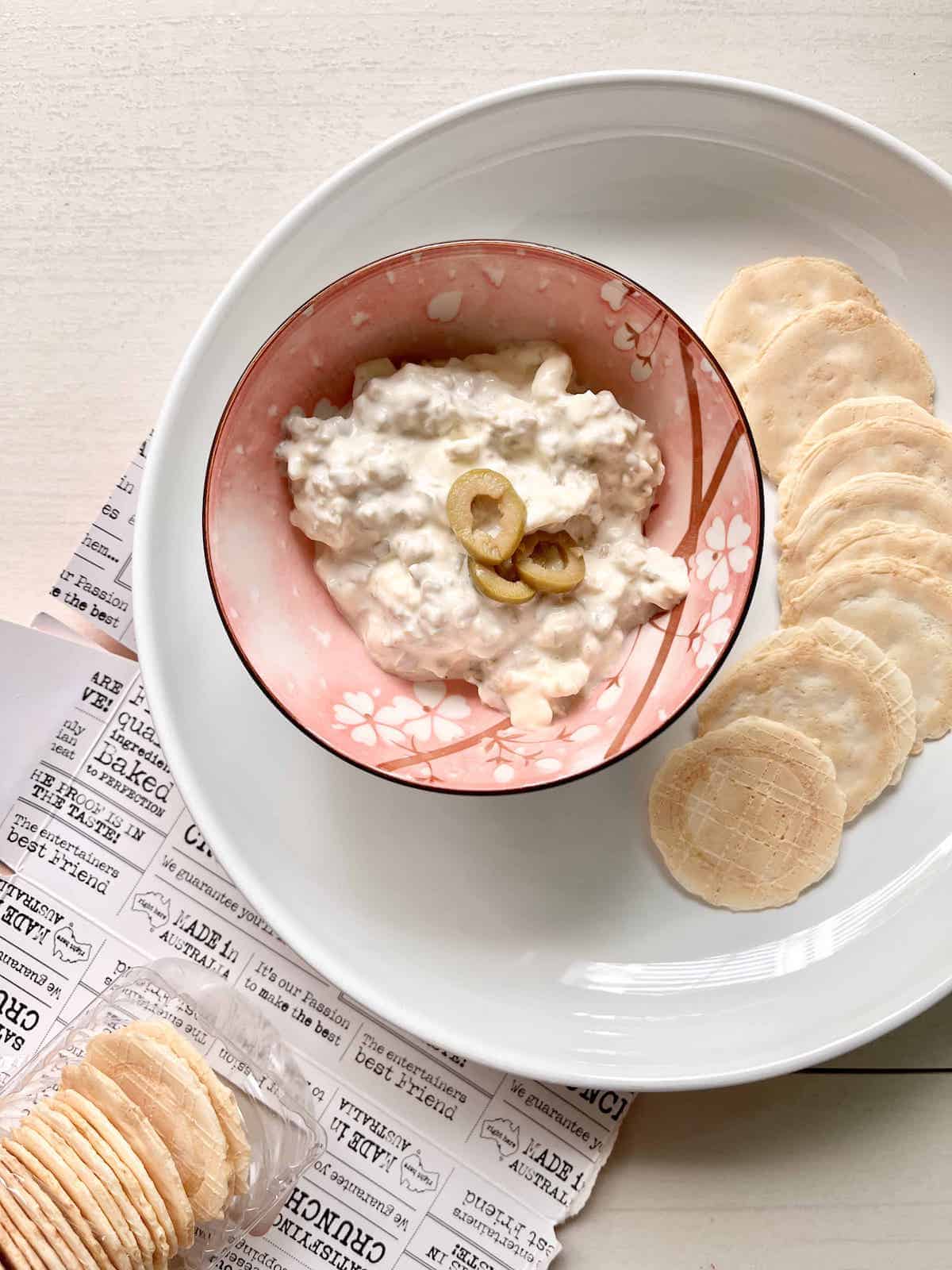 Other party recipes
Enjoyed this creamy dip with olives recipe? Please leave a 5-star 🌟🌟🌟🌟🌟rating in the recipe card below & if you REALLY liked it, I'd love a comment! Thank you and have a great day!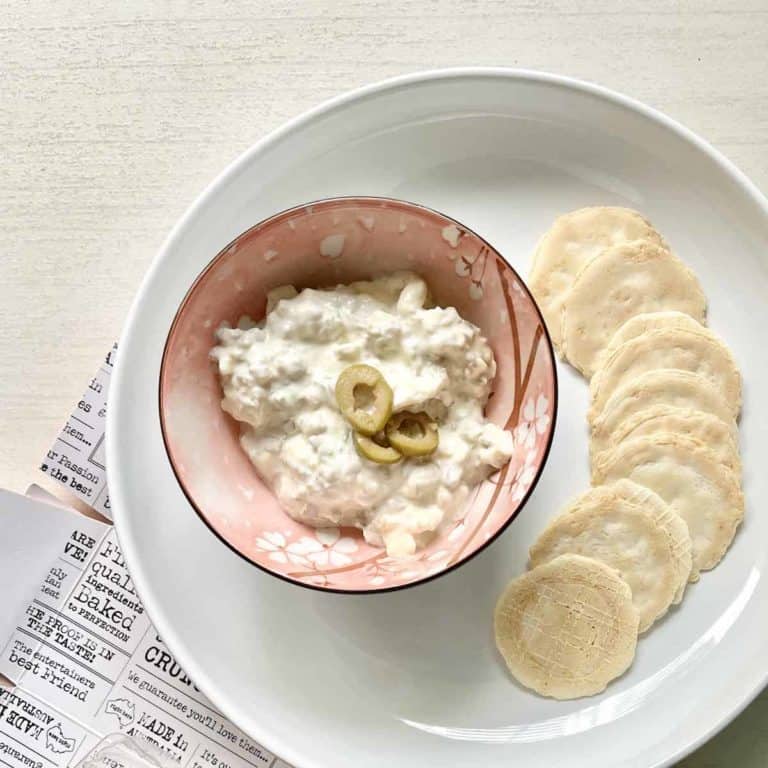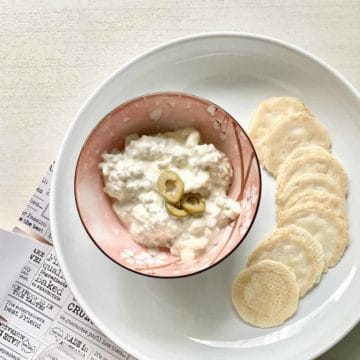 5-min cream cheese olive dip recipe
A super easy, 5-minute olive dip recipe with cream cheese that has everyone asking for seconds! Made with 3 simple ingredients, this easy appetizer can be made ahead of time so you don't have to stress on the day of your dinner party or picnic!
Equipment
Air tight container

Food processor or blender

You can use a knife to cut instead, but it will probably end up taking more than 5 minutes in that case!

Fork
Ingredients
1

block

cream cheese

I mash it right out of the fridge but you can take it out 15 minutes before if you want it softer

½

Cup

Kewpie mayonnaise

Substitute: regular mayo with a pinch of sugar and chicken stock powder

1

Cup

processed olives (Before mincing, the olives were 160g or 5.64oz)

I used green but you can also use black. Leave a few olives whole and slice them instead of mincing then sprinkle them on top of the dip.

1-2

Tablespoons

olive brine from the jar of olives
Instructions
Divide the olives into 2 batches. Blitz one more finely (but don't make it into olive juice!) and another more chunkily.

Add the olives to the mayonnaise, cream cheese and olive brine.

Mash with a fork till well-mixed. You can serve as is with your favorite crackers, and place the sliced olives on top.

Alternatively, you can make it gooey by heating in the oven. (See recipe post for variations)
Notes
Note: if you've taken the cream cheese out early to soften it, you may want to leave the dip in the fridge for 15-30 minutes before serving to chill it.
If you've made too much, store the extra in the fridge for no more than 2-3 days in an airtight container.
This olive dip with cream cheese doubles up as a spread for sandwiches- to get it more spreadable, add more mayonnaise.
Note: the nutritional information is an estimateautomatically calculated using the WPRM recipe maker and I am not responsible for its veracity.
Nutrition
Calories:
160
kcal
Carbohydrates:
1
g
Protein:
0.4
g
Fat:
17
g
Saturated Fat:
3
g
Polyunsaturated Fat:
9
g
Monounsaturated Fat:
6
g
Trans Fat:
0.03
g
Cholesterol:
8
mg
Sodium:
470
mg
Potassium:
13
mg
Fiber:
1
g
Sugar:
0.3
g
Vitamin A:
101
IU
Calcium:
13
mg
Iron:
0.1
mg
Hoe did you find this olive dip recipe? If you've enjoyed it, please do share it on social media!