A collection of delicious & refreshing Asian summer recipes, ranging from no cook, no bake and picnic-friendly to ones that use in-season fruits and veg!
Jump to:
What makes a good summer recipe?
No bake or No cook: In summer, I imagine I'm not the only one that doesn't want to be standing around a hot stove all day!
Meal prep recipes: It's picnic time! Time for make-ahead recipes that taste good at room temperature.
Summer produce: Last of all, recipes that use in-season fruits and vegetables!
Asian summer recipes
Asian food isn't traditionally associated with seasonal eating, as many Asian countries, such as Singapore, don't have seasons! However, there are certain Asian cuisines, such as Guangdong Cantonese cuisine and Korean cuisine, that do emphasise eating in-season produce.
No cook dishes
One of my very favourite summer recipes is a Korean dish: Naeng Myeon, or Korean cold noodles! Click through for reviews of the best instant versions.
You can also make your own if you have beef stock and Asian pears on hand. Korean cold noodles are best enjoyed with thinly julienned cucumbers, kimchi and a hard-boiled egg.
Spicy cucumber salad
Cucumbers are not only in season during May-August, they're full of water and thus really refreshing when it's hot out!
Abalone Salad
Skip blanching the abalone (it can usually be eaten right from the can) and soak the bean thread noodles in hot water (instead of poaching), and this light and refreshing Thai glass noodle salad is the perfect starter to whet your appetite when the weather is hot. It's tangy, sweet, spicy and savory, all at the same time!
Picnic foods
Summer is the best time for a picnic! Here are some foods that taste nice even when not piping hot!
No Bake desserts
Jellies
If you're looking for other refreshing Asian desserts, try these Singaporean recipes- in a country which is over 86F all year round, the desserts are as cooling as can be!
No Sugar Desserts
Come summer, lots of people are worrying about shedding the winter weight (I see 1 of them when I look in the mirror!) In this case, some no sugar desserts that still taste good may be helpful!
No sugar Japanese jelly salad
No sugar coconut jelly
Click here for more No sugar AND No flour desserts!
Stone Fruit Salad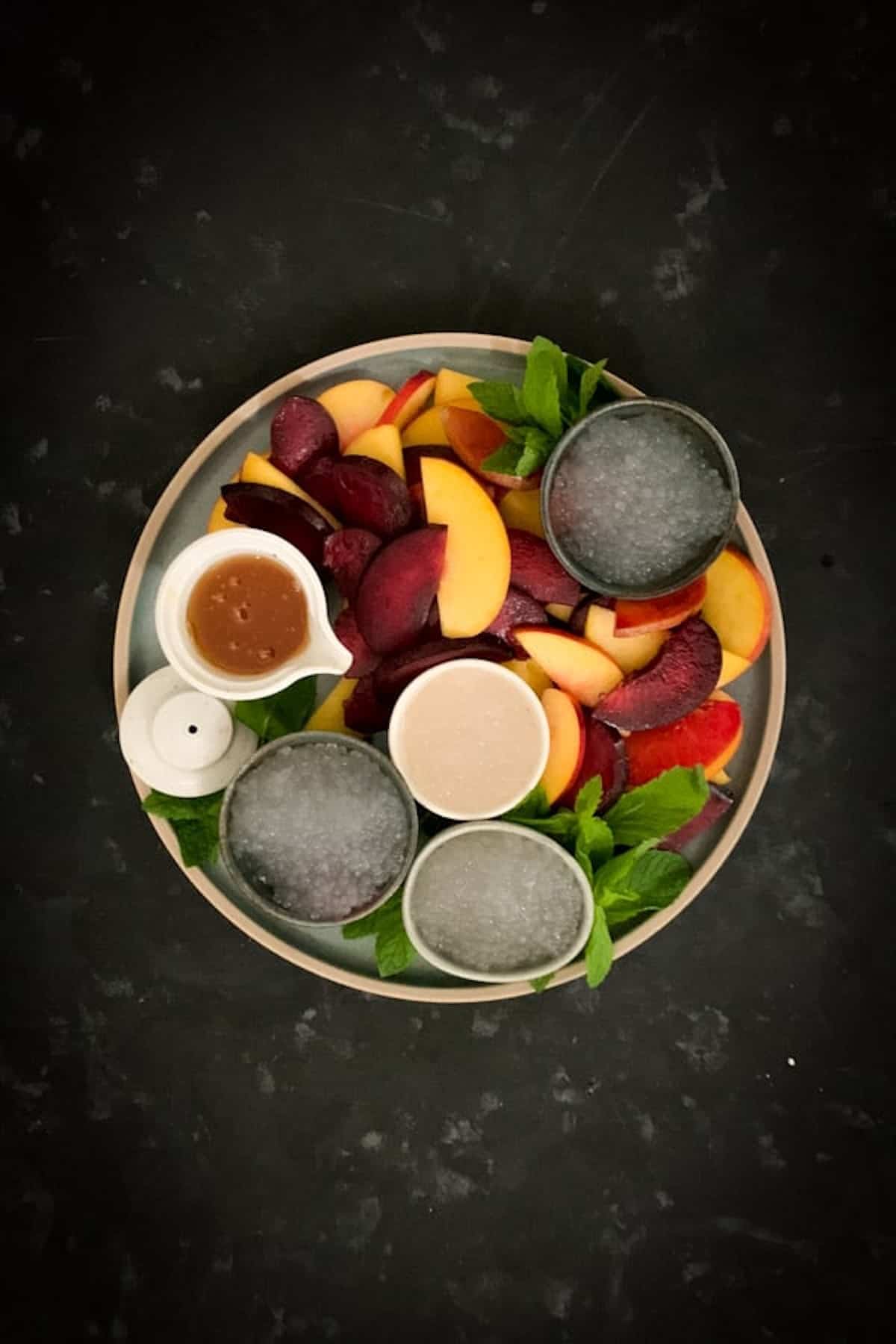 If you like Taiwanese milk tea, you'll love this stone fruit salad which has tapioca pearls!
Watermelon salad
Icebox lime dessert
Egg custard
This is a light dessert that won't make you feel too weighed down on a scorching day. Enjoy it with a cup of iced Jasmine Milk Tea on the side!
No Bake Cake
One of the quickest ways to heat up the house is to switch on the oven, so save yourself the torture in summer with this No Bake cheesecake!
In season
Maesil, or Korean green plums, are only available for a short period around May-June. So now is the perfect time to ferment your own plum syrup, which can be used for Korean plum tea or Korean plum wine!
For more summer fruit recipes, try these Chinese & Indian papaya dessert recipes.
Drinks
For more ways to use a can of lychees, click here.
What are your favourite refreshing Asian summer recipes?