12 easy Papaya dessert recipes, ranging from Chinese to Indian, that are perfect for summer.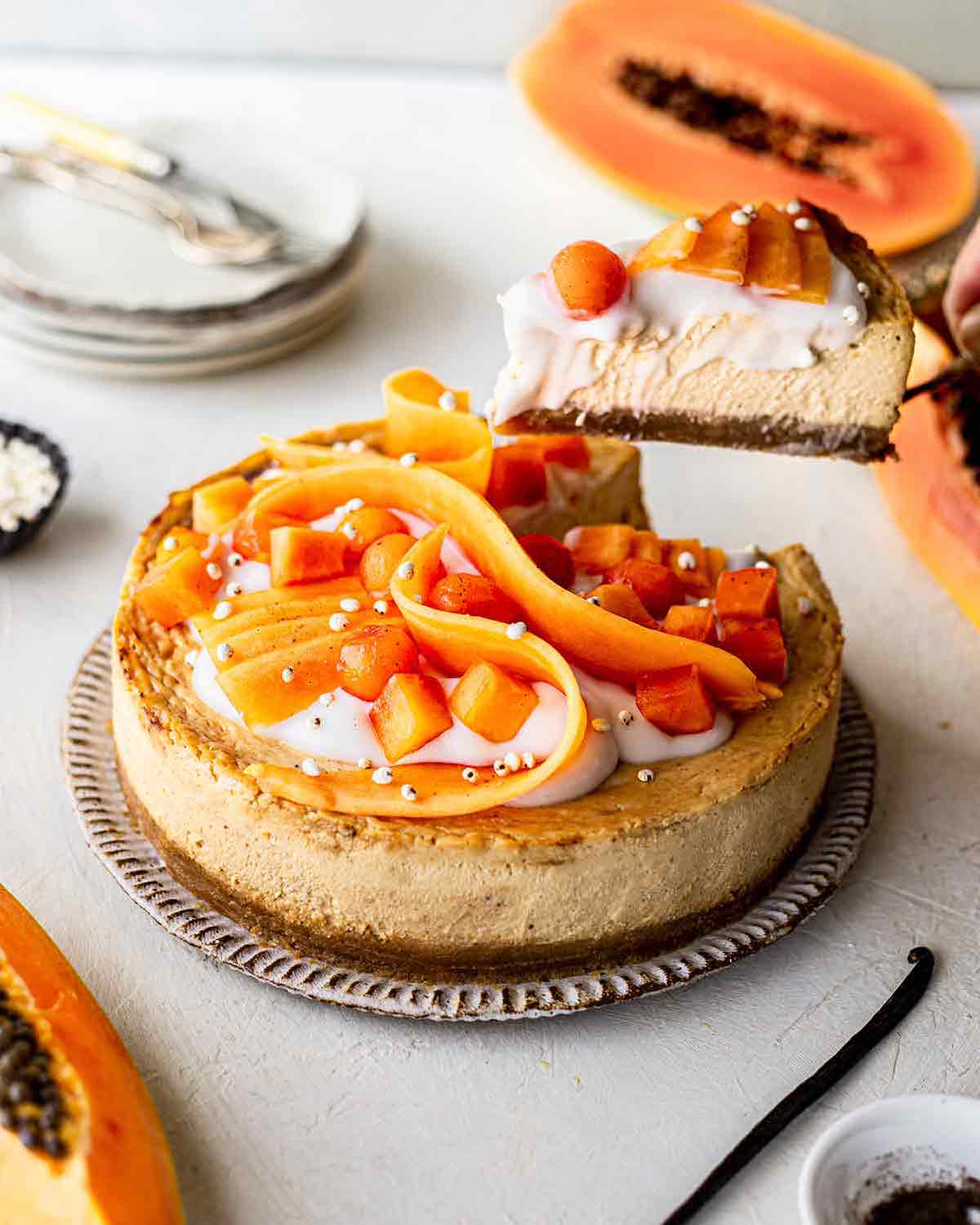 Jump to:
Papaya dessert recipes are popular in Singapore & South East Asia as the fruit is cheap, easy to grow and flavorful! The taste is not for everyone though. Whilst many love it, some don't. (Papaya has a lot of the enzyme papain, which can taste bad to some people- almost like vomit!)
There are many Chinese papaya dessert recipes as Chinese people believe that eating papayas helps to increase a female's "assets." (There's no scientific proof behind it but you can click through to this easy papaya milk recipe if you're curious about this old wive's tale!)
Note: if you're looking specifically for Singaporean desserts, click here.
Nutrition
Papaya has lots of anti-oxidant vitamins, such as Vitamin A, C and E. It is also. good source of fibre, lycopene and folic acid.
Expert Tips
Tip #1: Although papaya is a tropical fruit, you can use it in main dishes too! Popular savory papaya recipes include Thai papaya salad (Som Tum), green papaya fish soup and stuffed baked papayas. (Papaya fish soup is actually a staple of the Chinese confinement diet (i.e. what Chinese women eat post-pregnancy) as it's believed to increase the production of breast milk.)
Tip #2: Green papaya is just regular papaya that has not ripened yet!
FAQs
How long does cut papaya last in the fridge?
An unripe papaya will take up to a week to ripen on the counter. A ripe whole papaya, on the other hand, lasts 2-3 days at room temperature and up to a week in the fridge. Once cut, it can only be kept in the fridge for 2-3 days.
How to freeze papaya?
Cut a papaya and remove the skin and seeds. Once the papaya has been cut into smaller pieces, they can be easily frozen in an airtight container for a few months. Frozen papaya are great for smoothies!
How to tell if papaya is bad?
A spoilt papaya will have many dark spots on the skin, which may be riddled with pits. It may even smell bad, taste bitter or have mold! If so, please toss it into the compost!
Tong Sui
Papaya & Snow Fungus Sweet Soup
Ingredients
2 litres water
0.9 oz Snow fungus

rinse then soak in hot water till double in size (20-30 minutes) then trim off the hard stem

0.03 lb Apricot Kernels (Nan xing and Bei xing)
For sweetness:

0.5 oz Goji berries
Substitute: dried longans

If you can't get these ingredients, don't worry about it. The papaya, snow fungus and apricot kernels (for crunch) are the most important.

1 Medium Papaya (about 2 lbs), cut into 2 inch pieces, seeds removed

you can keep the seeds for planting- papayas grow quite fast

1 oz Rock sugar, or to taste
Instructions
Bring water to boil in a pot, then add the snow fungus, apricot kernels and longans. Cook over medium for 30 minutes.
Add the papaya, red dates and goji berries then cook for another 10-20 minutes.

You don't want to add the papaya too early as it will disintegrate into the soup.

Sweeten to taste with the rock sugar right, stir till dissolved then serve. We leave the rock sugar for the last step as the papaya, dates, goji berries and longans all add sweetness already. (You may find that additional sugar is not necessary.)
This Chinese papaya dessert recipe can be served hot or cold
Cakes
Papaya Bars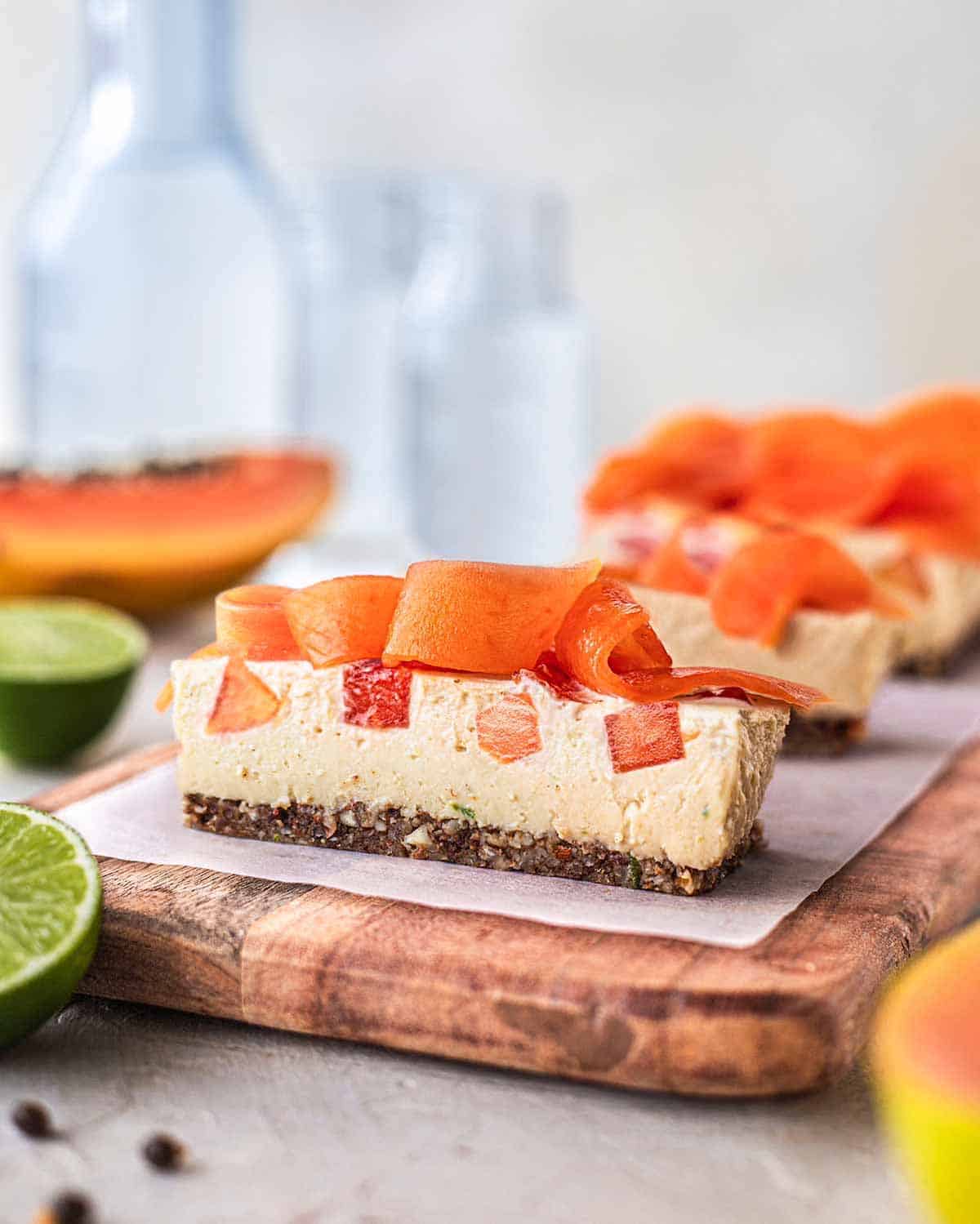 Papaya lime bars
Vegan papaya lime bars from Rainbow Nourishments with a nutty base, creamy lime filling and topped with sweet fresh papaya! They are light, zesty and perfect for the warmer weather.
Click here for another vegan papaya dessert.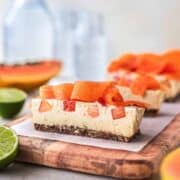 Crumble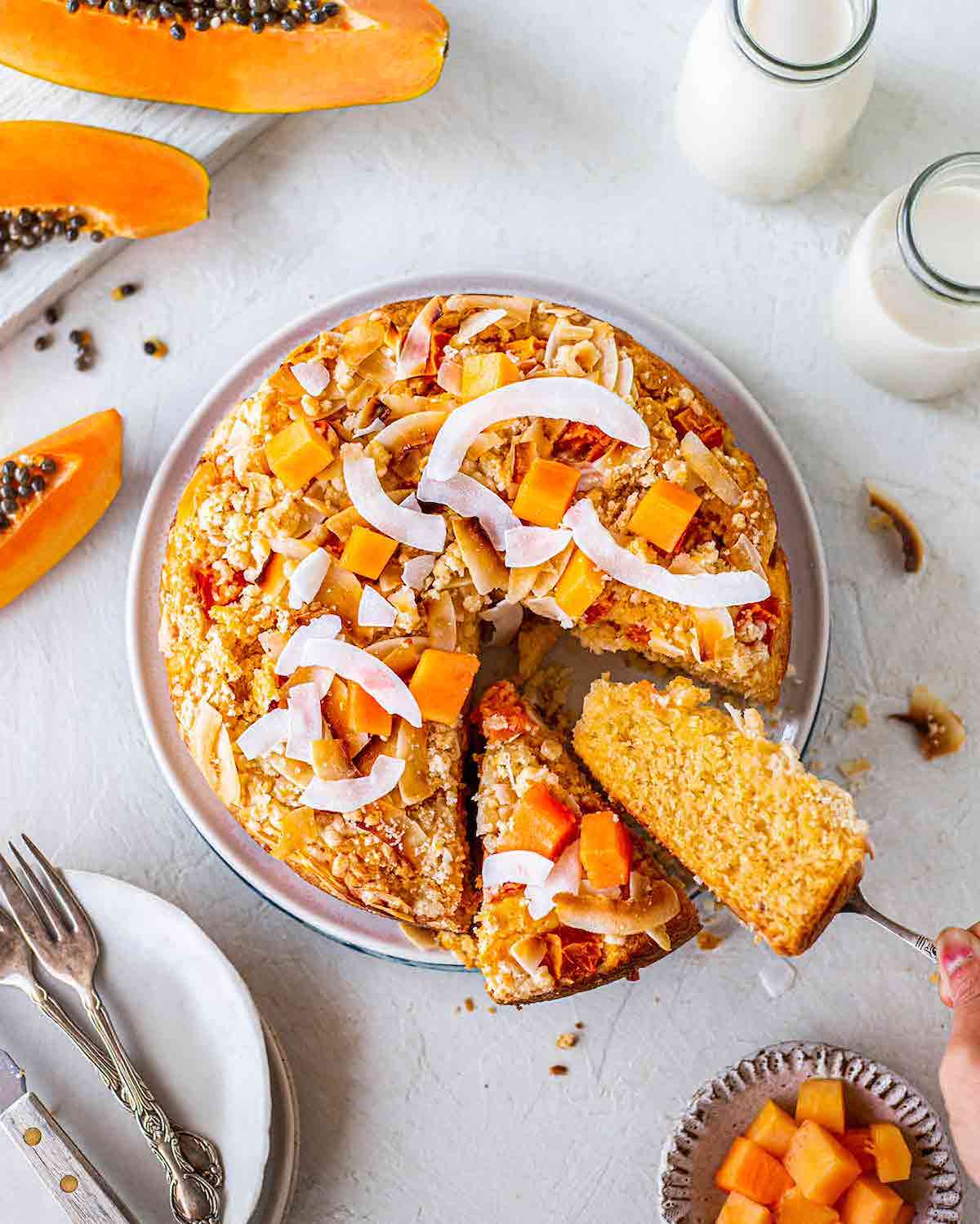 Fluffy papaya crumble cake
This vegan papaya cake from Rainbow Nourishmentshas a 4.75 rating, a fluffy interior and a crispy coconut crumble topping. It's the perfect tropical summer dessert!
Click here for the papaya cake recipe.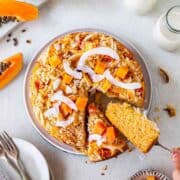 Cheesecake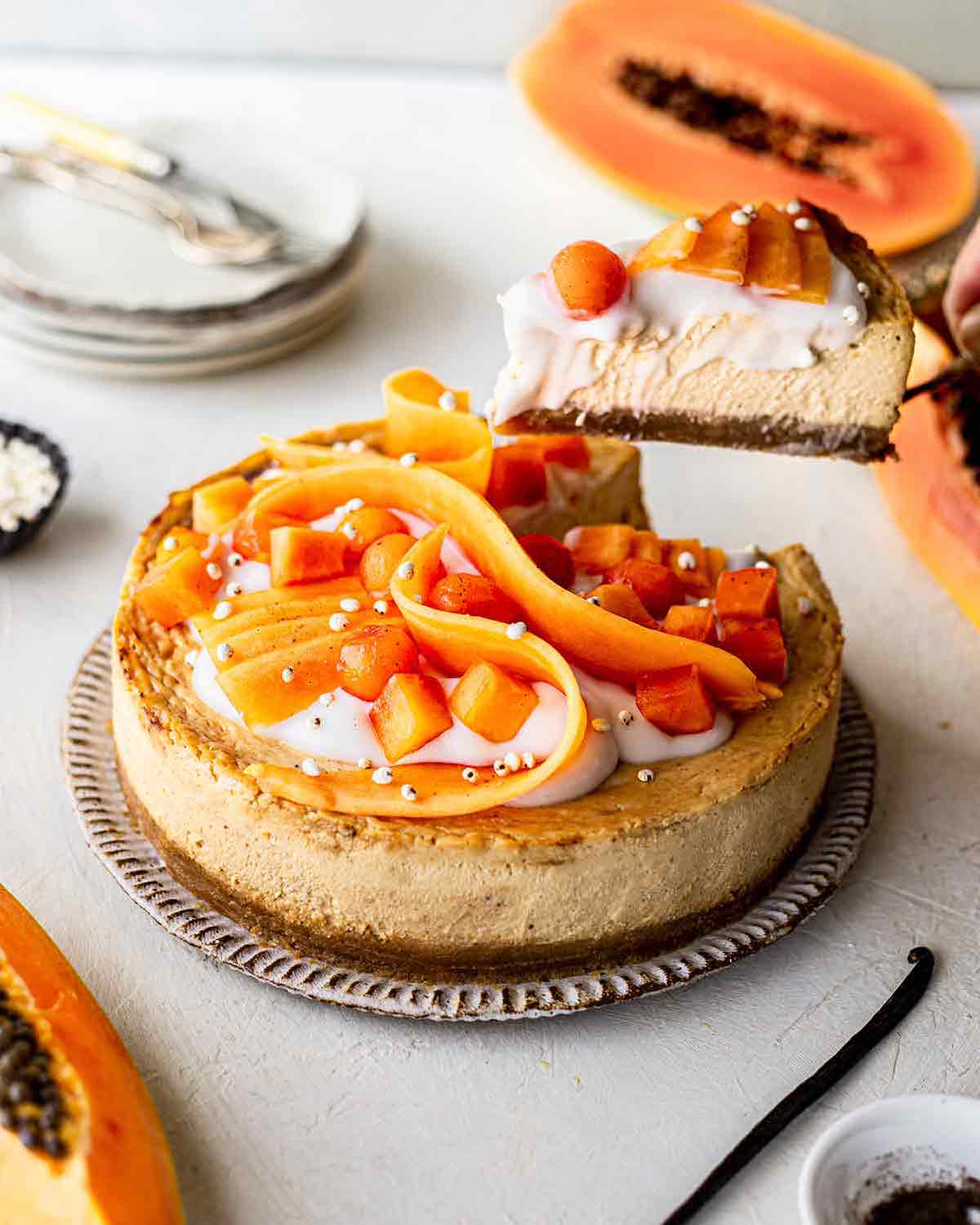 Fruit salads
Sugar-free jelly salad
If you're looking for more no sugar summer desserts, click through the link. Alternatively, here are some great ideas on what to use in place of sugar.
Traditional Japanese Konjac Jelly with Fruits Recipe (Vegan) (Low cal)
Delicious, refreshing and easy to make, this dessert is a good way of having desserts but not adding extra sugar or honey! Perfect eaten chilled on a hot summer's day
Click here for a no-sugar papaya salad recipe.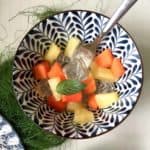 Tangy fruit salad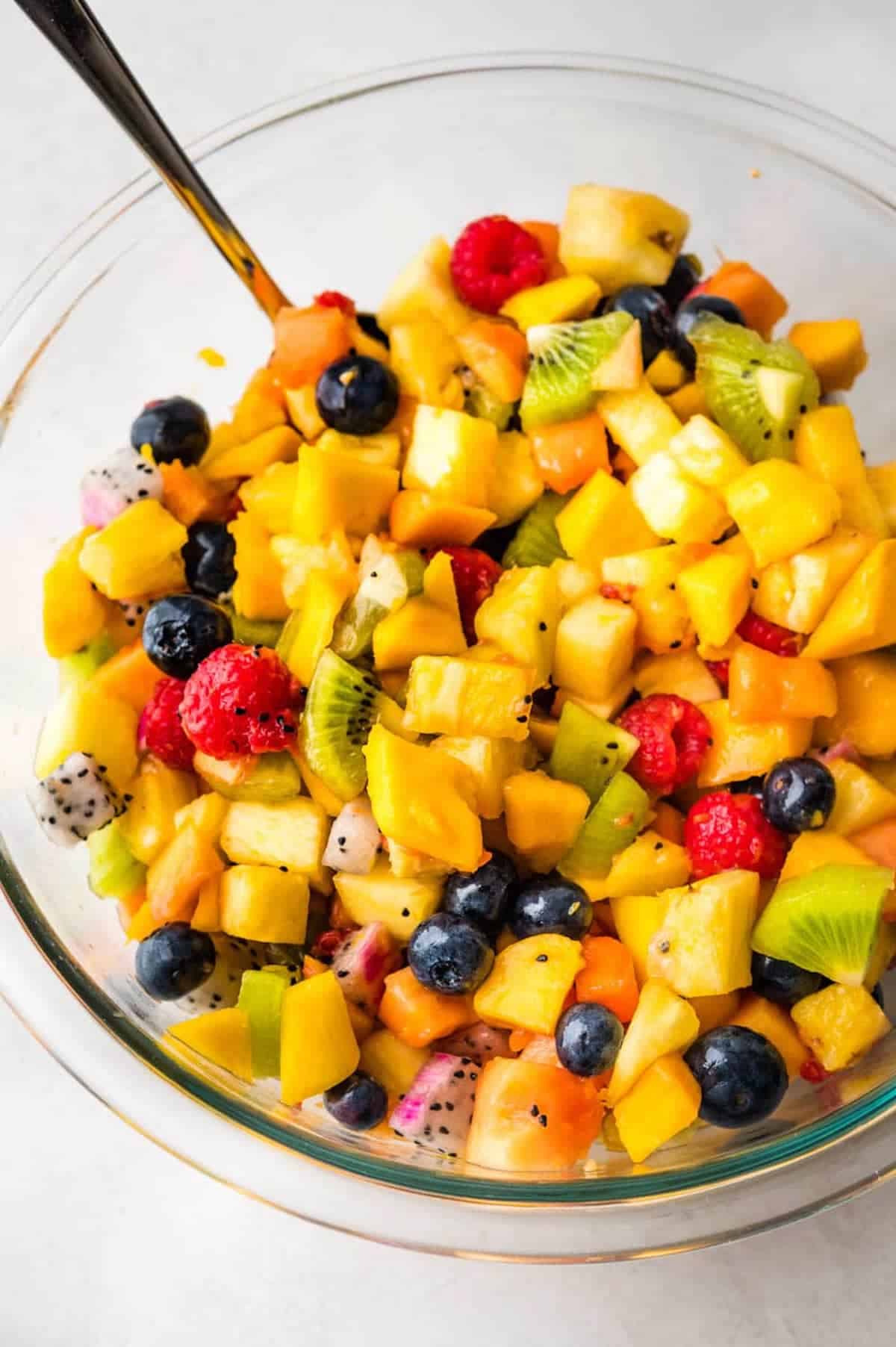 Tropical fruit salad
If you can't do without a sweet dressing in your salad, then this tropical fruit salad with fresh chunks of sweet papaya by Garlic and Zest is for you. It makes for a perfect breakfast, healthy snack or light dessert.
Click here for the tangy papaya salad recipe.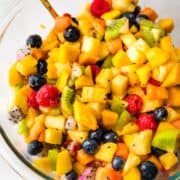 Others
Papaya milk
A popular Taiwanese drink that should not be confused with a papaya smoothie or milkshake!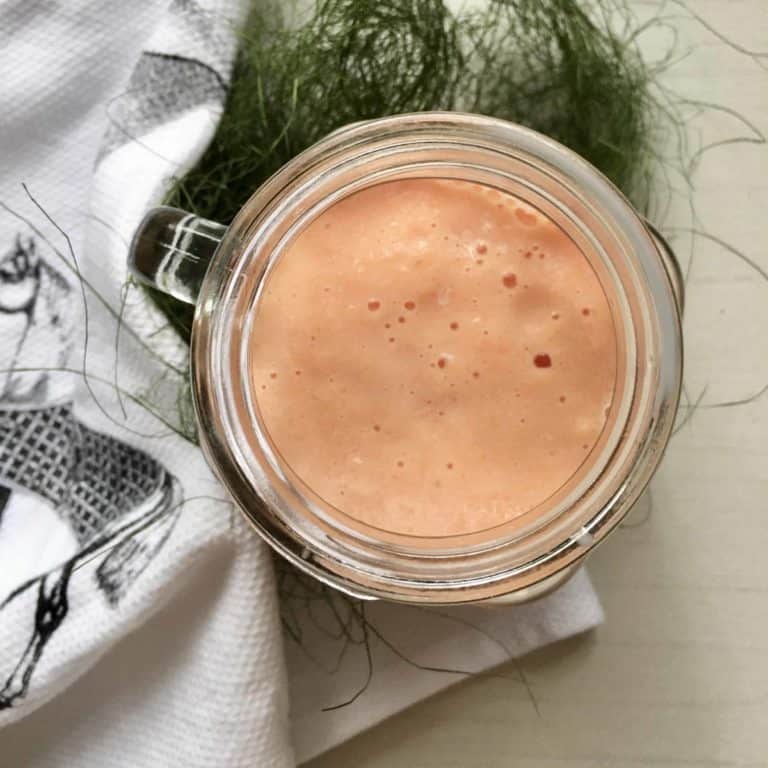 Mousse
Click through for a 5-ingredient vegan papaya mousse.
Tip: use an extra ripe papaya for natural sweetness!
Jam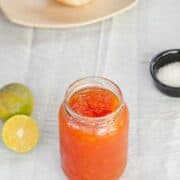 Ice cream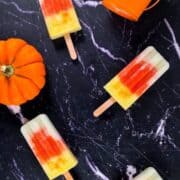 Halwa
There are several papaya desserts in Indian cuisine too, such as papaya halwa, a creamy ghee-based confection. The best thing about this recipe is that it can be made with both ripe and unripe papayas!
What are your favourite papaya dessert recipes? Let me know if I've missed out on something delicious!